Discover MFA Programs in Art and Writing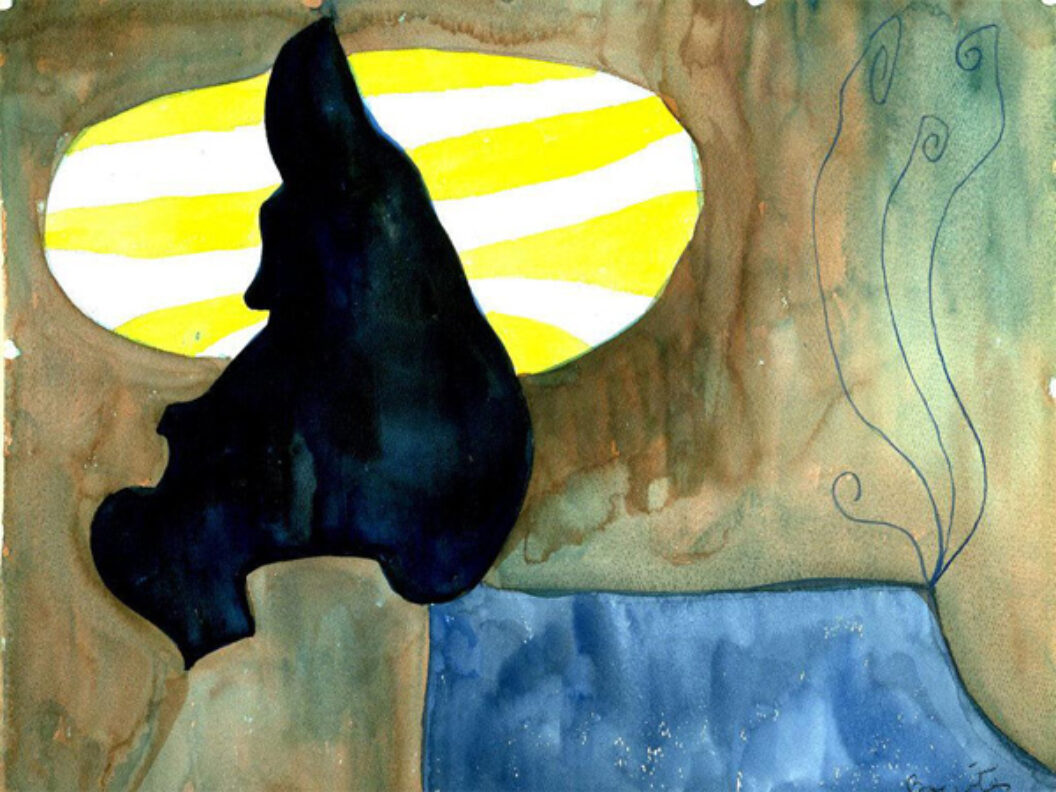 William Baziotes made quiet, idiosyncratic, glowing paintings and drawings of intense formal vitality and deep historical ambition. His tonal color was exquisitely pitched and turned material substance into enchantment. The paintings are scumbled, preconscious and blurred by fantasy; like living dreams. Very often the natural world is mentioned as the principle subject of this work: albeit an allusive and fictionalized one of shapes, color and line. The best work of Baziotes is delicate, almost hesitant, and evokes an otherworldliness captured, set apart and isolated.
William Baziotes was without question one of the most gifted artists of the New York School. He was 32 years old when his first exhibit opened at Peggy Guggenheim's Art of This Century in October of 1944. His close friend Robert Motherwell helped him install the show; Jimmy Ernst designed the invitation. The show generated substantial attention, sales and very good reviews: no less an authority on Abstract Expressionism than Clement Greenberg declared inThe Nation that Baziotes was "an unadulterated talent, a natural painter and all painter. He issues with a single jet, deflected by nothing extraneous to painting. Two or three of his larger oils may become masterpieces in several years, once they stop disturbing us by their nervousness."
The period between 1945 and 1970, a quarter-century, witnessed the rise and domination of American art that secured the country squarely on the cultural world map. When De Kooning declared that "Jackson broke the ice" at Pollock's funeral in 1956, he was referring to the notoriety, publicity and exposure of Pollock, though not necessarily his art. Pollock had become a celebrity, our first American artist superstar. De Kooning and many others now lined up seeking to capitalize on the gains Pollock had secured for them. Never had there been so many artists vying for attention.
Greenberg's edict on Baziotes proved very powerful and secured him a place, for the time being, among a generation of artists whose work evoked a similar and resounding restlessness, the New York School: Pollock, De Kooning, Rothko, Kline, Still, Gorky, Motherwell, Krasner, Hoffman, Stamos, Gottlieb, Newman and many others. Abstract Expressionism would become the mandatory world style in the 1950s. Museums avidly collected it and exhibited it around the world while boasting that American Abstract Art would be condemned if made in the Soviet Union. In 1952, The Museum of Modern Art launched a massive export of Abstract Expressionism exhibits around the world, formed from their collection and including several works by Baziotes. Alfred Barr, the director of MoMA, referred to these shows as "benevolent propaganda".
A decade earlier most of these artists had worked for the Federal Arts Project under Roosevelt's New Deal while earning virtually nothing. Now Abstract Expressionism was deployed as a Cold War weapon meant to defy Communism, conformity and repression. Needless to say the politics of the United States during the 1930s, 40s, and 50s were charged, highly contested and difficult. Tracing the developments of Abstract Expressionism requires grasping that starkly different forces were at play: the struggle of American artists to gain worldwide attention during the most powerful surge in America's influence throughout the world. Unsurprisingly, the avant-garde of Europe had taken notice of America's wealth earlier in the 20th century while American collectors gobbled up Picasso and Matisse. Europe's avant-garde simply followed the money source to New York and brought with them the antidote to American Social Realism: Surrealism and Abstraction.
An atmosphere of triumph grabbed center stage and by the 1950s New York City was the new imperial center of culture, the heir to Paris. While Baziotes inadvertently played an important role in many of these developments, his demeanor was totally at odds with inflated claims, cynical promotion and almost any kind of excess. Baziotes was a devout painter who did almost nothing but paint. For the next twenty years he lived in modest comfort on the Upper West Side of NYC with his wife Ethel. He kept a distance from distraction, gave lectures, participated in symposiums, offered advice to younger artists, taught at Hunter and was highly respected by his peers. He exhibited regularly and was included in numerous major museum exhibits along with other artists of the New York School. Horribly, Baziotes died from lung cancer in 1963 at the age of 50 after consuming three packs of cigarettes a day from the age of nine. While clearly at his peek at the time of his death, Baziotes' body of work was cruelly truncated.
In his lifetime, Baziotes came to view his early success painfully, admitting to some: "I have the horror of being easily understood." In reality, his eloquent and calm sensibility set him apart from his contemporaries. His brooding, strange and melancholic poetry was like nothing else in American art, then or now. In some respects his association with the New York School proved costly; Baziotes was forever to be measured on the same scale as Rothko, Pollock, De Kooning, Kline, Motherwell and Gottlieb. Each of these great artists owed something to him and profited from his pioneering ideas. But by nature, Baziotes was slow and cautious and unable to make concessions. He was both remote and reticent and appeared stuck at times while laboring and lingering over his work in a manner so unlike his peers. Baziotes was miscast in the fiction surrounding "action painting" and equally uncomfortable with the savage posturing of many of his associates. The delicacy of his vision and his effusive lyricism was markedly different: almost narrative, almost mute, almost invisible. His visual curiosity took him great distances but the essence of his work was the evocation of reality made deeper by silence: a world before words.
For a young Greek-American, 21 years of age, and with aspirations to be a painter, arriving in New York City in 1933 from Reading, Pennsylvania demanded sheer determination. His artistic credentials were pretty thin: a failed drawing class in high school, some caricatures published in the school year book in 1925, a drop-out from school at the age of 15, some work in a factory specializing in stained glass, a few evening drawing classes, and one prior visit to NYC to see the Henri Matisse retrospective of 1931 organized by Alfred Barr at MoMA. Baziotes' primary interest as a teenager had been boxing. His skill with his fists had prompted his mentor Bobby "The Bull" Ruttenberg to offer the young man a career as a professional boxer. In boxing Baziotes developed skills pertinent to art: discipline, endurance, agility and the value of hand and body coordination. A hand-written note found after Baziotes' death and tucked away in a notebook were the copied words of the great heavyweight champion Gene Tunney: "If there's any extreme form of individualism, it's boxing. You wage your own battle all by yourself. No partners, no comrades in there with you. Like dying, you fight alone. So consider the prizefighter as a spiritual individual, a solitary soul in travail."
The young Baziotes was hard on himself as he absorbed the museums and galleries. Art history was everywhere in NYC but the fascination with new ideas was equally tempting. MoMA featured two magnificent exhibits in 1936 dedicated to the principal movements in Modern Art: "Cubism and Abstract Art" and "Fantastic Art, Dada, Surrealism". Picasso and Surrealism were hotly discussed. So were Miró, Matta, Masson, Ernst and Arp. Like many of his peers, Baziotes adopted Surrealist techniques in the belief that unconscious impulses and fantasies could be harnessed to make art. Since the early 1930s European artists had flaunted this religion, mastered it and subsequently shipped it off to America. Surrealism was a slap in the face to the proponents of American Regionalism; Thomas Hart Benton, Jackson Pollock's teacher, blamed homosexuals for it. For many Americans, Surrealism exploited a gullible public with the promise of unadulterated and seductive visual material. For Baziotes, Surrealism offered a way to give invention priority by improvising, playing, surrendering control and ultimately painting abstractly. Baziotes gravitated to these methods easily and forged important friendships with Matta, Motherwell and Pollock. In the following years, Baziotes and Pollock would often be lumped together and celebrated as the standard bearers of their generation. Baziotes, Pollock and Motherwell continually drew praise from Clement Greenberg and he wrote dramatically: "the future of American painting depends on what Motherwell, Baziotes and Pollock, and only a comparatively few others do from now on."
For Baziotes, these formative years in NYC were extraordinary. In the studio, Baziotes was a man of resolution and devotion; one of a small group of artists who continued to believe that painting could carry a heavy load of meaning. He also believed his work was firmly rooted in the past and delivered an equivalent message: "I kept returning to the ancient Roman wall paintings with their veiled melancholy and elegant plasticity." Baziotes struggled to reconcile his urge to utilize some of the most radical techniques offered up by the Surrealists with his admiration and love of classical painting.
Nonetheless, Baziotes played a leading role experimenting with automatism and biomorphic shapes throughout the 1940s. During an unusual surge of momentum in 1947, Baziotes painted "Dwarf", "Cyclops", "Night Forms" and a number of other works, which firmly defined his aesthetic position. These mature works featured a more dominant shape occupying the center of the canvas suggesting flattened symbolic figures. Alfred Barr purchased "Dwarf" for MoMA while declaring the work to be "the exaltation of the mystical, the spontaneous and the irrational." Legend has it that Baziotes painted "Dwarf" while looking at a photograph of a mutilated war veteran. The horrible image of death is sublimated, transformed and given an entirely new face.
Baziotes continued to garner attention and praise through most of the late 1940s and 1950s. Collected by museums, photographed for Life Magazine and participating in most of the major museum shows devoted to the New York School. But by 1955 Baziotes was spending more time painting in Reading, Pennsylvania and according to his wife: "he turned away critics and dealers and even museum directors in order to avoid being caught in their web of words and wrangling and eventual compromise."
His hard fought battle to individuate himself as a painter cast Baziotes outside the prescribed boundaries of Abstract Expressionism. In a startling omission, Greenberg doesn't mention Baziotes in his famous essay of 1955 titled "American-Type Painting"; the punishment was now officially administered. Freed from the baggage of rhetoric, Baziotes makes some of his most evolved and beautiful work from the mid-'50s until his death in 1963. These are eloquent and evocative paintings, expanses of color and light, linking memory to a highly personalized reality. Fortunately, most of this work resides in major museum collections throughout the USA.
Baziotes was included with a group of artists on the cover of Life Magazine in 1951. This celebrated photograph was titled: "Irascible Group of Advanced Artists Led Fight Against Show." De Kooning, Pollock, Gottlieb, Reinhardt, Sterne, Pousette Dart, Baziotes, Ernst, Brooks, Still, Motherwell, Tomlin, Newman, Rothko and Stamos had boycotted the Metropolitan Museum's annual show devoted to American art and refused to participate in the juried exhibit. Their protest included a letter they all signed and submitted to the Board of Directors of the Metropolitan. The article in Life Magazine made the usual claims, declaring that the director of the Metropolitan Museum had called these artists "flat-chested pelicans strutting upon intellectual wastelands." Not unlike Life Magazine's feature story on Jackson Pollock in 1948, this photograph and article caused another uproar while magnificently highlighting America's appetite for controversy, fame and celebrity. Baziotes appears stoic, proud and extremely well groomed. Today his legacy is probably more bound to this photograph than anything else.
So where is Baziotes in our consciousness today, nearly 50 years after his untimely death and on the centennial of his birth in 1912. Probably somewhere at the edge of a discussion, respected but lost in the art world reality show of today. There are no astronomical prices by Baziotes recorded at auction. There's not much critical attention. In a more attentive culture, Baziotes would have been safeguarded from this inexcusable neglect. His life and work really provides portals into the realm of mutable truths: a place where few artists dare go. He granted us that fleeting moment of exhilaration and wonder that causes the world to stand still for precious seconds. He was a shooting star.
George Negroponte is a Greek-American artist living in Springs who has admired the work of William Baziotes for a long time.