The Same Now: Johannesburg to New York by Brittnee King
Johannesburg to New York, a joint exhibition by Samson Mnisi and Cannon Hersey, at the Museum of Contemporary African Diasporan Arts succeeds, ultimately, at inspiring unity.

Discover MFA Programs in Art and Writing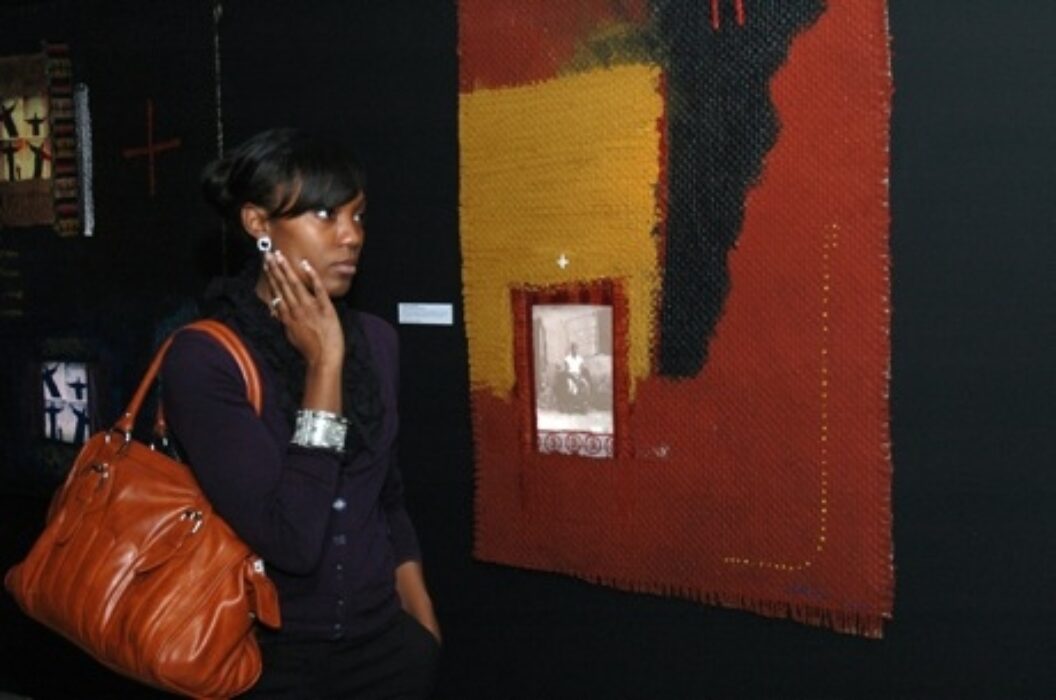 There's this bench in Central Park that I think every old man in the city must know. They meet there on some of the warmer spring days, and they throw peanuts and seeds at the squirrels and birds. They wave their arms in small, slow circles, and cluck their tongues, sometimes in unison, like a little group of squirrel wranglers. They gather here, as often as their ailments allow, banded together through the pain of old age and the hope of simplicity.
To me, these old men—however different they may be—have the same history and the same now. Each one was faced with doubt and rejection, each has taken and given gross prejudice, grown old and quiet. And it's funny, but these men, this group of the slow, and sometime sallow, were what I thought of when walking through the Museum of Contemporary African Diasporan Arts joint exhibition by Samson Mnisi and Cannon Hersey, Johannesburg to New York. Because, much like these men, Mnisi and Hersey have worked together through each of their country's cruel histories, and they have created a community. Mnisi, from South Africa, and Hersey, from the United States, are two men from two different worlds, brought together by a common past of racism and segregation.
On the surface, this collaborative exhibition is strictly a display of post-apartheid South Africa. All of the pieces exhibit the men's different views on South Africa, its relationship to its own people and its relationship to the rest of the world. The combination of Hersey's images of a newly apartheid-free South Africa with Mnisi's paintings—often using ancient Zulu symbolism and Sangoma spiritual markings—builds a connection between South Africa's past and present. By melding the two times into one, we are given a more complete picture as we are shown not what South Africa was, or simply what South Africa is, but how it became what it is.
Broken up into three sections—collaborative works, Mnisi's paintings, and Hersey's photographs—the exhibition pushes to create a unity. By working with different perspectives from different people from different lands, Johannesburg to New York not only establishes a stronger reflection of South Africa, but it also reveals how the common history of racial hierarchy throughout the world has connected us.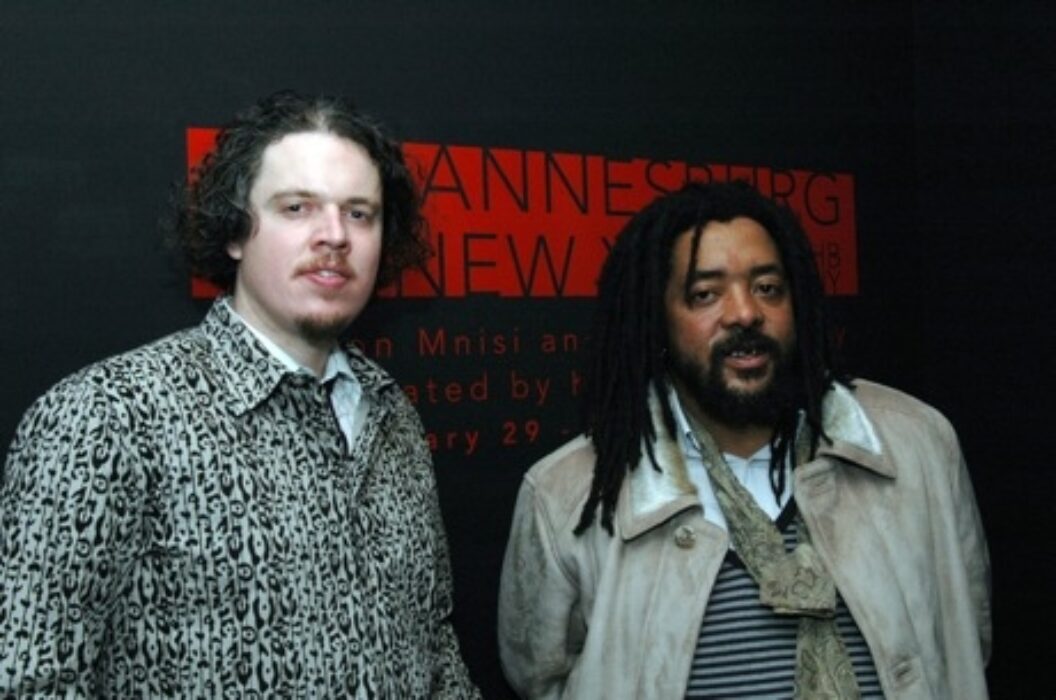 The first room of the exhibition is dark and startling. Against the black walls hang large multimedia pieces made by the two, shaken with a patchwork of bold colors and patterned fabrics from around the world. Each piece, painted on a Brazilian carpet made of natural sisal fibers, contains a small light box installation, over which one of Hersey's images are printed. Around the image are Mnisi's symbols, fabrics and paints, brushed on in shaky shapes. The painting is simple, though remarkably captivating. Each layer—the bold paints, the fabrics, the symbols, the light and images—all foil and juxtapose each other, almost like characters in book.
The second room contains more collaborative pieces, built from Hersey's photographs, which were taken throughout the '90s and '00s. The black-and-white images reveal a South Africa that, even with the freedom from legal apartheid, still lives in the harsh extremes of wealth and poverty. They are quiet and unobtrusive, but still revealing. And, titled with words of action and movement, such as Running Ahead, Hersey hints at both a changing society, and one in need of change—as he says, "Movements make change." Impressively enough, Hersey's images succeed in depicting both a community of the poor, and a feeling of being alone. In this sense, he likens the Johannesburg experience to those of New York. And with Mnisi's paintings of parallel lines and other ancient symbols overlying Hersey's photographs, the two combine modern and historic interpretations on South Africa, bringing a sweet, startling contrast. In using these symbols, Mnisi preserves pieces of his old traditions in an ever-changing land—one harshly affected by westernization—and he acknowledges his cultural foundation.
Exhibited on their own, in rooms two and three, are Hersey's solo photographs and Mini's paintings on canvas. Hersey's photographs still reveal a struggling and growing South Africa printed in different flesh tones. Ranging from pinkish-tan to dark brown, the photographs stand as a representation of the old system used to identify and categorize South Africans.
While Hersey's photographs are almost literal and to the point, Mnisi's paintings seem more mysterious and culturally encompassing. His canvases are cloaked in color and ancient symbols, and his paintings seem to be the strength of the show. One painting comprised oddly shaped canvases rich in color swirled and tilted together. Mnisi's mish-moshes of color and patterns seem outer-worldly, and they help represent the bigger picture.
The important and most powerful thing, I believe, about the Johannesburg to New York exhibition is that, though the pieces most clearly relate to and represent South Africa, the whole show succeeds, ultimately, at inspiring unity. It is through examining this post-apartheid land that we remember our own history and present. So here we are, I thought while leaving the museum, At the end of the day, sitting together, throwing seeds to all the birds.