River of Time: Li Binyuan Interviewed by Yuan Fuca
New performance art from China. 

Discover MFA Programs in Art and Writing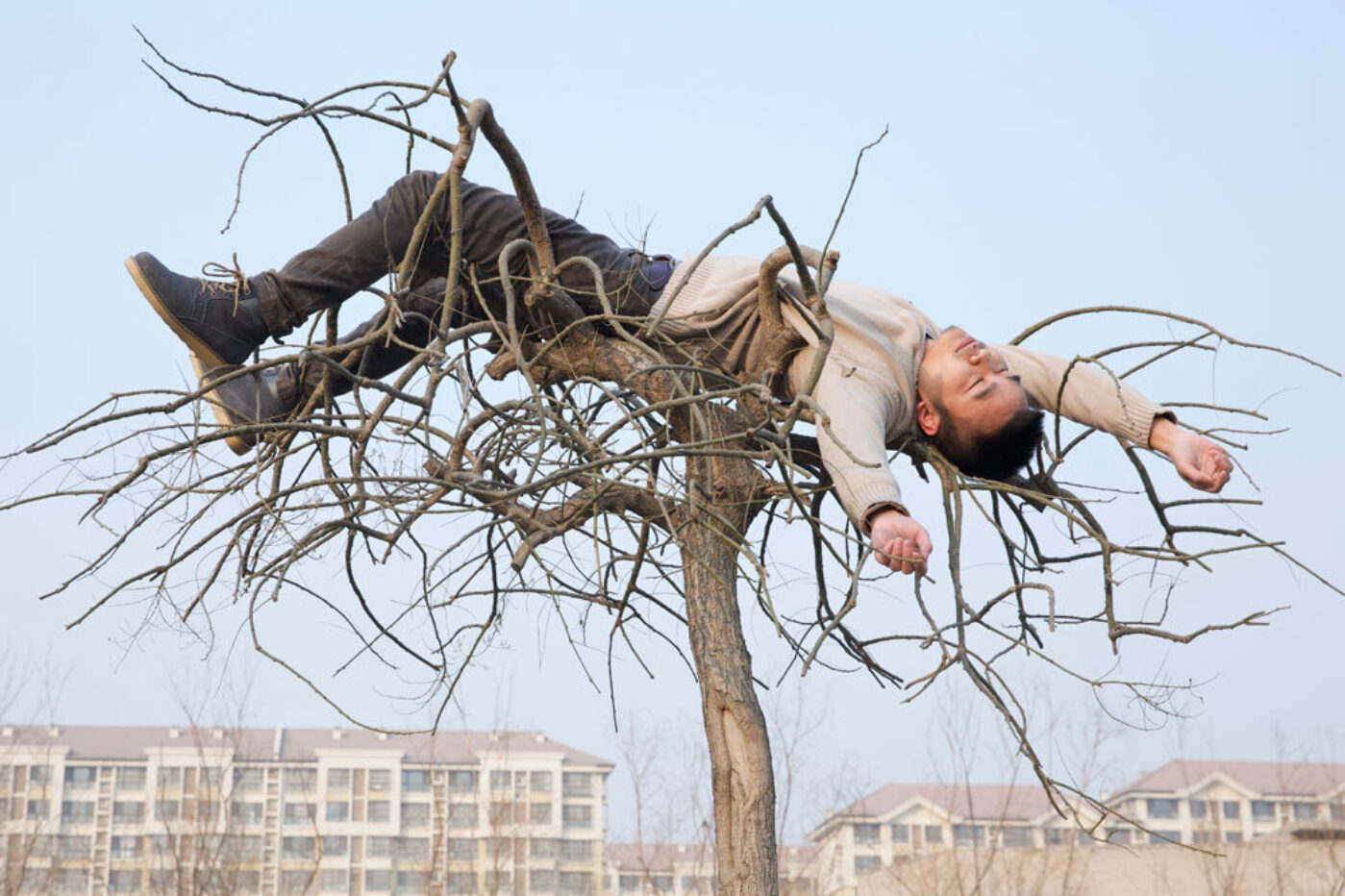 Following Chinese '85 New Wave avant-garde traditions, Beijing-based artist Li Binyuan's (b. 1985, Hunan) performance practice is highly personal yet politically changed. Often using his own body as a primary tool to measure the social space he occupies, Li implants absurd visual tensions and wild interventions in mundane situations in contemporary China. Concurrent with his two-person exhibition Land: Zhang Huan and Li Binyuan at MoMA PS1 in which he exhibits with Zhang Huan, another pioneering performance artist, I talked with Li at his modest Hutong studio in the old part of Beijing, as well as via WeChat, during which we discussed the town where he was born as a healing place and about approaching time and the emotions through performative acts.
—Yuan Fuca
Yuan Fuca What was your early background? What got you interested in art, broadly speaking?
Li Binyuan There's a scene from my childhood that I always remember. One day around dusk there seemed to be a storm coming. I was playing by the door, and I saw a group of ants packed tightly together, frantically "moving house." They looked like a flowing brook. My natural instincts and curiosity gave me the idea to destroy these troops, so I used my foot to trample all over the crowd of ants, producing countless casualties, and I took pleasure in seeing the remaining ants scatter in all directions. This scene was witnessed by my father, who walked over and stopped my behavior. He then picked up a small tree branch and gently redirected the ants that had lost their sense of direction back to their group until the original order was restored. Restoring the flow of the "brook" took him about half an hour, and I just crouched next to him and watched, fascinated.
YF Do you think your work responds to your living conditions?
LB I don't think there's much of a response to my "living conditions"—or you could say my work is actually a state of living. I often feel like I'm working even when I'm not; I enjoy getting caught up in the "non-work"—stopping for a break, or just being still.
Most of the time I'm in this state of being lost in a vacuum of thought. It's a sort of inward-looking practice, like a disengagement from individual feeling. But of course the experiences of thinking and living commingle and influence one another, and this sort of interplay is like a primal force that urges me to create.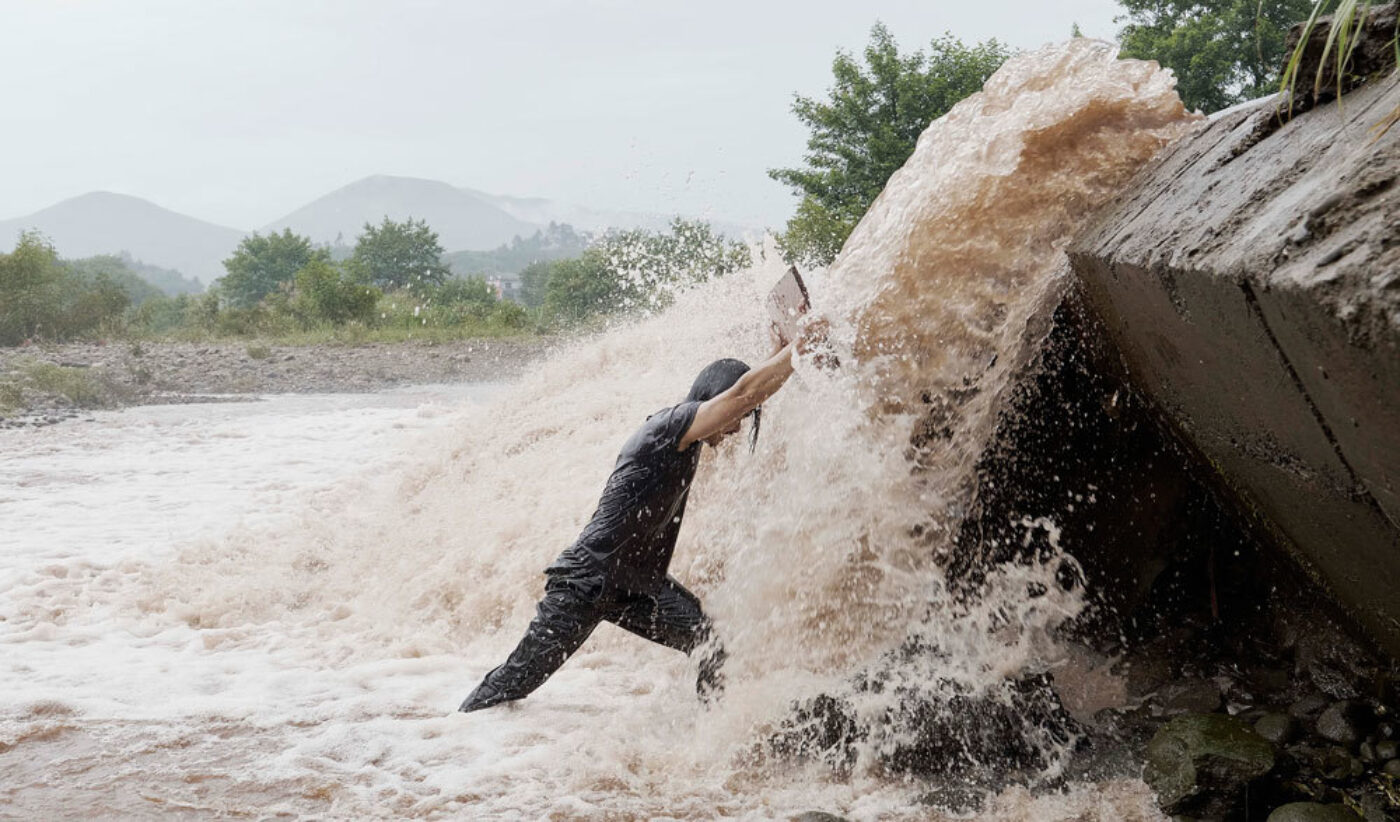 YF For you, the form of performance art is a type of theoretical framework for your practice, or would you also consider them an investigation into the personal?
LB None of my works originate from a single dimension or theory. Rather, they—what I do—are a barometer for my relationship with the world and are always moving forward and evolving with my limits, just as time and space are in a state of constant flux. Nevertheless, I hope my work always appears as a whole from beginning to end. It is ultimately a piece of my personal history, my comfort, and a sense of self-fulfillment.
YF As early as 2012, you were strikingly running naked through the streets of Beijing, an act that was covered by many foreign media, and up until now most of your performance work has been presented via recorded moving image. How have your personal rituals and working methods changed and developed?
LB The main change I've experienced has been a shift from performance to a state of thought. My early works more closely followed an expression of real life and emotional states using spontaneous body performance to respond to my environment and immediate state of mind. My interest now is in how to arouse and bring about more possibilities under existing conditions. Of course this is the same as before, but my expression has changed and relaxed. It isn't as urgent as it once was, and I've slowly mastered the art of concealing my emotions behind the work, which has served to strengthen the spirituality and purposelessness of the performance while at the same time maintaining the same extremeness of my ideas. This working method is the result of constant investigation and thinking in my long-term practice. I compare myself to a person born with a missing limb—I'm constantly trying to improvise a relationship with all types of objects, trying to regain that missing limb from these relationships, and in this process I find all kinds of different limbs that I can use, finally becoming the "thousand-armed goddess of compassion."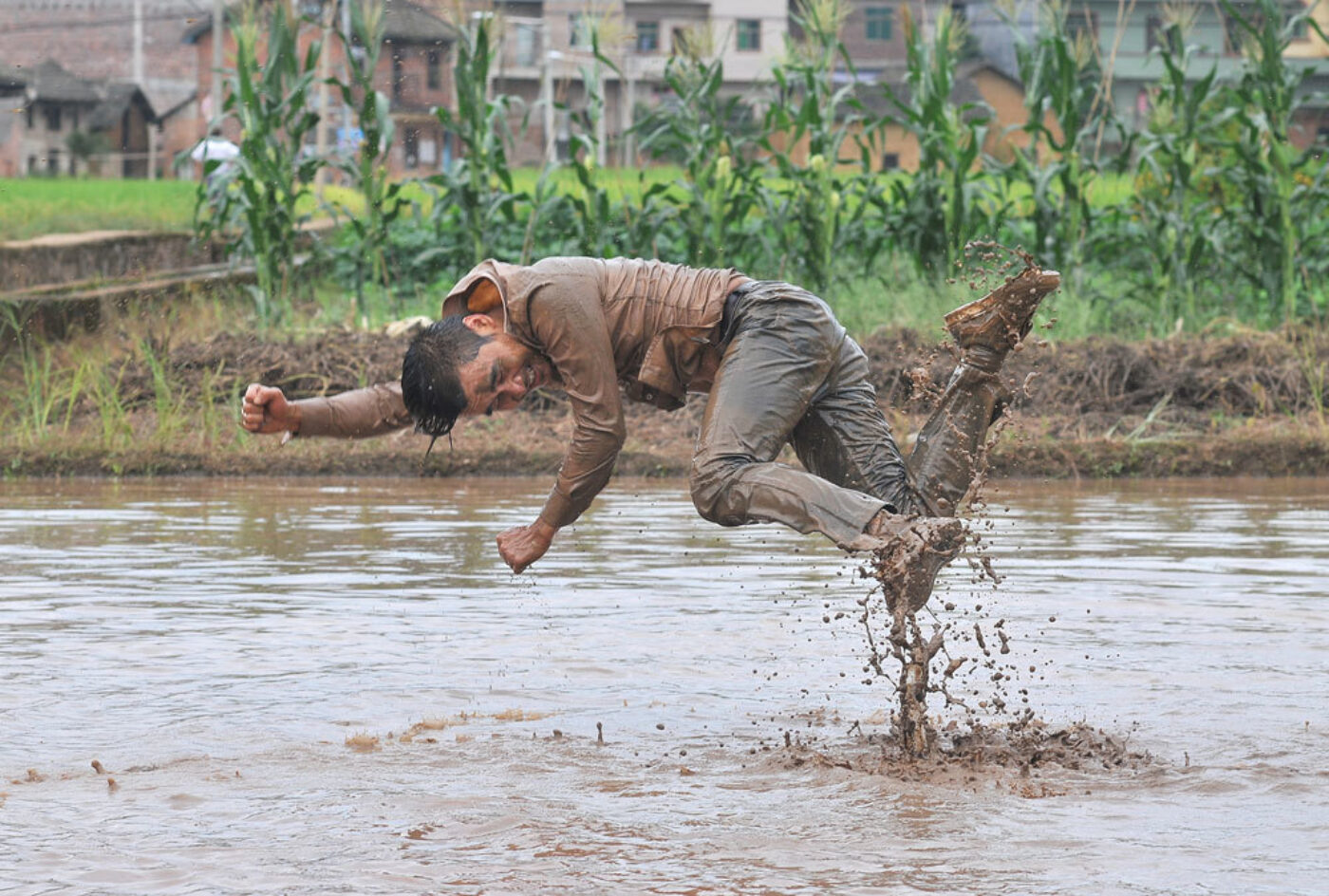 YF Do you think this state becomes more visible through your work? I'm thinking particularly of the works that you made in your hometown. What makes this isolated place an ideal location for some of your work?
LB I try to show what I want to describe in ways that are as visual as possible while maintaining a level of clarity and simplicity; for me, this level of transformation is the precise reflection of the validity of a work. However, what I pay the most attention to is the motivation and logic behind the work.
My hometown is like the sterilization and safety of an operating room to me. All of my illnesses can be healed there. My hometown is also the starting point for all of my works, which is something I've never been able to get away from. It is the place that I retreat to over and over again; and no matter how far I drift, something always takes me back.
YF I find that time is stretched to varying degrees in your work. Sometimes your performance is synchronized with time, and sometimes it compresses time. How does your work deal with time?
LB Time is a means of advancing myself; it means movement and change; it's a thing that can be molded.
Many of my works are completed with no prior planning while traveling. I like to use time to bring about "time": "reverse causation" is my usual way of handling time and expression in regard to space. For example, following the rumbling sounds of the train as it left its origin (Resonance, 2012); standing on a mountain moving in the direction of the wind blowing through a bamboo forest (47-Minute Exercise, 2014); waiting on the coast for the surging of the sea to ebb, facing the direction of the sea, and then moving one hundred meters toward the sea in an hour (Submergence, 2015). These performances were all based on a timeline, and these movements within nature became an extension of my body. I've been working on a seven-year performance in my hometown (Until the Bridge Collapses, 2012–18). Every year since 2012 I've gone back to sit by the bridge and do a somersault, exerting "pressure" until this bridge completely breaks down and topples. "Waiting" has become the primary work of this piece, as the body and the bridge are both shaped in the river of time.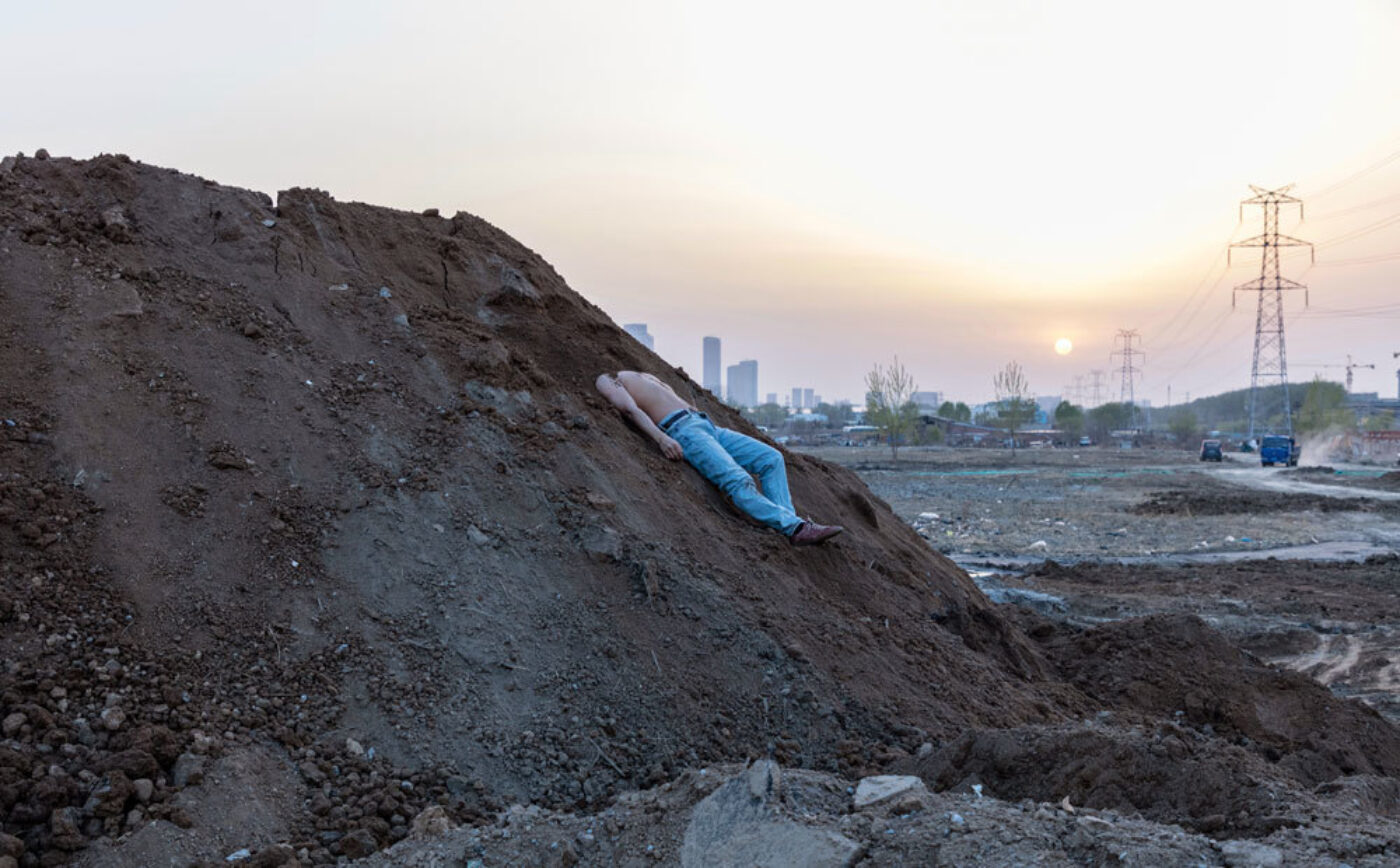 YF Regarding Land: Zhang Huan and Li Binyuan at MoMA PS1, can you talk about the connection between your and Zhang Huan's works? For yourself, is there a common trait between you that's related to China itself?
LB I feel that the exhibition's organizer, Klaus Biesenbach, is very bold in taking the works of two generations of Chinese artists and planning an exhibition within the framework of "the relationship between the land and the body in contemporary China." All of the issues discussed in the exhibition are very clear. Whether in relation to our age or our works, he's definitely observed a very interesting common structure that we share. I don't have a particularly thorough understanding of Zhang Huan, and I don't know him particularly well. From a practical perspective, I believe our most direct link is our expression of physicality. In regard to our respective social backgrounds, our "native life experience and feelings in China" manifest to varying degrees in our work.
YF Can you talk a bit about the program you're currently working on in Jingshan Park? You moved from Caochangdi to within 2nd Ring Road in Beijing. Did the shift in urban scenery have any effect on the feel of your production?
LB I've always considered what the history of a city can ultimately leave with people. After moving to within 2nd Ring Road from Caochangdi due to a strange sequence of events last year, I had the opportunity to observe Beijing more closely. Jingshan Park is located at the very back of the most central part of Beijing, and the place I'm living is just a few hundred meters from the park. I often head over there on walks and take pictures to document the odd characters I encounter because I feel that the psychological state of people in the park is totally different from elsewhere. It may be that I've come across some interesting threads here, though what kind of thing these materials could become I'm not sure. The process feels a lot like writing.
Land: Zhang Huan and Li Binyuan is on view at MoMA PS1 in New York until September 3.
This interview is part of a series of interviews with a new generation of video and performance artists in China conducted by Yuan Fuca, including one with Li Ming.
Yuan Fuca is a writer, curator, and co-founder of Salt Projects, a research-based curatorial studio in Beijing.