The People Who Got into Trouble: Boris Mikhailov's Case History at MOMA by Kevin Kinsella
"It is a disgraceful world, populated by some creatures that were once humans, but now these living beings are degraded, ghastly, appalling." Kevin Kinsella discusses the photography exhibition, Boris Mikhailov: Case Study, which runs at MoMa until September fifth.

Discover MFA Programs in Art and Writing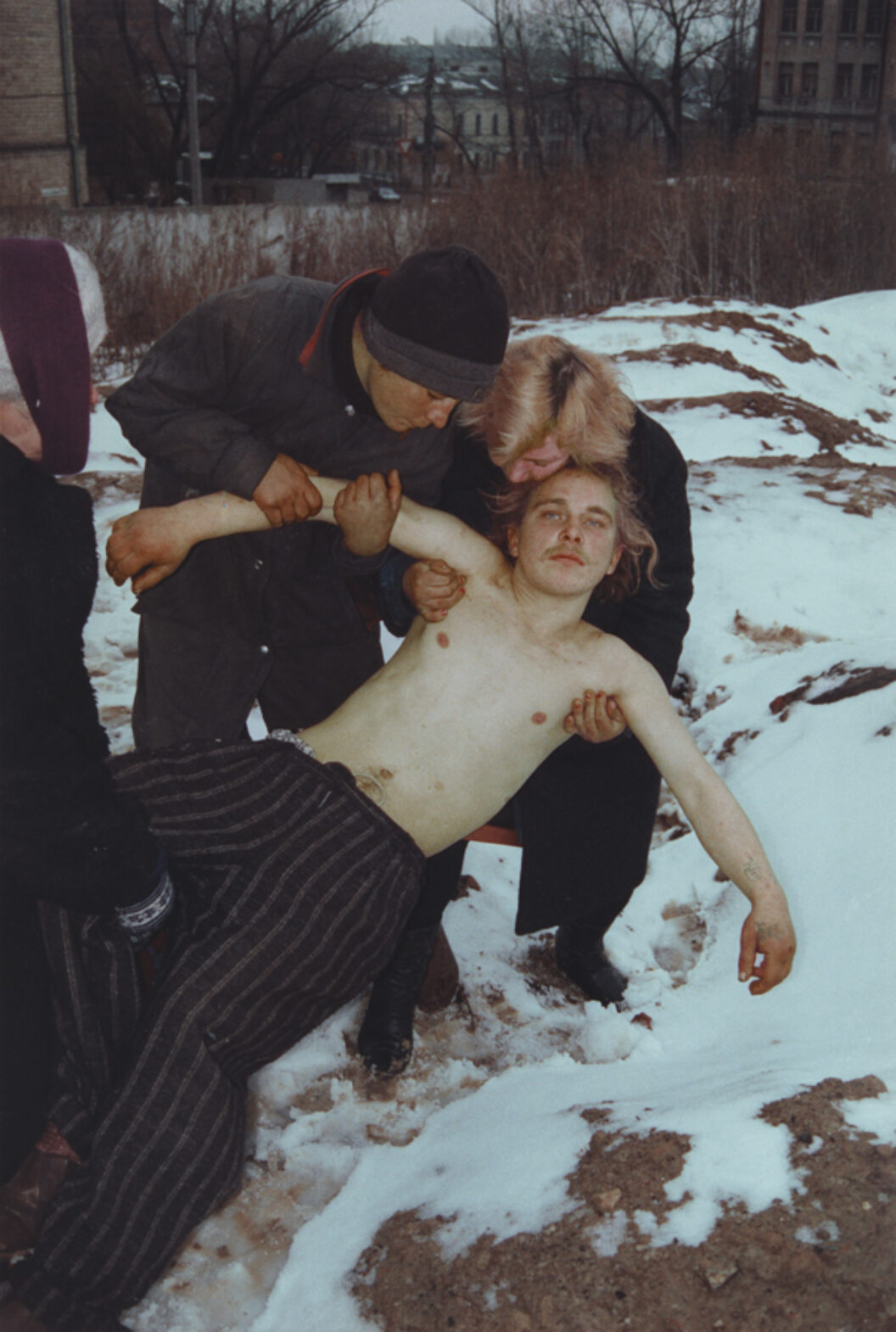 This year marks the 450th birthday of what is probably Russia's most recognizable landmark. Although originally consecrated the Cathedral of the Intercession of the Virgin by the Moat, most know it simply as St Basil's Cathedral, referring to Basil the Blessed, a so-called "holy fool" who was buried on the original site before the present church with its five famously motley onion domes was erected. As part of the commemorative festivities, Moscow's State History Museum, whose holdings include the cathedral itself, is presenting an exhibition detailing the lives of St Basil and other "blessed" fanatics.
The holy fools—in Russian, yurodiv—often walked around stark naked or mortified their flesh by wearing heavy chains or filthy, lice-ridden rags. They fasted and slept out of doors, uttered prophecies, and, according to legend, performed miracles. The madness, or "foolishness," of the yurodivy was ambiguous, and could be real or faked. St. Basil's was thought to be divinely inspired, and therefore the tsar listened to his parables. Because no one could tell one way or the other, holy fools like St Basil dared to speak truth to power, being virtually the only group that could openly criticize the Kremlin and express the frustrations of ordinary Russians. Even Josef Stalin, personally responsible for the destruction of tens of thousands of religious buildings, spared the cathedral named for St. Basil.
Coincidentally or not, a series of portraits of partly naked Ukrainians, their flesh mortified by sores exposed from beneath their filthy, lice-ridden rags, also are now on display at the Museum of Modern Art in New York. While it would be a gross act of reductivist reasoning, not to mention mean-spiritedness, to suggest that the homeless subjects of Boris Mikhailov's photographs —many of them mentally ill, alcoholics, and addicts—are some variety of "holy fool," the similarities shared between the two groups are unavoidable, at least as they are presented by the photographer himself and MoMA associate curator Eva Respini in "Boris Mikhailov: Case Study," which runs until September fifth.
Born in Kharkov in 1938, Mikhailov is considered one of the leading photographers from the countries that formerly made up the Soviet Union. For more than forty years, Mikhailov's work has explored the position of the individual within the the ideological space, including life in post-Soviet Eastern Europe, and the ideological vacuum left in the implosion. Although rooted in historical context, his work incorporates the deeply personal narratives—including topics such as humor, sex, vulnerability, aging, and death—of his subjects. The current exhibit at MoMA, the first in-depth presentation of the series in an American museum, is selected from a larger body of work also titled "Case History," which comprises 400 photographs and was published as a book in 1999. "Case History" documents the social oppression, the devastating poverty, the harshness and helplessness of everyday life for the so-called Bomzhes, or long-term homeless, of Kharkov.
In his early adulthood, Mikhailov studied engineering and worked in a factory, and, as a hobbyist, taught himself photography. In the beginning, he took pictures of his wife, Vita, and of his friends in casual situations, capturing aspects of their daily life, including drinking and nudity. When nude pictures of his wife were found at his job in the Kharkov factory, he was fired. It was then that he decided to take up the camera full time. As Mikhailov explains the reasoning behind his firing, nudity was a forbidden subject in Soviet days. Controlling nakedness had become a way of controlling people. "Guilt was linked with nakedness," Mikhailov once said in an interview for the Sunday Times. "Since everyone was naked, everyone was guilty. We were made to feel ashamed of our bodies."
And it is the very absence of shame that makes many of the images in "Case History," so troubling for many visitors to the museum. Just as the yurodivy were not ashamed of their nakedness, using it as a sort of flag for their "blessedness," the Bomzhes captured in Mikhailov's photographs don't appear to be either. It might just be the only thing to get people to take notice of their situation. It is as though the photographer wants to elevate depravity of his subjects into a state of holiness. Mikhailov himself elevates his subjects to the heroic, if not saintly, level in his explanation for choosing them: "I suddenly felt that many people were going to die at that place. And the Bomzhes had to die in the first rank, like heroes—as if their lives protected others' lives."
Geographically speaking, "that place" Mikhailov is talking about is the city of Kharkov, his hometown. Founded in 1654, Kharkov is the second largest city in Ukraine. It was the first city where the Ukrainian Soviet Socialist Republic was proclaimed in December 1917 and where the Soviet government was first established in that country. Present day Kharkov is a major cultural, scientific, and industrial center, world famous as home for the Malyshev Tank Factory, leaders in tank production since the 1930s; Khartron (aerospace and nuclear electronics manufacturer); and the Turboatom turbines producer. Economically, Kharkov has done well in the years since the demise of the Soviet Union.
Temporally speaking, "that place" is that time just after the super power's collapse, specifically the mid-to-late nineties, when the dust started to settle. Second only to the unprecedented economic growth of the region was the rapid growth of class divisions: the rich and the
homeless. During this time, Mikhailov had returned to Kharkov from a residency in Berlin, where he still splits his time. He saw the stark contrasts between the lives of those who had benefited from the new economy and those who, in a place where homelessness had been practically nonexistent, had lost everything. "It is a disgraceful world, populated by some creatures that were once humans, but now these living beings are degraded, ghastly, appalling. This 'fauna' is specific especially to the period of quasi-general diffidence, specific for most of the post-communist world."
According to Mikhailov, these were people who had only recently lost their jobs and homes, and he wanted to capture them before they lost their humanity. "Now they are becoming the Bomzhes with their own class psychology and 'clan' features. For me, it was important that I took their photos when they were still like 'normal' people. I made a book about the people who got into trouble but didn't manage to harden so far."
The nineteen photographs comprising the MoMA show were taken between spring 1996 and spring 1997. Measuring 93 inches by 50 inches each, the top corners of the prints are pinned simply to the gallery walls in chronological order, with the bottom corners allowed to curl up from the walls. The images depict worn down men and women in filthy apartments or standing in the snow wearing dirty winter overcoats or nothing at all. With neither frames nor title cards, it is as though the viewer is meant to follow the progress of some other Christ along his Stations of the Cross, leading to his Crucifixion and ultimate Ascension. Compositionally, several of the images reference Christian imagery: A man in a snow-laden coat stands with outstretched arms as though on the cross, while another slumps shirtless in a classic Pietà. Some, given the size of the photographs, take on aspects of classical portraiture and nudes, and seem almost painterly. And then there is the man in an old uniform with an insane look in his eyes as he stares at an ax in his hand (according to Mikhailov, he was a celebrated railroad director who had often appeared on television before sinking into destitution where he was forced to eat his cat) and an elderly woman (a prostitute) lifting her skirt to reveal her nakedness beneath.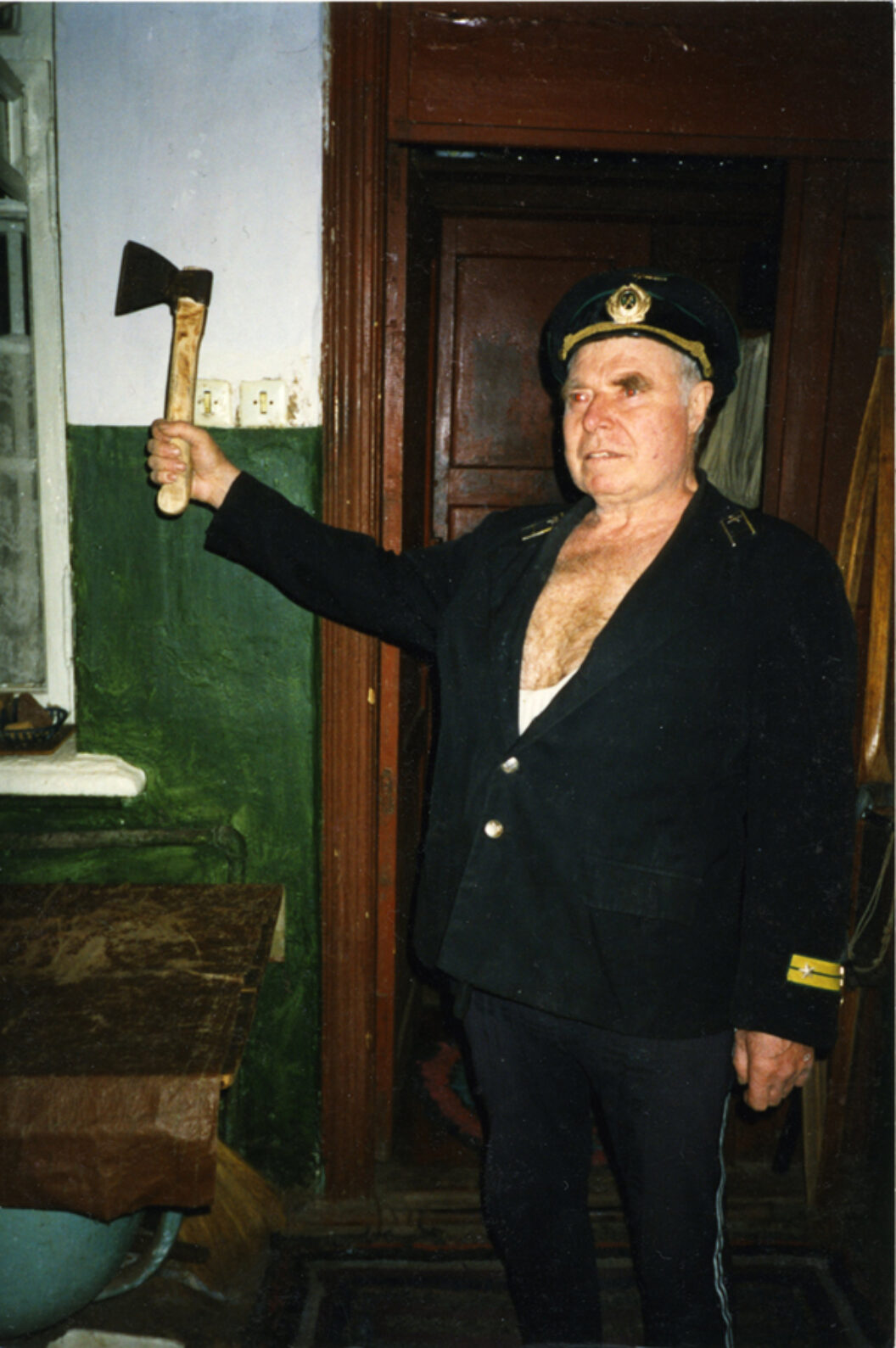 It is this posing which has some critics wringing their hands over these works. Mikhailov often paid his subjects and gave them meals and drinks in exchange for "sitting" for him, which accounts for the feeling that they are consciously posing. And there is an unseemly sense of objectification at play, particularly in the ones incorporating nudity, which evokes a certain unwelcome intimacy on the viewer's part with the subjects in the photographs. But that might be just the point.
If Mikhailov's photographs objectify their subjects and make them seem less than human, they seem to restore a certain dignity that life has denied them. As Mikhailov explains it, "These are real people in Case History. The only thing that changes is how they are posed and that they are naked … Nakedness doesn't begin to describe this condition, so I asked my models to pull up their clothes as a metaphor for their life. For Case History, old documentary methods weren't possible—it was important and necessary for me to find new methods to show this life."
And if our sensibilities are so easily offended by becoming intimate with such unfortunate people who, through economic and social forces beyond their control, have lost control of their lives, who are we to say who is behaving foolishly?
Kevin Kinsella is a writer and translator (from Russian) living in Brooklyn. His latest book, a translation of Sasha Chernyi's Poems from Children's Island, is now available through Lightful Press.