Discover MFA Programs in Art and Writing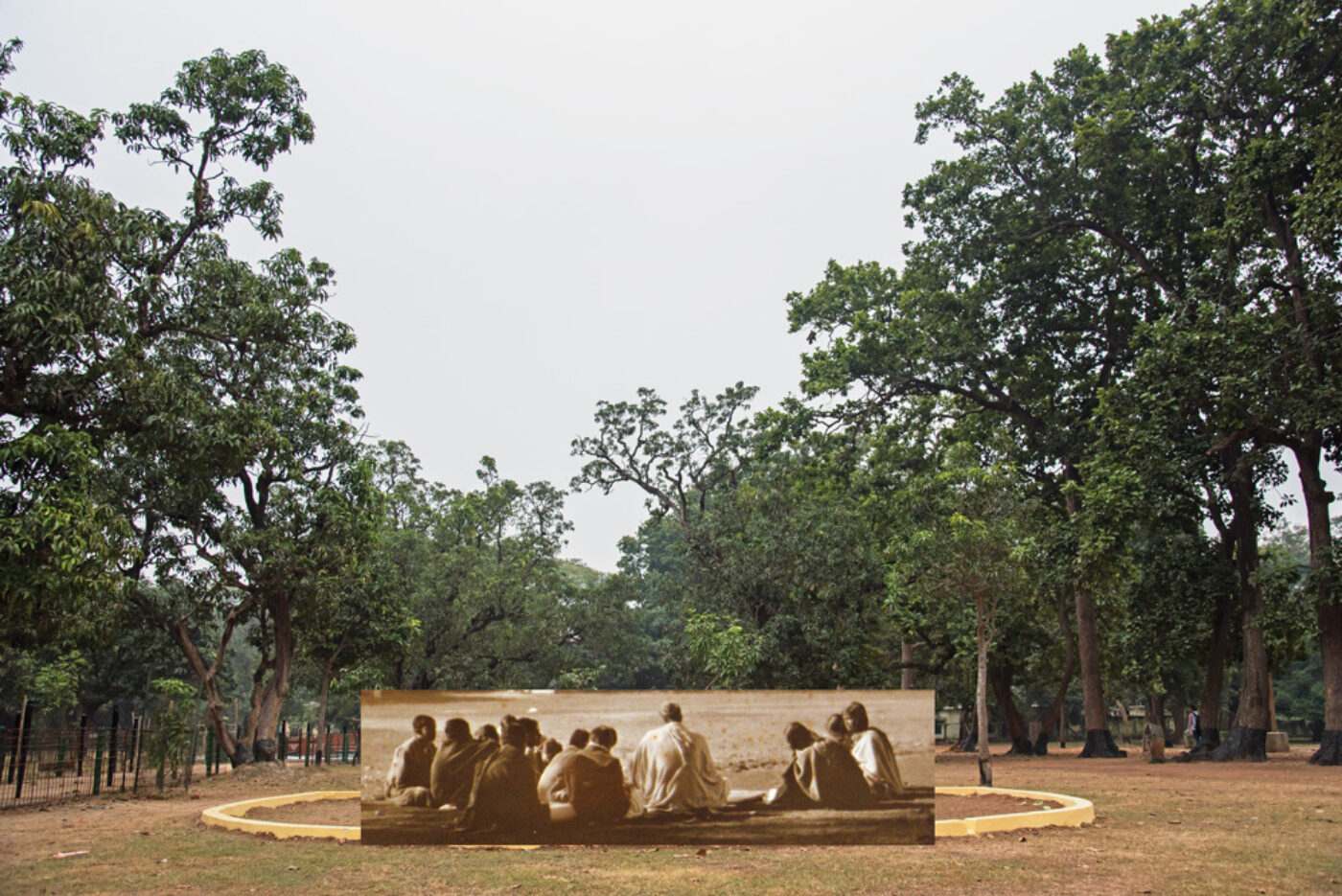 In the molten golden hour, a row of Santhal tribeswomen dance in an open field. Arms interlocked, they bounce as one centipedal body to the beat of a dhol, cymbals, and a purring bamboo flute. The musicians wear flowers in their turbans, while the dancers don expressionless metallic masks that impart an otherworldly timbre to the pastoral scene. This is a particularly gorgeous moment in the Otolith Group's O Horizon, on view as part of the Rubin Museum's exhibition A Lost Future. Alongside the film, the London-based artist collective founded by Anjalika Sagar and Kodwo Eshun presents a series of speculative photographs that collapse time, place, and geography. Ghostly green portals yawn under trees. A portrait of Japanese art critic and ardent nationalist Okakura Kakuzo is superimposed on a statue of pioneering sculptor Ramkinkar Baij, a nod to the anticolonial Pan-Asianism that clashed with cosmopolitanism and eventually congealed as nationalism.
Depictions of Desifuturism tend to turn on such contrasts. The spaceship landing in the paddy field, Afrofuturist treatments of mythology transposed to a Vedic pantheon, Cyberabad on acid. In O Horizon, the Otolith Group depicts an alternative alternate future, one that not only came to pass but still thrives to this day. It centers upon Santiniketan, an educational complex—and now national university—in West Bengal founded by legendary Bengali polymath Rabindranath Tagore in 1901. His poetry—for which he became the first non-European to win the Nobel Prize for Literature—music, and philosophy lie at the heart of the school and also provide the emotional heft of this film. Frustrated with the prevalence of rote learning, Tagore envisioned a new kind of ecological pedagogy, which emphasized communion with nature and was at once deeply Indian and cosmopolitan. In classrooms and under magnificent banyan trees, we see students learning printmaking, Hindi, kathakali dance, music, gardening, and soil science (O horizons are soil's organic strata composed of a high percentage of biomatter). We even see them learn Mandarin—fitting, as the name of the school, Visva-Bharati, loosely translates to India interfacing with the world.
Before Tagore began his eco-pedagogical experiment and planted many trees and flowers, the terrain around the school was stony and untillable. This is presented as a positive example of symbiosis between humanity and the natural world, but the film also captures signs of the Anthropocene—a forest fire, earthmovers claiming land, and railway being laid. Yet consumer technology, when present, assists rather than impedes. Students cram under the blue glow of not only the moon but also their smartphone screens; and later a singer wandering in the woods uses a digital tanpura, or drone, app as accompaniment.
The film's pace is languorous and the cinematography is tender and intimate, but none of this becomes claustrophobic. The camera lovingly skims stunning black-and-white murals by K.G. Subramaniyan, hovers over banyan canopies, and breathes over shoulders, picking out the downy fuzz on faces. It lingers long after the action has passed: like Santiniketan itself, there is no overarching plot or narrative. Echoing the multitemporal Tibetan tangkas you might pass on lower floors of the Rubin, O Horizon eschews linear anthropocentric narratives to present a place where multiple scales—human and ecological—overlap and coexist.
Rahel Aima is based in Brooklyn. Her writing has appeared in the Atlantic, Bidoun, e-flux, Frieze, and Mousse, among others. She is currently special projects editor at the New Inquiry and a correspondent at ArtReview Asia.
Originally published in
In the process of putting together each new issue of BOMB, we often come across distinct resonances between interviews—shared themes, creative preoccupations, and even specific phrases crop up time and again within otherwise disparate features. In these pages, artists discuss their expansive notions on collaboration. Their practices tend to split, reapportion, or redefine authorship, privileging process over individual intention and encouraging unique partnerships with spectators, local communities, film subjects, and one another. These willful acts of reaching out and beyond are as vital as ever, and worth emphasizing here.