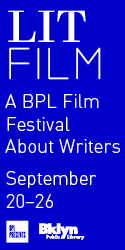 When I heard The Lucksmiths's second compilation CD Where Were We, I found myself developing a mild addiction to their thrummy sound: quick songs with clever lyrics that tripped to my caffeinated heartbeat. Their stripped-down sound was hard to shake. After conducting an informal poll, I realized addiction is a common reaction to the Melbourne-based band. The Lucksmiths produce not an intense high but rather a brightening to the good aspects of the here and now. It's the kind of music that puts me in a good mood without my even realizing it.
While the percussion is minimal, both bass and guitar reinforce the fast beat; the latter often strums headily in double-time. This basic trio is joined alternately by keyboards, extra guitars, harmonica, banjo, brass, and Tibetan singing bowl, which add flourishes, spikes, melting notes, and twangs. Most lyrics rhyme and offer a twist of wit. From "Even Stevens," about a couple who's been battling head-to-head at Scrabble for seven years: "I know it's a consequence / of clinging to consonants / But P – L – O and Q – F – C / Spells trouble to me."
These songs follow me around, working their way into the sound track of my day, sliding freely into the crevices between my thoughts. Short, nostalgic and often about pockets of free time, they replay themselves quietly, happily. At the end of spring, "It's Tee Shirt Weather" surges to the front of my head, tunefully expressing the joy of a jacket-free day. It's nearly Pavlovian: when I hear the song, it feels like spring, and when it feels like spring, I hear the song.
The sound on the new album, Naturaliste, focuses on guitar and bass in simpler arrangements, minimizing instrumentation and showcasing the Australian brogue of drummer Tali White. On the whole, the album is less playful and more pensive than the last, relying mainly on scant but thoroughly effective vocal harmony. In "The Sandringham Line" and "What You'll Miss," for example, these shadowy harmonies accentuate a trace of regret. "The Shipwreck Coast," the final track on the album, has a ghostlike quality: ephemeral guitar, trumpets gliding in as if on clouds, lyrics speaking of the phantoms lurking on the clifftop.
However, a good number of songs still run lickety-split, with double-time guitar and scattershot bass jumping all over the strings. The Lucksmiths may have mellowed a bit on Naturaliste, but the frenzy still bursts through.
—Victoria Ludwin
Naturaliste will be released this summer in the US from Drive-In Records.
Originally published in
Featuring interviews with Marina Abramovic and Laurie Anderson, Paul McCarthy, Christian Marclay and Ben Neill, Jesse Reiser & Nanako Umemoto and Andrew Benjamin, Jimmy Santiago Baca and Adam Fuss, Aryeh Lev Stollman, Shari Springer Berman & Robert Pulciniby and Bette Gordon, and Elliott Sharp.