The Language of Duress: Speech/Acts at the Institute for Contemporary Art, Philadelphia by Amber Rose Johnson
Experimental black poetry and visual art.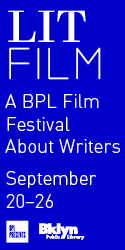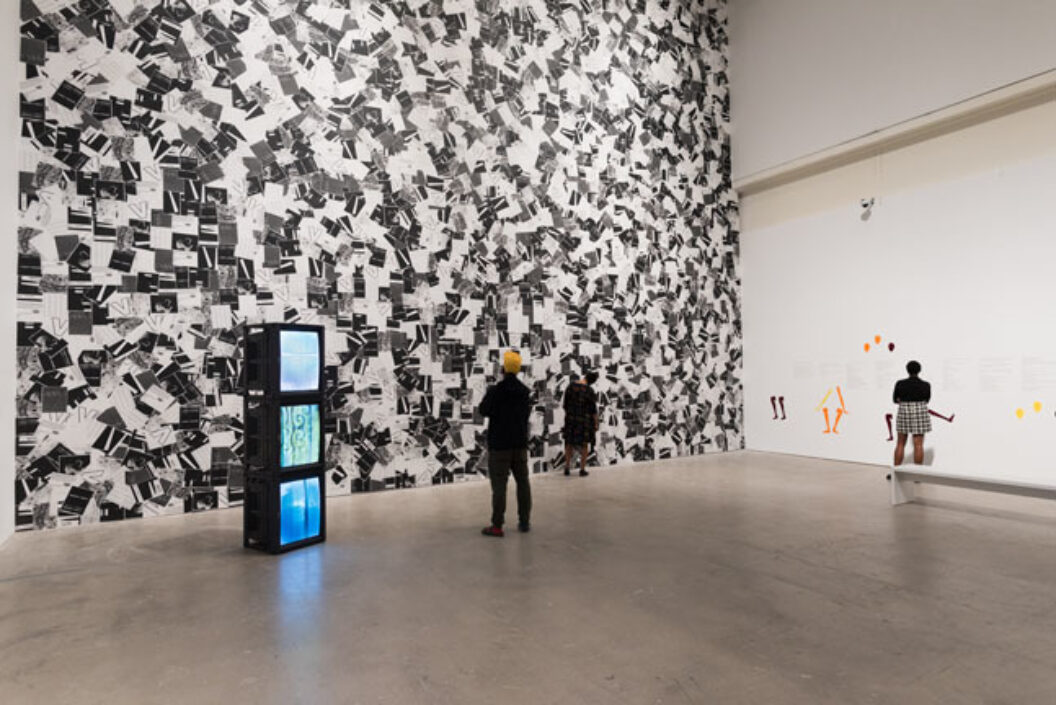 While there has never been a moment in U.S. (or global) history unmarked by immeasurable violence, the present, unfolding reality is acutely maddening. The natural environment furiously retorts to its neglect and maltreatment; state-sanctioned corporeal violence continues to bleed into every minute; capitalism exponentially accelerates toward its own worldwide combustion—and still these terrifying truths are shrouded in absurdity and warped in public discourse. Language, as the technology through which we attempt to make sense of the mess, is forcibly buckling under the ridiculous pressure. It is not a surprise, then, that avant-garde and experimental poetics are moving into the center of black expressive culture as a necessary means of contorting and abstracting language, in order to bring us closer to interpreting our interior and increasingly distorted exterior worlds.
Speech/Acts, open until December 23 at the Institute for Contemporary Art in Philadelphia, hosts a generation of black artists who use experimental poetic techniques to disrupt and discharge the structural and conceptual order of American English. Deeply influenced by the defiant attitudes of the Black Arts Movement and the unremorseful disavowal of "coherence" that defines experimental poetics, these artists manifest a new attitude through a range of mediums: collage, drawing, text-based installation, and video.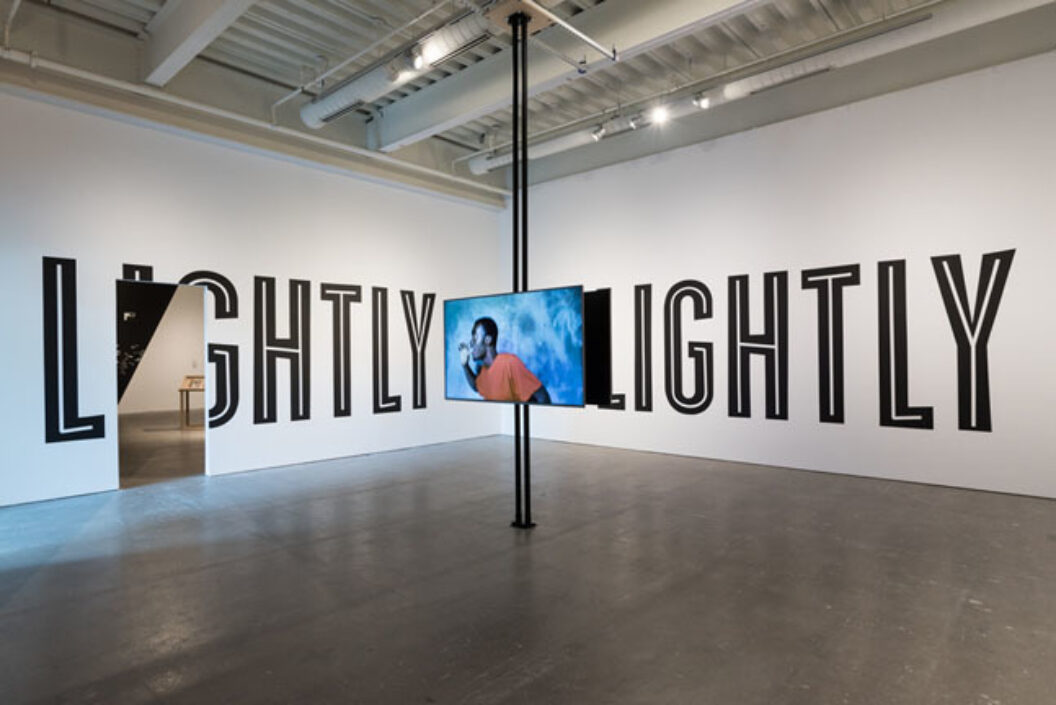 In the first of the exhibition's four large rooms, artist Martine Syms's wall painting, Lightly, Slightly, Politely (2016), splays the larger-than-life words of the title across three walls, immediately situating the viewer in the belly of a black literary tradition. The phrase, culled from Zora Neale Hurston's slang glossary, reflects on the societal pressure that black women in particular have to negotiate constantly, and on the limitations of a composed and ordered language that continues to prove inadequate.
In the next room, the artists are anything but light and polite in their determination to imagine otherwise. Kameelah Janan Rasheed's A Supple Perimeter (2017) explores the slippage of language from a deeply personal vantage point, manipulating the artist's own writing with traditional self-publication tools. Noted in the description of the work is Rasheed's intention to make adjustments to the pinned text of the installation throughout the run of the show. The outward facing edge of the piece is made porous through these changes, its openness and activity defying any assumed stability of the artwork. The intricate polyscalar construction of the installation forced me to zoom in and out. Large phrases like "This is a stout truth" and sizable single words like "going" and "black" (first clearly printed then repeated, stretched, and abstracted) quickly grabbed my wandering eyes, while the numerous small scraps of paper, delicately held by a single pin to a pitch-black wall, forced me to come closer (and then closer) with an impulsive desire to make the work legible. "I want to hear / the rhythm of / rupture" was a poetic jamming in the piece that captured me and held my breath in tension.
In the next room, another piece by Rasheed entitled because gwendolyn brooks said "we occur everywhere" (2017) is a massive, towering work that fills the entire thirty by thirty-eight-foot wall in a room that houses an outpost of Claudia Rankine's Racial Imaginary Institute. I felt the gravity of the piece as soon as I stepped in. Hundreds of photocopies of a handful of images are overlaid and pasted to the wall—a spectral set of hands, misshapen images, and text pages all in black and white. One of those pages contains the tedious repetition of the phrase "and after" over and over again.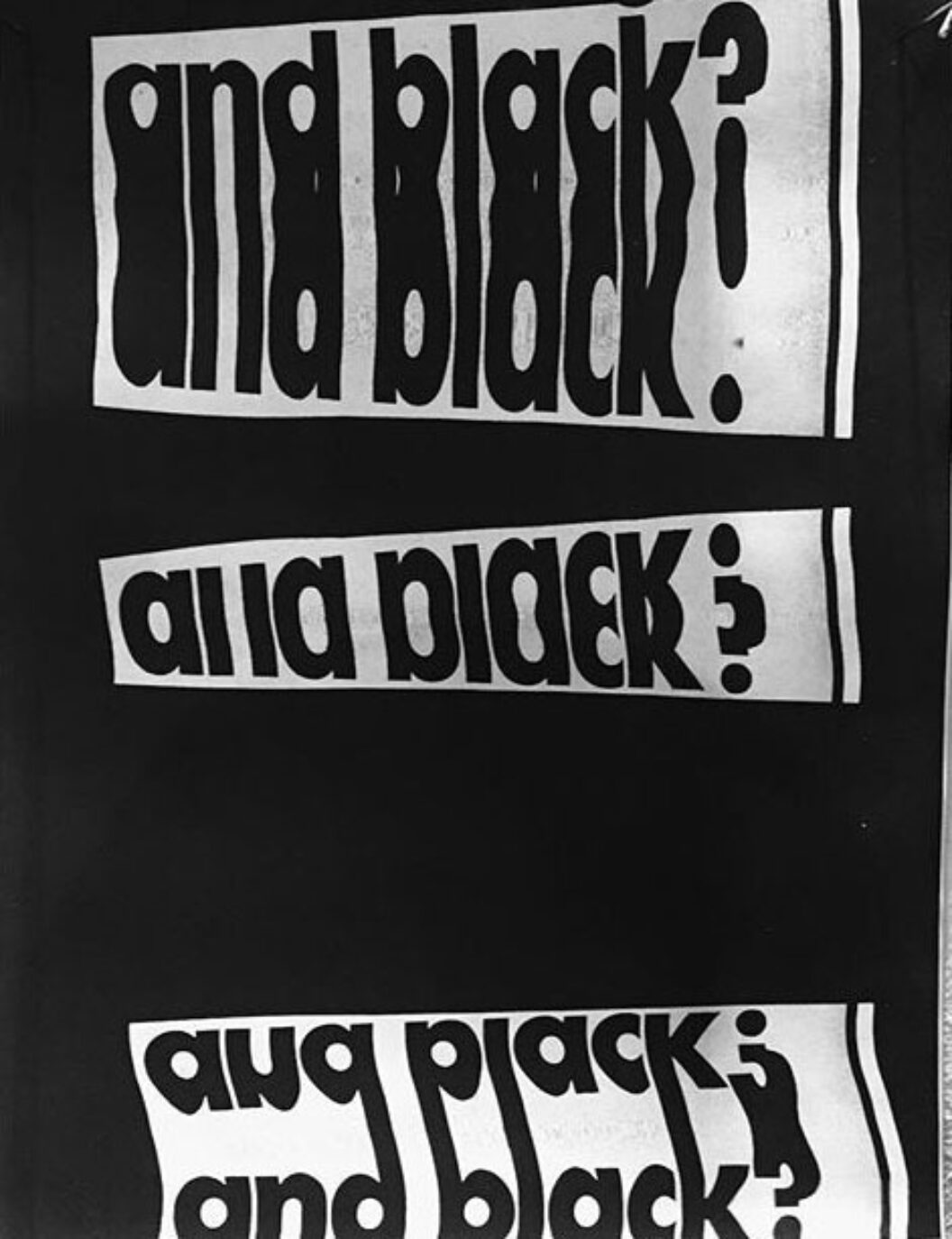 This "and after" rings in the same key as Fred Moten's poignant question, "What will Blackness be?" posed at the beginning of his watershed text on blackness and the avant-garde, In the Break: The Aesthetics of the Black Radical Tradition. Both phrases beg the answer of an unpredictable black futurity, one that emerges in the wake of tradition, in the wake of irresolvable violence and terror, and in the wake of the cultural expression and experimentation produced thus far. Viewed in its overwhelming entirety, because gwendolyn brooks said "we occur everywhere" gives us a way to feel toward the answer to Moten's question. If blackness slips and slides at the very limit of language, at some point we must stop looking for traditional legibility and start feeling toward a new understanding. I was lured into the piece, searching for legibility at the minute level, and the words I found there ("and after") pushed me back out to encounter the piece again, anew, for an answer I could not read but had to feel. Blackness is necessarily, beautifully, and infinitely open and opening. Its unending capaciousness, represented by the apropos magnitude of a nearly forty-foot-tall installation, is best registered through feeling and moving in the "rhythm of rupture" as a way to engage beyond the strictures of typical language.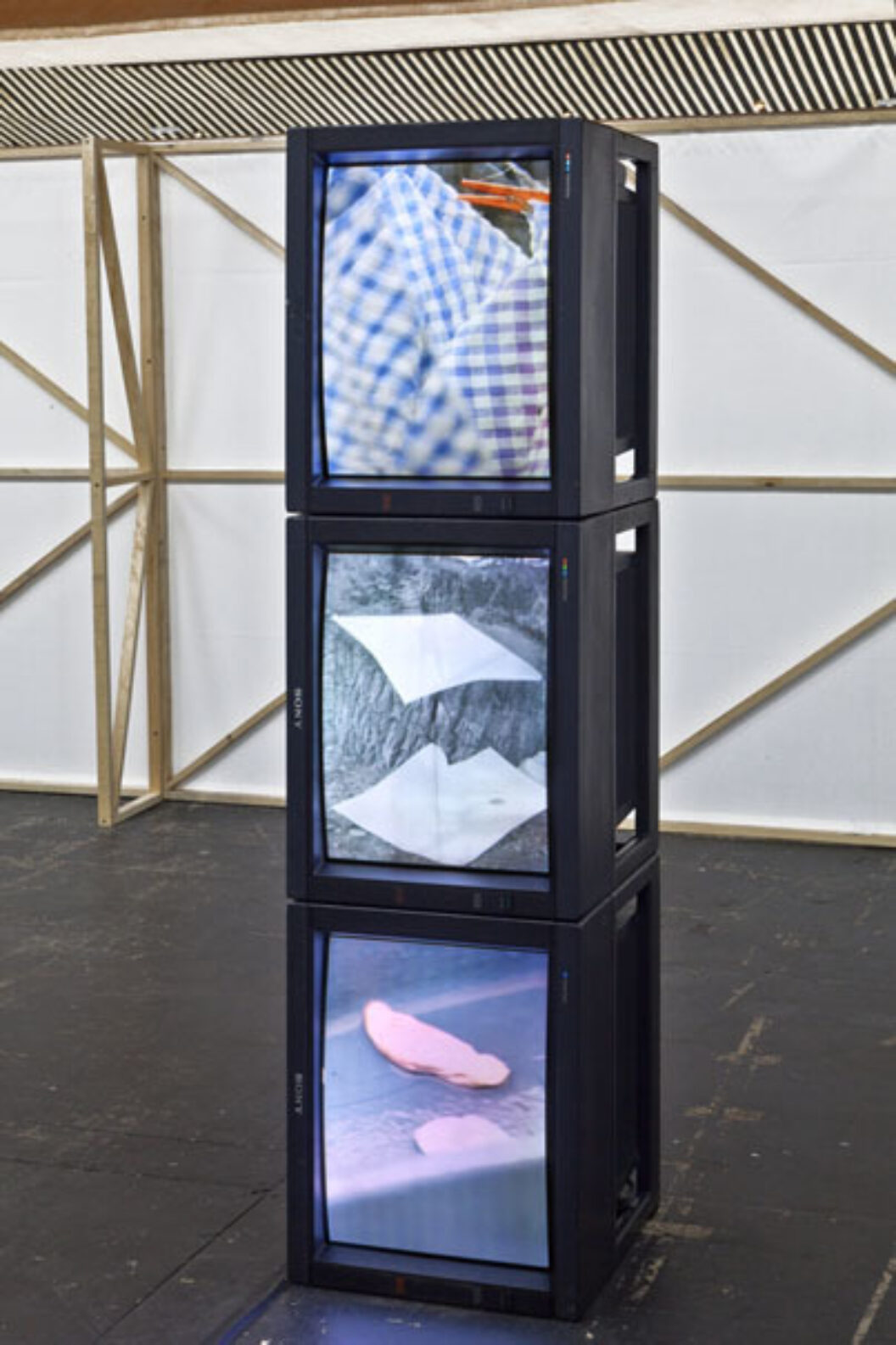 In the final room, Jibade-Khalil Huffman's Untitled (Citizen) (2015) is a three-channel black-and-white video that catalogs constantly shifting everyday images as well as a staged performance of actors continually in motion. It also features a recitation of the last ten pages of Rankine's Citizen and her inquiry, "What feels more than feeling?" which hung in me long after I left the exhibition.
Like the other works in Speech/Acts—open, active, and unstable—Huffman's contribution required the viewer to be in motion in order for it to achieve its full aptitude. Each piece in the exhibition kept me in a movement and a liminality that felt simultaneously precarious and constant. Collectively, Speech/Acts reached just beyond the limits of quotidian language and into what can only be felt and imagined.
Speech/Acts is on view at the Institute of Contemporary Art in Philadelphia until December 23.
Amber Rose Johnson is a poet, educator, and thinker from Providence, RI. She is currently pursuing a PhD in English and Africana Studies at the University of Pennsylvania in Philadelphia.