The Idea of the Beginning Is Not Really at the End: Loup Sarion Interviewed by Madeleine Braun
fiction + volume = sculpture

Discover MFA Programs in Art and Writing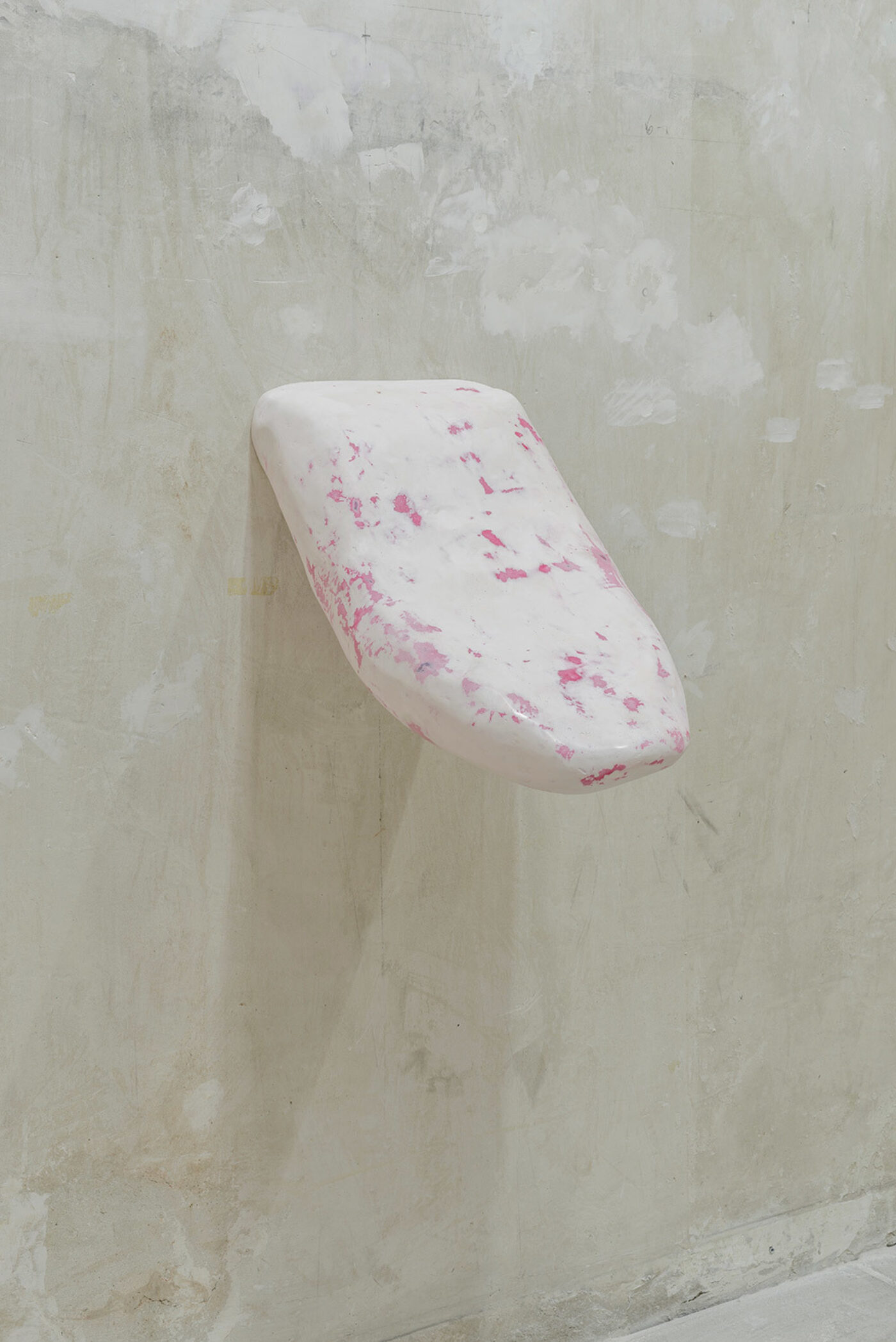 This piece is based on a conversation between Loup Sarion and Madeleine Braun in the context of Sarion's solo exhibition smooth like an alibi at FORMATOCOMODO in Madrid, Spain.



I ring the buzzer only to find the door ajar
Hop over a petite creek
Welling on the floor just inside the door
It has been snowing for days
The liquid is seeping through every crack
And door and floor of these concrete buildings
Climb the stairs two at a time
I'm late for the studio visit
The fluorescents blast the whitish walls
A bright orange book falls out of my bag
I stoop to pick it up
Almost slip on icy shoes
Loup is at the top of the stairs
Hello! he booms 
Smiles broadly
Loup makes us two cups of tea
We leave the tea to steep and walk around his studio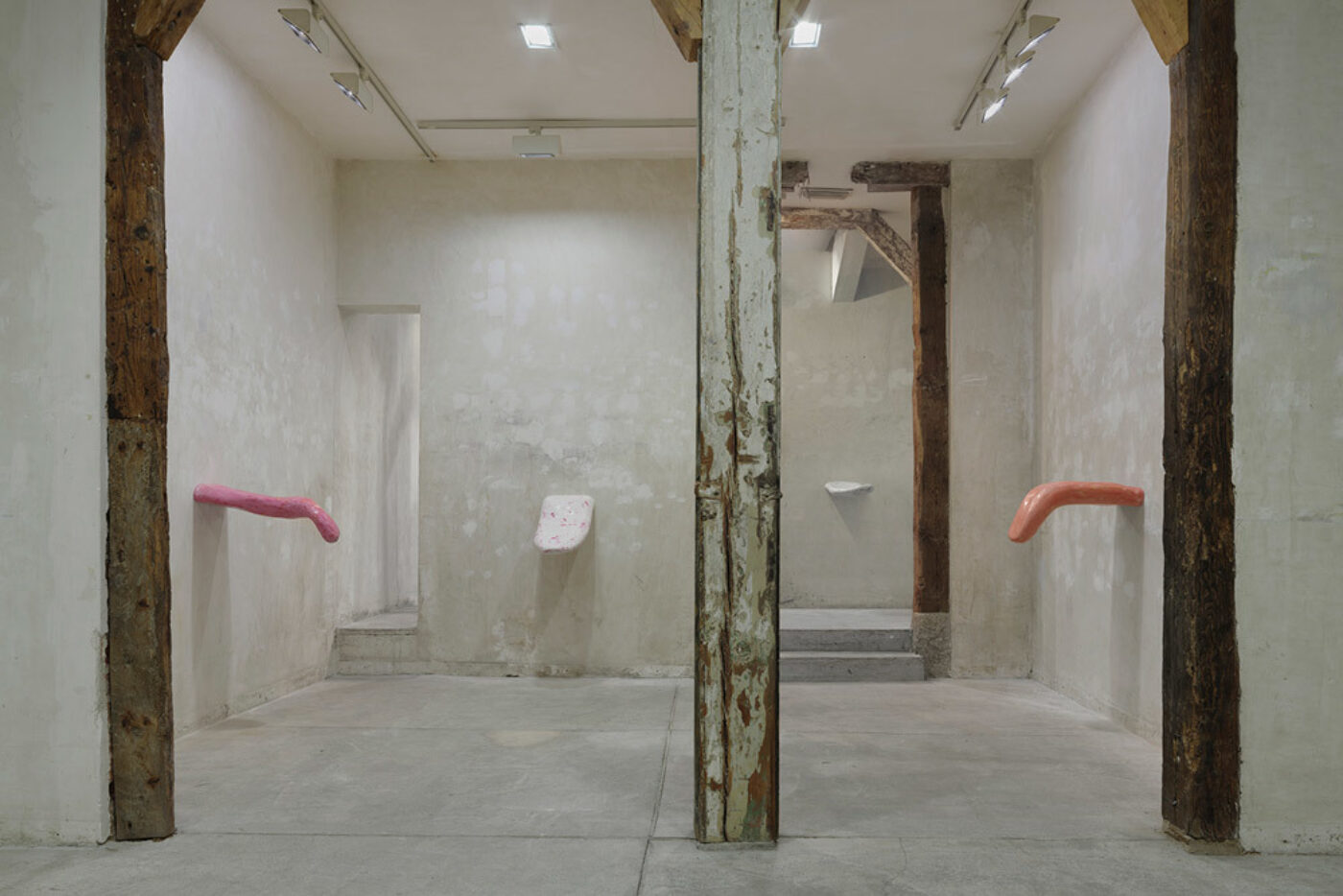 As he walks us around the space he intuitively
Includes me in the conversation between him and his sculptures
The sculptures nod to each other
They are objects that speak of a direct experience 
We sit back down at his little desk and speak until our cups are empty
Leaving nothing behind but a ring of condensation on the tiny table 
We light cigarettes
Tap ash on ashtray in silence
…
SO how did it go
I'll discuss the history
How this show came into fruition
But the idea of the beginning is not really at the end
It is out of chronology
… 
I was really into this idea of people smoking drugs together
Smoking drugs or smoking cigarettes
A shotgun practice or hot boxing a car
Using the weed or other drugs
In a repetitive motion
Like one drug could be used many times
Super ephemeral super sensual
It came from images of soldiers smoking together through a gun to share the smoke
Beautiful imagery of people holding a gun and using it to smoke weed instead of
…
This is fiction that I tell myself that becomes volume
That becomes sculpture 
You don't mind if I mix ideas form and technical detail 
No it's fine
It's cool
…
So how did it go to the tongue 
I'm working on these tongue sculptures
On these wall sculptures 
Put your noses away
Yeah put your noses away 
I want one pink one red
One more whitish one bluish pinkish grayish black and white and gray
Different textures
I want them to be really soft
Maybe more shiny
Different colors
Something more sensitive
More sensual
A good finish
I did one sculpture once with a tongue 
(flips through papers flips through papers flips through papers)
This side angle doesn't tell so much (holds up image of sculpture entitled the anxious (vicious)—circa 2016)
I'm just saying technically speaking
I took this tongue that I made once in this shape
When I made it I did not really anticipate it would appear again
But here they are 
…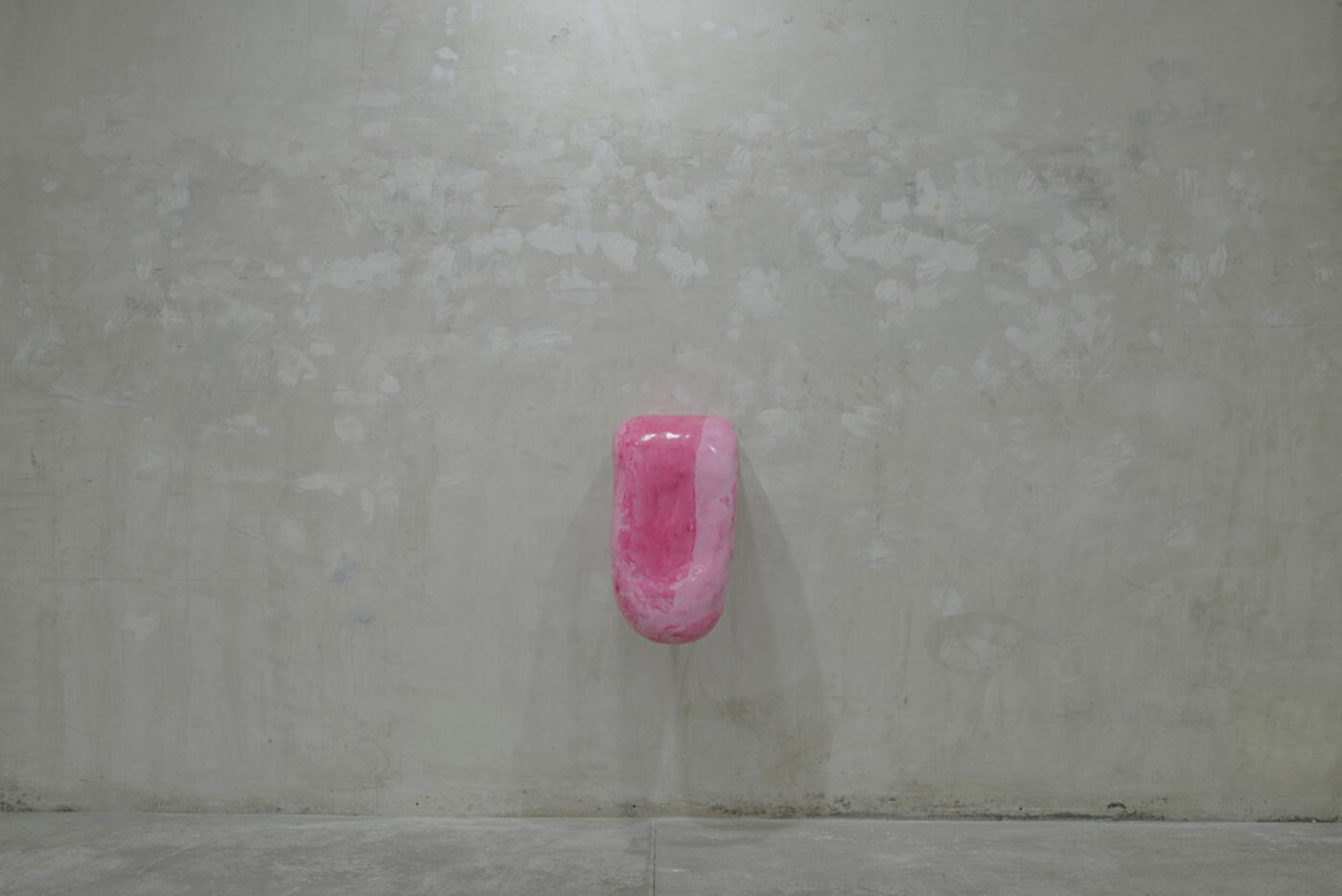 …
I want the tongues to lick the audience
When you are circulating the space
It could be a little bit animal 
We walk amongst the colorful tongues
Some already hang on the walls of his studio
Some lay on the floor
Polished and ragged in-progress
Bending and breathing tangibility
And the tongues will talk to you
…
Another important part of the show will be
These collages
The first ones I made were of people smoking
Imagine there are five of them 
So it is still a small part of the show
They are not that big
They are pretty small
I don't know for me if I'd consider them a work or a sketch
I don't know about sketch or sketchbook
What could be the difference between drawing and painting for a painter
For me could be sculpture and image and photography 
(To himself) I should take this element and enlarge it (circles aspect of image) 
…
The gallery (FORMATOCOMODO) is not a white cube
The walls are brownish
And there are wood columns
And I will install a coat hanger from one column and create a cap
A cap
A cap like a hat
Yes a hat sculpture
The columns are very present
This is the part that could be oversized
I imagine a baseball hat
In a way
It is funny
It's a tongue too you know 
Everything is kind of abstract
Everything is coming from the real so much
I think I want a hat or two
Just because it is so teenager 
I love to think about that time
When you didn't do anything in particular
Lay around with friends
Lackadaisically watching shows and smoking weed
That time before responsibility
It was a beautiful and sensual time
And it is a time of the past 
Do you think of the rest of your show as teenager
 Well the first time you have a sensual relationship is kissing
And eventually it is kissing with the tongue
The next sensual relation is using your tongue and your mouth
So there are aspects of this naïve time
Of this youthful language
…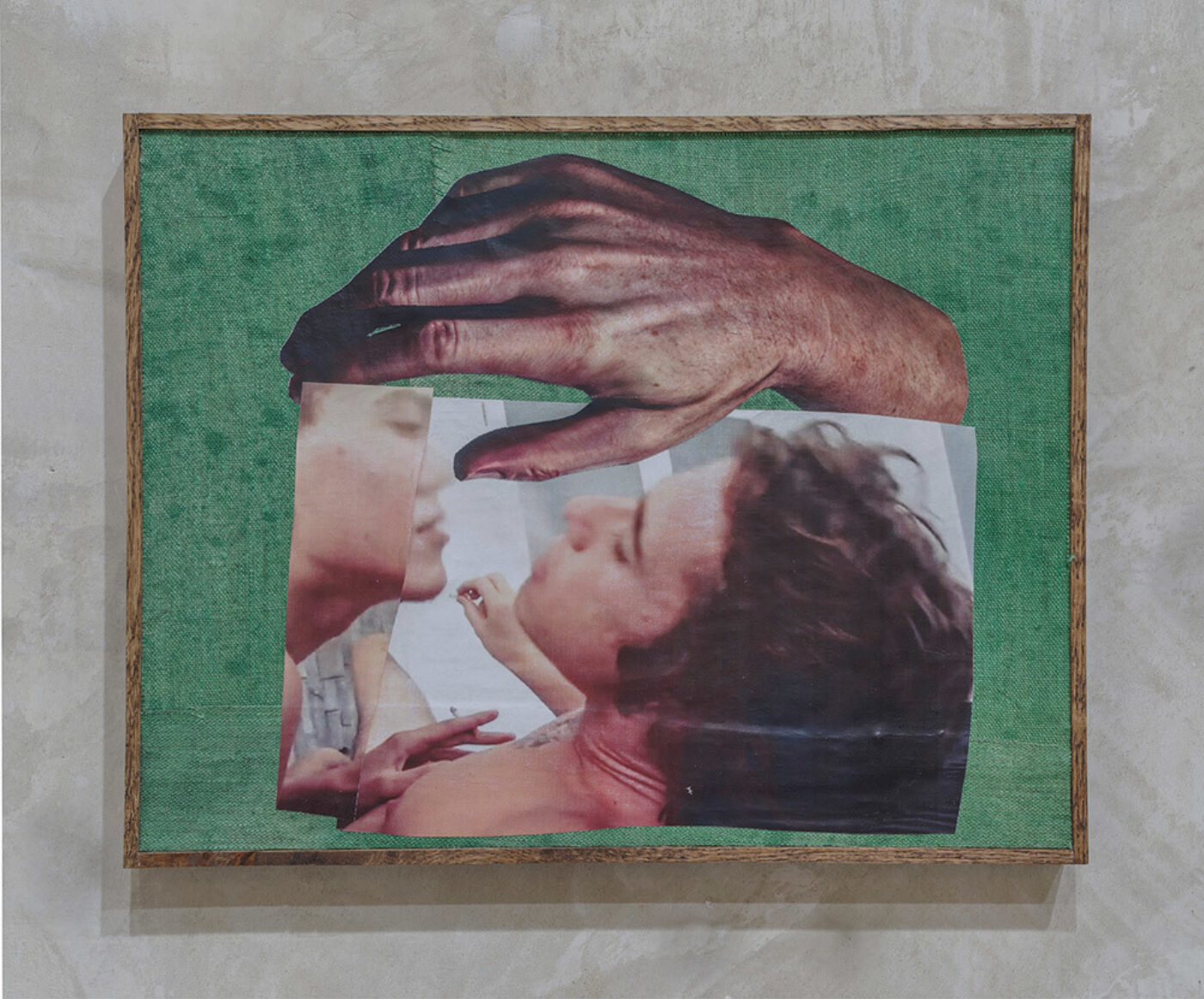 Do you more or less see a story from what I tell you 
I guess maybe just to keep talking
…
I like the way you talk about isolation
Like there was a table and this woman
She had eyes like I had never seen
Her eyes were like the color of cream
Super weird
Like a cat
And she had this beautiful scar across her lip
She was so striking
And every time she goes to a place everyone says
You have the most beautiful eyes
Everyone has that thing
That seems to me more what you are talking about than fragmentation
You are more interested in the social
It seems like you are talking about the way we interact
The way we notice each other and interact with each other 
I prefer to imagine that I plug an element of the body on something that is not a body
And it comes alive
I imagine I plug this tongue on the wall and it becomes a face
If you imagine five tongues on the wall you imagine a conversation
Or something else like
When I install an exhibition
Any type of thing
If I were doing something truly abstract
A sphere or if I were to make just squares or triangles
If I were to install them in a space
I would want them to have a conversation
It is something I really care about
That is why I wont be relaxed until the show because you can't anticipate that
I don't know how much the tongues and the hands smoking in the collages
Will have a conversation
I get really crazy about it 
But if there is alchemy
(phewww)
I can relax
But that is only in the exhibition space
But also what happens in the studio is different
Like when you told me you were going to come I was like should I hide shit
Should I clean something 
But I think what you see in the studio is so important
And I do not know what is important and what is not for you
…
Loup taps his finger on the desk
We sit quietly
During our conversation the snow turned to rain
A wet-cool breeze shudders Loup's studio
He offers me a second tea
A hat or a sweater
Says finally
you know sometimes you have to get out of your world
late at night
go to the deli
you have to see the world
last night I was so sick
but I was like I should get out
put on all my jackets and do ten times around my block 
I walk out the door of Loup's studio
Adorned in enchantment
Float down the pearly staircase
Glide over an interior river
Sarion's solo exhibition smooth like an alibi is on view at FORMATOCOMODO in Madrid, Spain, until March 31.
Loup Sarion (1987, Tolouse, France) studied at Beaux arts de Paris (2010–15) and Cooper Union (2013). Upcoming exhibitions include a solo exhibition at Berthold Pott, Cologne, Germany (opening April 17, 2018) and Art Cologne, Cologne, Germany (April 19–22, 2018). Sarion lives and works in New York. 
Madeleine Braun is a poet, currently living in Brooklyn, NY. Her poetry has appeared in a variety of literary publications including Matrix and The Stockholm Review. She runs a bi-monthly reading series out of her back yard.