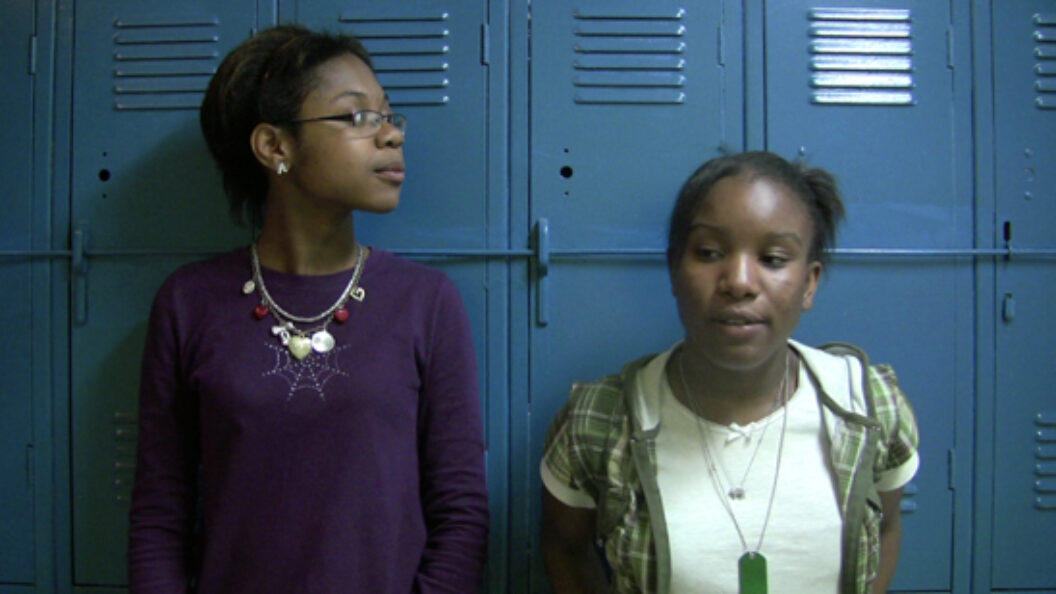 In 1985, Sandy Denton and Cheryl James were working dead-end jobs at Sears when Hurby Azor, a coworker and audio production student, asked for help on a college project. The Queens duo agreed and recorded "The Show Stopper," a single that would launch their careers and change hip-hop history. With the commercial success of their debut, the scrappy pair known as Salt-N-Pepa proved that female emcees could get just as rowdy, just as braggadocious as the boys.
Flash forward two decades and one borough south to another classroom, this one in Brownsville, Brooklyn. Sam Hillmer, an unlikely rap ambassador from the noise band Zs, is holding court, banging out a lunch-table beat while an 8th grader raps. Hillmer is the creator of Representing NYC, a program that aims to keep at-risk youth off the streets by teaming them up with independent music professionals to make records. The students invent the rhymes and the pros make the beats. The collaboration started at the Brownsville Middle School PS 284 with a group of more than 20 kids; as the project progressed, only six tenacious girls remained. The Fly Girlz were born.
Their first and perhaps last record—the group has since dwindled to just two members—was released on LP and later on CD by True Panther Sounds. Titled Da' Brats From Da' Ville, the album jumps with the type of rambunctious energy that made early crowds fall in love with Sandy and Cheryl. Like when I first heard Salt-N-Pepa's 1987 megabanger "Push It," The Fly Girlz's "Welcome 2 Brownsville" had me bouncing off the walls with its infectious handclaps and biting refrain "why my hood is so crazy?" No Fly Girlz record, however, will meet the fate of my Salt-N-Pepa tape, which my mother made me return to the store when she caught wind of its transparent double-entendres. These junior emcees (they were between 12 and 14 at the time of the recording) keep their lyrics totally PG, even as they wax plain on issues from teen pregnancy and domestic violence to drive-bys.
Against all odds, Da' Brats From Da' Ville might just emerge as an unimaginable classic. Their producer Zebrablood, aka Nathan Corbin from the electronic ensemble Excepter, alternates between old-school and space-age beats, letting the girls' voices echo, float, and overlap. His influences clearly date from the '80s, when hip-hop was nowhere near the behemoth it has become. Much of the Fly Girlz's appeal is that they have nothing to do with the current industry machine that churns out homogenous hits. They rap about the world they know: sometimes it's joyful, sometimes it's grim. They're kids, and they don't let you forget it, chasing boys and erupting into laughter at their own silly jokes, harkening back to the days when two girls from Sears could cut a record, have fun, and grab fans. It was a simpler time—one without manufactured beef and Gatorade endorsements—not just for hip-hop, but for pop music in general, before every young performer was either a prepubescent sex symbol or fabricated by Disney. To the corporate clones, I quote the Girlz: "I'm tired and sick, you make me say ick." Now, may the adolescent queens of hip-hop lead the way.
Cameron Shaw is a critic and fiction writer based in Brooklyn.
Originally published in
Featuring interviews with Allen Ruppersberg and Cheryl Donegan, Allora & Calzadilla, Joel Shapiro, Lydia Peelle, Rebecca Solnit, Cherien Dabis, Karole Armitage and Lukas Ligeti, and Thomas Bradshaw.