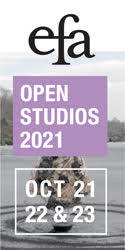 It was the last day of filth grade, 1953. In the afternoon we went with our teacher to the town athletic field for a picnic and games. At some point I lay on the grass and looked at the sky. There was a hawk soaring around up there. This wasn't unusual, but it gave me a strange feeling I sat up and started writing.
It was a poem in stanzas, and I knew it was a poem because it looked like one. All I remember of it is a one-line chorus that repeated after every stanza:
Winged avenger from the skies!
When the poem was finished I felt dazed. I took it to the teacher. She read it and said something like: "That's nice, Peter very unpleasant What does it mean? What does the avenger want to avenge?"
I should have answered, "It wants to rip your throat out." It was five or six years before I wrote my second poem.
Originally published in
Georgia Marsh, Paul Bowles, Michael McClard, Olivier Mosset & Fred Brathwaite, and Duncan Hannah. Cover by Mary Heilmann.