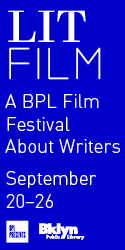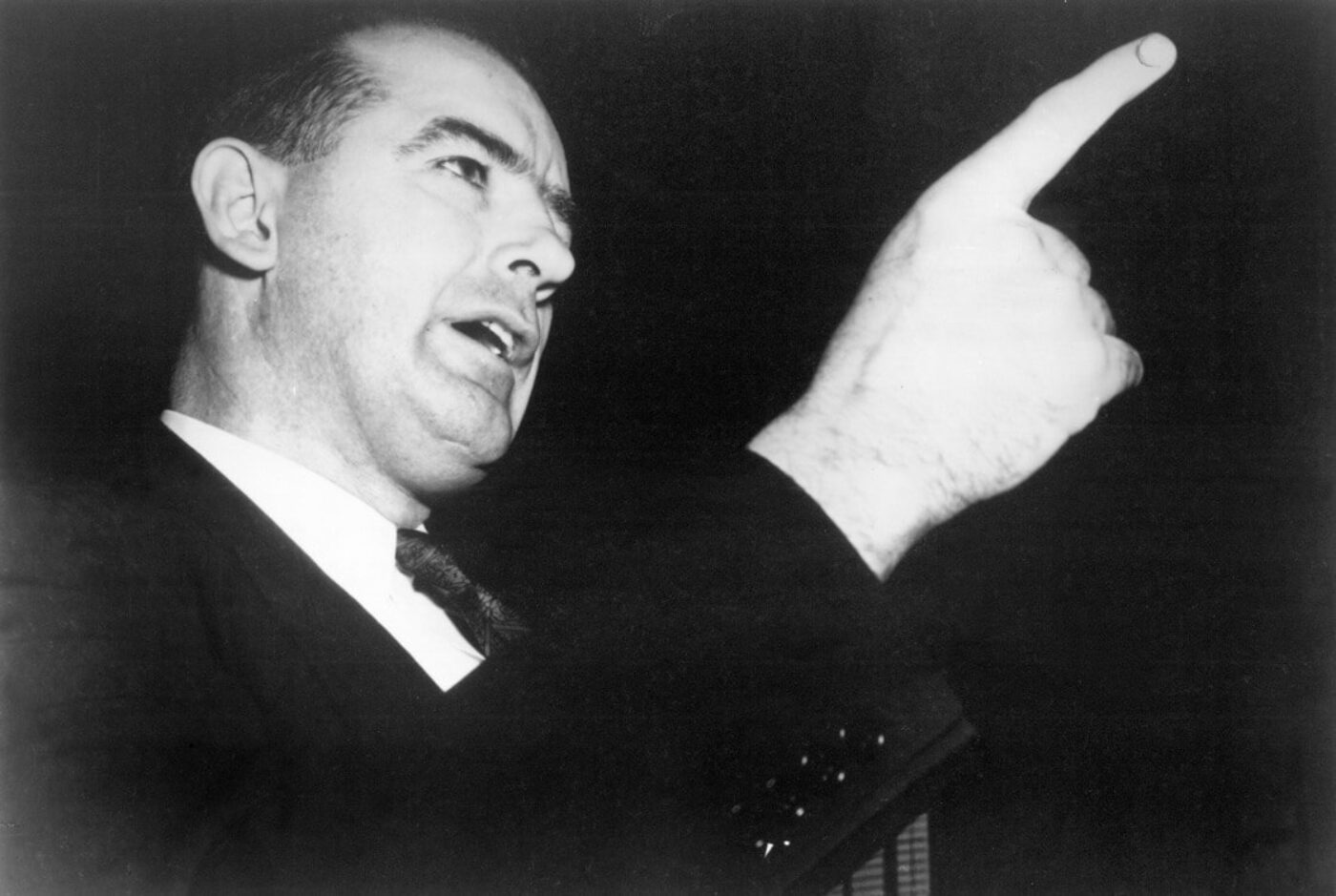 Huddled in front of a suite of bulletin boards filled with military charts, folding his fingers over papers as if they were slices of pizza, licking his lips, jowls quivering—this is Senator Joseph McCarthy as he appeared live on ABC in 1954 as part of the 36-day, 188-hour televised extravaganza that would come to be known as the Army-McCarthy Hearings. He's berating a colonel, insinuating that "phony charts" have been submitted to the floor of the Senate. "The television audience," he yells, "they are the jury in this case."
Ten years later, the discredited McCarthy, now dead, would come back to life as the leading man in Emile de Antonio's Point of Order, a film made by condensing and reordering these hundreds of hours of live footage. Ripped from network TV and squeezed into the movie theater, de Antonio invited the audience to laugh and balk at McCarthy's antics, and also to view them as political theater. Point of Order's great formal move was its forgoing of a narrator, which heightened the feeling of staged drama while allowing characters to babble on, off, and way off topic without interruption—insulting each other and contradicting themselves along the way. The film is hilarious but mostly haunting. You watch a supremely boring and apparently meaningless spectacle while coming to realize that what seems like empty grandstanding is actually the face of a vast apparatus of centralized power linking Congress, the military, corporations, lawyers, and media outlets. Bullshit may just be bullshit, but it's also the rotted mud from which all life grows.
De Antonio was not a natural-born filmmaker. For most of his formative years, and a few decades after, he was something of a professional student—bumming around various institutions (like Harvard, where he was a classmate of JFK) before dropping out to work odd jobs (like on a river barge), read Schopenhauer and Marx, get married and divorced (several times), and drink copiously. Things shifted in 1953 when he briefly moved upstate and spent nights talking about art with his next-door neighbor John Cage. The son of a prosperous physician, de Antonio then used his relative financial security and Ivy League connections to become a kind of avant-garde impresario, organizing concerts for Cage and, in the process, befriending artists like Robert Rauschenberg and Jaspar Johns. It wasn't until he saw and helped distribute Alfred Leslie and Robert Frank's movie Pull My Daisy in 1959, though, that he began to consider pursuing filmmaking. When Point of Order, his first film, was released in 1964, he was forty-five.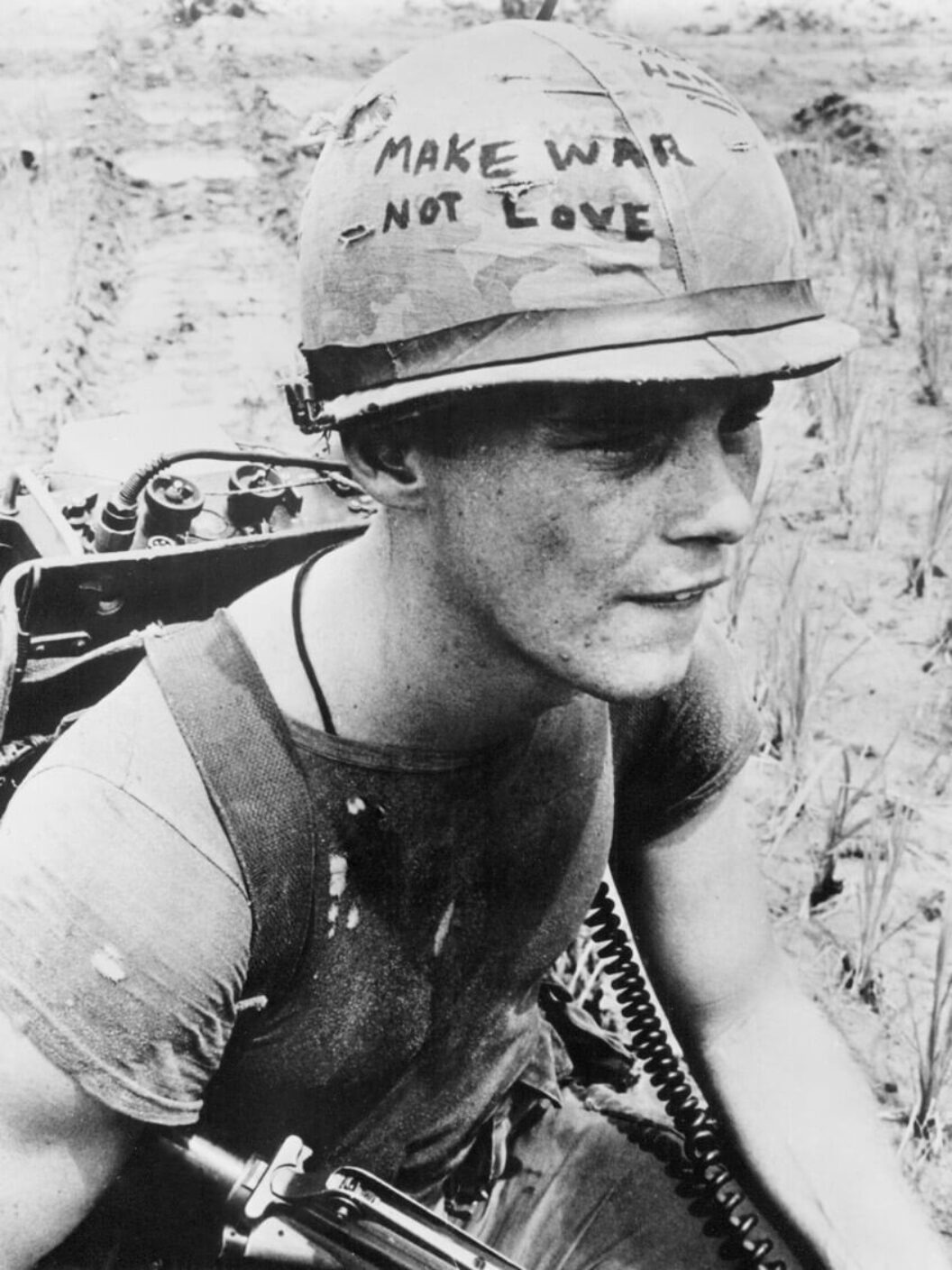 What followed was a string of politically radical documentaries (the subject of a recent retrospective at Metrograph in New York) that challenged the mainstream discourse around nearly every major event of the '60s and '70s in America: Rush to Judgment (1965), a legal defense of Lee Harvey Oswald and counterargument to the Warren Commission; In the Year of the Pig (1968), one of the first anti–Vietnam War documentaries, and still one of the few that considers the history of oppression, colonization, and revolution in Vietnam prior to the deployment of US troops; America Is Hard to See (1971), an examination of Eugene McCarthy's unsuccessful presidential bid that climaxes at the 1968 Chicago Democratic Convention; Millhouse: A White Comedy (1971), a satire about the rise of Nixon, and his skills as a consummate character actor; and Underground (1976), a series of interviews with members of the Weather Underground who had gone into hiding. Poignantly hanging off to the side is 1972's Painters Painting, de Antonio's portrait of his chosen New York City milieu in the form of studio visits with Newman, Frankenthaler, Stella, de Kooning, and many others, including his original circle of Warhol, Johns, and Rauschenberg.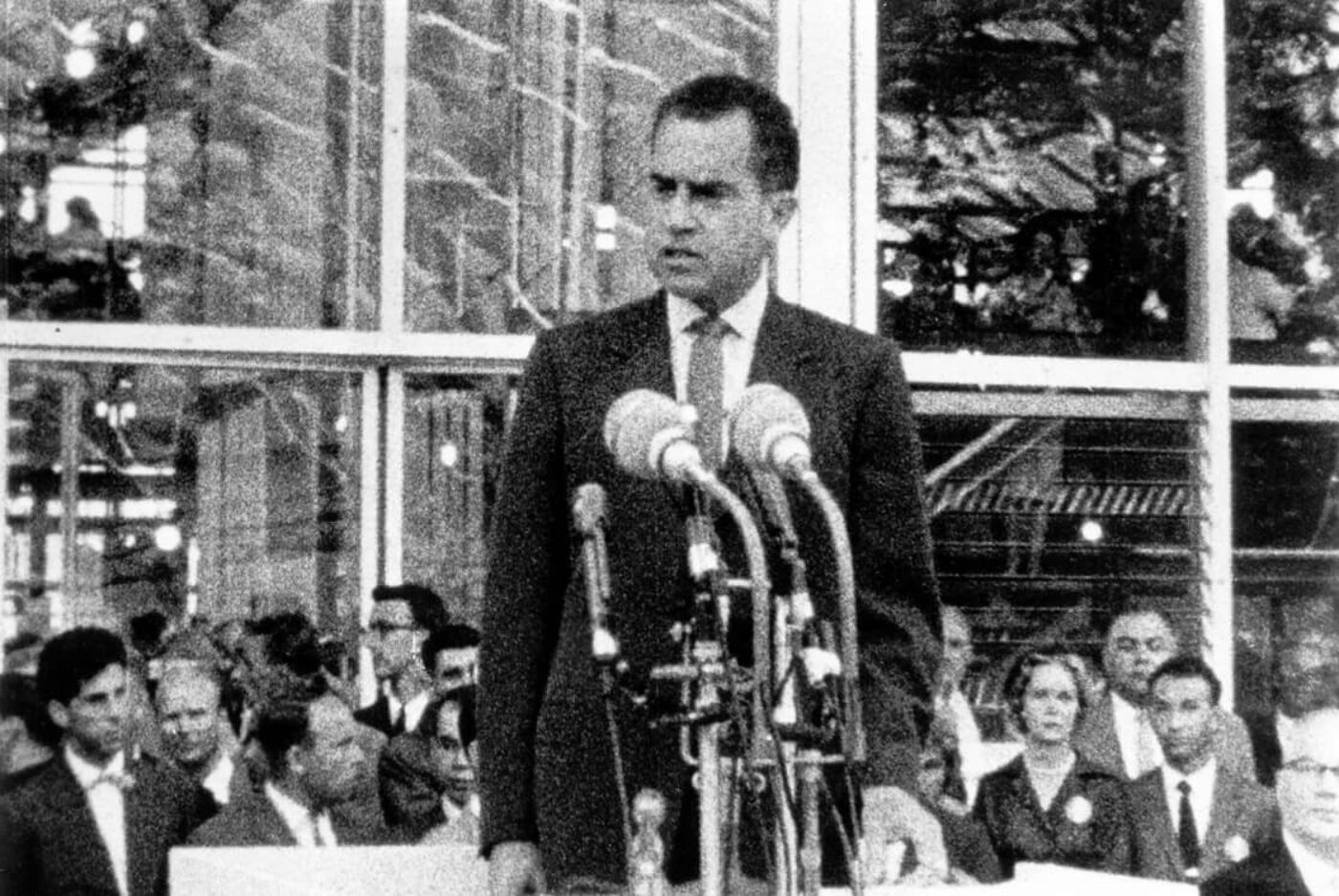 A collaborator described de Antonio's filmmaking process as akin to "watching someone make a sausage—not very pretty." All his movies share a messy rawness: they are often commentaries on developing wars, investigations, and presidencies—alternately seamless and slapdash in their movement between stock footage, talking-head interviews, news coverage, and government propaganda. He was not interested in perfect shots, techniques of direct cinema (the word verité particularly rankled him), or even the experiments in collage and "found" filmmaking carried out by his friends in New York. Instead, de Antonio's films are almost entirely composed of people pontificating in front of cameras. Sometimes the camera is de Antonio's and sometimes it's operated by ABC, and because the two join together without narration or explanation, the viewer is left to think for themselves. The films talk at you about a situation, rather than try to pull you into it.
Sloppiness, it seems, was the point. "I'm glad we're hearing the sound," de Antonio comments over the mechanical camera noise in his final film, Mr. Hoover and I (1989)—a double portrait of de Antonio himself and J. Edgar Hoover, who, when de Antonio's radical sympathies attracted the attention of the government, compiled a 10,000-page FBI dossier on his life and films. "That kind of blind technical perfection which we seek so assiduously is what finally gives us a film and a world of film that ends up in the garbage can of television, to be played and played forever, meaninglessly passing its time on with commercials." Unlike the infamous politicians he examined—Hoover, Nixon, Joseph McCarthy—de Antonio has not made it into movies, TV, or commercials: our popular American imagination. In Warhol's Drink (1965), a film never officially released and seldom seen, de Antonio downs an entire quart of scotch in one sitting and, before yelling incoherently and passing out on the staircase of The Factory, points briefly at the lens, saying: "Camera, I like people better."
Michael Blair is the coauthor of a book on Young Marble Giants' 1980 album Colossal Youth and a contributing editor at BOMB.
Originally published in
Featuring interviews with Chris Martin, Cy Gavin, Tauba Auerbach, Sam Hillmer, Amy Jenkins, Florian Meisenberg, John Akomfrah, Simone Forti, Ottessa Moshfegh, and Anna Moschovakis