A selection of recent and reissued music by Madrigal, Ulver, Royal Trux, and Bill Orcutt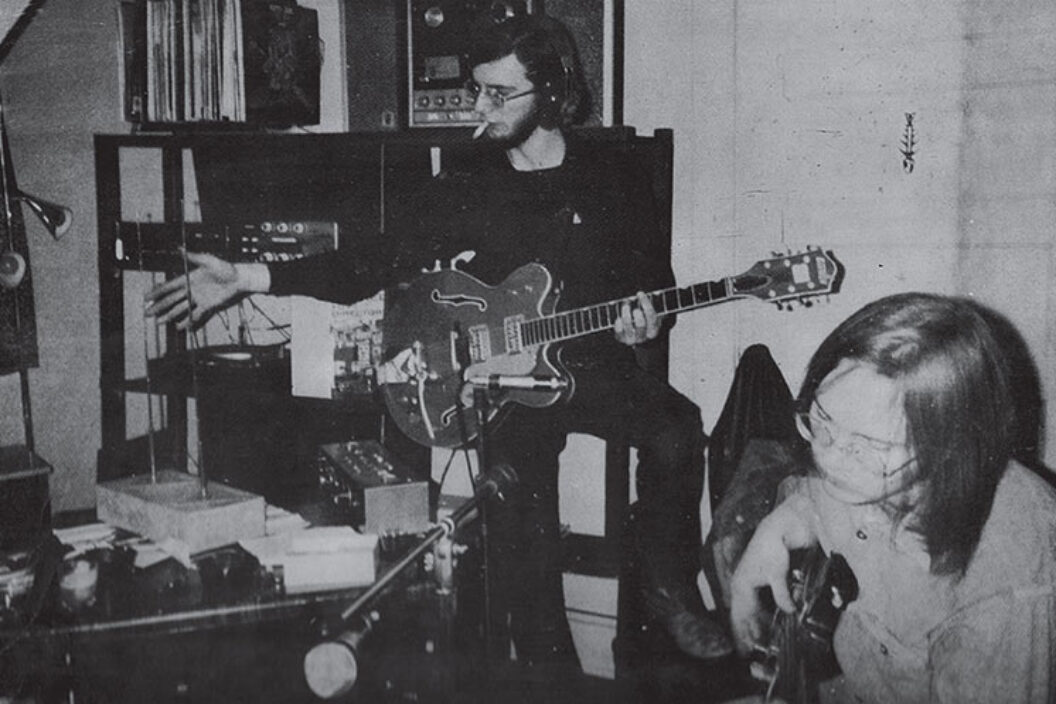 A seemingly irresistible trope to hard rockers in particular, there are no fewer than fourteen bands called Madrigal listed on Discogs, so one might reasonably be excused for overlooking the sole eponymous offering from one Morristown, New Jersey iteration. It's not as if anyone today has actually seen a copy of the original Madrigal LP, "released" as it was in 1971 in a micro edition of 100 copies, mostly sold or given away by the band directly. While it's not unique that a privately pressed, small-edition album goes on to become a sought-after collectors' item, the relevance here far surpasses your garden-variety record scum snobbery. Not hard rock by a longshot, the music contained herein is rock music of a sort, though the first two tracks set the stage so far afield that any conventional genre boundaries are erased pretty much immediately.
Opening with the feedback-laden "Excursion," the palpable dank which emanates could as easily have wafted out of early '90s New Zealand (think Dead C's Harsh '70s Reality) as it could have from Hendrix prepping Axis: Bold as Love. And it only gets further out from there. "Stoned Freakout" introduces the Maestro Rhythm King to the proceedings—an early drum machine also heard on some Sly Stone recordings from around the same time, though its use here more closely resembles Suicide (who were already gigging across the Hudson as early as 1970). An unadorned machine rhythm/organ combo bolsters primitive theremin/human shrieks, bottle tap accents, and harmonica punctuations, creating a delirious momentum, kind of like a Motorik Godz. This vibe of participatory intoxication would echo over the next four decades in the works of countless reverse innovators like Swell Maps, Destroy All Monsters, and Sunburned Hand of the Man. Predictive deconstruction, basement beauty, turned-on, dropped-out will-to-power. Jah doesn't get any whiter than this. (As if that isn't enough, the rest of the LP is made up of song-based sketches, stylistically mashing up Moby Grape, Sandy Bull, Donnie & Joe Emerson, J.J. Cale, and early Sebadoh. Really.)
Cashing in on the Madrigal sweepstakes some thirty-five years later would be Norway's Ulver, with the third album in their fabled "Black Metal Trilogie," 1997's Nattens Madrigal. As the now notorious promo photo of the band from this time indicates, Ulver was never exactly comfortable resting on their black metal laurels, though their early juxtaposition of plaintive Scandinavian Folk with brutalist lo-fi riffs and blast beats seems destined to remain the grim subject from which their confounding predicate proceeds. A stylistic shapeshifting bordering on vision quest has yielded many milestones since—a Reznor-like reading of William Blake, a paean to '60s psych-rock, a collaborative album with neo-druid stoner bros Sunn 0)))—though none of this could have predicted the weird breakthrough that is The Assassination of Julius Caesar. In a fever-dream mash-up of the Alan Parsons Project and Saint Etienne, opening track "Nemoralia" sets the stage with a classics-meets-tabloid tale of the "18th and 19th of July" (the historical dates of Great Fire of Rome), with the Nero of antiquity and the late Princess of Wales standing in for Diana of Nemi.

Not the stuff of Eurovision to be sure, but it's oddly accessible somehow. "So Falls the World" follows suit, eulogizing the colossus of Rome, and later "1969" revisits Manson, Rosemary's Baby, et al (with Hawkwind's Nik Turner on sax to boot). If all of this seems like the opposite of contemporary, therein lies the rub: the proggy, seemingly ill-advised thematic and stylistic conceits actually trump (pun? you betcha) anachronism with an articulated immediacy that's hard to deny. This is pertinent stuff, and with its traditionalist subtext and probing historicism, it puts the Public Theater's recently contested reimagining of Julius Caesar to shame by comparison. What I'm reminded of most is The The's neglected 1989 masterpiece Mind Bomb, which though heavy-handed at the time, proved politically prescient and has aged surprisingly well. The same will be true of The Assassination of Julius Caesar, should we last that long.
Perpetually sighted throughout the twilight '90s ferrying strange cargo between worlds, the ghost ship Royal Trux vanished from sight at the turn of the second millennium CE. Its age-old routes proved untraceable to even the most modern worldly vessel and the psychic sea-trade sorely suffered, soon to be replaced by Amazon drones and algorithmically assigned digital dumps. But as in times of crisis when a dream may be made manifest, a newly outfitted Trux has been spotted silhouetting today's horizon—a sleek semi-tanker sunk low with its 30,000-gallon peroxide payload and refrigerated hull, injected with sweet cream…
(In another dream, the TDK metal 90 dub I had of Aerosmith's Live! Bootleg got eaten by the cassette deck, and when I tried to cue up "Chip Away the Stone," I heard "Bad Baby" from Public Image Ltd's Paris in the Spring playing backward instead. I awoke on my waterbed and wiped the drool from my beard, relieved, as a post-rap act called The Internet pantomimed the struggle on my 88" Samsung HDTV.)
Though the bulk of Bill Orcutt's post-Harry Pussy output has been a sort of bastard acoustical excursion, the ghost of electricity has haunted it all. On his first proper solo electric guitar record, the modestly presented Bill Orcutt LP, his accumulated repertoire becomes combustible fuel, powering a mechanism of illuminated and, at times, fearsome rasp. Opening with Ornette Coleman's "Lonely Woman," a quavering, voltage-enhanced take that sets a somewhat contemplative tone, the album unfolds over ten tracks. Fractal derivations of "When You Wish Upon a Star" and "White Christmas" sit alongside lyrical, impressionistic takes of "Ol' Man River" and "Over the Rainbow."There are also three originals, the last of which, entitled "Christmas on Earth," showcases his evolving struck-through blues maneuver (what he has called a "leaky abstraction") in a concise lament, one that could almost be mistaken for Johnny Winter, deep in the throes of opiated Christ-event contemplation. Though, for me, what looms largest over these proceedings is the hovering, spectral sound of Peter Green. The album as a whole is possessed of a particular slashing intensity also heard on classic Fleetwood Mac sides like "Green Manalishi" or "Black Magic Woman"—overall inhabited in a way that is post-technique, post-material, where the pure electric nature of synapse-firing steel-strung tension flowers into sound.
Where this music now lives is on a polyvinyl chloride disc with a black and white photo of the quintessential yankee dad on the jacket, but its origins are elsewhere. And in a time when a blowhard-sanctioned fourth turning is bandied about to condone systems of collapse (there is no such thing), it may be helpful to consider through this song offering an older concept of tathāgata, or "the one thus come and gone", and garbha, the essence or center from which a thing, though perhaps ungraspable, must come. In this music, we have an electric continuum, a through-line of information made via SOUND, and a record produced today in the free world. The consequences of posterity are rosier than they at first may seem. Or maybe it's just Christmas in July, again, and Santa is coming to town.
Keith Connolly is a contributing editor for music at BOMB.