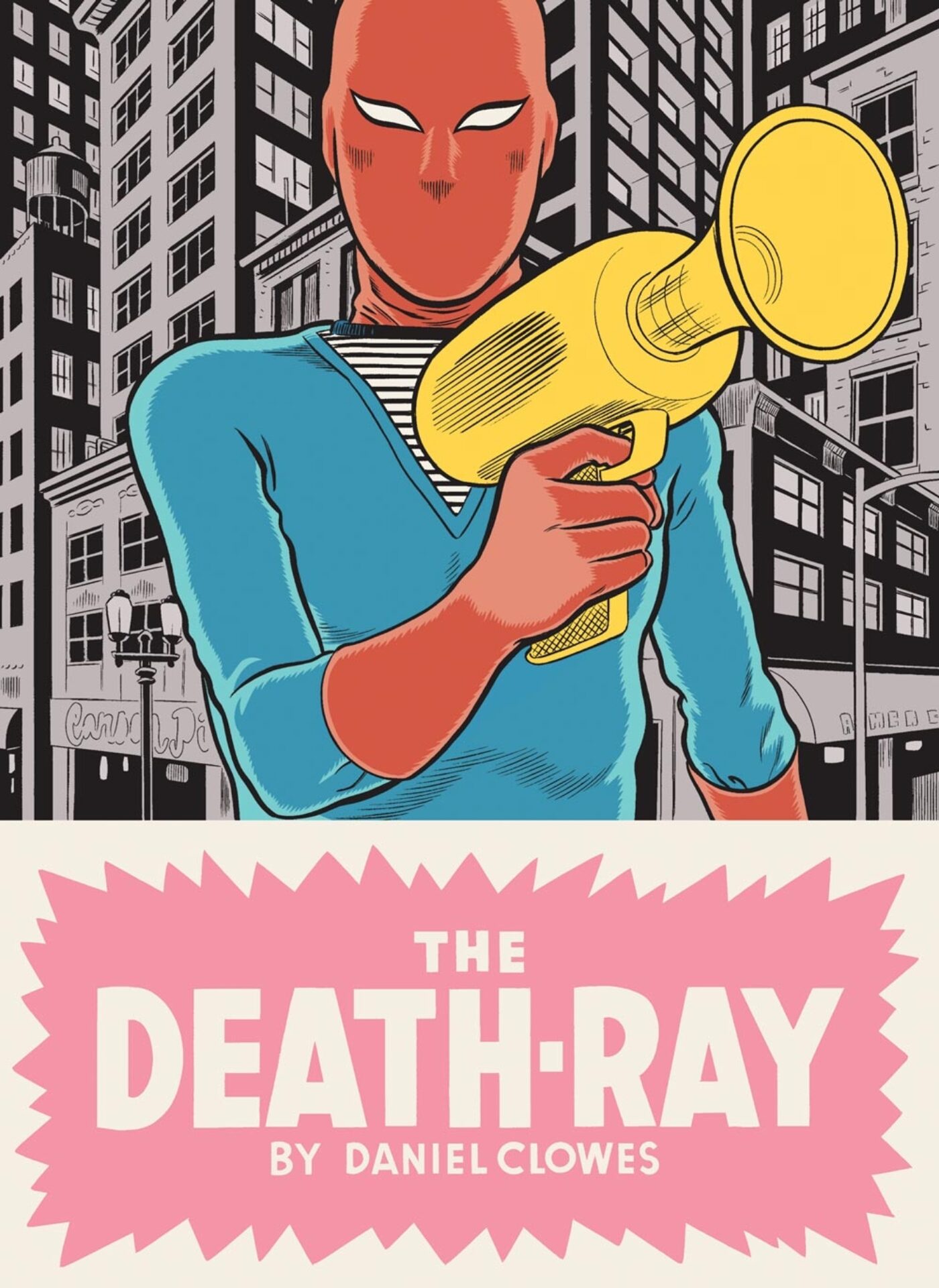 America is still probably the strangest, funniest, and saddest thing to appear in a Daniel Clowes story, but the hero of his new graphic novel, The Death-Ray, comes close: Andy, an orphaned high school student being raised by his ailing grandfather, discovers that when he smokes cigarettes he is given temporary super-strength, thanks to an experiment by his late scientist father who didn't want him to be a "weakling." Searching through his father's effects for answers to why he has these powers, he finds a death ray that looks like it fell off Flash Gordon's hip. Anyone or anything hit by it is disintegrated. He tells his one friend, Louie, and soon they are stalking all of Louie's high school tormentors.
If you think it's a bad idea for a high school student to have super-strength, a death ray, and only one friend, you're right: the petty vendettas of high school go from hilarious to scary as each is given a bloodier finish than the last. Andy, under Louie's spell, deals out rough justice after rough justice until he finds himself overcome with remorse and sells the gun (swearing off cigarettes as well). But he and Louie are drawn back into managing one more vendetta; when he arranges to buy the gun back from someone who has never known how to use it, tragedy follows close behind.
Clowes is an artist who works in nervous laughter and discomfort as much as comics. His hero, Andy, is a masterpiece of suburban-everyman satire as well as an homage to the golden age of superhero comics. We meet Andy first as a middle-aged white man and then move quickly to his childhood as a teen science hero, right out of the 1970s. The story moves between past and present to the anonymous misery of Andy's later years, when his only mask is a bland, insurance salesman's face. He has become the guy who demands you pick up your litter on the street when you didn't notice it fall, his deadly powers a chilling secret underneath his clean, sad-looking windbreaker. When Andy says, at the end, "Who am I? I am your worst nightmare," we laugh, but we also know his lonely existence for the sad truth any superhero tries to hide: Superpowers could never change you enough to stop you from being who you are. And they can't protect you from who you were always going to be.
Alexander Chee is the author of the novels Edinburgh and the forthcoming The Queen of the Night and currently teaches the graphic novel at Columbia University's MFA program in writing. He lives in New York City.
Originally published in
Featuring interviews with Jimmie Durham, John Miller, Suzanne McClelland and Barry Schwabsky, Paul La Farge and Peter Orner, Yang Fudong, and Radiohole.