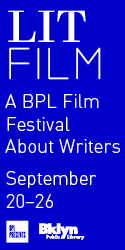 Mempo Giardinelli and I read together last year at Harbourfront in Toronto. Giardinelli's ready humor and warmth belie the ten difficult years he lived in exile from his home, Argentina—especially from his birthplace, Resistencia, in the Chaco. He was forced to flee in 1976 after his first book was forbidden—and burned—by the military junta. And like a lover who's been sent away, his writing is marked by a tumultuous devotion to the absent love object, his country, and filled with passion, humor, hope, despair. In his allegorical novel, Sultry Moon (Luna Caliente), his first book to appear in English in 1998, Argentina's a young, perverse girl, raped and murdered by an opportunist recently returned home from France.
A kind of meeting of Camus's The Stranger and Horace McCoy's I Should Have Stayed Home,Sultry Moon's terse, unapologetic sentences construct a nightmarish landscape of political and sexual intrigue and horror, where questions about right and wrong have disappeared. Giardinelli has written seven novels that have been translated into French, Italian, German, Portuguese, Danish, Serbian, Dutch, Russian, Korean, Swedish, and Greek. His journalism appears regularly in several Argentine papers, and he founded and edited the prestigious magazine Puro Cuento. Giardinelli has received the "Mulo Gallegos Award," one of the most important literary awards in the Spanish-speaking world. Sultry Moon received the Mexican National Award from the Instituto Nacional de Bellas Artes. Giardinelli is, I know, especially proud of a special award from the Congress of Women Writers in Rosario, Argentina, in 1998: "Honorary Woman of the Year." The following is an excerpt from his novel The Dance of the Hippos.
—Lynne Tillman
Of course, we all should have been aware of the looming problems, but we weren't. Back when Engine Flores launched the idea, about a year before that moment when time seemed to have stopped in Barranqueras, after our initial surprise and the first jokes, we should have realized that the consequences would be very serious. But we all accepted the proposition joyously.
The only one who realized it from the start was the gringo.
"Man, it's going to be a fucking pedagogical issue," Frank Woodyard said that day, "and even then who the hell knows how people will react." For him all of our country's problems had to do with education. From the moment he gave up the cloth in order to settle in the Chaco by the power and grace of the crush he got on Solanas's wife, he dusted off his PhD in Language and Literature from the University of Virginia and he survived on what he made as a professor at the Universidad Nacional del Nordeste. He taught courses as varied as Anglo-Saxon literature, teaching methodology, babycare for Indian communities, or the relevance of semiotics to public education.
The doubts we had about him when he first settled here evaporated the day Rafa said, from the rear table in La Estrella and in Frank's absence, that it was evident we liked the gringo.
And the truth is none of us could stand Solanas any more, and we were all grateful to Frank for swiping his wife. What amazed us was how fast he did it. He came to the Chaco for only a week, sent by his congregation, but by the second mass, Pura Solanas's eyes and probably her breasts had ravaged his faith. Now, as he himself joked, he had been with us for four years and a week, and little by little the warm regard we felt for him had grown into respect and affection. And even though Pura Solanas was no longer Solanas's wife, she still used his name because she felt she couldn't go back to her maiden name, Kapstchutchenko, first because she hated being called "The Russian" since her last name was Ukrainian, and second because it was a way to keep annoying the old man.
Frank was not only the first to realize the seriousness of what was in store; he was also the one who tried the hardest to contain Victorio Lagomarsino's sudden fury when he proposed we rally to actively oppose the Chaco government's plans to import African hippopotamuses. Rafa, in his skeptical style, tried to calm him down too, and even yours truly, I'll admit it. But the truth is we had neither the conviction nor the civic courage to oppose the hare-brained scheme he was proposing, as we should have.
Today I think Engine Flores's idea was so original and extravagant it had seduced us all. It was a fact, he argued, that for many years the Chaco had been experiencing too much rain, and floods had become chronic. Vast jungles, senselessly cut down, had in 20 years become deserts covering millions of hectares while the more humid and fertile zones had now become immeasurable mirrors of fetid water, ponds and marshlands, estuaries and pools. In all these blotches of wetland there was an overabundance of reeds and water hyacinths. For thousands of square kilometers they covered rivers and ponds, deprived the water of oxygen, rotted the trunks of trees and, what was worse, formed gigantic and indestructible tissues that pushed and broke dikes and fenders. The rivers of the Chaco almost couldn't breathe due to the unchecked proliferation of weeds, rushes and water hyacinths that impeded navigation, irrigation and even potability. Navigation was beginning to be affected even in the Parana River, since ever more solid floating islands were forming at the mouths of all its tributaries. Although the fauna in the Chaco has never been particularly cordial, of late these floating islands teemed with every type of dangerous creature: vipers, spiders, alligators, piranhas, and other aquatic vermin, in addition to otters and capybaras, gnats and mosquitoes. The advance of these plant structures was such that they even said the enormous bridge that joins Resistencia and Corrientes might be at risk. Therefore, he had reached the conclusion that in order to counteract the advance of aquatic vegetation in the Chaco, there was no better solution than to import hippopotamuses. "And mainly," he would conclude raising his hands and eyebrows as his eyes shone like tar, "for the simple reason that hippopotamuses eat tons of all that shit."
Engine Flores had not arrived at the idea by chance. During the last dictatorship, he had fled to the Amazonian jungle and there had studied the ravages of desertification caused by the indiscriminate felling of forests, while, a paradox of God, he said, rushes and weeds that were lethal to the aquiferous equilibrium were growing in the rivers. Flores knew a lot about water because he came from Salto de la Vieja, a large stream that, back when roads in the Chaco were not paved, was practically uncrossable and bisected the route that united the capital of the province with the interior. When he received his engineering degree from the UNNE, one of the first jobs he landed was making the dikes for El Zapallar. Perón had changed the name of this city to General San Martin in 1950, and since then it seemed to have received the curse of the waters. If it rained just an inch without stopping, the heart of the city would be flooded by the murky waters of the Bermejo, that accursed, dirty, and crazy river whose anarchical regime periodically covers fields, ranches, and people. By '66, when the great floods foretold that the Chaco was going to suffer the tyranny of water from then on, Flores was already an experienced hydrologist. And many years later, after the floods of the '70s and the '80s, and after studying the behavior of waters in other continents, he concluded that one possible solution for the Chaco region was to stock the basin of the Upper Parana River with hippopotamuses. According to him, the advantages of such an importation for the ecology of the province were irrefutable.
Immediately, the issue became a fantastic subject about which all the customers of the bar La Estrella had an opinion. Of course, as usually happens with the best ideas, if at first it dazzled us, it soon began to seem extremely risky. That is why I say we were irresponsible, because we did not realize how dangerous intellectual seduction can be, and because we did not stop Victorio, who from the start was the only one who staunchly opposed the idea.
The gringo's irreproachable common sense had a lot of work to do. In his convoluted style he reasoned that in the Chaco the vast majority of people had never seen a hippo and therefore the problem was clearly educational. Few had ever travelled to Buenos Aires, and of course, not all had visited the city's zoo, the only place in the country where up to then you could see a pair of hippopotamuses. The danger, therefore, once again would be ignorance.
"It can be affirmed beyond a shadow of a doubt that no inhabitant of the Chaco has an inkling as to the appearance of these animals," argued Santoro, Doctor of Law, the first time the topic was discussed.
"And least of all those who dwell by the rivers, who lack television and most of whom can neither read nor write, as is common knowledge," added Bilangieri, his partner, with his habitual pompousness and touching the patch over his right eye.
"But it's a political problem," Victorio said that day, pounding on the table with a passion we thought he had lost forever. "They're going to make yet another circus out of these animals and later on they'll figure out some way to make a profit. The government doesn't give a shit about the ecology. So, are we going to do something or what?"
"Poverty is the biggest fucking problem," said Frank. "For the Indians and the poor a hippo isn't a hippo, it's a big frigging thing you can eat, man."
"Or a magical possibility for change in their miserable lives," reflected Rafa.
"Crystal clear," said Marín.
That morning Victorio didn't share his plans with us, but it is possible that he began to formulate them then. And, perhaps right there he began to decide who his confidantes would be, and why not admit it, his accomplices.
Novelty is always suspect, and in the Chaco there was an enormous and logical lack of knowledge about the life and habits of these animals. Thus, from the start, the citizenry was divided into skeptics and enthusiasts. Right away, however, it became clear that the announcement would not provoke too much resistance. The originality of Flores's proposal, the great appeal this topic of conversation held for many, and the evident seriousness and patience with which he explained his project to all, allowed him to win over popular opinion. Indeed, as early as January people had started to organize a collection to pay for his trip to Africa.
"Because who would harbor the thought that one can buy hippopotamuses by mail," reasoned Santoro one afternoon.
"Impeccable line of reasoning, irrefutable," said Bilangieri in his basso profundo voice and with characteristic affectation. "The weight of judicial authority is plain for all to see."
"Cut the crap," said the Mexican and he winked at García.
At first, and partly as a joke, we the friends of Engine Flores decided to "make a little cow" so that he could travel to Africa. In the Chaco, "making a little cow" is what they call spontaneous joint ventures. Their purpose can be just as well to raise money to buy wine for an all-night spree as to help a buddy who's in trouble or about to get married, which is another way to get into trouble joked Shortie Domínguez when years ago he explained to Frank Woodyard what "making a cow" meant. A Commission for Support and Dissemination was created which lasted a few weeks and failed due to an obvious lack of enthusiasm, funds, and contributions. Shortie then suggested we organize a benefit soccer game between the teams of Pampa del Cielo and Pampa del Infierno to raise funds for the trip. He was sure that even just the names of those two tiny towns would fascinate people in Buenos Aires, who are so tilingo, so bubble-headed, especially when the animals became a national fad, and he said he had contacts so that the game could take place during Holy Week in the River Plate Monumental Stadium.
But nothing prospered, and for a short time it seemed that Flores's crazy idea would run aground like so many others. Perhaps that is why we did not realize the danger.
Translated from the Spanish by Gustavo Pellon.
Gustavo Pellon was born in Camaguey, Cuba and is Associate Professor of Latin American Literature at the University of Virginia. He has published a book on the Cuban writer José Lezama Lima and articles on contemporary Latin American narrative. Prior to the translation of Mempo Giardinelli's novel, Impossible Equilibrio (The Dance of Hippos), Pellon translated Giardinelli's short stories.
Originally published in
Featuring interviews with Ruben Ortiz, Juan Manuel Echavarria, Susan Baca, Guillermo Cabrera Infante, Jose Cura, Adelia Prado, Ernesto Neto, Mayra Montero, Claribel Alegria, Francisco Toledo, and Juan Formell.