The Complications of Being Human: Savannah Knoop Interviewed by Clifford Owens
Community in a bathhouse.

Discover MFA Programs in Art and Writing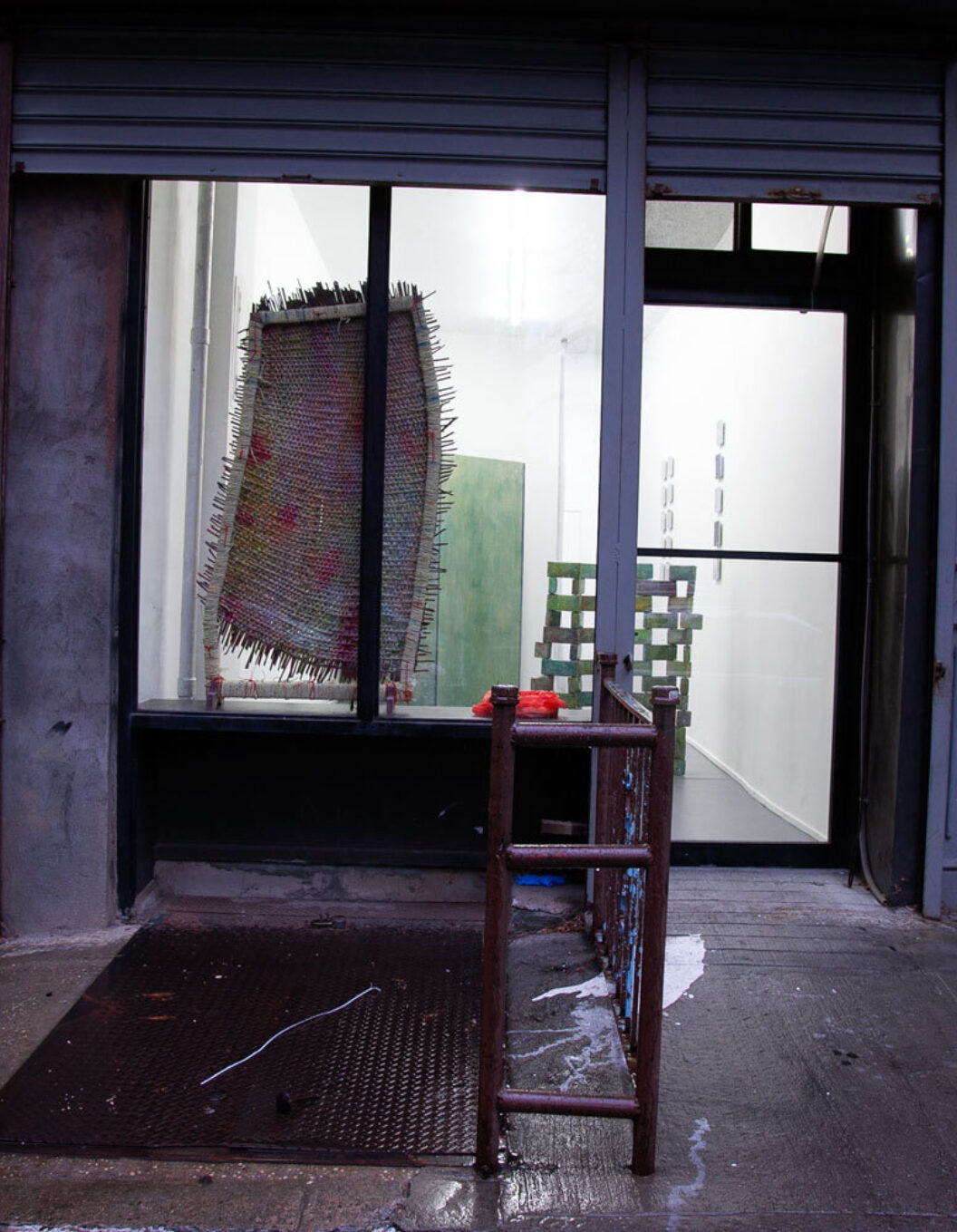 I met Savannah Knoop in their Brooklyn apartment/studio to have a conversation about the inspiration for their solo exhibition, Screens: A Project About "Community" at Essex Flowers; their early adult life in San Francisco; their public and private lives as JT LeRoy; and how they define their life's work as an artist. Screens features a performance-cum-single-channel video of the same name captured in the legendary Russian and Turkish baths in New York City's East Village. The video frames the body and mind as a filtering system, and is based on the sociality of the regulars at the baths. In true New York style, two business partners split up, but still share the same space on alternate weeks. Screens is a portrait of "Boris week," which is driven by cash and verbal agreements, running on an old-world business model in which the customer is not always right, and where Groupons are not an option. The amenities at the baths are very plain, and it's a social space that self-organizes through the fact of what it offers. There is a wide range of people who go there, some for almost thirty years.
Savannah is an uncompromising, fearless, and free artist, and I was excited to sit down and talk with them.
—Clifford Owens
Clifford Owens How did you invite bathhouse regulars to participate in your project?
Savannah Knoop It was a process that sort of naturally unfolded. I negotiated an unlimited membership around the turn of the 2016 election. There were lots of very heated political conversations happening inside the rooms. I found myself reacting to these heated debates, while my body reacted to the heat in the Russian Radiant Room. I felt a huge contradiction blanketing me in this space. I had hoped it would be a place to relax, but it was more of a space to fly into a blind rage—a space to lose sight of another person's humanity. And yet in that space it felt so clear that, though I was not politically going to convince or be convinced, the we/they was united by the fact of our bodies craving the baths. It made me think about the ways that we filter experiences, and how the state of insider/outsider can constantly shift.
I officially started this project by performing in the space, at first just for whomever was there, and then later for "outsiders" whom I would personally invite to view different choreographies in the space. Eventually, these performances culminated as the idea of a video of all of the regulars in their different particular bathing routines. I have one particular regular, Jeffrey Grant Johnson, to thank for truly rallying the group, because, of course, it's hard to organize this sort of plan when everyone is wet and have no pockets. It truly has to be word of mouth!
I negotiated with Boris to rent out the space for one night after hours to get all the large group shots. I brought in many different kinds of adventure cameras and an all-queer cinematography team. After I had that backbone footage, I continued to shoot the regulars independently during operating hours for another eight months. The film is a blend of real caught moments and fictional (inserted) moments—there is a lot of singing. That's something that happens as people bathe; they start to sing! There is a blind shadow boxer (played by mixed martial arts fighter Gabbee G. Daddy). There is also a large newspaper that sort of swallows the different bathers—that keeps showing up as a character of the "outside."
CO Could you talk about the component parts that comprise the installation of Screens?
SK I have the video playing in a privacy viewing booth; it could fit two people tightly or one person alone. The sound from the video permeates the space. It is as much a celebration of body practices as it is a celebration of darkness and the sound of water running. I wanted people to be able to focus on that intimately.
Then there's a series of human-scale privacy partition screens, and these are based on different designs of the privacy screen historically. Traditionally, screens were used as impermanent walls, which directed airflow, created human pathways, and served as a reprieve from others in close quarters. With some of the oldest privacy screens, there was problem solving needed in order to work out the ability for the screen to expand and contract; somehow that aspect of the screen holds a lot of metaphor in my mind. One of my screens is a copy of the Eileen Gray block screen, and is made with chunky aqua resin-coated two-by-fours; the other is a weaving of newspapers. Each screen holds different material/metaphorical ways of processing experiences: blocking, deflecting, weaving, projecting. Then there is also a large, circular newspaper weaving just a little shorter than human that is like a prehistoric, one-eyed fish, as well as a series of screen stills from the video printed on aluminum. I'm thinking about our bodies as screens, that our skin is a screen.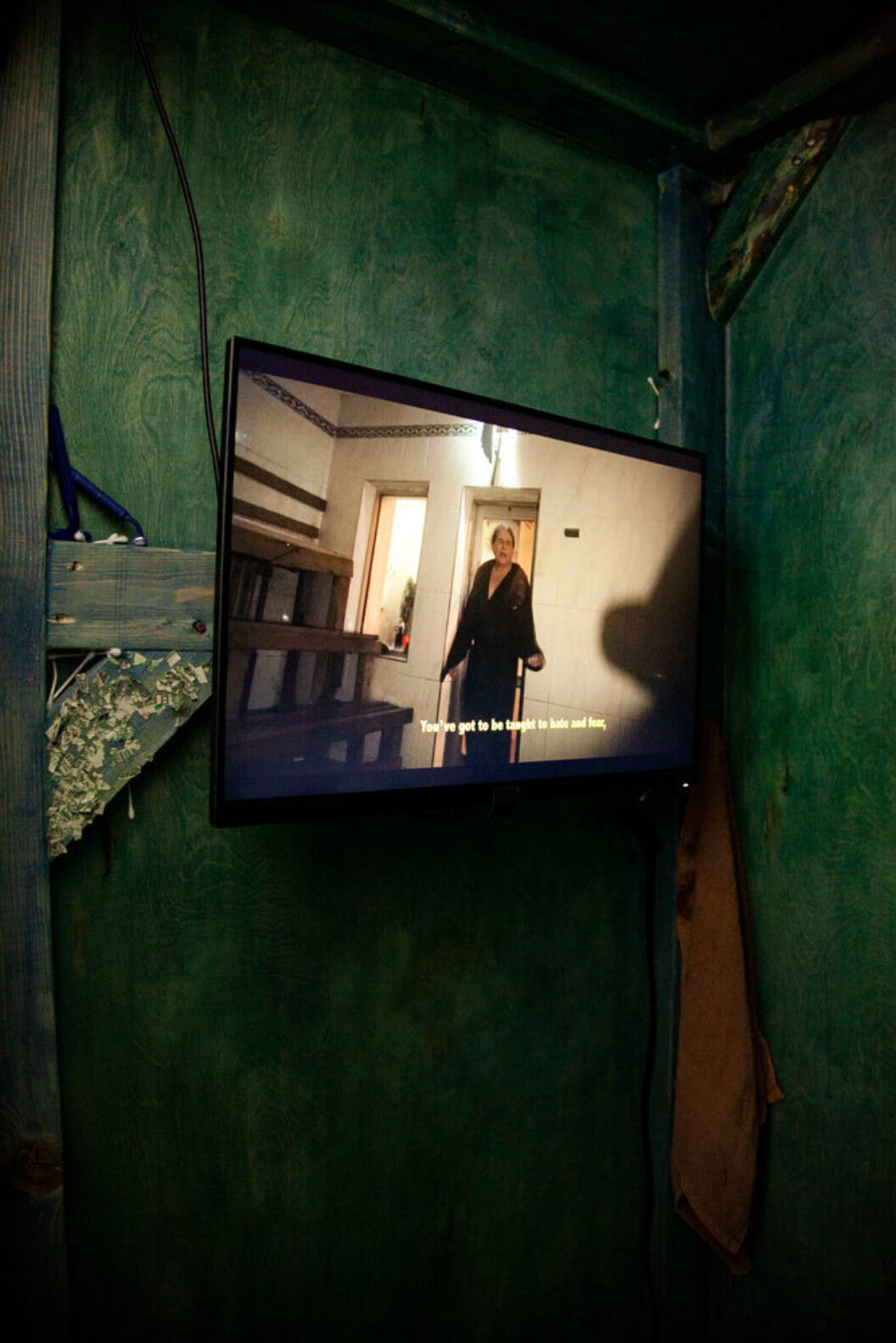 CO Could you describe the newspaper piece and your process for making that work?
SK Newsprint is such a great material, and I do feel like it could be gone in the next thirty years. I pulled out a mix of the New York Times, the Wall Street Journal, and all local papers in different languages I could get my hands on. Each paper has its own color palette. Weaving it is like a gesture toward manipulating an anxiety toward current events. You take the news and you slice it into sections; you roll it up into little straws, and you attach it to itself. You take the information, the slew of data, and you make it material in order to manipulate it into a new form. The process is a bit like sewing in that you can listen or talk as you do it. It's also very physical. I have to stand while I'm doing it. I have to be able to flip it! I found out on the internet that there are two basic ways of weaving: either in grid form or grid to circle. You can also mix the two and go into a sort of free weaving. When I was looking up tutorials, it's—weirdly—all Russian women teaching it.
CO Back to Boris!
SK (laughter) Yes, the machinations of the Boris Bathing Nation-State! Redirecting your Google search.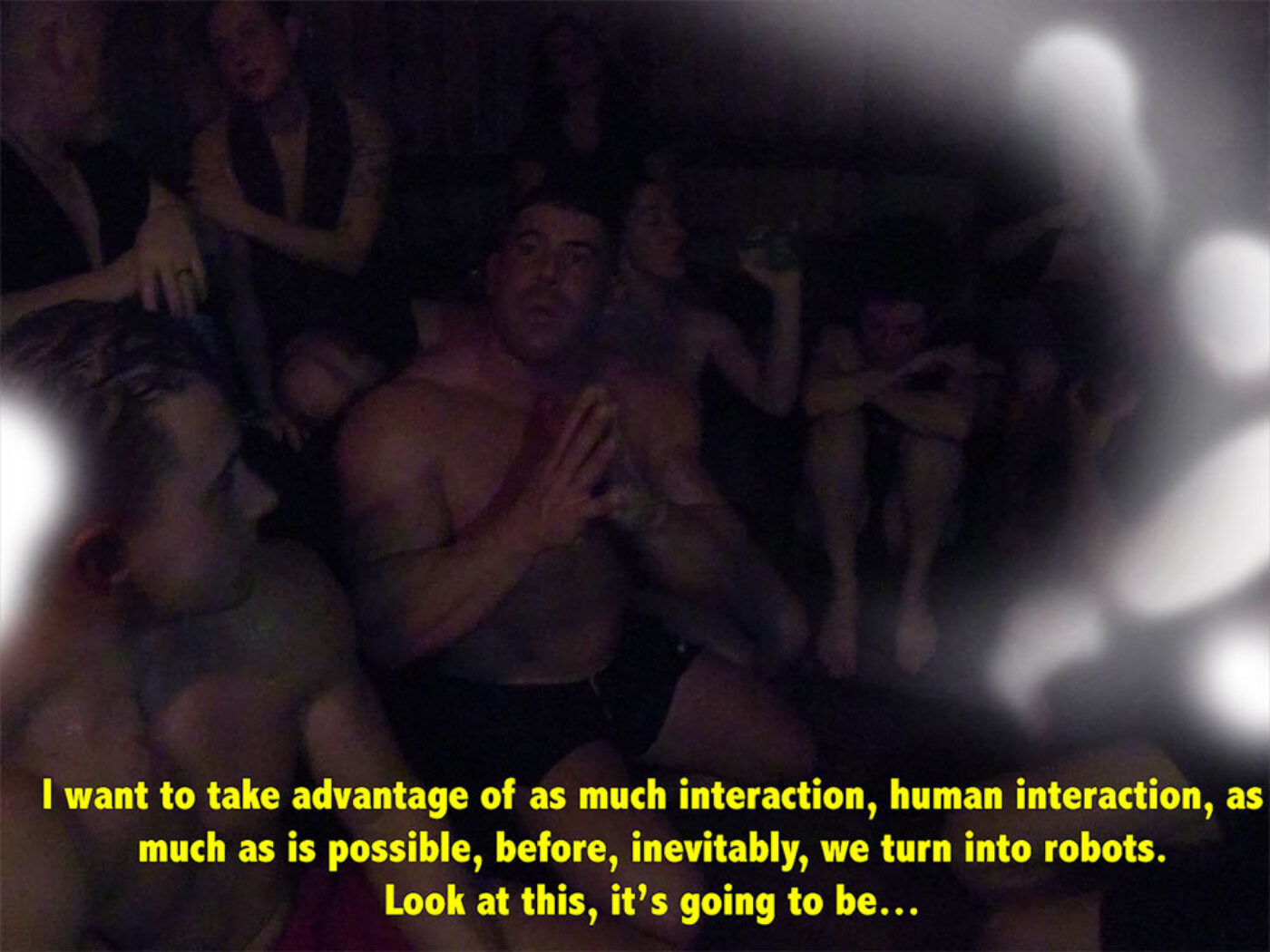 CO What's at stake for you as an artist?
SK Everything. (laughter) I think, emotionally, because all of the JT LeRoy stuff was so public, it's like I have clawed my way out of some zone where I felt that people were presenting me as a two-dimensional paper cut-out, which was perhaps the simplest way that the press could frame it. The JT story is so complicated; it doesn't make sense in short form. It takes a whole book, or a whole movie, to explain it! It's long form, not sound-bite, 280-characters territory. I think that as an artist my job is to find the nuance in stories and experiences, that the role of propaganda has already been amply filled. In insisting on being a whole, complicated person and making art that you want to make comes the challenge of making it without much material support. But the insistence brings a different kind of fulfillment. One gets to choose how to fill one's time—time is utterly valuable. To feel the freedom of that decision; the other challenges around it can sometimes fade away, because it is in those moments, when you get to fill your brain with your own thoughts, that you feel free.
Screens: A Project About "Community" is on view at Essex Flowers in New York City until February 3.
Savannah Knoop will be in conversation with Greta Hartenstein at Essex Flowers on January 27 at 7 PM.
Clifford Owens is an interdisciplinary artist. His solo exhibitions include Peripatetic at Artpace in San Antonio; Anthology at PS1 in New York City; Better the Rebel You Know at Home in Manchester, England; and Perspectives 173: Clifford Owens at the Contemporary Arts Museum Houston. His performances have been featured at the Museum of Modern Art and the Brooklyn Academy of Music. For the past decade, his performance-based project, Photographs with an Audience, has appeared in New York City, Miami, Houston, Atlanta, San Antonio, Philadelphia, Chapel Hill, and Manchester, England. He lives and works in New York City.