The Company Your Mind Keeps: Catherine Haggarty Interviewed by Sangram Majumdar
Paintings on the edge of becoming and dissolving.

Discover MFA Programs in Art and Writing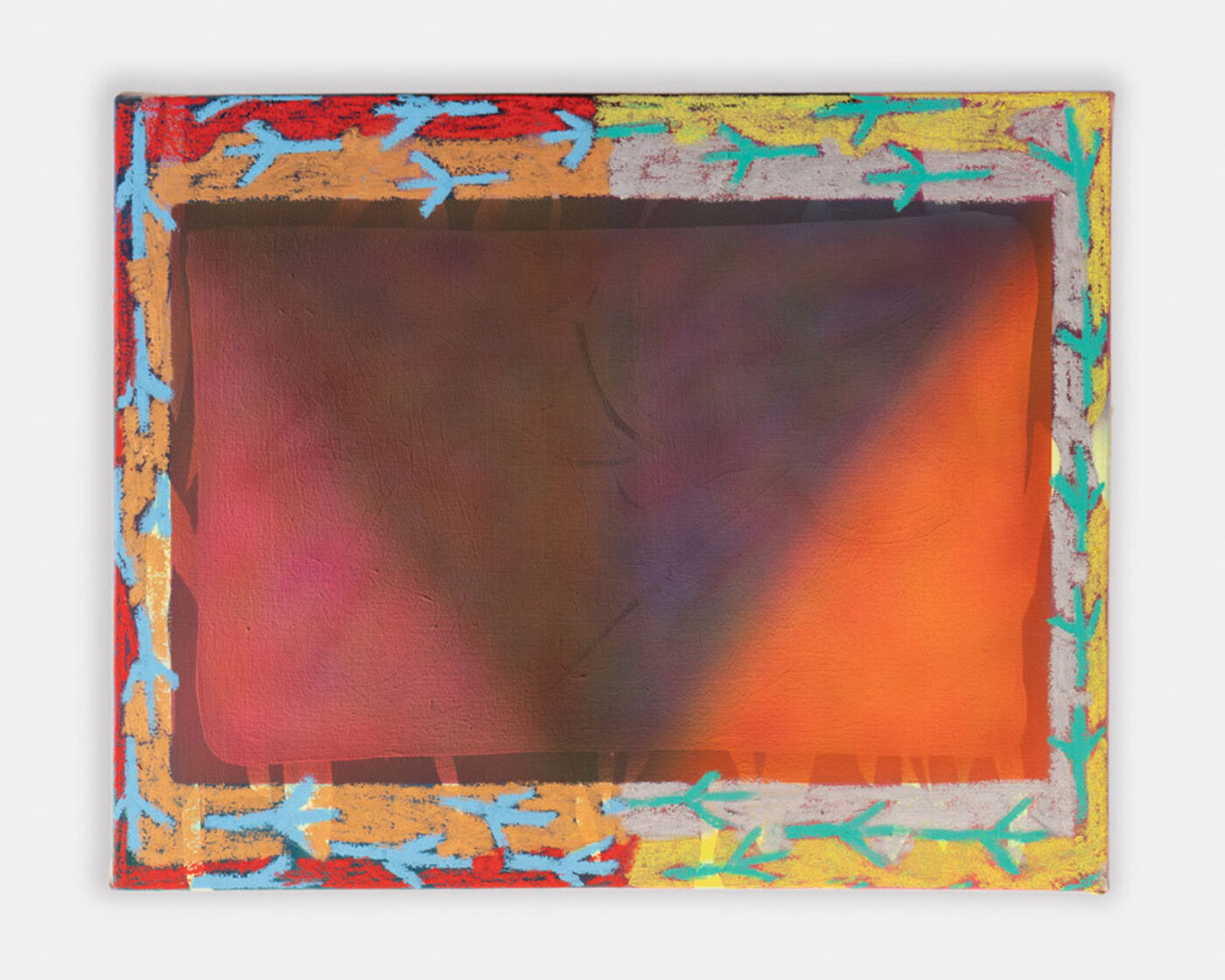 Catherine Haggarty's new paintings are:
a) a series of codes and ciphers;
b) a game board;
c) a scavenger-hunt underwater or in some faraway galaxy;
d) all of the above.
I choose all of the above. On the occasion of Haggarty's first solo exhibition in New York City, An Echo's Glyph at Massey Klein Gallery, we sat down over Zoom and across state lines to talk about the kaleidoscope of light and color radiating from these new canvases. Perhaps this strange sense of retinal pleasure and pain is what the captive in Plato's Cave felt when first walking into the sun.
—Sangram Majumdar
Sangram Majumdar Touch is a word that I keep coming back to in my head in relation to your new paintings. "Touch comes before sight, before speech," writes Margaret Atwood in her novel The Blind Assassin. "It is the first language and the last, and it always tells the truth." What do you think about this?
Catherine Haggarty I think that is a beautiful sentiment, and I agree. Touch and comfort are paramount to happiness and growth for most everyone. In painting, I think the viewer has to try to recognize an image and then assess its function and value to the painting. It's as if you have to touch something to know it's real, but if you can't, if it's an image, then you have to rely on other senses. This then becomes about sight. Texture and surface come into the work in a pivotal way. Layers of oil stick, air brush, and pencil mark reference a wide range of touch and movement in the paintings and hopefully activate these sensory shifts.
SM So, are the different types of "touches" almost foils for each other?
CH I appreciate that you consider them a foil—they are elusive. I use materials that my hands and brain desire, and I consider how materials can work toward bringing new levels of optics. One of the best things an airbrush does is that it distances the hand while simultaneously allowing specific control depending on how close you are while working where soft color (atmospheric) and thin lines mirror drawing. Oil sticks provide the opacity, thickness, and density I crave. I think the saturation and weight of the oil stick on top of airbrush offers a really specific kind of space, a texture that eludes touch.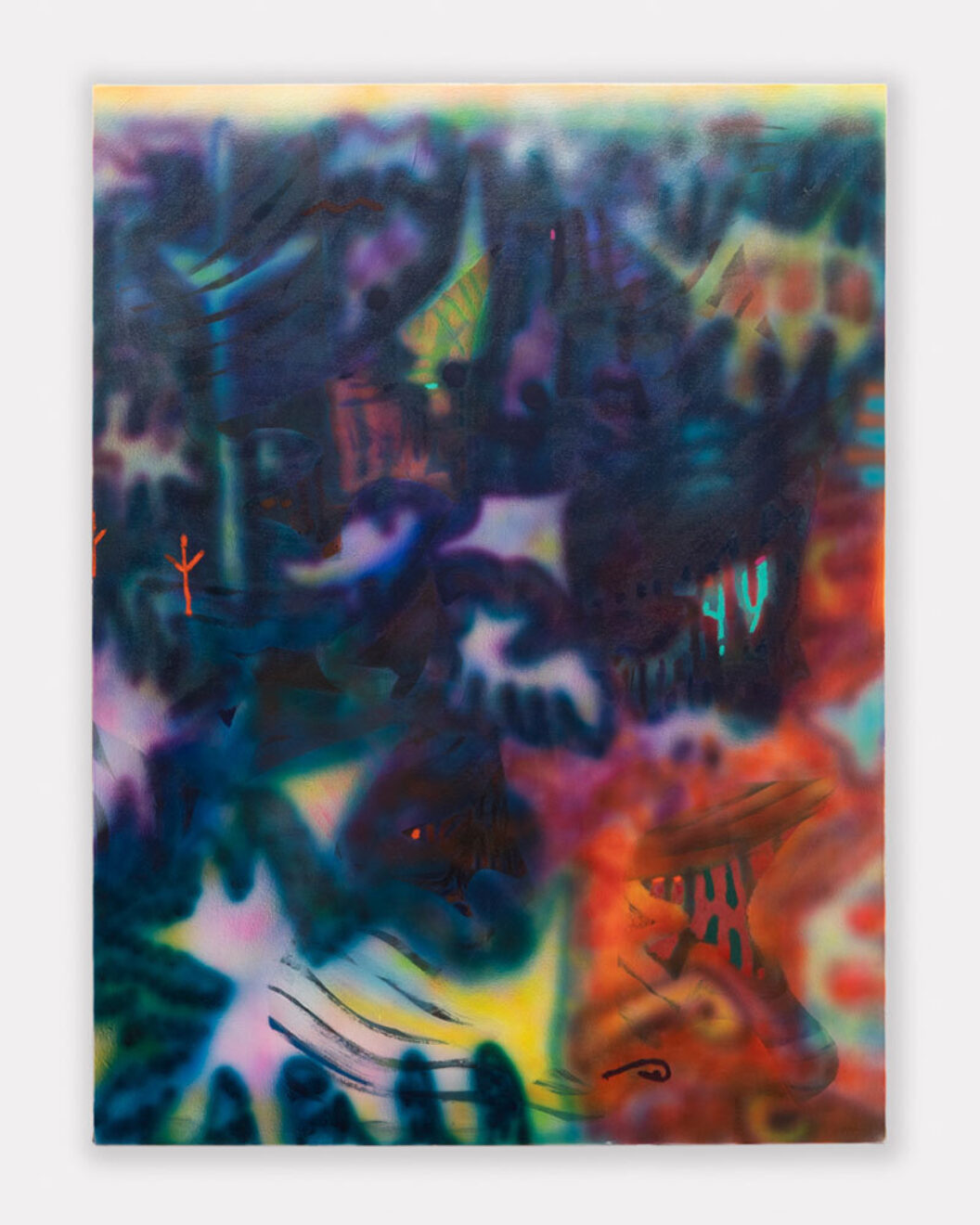 SM Is this interplay between the two mediums what brings about your full-spectrum palette? The paintings give off a light that often seems to advance from within the canvas.
CH I like that idea of an entire spectrum in a painting. I have been thinking about how light can be different, how it can be dark and cool, not only warm. As a result I embrace teal and phthalo blue in certain paintings to oppose the warm orange and yellow I tend to rely on for light.
SM You mentioned drawing a little while earlier. Can you talk a bit more about this?
CH I pay attention to line, to letters, to the way handwriting fades, the way contour drawings provide acute information on seeing. I've watched my dad fade for a decade from a rare neurological disease, and I see how his writing went from completely fine to illegible and now to nothing. I've saved all his cards. I see the way the lines move from beautiful letters to almost nothing, and it is heartbreaking but somehow a bit beautiful. The lines are all in an effort to communicate. But now he can't. We all rely on drawing, writing, mark making in some way. I am interested in how drawing can relate our hand to our eyes and mind all at the same time, whether well-crafted or imperfect.
SM These thoughts seem to parallel how so many aspects of your paintings live at the edge of becoming or dissolving. There's a porousness to your world. Does this relate to the title of your show, An Echo's Glyph, in any way?
CH I teach a Non-European Art Histories class at the School of Visual Arts, and we spend four weeks on Indigenous art and ledger drawing. I have been studying glyphs as a structure to hold meaning and identity. I love the way they float above the protagonist's head in ledger drawings. I've begun to wonder how I can make my own and reference this beautiful and intelligent history in my work. An echo in itself is ephemeral, and it is fleeting. So for an echo to have a glyph, an identity marker actually seems impossible, which interested me for the title of the show. For me, glyphs get created through movement, through work, and through time, whereas Indigenous glyphs are specific and used for identification in pictographs. Ledger glyphs have to be specific, but mine are open and ambiguous which speaks to your comment about the work being porous. Each form has its own life, its own energy; they hover in space and are autonomous, not always connected to a character.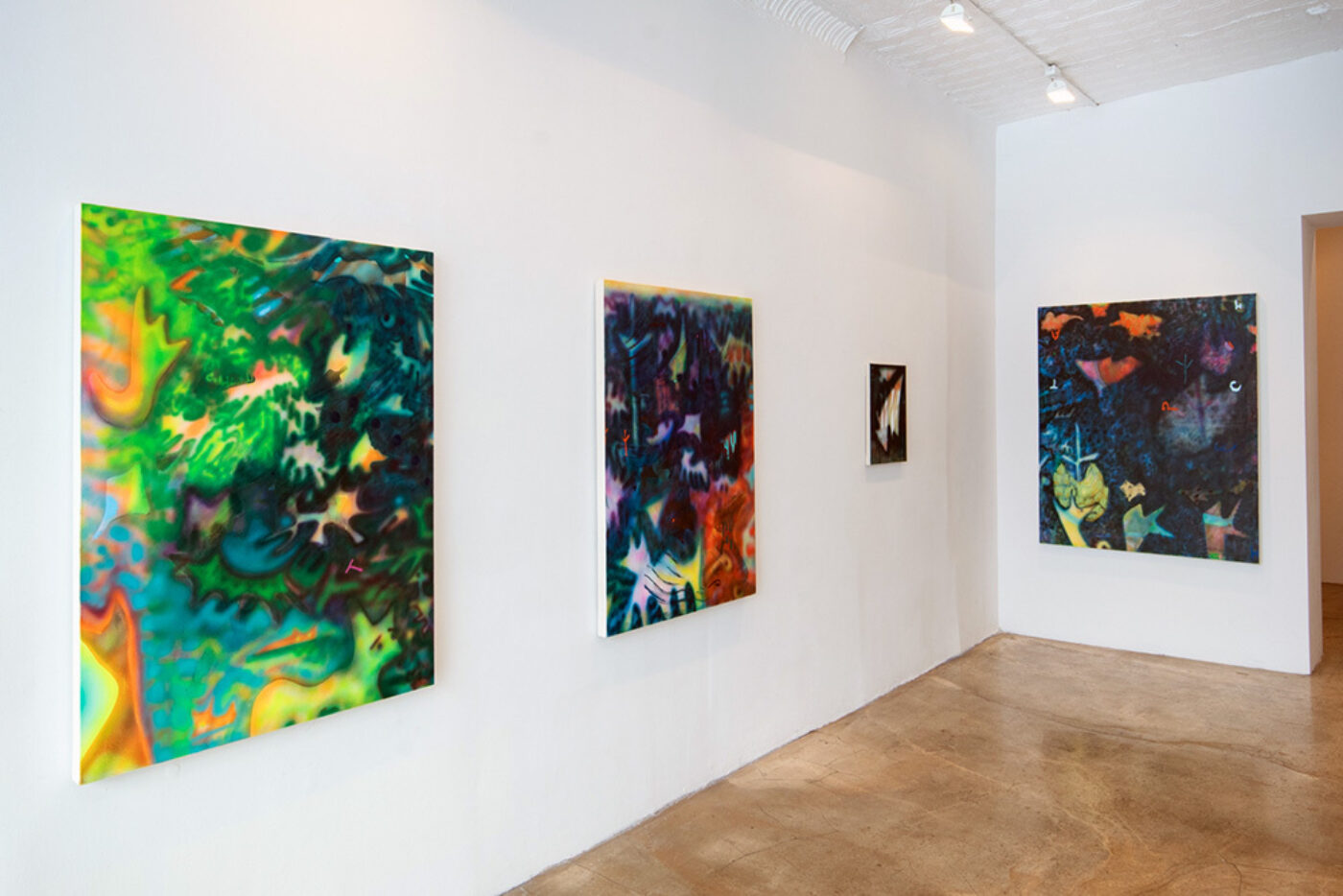 SM Shifting gears a bit, and to give these "glyphs" names, I keep seeing animals in your work or at least sense their presence. Dolphin silhouettes walk across the bottom in 3 Dolphins (2020), and a single paw print shows up in Home in the Mountains (2020). But when I really look closely, they aren't necessarily always specific animals. So where do they come from? Why are they here?
CH I think they are here because I love them! Animals are a source of comfort and humor but also have been a subject in art for thousands of years. Around 2018 I wanted something new in the work—a living form. So after spending time in Europe seeing ancient cave paintings with my husband, Andrew, and soaking in plenty of museums, I decided to embrace my drawings of animals as worthy of more attention in the studio. They don't represent a specific animal exactly because I pay attention to their patterns, their contours, and their prints on the earth.
It's their echo I care about—how they live in our lives through stories and through history. I am less interested in the naming of the thing I am painting. Rather I am interested in the softness that comes with the company my mind keeps. They bring me joy in a sort of nonstop, upside-down world. I don't even have a pet.
SM Is this "softness" a way to play with morphology? Each painting seems to carry traces of another. Is there a subliminal narrative or sequentiality that you are thinking about in your work?
CH I appreciate that. They do have traces of each other; they are a family. I love the idea that the paintings I make are mine. They all come from me, but I know they each have an autonomy and a purpose. I look at a "successful" painting and give it another life, another version. There is a framework, a series of characters, materials, forms I use. My studio is sort of like an ecosystem that allows in what it needs.
SM I imagine many of these paintings happened since last March when the first lockdowns began due to COVID. I am curious how this fundamental change in our day-to-day existence affected the work as you would return to the studio each time.
CH I think the first few months were pretty paralyzing. Every day, I fed and playfully chatted with the feral cats in the backyard more than usual because I was home more than normal. I looked forward to their visits even more during the lockdown. Maybe this affected my work and subject. I looked at them and thought how incredible it was they had no idea the world was such a mess. I studied their patterns, coats, paws; it was a knowable joy in a dark time.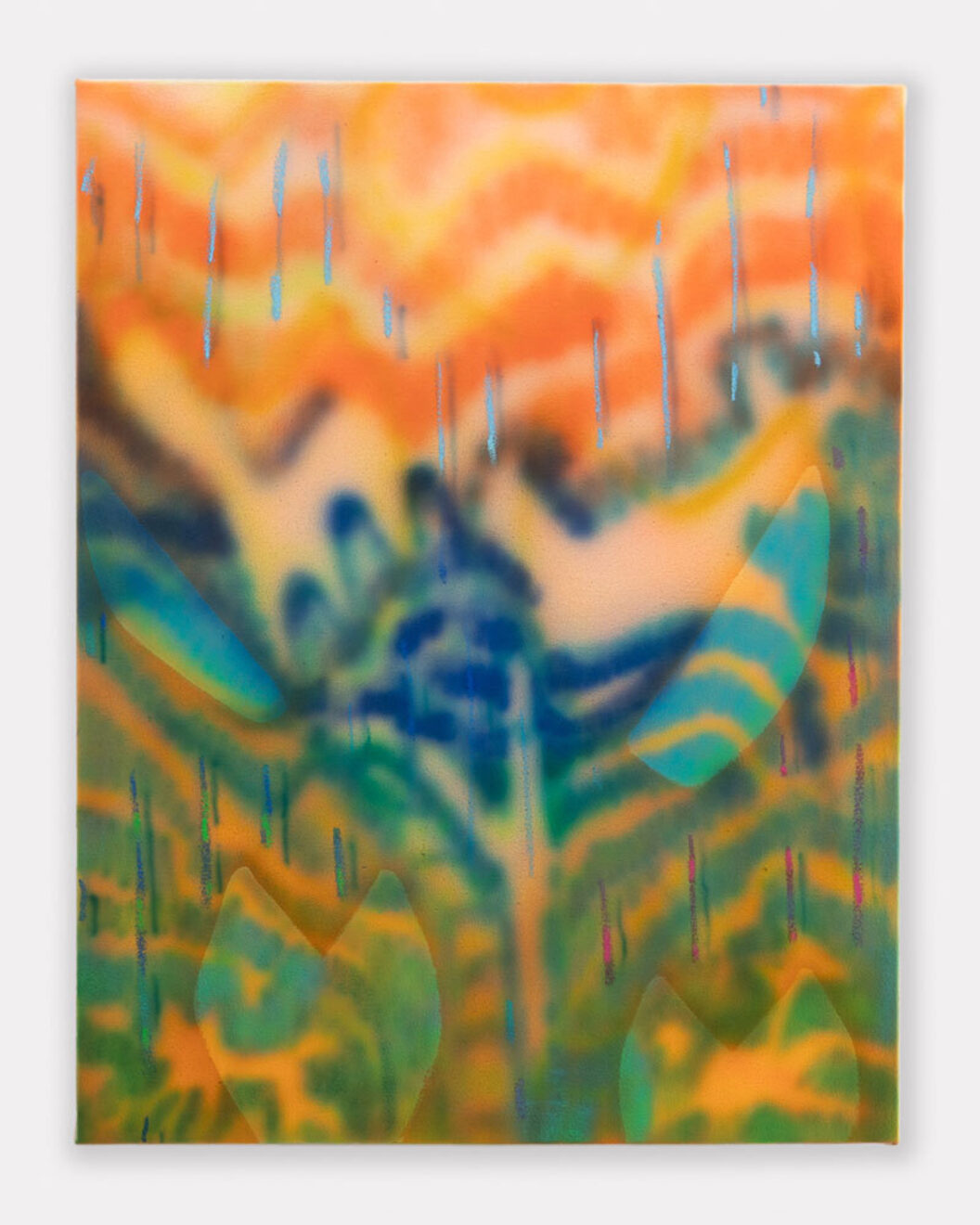 SM One last question. What is Stellarum Fixarum?
CH Ha, you know I am not even sure I know! I named a painting in this show that title because it is a song by Slow Meadow that I listened to over and over in the duration of this show and year. I would put the song on when I had to focus, then I'd press repeat and work. Somehow the song seems eternal to me or maybe primal. It has very few lyrics and a beautiful rhythm; perhaps it is what I wish my paintings could sound like.
Catherine Haggarty: An Echo's Glyph is on view at Massey Klein in New York City until January 30.
Sangram Majumdar is a Calcutta-born, Baltimore-based artist. Recent solo exhibition venues include Geary Contemporary, NY, and Steven Harvey Fine Art Projects, NY; recent group exhibition venues include Shoshana Wayne Gallery and the Landing Gallery in Los Angeles. In 2019 he was inducted into the National Academy of Design. His work has been reviewed in Artforum, Brooklyn Rail, Hyperallergic, among others. He is also a frequent contributor to the Two Coats of Paint blog. He is a Professor of Painting at the Maryland Institute College of Art.