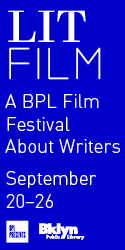 Even more extraordinary than the putative subject of Linda Hattendorf's debut documentary, an elderly homeless artist, is the fact that Hattendorf started aiming her camera at him long before September 11, 2001. For the true subject of this sensitive yet insistent film is the tremendous postwar injustices that the US government has doled out, starting with the Japanese internment camps and extending into the ongoing campaign in Iraq, with September 11 as a fulcrum: a false echo of Pearl Harbor and a criminally misappropriated tragedy. Not that Mirikitani's creative practice would have been an undeserving subject on its own: under the most adverse conditions flows a steady stream of drawings and paintings, mostly of cats (fantastic, alley, and wild) and the flat, bleak camp that held the Sacramento-born Japanese-American artist from 1941 to 1946. But it is the way in which Mirikitani's own history resonates with the unfolding landscape of the twentieth century that lifts the film to the level of incisive, humanist social criticism.
We see the drawings first, of huge explosions, of rows of fenced-in huts. Mirikitani's story slowly emerges: from his fledgling career in Seattle, the young artist is interned in California and renounces his US citizenship in protest. Years later, he is freed, but he has lost everything—including his family in Hiroshima—and gained a governmental disgust that prohibits him from seeking redress. By 2001, he is living under a Korean deli's awning in SoHo, and when he is subjected to the choking ash from the destroyed World Trade towers, Hattendorf invites him to share her tiny apartment with her and her cats, and convinces him to accept the help that she devotes untold hours to wrangling: chief among them, his citizenship. He soon straightens his hunched shoulders and dons a red beret, and by the time he gets a spot in an assisted-living center uptown, he has regained the wit and arrogance of the master artist.
Shadowing the narrative, more subtle even than the persistent, damning background murmur of war commentary from Hattendorf's TV, is the astonishing personal generosity of the filmmaker. Never permitted to edge into the limelight, her gentleness and her restraint stand as a beacon of warm mercy in the darkness.
The Cats of Mirikitani traveled to select theaters in early 2007 and was released on DVD in December of 2007. A shorter version of the film aired on PBS in May of 2007 as a part of its Independent Lens series.
Originally published in
Featuring interviews with Chuck Close, Kara Walker, Mamma Andersson, Howard Norman, Peter Nadas, Bela Tarr, Benedict Mason, and Kate Valk.