Another Trial without Witnesses by Zbigniew Bzymek
The New York premiere of Krystian Lupa's The Trial has been cancelled, as promises of funding from Poland disappeared.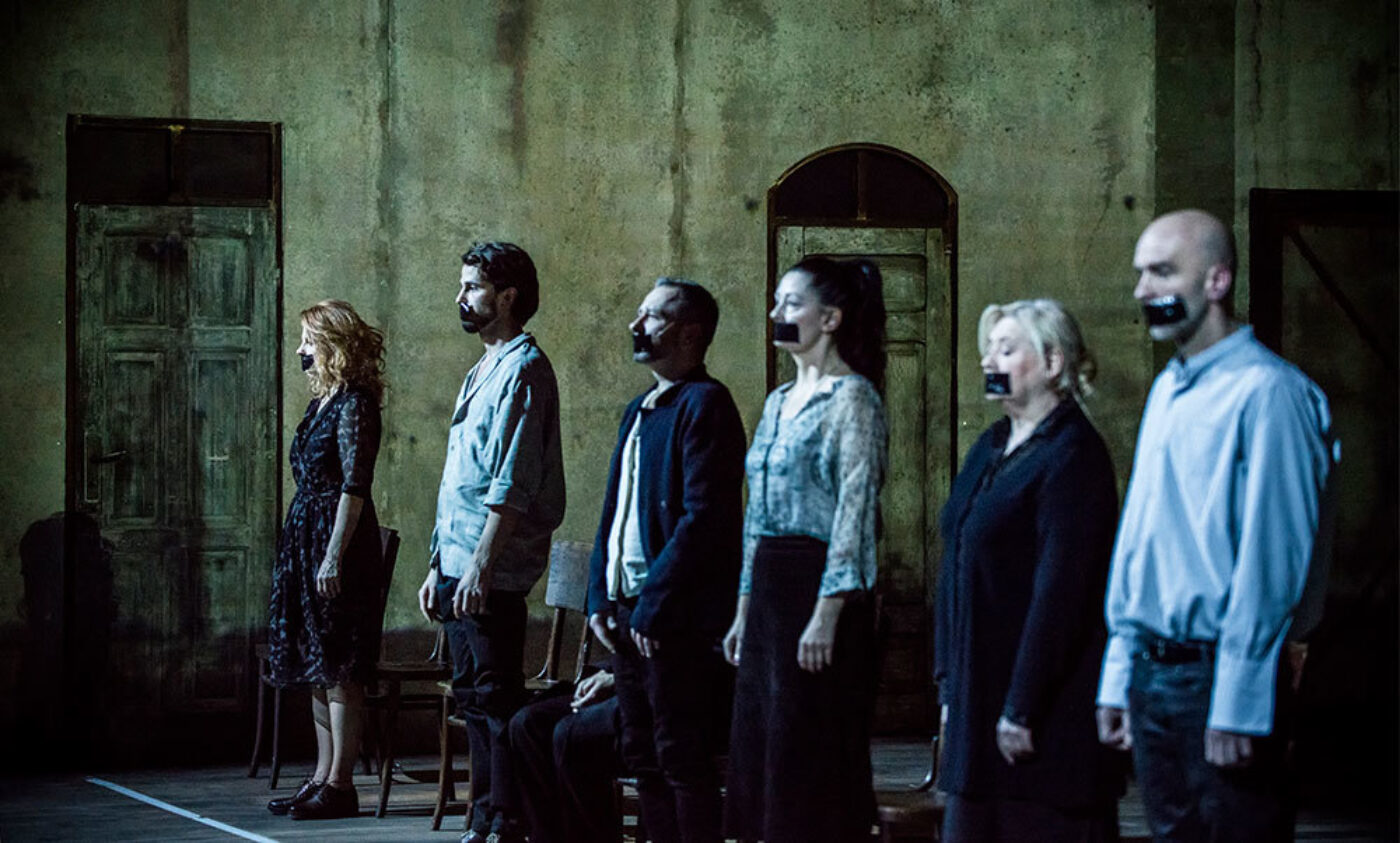 After I saw Krystian Lupa's adaptation of Thomas Bernhard's Auslöschung/Wymazywanie in the early 2000s in Warsaw, I was driven to binge-read all of Bernhard's novels. I saw one five hour-play, and it made me read thirteen books within a couple of months. What caused this?

Krystian Lupa channels writers—among them Witkiewicz, Musil, Broch, Dostoevsky, Weil, Bernhard, and now Kafka—opening portals from our world into theirs. With richly evocative theatrical productions made of collective dream-images, he creates real and spiritual connections between texts and humans. While working as Lupa's video designer on seven of his shows between 2004 and 2008, I lived in the land of his imagination. His is a politics that affirms the reality of the imagination, making us aware of the life of ideas and the social and psychological patterns of which we are a part. While inspiring our creativity, Lupa shows us our complicity in the fictional systems that we occupy and help narrate. No one is off the hook.
A New York premiere of Lupa's monumental production of The Trial was recently cancelled (as Skirball director Jay Wegman alleges, "censored") due to the politically motivated withdrawal of funding by the Adam Mickiewicz Institute. Produced against all odds as a collaboration between four major Warsaw theaters in the wake of the newly elected PiS party's 2016 attempt to derail the production, it is now effectively censored by omission. Promised funding miraculously disappears, and no crime is named, making for a cruelly ironic, "Kafkaesque" piece of political theater in lieu of the actual show.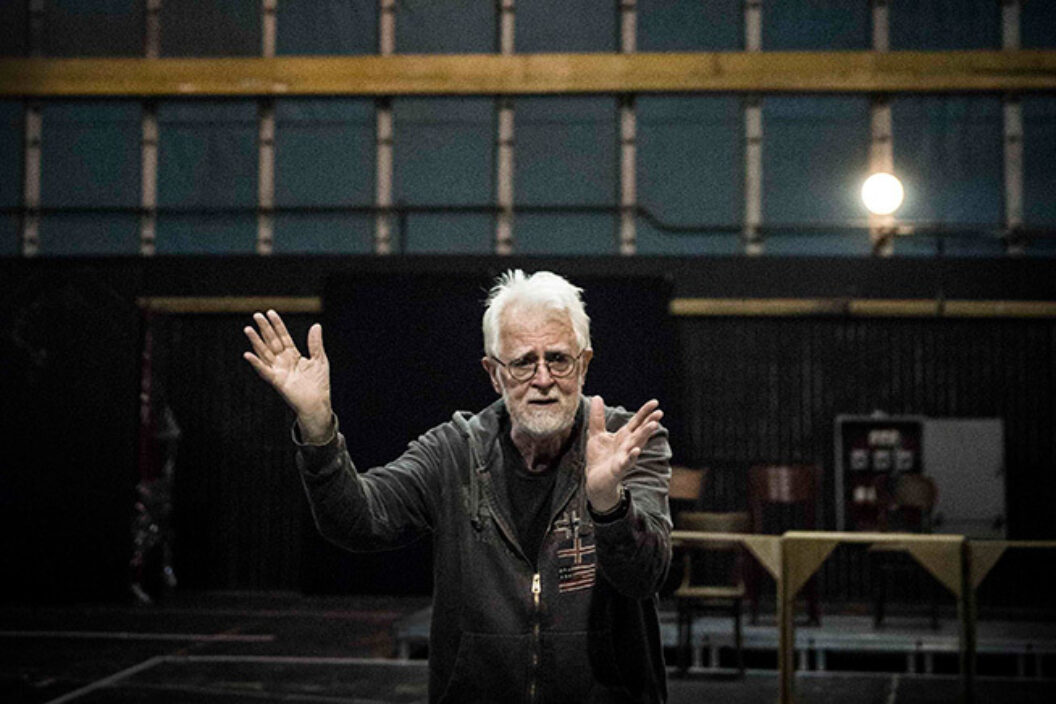 I saw The Trial in Warsaw last year. In it, Lupa allows us to peer through the walls of his set, reminding us that there are fabulous moments in life when membranes become permeable, feelings and thoughts bleed through, and the fictional mingles with the real. He also lets us see through to the specific echo of reality that Kafka omits in his unfinished novel: the writer's identification with the central character "K.," a stand-in for the artist, observed from a distance. Lupa makes transparent the eerie ways in which the unjust justice system presented by Kafka exists in the world today, and makes it abundantly clear that he is talking about Poland, where the "Law and Justice" (PiS) party has made a mockery of its constitution and judicial institutions since it began its governance in 2015. Most importantly, he lets the play flow through its viewers, calling us to stand witness at K.'s tribunal, showing us that, ultimately, it is we who sit in judgment of ourselves.

When asked in an interview whether he is an escapist, Lupa said:
I have never escaped from reality; I have always tried to penetrate it and toss the fruits of these penetrations—using all the radicality available to me—to the audience without falsifying or mannerizing the sharpness with which I experienced these penetrations of reality myself.
Lupa's work speaks to what is spiritually alive within us; whether we meet him there or not becomes a matter of our own responsibility. He approaches us as individuals, radically provoking us to think and act independently and to exhibit ourselves. Though not always politically motivated, his plays demand from the audience traits that coincide with civic responsibility.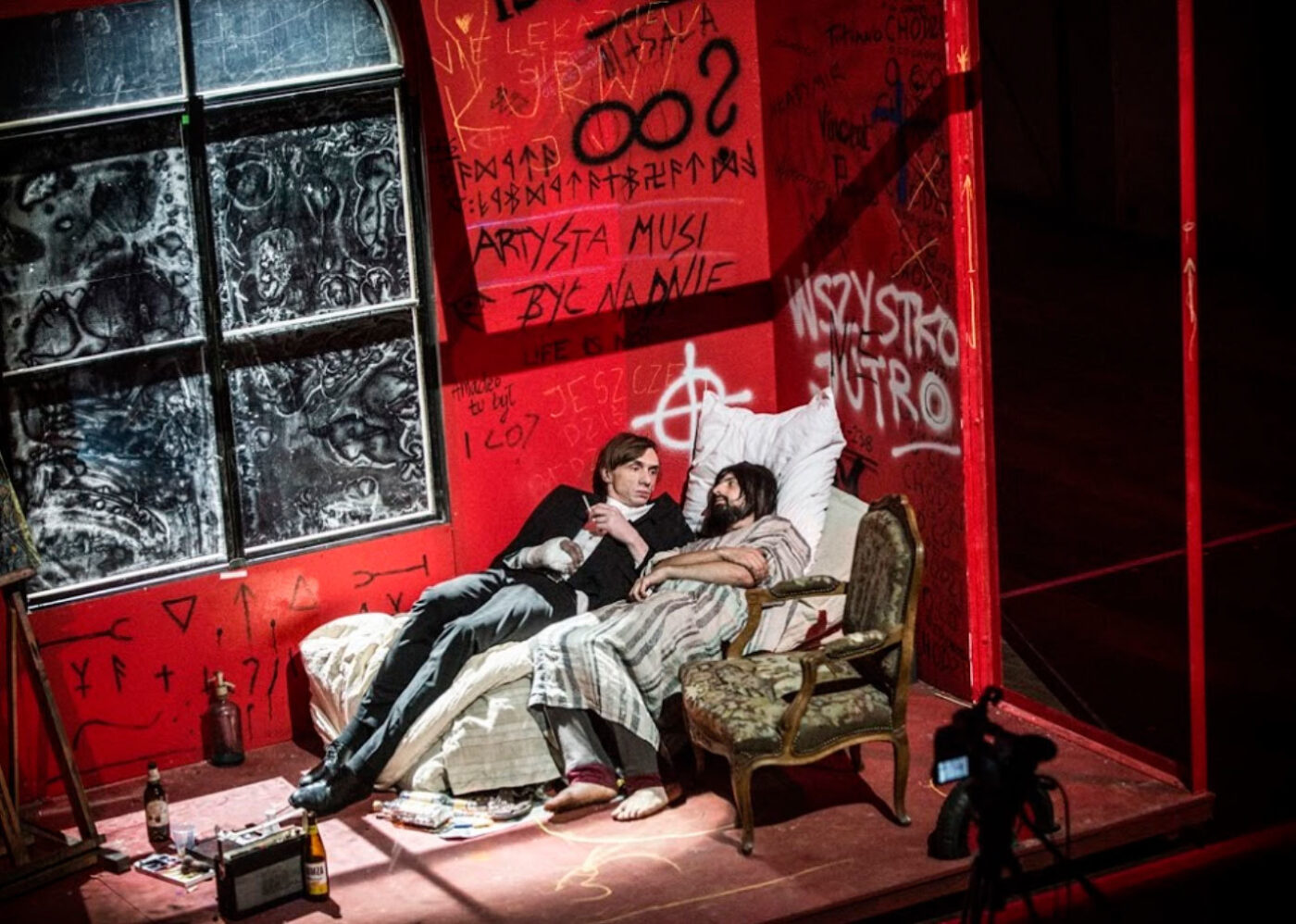 On the set for The Trial, "The artist must always be at the bottom!" ("Artysta musi być na dnie!") is etched on the wall of a red chamber in which a video camera is focused on a bed. Lupa regularly engages in ritualistic defacement of his own set during and after rehearsals, with relevant, subliminal "scratchiti," sometimes in a made-up language. In this instance, the line is from Tadeusz Kantor's penultimate piece I Shall Never Return—a line that I flipped around inside my head as I delivered it while performing in The Wooster Group's A Pink Chair (In Place of a Fake Antique), most recently on the Skirball stage. It is a bit paradoxical, since Kantor wrote this dictum at the height of his artistic career. Perhaps he meant that we artists should never "ascend to power" because of the conflict of interest created by our practice of excavating emotions. We feel these people in power too well—we feel them, and we feel what they're doing with feelings.
Lupa has written and spoken about the PiS party a great deal. He psychoanalyzes them for us, speaking openly in describing their complexes, trying to provide us with reasons for their destructive behaviors, perhaps informing us how to stand up to them. We theater people can identify with the Kaczyński twins, who founded the PiS party, in that they too started out as artists—childhood actors who starred in a popular 1962 children's film titled The Two Who Stole the Moon. If only they had stayed there.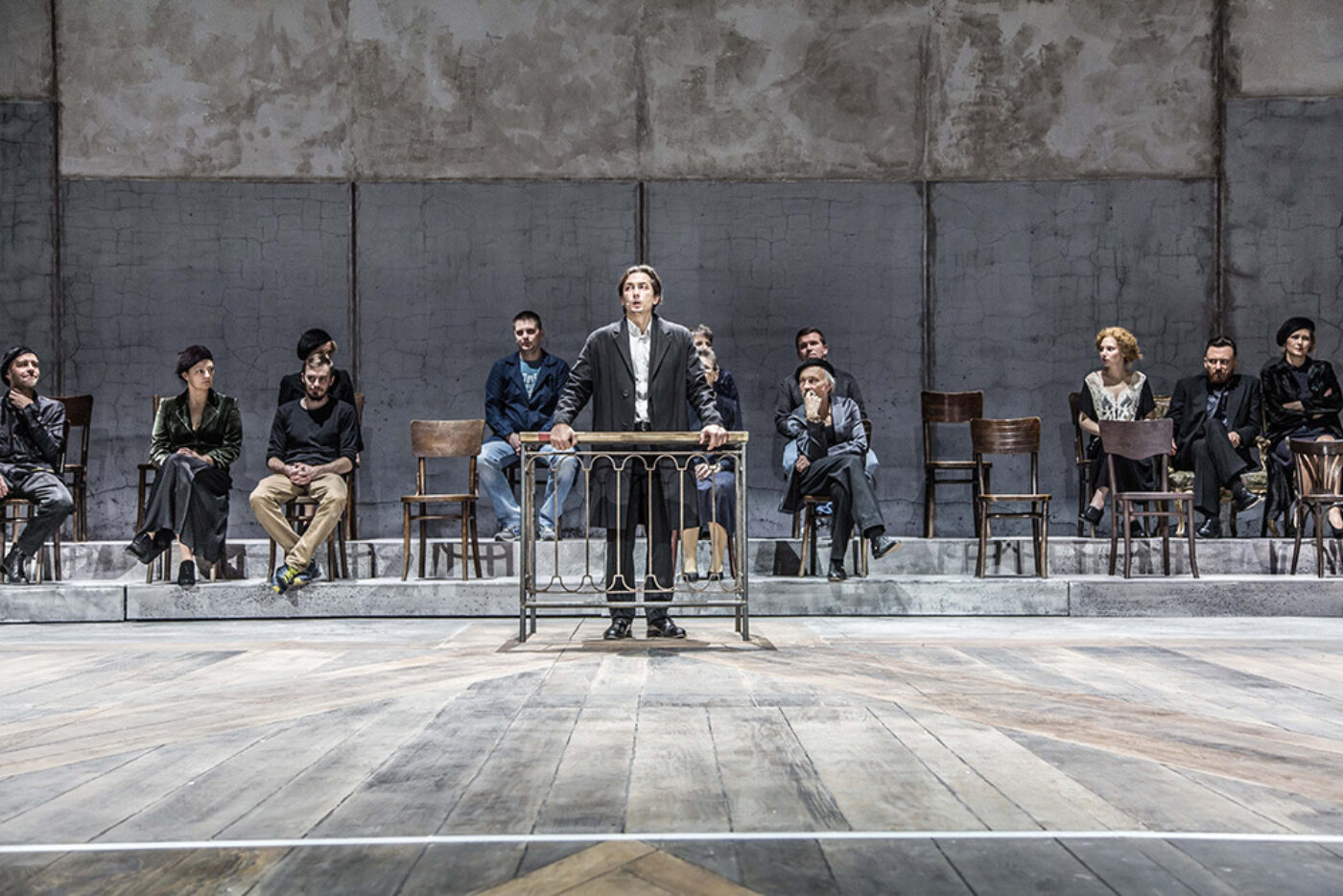 Speaking about PiS supporters, Lupa said:
[W]e encounter the dark sphere of a part of society removed from civic maturity, indeed from any maturity, a society in a cocoon of frustration and hurt… [T]heir myth is a hundred times truer to them than our civic worries and shock. People breathe the spoiled air because it is warm, not wanting to open the window of freedom because then there will be a draft…
The deepest threat Lupa poses to the PiS ideology is his way of breaking through their isolated shelters of myth: opening up an experience of the truth that goes beyond worry and shock, one that invites imagination. Lupa teaches us to quit, sit, and listen. To read, meditate. To make yourself more penetrable, more permeable, more open, more vulnerable. In the case of The Trial, to absorb the text of Kafka's literary experiment, in which the writer put his deepest complexes on the line, making the first step toward bringing your true self closer to an other.
NYU Skirball will join with The Public Theater, New York Theatre Workshop, PEN America, and CUNY's Segal Center to present a marathon reading of Franz Kafka's novel on March 8 at 3:00 PM. The reading will be preceded at 1:00 PM by a panel discussion with Mr. Lupa and others on the global escalation of artists-at-risk.
Zbigniew Bzymek is a theatre artist and filmmaker based in New York. He is directing a performative reading based on Kafka's Amerika at Teatr Studio in Warsaw in April 2020.