The Art of Travel: Alexis Rockman Interviewed by Dorothy Spears
Artist and writer discuss their globe-spanning travels.

Discover MFA Programs in Art and Writing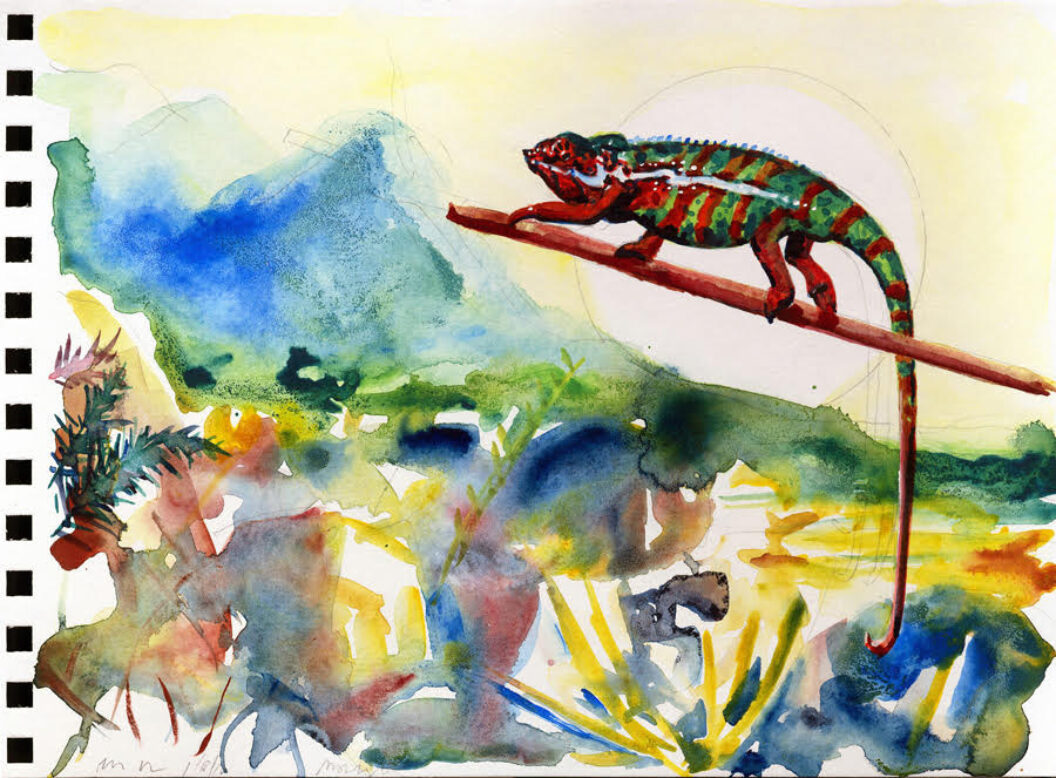 The artist Alexis Rockman and the writer Dorothy Spears both love to travel, and when they do, they bring their work with them. Rockman—whose current shows, New Mexico Field Drawings  and Alexis Rockman: The Great Lakes Cycle, are at Sperone Westwater and the Chicago Cultural Center, respectively—tends to be the heavier packer of the two, sending a box of watercolor supplies, and an even bigger box with two basketballs (he likes to do drills every other day), on their recent six-week trip to Ménerbes, France. Spears, who is taking a break from writing features and profiles for the New York Times to write a memoir about the four years she spent as a gallery assistant at the legendary Leo Castelli Gallery, prefers to fit everything into a small suitcase, packing her laptop in a separate bag, which she keeps with her at all times, after nearly losing it at an airport in Florence.
Rockman and Spears have traveled to faraway places like Tasmania, Costa Rica, and Madagascar. During a 2007 trip to Antarctica they spent two weeks navigating sea-sickness on a boat, as guides lectured about penguins and whales; but other trips have been closer to home, like their fourteen summers in Sag Harbor, Long Island. The couple discusses the role travel has played in their art and writing.
—Alexis Rockman and Dorothy Spears
Dorothy Spears Your focus is natural history, but mine is more journalistic, or even diaristic. Mostly we travel together, but sometimes we travel apart, like when you were researching for your current Great Lakes show in 2014.
Alexis Rockman Yes, the Grand Rapids Museum organized my itinerary, so I drove around Lake Michigan, meeting with various scientists and institutions studying anthropological and ecological issues related to the lakes.
DS I remember you were in your element, prowling around steel recycling plants, and not forgetting to play basketball. 
AR I could only play once, in Grand Rapids, and the trip itself wasn't exactly relaxing. I remember holding a sea lamprey at the U.S. Fish and Wildlife center in Marquette. 
DS Yes, that was very macho. Was it heavy?
AS No, it was about a foot and a half, but it was fucking strong as hell, and everyone was badgering me to let it suck on my forehead. Bored wildlife workers resort to that kind of thing. 
DS While you were there, my sons and I went on a graduation art trip to Italy. 
AR That was a funny contrast! We would text each other photographs.
DS I kept a diary of our trip. We were looking at Tinterettos in Venice and drinking wine in a field overlooking the panoramic backdrop of the Val d'Orcia. In Florence the boys—well, young men—kayaked on the Arno. We'd rather be here, we all agreed. 
AR I remember telling you I'd rather be looking at a coal power plant on the Grand River. It was only half true.
DS What would you say was our most challenging trip?
AR Madagascar, for sure. We went with a lemur conservation foundation from Florida. We had a really tight schedule, and our guide was somewhat of a taskmaster. 
DS She was sixty, and a former nun! 
AR The toughest part was climbing Mount Marojejy. We were looking for an endangered species of lemurs known as a silky sifaka. We left in the morning, and climbed straight uphill. Half the mountain had been deforested, so we were sweating in hot, blazing sun. By the time we arrived at the camp, it was nightfall.
DS Don't forget land leeches! The shower stall at the camp was a cinderblock structure with a plastic bucket and a hose. You were naked, in bare feet, filling the bucket to pour over your head, and I saw leeches crawling everywhere on the slimy floor. One got stuck on your foot.
AR Yeah, I couldn't feel it, so one got pretty huge feeding off my blood. We ran out of there so fast.
DS You took a lighter and held the flame against it, until it finally dropped off. I was scared you'd set yourself on fire! 
AR Remember our piece about that trip for Departures magazine? You wrote the text; I made ten watercolors. All the misery got edited out.
DS I love the chance opportunities presented by travel, the unforeseen moments of magic. On our return from Madagascar we had to fly through Johannesburg. We extended our layover, so we could visit with the artist William Kentridge and his family. I had just written about Kentridge's sets for Shostakovich's opera The Nose, for Art In America. It was the eve of his daughter's wedding. They took us out for pasta and told us what to see in Johannesburg.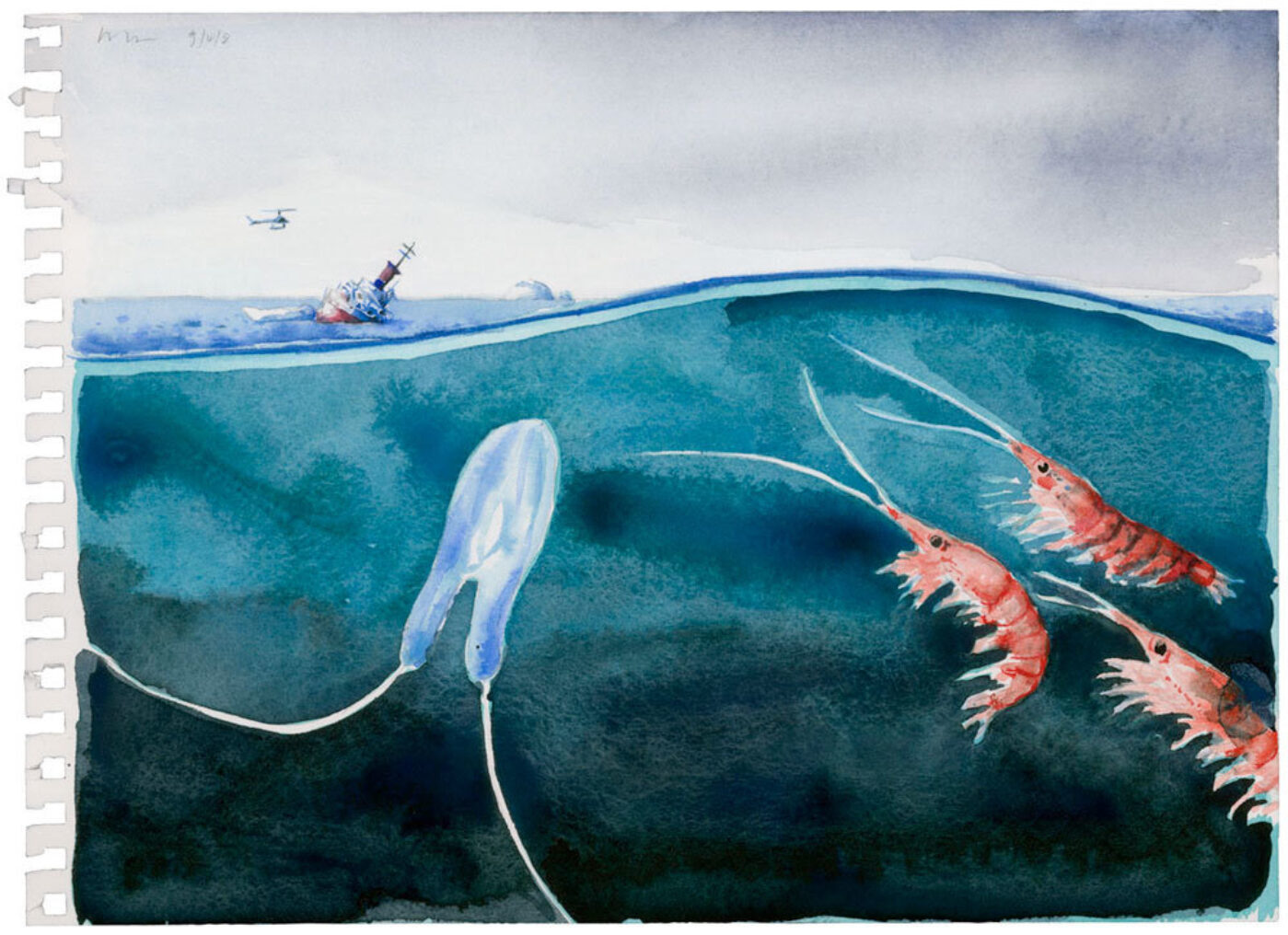 AR What about Antarctica? We were there to learn about penguins and seals, and diminishing habitats, but then on our first night, a cruise ship hit a growler—a small chunk of floating ice—and was sinking somewhere off our course. The captain made an announcement over our cabin intercom at 3 a.m. We had to steam to the rescue of a sinking ship. 
DS It's maritime law. We were the nearest ship. By the time we arrived, around 10 a.m., all the ship's passengers had been evacuated into lifeboats, where they were waiting in the frigid water since 2 a.m.
AR You ended up contributing to the front-page New York Times story. 
DS Breaking news in Antarctica! I remember emailing the art editor, and asking if the international desk might be interested in any eyewitness reporting.
AR You had a pretty funny relationship to the German-born captain after that. He always eyed you with distrust, afraid of what you'd write next.
DS Our first trip together, in 2003, was to Tasmania. It was kind of an ironic quest for a glimpse of the mythic Tasmanian tiger, officially extinct since 1936, but still believed to be roaming the button-grass savannahs and rainforests. 
AR Hope springs eternal, especially, for humans.
DS Your knowledge of natural history is vast, almost encyclopedic. You generally take the lead on our nature trips. 
AR But you have a keen eye for breaks in patterns. You're the first to spot a camouflaged frog or bird.
DS I remember that song from Sesame Street, "One of these things is not like the other. One of these things just doesn't belong." You gravitate toward faraway places with a lot of biodiversity, but I'm more interested in culture. I like to return to the same place over and over again, to rent a house, and really settle in. During our summers in Sag Harbor, you made paintings and large watercolors in a garage-studio, while I typed at the dining room table. Those summers were all about routine. We ate lunch and dinner together. The rest of the time we worked. 
AR And saw our friends.
DS And went to the beach.
AR And played basketball.
DS Oh, yes, don't forget the basketball. These past summers, instead of driving to the beach we've been roaming around the hill towns of the Luberon. I like hiking, while you do basketball drills alone on your favorite court.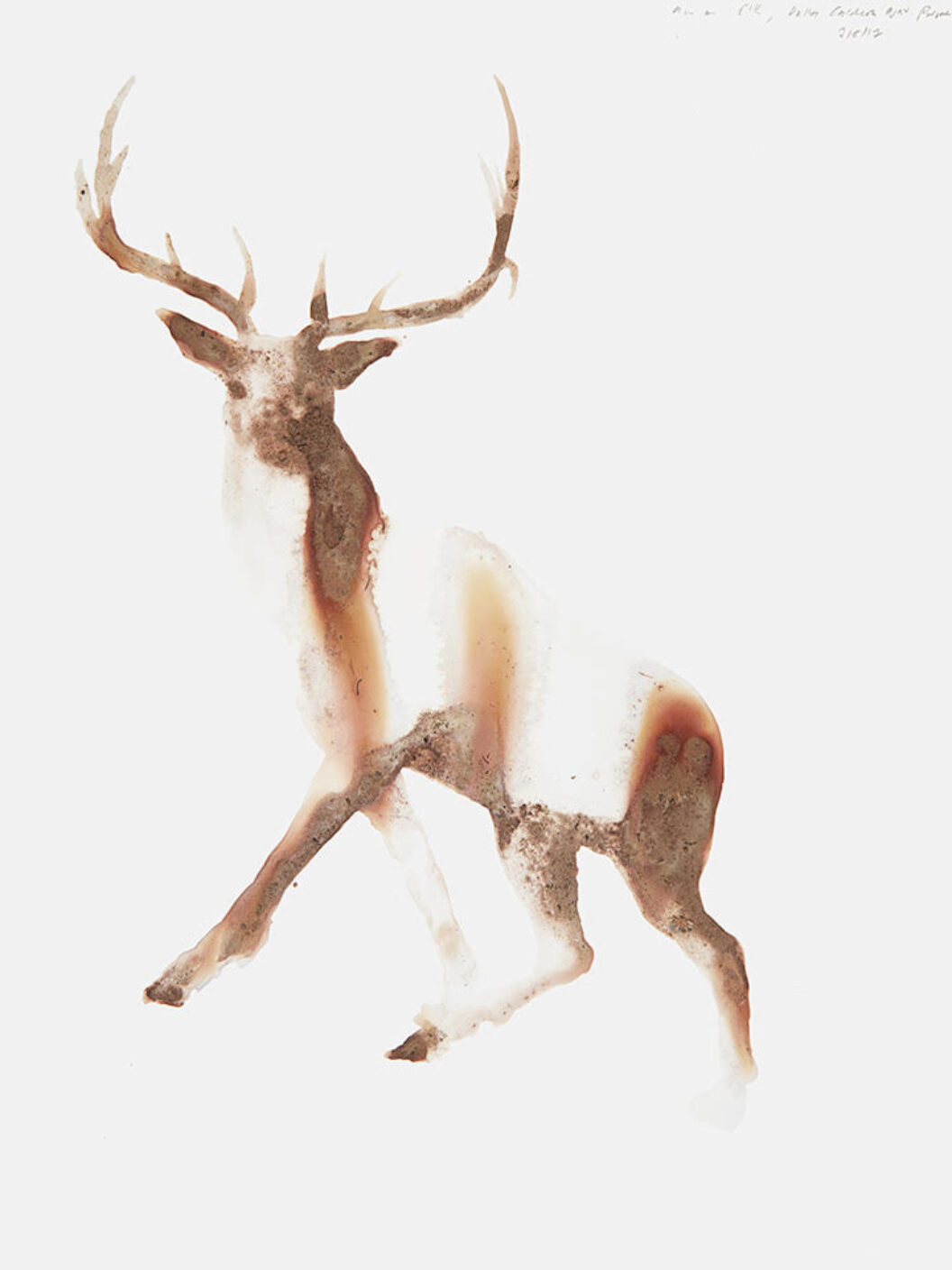 AR You've been to France many times and speak French. For our recent trips in Ménerbes, I've brought projects with me that were already established. Last summer I made seventy-six field drawings using soil, bark, and other organic material I collected on a two-week research trip in New Mexico for Site Santa Fe. It was crazy sending dozens of specimen bags from Santa Fe to France. Getting them back to the U.S. was another adventure. 
DS Some of the drawings had cactus spines and actual leaves sticking out of them. Then this past winter you made watercolors for your Wallace's Line show at the Baldwin gallery in Aspen.
AR I was imagining the wildlife of Indonesia, Southeast Asia, and South America in the nineteenth century.
DS While we were living in an old French barn. Those two projects were very much about place, but not the place where we were. 
AR I like to think of them as time-travel.
DS I guess my Castelli book is about time-travel, too, although part of it takes place in France. Castelli was a big Francophile; he spent the summers in France. In the summer of 1989, a few of my female co-workers and I had a "girls gone wild" summer in the south of France. But mostly I'm writing about another place and time: the New York artworld in the 1980s. 
AR We were both starting out. We met each other a couple of times back then, but we were both involved with other people. 
DS We had a lot of friends in common. 
AR I think they were conspiring to keep us apart! 
DS Well, I was married. I knew of your work, and saw a couple of your shows at Jay Gorney. I was just beginning to write reviews for a great magazine back then, Arts. 
AR I was on the cover in 1987. Did you ever write for any French art magazines in French?
DS I wrote for Galeries, which was bilingual, but someone else translated it into French. My grammar is terrible! But I've always believed that the best way to learn about a place is to speak the language of the people who live there. The experiences sparked by that aren't usually found in guidebooks or on TripAdvisor. Art for me is a kind of language. I remember how eager I was to learn the words, to find the right vocabulary. I suppose art and science present parallel situations for you. Those languages have certainly taken you places.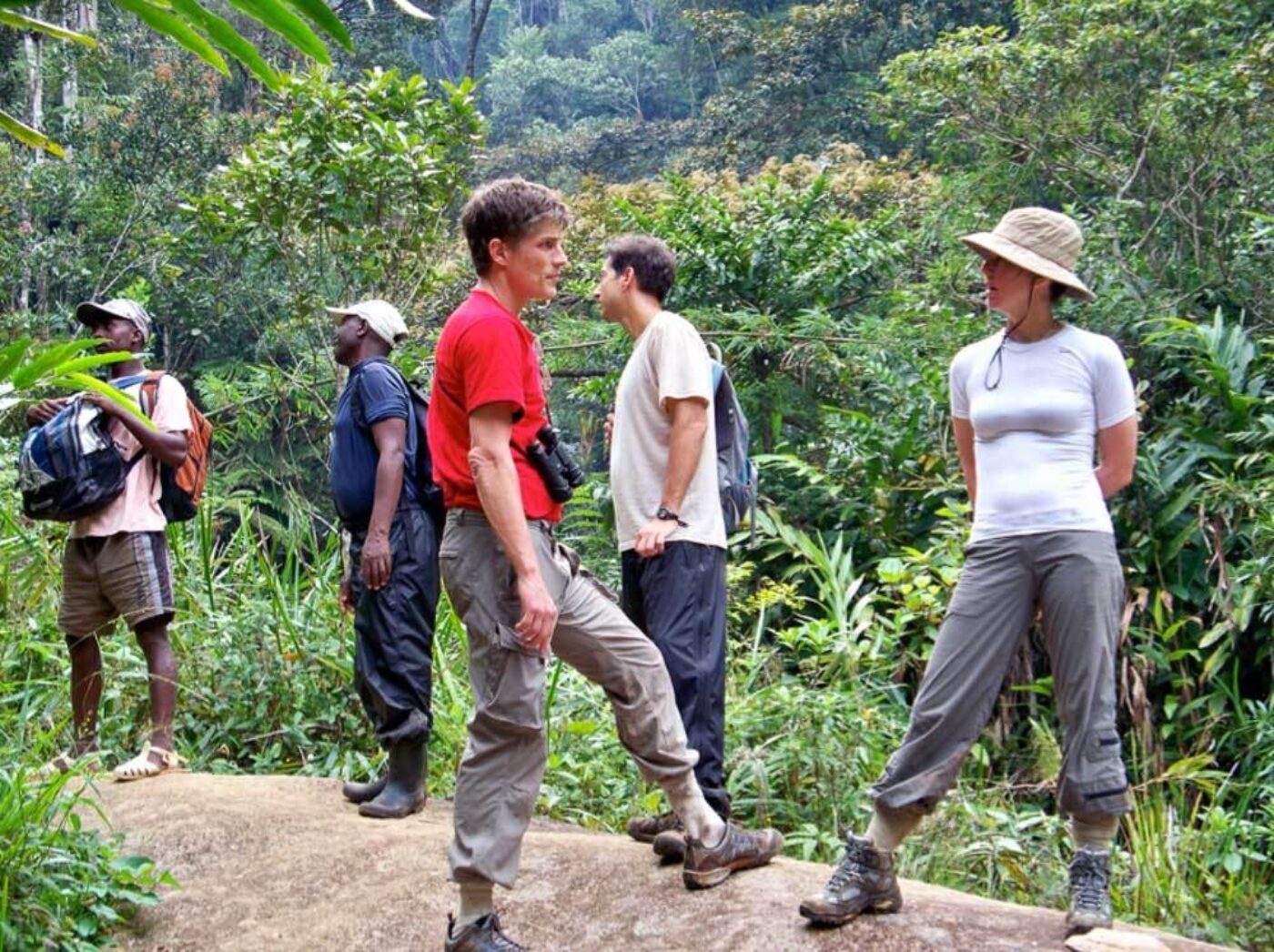 AR As an only child growing up in New York, I was fascinated by the wildlife that could survive in urban environments. But I also longed for the exotic and far away. It's easy to think, mistakenly, that everything begins and ends in New York. Maybe Woody Allen has something to do with this, or Saul Steinberg's famous New Yorker cartoon "View from 9th Ave." 
I looked at nature books, and made drawings in my room, and watched movies. Nature for me meant a trip to the American Museum of Natural History or the Bronx Zoo. I used to fish in Central Park or at Coney Island. Those were special occasions! 
I realized later that New Yorkers can be paradoxically provincial. I have a terrible sense of direction because I grew up there, with the grid. Luckily, you have a pretty good sense of direction. 
DS I really hate getting lost. Suburban Connecticut, where I grew up, felt like nowhere. I was so desperate to leave what felt to me like a cultural no-man's-land. The places I traveled felt more real than home. It was easier to see with fresh eyes.
Alexis Rockman: New Mexico Field Drawings is on view at Sperone Westwater in New York until August 3; Alexis Rockman: The Great Lakes Cycle is on view at the Chicago Cultural Center until October 1.
Alexis Rockman has exhibited extensively worldwide since 1985. He has been featured in a number of solo museum exhibitions including Dioramas at the Contemporary Arts Museum, Houston (1996); Alexis Rockman: A Recent History of the World at the Aldrich Museum of Contemporary Art, Ridgefield (1999); Manifest Destiny at the Brooklyn Museum (2005); and a mid-career survey Alexis Rockman A Fable for Tomorrow at the Smithsonian American Art Museum, Washington, DC (2010); Alexis Rockman: The Weight of Air at the Rose Art Museum; East End Field Drawings at the Parrish Museum of Art in Water Mill, NY (2015); The Great Lakes Cycle, Grand Rapids Art Museum; Chicago Cultural Center; Weisman Art Museum, Minneapolis; Flint Institute of Art, MI; The Haggerty Museum, Milwaukee Museum of Contemporary Art, Cleveland (2018–20). His work is represented in public and private collections, including the Brooklyn Museum, New York; Carnegie Museum of Art, Pittsburgh; Solomon R. Guggenheim Museum, New York; Moscow Museum of Contemporary Art; Whitney Museum of American Art, New York; and Yale University Art Gallery, New Haven. From 2009–12, Rockman collaborated with director Ang Lee on the prize-winning film Life of Pi, serving as "Inspirational Artist" preparing conceptual drawings to serve as visual reference. He has been the subject of many exhibition catalogues and monographic publications including Alexis Rockman, published by Monacelli Press in 2003.
Dorothy Spears's features, artist profiles, and personal essays have appeared in the New York Times, Departures, Architectural Digest, Art in America, ArtNews, Bomb, and many other art magazines. In 2009, she edited Flight Patterns: A Century of Stories About Flying, an anthology of short fiction and personal essays published by Open City/Grove Atlantic. She is currently writing a memoir, False Starts, about her experiences at the Leo Castelli Gallery, where she worked from 1986 to 1990, as a front desk girl, Castelli's personal assistant, a curator, and sales representative. An excerpt from the book, "Labor Day Weekend," was selected as a non-fiction finalist by Kathryn Harrison for the literary magazine, Epiphany, where it was published in Fall/Winter 2016, and received an honorable mention as one of the Notable Essays and Literary Nonfiction of 2016 in Best American Essays 2017. She is a member of the Authors Guild, and the International Association of Art Critics (AICA).