The Art Happens Here: Net Art's Archival Poetics by Olivia Gauthier
Presenting a canon of net art.

Discover MFA Programs in Art and Writing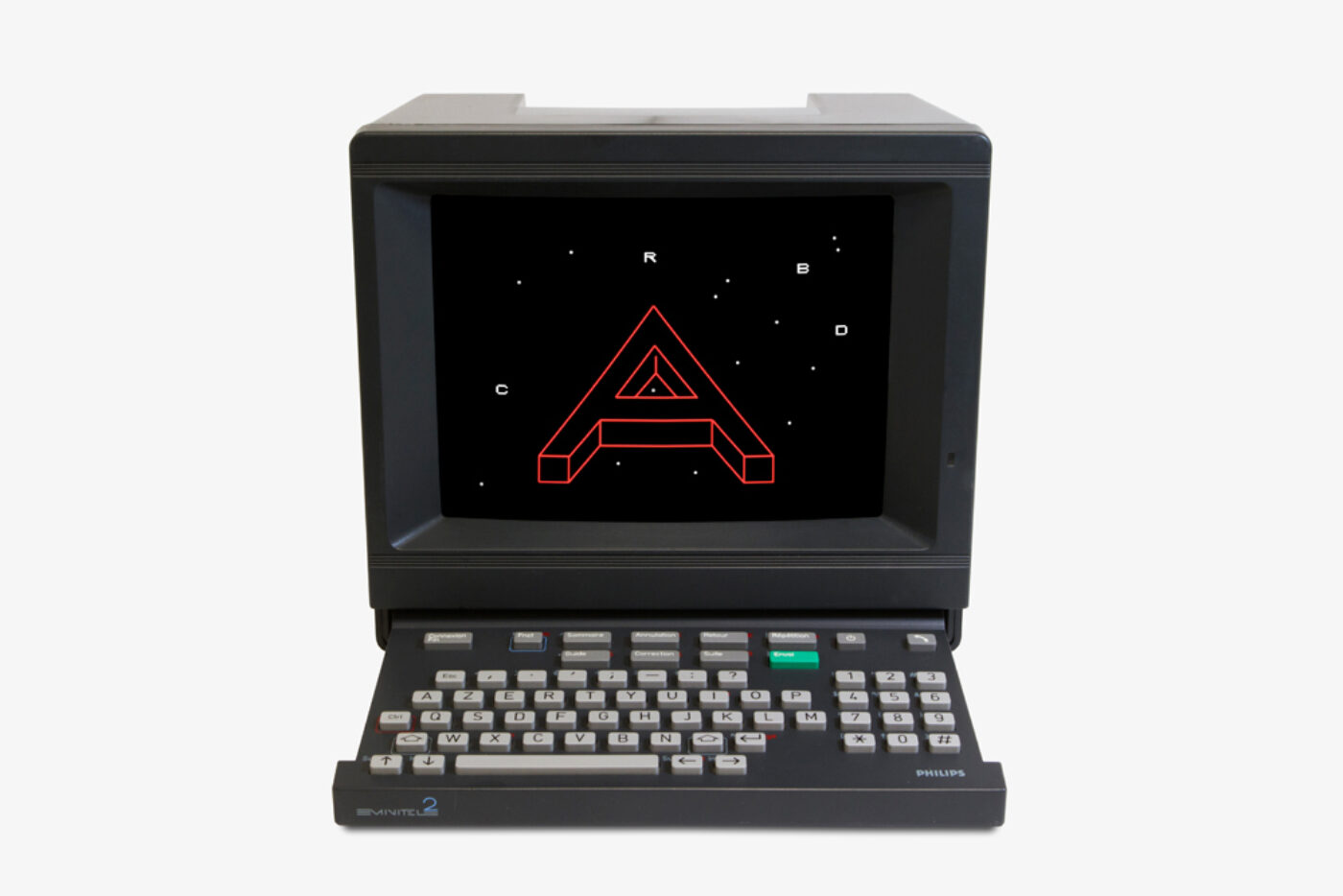 The Art Happens Here: Net Art's Archival Poetics at the New Museum in New York City is an exhibition of sixteen artworks curated by Michael Connor, artistic director of Rhizome, and Rhizome's assistant curator Aria Dean. They drew from Rhizome's two-year, online exhibition initiative Net Art Anthology, which published one hundred works of born-digital art in an effort to present, according to the press release, "a possible net art canon." From the one hundred works hosted at anthology.rhizome.org, the pieces selected for The Art Happens Here represent a variety of approaches to the network as creative catalyst.
Located in the relatively small gallery space of the New Museum's lobby, the works in The Art Happens Here take the form of websites, digital poems, sculpture, slideshows, books, games, and merchandise produced within a global network. Uniting these disparate approaches is a performative aspect foregrounding information, participation, and process as key components of net art.
Eduardo Kac's Reabracadabra (1985), the earliest work in the exhibition, is emblematic of Rhizome's mission to preserve a history of net art. A red, 3-D letter "A" floats against the black screen of a Minitel monitor while surrounded by the consonants of the word "abracadabra." What initially looks like a spaceship video game from the 1980s is instead a digital poem rendered via a re-creation of Videotexto—a pre-internet telecommunication network that allowed users to message each other and transmit information through phone-line-based terminals accessible in libraries, malls, and other public facilities. Kac's use of the Minitel terminal and Videotexto platform highlights the aesthetic qualities of networks as well as the material form of an early medium of information exchange.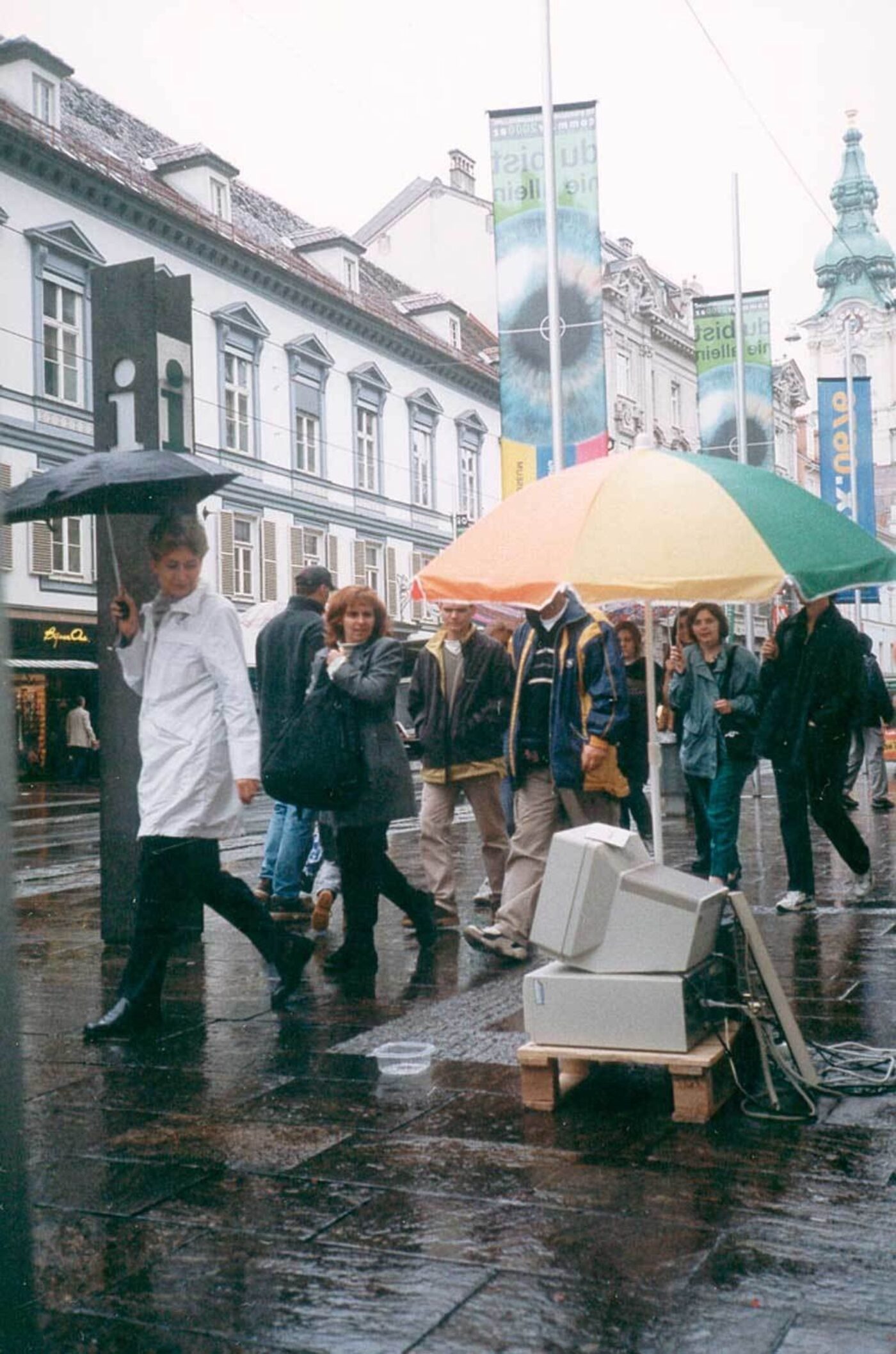 Alexei Shulgin's 386DX (ca. 1998), referred to as "the first cyberpunk band," uses a PC running on Windows 3.1, a vintage soundcard system with MIDI files of musical instruments (guitar, drums, and more), and a text-to-speech module to create a singing computer. Though it has been presented in different formats such as concerts and public performances, the work is installed at the New Museum as it first debuted with the monitor, speakers, and harddrive sitting on a wooden pallet. It also features a multi-colored umbrella (originally meant to protect it from the rainy streets of Grasz, Austria) along with a change jar and keyboard used by Shulgin in other concert performances with 386DX. Running at the New Museum on a slow system that draws out its speech, 386DX "sings" its song.
One of the less overtly net artworks in the exhibition is Miao Ying's Blindspot (2007), a customized, paper Chinese dictionary. Miao's work resulted from a three-month process of searching each of the 1,829 words in the dictionary and using white tape to redact those that had been censored on google.cn. Blindspot makes visible, and more tangible, the otherwise shrouded phenomenon of internet censorship in China.
Existing as another form of relic is Olia Lialina and Dragan Espenschied's One Terabyte of Kilobyte Age (2010–), a two-screen, analog slide projection of GeoCities webpages. The GeoCities platform, which allowed users to host their own websites for free, was terminated in 2009 by its purchaser Yahoo!, and thanks to a team of archivists, one terabyte of it still remains. Lialina and Espenschied's engagement with this material exists as a slideshow of screenshots featuring users announcing the closure of their webpages, a web history that the artists describe in the accompanying exhibition catalogue as "Digital Folklore." Images from the rescued sites cycle through the slide carousels while displaying texts like, "You Have Reached My Future Website," and, "Ok the PAGE is DEAD," and, "Hi. This is Fiona. My Swinging homepage will be up and functioning at the end of March. Stick around to see it!" These homepages project hope, excitement, frustration, and disdain for the future of the web. One Terabyte of Kilobyte Age also acts as a eulogy for a once-freer web and is a reminder of how swiftly the internet as we know it can and does change.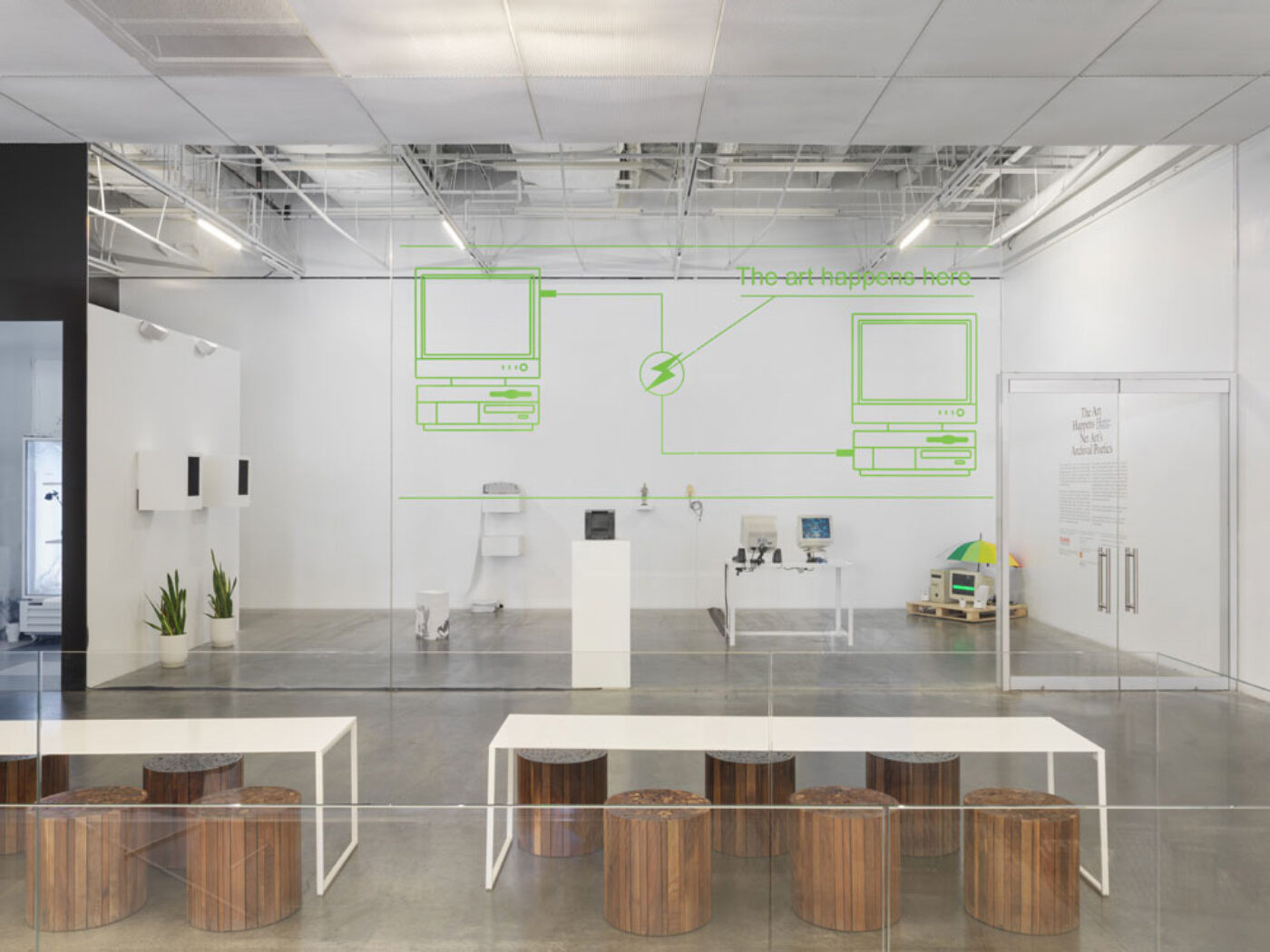 Along with making a case for the breadth of net art, The Art Happens Here raises crucial concerns at the core of Rhizome's more than two-decade initiative to preserve, contextualize, and exhibit born-digital artworks. Due to the constantly evolving nature of network cultures, whether new platforms, codes, or computers, net art is inherently fragile and at risk of disappearing into the ether, rendered obsolete by ever-updating technologies and trends. The exhibition takes creative approaches to representing works whose parts may have disappeared over time but whose essential materials remain intact, with the Rhizome team skillfully resurrecting defunct technologies.
The Art Happens Here: Net Art's Archival Poetics is on view at the New Museum in New York City until May 26.
Olivia Gauthier is a writer based in Los Angeles.