Text as Texture: Judd Morrissey and Abraham Avnisan Interviewed by Theadora Walsh
A geo-spatial experience of text and poetics.

Discover MFA Programs in Art and Writing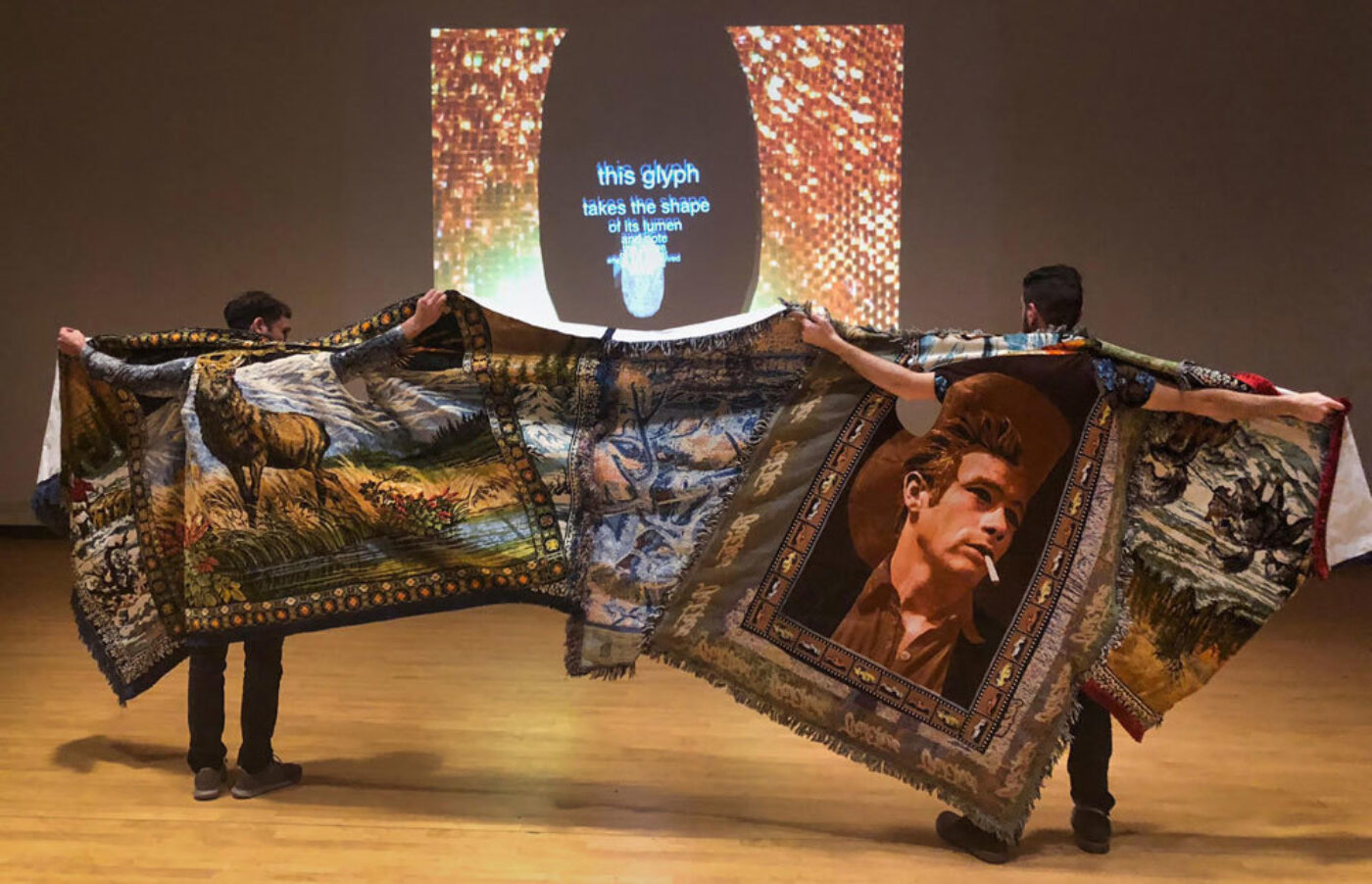 I met Judd Morrissey and Abraham Avnisan on a rooftop in Montreal, just before they performed Inside My Gorge last August at the Electronic Literature Organization's annual convention. When I later descended into the building's underground black box theater, Morrissey and Avnisan had changed into rhinestone dress shirts with plunging necklines. Avnisan held a piece of embroidered cloth, Morrissey was using an iPad to control the feed of a projected video, and together they launched into a virtually mediated performance in which their bodies were at times orators, and at other times the material recipients of poetic language. For an uncountable period, I was lost to a virtual-virtual world with any claim to reality thrown out. Inside My Gorge is rhizomatic; it travels deep inside the entrails and orifices of artificial letters textured with cosmic imaging, through a 3D scan of self-taught artist Loy Bowlin's bejeweled home, between doilies and around the word "foramen." The music of Glenn Campbell's famous "Rhinestone Cowboy" forms a sonic carpet for the artist's bellowed poetry. It is truly bizarre and captivating like little else I've seen. The artists will perform a rendition of the piece at Brown University for Interrupt V on February 8 and 9.
—Theadora Walsh
Judd Morrissey So Loy Bowlin, the "Original Rhinestone Cowboy," was a self-taught artist from Mississippi. He's famous for intricately bedazzling his house.
Theadora Walsh I can't stop looking at pictures of the house online—the Beautiful Holy Jewel Home. Did you see the real thing?
JM After he died, the house was acquired by the Kohler Foundation, an institution that collects art environments. We were invited to see it there as part of our collaboration with ATOM-r, a collective that I co-founded with Mark Jeffery.
Abraham Avnisan It was strange to see the house in a museum space. It felt incongruous, as it was clearly a home that he lived in. There is something very intimate that's thrown into relief by the context.
JM The words that come to mind to describe the house are: totalizing, maximalist, and immersive, but paradoxically, also empty. The house's bedazzlement has extraordinary range, but also a homogeneity. That's part of the uniformity, and the inability to distinguish different views.
TWAesthetically, the house is striking. Despite the dozens of patterns and colors, it somehow looks flat. The juxtaposition erased depth for me.
AA That's a good segue to talking about camouflage, which is something we are thinking about. The house documents Bowlin becoming his environment. He bedazzled himself; he bedazzled his house; he bedazzled his car.
JM There is a breakdown between himself and his environment. We were also thinking about it in terms of text and language as ambient, homogeneous material. We wanted to write a text that had the same quality of excess. Anywhere you enter into the language, it is made of the same substance. Pierre Guyotat's apprehension of language as a material excess and bodily secretion was an inspiration.
TW Engorgement seems relevant here.
JM Do you know about dazzle camouflage? It's a black-and-white pattern that the military would use to disguise ships. It looks a lot like cubism. The way it acted as camouflage wasn't about blending into the environment, but about creating a situation where an object couldn't be located due to disorienting optical effects.
TW It sounds like there is this idea of becoming famous in collaboration with a structure, extending outward by becoming indistinguishable from an environment.
JM He says blatantly, "I want to be famous," and yet he's working with construction paper and glitter. It's not rhinestones, not at all.
AA And that's why Glenn Campbell's song is so resonant.
JM It becomes about camouflage in relation to covering—the idea of a cover, a cover song.
AA Conceptually, "Rhinestone Cowboy" is the perfect cover song. Artists who sing it project their own desire for fame, but at the same time, they can hide behind it because it's not their song.
TW I'm wondering about the relationship you've created with the technology on the stage. How can you enact and perform intimacy with a screen? How can a device in a performer's hand be both visible and camouflaged, a structural collaborator that both exposes and hides an artificiality?
JM On a basic level there is a challenge, when using Augmented Reality technology, to record experience. When I navigate the piece, I'm framing the view. The audience is only accessing it through a projection. It's not the same world I'm seeing; it doesn't have the same depth, and it doesn't have the same feeling of being inside of it.
As performers using AR, we are behaving as a camera, trying to invoke the blending that Augmented Reality claims to possess, but also amplifying the disconnect.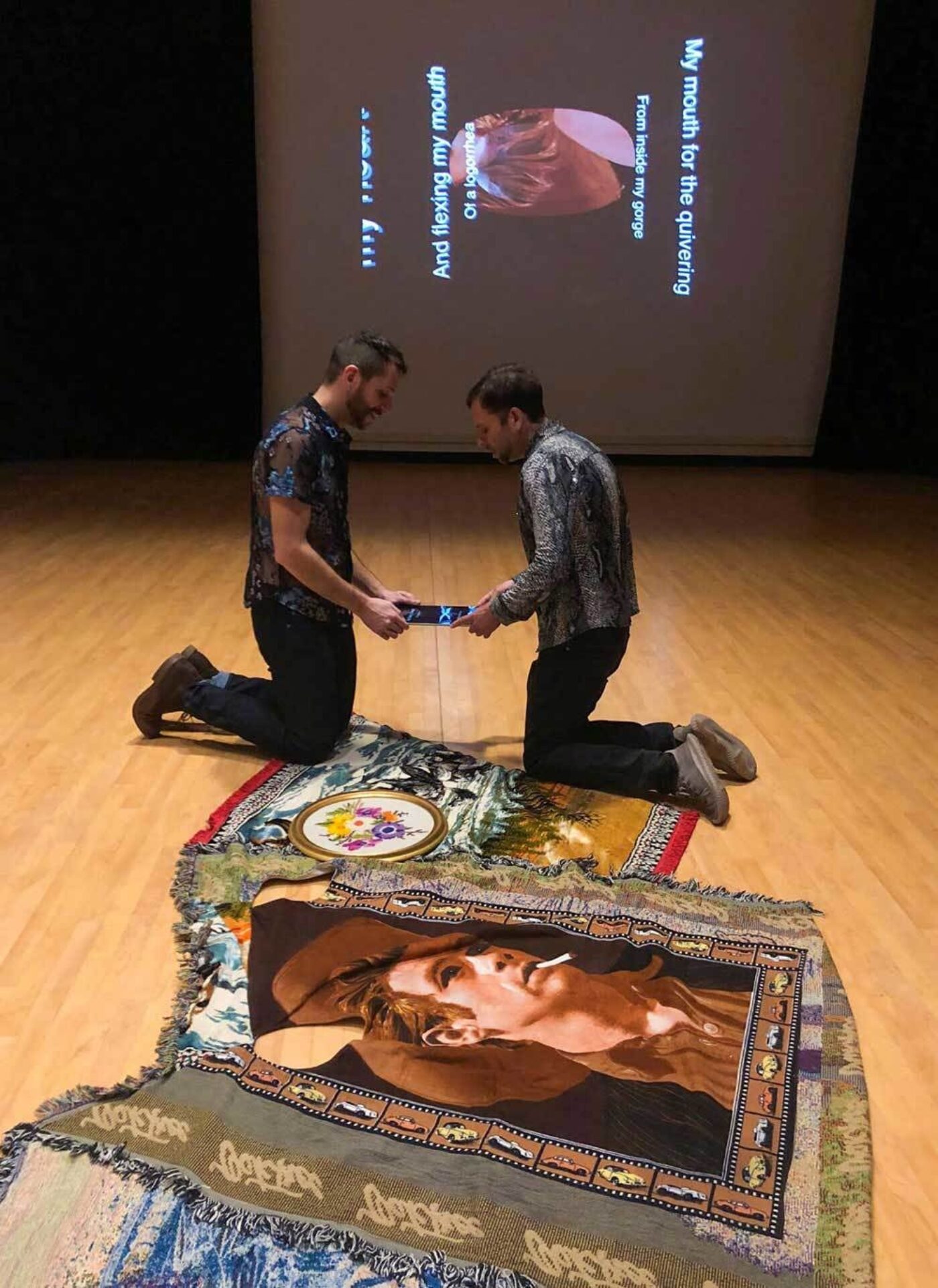 AA Part of the tension with visibility, and with camouflage, comes through in the piece by way of the word "foramen," which features prominently in the poetry.
TW Foramen?
AA It means a cavity in the body and is also the name of quite a unique star. The tension between interiority and exteriority plays into that. Or maybe the two meanings of the word are just a parallel tension.
JM The text is also made of tunnels and interiors that we have to penetrate and move through. We aren't dealing with anything typical in virtual reality. We aren't making a teacup appear on a table. Our piece is completely artificial. It's text and poetics; there is no claim to reality. The audience sees us excavating invisible structures in one view and situated poetic objects in another.
AA Right, the letters themselves are exteriors that have interiors.
TW The text in this piece feels architectural, like the language is being considered not just as information, but also as a material.
JM The kind of AR we've used to construct geo-spatial texts references both visual poetry and habitable architecture. I actually remember a presentation that John Cayley gave ages ago where he talked about the poetics of text within text, or letters within letters, and I thought of that—the glyphs themselves becoming holes, tubes, and tunnels that relate to anatomical and astronomical structures. The kind of AR we've used to construct geo-spatial poetry would be more comparable to habitable architecture than visual poetry.
AA I textured the words with an image from NASA, of the Homunculus Nebula, in which the star Foramen is located.
TW When you say "texture," do you mean the color of the actual letters in the poems?
AA Texture is a computer science term that describes the process of applying an image to an object.
TW Can you say more about that? It sounds like an interesting composition problem.
AA When you look at the letters in our performance, they aren't just a solid color. That quality of reflection, of movement and lighting, is the texture. It's really interesting because that part of the aesthetic process was organic, but also quite hard. I've been working in this strange vocabulary, agglutinating visual languages from new media aesthetics, video games, and other technology cultures.
JM Texture also relates back to camouflage. When I first started making AR poems, I would generate images from the GPS coordinates where the letters were placed based on satellite imagery so that the text would be textured by location. That the text has a referential texture is integral to our work. The text is an animal with a skin.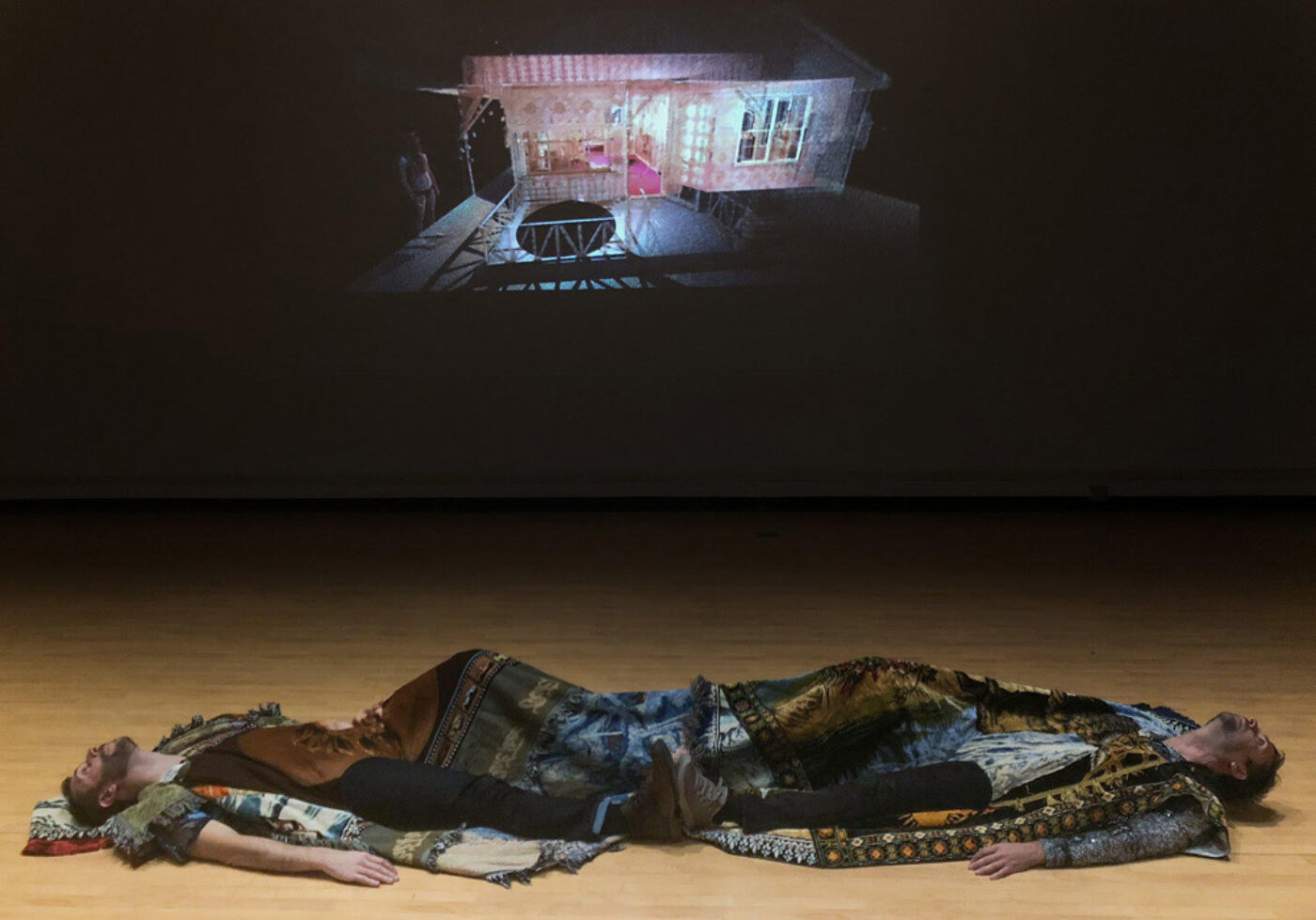 TW I read on your website, Abraham, that you made a digital book in which text vibrates and reveals fleeting subjects, embodying movement. And then, Judd, I read that you flutter your hands rapidly by your side before performing. I was wondering how fluttering and vibration fit into Inside My Gorge?
JM I love your question; there is something really fascinating there. I picked up the hand movement when I was working with Goat Island, and then it became a choreographic gesture I embodied. In the work Abe and I are doing, fluttering reappears, this time in the context of sensing and navigating with mobile devices.
The technical aspect of the trembling that Abe was referring to relates to a feature in AR called world tracking. For the software to track the world correctly, it needs a decent view of reality, the lighting and features of a particular space.
In Montreal we had constructed this beautiful sequence in which I would levitate the word "foramen" and Abe would be reading from underneath, through the bottom. It felt intensely performative, but when we went to the black box space, we realized that there was very little light and few distinct features. So we had to re-program everything to keep the virtual language from disappearing—or shaking.
Shaking is just the beginning of disappearance.
That was also true with my hands trembling, in terms of how I thought about disappearance at that time. There wasn't enough time to check the lighting in advance, so the text wasn't correctly located in its virtual world. It kept trembling, and then it would start to recede. I would try to retain the text as it receded from me, an orphic experience.
Judd Morrissey and Abraham Avnisan will perform Inside My Gorge at Interrupt V at Brown University on February 8 and 9.
Theadora Walsh is a writer who works with moving text, essay films, and fragments. She is currently pursuing an MFA at Brown University and curating the digital writing festival Interrupt V.