Tethered Together: Liz Collins Interviewed by Svetlana Kitto
Creating worlds and paying attention.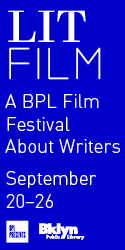 I had my first immersion into the world of Liz Collins at the opening of Trigger: Gender as a Tool and a Weapon back in September of last year. That night, Liz's corner of the New Museum was particularly abuzz: her Cave of Secrets, an art/video gallery and lounge space, highlighted Collins' textile pieces, video, and furniture, along with video works by Gregg Bordowitz, Nayland Blake, and Brooke O'Hara.
Distinct from the security-guarded white cubes that surrounded it, the low-lit carpeted room was a colorful and collaborative space—more experience than showcase. In the middle of the gallery, six steel chairs were woven together with thick spools of purple fabric. Collins' signature textile pieces—eyes dripping with black feathery lashes a la The Cure, vagina sculptures, psychedelic drapes—hung from the ceiling. The repose-ready carpet, which Collins had custom-made for the show, was mottled with blown-up stills from the genderqueer cult classic film Liquid Sky, a film Collins saw at the Waverly Theater when she was thirteen. Video works by Gregg Bordowitz and Brooke O'Hara were displayed on mirrored screens on the floor—tipped against the wall like TV sets. A video by Nayland Blake featured Collins and other friends of theirs lying on the floor, talking, laughing, and making art, cueing viewers to get similarly liminal and out of time.
The Cave, as Liz refers to it, casts the teenage room as a laboratory dream-space for the awakening young queer: "hanging out and being a weirdo teenager," Liz told me in her Industry City studio in late February. That day, she was preparing for her booth at NADA with LMAK gallery. The walls dripped with standalone fiber pieces in those same rich, bright colors from the Cave, saturated geometries that evoke the New Wave, the Memphis Group, and the Fiorucci store.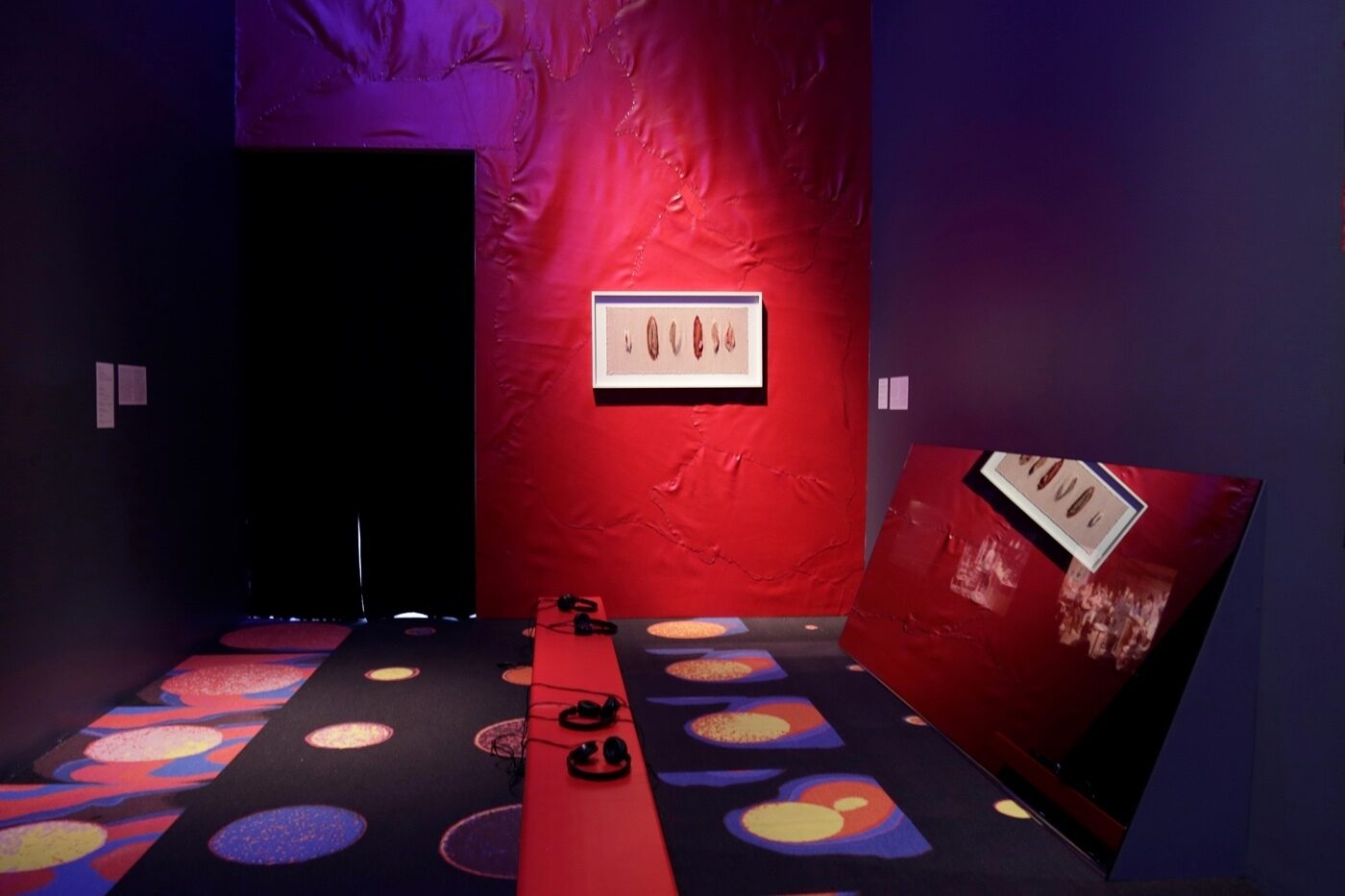 Svetlana KittoSince this is leading up to this show that you're having at NADA, maybe you could start by telling me what that's going to be.
Liz CollinsThe show for NADA is the first show that I'm doing with this gallery as being represented by them. But LMAK is, like, now my gallery.
SKWell, that's exciting, congratulations.
LCThanks. It's nice, I'm glad to be working with a gallery, this is my first. LMAK's presentation at NADA is really focused around discrete objects that can sell as, you know, things that hang on the wall. It's all wall pieces. What I do with these pieces is I create an image—drawing, painting, usually—and then I digitize that image and send it the mill in Italy, and then create a weave structure, and they do a technical file of that, and it gets uploaded into the digital loom. I work with them to pick different colors I want to try. So then they weave it, and it comes to me with all of these yarns intact, and I start cutting away.
It's kind of like—what would it be, reductive? I'm removing. Like with the tradition of the blank canvas and applying things to it, this is a different way to create an image: to build the image into the material, and then to start to remove the things that are part of it in order to actualize it to the next level.
SKHow did you come to that process of working with the mill and starting with material and then cutting back?
LCStarting with the mill, because I've worked in textiles for decades. I went to college learning how to do textiles, and then I went out and worked in the textile industry in different capacities. Over the years I've kind of gotten more and more connected with different resources globally, like textile mills that do different kinds of constructions. I have access to some of these mills through my other work in fashion and interiors, like the design world, and have individually worked with some of these places, saying, "I'm making art, and I'd like to work with you to make some of my pieces." So in that way they've become fabricators for me. But it's not conventional, their business isn't working with artists normally.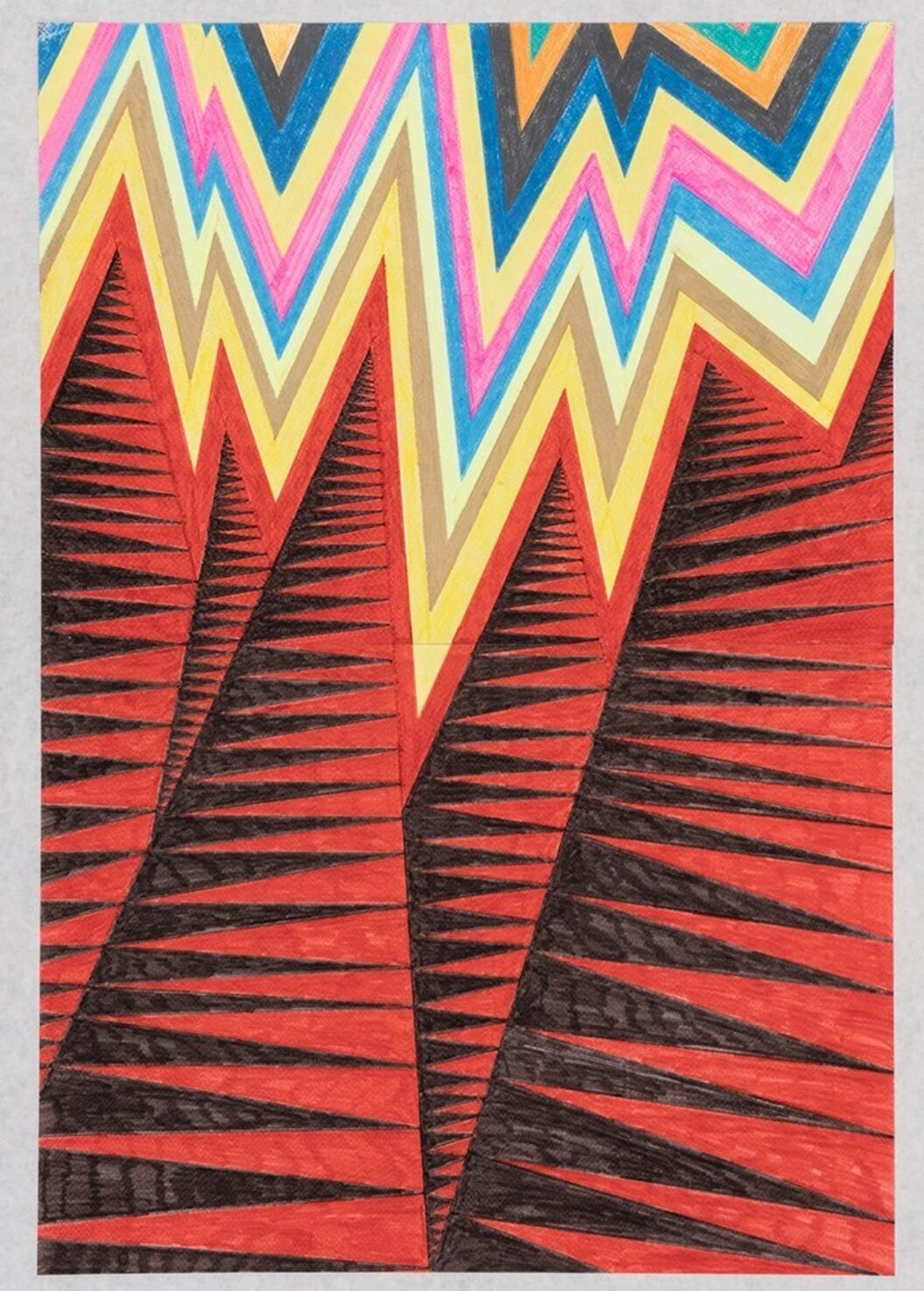 How did I get into cutting away? It just made all kinds of sense to me, having a deep background in weaving and knowing how it works. Like when you lay in yarns into a warp, and you tack them down in different places. Then they're secured, and you can go in and release them. Then you can build fringe, and all these other kinds of showers of hair, like I like to do.

So it's like, technically there's this opportunity to actualize these ideas that makes a lot of sense to me. I can configure these materials in certain ways through this medium that are really exciting. And that idea of having something where everything is constructed, and then kind of ruining it in a way? Like I'm messing it up.
SKWell, messing it up but in a very sort of ordered way.
LCBut to build something and take it down—
SKThat's the tension.
LCYeah. Like deconstruct and reconstruct. That's the duality.
SKThere seems to be a lot of that here.
LCI like the work to seduce people. It's important to me. It's not something I actively think about, it's just like a gut instinct of the way I put materials together. It's the tactile and visual experience of this material, the shine of it, the wetness of it, the liquidity of it. It's erotic, it turns me on.
This kind of interdependency—or of being tethered—is something that I started doing with these pieces. First I connected together a couple of chairs, I did this with the designer Harry Allen. I wanted to start making some of those kinds of things, like furniture and lighting, because I started thinking more about domestic space and wanting to build an environment, a whole world versus just objects in a neutral space.
I have always been interested in the way that things are interconnected. One really important moment was seeing the A-POC collection by Issey Miyake and Dai Fujiwara, this whole series of clothing collections in the late '90s made with this specific knit technology, where you built the garment into the fabric yardage. The way they presented it during a fashion show—and later at an exhibition—was they had models attached into the fabric so they were attached together. That hit me.
And then there was seeing a Sol LeWitt wall drawing up at MASS MoCA years ago. It was the one with the blue snap lines, and it was like objects were tethered to each other by lines, and the whole space was kind of mapped out, connecting the light switch to the fire escape to the outlet, and just all of these kind of directional lines in space that attach objects to each other. Or in three-dimensions: attaching people.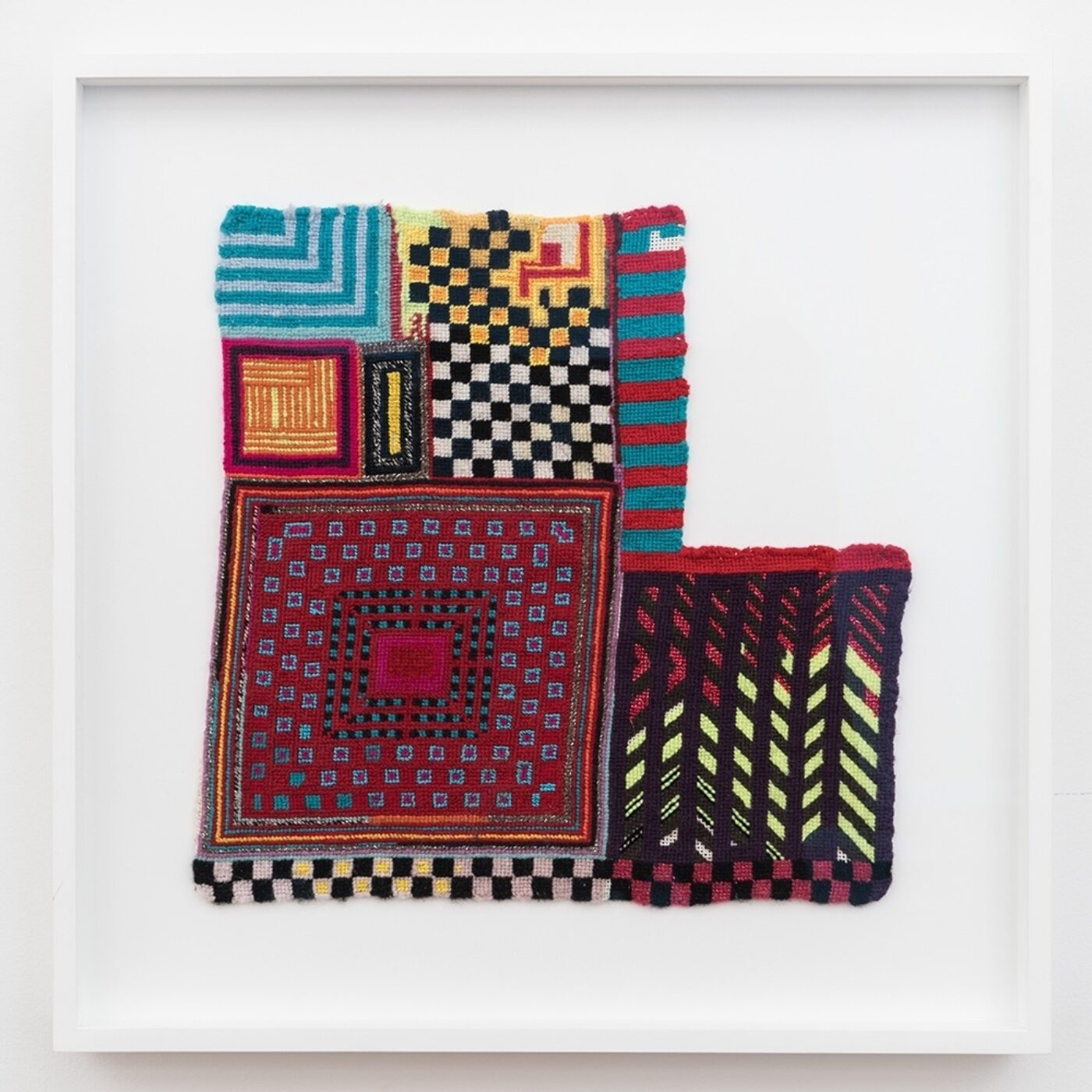 SKIt seems like there is some sort of gesture away from a white cube, or a showcasing of someone's genius, or the quiet. All this stuff feels like it creates noise and vibration.

LCIt's like this kind of world-building, making these rooms and things. I'm invested in immersing people in an experience that's beyond simple looking. When I was doing clothing, that was like this visceral thing, to make things that people wear, because that's like a deep, intimate immersion in an object that someone's made.
SKIt's also about life and living and sort of, like everydayness too.
LCYeah, there's like an energy or an intimacy there between myself and the person who wears the garment. I feel like these rooms have become that in larger way, where it's like you're in there and you're surrounded. In a way that's a little oppressive.
SKWell I mean, it's saturated. You're saturated. Visually, and also with places to sit and the carpet. It's just very stimulating. And there are a lot of elements so it's like, decidedly not minimalist.
LCI enjoy minimalism. I went down to Marfa and had a blast going through [Donald] Judd's world. There are many other artists who I love. I love Agnes Martin. and the kind of quietude of her geometry. Or Carmen Herrera with her really pared down tension points. White and green, and just a couple triangles, and that's it.
I also feel like I have this love affair with yarn. When I first starting making these pieces that were like painting with yarn showers, part of it was because I wanted to find some way to have this material that felt so versatile and liquid in texture and color, like this carrier of color. It behaves in all these different ways. I wanted to find a way to harness it but let it be itself. It's so interesting in its raw state, I don't want to make it into anything. I want to just organize it.
SKIn the Cave of Secrets, you do become aware of labor and process, and it being an unfinished project that is ongoing, and like life.
LCWhat gives you an indication of that? I don't see it as much because I'm so in it.
SKEven just the way you described how you're using yarn. The yarn doesn't become an object that is divorced from its original self, right? It is showcased as such, as yarn. In that way it brings you really close to the specific-ness of this material as a thing. There's a feeling of: you're seeing an object like a chair and you're seeing stuff being woven into it that you're now aware doesn't normally have stuff woven into it. So you think about how someone did that.
LCYou see the work in the work.
SKYou see the work in the work. It's like work about work to some extent. You're taking those objects and those spaces but you're not obscuring them, you're making use of the objects in the room with materials, so that you're occupying the space with your vision.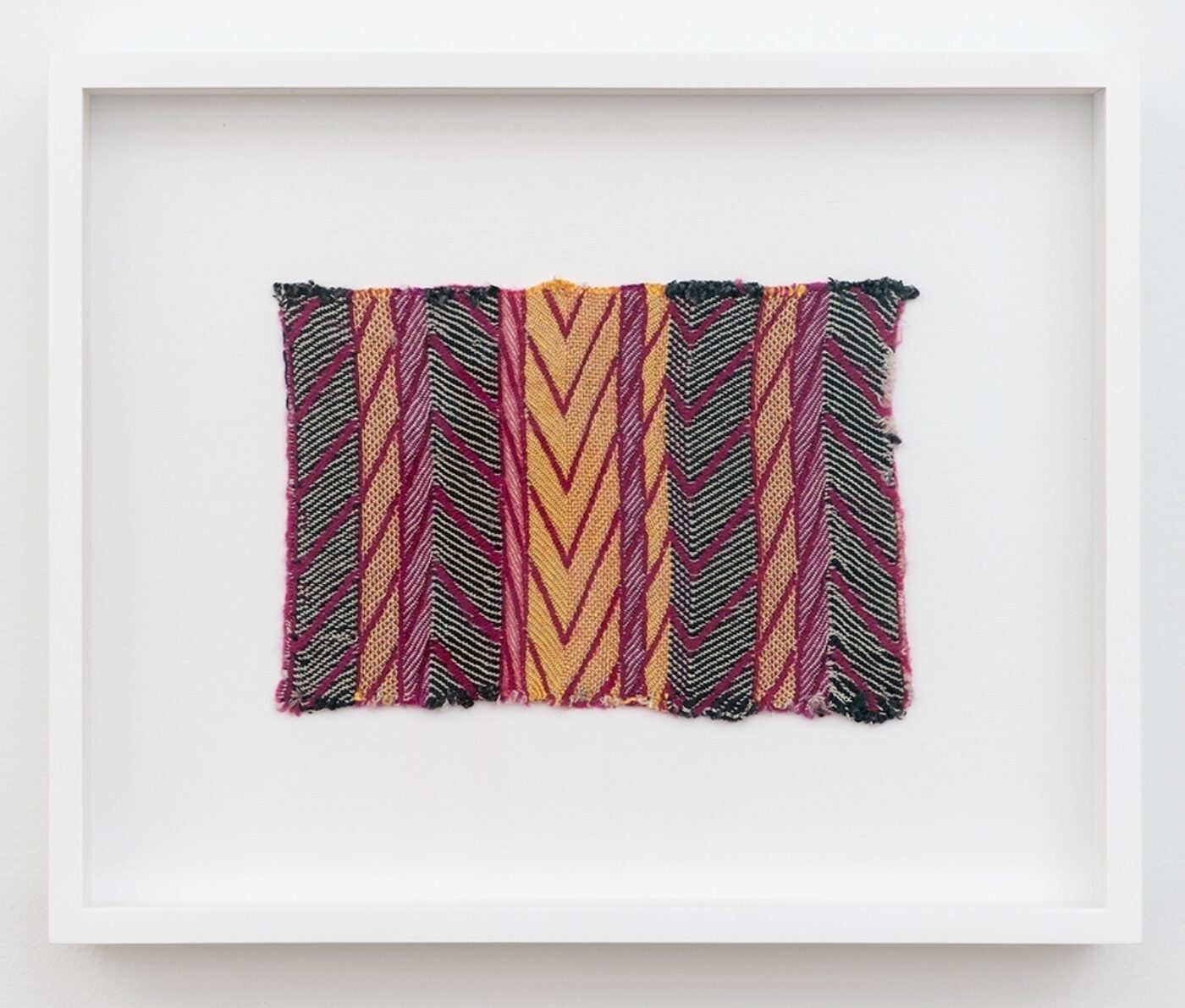 LCLike any creative person, a lot of the process of doing these things feels really intuitive. You do the things you do because you want to do them, right? Why do I do it that way? I don't know, I just feel it. And the cases where you're seeing like hundreds of yarns threaded into things, I have a lot of help. I don't really do much of the threading because it just takes so long and I feel like my time is better used answering emails! (Laughter) So it's true, there's a lot of labor there that's apparent, it doesn't just magically appear.

SKWhat are the ideas at work with the upcoming installation at the Bureau [of General Services – Queer Division]?
LCI have the artist list now, I have eighty artists.
SKOh, my god.
LCYeah. And a lot of them are really well-known, and it's like a really cool spectrum, an intergenerational, intersectional, queer collection of people.
SKIt's portraits, right?
LCYeah. It's partly inspired by domestic spaces where people are living with art, like in an extreme way. I went to a collector's house once, someone who's an important collector and has so much art it kind of hovers around hoarding. It was sick how much art was in that house. It was amazing. Iconic things mixed in with tribal communities. I love that. Like how one person, or a family, or whoever is occupying a space can curate their whole world of these objects.
So with the Bureau being what it is, the only queer bookstore in the city, it feels like a cultural place for queer communities. For queers who come in and out of the city it's just like a beacon, and especially now, I feel like I need it, I want to be there! And so I wanted to take that space and turn it into something like a world, akin to the library. Because it has the basic elements, it has the books, it has the shelves, it has the events, and the whole queer energy, and it's an art space.
To transform that kind of space in the way I like, but still function in the way it needs to—it felt and feels like a challenge. I set up this thing like, I don't have any money, there's no budget for the show, but I wanted to do it.
SK Portraiture, to me, feels like a political form, in that it demands the attention of the viewer, and demands that it be counted and seen and like acknowledged. In that way, it is earnest. But it's also urgent.
It makes me think again about there being a lot of excess and opulence and something beautiful, and also something restful and inviting and comfortable. But then also with these other themes, something important—work that needs to be done, basically. It is a place of rest, but you're also being sort of agitated into awakening.
LC That's good. Yeah I like that. It's like, pay attention. There's also something sinister that I'm trying to carry through. These things don't look scary, but to me, they are scary.
SK I think there's something generous about the work you make.
LC Yeah, I've heard that before. It's true. I'm invested in creating these spaces that allow people to just feel good. And to the point of this portrait show—that layer of this project is important to me as a kind of generous act, but also as a kind of research: What do we as a queer community of creative people look like through all of these artists' lenses? Who are we, through this cast of characters assembled through these different people's eyes? Or what do they record as a portrait, either of themselves or of other people?
Svetlana Kitto is a writer and oral historian in New York City. Her cultural and political reporting have been featured in the New York Times, Guernica, VICE, the New York Observer, ART21, the book Occupy (Verso, 2012) and the Danspace Project Journal, for which she was the 2017 Writer-in-Residence. She has contributed interviews to oral history projects with the New York Public Library of Performing Arts, the Museum of Arts and Design, and the Brooklyn Historical Society, where she has worked on a number of projects and exhibitions about race, place and history. Additionally, she has taught or lectured at Columbia University, Pratt Institute, Wesleyan, and Rutgers University - Newark.  In the spring of 2017, her oral history for the book Ken Tisa: Objects/Time/Offerings, published by Gordon Robichaux and Matt Connors, was called a "genius catalog" by Holland Cotter of the New York Times. Currently she works as an interviewer on the Smithsonian Visual Art and the AIDS epidemic oral history project and co-curates the reading and performance series Adult Contemporary, which released its first book of art and literature last fall.