Tete a Tete: Winston Goertz Giffen and Andrew Macy on Visual Art and Music Making by Christine Lagorio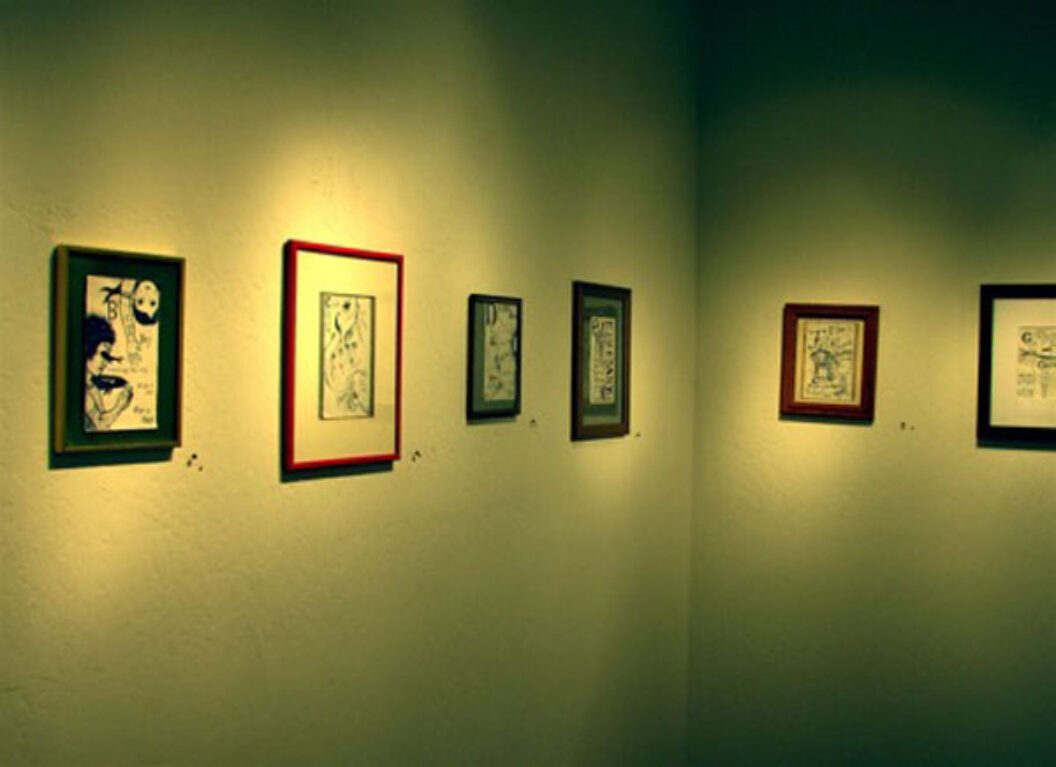 At Fort Gallery, a sturdy bookend of Oakland's 23rd St. art corridor, music is as much of the focus as is visual art. We met there with Winston Goertz-Giffen and Andrew Macy, both musicians in their mid-20s who also write and create works of art. Both perform regularly at Fort and other galleries. Goertz-Giffen's visual piece, Alphabet Tête-à-Tête, which he created in collaboration with Rosie Steffy, is currently on display (closing this week) at Fort.
We sat down with the artists, along with Fort owner Vanessa Maida, to discuss the flexible intersections between visual art, music, and text. What follows is a lightly edited transcript. After the interview, check out a video of Goertz-Giffen explaining the interdisciplinary origins of his piece "Alphabet Tête-à-Tête."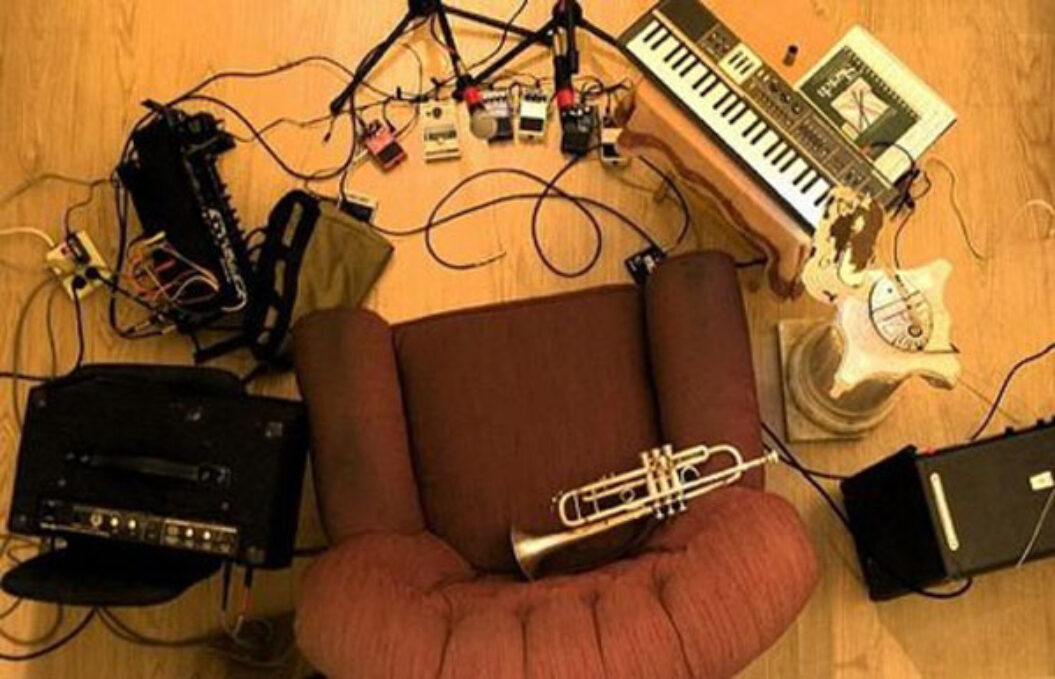 Christine LagorioThis is sort of a chicken or the egg question, and you can take it in any direction you like, but which came first for you, art or music?
Winston Goertz-Giffen Well, I think when I was a little kid it was art, but now definitely it's music. I just hear music, and that's how I pass the time a lot, messing around with it, or hearing it, doing it, analyzing it.
Andrew Macy I'd say that music is the chicken, and art is the egg (laughter) that scrambles together. But that the chicken, the musical chicken, um, eats the scramble.
WGC Whoa.
CL Does that come with a side of ham?
AM Definitely, it has a side of bacon, which I guess would be, what, literature (laughter). Yeah, a lot of nitrates, but I'm a reader.
CL What are you working on currently?
WGC I'm working on a compilation of bands, my own and other, about 13 different tracks, that I'm going to record. I'm going to send out a memo to a bunch of my friends to make art for a 'zine to publish with it. I have a rock band called Saything, which is working with other people. Ted the Block is my [name for solo performance/music] stuff.
AM I play bass in a rock band called The Aimless Never Miss. Winston is our drummer sometimes; he used to be, and still fills in. Our friend Rosie [Steffy] and I are making a dirty folk project called Tall Grass, which was part of the exhibit this month [at Fort], and we're having our CD release party here for that.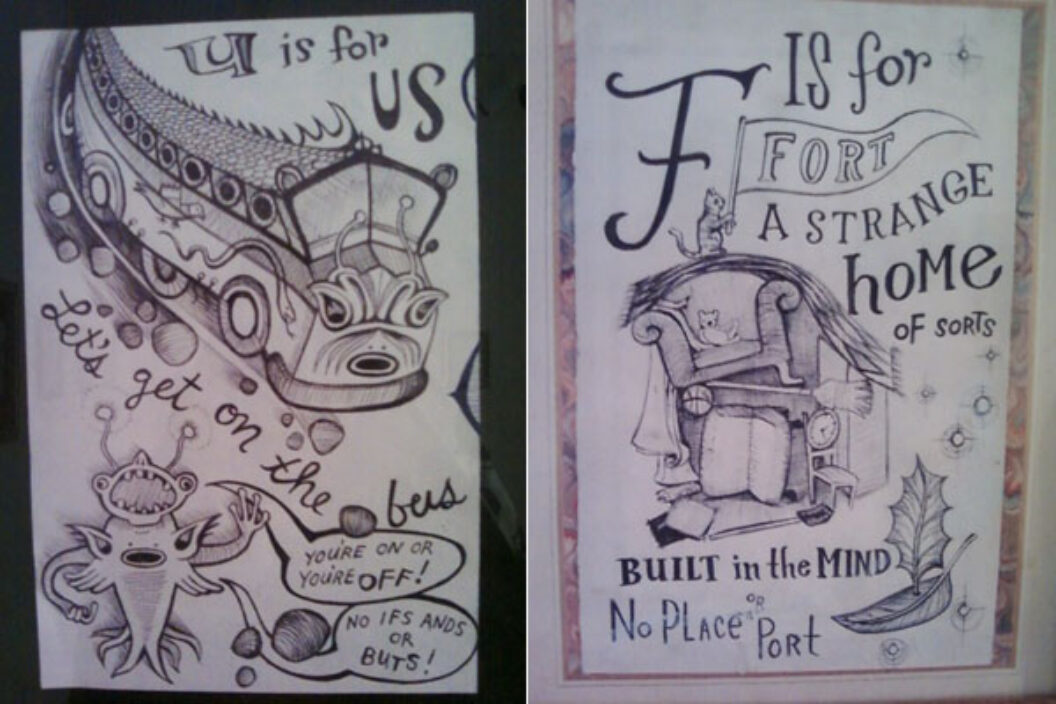 My friend Jake [Page] and I did a book together, of words I wrote and images he drew of dogs doing human things. That's another really fun way that different genres come together. It was awesome to be able to just give Jake a pile of writing and say "do something really cool with this," and he did something really cool.
CL And that's sort of similar to what you did with the alphabet pieces.
WGC Well, Rosie did all the artwork for my first four projects, which was really cool. I was always stressed out with music, but I could be like, "OK, Rosie, so think skeletons and blankets and tree." Or, "think duality. Go!" (laughter)
AM And she'd know exactly what you'd mean by that.
CL That's rad. So how did the series [Alphabet Tête-à-Tête] come together?
WGC Well, it was just a simple writing exercise I was doing on a typewriter. I typed it up in about a half hour and forgot about it. Somehow it ended up at my house on a poster board. Then, I think six months later, Rosie was in India and she sent me a book—that I had written. She had just photocopied it and taken it with her to India and made it her project to illustrate my alphabet.
AM We were living in Cotati, [Calif.,] and played a lot of music and drank a lot of whiskey together, and suddenly ended up in four bands. Slowly, we all made it down to the Bay area.
CL Are there borders between your concepts of art and writing and songwriting? How does it flow together, if it does?
WGC For me, it's a feeling that a lot of the time has a visual image attached to it, so it's just a matter of expressing that in words, or writing it down—getting it into a form where it can be enjoyed by another person so they may enjoy that. So it's encompassing that aspect.
Vanessa Maida Winston has also been making his own album art, taking it to a different visual level than in the past.
WGC Yeah, I feel like I've been doling that sort of thing out to friends a lot, which I love to do, but I'm finding I hit the mark more accurately when I give it a go myself. My last album, I … did the design for the photographs, and did the carving of a wooden case. That felt really good to put more into the whole project. And the show was really fun, too—it was at an opening at Fort this past summer.
AM I feel like most of our group of friends and our artist buddies do our best to blur those lines as much as possible. That's as a result of it being hard to get one without another of those things. If you write a song down on a piece of paper, it's a poem. And if you make an album, you need album art. I guess visual art is a little more underrepresented in the music scene. The Aimless Never Miss has visuals that Luke Judd projects over us as we're playing, which always seems like a really nice way to try and involve other mediums of art in with [the music]. [Check out some stills here and here ].
CL What kind of visuals?
AM All kinds of stuff he's made: psychedelic images with old film footage that he's uncovered; manipulated photographs he's taken, that kind of thing. We've also played around with me reading poetry in between songs, like when we're tuning—sometimes successful, sometimes not. Nobody likes to go see a band that just sits there and plays their music and doesn't seem like they're having a good time. So to ensure that we're having a good time, we have to make sure there's enough going on to keep us interested, so that involved incorporating as many kinds of art as is possible.
WGC I've done a little bit where I tried to make a painting or a drawing that accurately describes a song, or the feelings I've gotten from hearing a song. I feel like also in performance, like the solo show I did at the old Fort, I just practiced for a few days and brought a lot of things from my house, where I was practicing, and surrounded myself with them for the show. Like, I brought my own comfortable chair for my "set." I brought my favorite lamp and pedestal, and little things I just like to play with. And Luke Judd did projections again. And it felt really comfortable, you know.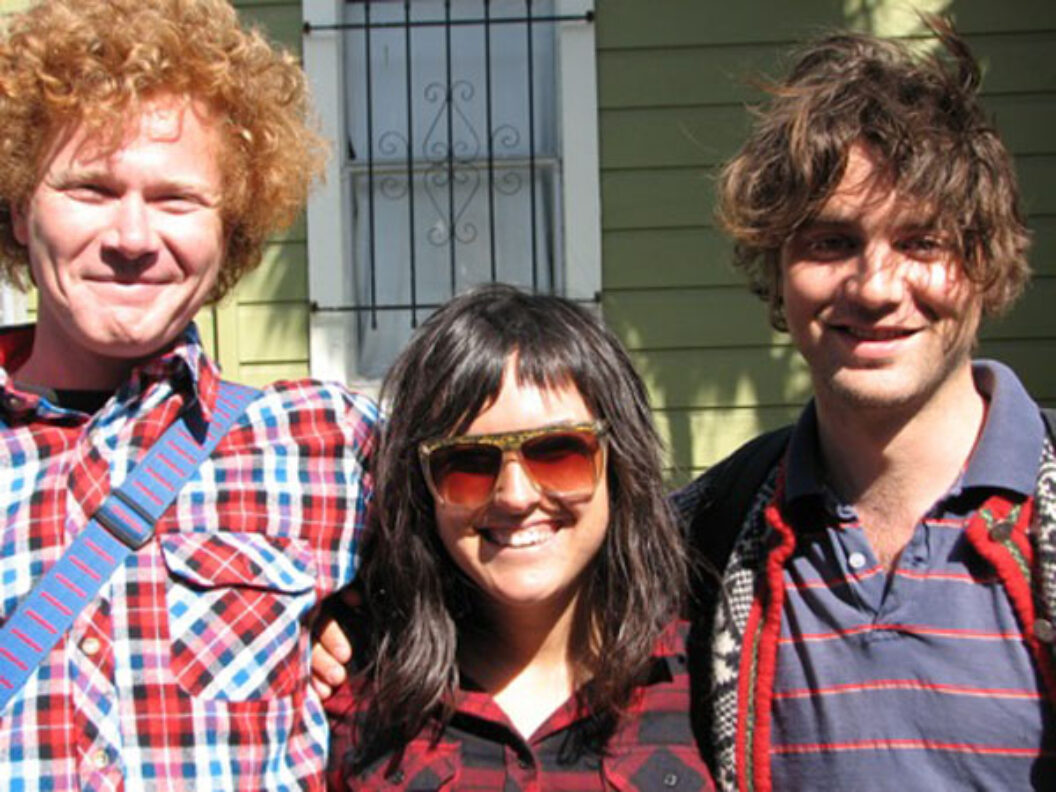 AM What I was thinking about when Winston was answering that question was that I'm so thankful to have such amazingly inspirational friends, not only to have as a sounding board for ideas, but as deep wells of plagiaristic possibility (laughter_). There's nothin' more satisfying than stealing something from someone you love. You know, and giving it back to them a little differently (_more laughter).
CL Well, imitation is the sincerest form of flattery, right?
WGC Yeah, it's like the most recent album cover for Saything. It was a really fun process. The original idea was Jake Page's—he drew it on a bar napkin. It was an apple with teeth. He let us use that for stickers, and it sort of turned into an emblem for Saything. So then I made an actual apple with teeth, and Luke Judd photographed it. Then I brought it to another friend, who Photoshopped it and did the silk screening for the album.
CL Well, and you guys play in galleries a good percentage of the time.
AM I can say that I greatly love to play in art galleries.
WGC Yeah, they usually have wood floors, and the sound is really good.
AM It almost feels out of place in an environment that's so typically about "I'm going to look at this art very quietly and not tell anyone what I think about it." Music typically tries to get more of a response out of people.
WGC There's a lot of pretense that doesn't happen at this gallery. We're not fancy art people. We're just art people.
AM I know a lot of people who wouldn't go to an art gallery regularly, but they'll always go to a [rock] show. And when there's both, it sort of forces them to recognize what's going on in both worlds.