"It's hard to explain, the feeling you get. You get a band together, you practice, you work hard at it before you go in front of the people, and your first show is a big success. You feel like, wow, if we can do that, we can play for anybody, and it'll work."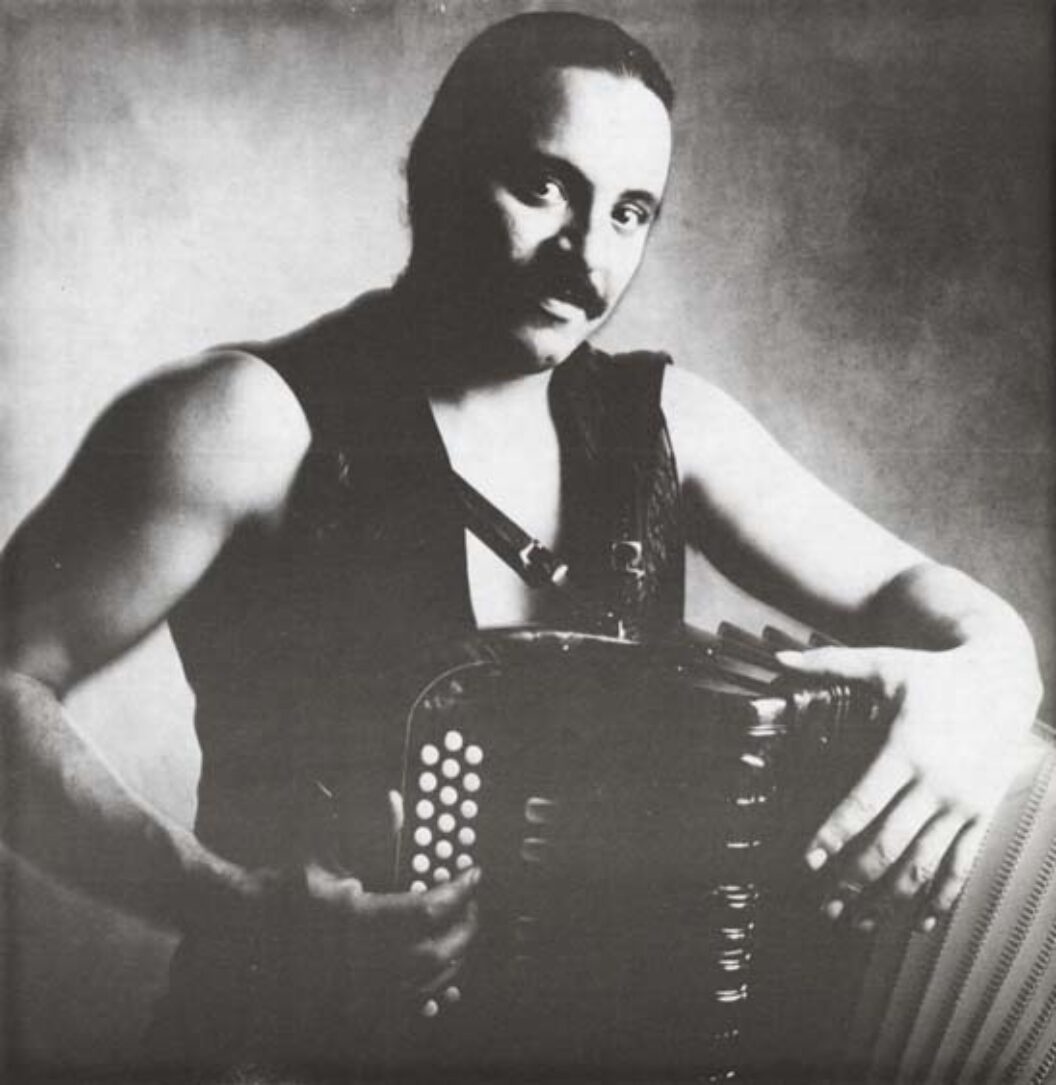 There are a few things that are everything in southern Louisiana: faith, love, hard work, and pleasure: eating, drinking and dancing. Terrance Simien was born and raised there, in Mallet, a settlement just north of Lafayette. At 16, he was already writing songs with his brother Greg, had his own band, and was playing his accordion at local gigs, places like Slim's Y-Ki-Ki in Opelousas and Richard's in Lawtell. That was weekends. Weekdays were spent working as a bricklayer with his father, Matthew.
The saxophonist and composer Dickie Landry, also a Louisiana native, introduced Terrance to Paul Simon. Simon had been looking for a Zydeco component to connect Black South African accordion music to America for Graceland. The end result was that Simon sang backup vocals on Simien's arrangement of Clifton Chenier's "You Used To Call Me," released as a 45 LP on Landry's Grande Pointe label. Landry, now Terrance's producer, also brought him to director Jim McBride. The band appears in McBride's The Big Easy and recorded three songs for the soundtrack. Zydeco on the Bayou, Simien's debut album, speaks for itself.
"… We gonna dance and party / like we just don't care / Zydeco on the bayou / If you party with us you know / you better beware Zydeco on the Bayou / You can party forever when / you go down there / Zydeco on the Bayou …"
Dickie Landry I've known you for seven years now. I go to your house; I hang out with you, and as long as I can remember, you've always done the music. But when did it really kick in? When did you decide: I'm going to write, sing, play trumpet, keyboard, accordion?
Terrance Simien I started off singing along in church with the hymns. Catholic church is the big thing down there. Then my mom got me into choir, and when I was five years old I sang a solo for Christmas. Fifth grade, I played trumpet in the school band, and I played that for five years. Then I picked up the accordion when I was 15 and started learning songs off the radio, taught myself how to play, got a band together.
DL That's exactly what I did. Southern Louisiana starts you off in the Church. Why did you think your first band was going to work? Did you think you had something nobody else had?
TS It's hard to explain, the feeling you get. You get a band together, you practice, you work hard at it before you go in front of the people, and your first show is a big success. You feel like, wow, if we can do that, we can play for anybody, and it'll work. And that's the feeling I got. It's no different from anybody else. I just felt we could make people happy; we could play music.
DL Where was this feeling, at a high school job, a night job? Where did it take place?
TS A bunch of guys from around home got together, and we started just jamming. We didn't really expect to make a band out of it. Then we started practicing regular because we got a couple of songs together. The first job was in Oakdale for The National Guard. We had two amplifiers. The drummer was this big guy, about 400 pounds, and he had one snare with a cymbal about the size of a rice pot cover—three inches. First thing, we got there we asked the guys for mops and brooms for our mic stands. We had to tie them to chairs and tape the mics on the handles. It was pretty hilarious.
DL Louisiana people will dance to anything so …
TS People just got off and started dancing to it. The funny thing is that the majority of the people didn't know what was going on. They'd never heard Zydeco music. It shows how reclusive the music was when we started, and that was nine years ago.
DL What turned it around for you—when did you know it was really going to work?
TS When we played in New Orleans at the World's Fair in 1984, it really seemed that this was something more than a church gig or a national guard gig or a local gig with broom sticks. I saw there that the music was appealing to everybody, the old, the young … they were fascinated with the washboard, fascinated with the French lyrics, the accordion. They couldn't figure it out but they really liked it.
DL Knowing the New Orleans World Fair, your band was probably the most ethnic band there.
TS Yeah.
DL The first song I heard you sing, you had this single out (a local label, Blues Unlimited) called "My Good Friend's Gone." The beauty of that song was touching; it was storytelling. How did you come up with that?
TS A first cousin of mine got killed in a fire. We really weren't that close, but his death was tragic because he was so young and had a young daughter. When I heard the news, everybody was crying around me, and I grabbed the accordion and just went out on our patio and started playing, and the song just came. It just came out. And I wrote it down on paper, the lyrics and the melody.
DL When did we meet? Were you 19 at the time?
TS Yeah, we met in '85. Soon after that we did the thing at the Lonestar.
DL I was searching for bands for Paul Simon's Graceland album, and somebody told me you were playing at Mulates in Breaux Bridge. And I'll never forget, I had this incredible toothache. And Tina [Girouard] saying, "They're great!" And I'm saying, "Yeah, right, they're great." And she said, "You don't like them. You're not reacting." And I said, "Well, watch." So I walked up to you and said. "Would you like to play with Paul Simon?" And you immediately said, "Yes," which was a great relief to me because I had just been turned down by Good Rocking Dopsie (who eventually did play on the album).
To be brought into a studio with a musician as well respected as Paul Simon and to be the only one that ended up with him singing backup vocals on one of your singles—how did it make you feel?
TS I never did really sit down and think about it because I might be afraid how I'd react if I really did convince myself that it happened. Just like almost everything, but especially that, it's hard to believe. I have this spiritual awareness that it isn't because of me but because God has this all planned. That's the way I deal with it.
I got out of high school barely graduating. And I never thought about leaving Mallet, Louisiana, didn't think about doing anything. I just wanted to be out of school and on my own, and that was it. I didn't think any further than that. And that wasn't that long ago. So many things have happened since then, and the only way I can undersand, is that God had all these plans.
DL I always think, Buddha, Allah … whomever you want to choose. Our lives parallel each other, coming out of the same rural area. The earlier songs you wrote by yourself and now, "I'll Say So Long" and "I'll Do It All Over Again" are written with your brother, Greg. I know Greg. He loves to write poetry; he loves to write. You saw this in him. Did you just one day say, "Hey, Greg, you want to write a song?"
TS (Laughter) That's basically how we did it. I just told him I needed help to put things together, and he was there. He'll come up with an idea, I'll come up with an idea—and we'll work it out, you know.
DL You and he do the lyrics together …
TS And I'll put it to music. It's real strange because some songs will take five minutes and some will take five years. When they hit us we go off to our camp and just stay there, it could be two, three in the morning. Whenever we get time; whenever we're together, we'll go there and work out our stuff.
DL "My Good Friend is Gone" and "I'll Say So Long" are stories. Most songs tell a story, but it's always the same: I love you, you love me, we'll make it, or we're not going to make it, and that's it.
TS Ever since we did the work with Paul Simon in the studio, I remember one thing that he told me—if you're going to write a song, try to make it tell a story. You've got all these mixed feelings, but try to put it together to where it's storytelling. And basically, since then, I've taken his advice. It's something that comes real natural, that doesn't take that much effort, but you have to work at it sometime. As I was walking in this dark and lonely place / I looked around me, boy, / and swore I'd seen your face / Maybe it was just a figment of my imaginaation / maybe it was just a little saint / come to give some consolation / Oh, and I cried …
DL You've just finished your first album. You and I have been trying to get an album out for several years. I've prevented some of it. But I think we've both agreed that it wasn't the right time or the right record company. It's never the right record company. But anyhow, we got this record out in 15 days in New Orleans, and what do you think we have? Do you like it?
TS I think we've done what we set out to do, and that is catch the energy of the live performance. Also give the audience something new that we couldn't do live. But we basically stayed true to what we were doing; we didn't try to make a hit song. We just put out what we've been doing for the past five years on the road, and it couldn't have come out any better than it did. There are some disappointments. You always wish you had more time, more money, more everything.
DL As producer, if we had a year and all the money—basically, we did it with no money in 15 days. And I'm satisfied with it. What do you see for the next record? Are you writing? Are you going to change?
TS It's hard to say. We're going to get home. We'll finally have some time off from the road, have some fun. I've had a lot of ideas, a couple of cover songs, a lot of songs that we've written in the past, and some new ones that we're going to go back and try to work out.
DL You're touring constantly. I've done that for years, and after awhile it becomes very hard on your private life … I know you like to play clubs. I know you like to play for audiences. I've seen you. You feed off of that energy. I know your lifestyle is going to change drastically soon with what's coming up. Are you going to slow down or just keep at it?
TS You know, I was lucky I married a lady that understands what we're all about and she's always encouraging me to keep it going as much as I can and not ever—if I decide to slow down—let it be because of her because she can deal with it the way it is. I like the road, believe it or not. There's some hard things that come up sometimes, but I really like the road. I'd like to have some time off, that way we could take three months and just write.
DL Well, you have to make the decision to do that. Most people I've met in Louisiana would shy away from what you do, leaving and just going. I'll never forget your first job in New York where you drove nonstop from Mallet, Louisiana, through Chattanooga, broke down, arrived in New York City, and drove right up to the Lonestar Cafe. I arrived with Paul Simon, and there were people lined up around the block. We didn't know what was going on, and Paul said, "Is this for Terrance?" It was the night before the Live Aid Concert in Philadelphia, and the music world was out on the town. That's when I decided—I had already made a decision to help you—but when I saw your energy and determination to do this incredible bullshit road stuff that most South Louisiana musicians would rather crawl under a rock and hide from the world for the rest of their lives … all I can say is, it's been a pleasure working with you and it's not over yet. It's just beginning. Anyway, where are we going?
TS To Crossroads, have few drinks.
Originally published in
Featuring interviews with Romulus Linney, 2 Black 2 Strong, Jessica Hagedorn, Phil Hartman, Tod Wizon, Lari Pittman, Terrance Simien, Gran Fury, Raul Ruiz, Yuri Lyubimov, and Whit Stillman.