Ten Walks/Two Talks: From Hiroshige to Harlem by Susie DeFord
Ugly Duckling Presse describes its Dossier Series as "idea-based books, pamphlets, and other objects" that "don't share a single genre or form—long poem, lyric essay, criticism, artist book, polemical text—but rather an investigative impulse." The most recent title of this series is Ten Walks/ Two Talks by Jon Cotner and Andy Fitch. Inspired in part by Basho's meditative travel diaries, Cotner and Fitch observe today's New York City with the freshness of travelers' eyes.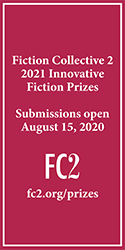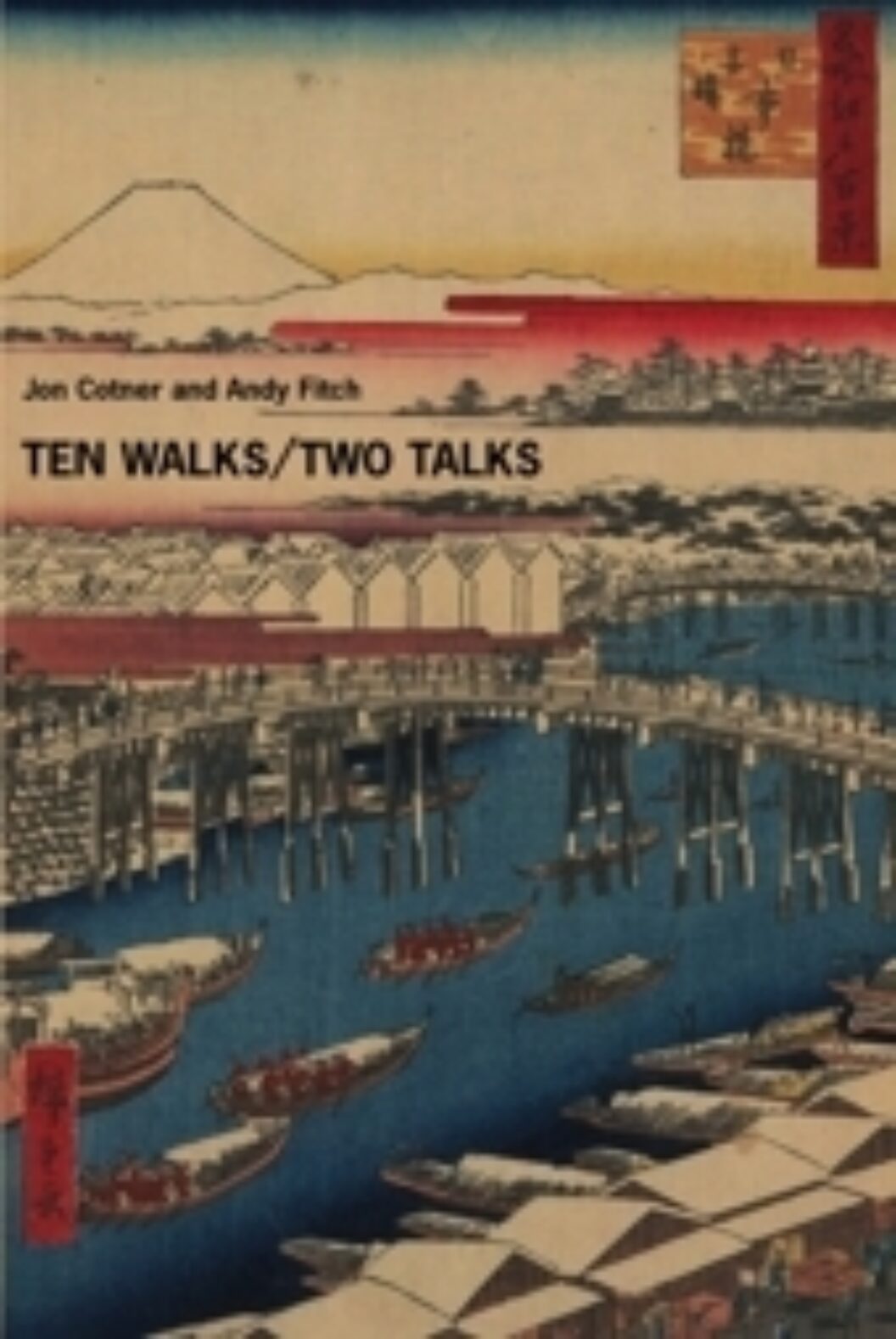 The most recent title of the Ugly Duckling Presse's Dossier Series is Ten Walks/Two Talks by Jon Cotner and Andy Fitch. Susie DeFord interviews the authors.
Ugly Duckling Presse describes its Dossier Series as "idea-based books, pamphlets, and other objects" that "don't share a single genre or form—long poem, lyric essay, criticism, artist book, polemical text—but rather an investigative impulse." The most recent title of this series is Ten Walks/Two Talks by Jon Cotner and Andy Fitch. Inspired in part by Basho's meditative travel diaries, Cotner and Fitch observe today's New York City with the freshness of travelers' eyes. Accompanied by various Hiroshige prints, the walks describe everyday street scenes with ethereal vibrancy with details like "Damp air blowing in from Chinatown smelled like mushroom bulk bins" and "A crumbling marquee read Welcome to Harlem U.S.A. At the corner someone slowed, muttered Marlboros, Newports. Copy machines rusted under traffic lights." The talks begin with Cotner poetically asking "What do you think of this New York lavender sky?" Fitch answers with equal poeticism, "I've walked through this sky for several hours now." Ten Walks/Two Talks is a clever, well-executed investigation of the poetics of the commonplace illustrated through street scenes and conversations, which leads the reader to re-examine their everyday experiences with newfound clarity.
Jon Cotner and Andy Fitch co-edited Interdisciplinary Transcriptions, a 1,036-page digital anthology containing poets, critics, anthropologists and visual artists. They've been published in The Brooklyn Rail, Denver Quarterly, Electric Literature, Hotel Amerika, LIT and UbuWeb. Cotner and Fitch have performed their dialogic improvisations at festivals and conferences across the United States, as well as in Toronto and Berlin. Cotner lives in New York City. Fitch is an Assistant Professor in the University of Wyoming's MFA Program.
Susie DeFord What was the inspiration for Ten Walks/Two Talks? Was it merely reading Basho's travel diaries, or something else?
Andy Fitch The book combines excerpts from two projects: my Sixty Morning Walks (60-minute walks through Manhattan for 60 straight mornings, each described in 60-sentence entries), and our collaborative Conversations over Stolen Food (transcripts from 45-minute conversations recorded in public, across New York City, over 30 consecutive days). In Ten Walks/Two Talks, we decided to fuse these projects, based on our admiration for Ed Ruscha's hybrid photographic books—such as Nine Swimming Pools and a Broken Glass, and Various Small Fires. Previous philosophers and poets, among them Socrates and Basho, often combined talking and walking into an interrogative, interlocutory, aesthetic and athletic practice. Here we tried to do the same.
SD When and how did you two meet? What made you two decide to collaborate on this project?
Jon Cotner One summer in Boston I met mutual friends of ours who'd rented an apartment with a screened-in porch. I quickly moved into the porch. Boston was different from New York—apartments were larger, more conducive to extensive crashing. The following winter I returned to that apartment and met Andy as I stretched on a bedroom floor, after the room's official resident had left for work. It was 7 a.m. Andy entered the bedroom from the living room, hoping to gain a few more hours' sleep, but the bedroom had already been occupied by another scavenger. Standing above me, Andy looked down. It was a "love at first sight" scenario in the sense of immediate and unshakable friendship. A desire for collaboration grew out of this friendship.
SD Hiroshige's prints accompany each section of Ten Walks/Two Talks. Why did you decide to use this artwork along with your work?
AF Hiroshige's preference for perspectival multiplicity, for idiosyncratic views on familiar places, and monumentalizing depictions of overlooked scenes, taught us much about how to enjoy city life. For us, he is the consummate urban philosopher—if philosophy amounts to a careful picking-and-choosing of attention, a selection designed to prompt indefatigable enthusiasm and engagement with everyday life, in the face of inevitable death. We didn't want to adopt such abstract language in this book, however. Instead, we wished to put into practice Emerson's assertion that "the glance reveals what the gaze obscures." The rhythmic appearance of Hiroshige images is meant to remind readers of the glance's fluid, unimpeachable immediacy…just when the undeclared prejudices of a sustained narrative gaze begin to solidify, and to seem "true" or "objective."
SD What was your method for taking such detailed notes on your walks? Did you use paper or a voice recorder?
AF The walks were written after the fact, based on the faith/assumption/hope that memory would compress disparate details into a coherent sequence. I would wake, depart, walk, return, write down at least forty recollected impressions, eat a bowl of cereal, then assemble my new entry. The original manuscript was twice as long as more recent drafts. Gradually, each walk got pared down to 60 sentences. For Conversations over Stolen Food we did use an archaic audiocassette recorder, then divided the talks and transcribed them. This took many months.
SD How did you choose where your walks and talks would take place? And why?
AF As Sixty Morning Walks progressed, the need to wake early and begin afresh, day after day, created an increasingly unbearable tension. This tension would grow most acute while crossing a hallway separating the apartment lobby from the city streets. These moments of compressed, mobile panic inevitably produced the plan for a given day's walk. With Conversations over Stolen Food, collaborating for 30 consecutive days produced any number of logistical difficulties. Our chosen rendezvous often was dictated by convenience. (Half of the talks took place, for example, at a Union Square health-food store which we call "W.F.") In this way, external circumstances of professional/social/familial life stamped themselves onto the shape of the book. We liked that. James Schuyler, perhaps 20th-century America's closest equivalent to a Socrates/Basho figure, says that "The days slide by and we feel we must stamp an impression on them. It is quite other. They stamp us." The same can be said about friendships, collaborations, sustained literary experiments, etc.
SD Your bio says you two have "performed your dialogic improvisations at festivals and conferences." I was struck by the poetic nature of your "talks" because they did seem more like a performance than how regular people speak to each other. How much were these edited? Do you two actually talk this way all the time?
JC During those early Boston and New York City years, we would meet for walks at night—following afternoons of barista/busboy shifts as well as semi-frantic attempts to read and think. Those initial dialogues had the performative aspect of two guys who, through their stammering, sought to create significance or a language-world. We were both motivated in part by the consciousness that we had misspent our adolescence. I'd lost irreplaceable hours in a refrigerated living-room watching The Golden Girls and Wimbledon. Somehow I wanted to regain time, to at least slow it down, inhabit its flow more fully. Perhaps our dialogues sound different from "regular" conversation because of a shared, almost physiological need for engagement with the insights and moods of passing moments. Not to say these two talks, as well as those making up Conversations over Stolen Food, haven't been tightened. Readers will still find stutters, oscillating narratives, and natural dialogic rhythms, but we've compressed the original transcripts for the sake of a livelier readerly experience. Editing the 30 talks took years of painstaking work. Yet surprisingly, many people believe the edited transcripts are verbatim.
SD What did you learn from working on this project?
JC Well first off, Andy and I want to thank everyone at Ugly Duckling Presse—in particular Anna Moschovakis and James Copeland, along with Matvei Yankelevich—for everything they've done. Without the investigative openness of Anna's UDP Dossier Series, we would never have conceived Ten Walks/Two Talks. The series' emphasis on investigation encouraged us to investigate investigation itself. I recall a line from David Antin, whose cross-genre talk-poems provided another source of inspiration: "I can imagine my impulse to speak, to move through language to some formulation, to some new place as being like a kind of walk." If anything, this project brings out the conceptual similarities between walking and talking. Both activities progress unforeseeably, and push us beyond isolated subjectivity—just like any true investigation. Chance encounters with ourselves and with the world seem to be at their center.
SD What are you working on now? Will there be any collaborations in the future?
JC We've been invited to do a special issue of the audio journal textsound. This issue will contain a variety of mp3s, both from collaborative and from solo projects. We're currently editing a nine-track "talk opera" which we recorded on Election Day 2008. It opens with me cutting Andy's hair in his girlfriend's Tribeca bathroom (the first haircut I've given), and ends with a subway ride back to Tribeca from Andy's Park Slope polling-place. We'll probably also prepare two or three original recordings from Conversations over Stolen Food. As for textual collaborations, we're at work on projects combining text and photographs. One of these pieces is called Berlin Dogs. Through a mix of photos, aphorisms, and transcribed dialogue, the piece documents dogs on Berlin sidewalks, dogs in Virgina Woolf's Flush, and, perhaps most importantly, the dogs inside ourselves.
Ten Walks/Two Talks is now available from Ugly Duckling Presse and Small Press Distribution.
To see more of Susie DeFord's work, visit her website here.