Why We Should Read Poetry by Sarah Neilson
Ten poets offer recommendations on where to start and the poems that inspire them most.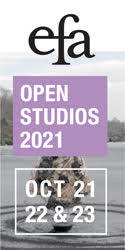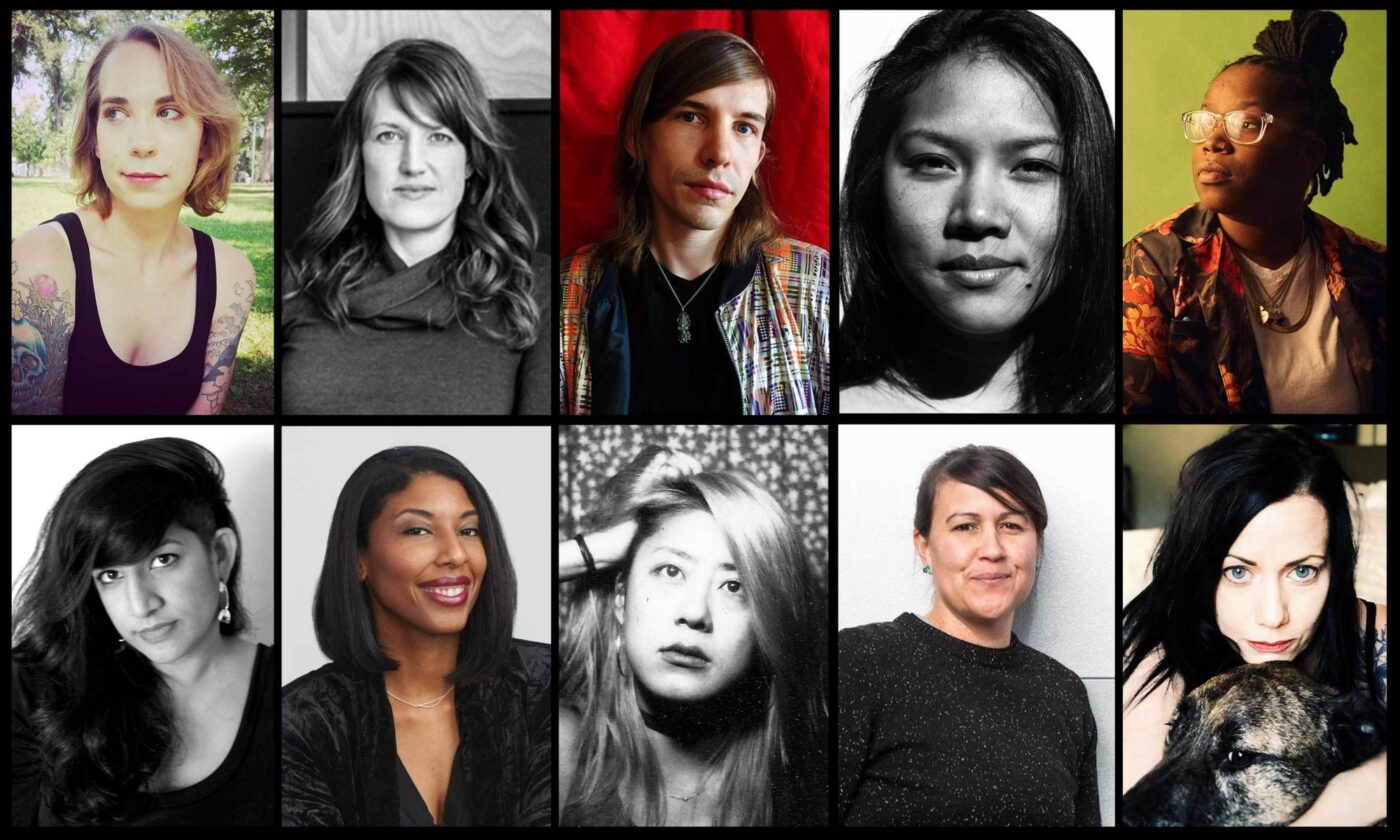 Many readers shy away from poetry because of false advertising. The poetry we're exposed to in early education is often limited to that of old dead white guys. We're put off by strict structural rules, elusive meanings, inaccessible references. But contemporary poetry is a playground of possibility, an opening to other ways of existing. I asked ten poets with books coming out this year to recommend the poetry that keeps them writing, searching, surprised, and connected.

—Sarah Nielson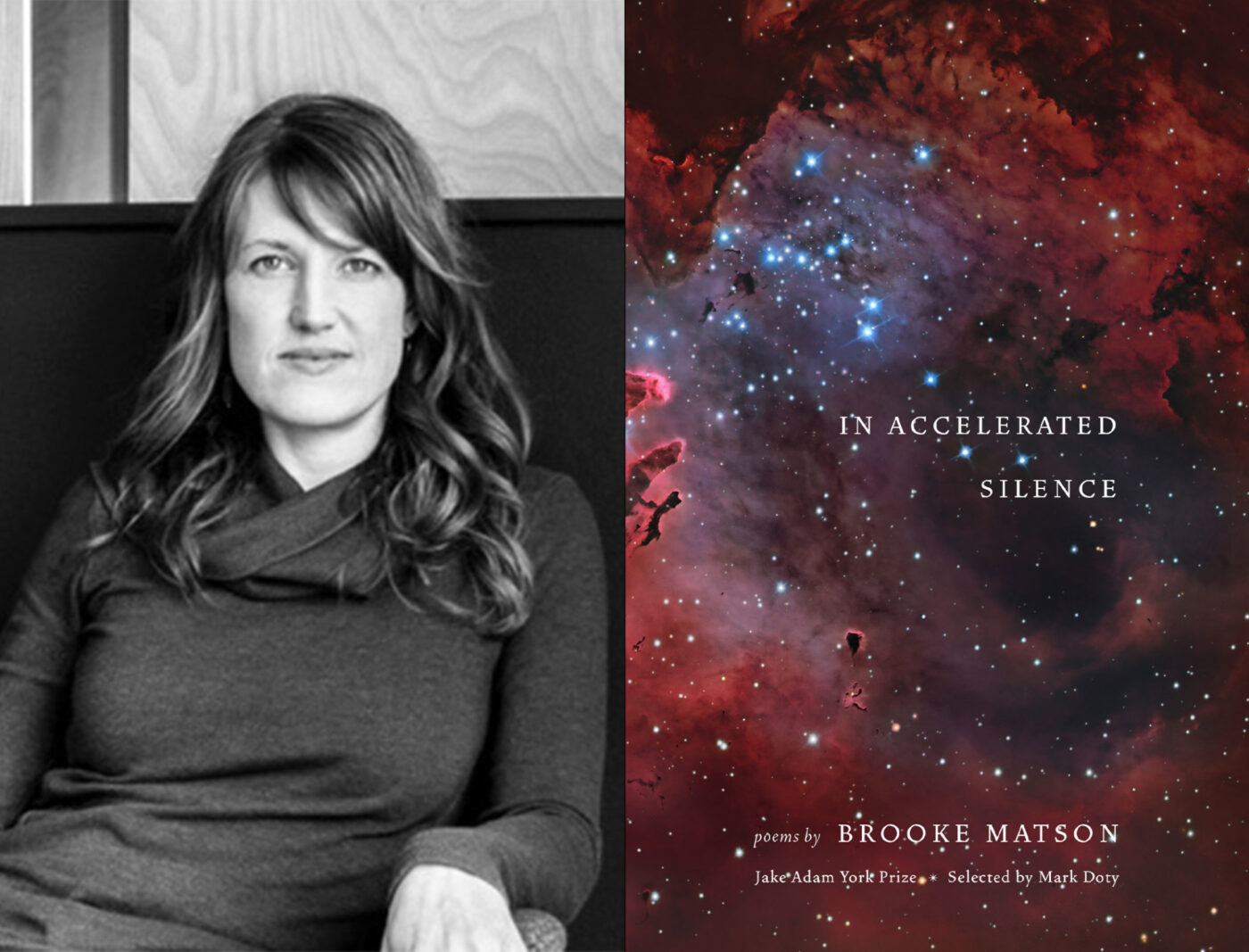 Brooke Matson is a Spokane-based poet and book artist whose latest collection, In Accelerated Silence, explores the intersections of Big Science (think astrophysics) and Big Feeling (think grief and resilience). Both philosophical and grounded in the elements and the body, these poems read like missives from a starry night, when the body feels alive and the mind contemplative.
Hum by Jamaal May: Maybe because I read it on my first writing residency, May's first full collection showcases his talent for word choice, rhythm, and creativity on the page. You can almost feel him pushing the boundaries of each poem in terms of structure, perspective, imagery, or all of them at once. The word choice is so spot-on that many of the poems take on a texture or resonant quality (as the title of the book implies). Needless to say, these poems inspired me to experiment during my residency and I still return to the poems often. Some have become downright imprinted on my mind.
Black Aperture by Matt Rasmussen: Rasmussen's collection explores the trauma of an unexpected loss in a way that is intimate, gripping, and experimental. I read this while attempting to write about my own loss, and Rasmussen's imaginative approach to writing about the loss of his brother (for instance, in "After Suicide" and "Reverse Suicide") mimics how the brain handles trauma, which is to say, like putting our sensory input into an emotionally-charged blender. These poems convinced me that writing creatively about the most sensitive subjects is not irreverent (as I worried), but instead, the deepest kind of reverence for the unanswerable questions and cutting pain that follows tragedy. Deaf Republic by Ilya Kaminsky: If you haven't read this one, do it. Do it now. It reads like a gripping play, is incredibly relevant, and will have you examining your conscience by the end, questioning if you're a passive bystander to the brutality in the daily news. The illustrations of sign language throughout the book are innovative inclusions and only make the poems hit harder. Imaginative, creative, and gutting, this is a must-read even for non-poetry folks.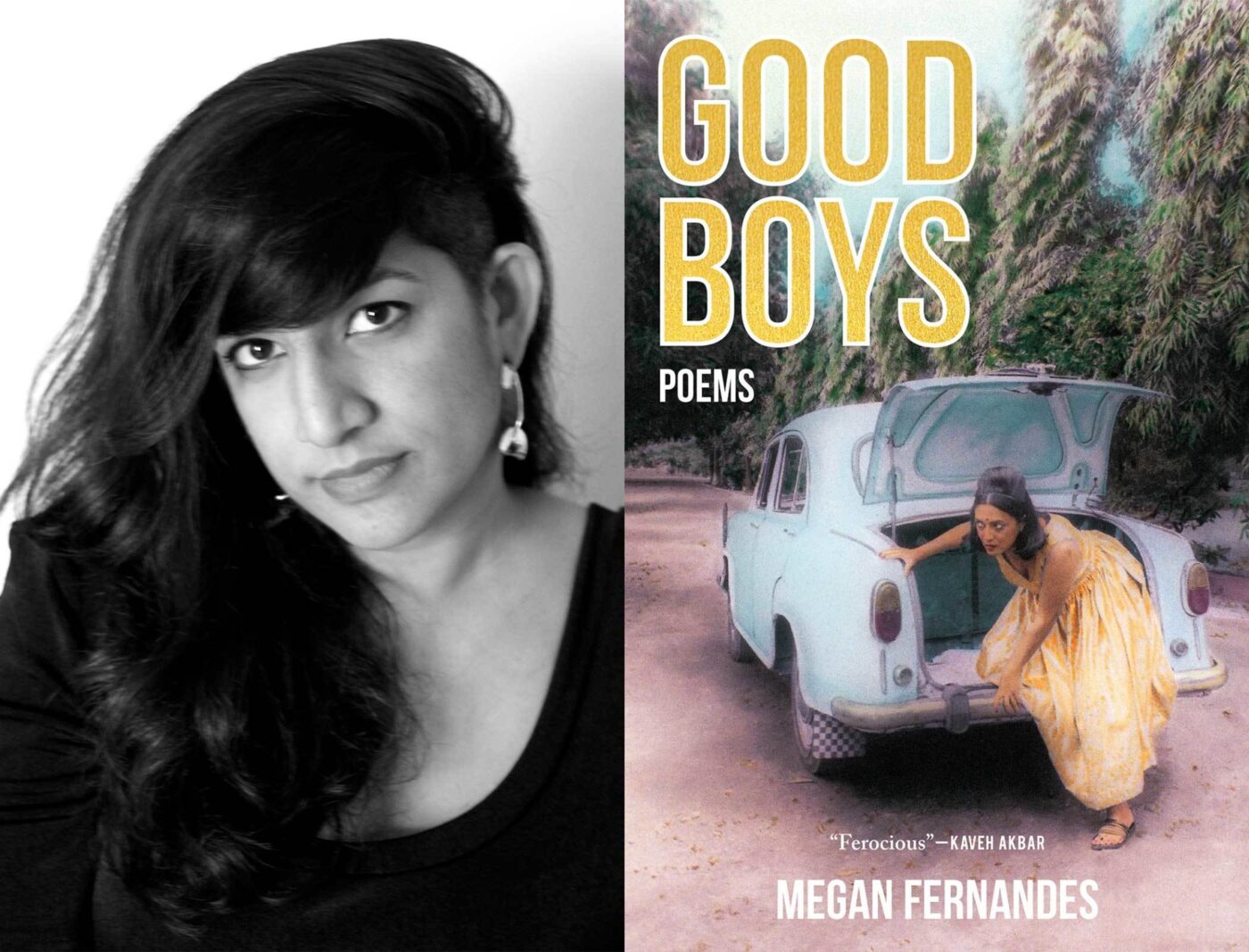 Megan Fernandes is a Professor of English at Lafayette University and writes across genres, from poetry to prose to critical theory. Good Boys, her sophomore collection, is a firecracker book full of sharp, imaginative, heart-full poems about tarot, running in the suburbs, goats, cities, nuclear fallout, and bigger things like identity, family, race, and feminism. If Broad City and Carmen Maria Machado had a poetry baby, it would be Good Boys.
New York City is full of poets. If you throw a stone, you can hit a poet or five or eight hundred. Some poets have enviable Instagram accounts and quippy little captions that are an art of their own. A few of those same poets are mini-celebrities and become the stuff of pop culture iconicity. I love every person who commits to this weird life.
Hafizah Geter is the kind of poet I can't do without. She questions how poetry operates in our culture and is unafraid to show us the ugly. She is committed to the public, to the way social imaginaries become real ones. It is unglamorous work and only a few poets do it on the regular, who use the title of "poet" as a vocation, as interrogator of false meritocracies, as a way to distill how racism works in our institutions.
She does this in her poetry by conjuring ghosts. Her poetry has taught me that ghosts require dignity, that what haunts us requires deliberate action and restorative justice. She "talks back" through time. She writes through spectral presences (gods, ancestors, the dirt roads of our mothers). In her poem "Upon Seeing the Knife," she writes: "At the bottom of a well, our gods/ try to claw their way out. / Whatever it is they wanted / we have made them sorry / for it now." This multi-dimensionality strikes me as Rilke-esque, except that when Geter talks about debts to the afterlife, she invokes the "we." We have made them sorry. Her speakers are not multiple or collaborative, but relational. We co-exist with the dead, the immaterial, the anonymous past, the violence we cannot know but which affects our present day. We call them out of their afterlives.
My book is called Good Boys, but it is powered by those who identify as women. It took a long time of interrogating the intersection between race, colonialism, and diaspora to write this book. But it also took certain poets who were able to get me to distill my feelings of bewilderment, hurt, and frustration. That process, that clarification, is so crucial to writing poetry. For difficult feelings that escape language, the person who can offer you words also offers you a home. A belonging. What do we call the process of someone who takes something you have internalized and draws it out of you? What do we call it when someone names the thing in you that before was inscrutable to yourself?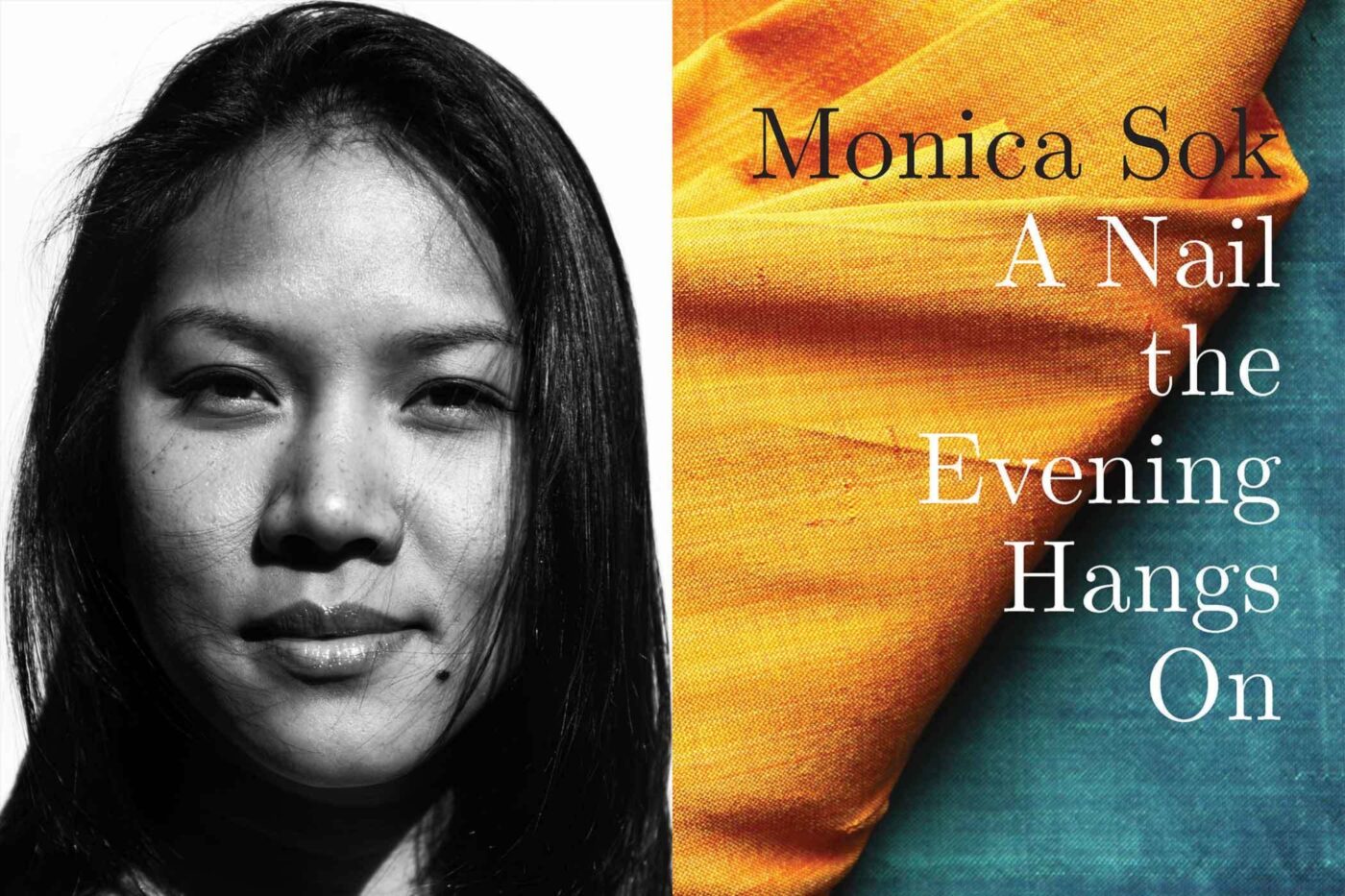 Monica Sok is a Cambodian-American poet from Pennsylvania, based in Oakland, where she teaches poetry. Her debut collection, A Nail the Evening Hangs On, explores what it means to be a refugee, of Cambodian diaspora, and how memory lives in the body. Sok's collection offers immersive sensual imagery and an expansive use of voice.
In my small hometown there was a local library, and next to the local library was a dance school. I asked my mother if I could learn ballet, but because she worked late shifts at the factory she told me no. She had no time to take me to dance, even though we always seemed to make time to visit the library. I always wonder who I might have become if only I was allowed to enter the other door.
In the poem "Consider the Hands That Write This Letter" by Aracelis Girmay, the speaker compares the act of writing to slow dancing, then offers a prayer:
"Or, yes, it is like the way I've danced
with my left hand opened around a shoulder,
my right hand closed inside
of another hand. & how I pray,
I pray for this to be my way: sweet
work alluded to in the body's position to its paper…"
Here, Girmay suggests that a writer positions their hands to paper and pen in the same way that dancers position their hands with one another to create movement and rhythm. When I first read this poem, I loved being introduced to the idea that writing could also be a collaboration between me and my reader. "Consider the Hands" appears in Girmay's first poetry collection Teeth, a book that shaped me significantly as I learned how to embody my own writing practice. This is a book that I return to often. I recommend reading her other books, Kingdom Animalia and The Black Maria too. The music of Girmay's language and the sincerity of her voice spiritually grounds me. Eventually, my mother confessed that when she was young, she wanted to learn classical Khmer ballet. Her mother also said no. From one generation to the next, my mother and I carried the same desire for the art of dance. Perhaps one reason I write poetry is that it gives me permission to lean into desire. Girmay's poetry helps me lean in.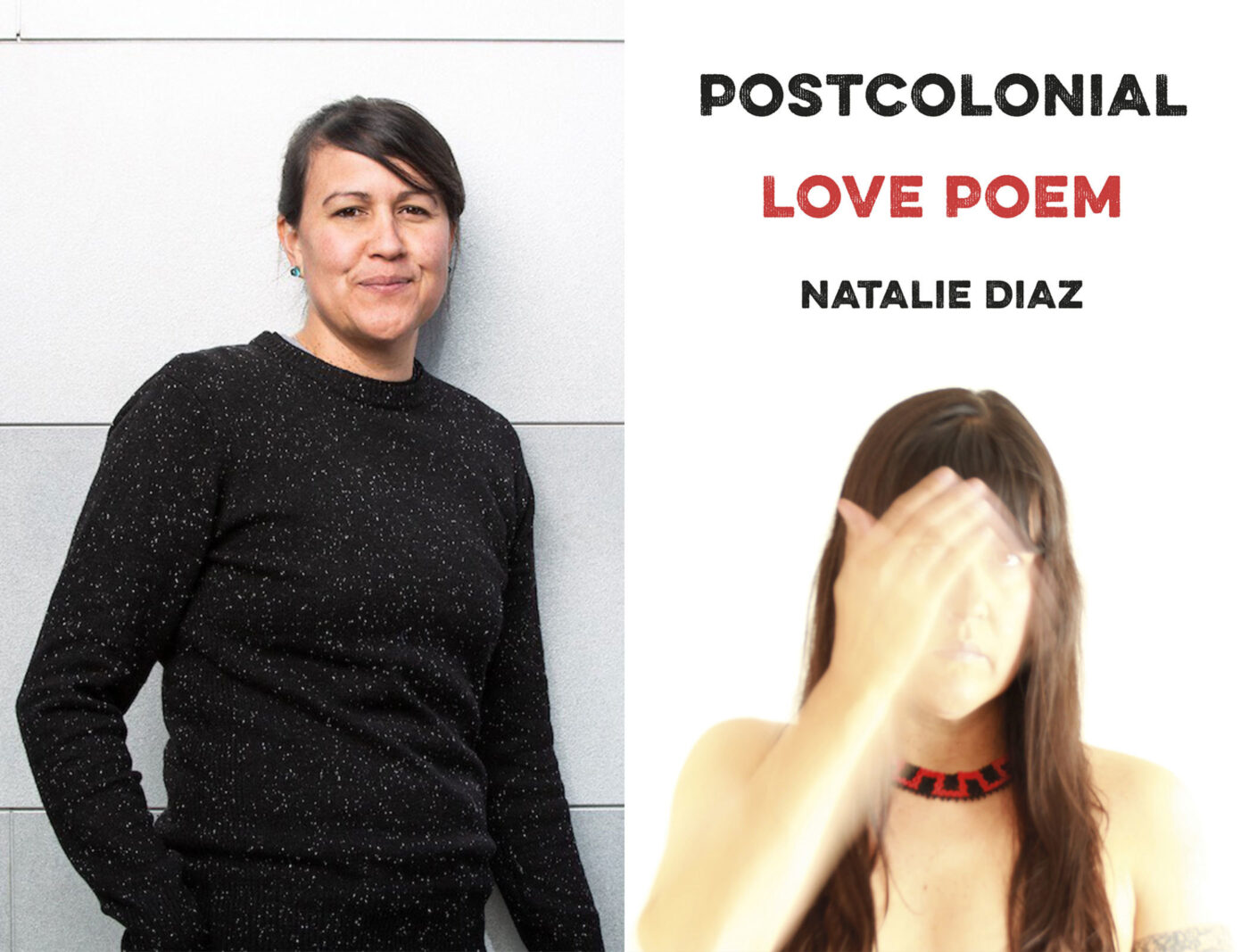 Trust me when I say, the way Natalie Diaz exquisites her words (yes, I made 'exquisite' into a verb for this) will leave you breathless. Diaz, a former pro basketball player, knows movement as poetry and poetry as movement. Her sophomore collection, Postcolonial Love Poem, is full of lyricism about the body, Indigeneity, America, queerness, family, love, language.
Brigitte Pegeen Kelly's "Song" is a poem that felt like a story I knew, from its telling, to its lexicon and imagery, to the way it holds sweetness and destruction. It could be a Mojave story. It's one of the first poems I share with my students. I am still a student of the poem, still reading and listening to it like it's brand new all over again each time.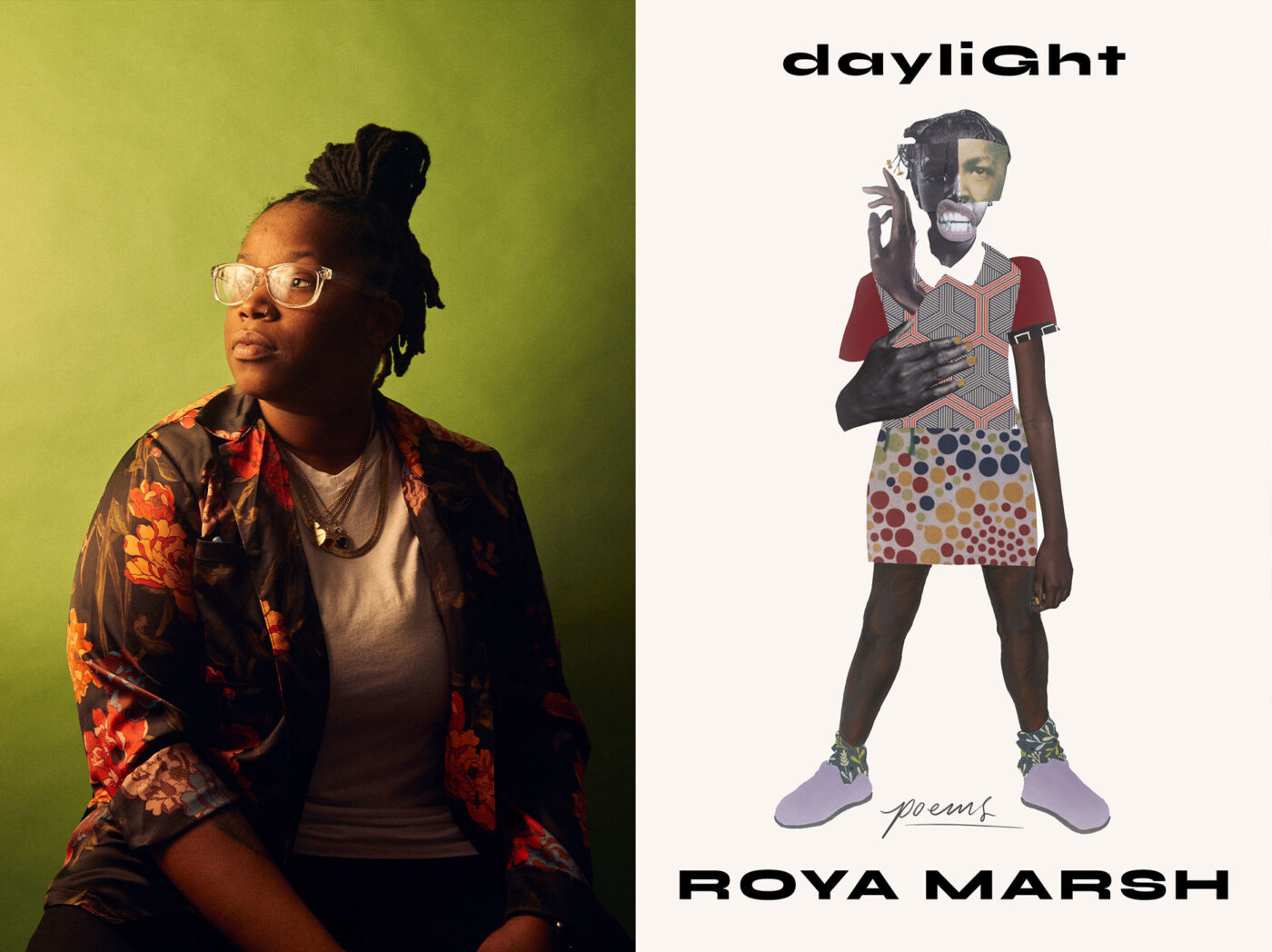 Roya Marsh is well-known for her performance poetry and activism, centered on dismantling white supremacy and LGBTQIA+ justice. Her first published collection, dayliGht, is populated with poems that bring Black girls, women, and queers into "broad daylight." Every poem is filled with a voice that lights up every part of the body—both the writer's and the reader's.
If you let the history books tell it, anything worth saving was decided so by a man. I had never considered my mouth anything more than a dumpster; something to house the waste. I'd received the truth as ass backwards as a swallowed tongue from those more crooked than crooks themselves, stealing even my most intangible dream. I'd always been a writer, but never one to share—until a woman taught me the true power of language and how to bend it. With the guidance of Mahogany L. Browne, I learned to write legacies out of wounds. She taught me how to explode a moment into a national championship. The art of poetry has allowed me to process and reshape a troubled history with nothing more than pen and paper. I learned to live the word by watching her every exhale be a poem. Mahogany, affectionately known as Mo, called me in and ushered me home to myself while deeming me someone worth saving. Her writing is a true depiction of a weaponless warrior's ability to still conquer and lead an army to victory. She knew firsthand how a garden of prophecies could blossom from the mouth of a war zone. Whether it be Redbone, Kissing Caskets, or any of her catalog past and forthcoming, she is a testament to truth seeking and truth telling for survival in a body condemned by white supremacy and its ills. I am ever grateful to Mahogany, a true purveyor of Black Girl Magic and all things woke and worthy. She is a pillar who passionately passed patience and poems on to a foul mouthed, butch woman from the Bronx. Words could not amass the gratitude I have for the way she favors me. So, I send this thanks, this whisper, pollen soft, prayerfully pushing its way into the notepad of another seeking soul.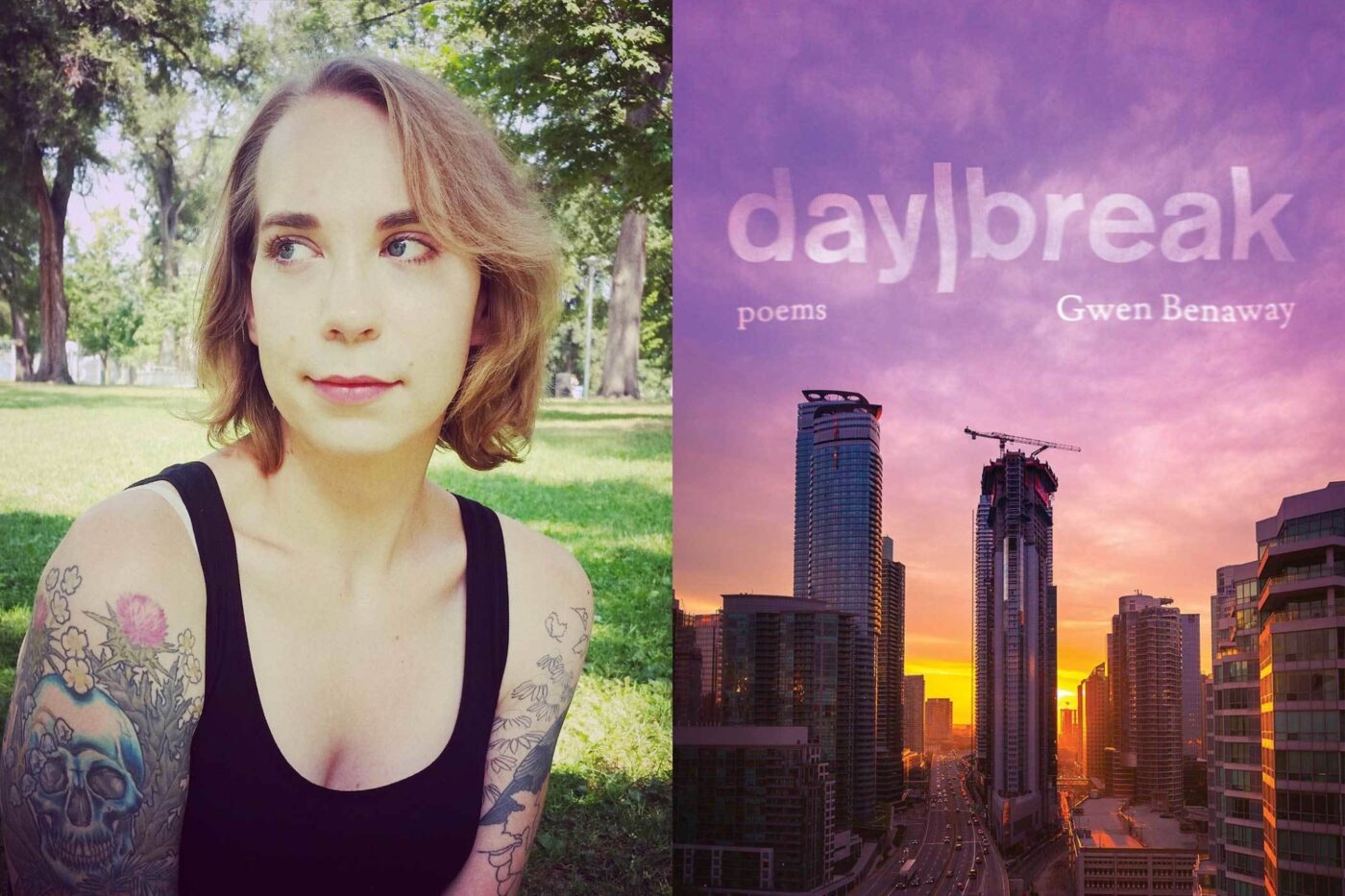 Gwen Benaway is a poet of Anishinaabe and Métis descent, a trans woman, and a multiple-award-winner. Her fourth collection, day/break, is one of the queerest texts you'll ever read, full of intersections between theory and body, brimming with the relentless questioning of convention that characterizes a queer lens.
Joshua Jennifer Espinoza's work changed me as a poet. Her poems are often about what it means to be a trans woman who is sad, anxious, and unsure of the world around her. Before I read her work, I couldn't imagine a trans feminine poetics which held the body and allowed it to be in motion. Trans women are usually required by cis audiences to perform certain narratives of inspiration and resistance, but Espinoza's work explores the deeply felt inner landscapes of being in a trans feminine body. I don't want to describe her work as being one thing or another, because I think she engages with a myriad of thematic spaces, but the possibilities of her work really captivate me. There's a soft grace to her poems, a kind of beautiful resonance, that makes me think about rainy days and hiding out in your apartment watching TV while depressively pondering your last failed relationship. That tremendous feeling in her poetry is something that I try to write towards. The poetic possibilities of being sad, I guess, as a trans woman, feels liberating to me.
John Elizabeth Stintzi, JUNEBAT (House of Anansi, 4/7)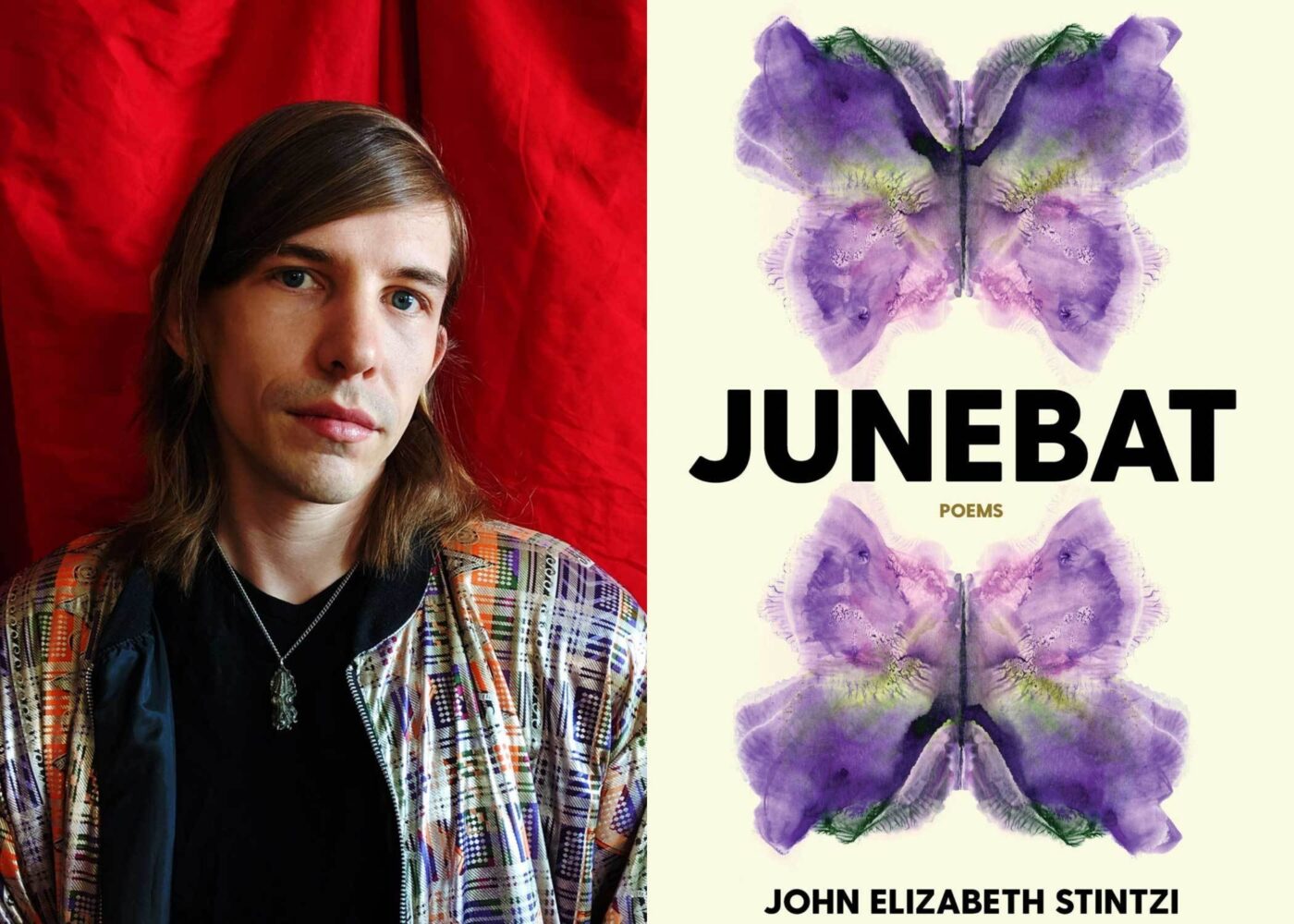 Writer and teacher John Elizabeth Stintzi has two books coming out within a month of each other this year, which tells you something about how great their writing is. Junebat, their poetry collection, dovetails a narrative of depression and isolation with one of love and possibility, all the while embracing the amoeba-like, undefined spaces of identity. Their novel, Vanishing Monuments, will be out in May from Arsenal Pulp.
While I could point to Seamus Heaney's Death of a Naturalist as the most important book of poetry in my life—in that it marked the beginning of my being able to see the possibility of my life reflected in the lyric—the poet whose influence is most evident in my recent work has been James Schuyler.
I originally discovered Schuyler on page 689 of the unwieldy 1100+ page The Oxford Book of American Poetry while spelunking for new poets. Schuyler grabbed my attention with "Things to Do" (the second of his in the tome) and I was devout by the time I finished his breathtaking "Korean Mums" (the third). Not long after, in a poetry workshop with Mark Doty, Doty said that a poem of mine reminded him of James Schuyler's work. I didn't recognize the name—in my head, I'd embarrassingly pronounced it shoo-ler—until I later asked him to spell it.
These two poems of Schuyler's remain personal favorites, but the playfulness, surprise, banality, and sorrow of the bulk of his work resonated so deeply with the ways in which I view and move through the world. After Doty spelled Schuyler's name for me, he recommended I read Schuyler's Pulitzer Prize winning book The Morning of the Poem.
Alongside Schuyler's playfulness and his ability to turn out a perfect phrase ("I love / this garden in all its moods") there's a looseness—an overflowingness—to his voice that was so important for me to see modelled. At the time, I'd been writing my poems into tighter and tighter airless machines, but then "Korean Mums" and the titular long poem The Morning of the Poem bowled me over with the texture and weight was present in his work. He avoided fitting the poems into an overly rigid sense of line, or density, or clarity. His poems often feel wide as horizons. Much of Junebat exist thanks to Schuyler's influence because he allowed me to break out of mechanics to practice the looser approach I needed to write poems that, themselves, were about loosening myself from my own ideas of who I was. The ways Schuyler frustrated the line with awkward enjambments, how overflowing and alive and propulsive his speakers were, how his speakers desired and surrendered in his poems, all helped to reshape the way I approach both myself and the lyric.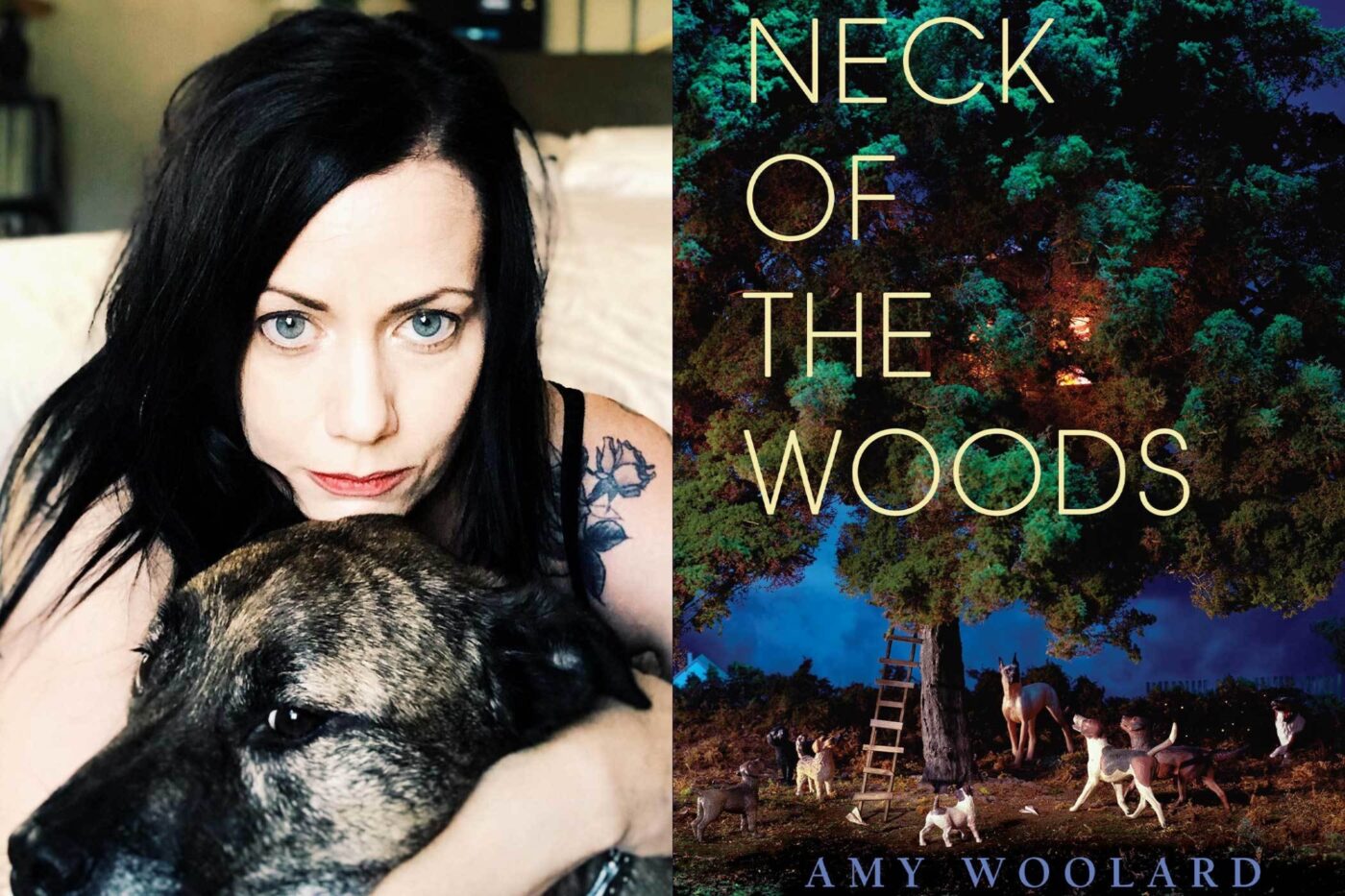 Like the dappled lights that fall through shadows of leaves, the poems in Neck of the Woods feel light to the touch but stir something deeper. Woolard is a Virginia legal aid attorney who works on civil rights policy, and she explored humanity's darkness in these pages. Innocence and hard-earned knowledge, grief and growth, the landscape and bodyscape of the South are all rendered here with humor and reverence.
I was sixteen years old, a first-year student at the University of Virginia in Charlottesville in 1990, and what I'd call "1.5-gen." My mother wasn't able to attend college, and while my father had an electrical engineering degree, his experience didn't meaningfully fill in any blanks for me in attempting to learn the critical skills of, How Do I College? My folks did support me in every other way they could, however, including generously covering my tuition, which allowed me to use a bit of the living expense cash I made from working restaurants three nights a week in town to buy the most recent book of a professor whose Intermediate Poetry Workshop I'd applied to on a whim. The collection was New and Selected Poems, by Gregory Orr.
I went to high school in a small southern farm-burb in Virginia, where my English textbook's poetry chapter started and stopped with Robert Frost. I had no idea people who were still alive were writing poems and publishing books until I wandered into Orr's class. And then, once I bought that book, I wandered into his poems—their surreal, lyric imagery and incantation:
"Love Poem"
A black biplane crashes through the window
of the luncheonette. The pilot climbs down,
removing his leather hood.
He hands me my grandmother's jade ring.
No, it is two robin's eggs and
a telephone number: yours.
—Gregory Orr
Metaphor, in his class, felt like…freedom. And a map. A path into the woods. A learned trickery. Physics became art. One plus one equaled two robin's eggs. It became easier to live in the strange actual world I was now trying to navigate on my own, because at any point, I could bend every rule to make a new one inside of a poem.
One of the best parts of being a young poet is that formative poets and their work nearly always lead you fresh through a lineage of other formative poets and their work. A constellation takes shape that serves as a natural compass to guide you down the wooded path. Orr sent me into my next workshop with Charles Wright, who sent me along to both Larry Levis and Rita Dove, and finally to Jorie Graham during graduate school.
It wasn't just poetry that cracked open for me because of these writers—it was my young life. How Did I College? I wrote, and read, and worked restaurants, and wilded, and quickly took every poetry collection they loaned into my hands. When I told Wright I carried Levis's "The Widening Spell of the Leaves" with me everywhere and couldn't stop reading it, he wrote a telephone number on a slip of paper, handed it to me and said, "Give Larry a call and take your poems down to Richmond to show him. You two will hit it off." I did. We did. In so many ways, these poets—and their work—didn't just influence me. They raised me. I'm fortunate and grateful.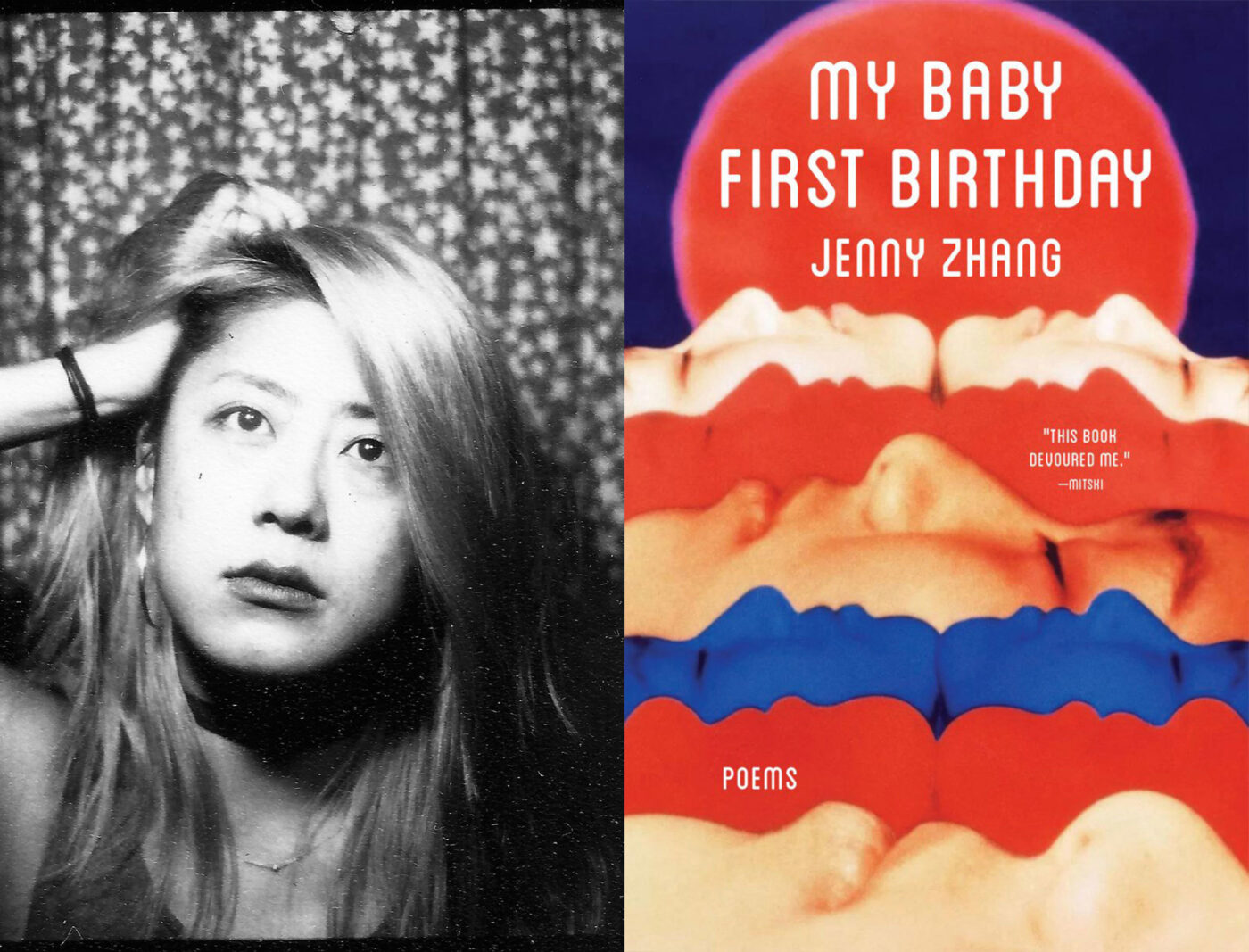 Jenny Zhang's short story collection, Sour Heart, made a big splash in the literary world when it was released in 2017, but she's also published a couple of great poetry collections and chapbooks. Zhang's voice is both hilarious and poignant. My Baby First Birthday is divided into seasonal sections in which Zhang explores themes of consent, loneliness, fetishization of identity, dreams, whiteness, capitalism, bodies, and mothers. Also, she makes excellent use of millennial internet spellings, i.e. omitting vowels.
Usually, at poetry readings, I remember the laughs, but the time I saw Anaïs Duplan reading at the Bowery Poetry Club, I remembered the rapt silences too. The laughs came right away. He introduced the name of the poem, "BLACK 'N' RELAXED II." He read, "I was afraid of feeling bad and felt badly / about it." We were in the presence of radiant genius. Humor that comes from fascination with real quandaries, real mysteries, real dynamics. "Is it possible you're both allergic / to happiness and afraid of being / sad?" Humor that comes from knowing, really knowing. The poem possesses a duality that transcends either/or—isn't that what is being denied and what is being re-envisioned?
It's important to lose track of
time. I do fucks with this song.
If you can feel happy, please
do it. Sometimes the answer
is no but is it no right now?
Limits are not incompatible with expansion. "The only way / to get past what ails you is / to show up again and again / until it loves you or disappears." Even now, I want to find the perfect way to tell you to read Anaïs Duplan's poem "BLACK 'N' RELAXED II" and to read his poetry books Mount Carmel and the Blood of Parnassus and Take This Stallion…but I feel confined by either/or.
Fear makes a lot of sense.

Don't be scared of
being someone who's scared.
Try to spend time feeling
your fear. More you
comfortable with that,
more you don't need that.
Practice feeling your fear,
the opposite advice you
gave yourself some time
ago, for good reason.
So maybe you read it, and experience it for yourself. Okay, yes, do that.

Khadijah Queen, ANODYNE (Tin House, 8/18)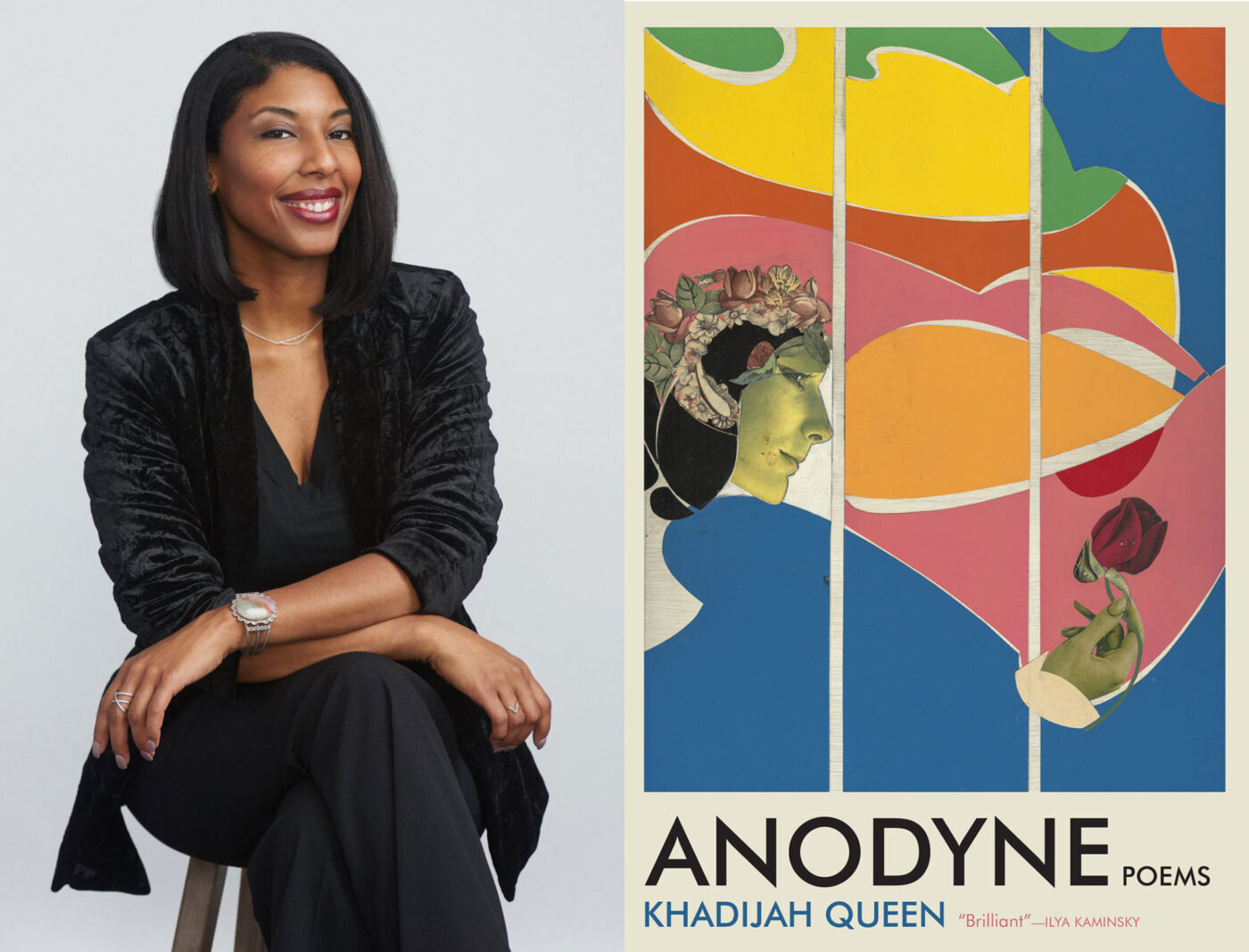 Khadijah Queen, PhD., has five previous books with award winning acclaim. Her poems are easily readable, even visual, employing color and punctuation in innovative ways. Anodyne is ambitious in scope and sharp in its execution, rooted in the body and soaring to encompass big themes like wisdom, ignorance, stamina, love, grief, and humanity in all its complexities.
I don't remember how June Jordan's "Poem About My Rights" arrived in my reading life, but when it did, I read it over and over again. I memorized the italicized mantra "I am not wrong: Wrong is not my name," amazed at the thought that—as someone with a name people often found difficult to say or accept—I could be right, just as myself, for once. I remember loving the poem's sprawl and startling at its vulgarity—marveling at how boldly and internationally she talks about rape. Not much time had passed since I became a survivor, and Jordan's words validated not only what I knew about that experience, but how I felt taking any self-determined action—any action not approved of or typically expected of a woman. She asks: "who in the hell set things up like this," and I feel a loud AMEN rise up in my spirit that belongs to me, to "my own body."
I love this poem's disobedience and its scope, starting with the desire to walk safely alone at night, then moving from educational opportunities to the violent colonization of Africa. The poem might appear messy if one is accustomed to short lyrics, tidy couplets, end rhyme and sighing conclusions. But its jagged lines and intermittent slashes and repeated "I am" self-definition defies expectation—as Black women do, all the time. The poem's beauty exists not only in its music, but in what it delivers and inspires in the reader: outspokenness, clear understanding, and a precise and insistent truth unburdened by false decorum. Yet, the closing lines—"my resistance / my simple daily and nightly self-determination / may very well cost you your life"—do not mean violence. They mean that a life built on oppression has to change. We must insist.
The books of the featured poets are available for purchase here.
Sarah Neilson is a freelance writer and book critic whose work appears in Seattle Times, Electric Literature, Los Angeles Review of Books, LitHub, Buzzfeed, The Believer, and Bookforum among other outlets. She can be found on Twitter @sarahmariewrote, Instagram @readrunsea, and on her website, sarahneilsonwriter.com.