Tempting: Jenny Toomey Sings the Songs of Franklin Bruno by David Krasnow
David Krasnow redefines the word "standard" with his recommendation of Jenny Toomey's husky-breathy and well-timed performance of Franklin Bruno's songs.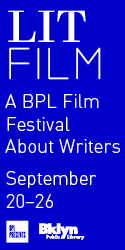 Standard is a tricky word. It denotes near-mystical perfection or the merely routine. Slapping the subtitle Jenny Toomey Sings the Songs of Franklin Bruno on an album is a tongue-in-cheek bid for standard-dom, but brazen—as though you've heard of her, or him, or his songs.
Tempting certainly sets a standard for perceptive renderings of a songbook—it's hard to believe that Toomey, a bandleader in her own right, isn't the auteur here. But to call it a record of standards is a riskier proposition. "Standards" so new that only these two have ever sung them? "Standards" that feature, alongside the martini-stained piano and requisite string section, mariachi horns (courtesy of ubiquitous session men Calexico), cowboy guitar, banjo, and a Farfisa organ from Squeeze circa 1982?
The argument owes everything to Cassandra Wilson, who redefined the standard as neither a canon nor a stylization but as a method of overdetermining a song by investing in it more soul than it was endowed with in the first place (think "Last Train to Clarksville"). Toomey has a husky-breathy voice a bit like k. d. lang's, and impeccable timing for a rock singer. She inflects a phrase with meaning just by subtly holding out on it. The punk history (she led the aptly named Tsunami) gives her an edge all her own, a palpably raw honesty that no amount of clever wordplay can belie: "Why won't you cheat with me? / You and I both know you've done it before / and it sounds so sweet to be / seeing you less but enjoying it more." In fact the drama of wordplay and honesty here is pretty gripping. These are earnest portraits of ironic people struggling with authentic fears: being lonely, being broke, being jealous, losing your man, losing your luster.
Spinning the tension between pain and nonchalance into sublimely elegant melody, Franklin Bruno fits in the lineage of Cole Porter. It's reassuring that someone can still write this kind of thing, classy yet relevant. And it's funny that this someone is a philosophy professor who leads an obscure indie act called Nothing Painting Blue. To do justice to Bruno's command of metaphor and rhyme, I can only quote from a lilting bossa nova about a relationship running out of steam: "although…every body comes to rest / you don't stop loving something / just because it's dying, do you? / you press the clappers to its chest / turn the knobs and flick the switches / say you'd give up untold riches / for a fusillade of twitches / to uncannily occur / now, watch it stir."
Tempting was released last fall by Misra Records.
Originally published in
Featuring interviews with Paul Pfeiffer, Pat Steir, Tom Sachs, Marie Ponsot, Steven Millhauser, Meshell Ndegeocelo, David Greenspan, and Neil Labute.