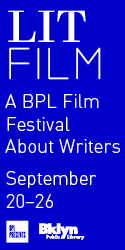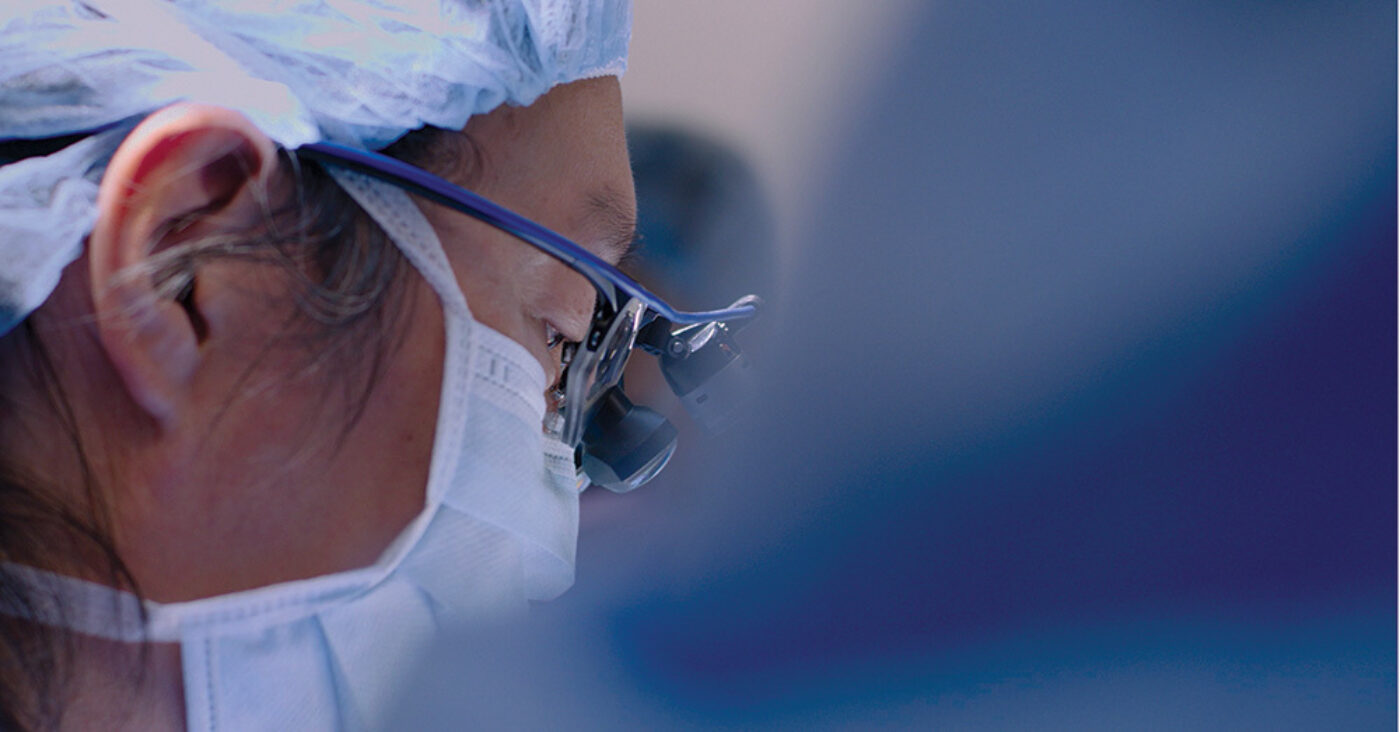 When it comes to transgender rights, the nation is highly polarized—on one side strong support, on the other conservative culture wars are being waged on workplace protections, school-sports inclusion, and access to hormone treatment. A forthcoming Supreme Court ruling on LGBTQ workplace protection hangs on the justices' interpretation of the wording in the Civil Rights Act of 1964, which prohibits employment discrimination "on the basis of sex."
These contentious and difficult issues are only quiet background static in the celebratory surgery room at New York's recently established Center for Transgender Medicine and Surgery at Mount Sinai.
In a scene from Tania Cypriano's new documentary, Born to Be, Dr. Jess Ting puts on classical music to play during his next gender confirmation surgery. The film follows several transgender patients on their journey to their true selves as the charismatic doctor attends to them from initial consultation to surgical procedure to post-op support. It is a relief to set politics aside and see transgender individuals receiving the respect and professional care that is the inalienable right of all people.
The body is a container and an external expression of our identity, but the core of our being, our inner gender, is our truth. When these don't match, gender dysphoria sets in, a clinical term translating as "deep, abiding pain" if the external and internal are not brought into unison socially and/or medically.
I know this from a personal perspective, as I have a transgender son. The two of us are working on our own documentary, Adam's Apple, a longitudinal mother-son venture, exploring what characterizes "maleness" for today's gender-redefining youth. For the public to reach a greater understanding of and empathy for the experiences of transgender people, it is imperative that these affirming trans narratives be heard.
Amy Jenkins One of the things that draws me to your work is the fact that we both come from a more experimental and visual art background and have moved to documentary. I'm always interested in how other creative people come to be drawn to their subjects. You've made this incredible film, Born to Be, that's being shown all over the world right now. How did you arrive at the topic?
Tania Cypriano I was approached by the producer, Michelle Koo Hayashi, who knew Dr. Ting and had just learned about the opening of the Center for Transgender Medicine and Surgery at Mount Sinai. She'd learned about the high rate of suicide attempts in the transgender community and wanted to do something to support this community. When she met with me, the idea to make a documentary got formalized. I was very fortunate to also meet Dr. Ting and five other people from the center on our first evening.
My previous works have also focused on the connections between body and health, with an emphasis on communities. I had worked on topics such as HIV/AIDS and had shown my work at LGBTQ film festivals, but I knew almost nothing about transgender healthcare. So hearing about this new transgender medicine clinic opening and being introduced to this passionate and unusual group of doctors and nurses was a key moment. Right away I saw that there was an important story, and I was able to connect to it based on my previous work.
AJ I can also see why you were drawn to this topic of transition because as a person from Brazil living in the US, you're straddling two worlds. Identity and finding identity has been a theme throughout all of your films. There is a quote in your video Grandma with a Video Camera (2007) that I think helps describe you as an artist: "What drew me to this country was the opportunity for true individual freedom, the chance to carve an identity that is not prescribed, to pursue a life less predictable." As an immigrant, you might better understand the transgender experience of shaping a new identity.
TC I grew up in Brazil but have been living in the US for decades. I've always been interested in stories that relate to personal experiences I've had but are not directly attached to my identity. As a documentary filmmaker, I want to tell stories from the viewpoint of a person who cares to dialogue and learn. I've been given an award for Best Film by a Woman of Color, been honored as a woman filmmaker, and I've been part of the Latino filmmakers' circuit. But before any of that, I'm a human being.
I want to explore stories that help our understanding of who we are and that inspire respect for everyone.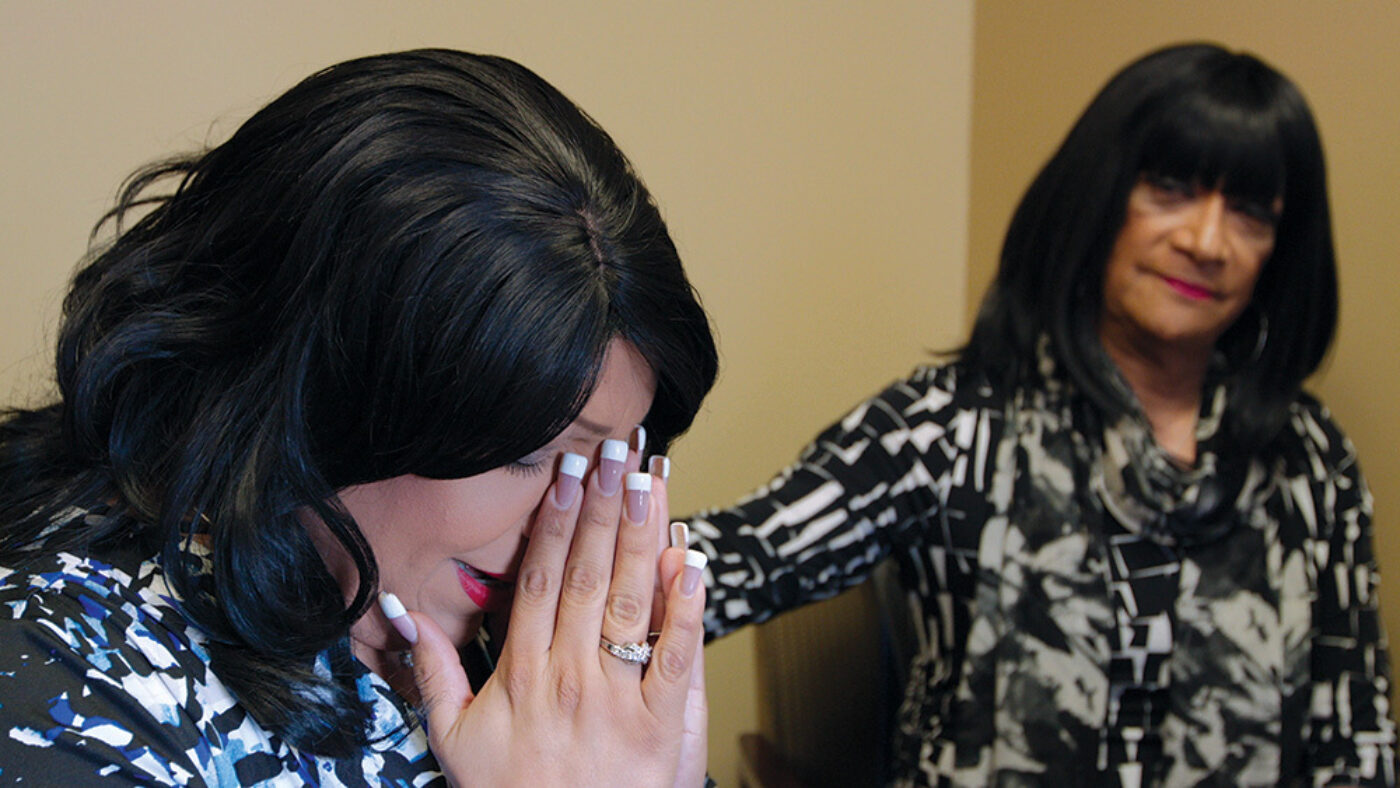 AJ Dr. Ting is a very charismatic individual, and one is immediately drawn to him as a character. I was surprised when he admits in the beginning of the film that he didn't know anything about transgender people and their plight until he got into this particular surgical practice.
TC Yes, his story is quite interesting—he's a former Juilliard student, who dropped a career as a bass player to become a plastic surgeon. Initially, he was introduced to me as our access person and mediator with the hospital. It took me about a year to convince him to be part of the film. When he finally agreed, he asked that the film be focused on the patients.
To make a film that would help the trans community, I felt that we needed to talk to a larger audience. So we decided to follow this doctor going through his own process of learning—not only becoming proficient in the surgeries but also learning about his patients and falling in love with the community and advocating for them.
AJ You really do see his evolution throughout the film.
TC My rationale was that the general audience comes to the subject from a similar standpoint—without much knowledge—and they will need to go through a process of understanding and kind of falling in love with people they don't know. Showing Dr. Ting take responsibility for this community seemed like a good way to reach out to the viewer.
AJ Dr. Ting's patients, who are the main characters in the film, are remarkably open in front of the camera while being very vulnerable. How did you approach them to be in the film?
TC With most patients, Dr. Ting's assistant would email and let them know about a filmmaker being there with cameras and asking if they would be willing to let us go inside the exam room with them. Of course, responses were yes and no. A good number of people said, "You can film me, but please don't show my face." I shied away from that because putting your subjects in shadows implies marginalization. We're at a historic moment when transgender people are coming out as beautiful and proud, so showing our subjects as full people was important.
AJ Yes. If you were to fog over someone's face, it would ruin the intimacy and honesty.
TC Exactly. It was very important for everyone taking part in the film to be honest and open about what they were going through and for me to have that intimate rapport.
I accompanied them before, during, and after their surgeries, sometimes with a cameraperson and sometimes on my own. They became my friends and vice versa. They are part of my life now, and I'm part of theirs. It's impossible to imagine being there only for what the film needs. I'm there for something a lot larger and more integral. I just came back from Palm Springs, and one of the subjects, Mahogany, came with me to present the film, and we shared a hotel room.
AJ It must have been an intense process balancing your desire to tell a story for a film and your personal relationships with the subjects, realizing that sometimes you can't have the camera on. Sometimes you really just need to be with them person to person.
TC Yes. They trusted me a hundred percent while we filmed. During the editing process, I had to make very careful decisions as to which footage to use because the patients exposed a lot. I had no idea how vulnerable they were until I saw the footage. So in the editing room I had to protect them. The editing decisions were not based on "because we filmed something that's rarely seen or hard to imagine, we have to use it." In the end, the film doesn't belong only to me; it belongs to everyone in it and all the people who helped to make it. I think viewers notice that respect and intimacy.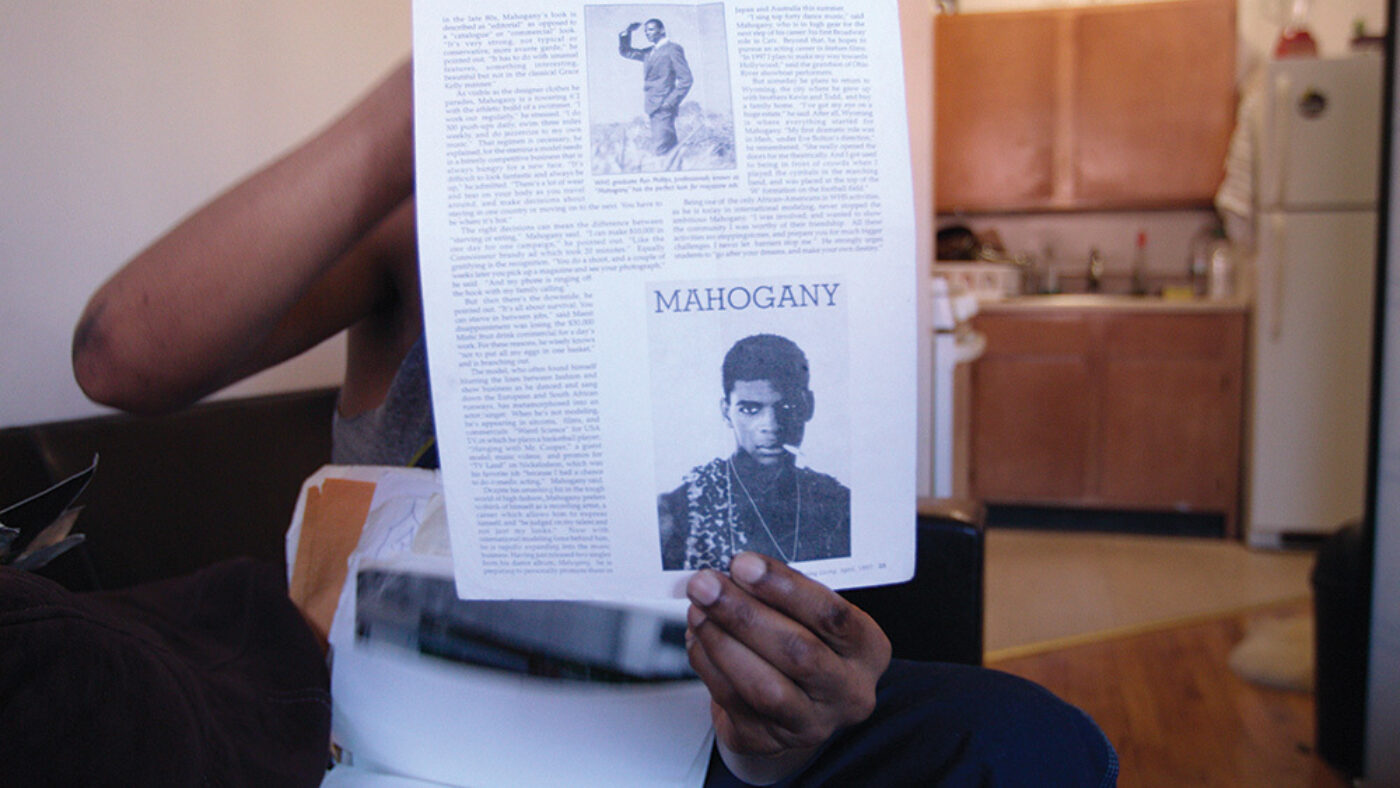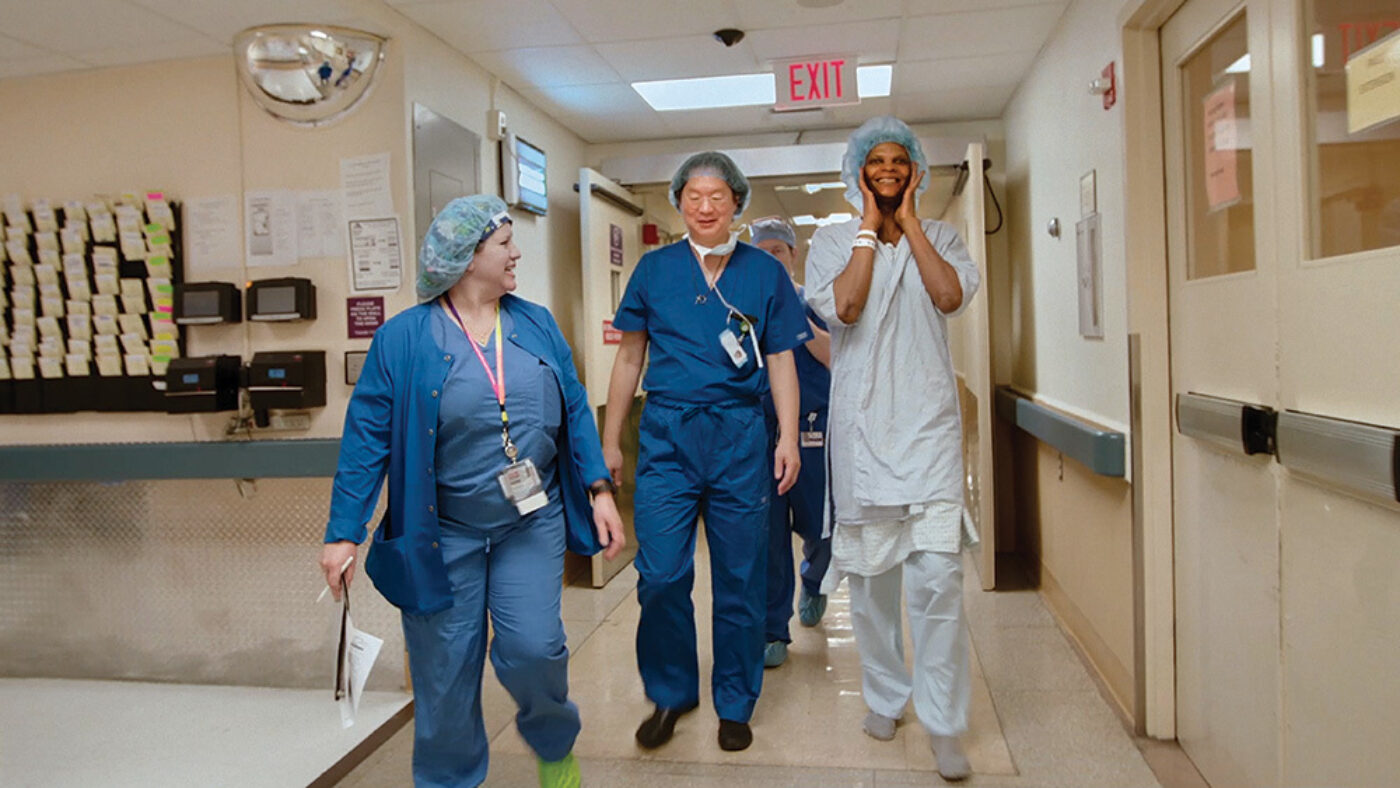 AJ I want to talk about some of the subjects specifically. The film starts with Mahogany who's having a precarious surgery to reduce the masculine curve of her forehead—frighteningly close to her brain. We see her showing pictures of herself from a time when she worked as a male model. We also meet Garnet, an aspiring model. She's there to have vaginoplasty. And Jordan is there for phalloplasty. Cashmere, whose face has been damaged by earlier black-market silicone implants, is there to have her face remade. Dr. Ting is also discussing vaginoplasty with her.
TC In the beginning, Cashmere didn't want him to touch her face, only the lips.
AJ Oh, interesting. You have this wide range of characters in terms of economic background and race, and what each of them goes through differs widely based on their life circumstances. I feel that through your choice of characters you've managed to represent the variety of challenges that transgender people face.
There were moments that particularly stood out to me on an emotional level—for instance when we're getting to know Garnet as she's meeting Dr. Ting for the first time. She seems so fragile yet brave, and it's powerful how she expresses her gratitude to Dr. Ting.
TC Yes. As you know, it's impossible to have representation of every trans person's experience. I won't even use the word community right now because what we're really talking about is a whole society within the larger society. There were several considerations. First, I felt it was important to show the people who have support from family, partners, or friends, and then the ones who don't. Second, although we followed a relatively small group of people, I wanted to show as much diversity as possible—in many respects. I remember at one point we were asking ourselves, "Why do we have Mahogany and Cashmere in the film? They're both black trans women, close in age, from a low-income background." The answer was that Mahogany never had a role model growing up. Her references for black, transgender women were like Cashmere—they had been kicked out of their homes, and many were working on the streets. But this wasn't Mahogany's reality, and it took her a long time to realize she was not a gay man but a transgender woman. It was important to show the diversity that exists among individuals.
AJ What about Garnet?
TC Garnet was very interesting because she was one of the younger subjects and she had family and economic support. I was eager to meet the young generation, thinking, Let's show how everything goes fantastic. But it doesn't. There are several reasons why Garnet's story goes the way it does. But what I really like is that she has a loving mother. Even though for a lot of trans audiences who see the film, she is problematic.
AJ The mother is problematic?
TC Some people see her mother that way because of certain words she uses, like "mutilation." But still, the two are close, and she's totally supportive of her child's transition. I also thought this controversial and difficult stuff, the things that went wrong, should be in the film—because they are part of the territory that families are walking into. Garnet's story also helps us understand that surgeries don't cure depression.
AJ That was a very important aspect of the film because it's looking at how to "cure" gender dysphoria by making the exterior of the body match the person's interior identity. But it also shows that surgery can only go so far. And Garnet does represent the complexity of emotions a transgender person may go through, including the need for a holistic approach with counseling to help with the inner life. I'm a mother of a transgender teenager, so I was drawn to Garnet and her relationship with her mother. One of the most powerful moments was when the mother was there with Garnet, helping to dilate her vagina after surgery. To see the mother's love and support left a strong impression on me.
TC I cannot thank Garnet and her family enough for sharing that part of their journey. It was a very, very difficult scene to film, and there were a lot of other things going on, of course. We only showed a short section because I wanted to shield them. I mean, we pretty much edited all the scenes because physically everything was out in the open. While we edited, I made sure we went right to that edge when the viewer wants to crane their neck and move closer to the screen to see more.
AJ It must have been difficult to direct your cameraperson. You want to be honest to the experience, but you also don't want to drive away your audience. You want to avoid fetishization and objectification of the body. The film does manage to avoid objectifying your subjects' bodies. With a focus on transition surgery, it was probably not easy to walk that fine line.
TC Well, we shot most of the material in 4K, which allows you to choose and show only a part of the frame in the edit. I often discussed the shoots with Jeff [Jeffrey Johnson], our cinematographer, before we went to the clinic. Once we were on site, I sometimes just let him film alone because a few of the rooms in the clinic are tiny. It got too crowded, especially when we brought in a sound person. I told him, "Just film everything. We'll edit later." And that's what we did. The reframing all happened in the editing room.
AJ Just to clarify, when you say reframing you mean cropping?
TC Yes. However, when we took out full-frontal nudity or graphic surgery sections, we made sure that viewers can still understand what's happening, even when they don't see it.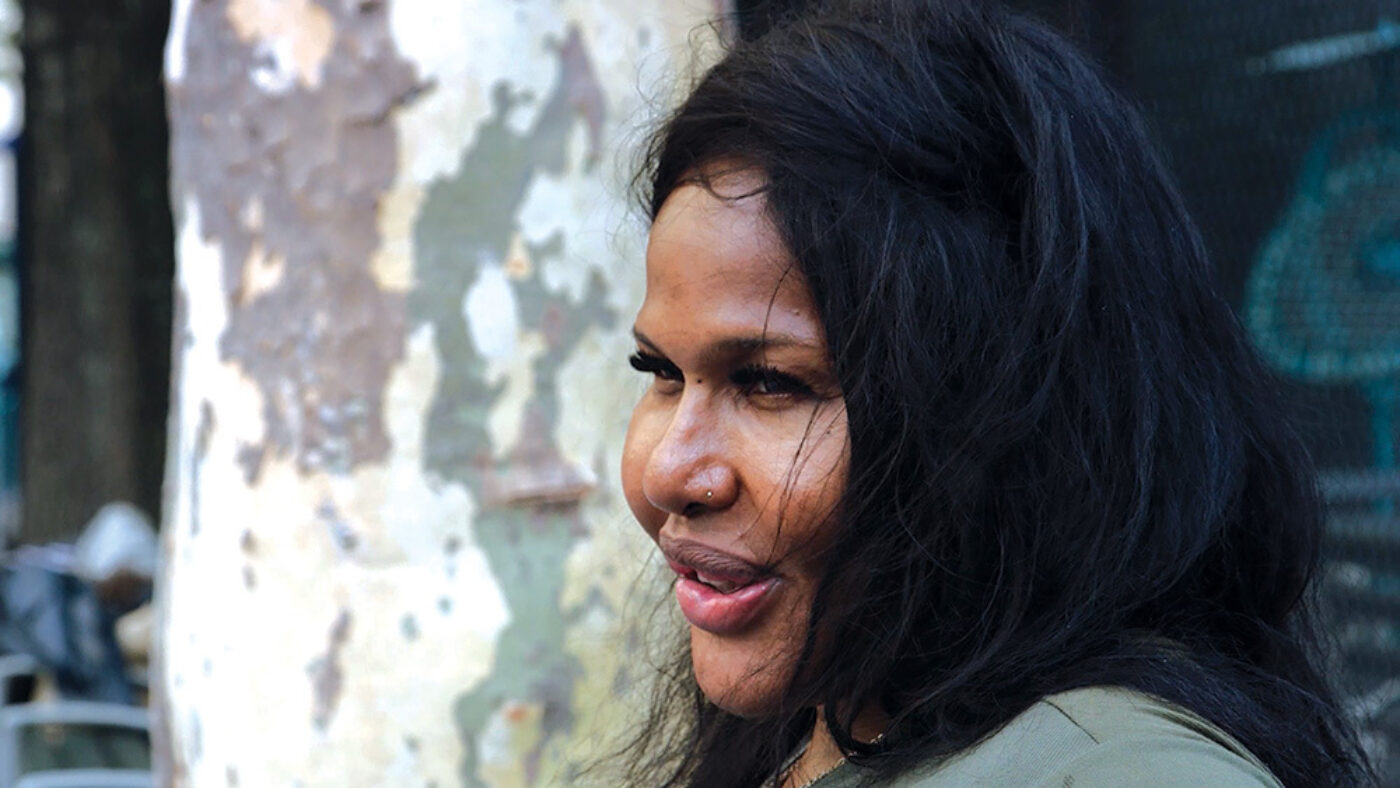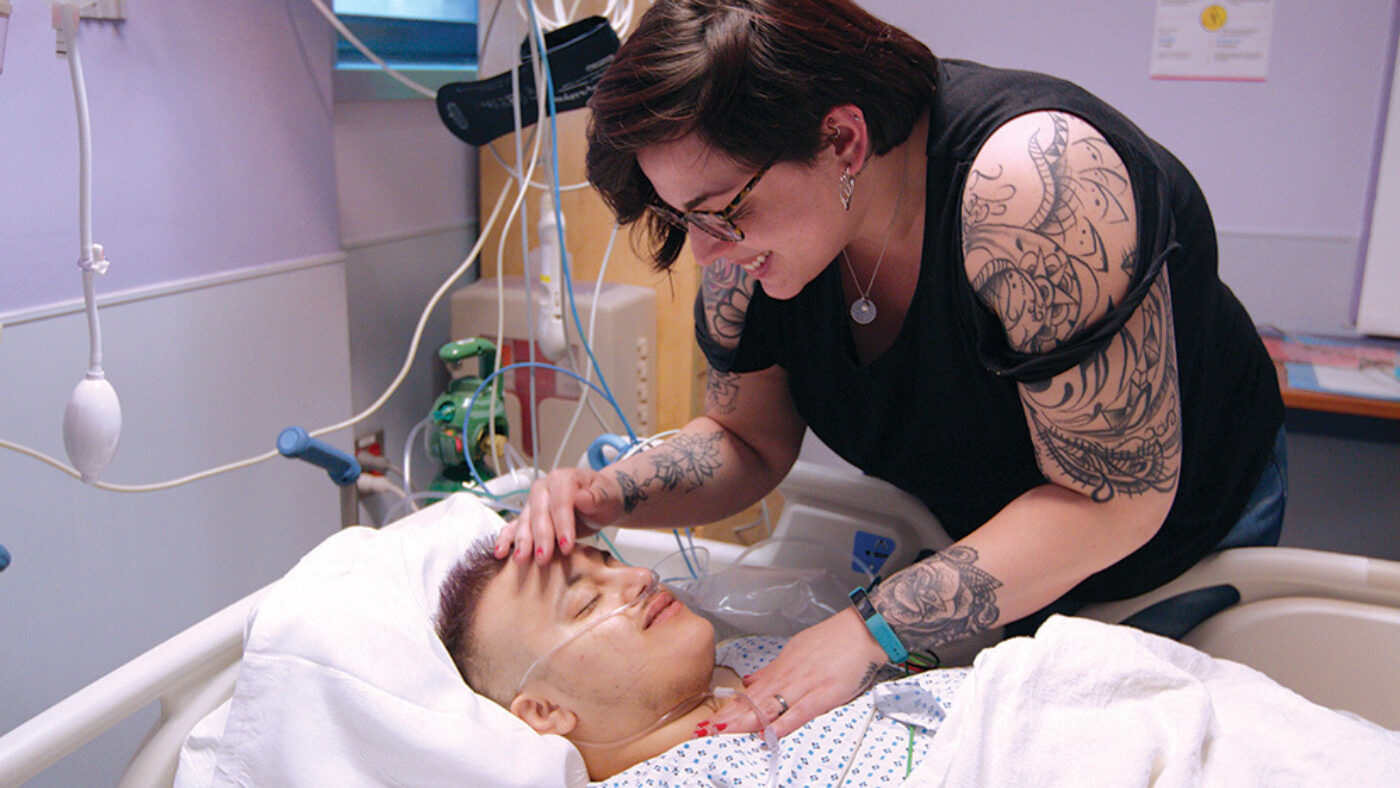 AJ How did you help your subjects become comfortable with showing themselves in these various states of undress, especially when they have strong gender dysphoria? In the beginning of the film, before we get to know the main characters, we see a number of different patients coming through Dr. Ting's practice. Some are there for, say, a double mastectomy, but they still have their breasts. You were able to gain access and have a rapport not only with your main characters, but with a whole range of people. I'm interested in how that came about.
TC When people came to the clinic for consultations, we explained to them what the film was about and what we were trying to achieve with it. They all understood the importance of this moment, the significance of being part of a movement. They feel proud to be among the first to get medical care at this clinic. As you know, in the past there was some progress in transition-related health care, but during the Reagan years, support was shut off again. Recently, it's only been through the Affordable Care Act that gender confirmation surgeries became possible for so many. It's a historic moment, and people are aware of that.
Quite a few of the patients I met had been waiting for many, many years to receive their treatments. So they wanted to talk about it, let people know how much it means to them. There was an air of celebration and relief in almost every room we were in, including the surgery room. Like a sense of giving birth, in a way—many would say they felt they were being reborn. It was a beautiful thing to witness, and Dr. Ting was incredibly supportive. When he introduced us to his patients, he made them feel totally comfortable, and we always made it clear to everyone: "We're here to do this for you."
AJ The film shows how the Mount Sinai Center and Dr. Ting's efforts represent a true cultural shift in terms of the recognition of transgender people and the normalization of transgender care. And, as you said, there's the rejoicing of the patients in the film. It's great to show that because oftentimes medical matters are treated as scientific and/or scary. Dr. Ting enacts so much optimism.
TC Another reason we followed him is that he brings such a high level of care, compassion, and humanity to his work—which is not always the case, unfortunately, especially for the transgender community. It was important for me to show his dedication. Even though I don't explore much of his life in the film—when we learned that he gave up a career in classical music for surgery, it was like a light bulb came on for us. This is the story of a man who wanted to be a musician, but life, family, and other obligations didn't allow him to go that way. And what does he do? Today he helps people be who they are. For me, there is a big connection between his own experience and why he does what he does.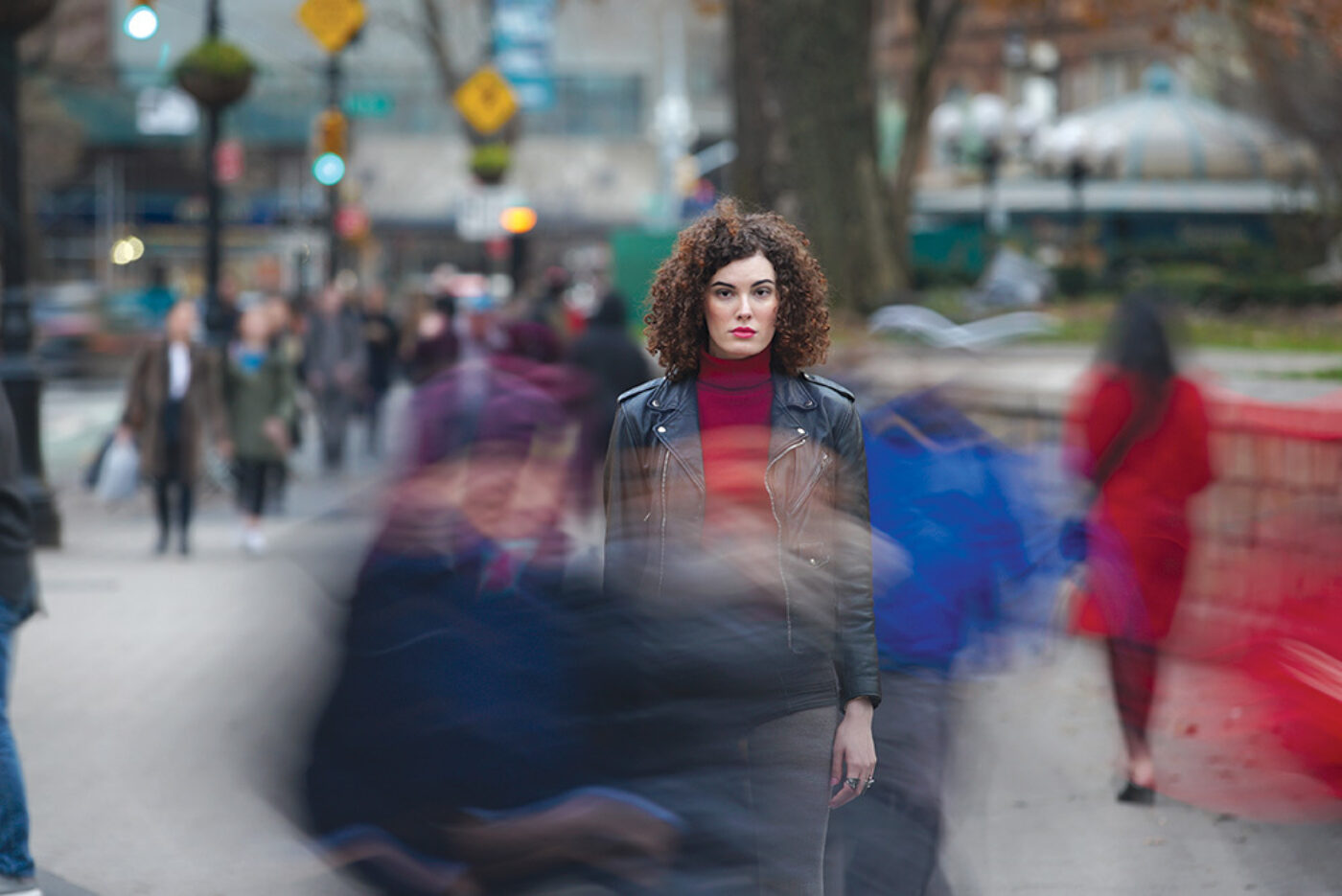 AJ He's helping his patients have their exterior reflect their internal self. Yet he himself could be seen as a conflicted character because his external daily life as a surgeon doesn't necessarily reflect his interior life as an artist. I mean, it's obvious that he's a very sensitive person and he's working incredibly hard and overtime. He's exhausted and puts his own well-being to the side in order to help others. His creativity comes through when we see him play his bass, but his soul as an artist truly emerges in his ability to find new ways to advance transgender surgical procedures and care.
TC Definitely. He's a complex and very talented and ambitious person. Trying to balance his story and the stories of his patients was not easy. I didn't want to take away from the patients and these life-changing surgeries, which needed to be explained in ways that a general audience can understand.
I was also totally aware of the concern over cisgender people's fascination with trans bodies and of how surgical transition is a topic that people inside the community have different views about. But Dr. Ting says it very clearly in the beginning, setting the tone for the film: "Not every patient wants to have a surgical transition. Transition can take many forms. You might just change your hair color, your makeup, the way you dress, your name, your gender marker. You don't have to have surgery. I see a subset of the transgender population: only those patients who desire transitional surgery." It was important to make that clear right away: this film is about a doctor who sees only a very small percentage of the transgender population, and his patients are people who are looking for surgical transition because it's a necessity for them.
AJ And for them, surgery is a lifeline and Dr. Ting and Mount Sinai Center are performing a critical service.
TC Health care is a human rights issue. Transgender people who choose to go through surgical transition have the right to treatment and to doctors who practice safe, professional, and respectful care. It's important to hear individual voices from this segment of the community, so we can understand their needs and learn to support them. And for those who are advocating for comprehensive transgender-related healthcare, I hope this film has given them a voice as well.
AJ What kind of reactions have you gotten from audiences so far?
TC I just came back from the Palm Springs Film Festival, and after a screening a man came up to me, saying, "I recently retired and moved to Palm Springs. I heard about the film and wanted to see it because I felt like I had a lot of misinformation about the topic. And prejudice, to be honest." Then he started crying and thanked me for not only making him understand but also for teaching him empathy. I was very moved by his comment.
I've heard many incredible things at these screenings. I've never made a film where people come up to thank me. In a way, the film has been opening people's minds. And that's the best thing I could have hoped for. For producer Michelle Hayashi as well, who worked so hard to get this film made.
Many times when we were in the editing room, we reminded each other that we're looking for similarities, not differences. Whoever you are, whether you're part of the LGTBQ+ community or not, whether you're tall or short, this or that, you can relate to a lot of these characters' hopes, for instance Cashmere saying, "I hope I find somebody who falls in love with me."
AJ I also loved when she said, "I deserve my vagina."
TC Right! Who doesn't deserve their vagina?
AJ Obviously, you must have come away from making this film having learned a whole lot.
TC Well, I think what I learned most of all is that society needs to change. That's also the message I give at the end of the film when Dr. Ting talks to a young transgender girl on the phone who wonders when she can have surgery. She's fourteen in the film.
AJ It's a very poignant ending. She says, "I'm very impatient." Do you see increasing awareness of gender dysphoria beginning in childhood?
TC Definitely. We're in a very different time now, with more understanding parents. I love when the surgeon Marci Bowers says in the film, "It's not a trend or a fad; it's part of the human fabric, and it's been here since the beginning of time."
Amy Jenkins is an artist and filmmaker. Her most recent film, Instructions on Parting (2018), premiered at Doc Fortnight at the Museum of Modern Art, New York. Her current documentary in progress, Adam's Apple, is a collaboration with her teenage transgender son.
Originally published in
Our spring issue features interviews with Chitra Ganesh, Tania Cypriano, Charles Atlas, Netta Yerushalmy, Vi Khi Nao, Amani Al-Thuwaini, Andrea Hasler, and Bruce Boone, as well as fiction from Verónica Gerber Bicecci, Justin Taylor, Rebecca Dinerstein Knight, and Lee Relvas, and poetry from Shuzo Takiguchi and Bruce Boone.