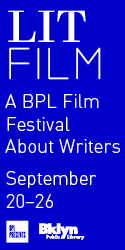 He got on the bus (yes, it was him) and I
waved to Andres who acted as if he didn't
see me. Finally, he sat down next to a fat
lady and so there he was, two, three seats
in front of me, talking to himself: moving his
head, gesticulating with his arms, one hand
propped against the window, shaking his head:
yes, no, as if answering himself. At the corner the
bus stopped and he got up to get off, but changed
his mind, talking to himself the whole time, poor
guy, I thought, they're going to put him away for
at least a year, you never know. A young girl got
on and sat next to him. She took one look at him
and moved away a little. Now he scratched his
head and looked at his nails before moving to
prop his hand back onto the window. But his
elbow crashed into it as if he were discovering for
the first time that it was closed. The girl (about
17, dyed blonde, in very tight pants) looked at
him. Andres tried opening it, pulling down on the
glass. It wouldn't budge, I think it was stuck.
     He couldn't pound it down, he tried twice,
another time, he couldn't, he said something like
"fuck" or "shit" because the girl had moved-
farther back, leaving after the first try. I made
some room and she sat down between the fat lady
near the window (she had moved, too) and me.
    The bus was now on Avenue B near Salsipuedes
and 5th of May, not stopping to take anyone on.
Flags hung from every balcony, on both sides:
banners and Viva the 3rd of Novembers in red,
white and blue.
    At the market stop the bus took on the smell of
tripe, tangerines, cashews. Andres asked to get
off: s-s-s-t-o-o-p! and he got off. He was filthy,
his shirt back and front. Hey! the driver shouted,
keep talking to yourself and they'll put you away
for a year. Andres could only stare back at the
driver's messy shirt pocket full of yellow pencils.
Translated from the Spanish by Charles Tarzian.
Benjamín Ramón: Panamanian, born 1939. His books include Puta vida y otros poemas (Shitty Life and Other Poems), 1969.
Originally published in
Cindy Sherman, Dario Fo, Bruce Weber, Lisa Fonssagrives-Penn, and Raymond Voinquel.