Symptom of Society: Luba Drozd's PPE Fabrication Initiative by Jasmine Dreame Wagner
3D-printing face shields to combat the shortage of PPE for hospital workers.

Discover MFA Programs in Art and Writing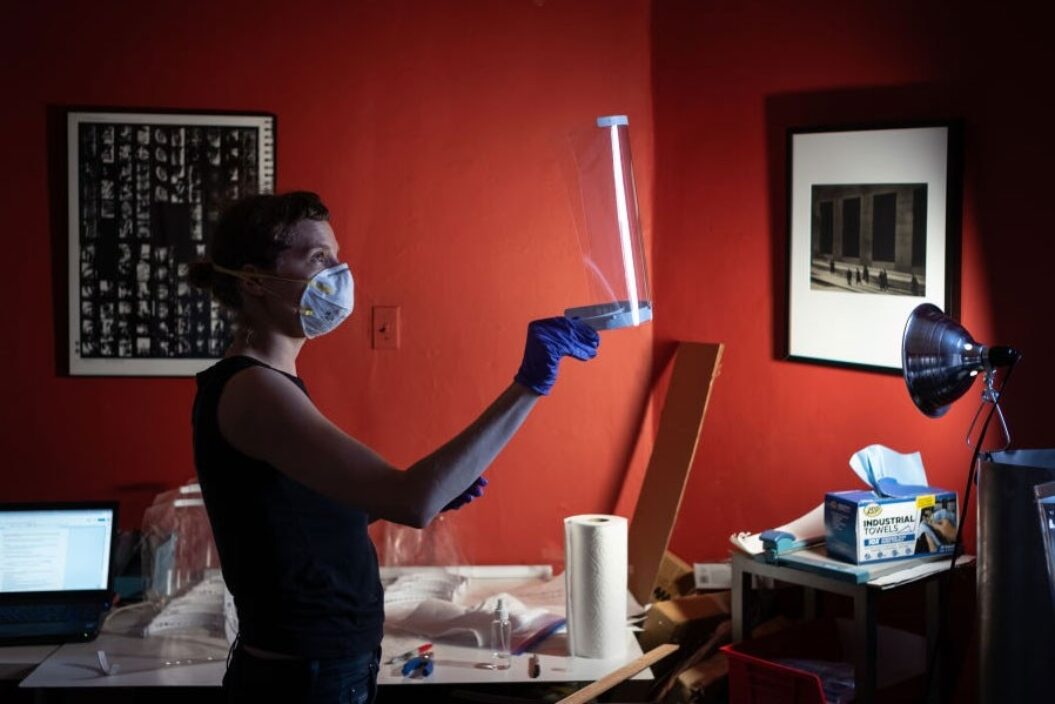 The fourth in a four-part series on artists combatting the pandemic.
Installation artist Luba Drozd had just returned from her artist residency at Yaddo when the New York City Mayor's Office declared a state of emergency, banning public gatherings in an effort to curtail the virus's spread. Across the United States, cities began to institute stay-at-home orders as reports of delayed personal protective equipment (PPE) deliveries and insufficient ventilator stocks flooded the news media. While searching online for a way to help, Drozd came across an article featuring Italian volunteers 3D-printing respirator valves for hospitals and realized that the discarded 3D printers she'd salvaged from her workplace's storage unit could be used to combat the disease in New York City.
Drozd began to research ways that she could use the machines to manufacture ventilator parts for hospitals in need. She dove into researching industrial materials and safety guidelines in COVID-19 3D-printing online forums, tracking down the valve model from the article and printing the part at home. Unable to quality-test the valve to ensure that it was both safe and compatible with ventilator models used in the United States, she decided to focus on manufacturing face shields that could be assembled in full at home. Drozd located a shield design distributed by Prusa, the company that manufactures the 3D printers she'd repurposed from her workplace, and adjusted the design so that the face shields could be fabricated with acetate, a hole puncher from a discount store, and rubber bands. She used backup rolls of Duralar that she'd kept on hand from previous exhibitions and installations, along with rolls of white filament that she'd bought to experiment with at her (now postponed) residency. The day after Drozd assembled her first face shield and posted about her process online, she was inundated with requests for shields from health care providers.
Drozd's friend Kristina Bajunaishvili suggested that they start a GoFundMe campaign to raise money for materials and supplies and to offset travel expenses for an expanding group of volunteers coordinated by their collaborator Emily Janowick. Drozd and Bajunaishvili purchased gloves, alcohol, and face masks for the volunteers to keep them safe as they provided curbside deliveries of PPE to health care workers. They also purchased additional printers and starter filament to ramp up production. In the future, when the need for grassroots help with PPE eventually subsides, the group plans to donate the purchased printers to schools in neighborhoods hit hardest by COVID-19. "It's difficult to see the future right now," Drozd says. "As with so many people, I'm in shock. I'm in mourning. So much is difficult to process, and this work—3D printing the shields—is my autopilot."
When asked how the crisis and her volunteer work will inform her artistic process in the days to come, Drozd maintains that her practice, while influenced by current and historical events along with her experience as an immigrant and as a refugee, will focus on larger connections and symbiotic functions within ecological and sociological systems. She is fascinated by empathy and by the fabric of the universe. Drozd explains how, while creating her site-specific installation Franconia Notch for Knockdown Center, she imagined what a glacier would sound like as it pushed granite over centuries, how the glacier would sound to the terrain that it scrapes across. She sought to evoke the scale of glacial movements and to capture the relationality of the interaction between glacier and terrain by harnessing the vibrations of piano strings, drywall, glass, and granite as the materials oscillated organically in the building, creating a sound composition unique to the kinetic sculptural field.
"Much of my art practice deals with the subjectivity of perception on both micro and macro levels," Drozd says. "Each movement made, each position the viewer takes within my installations alters the sound, warps the parallax, and unfolds the space in a new and distinct way. Care and empathy require people to put themselves in someone else's place, to imagine and understand the point of view of someone completely different from them. This involves a larger perceptual leap than directly connecting an artistic expression to the experiences of people who are risking their lives, such as doctors, nurses, EMTs, and MTA workers. Our response (in our case, refashioning our sculptural tools and materials to fabricate utility masks) is a symptom of society, as Paul B. Preciado suggests in an essay in Artforum."
Drozd, Bajunaishvili, and Janowick are currently discussing ways to prepare for the virus's second wave. In the meantime, health care workers and essential employees in New York City and across the United States can submit requests for 3D-printed face shields through their website. They have opened up their studio to volunteers who can help with 3D printing, deliver PPE to New York hospitals and care centers, or package face shields to ship to other cities. "The best way to get involved," Drozd says, "is to change the way our society treats and values human beings. It is truly horrific that many politicians have offered to sacrifice elderly and immunocompromised people, and by extension, healthcare and essential workers, to the economy. We need to be more vigilant, more active politically, in order to change course now."
Luba Drozd's face shield fabrication project is ongoing.
Jasmine Dreame Wagner is a writer, artist, and musician. She is the author of the collections On a Clear Day (Ahsahta Press, 2017) and Rings, and six chapbooks. An EP, Switchblade Moon, will be out in June 2020.