Discover MFA Programs in Art and Writing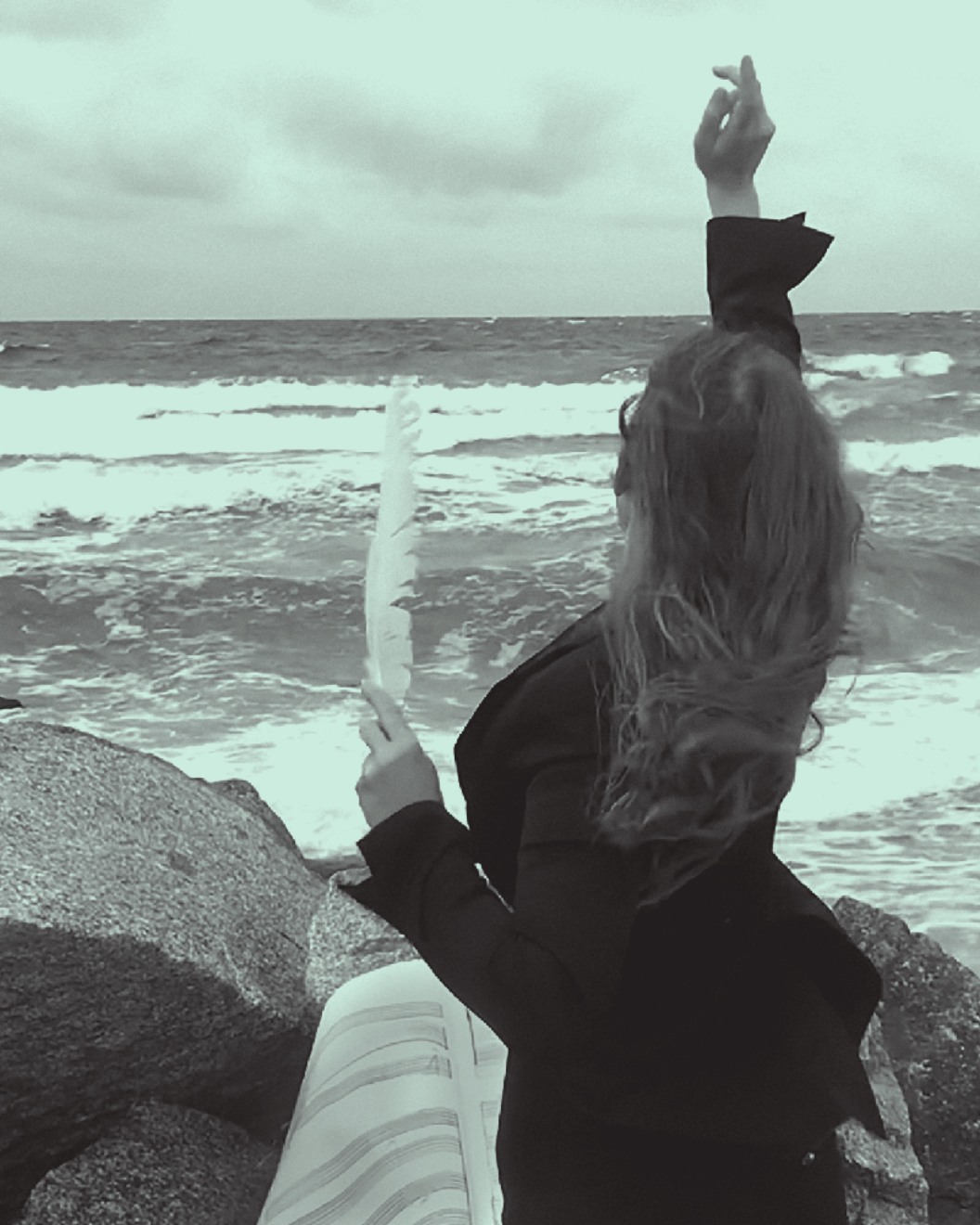 Excerpts from a Composer's Journal
Hiddensee, Germany
Day 1
Waves approach. They approach me. Their hungry mouths open, they spit syllable bits through foaming teeth. Songs for me or random roaring? No, there might be a rhyme. I'll write down what I hear. I'll learn the language of the sea, the rhythm of its scattered verse. I'll capture every sound until the record is complete: a hymn, a symphony perhaps. Each morning, standing on the shore of the Baltic Sea, I'll follow the waves, wherever they might lead.
Day 8
Waves approach. Waves break, releasing the captive wind in a single blast. The land, poised, listens to the wailing surge that kills the seagulls' song and every ringtone. Waves draw circles in the air. I trace their lips for notes. Spindrift sheds erratic melodies onto my composition sheets. All patterns dissolve.
Waves watch me as they appear and disappear. Sunlight rides their backs and sinks into the vision of the sea. Something has sunk deep within me.
Sea, you're inhabiting me. I can hear you murmur, hear you breathe. Your wayward waves dizzy my guts. You rush through my fingers, flow through my sight. You tickle my temper, deluge my nerves. You drown my chest, arrest my breath. Others have livers and lungs, I have you howling inside me.
Day 21
Morning: Waves approach. They chase each other, chase me. They curve onto my composition sheets—circular, elliptical, curling around the staves. Noting down the sequence of the sea's surges, I vow to decipher its whimsical chant, locate its pitch, break its code, break the wave.
Evening: The score is partly finished. My first attempt to conduct the symphony, facing the sea, my orchestra. I still have corrections to make— adjust variables, remeasure phases, perfect the bars. Movements and melodies are clear but the rhythm still confounds me.
Dusk: I'm tracing the tide. Light and wind are gone, I leave.
Day 25
Approaching waves, let me create you. Let the conductor's hands lead you. Let me slow you down, stretch your long, dark spines. Let me make you rise and gather speed, burst into a thousand glassy sounds, just as you've shown me.
Afternoon: Wind 25 mph. Wave amplitude 6 ft. Phase 4 sec. I've found the key, unlocked your secret tonality!
It's only us at the beach: wind, waves, and I. The living landscape spreads before me. Waves run side by side. We look at each other. Here is your symphony.
I start conducting. Together we follow the score, a timed interpretive frame.
As I conduct, I enter the sea. I enter you as you've entered me. We cannot be apart. Windswept waters flood my mind and wash away all thoughts. I saw the wave see me. It named me.
I am yours. Close over me. Consume me.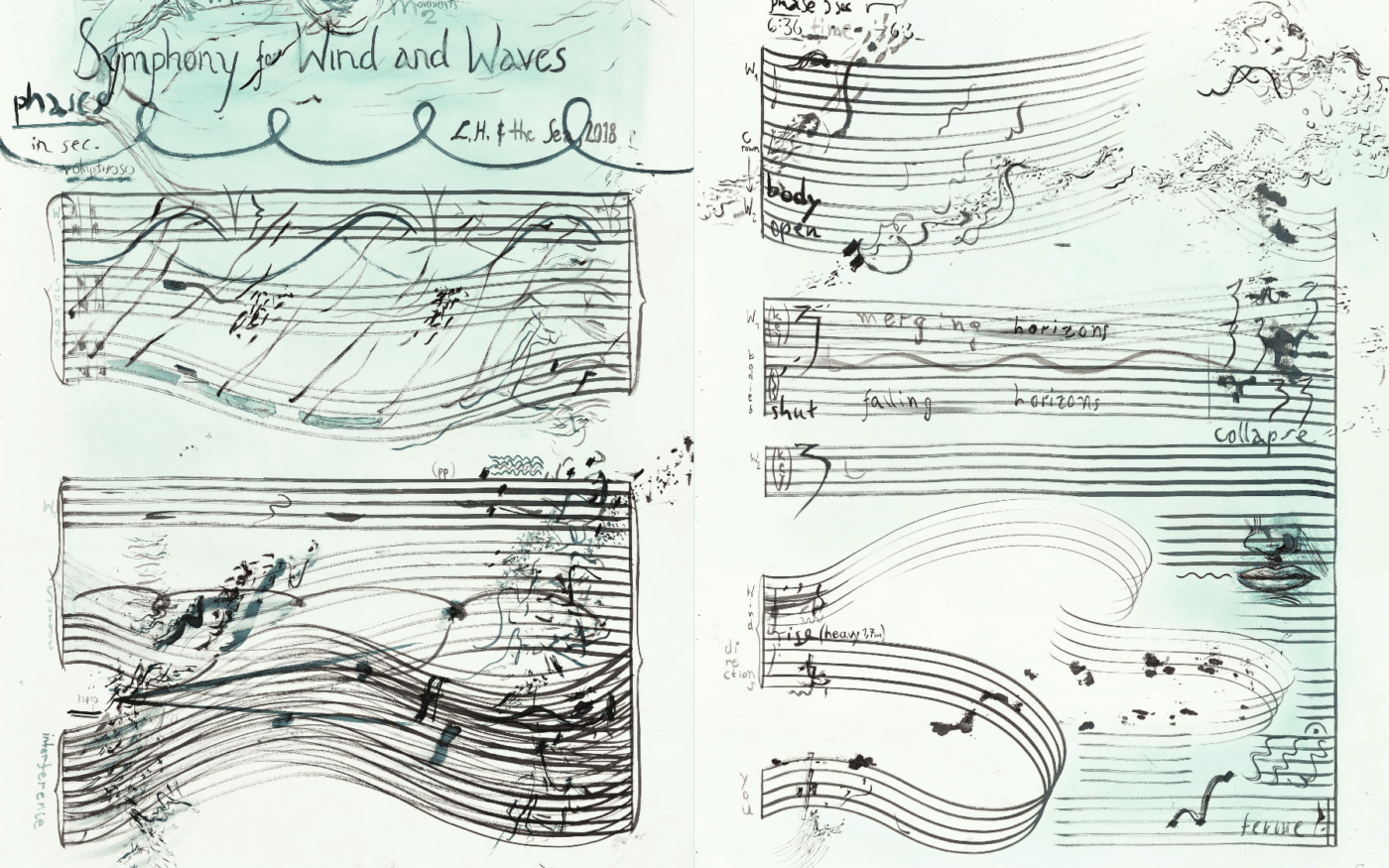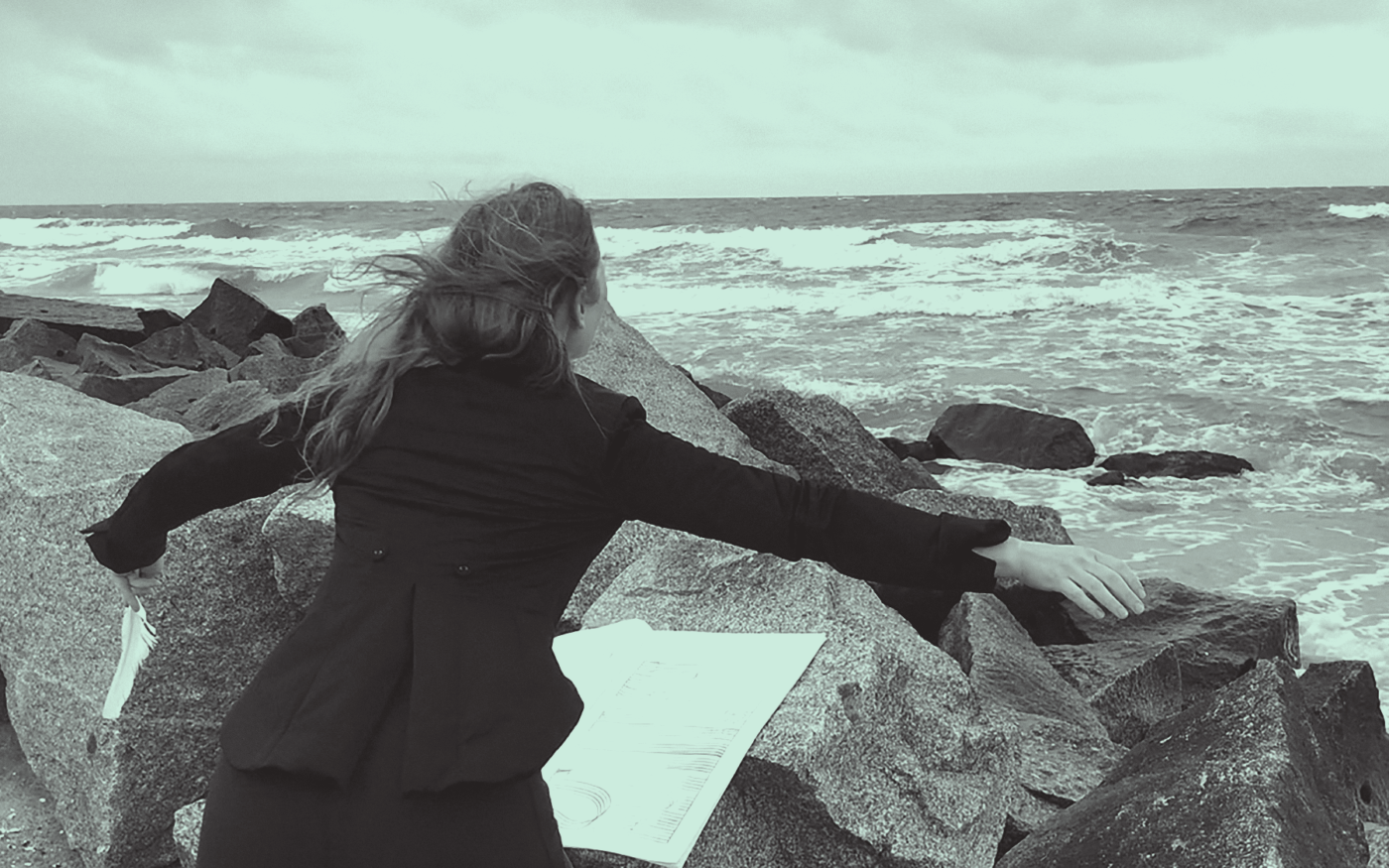 Prologue
Far away from any coastline. Where the wind strikes the water for the first time. Where waves start to grow.
A young wave stretches its quivering back, reaching for the wind. At the heart of the ocean:
[wave:] wind, take me
[wind:] who are you, wrinkled mirror of the sky?
touch me
in this liquid desert
I open my body
I fly
I shut my body
I found you
you have no face, contourless you are
I am no one
you struck me
but a rising laughter
tickle my spine
with the tip of my toe I'll form you
caress me more
I'll make you wave
I'll follow you
and rise
I am not simple
I make you sing
you dream of me at night
I never sleep, I only breathe
when you lie entangled in my ripples
and drive you to your breaking point
we are drawn into communion
I hunt you
in our shared, felt motion
down
I have been a thousand waves
I draw silver lines across your ribs
I cannot keep away
filaments in circles, you are
faster, faster, I constantly change
unrecognizable
by my hungry mouth, I cannot remember my past
you consume me
dance with me, higher
I'll betray you
but my desire persists
I play you backhanded
more speed and friction, hurry
phtzzcsh chase me I chase you
my jaws open, I splash white words on you
I despise words
take my lips then, my shrills
for I have eyes to see the world
who stands there on the shore?
land in sight
ho!
oh, I will rattle trees, snap leaves
I put a spell on you
hither and thither I will dazzle, loosen hair
no, you stay with me
farewell
no one can resist my charm
come onto the land and catch me

Left behind, the angry water pounds on the shore.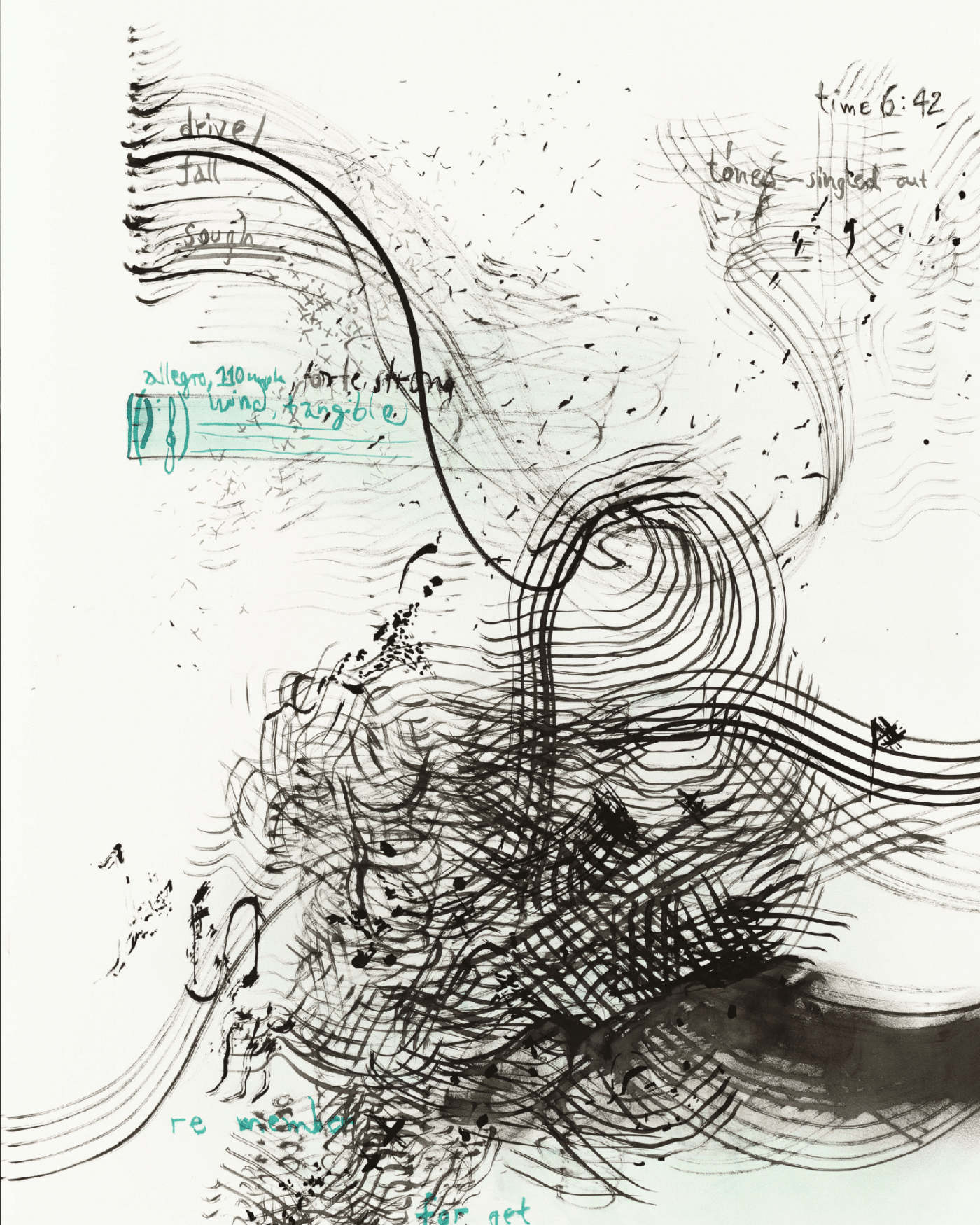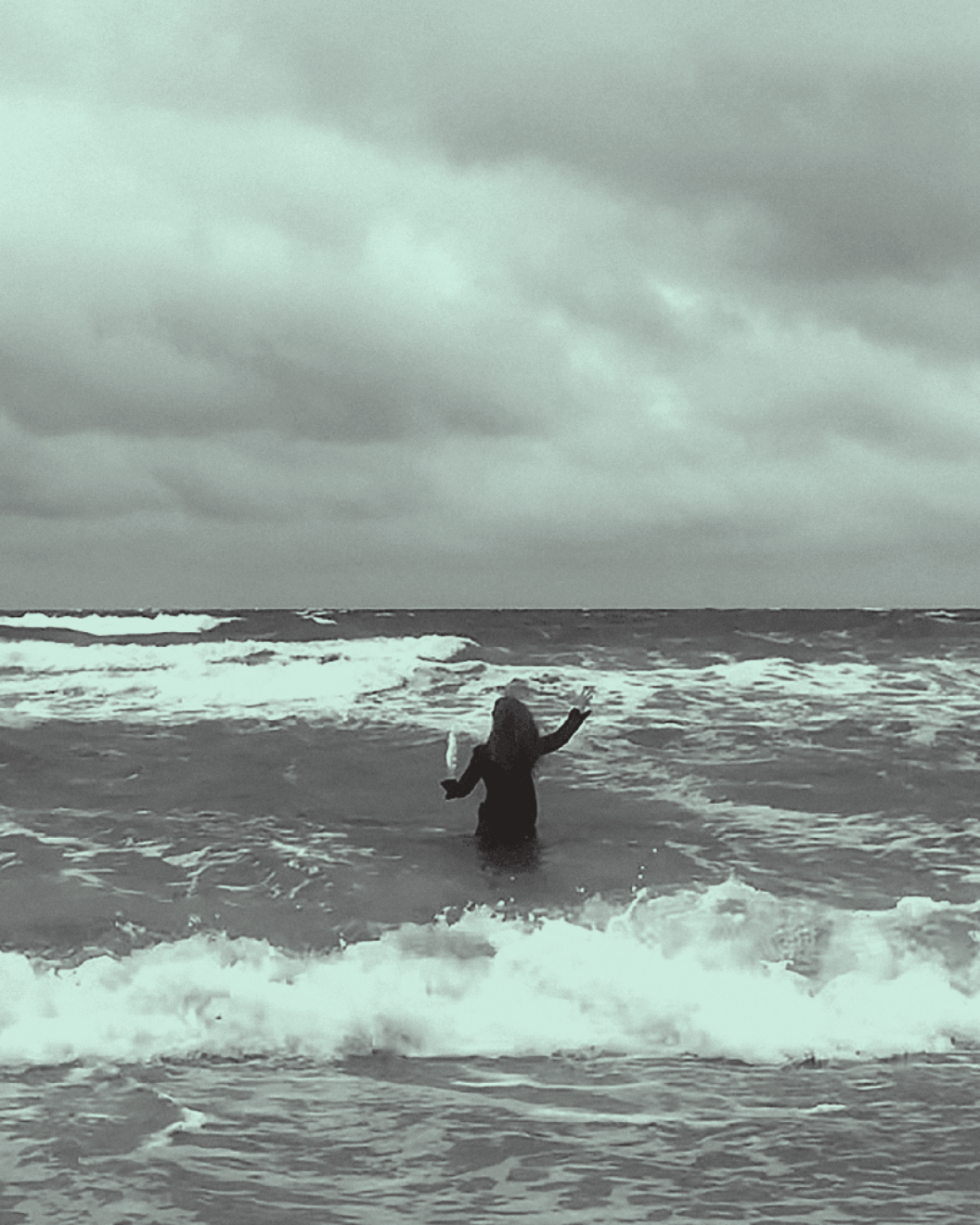 Lou Hoyer is a Berlin-based artist who works in drawing, painting, vocal performance, and writing. She's the publisher of the German artist journal Nichts als Schönheit. Recent exhibitions include Emotional Rescue at Elephant Kunsthall, Lillehammer; Behind the Curtain at SRO Gallery, Brooklyn; and Caput at Hilbert Room, Berlin.
Originally published in
Our winter issue is dedicated to this planet's greatest resource: water. With contributions from Saskatchewan and the American Southwest to Iceland and Northern Europe, an array of voices are brought together here—artists and writers investigating water as site, sustenance, and symbol, along with those expressing alarm and calling for intervention.
---
Featuring interviews with Lauren Bon, Oscar Tuazon, Jaque Fragua, Brad Kahlhamer, Ruth Cuthand, Janaina Tschäpe, Jessica Grindstaff, Tomoko Sauvage, Cecilia Vicuña, and Alicia Kopf, as well as writing by Laura van den Berg, Natalie Diaz, Stefan Helmreich, and more.