Syan Rose's Our Work Is Everywhere: An Illustrated Oral History of Queer and Trans Resistance by Tim O'Leary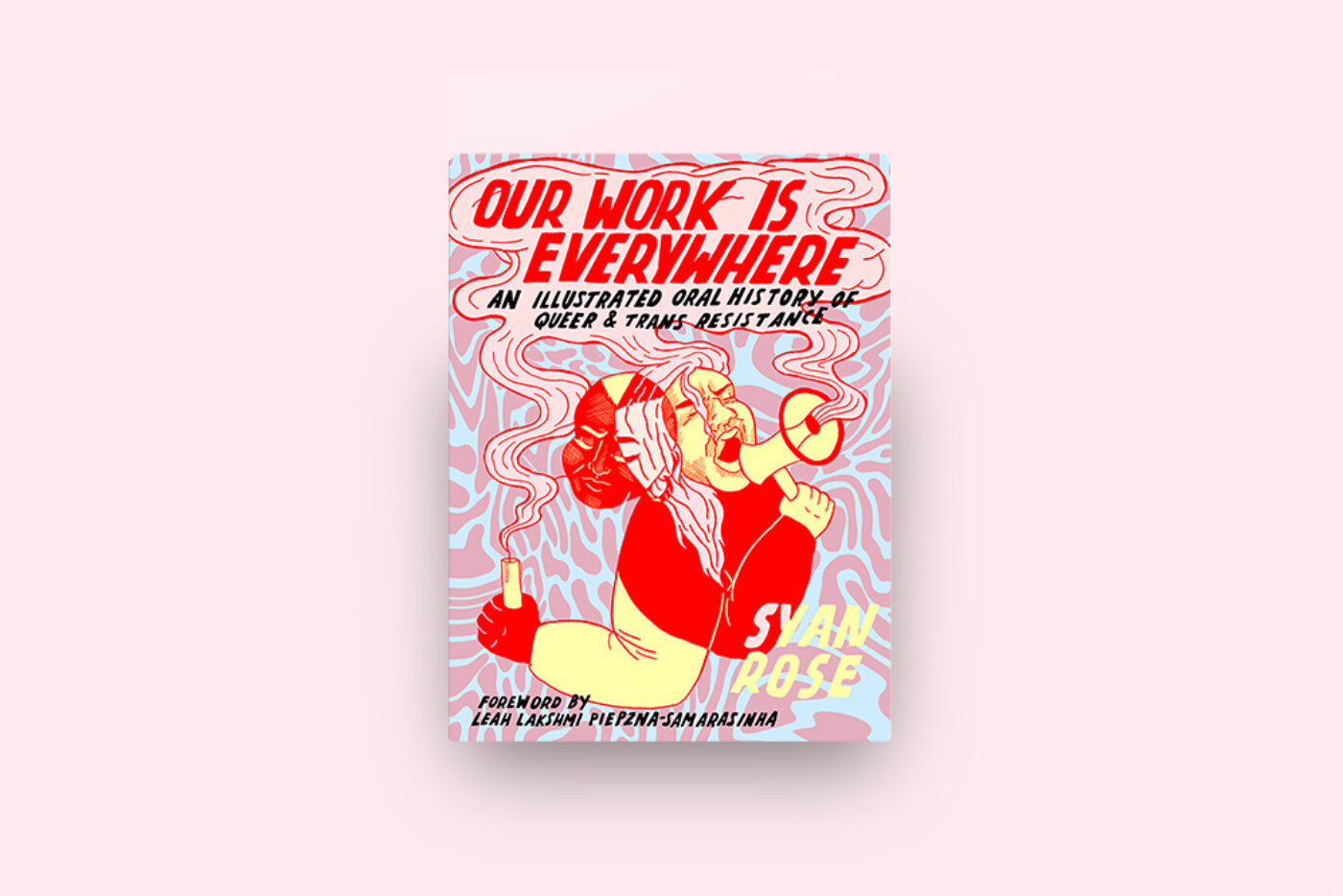 (Arsenal Pulp Press, 2021)
Our Work Is Everywhere, by the artist Syan Rose, is an impressive amalgam of interview and cartoon. It opens with an honest and naked expression of vulnerability. Syan Rose recounts her struggles with imposter syndrome, yet she makes a fiery declaration of hope. Her intimate conversations with a wide spectrum of queer and trans people coalesce with her art as she portrays the people she spoke with.
The artwork in this collection is permeated by a sense of urgency. Syan Rose has a gift of endowing her subjects' faces with charm, the crosshatched shadows and coy smirks lovingly rendered, and zooming in on intricate details. "Reclaiming and Revolting Bodies: Fat: The Play" includes delicate drawings of flowers, lipstick, fingers on keyboards, as well as hands clutching plump flesh—an image equally evocative of defiance as it is of despair. The raw power of working toward self-love and self-acceptance is clear and affecting.
Syan Rose states in her introduction that she wishes to expand what we think of as "work" to mean not only our professions but also the work we do to improve ourselves, each other, and the world around us. With such a broad definition, there is little cohesion to the subjects she chooses. She interviews sex work advocates, an astrologist/legal worker, an acupuncturist, several community organizers, martial artists, and even an Instagram face painter, among others. As with any anthology, one's enjoyment will vary depending on how closely they identify or empathize with the particular subject. But Syan Rose keeps the momentum going between each brief encounter, hurtling quickly from one subject to the next.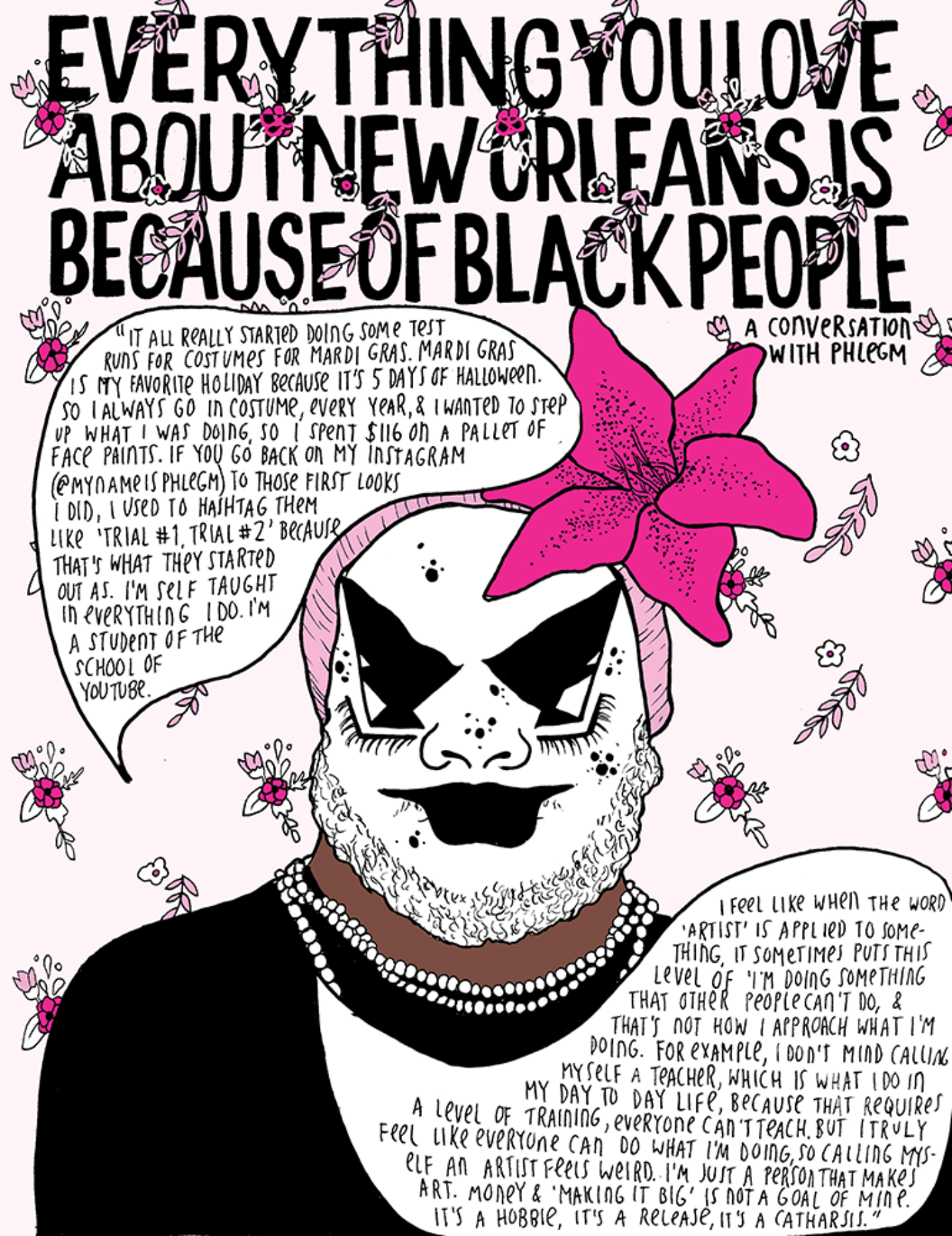 Of course, there is one thread running through this work of graphic nonfiction, which is that all of Syan Rose's subjects identify as LGBTQIA. A great strength of this work is how it displays the broad diversity that exists within this community, and the variety of experiences on which Our Work Is Everywhere sheds light is often eye-opening. In its most potent moments, it is incredibly moving.
This is especially true in the first piece of the anthology, "Crying Because the Wind Blew," in which her subject, Raven Taylor, discusses the difficulty of balancing her mental illness and chronic pain with the societal expectation that Black women are always the strongest people in the room. When Taylor laments that her feelings of weakness strip her of her identity, her pain is palpable and haunting.
Another standout is "Martial Arts is the Most Fluent Asian Language I Speak," a fascinating look into the experiences of two people who have found strength and stability in the study of martial arts, particularly Wing Chun, a style of kung fu founded by a woman and focused on soft movements before quick strikes. Among the topics the narrative explores are the racism and bigotry within the cis-white-gay-male community, and how for many QTBIPOC, life is a constant state of fight-or-flight. Channeling this energy into the calming practice of martial arts is a way to keep balanced. The artwork in this section showcases a series of martial-arts poses in a sleek and memorable subversion of gendered expectations—this fist has long red nails; that jump kick boasts platform heels.
With this honest exploration of the lives of some of the most marginalized people in society, Syan Rose has crafted an artwork that is profoundly moving and inspiring. Syan Rose says that a worry she had during the creation of Our Work Is Everywhere is that her progress was too slow, that five years was too long a period to complete her book. I'd posit it was worth the wait.
Tim O'Leary is a screenwriter, director, and ghostwriter. He is a graduate of the UCLA Professional Program in Television Writing, and was one of the cocreators of the comedy series Moms Anonymous, executive produced by '80s video-vixen Tawny Kitaen. He is the creator of the upcoming queer horror-comedy-action series Demonhuntr.
Originally published in
---
Our spring issue features interviews with Tiffiney Davis, Alex Dimitrov, Melissa Febos, Valerie June, Tarik Kiswanson, Ajay Kurian, and Karyn Olivier; fiction by Jonathan Lee, Ananda Naima González, and Tara Ison; poetry by Jo Stewart, Farid Matuk, and Joyelle McSweeney; a comic by Somnath Bhatt; an essay by Wendy S. Walters; an archival interview between Barbara Kruger and Richard Prince; and more.