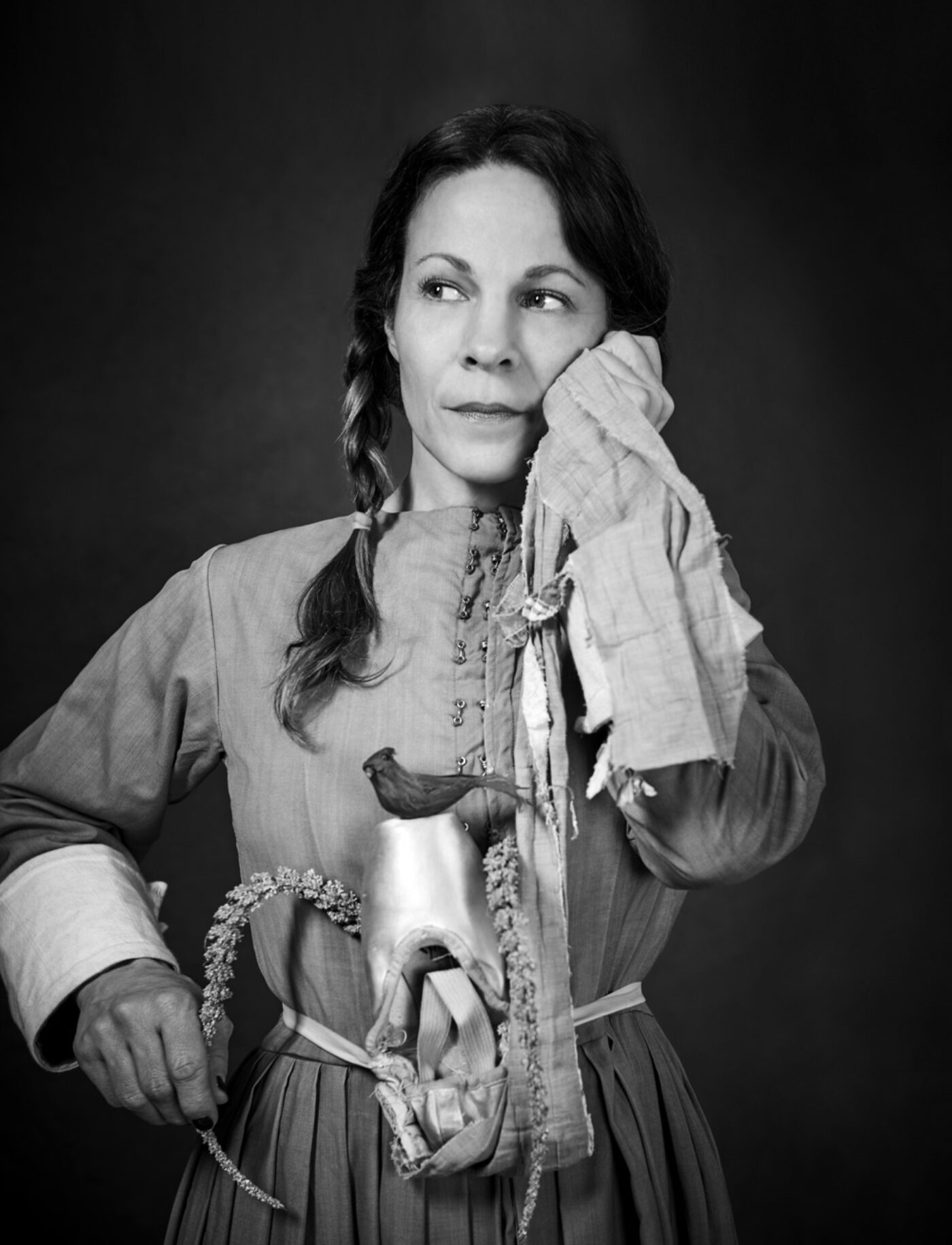 The Select Equity Group Series on Theater
I met Suzanne Bocanegra many years ago, before her children were born and grown, and even then she was making intricate art about the details of domestic life. Whether she took her inspiration from the flower petals of a famous painting, or from the design of Scottish tartans, or from the cupboards of her kitchen, there was always an elaborate and careful consideration of how the mundane, under the scrutiny of her attention, could resonate with meaning. Lately, she's begun to expand the scope of her attention. Although she's still collecting the quotidian ephemera of the life she finds around her, now that ephemera is often culled from her past. With When a Priest Marries a Witch (2010), Bodycast (2013), and now Farmhouse/Whorehouse (2017), premiering this fall at BAM's Next Wave festival, she's been mining her memory, excavating stories and images from her past, collecting them, juxtaposing them, and turning an otherwise ordinary Texas girlhood into extraordinary art. Or theater. Or lecture. Watching the way she straddles genres is one of the pleasures of watching her performances. Another is the way she blurs the boundaries between performer and writer, unafraid to tackle the ambiguities of identity. And through it all there's the sense that, in the ridiculousness of the world, there's also beauty and profundity. Our email exchange was inspired by my curiosity about how a visual artist approached the task of putting ideas into words.

—John Haskell
John Haskell I see your work, at least partly, as essays, but I wonder if you think of yourself as a writer? You went to art school, I assume, so how did you gravitate toward writing, and specifically this form of writing?
Suzanne Bocanegra I never thought of myself as a writer. I never wrote unless I absolutely had to. Writing grant proposals was always excruciating, and whenever I'd find any personal writing here and there in my sketchbooks, it was incoherent and painfully embarrassing to me.
In 2010, I was asked by Larry Kardish at the Museum of Modern Art to give a slide lecture on my work. I had always wanted to tell the story about a scandal in my Catholic church in Pasadena, Texas, involving our parish priest and a local artist. This scandal happened when I was eight years old, and it made me want to be an artist. When I was asked to give this lecture, I decided that if I was ever going to tell that story, now was the time. And writing was what I had to do to tell the story. There was no other way around it.
I wrote down all the things I thought were interesting about the story that I vaguely thought I wanted to include. It was a beginning. From there I made a cold call to the artist in Texas. He didn't know what to make of me and was suspicious, but he did tell me with some pride that his papers had been photographed and were in the Smithsonian's Archives of American Art. I started researching there. There was a ton of stuff—lots of letters, newspaper articles, family photos, church bulletins, legal documents. As I kept working, I realized I had to put the story in historical and geographical context, or it wouldn't make any sense. The thing kept unspooling, and I added images as I went along. Eventually I found myself with a real story.
JH The story in When a Priest Marries a Witch is less about the priest or the witch and more about you looking for clues like a private eye. Yet, when you presented it, you had an actor playing your part.
SB I had a hunch it would be interesting to get a professional storyteller to deliver it. At that time I didn't know many people in the theater world, but I had recently met your friend Paul Lazar. I asked him if he would perform my talk, as a one-off. He used a recording of me reading the lecture in his ear and repeated it after me. Paul was familiar with the technique after years of using it in Liz LeCompte's productions for the Wooster Group. We rehearsed for just one day and then showed it to some friends. I think it might have been you who suggested we use both of our voices. It seemed like an interesting idea, so the performance became Paul repeating after my recorded voice telling the story on the house speakers. In spite of some technical difficulties, it seemed to work as a piece. We started doing it other places, and then I started making other lectures. The first was for Frances McDormand, who did my lecture Bodycast and now Lili Taylor, who is touring my Farmhouse/Whorehouse piece.
JH I remember you and Paul at the early rehearsals, wondering what character, if any, he was supposed to be playing.
SB What I remember is, the first thing we tried was a literal imitation of me, but that really didn't work, and we moved on.
JH With someone else performing the text, do you think the experience for the audience is changed? Brecht talked about the alienation effect, which happens in your work because an actor who is not you, is being you, telling your story.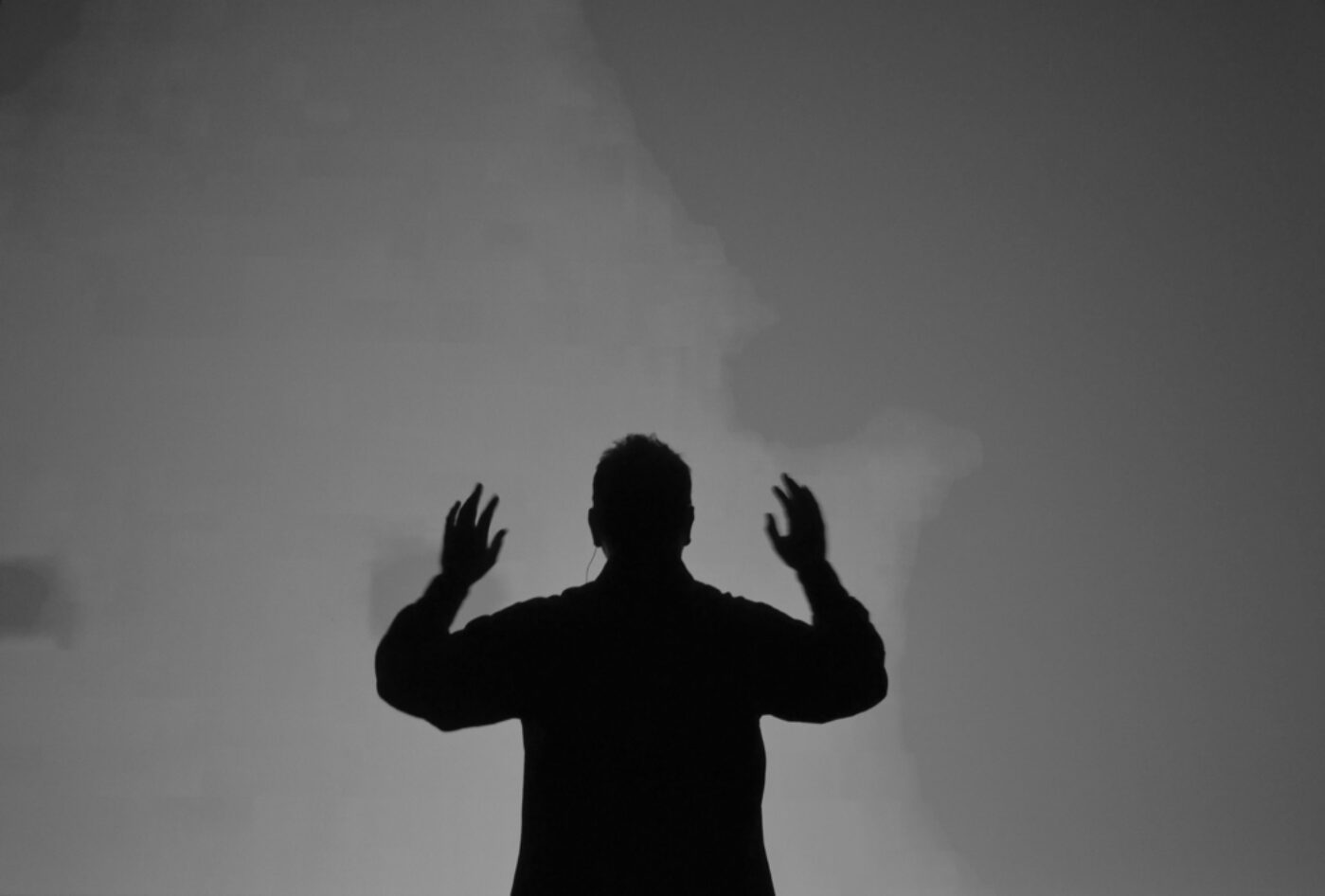 SB Over time it's developed that the most provocative way to present these pieces is for me to be on stage reading the script in real time. I'm usually off to one side of the stage, or sometimes sitting in the audience, dimly lit by a reading light. The actor is center stage, brightly lit. I read in a natural voice into a microphone, which transmits the sound into a speaker in the actor's ear. The actor repeats after me and performs what they hear. The staging frames the actual separation and simultaneous collaboration between the author's text and the actor's performance.
JH The actor is participating in a fiction (of being you), but when you're writing the text, do you ever make things up?
SB People always ask about making things up, especially art world people. There are many artists who invent stories, but they present them as nonfiction. Part of the viewer's experience is then to figure out it's not real. But I don't do that. It's not that I think nonfiction is more noble or something; it's just that I don't have that kind of imagination.
There's one thing in all my pieces that is "made up," and that is me. The actor is presenting him or herself as me, faking it, and the audience is in on it. Ever since I watched Paul perform as me, I've been interested in understanding that dynamic—how an actor creates an illusion of another person. The actor professionally pretends, using someone else's words and someone else's story. Someone else dictates their emotions. That dynamic between an audience and an actor is critical and symbiotic. The audience knows it's pretend and they accept that.
JH It's fake, yes, but it's also real.
SB Yes. The performances that audiences tend to admire and value are the ones that feel genuine and authentic. The audience wantsto be moved for real. That's kind of strange. Watching Paul or Frances or Lili or any of the other actors who've performed as me on stage always puts me in mind of classical Greek and Roman sculpture. The Venus de' Medici or the Dying Gaul are obviously marble statues, yet we admire their realness. Actually, we marvel at their fake realness. But more importantly, we admire their heightened beauty and emotional expression when illusion is manipulated to great effect.
That is never accomplished by exact imitation. It can only be accomplished by interpreting reality. A really good actor can do this. With the force of their personality and their physical body, they can manipulate an illusion of someone else to great effect. It's like the way Ingres made his harem ladies, his odalisques, look extra elegant and languorous by adding an extra vertebrae or two.
My lecture performances are not an imitation of me. The actor performs a more effective, funnier me, a more compelling me. An enhanced Suzanne Bocanegra.
JH Is that why you've chosen not to perform the lectures yourself?
SB I am not an actor. I can only be myself on stage. I can't be someone else or enhance myself in any way. Through an actor, I can consider the nature of presentation itself. I can ask questions about what a person is, and what is real, and what is fake. And if all goes as planned, I can seduce an audience to listen carefully and be moved. The way an actor can turn a phrase I wrote to make it funny or make it sad is always a small miracle to me.
I also do have a piece that I perform myself. I made a one-person performance in my studio called Studio Visit. It's a dialogue between me and a very controlling video image of my head. Like in the lecture pieces with an actor, I am still experimenting with authenticity, but Studio Visit Performance is also about how we create.
JH When performed, the visuals in your pieces—the slides and videos—exist in tandem with the text. How and when do the visuals come to you? If a picture is worth a thousand words, does that mean you need to use fewer words?
SB Pictures are the best! Some bits I write get included just because there's a bunch of great images that I'm dying to use. And sometimes images are simply a way to efficiently explain what I'm talking about. I've also discovered you can make weird, funny connections by juxtaposing or sequencing images. They can make great punch lines.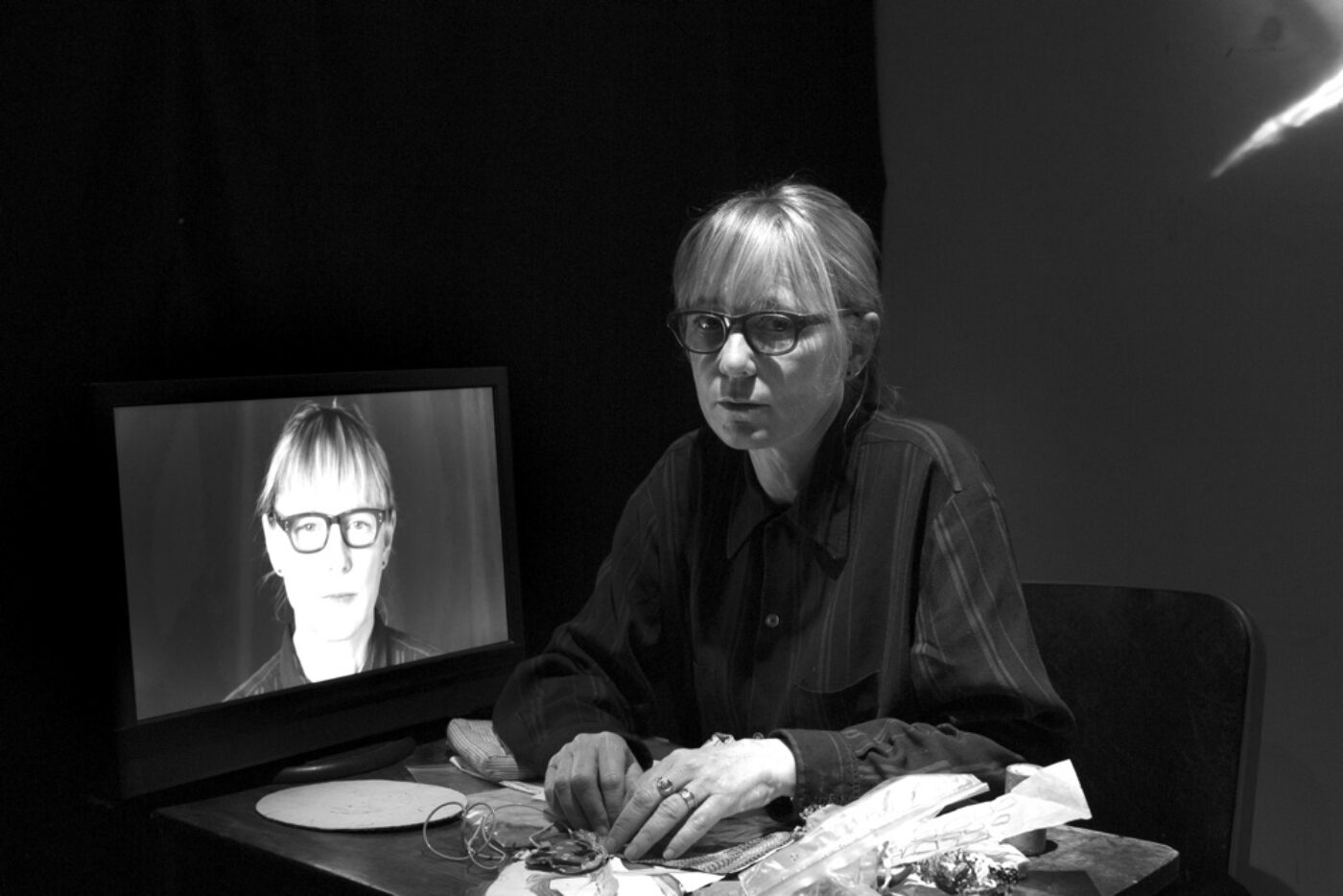 JH Do you write the text first and then search the Internet for images, or the other way around? Does rewriting also means revisualizing? I'd like to hear about the editing process, for both the text and the images.
SB Here is my process:
I start with an idea—some vague notion I've wanted to spend time thinking about.
This idea will generate a bunch of random thoughts. I try not to be too thoughtful about those thoughts. I want stuff that just pops up—a bunch of hunches I don't really understand.
I write them all down on index cards and put them on a wall. I stare at them. Not constantly. But they're up there, and they're real objects now, and they stay in my mind.
I make subsets of the original cards and put them on a wall. I stare at those.
I do a bunch of stuff to the cards. Categorize them, color code them, move them around, add to them, edit them. Stare more.
I go to the library and walk the stacks.
I wander around on the Internet.
I order books if they're not too expensive.
I go through the books and fill them with post-its.
After a while, I go back to the post-it marked passages and see if they're still interesting to me. Then I write on cards the passages from these books that give me something.
Meanwhile, I'm collecting images. Sometimes online. Sometimes scanned from the books. Sometimes they are images that correspond to the index cards. Sometimes they are images I really love and just want to talk about and look at more.
These images generate their own ideas.
I repeat all of the above as needed until I have a map of the piece, more or less.
Somewhere along the way I start writing, in chunks.
I print out the chunks and hang them on the wall.
I move them around and rearrange them.
I add, subtract, shuffle, and rewrite everything. It's not really that different than how I make a painting or a sculpture, now that I think about it.
Eventually, I have some sort of script and can start working on how to perform it.
JH You also design costumes and sets for theater and dance. Does that affect your writing?
SB Theater starts with the text. My approach to making costumes or sets is to read the text, and then go to my studio and channel it.
I came across something Roland Barthes wrote about theatrical costume. To paraphrase: the costume must be an argument. It's a kind of writing to be read, and it should have the ambiguity of writing. I like that. Costumes and sets are their own kind of writing, and I really love making them. They provide a visual commentary on the text.
JH Bodycast was about your personal experience of being in a body cast, but it expanded to other, larger concerns. How did you find those?
SB I'm easily distracted, a first-class meanderer. I've decided that is a good thing.
Richard Foreman said in one of his essays, "The play is a lecture in which you don't say 'This is so…' but rather…. 'This occurs to me and it occurs to me that the reason it occurs to me is this act, which occurs to me,' and so on and on, deeper and deeper." That's what I aspire to. I think that approach allows me to rummage around in my head and see where it takes me. I find that usually leads me to something more interesting than if I faithfully serve a single idea or concept.
Practically though, I read what I've written first with the actor and the director and eventually the boring, too personal stuff gets jettisoned, and so do the off-topic digressions. It's tricky though, because sometimes personal is really interesting and veering off topic can be the best part of a piece.
JH Your new work, Farmhouse/ Whorehouse, is about many things, not just farmhouses and whorehouses. Can you give a little synopsis?
SB The piece is about my grandparents' farm in Texas, which I loved and always idealized as a kid. By chance, the Chicken Ranch, famous as the Best Little Whorehouse in Texas, was across the road from their farm. I tell the story of both the farm and the whorehouse, and these stories lead me to examine the pastoral and the prostitute in the history of art, the history of utopian communal experiments in rural America, romantic notions of farming as noble and honorable, and a few other things.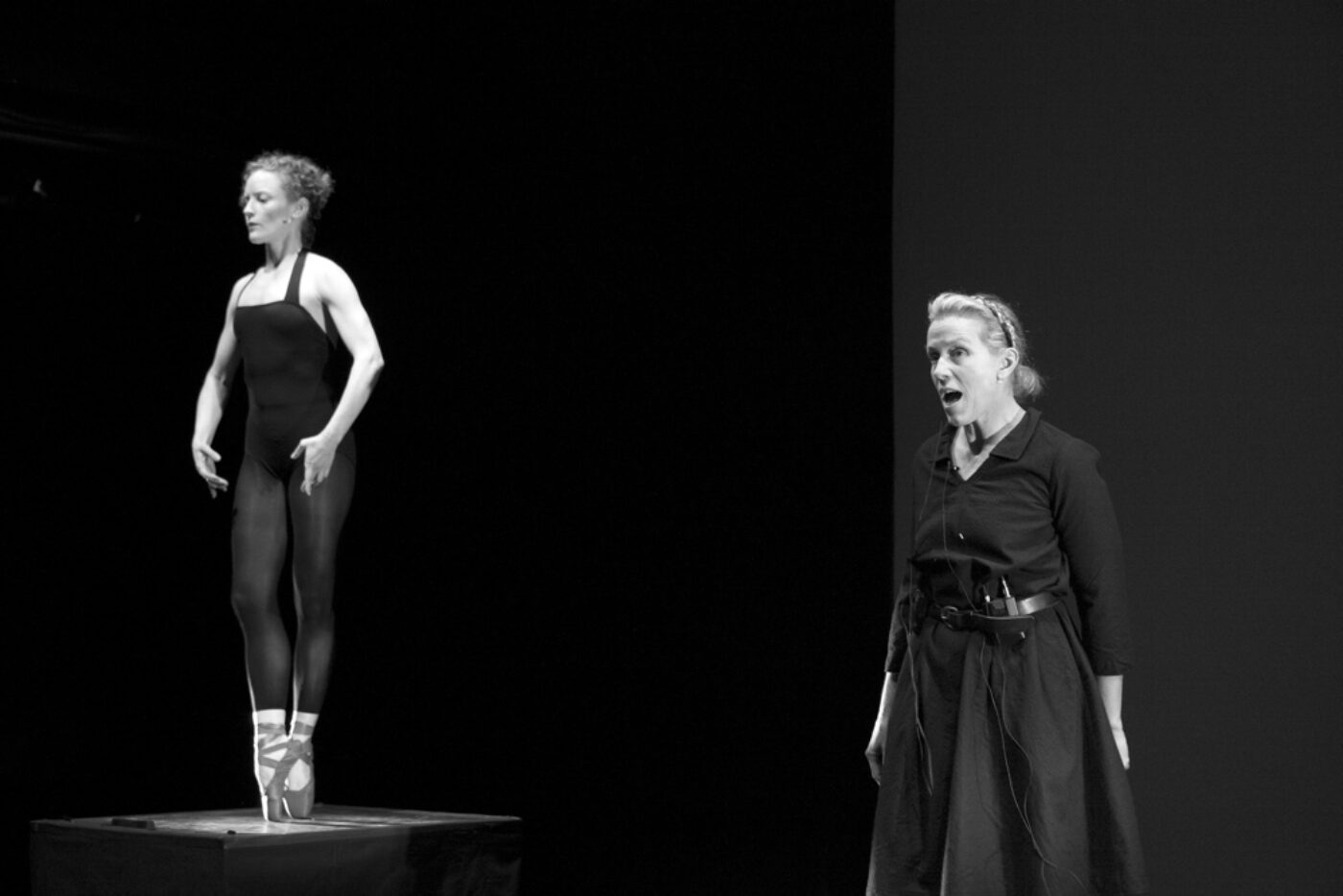 JH I've only seen an early rehearsal of Farmhouse/Whorehouse, but even at that early stage, even when you didn't have all the images, there was so much information being woven together.
Who are the writers, artists, filmmakers, and performers you admire? Who has influenced you as visual monologist?
SB I didn't know I was a visual monologist. But with that in mind I'd say Agnès Varda's The Gleaners and I. Spalding Grey's Swimming to Cambodia. Moyra Davey's Fifty Minutes.
My all time favorite writer at the moment is Emmanuel Carrere. Other Lives but Mine is beautiful.
I really like Cynthia Ozick. Her essay "She: Portraits of an Essay as a Warm Body" is a short erudite description of what art is and what art isn't.
Hold Autumn in Your Hand by George Sessions Perry. No one knows it, but it's so good and won the National Book Award back in 1942.
Maggie Nelson and Karl Ove Knausgaard. Everyone's favorites at the moment, and mine too.
Books I would buy in a used bookstore even though I have several copies at home would be:
My Mother's Sabbath Days by Chaim Grade
A Midwife's Tale by Laurel Thatcher Ulrich
And Lincoln Kirstein's Movement and Metaphor: Four Centuries of Ballet.
Your book The Complete Ballet reminds me a lot of Kirstein's, and not just because they both deal with ballet. Both books are beautifully structured, with Kirstein's describing each important ballet carefully and chronologically, one by one. You describe a lot of those same ballets, with their fairies and their love at first sight and all those crazy magic spells, but somehow you manage to spin it in such a way that the ridiculousness seems down to earth and real. Not ridiculous at all. I didn't know that was even possible.
Your ballet descriptions alternate with a disturbing story about a man attempting to pretend he's someone else because what happened to him and who he's become is just too awful to bear.
I was a little annoyed at first that you kept weaving another story through those ballets—I didn't want to be interrupted. But as I kept reading,I began to realize that this story, of a man escaping from pain by becoming a different person, was ultimately what the book was about. You wrote about the very nature of performance itself—performance on stage (the ballets) and performance in life (the sad, sad guy). It's a beautiful and moving book. Interestingly, I think we're sniffing around the same territory.
JH Art, whatever form it takes, is a questioning of what it means to be human. Therefore, it is always sniffing around that territory.
SB Is that a question?
John Haskell's books include I Am Not Jackson Pollock, American Purgatorio, and Out of My Skin. The Complete Ballet, a fictional essay, was published this fall. His essays and fiction have appeared in many publications, including Lucky Peach, Conjunctions, and David Salle: New Paintings. He is a contributing editor of BOMB and A Public Space.
Originally published in
Featuring interviews with Amit Dutta, Lisa Sanditz, Nina Katchadourian, Anoka Faruqee, Michelle Grabner, Suzanne Bocanegra, Adrienne Truscott, Marcus Steinweg, Mike Wallace, and Lucy Ives.