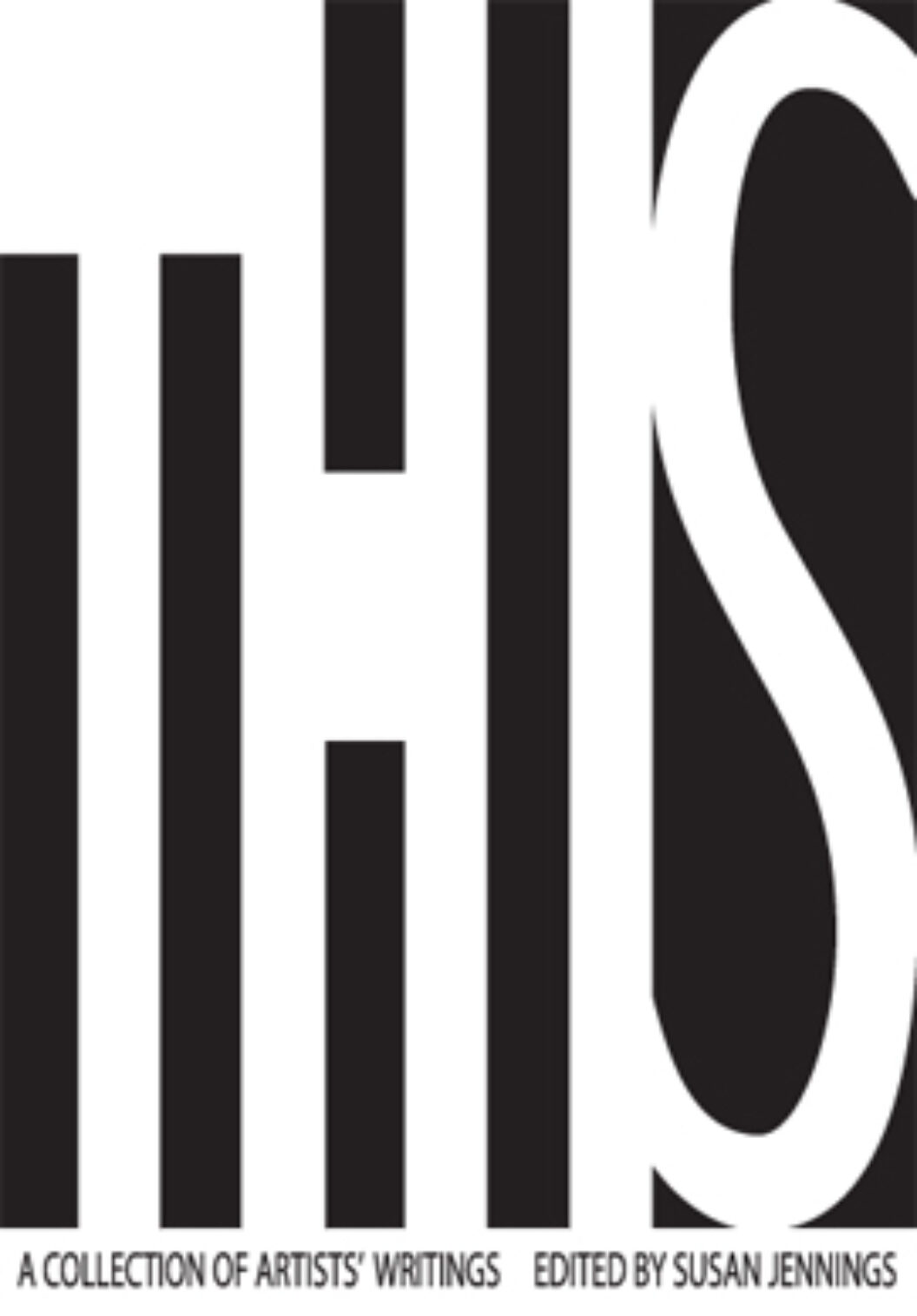 The collection of artists' writings in THIS, conceived and edited by Susan Jennings, is a convincing testimony to the fact that artists, indeed, can and do work across mediums. It is a liberating assertion, too, that artists are foremost thinkers—the idea of the artist as a politically and socially engaged individual who makes commentary on the world. THIS is a welcome collection of short writings that resist the policing of disciplines by encouraging a kind of liquidity mixture … you let it get all tropicalized. The more that artists, of all stripes, are willing to consider the disruption of clearly demarcated rules of disciplines, the more open the arena of possibility … the ability to change with knowledge. To be sure, language is everywhere, from Nylon microfiber cargo pants to CLASS WAR GAME ANIMAL ATTACK DOG DAYS, and Jennings's collection encourages visual artists to participate in the direct relationship of language responding to language, information responding to information.
These are our tools. Our maps. And part of what makes THIS such a great read is that the artists' texts are so widely varied—it is like my Uma experience—it breaks across genre with plastic hand puppets that came with the happy meals, with shiny, plaid memory-pegs in your deathbed and be at peace because I, Sean Landers, exist in your world, in your time, and have great love for you, all of you. THISgives witness to a blurring boundary where artists are writers and writers are artists—played by David Lee Roth_—and we might be more happily defined as culture-makers—played by Six Flags Great Adventure_—than by any single medium that is defined for us. As a poet I say the language arts are in crisis (yeah!), all aboard—relativize our own positions.
Word.
A must read.
Robert Fitterman is the author of ten books of poetry and the recent Rob the Plagiarist. He teaches writing at NYU and at Bard College's Milton Avery Graduate School of Arts.
Originally published in
Featuring interviews with Allen Ruppersberg and Cheryl Donegan, Allora & Calzadilla, Joel Shapiro, Lydia Peelle, Rebecca Solnit, Cherien Dabis, Karole Armitage and Lukas Ligeti, and Thomas Bradshaw.