Surface Information: Lucy Kim Interviewed by Leeza Meksin
Reimagining the human body.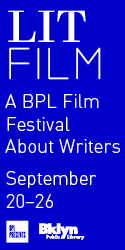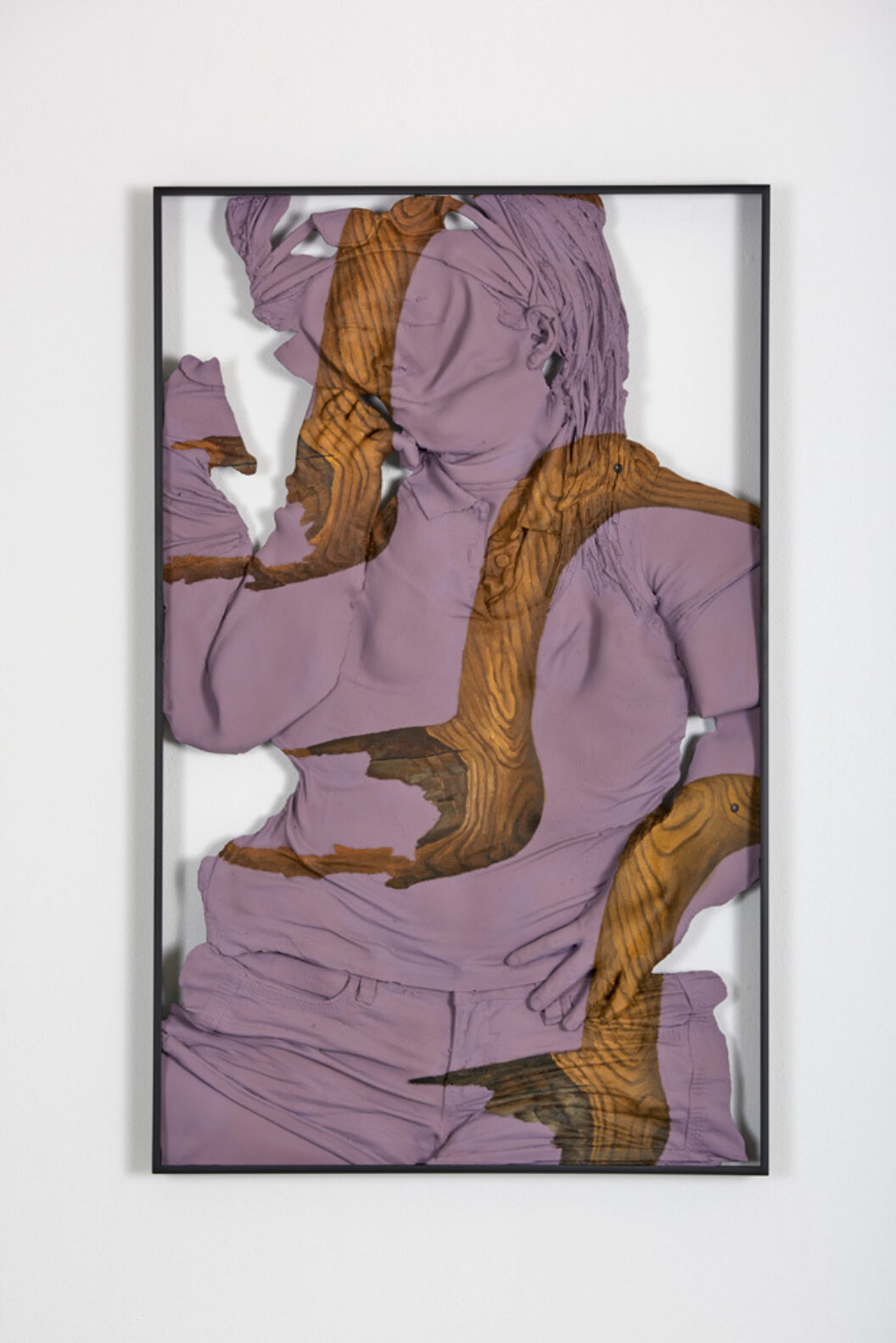 When Lucy Kim and I were roommates while attending grad school at Yale, she molded large sections of our apartment in aluminum foil. She prepared big sheets of aluminum by joining the narrow strips from standard kitchen rolls, and, while wearing gloves, she would create delicate rubbings over wainscotting, tile, appliances, shoes, and other objects around the apartment. The immediacy of this dogged rubbing process stuck with me as embodying Kim's insistence on engaging physically and materially with her subject matter. Currently, her work is on view in two group shows that relate figuration and historical narrative: States of Freedom: The Figure in Flux at Tufts University Art Galleries, and Classic Beauty: 21st-Century Artists on Ancient [Greek] Form at Providence College Galleries. She has also been invited by the Broad Institute of MIT and Harvard to be an artist-in-residence starting this fall where she will engage with scientists to learn about their research and relate it back to how the human body is imagined and visually represented.
—Leeza Meksin
Leeza Meksin In your recent work, you've shifted from using body parts that felt anonymous to making casts of very specific people. Can you talk about this shift and how your new work relates to the historical genre of portraiture?
Lucy Kim I use mold-making and casting in my work because I see it as a sculptural surrogate for photography: it has the authority of a record, but it's literally more thing-like. In the past, I mainly used fragments of the human form, which is what makes them feel anonymous even though I often mentioned the model's name in the title. About three years ago, I wanted to start cranking up the pressure of these casts as records. I began thinking about identification in the public realm: passports, driver's licenses, mug shots, etc. It's from this context that I accidentally veered into portraiture.
LM You've now cast a geneticist, a plastic surgeon, and a personal trainer. Can you tell me more about these decisions?
LK I wanted to use the bodies of people who manipulate the human body for a living. At first, I was also going to include people whose occupations indirectly affected the human body, for example, those in the legal and psychiatric professions. But in the end I opted to stay literal because it quickly collapsed into almost everything mattering, which then became a "so what" situation. It became important that the manipulation was of actual bodily material. Specificity is usually more open and accessible than the general, in my experience.
LM Can you elaborate on how photography relates to your work?
LK First, I'm interested in its use as a documentary tool—as record, evidence, and proof. Second, I'm fascinated by the way it naturalizes the transition from subject to image. That transitional space is what I want my work to engage with, which is why I substitute photography with its more materially and physically aggressive counterpart: mold-making and casting. The distortions—flattening, stretching, cropping, enlarging—are much more awkward, comical, or even violent when performed literally onto a thing, especially since I tend to eliminate all structural integrity like bone structure and focus mostly on surface information.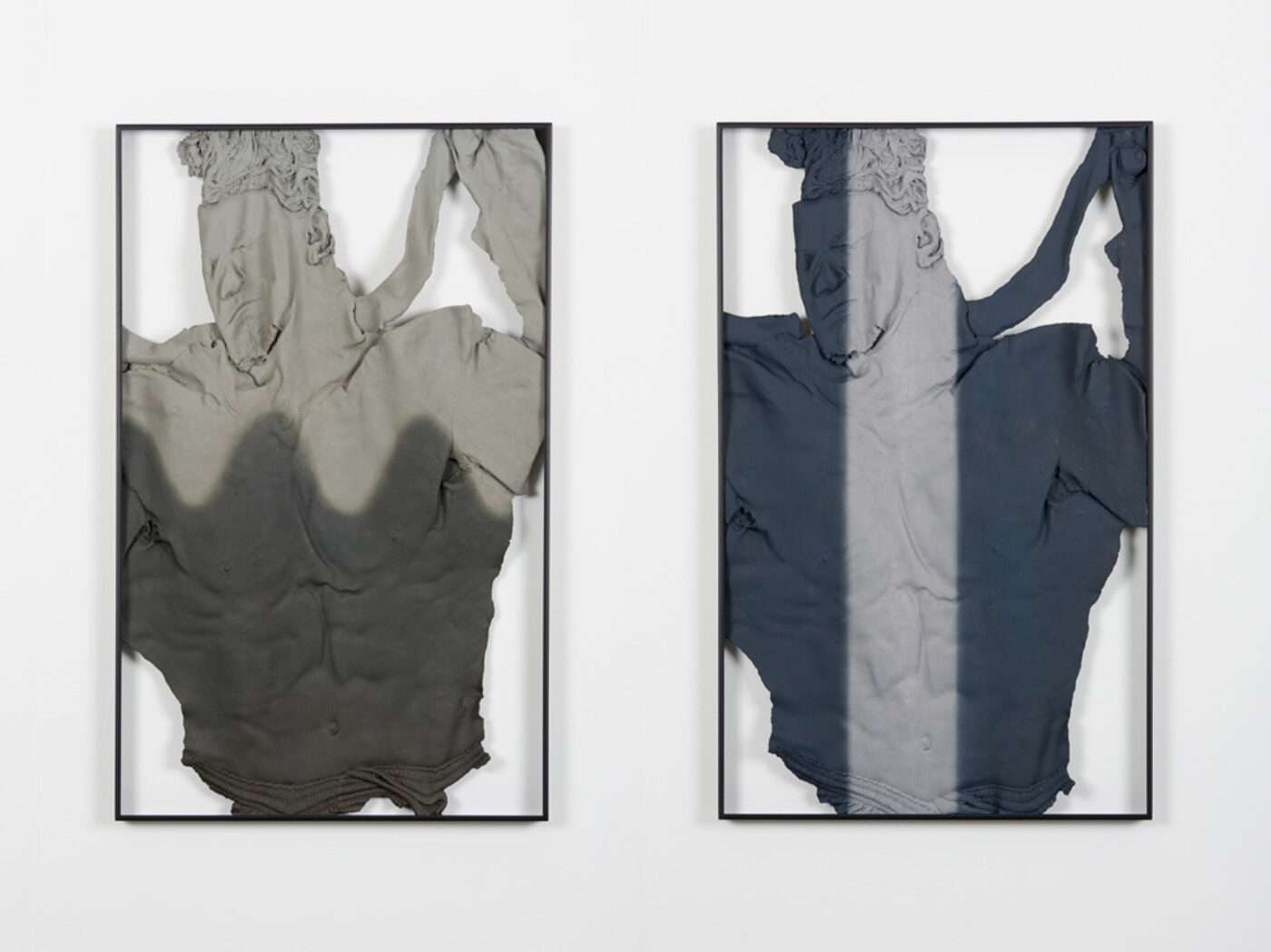 LM The way that you distort the cast figures, while lodging them squarely within a frame, portrays representation itself as a violent act that crushes subjective and bodily experience into flatness, or a screen. Your work seems to be a literal metaphor for this process of representation. Would you agree with this statement? And if not, could you speak more about the act of representing a figure and the relationship of historical casting to death masks and votive figures? For me, votive figures have always represented the terror of death, of the unknown, of being flattened, erased, disemboweled.
LK Yeah, I could go along with that interpretation, without the solely negative disposition, and add that the literal translation can be comedic as well. Or it could be horribly clichéd. Good comedy exploits this line. As for my relationship to historical cast objects, I see figuration as simply a basic human impulse, whatever the motive may be, and my interest in it comes from that. Direct impressions of the human body have an added uncanniness. I love the death masks and hand casts of pianists: Beethoven, Liszt, Chopin … especially the hands. These are seen as the sites of their virtuosity and thus in need of preservation. Anyway, on the one hand it's a simple impulse to want to record the human form, whether it's famous people, loved ones, or yourself. On the other hand, it's complex because voyeurism, social categorization, and fetishization come into play.
LM What do you think about the renewed interest in figuration in contemporary art?
LK There's always been a large, steady base of practitioners and fans of figuration, but there does seem to be a strong overlap of focus on it right now.
LM Why do you think this is?
LK I think representational normalization is at the crux of this matter. For one, there's a mainstreaming of the sense of urgency, especially in the United States, toward our social inequities. There's a desire to be direct about it. I don't think that the urgency has changed for artists from marginalized groups, like women, artists of color, and queer artists, from the past or present. I think the audience, especially those working within institutions, are finally getting on board. There's some self-awareness emerging, in the form of actual practice, about the white Eurocentric culture that dominates most art institutions.
On top of that, there is a strong interest in reimagining the human body given all the rapid innovations in medicine, especially genetics, and tech. Basically, the way we imagine ourselves, our image, is changing. The question is how. And it's politically potent. The new normal that settles from this will have a lasting impact on all our lives, and, more importantly, it will socialize future generations. Obviously, it's not just a question of how various people are being represented, but who is doing the representing.
Vision-based technology, as opposed to touch-based tech, involving mimicry (illusion) is evolving so fast that it makes sense that there would be a focus on the image and representational modes of art-making, especially in regard to figuration.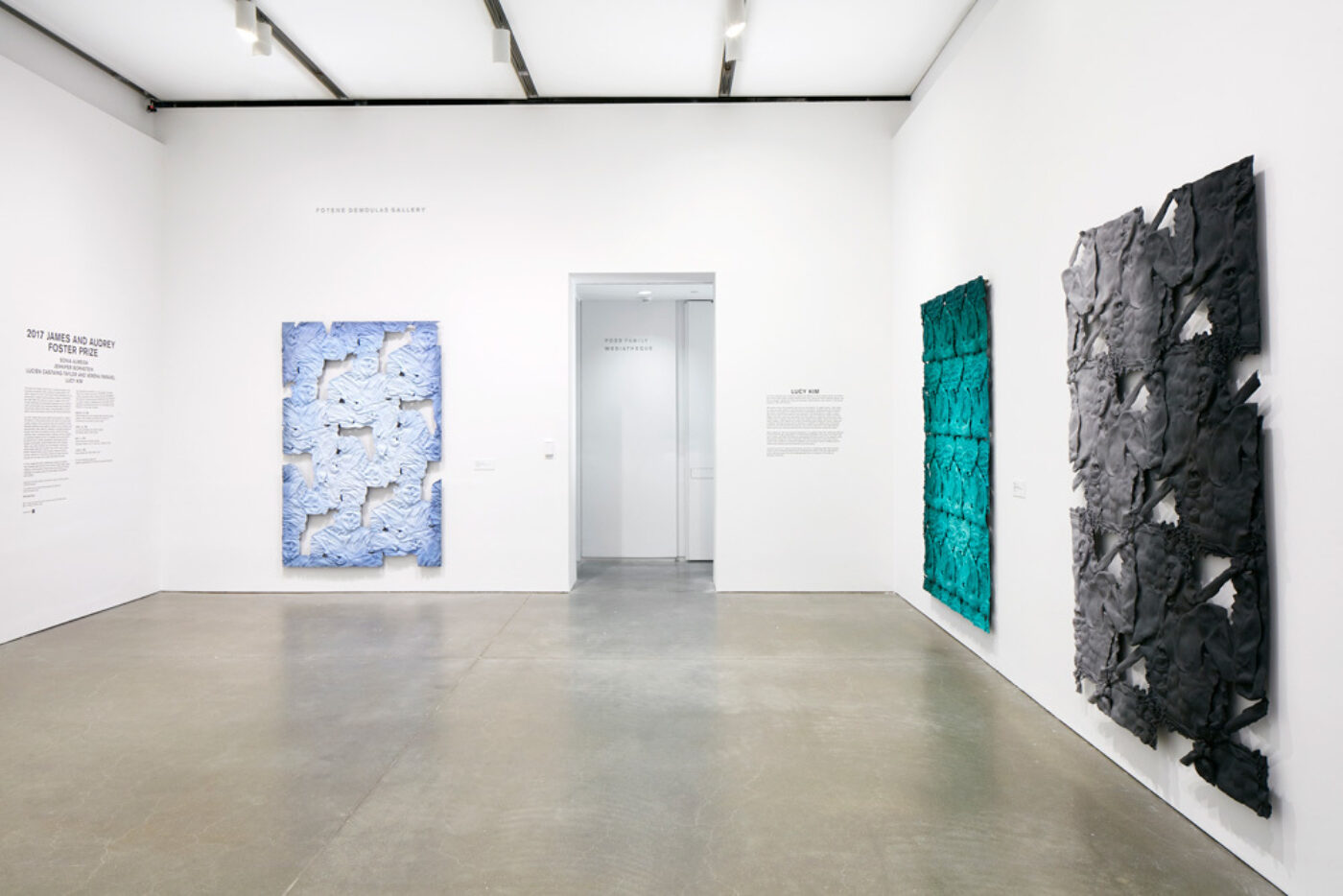 LM Speaking of illusion, you often paint light and shadows on the surface of the casts, creating a sense of space as well as a dramatic film noir atmosphere. How does your use of light differ from or parallel light in traditional portraiture?
LK Regardless of what image I paint onto the sculptural part of my work, there is usually a light effect, even if it's slight. In the Institute of Contemporary Art, Boston, James and Audrey Foster Prize works, all the pieces were painted monochromatically, but with a color gradient. This has less to do with light and more to do with illusion. I'm interested in the difference between physical presence and pictorial presence. These are very different worlds that, to the viewer, relay different kinds of information—temporally, materially, visually. I want the work to flex in that transitional space between subject and image, and pictorial illusion is one of the ways I can push a surface that is physically aggressive closer toward image.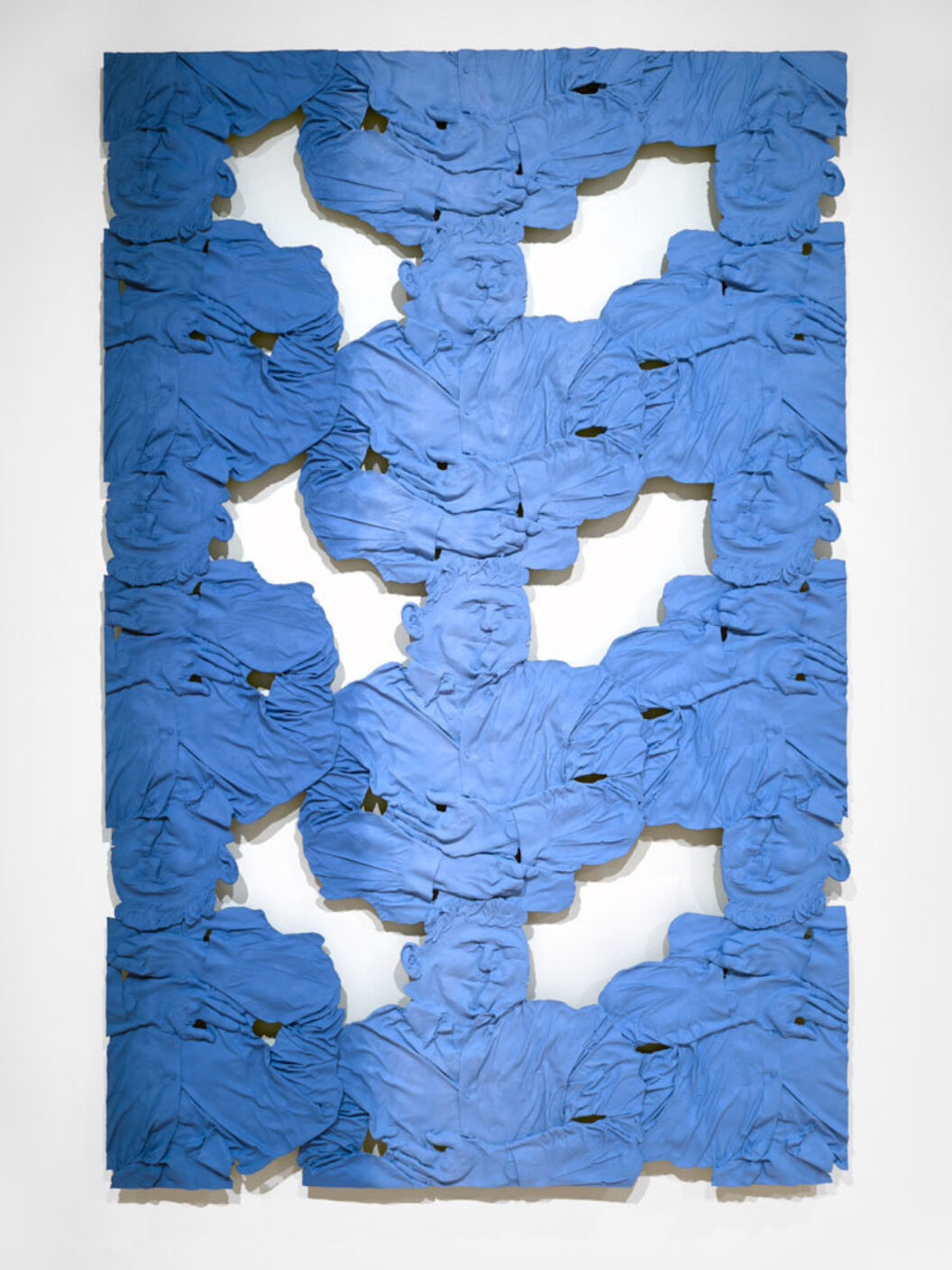 LM And what about the images you choose to paint? How do you decide on those?
LK Depends on the body of work. I've worked with a very broad range: from simple gradations, to illusionistic imagery, like satin drapery and carrots, to hard-edged geometric shapes. There are many reasons why I choose to combine a particular cast with a particular image. There are, of course, the formal and logistical reasons (certain textures don't handle light or dark values very well), and then there is my internal logic, whether it be narrative, symbolic, intuitive, or experiential. The important thing for me is to be specific while throwing into flux the identity of everything involved. The way that I negotiate the recognizability and physical presence of the cast and painted elements is precise, yet totally subjective. It's important that each piece emerges as a hybrid, as opposed to a composite.
For the Auto-Synthetic series (self-portraits), which is going to continue indefinitely until I die, or at least that's the plan, the repetition of the cast of myself is a sharp contrast to the liberties I take with my imagery. I might paint some wooden ducks, or myself smoking, or the kitchen knife motif I'm basing some new work on. It's very open-ended. But the fact that they're self-portraits will always frame the work. If I were to make a literary metaphor, I'm guessing it sits somewhere between stream-of-consciousness ramblings and a memoir.
LM Do you think your stream-of-consciousness "memoir" ever employs third-person narration or is it always told in first person?
LK First person for sure, even though I'm literally a character in my own work for this particular series. The narrative of production is critical to me, and here I'm copying myself in plastic and painting over "them." Hilariously enough, my assistants and I refer to them in the third person as "Lucies" so we don't get confused with the actual me.
Lucy Kim's work can be seen in the group exhibitions Classic Beauty: 21st-Century Artists on Ancient [Greek] Form at Providence College Galleries in Providence, RI, and States of Freedom: The Figure in Flux at Tufts University Art Galleries in Medford, MA, and until November 17 and December 16, respectively.
Leeza Meksin is a New York-based interdisciplinary artist and co-director of Ortega y Gasset Projects, an artist-run gallery she co-founded in 2013.  Her paintings and a site-responsive installation are currently on view in Next Wave Art at the Brooklyn Academy of Music, until January 6, 2019. Meksin is Assistant Professor of Art at Columbia University School of the Arts, where she also serves as Director of New Genres and Director of Graduate Studies.