Discover MFA Programs in Art and Writing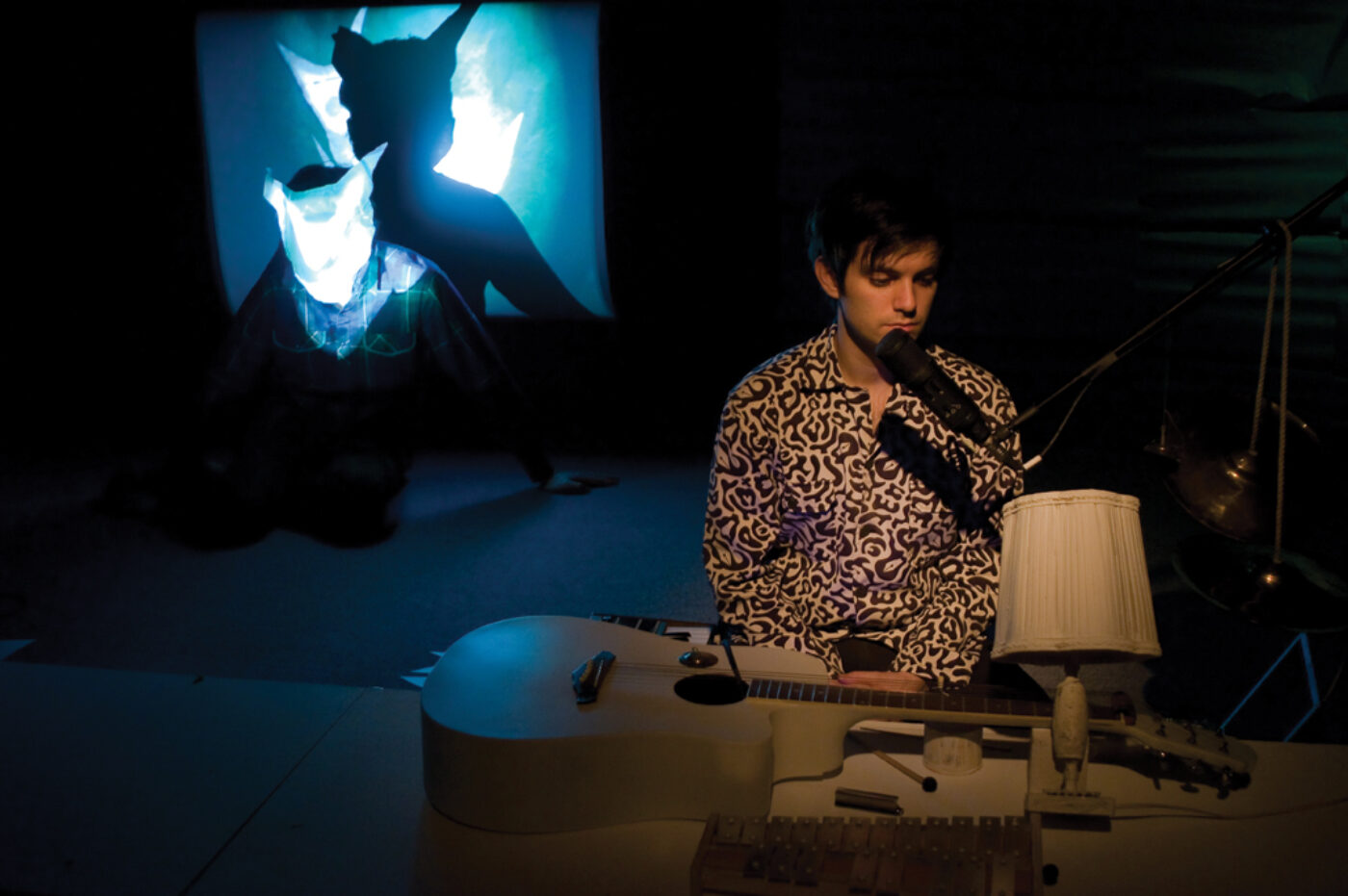 London, 2012
The Tate Tanks, formerly the home of several colossal oil tanks fueling the old Bankside Power Station, just opened for a three-month glimpse during the London Olympics this July and will launch, after further building additions, as a permanent exhibition space dedicated to live art, performance, installation, and film works. Architects Herzog & de Meuron have expertly transformed the imposing industrial relic—still a rabbits' den of massive rooms and completely devoid of natural light, it proves to be strangely welcoming. Sung Hwan Kim was one of three artists (Suzanne Lacy and Lis Rhodes were the others) invited to inaugurate this vast and challenging space.
The Korean-born, New York-based master storyteller weaves sound, objects, and film footage, all collected during his globe-spanning travels, into complex and absorbing interactive collages. With Kim, who admittedly follows in the footsteps of the great Joan Jonas, anything from myths to politics to the mundane can become part of his startling and fantastical multimedia concoctions. Kim narrates most stories himself and is usually accompanied by his long-time collaborator, musician dogr (David Michael DiGregorio), who occasionally impersonates Kim in the videos (and has even played the artist's childhood dog).
Kim's exhibition at the Tanks spreads over a large room that's divided into two distinct zones. A low circular viewing structure featured some of his most humorous video works, including spontaneous drawings—a story's key elements are roughly sketched on a plastic film that appears to lie directly on the camera lens. From the Commanding Heights … (2007) tells the tale of the constant power outages in Kim's childhood apartment complex in South Korea, allegedly staged to shield a female resident's affair with a high government official. As in many of Kim's works, it remains ambiguous, and ultimately irrelevant, as to what is true, what is rumor, and what is a figment of the artist's, or even the viewer's, imagination.
Another section of the exhibit is accessed through a separate entrance and includes both old and new installations with freestanding screens and irregular-shaped seating structures. In the darkness, these furnishings make for an intriguing obstacle course that navigates visitors through the stories. The attendants' flashlights sweeping the room and the crackling of the security guards' walkie-talkies, together with the audience—crying babies, giggling teenagers, and intimidated tourists—become live components of Kim's tales.
Kim's most recent and delightfully poetic work, Temper Clay (2012), borrows a line from King Lear: "Old fond eyes, Beweep this cause again, I'll pluck ye out, And cast you, with the waters that you lose, to temper clay." The film tells of a woman's life, touching on primal themes such as love, motherhood, domesticity, and success—all from Kim's peculiarly enchanted angle. The work was animated by its real-time surroundings in a particularly moving way: when a visiting four-year-old girl, replete with a tutu, stood alone in front of the flickering screen creating a massive dancing shadow, a Degas dream in the both ancient and contemporary world of Sung Hwan Kim came alive—to an enthralled, and slightly bewildered, audience.
Jessica Kate Weatherup is a film producer and writer based in London.
Originally published in
Featuring interviews with Miguel Gutierrez and Ishmael Houston-Jones, Haim Steinbach, Carolyn Cantor and Amy Herzog, Ben Chasny and Sir Richard Bishop, Kurt Andersen and Susanna Moore, Edith Grossman and Jaime Manrique, Lucy Raven, and Josiah McElheny.