Subtext: Kathmandu Poet In New York by Susie DeFord
I became familiar with Yuyutsu RD Sharma's poetry on his recent long stay in New York to promote his latest collection Space Cake Amsterdam (Howling Dog Press 2009). Space Cake is a beautifully designed book with artwork by the artist Henry Avignon.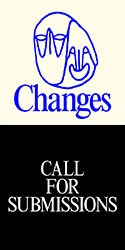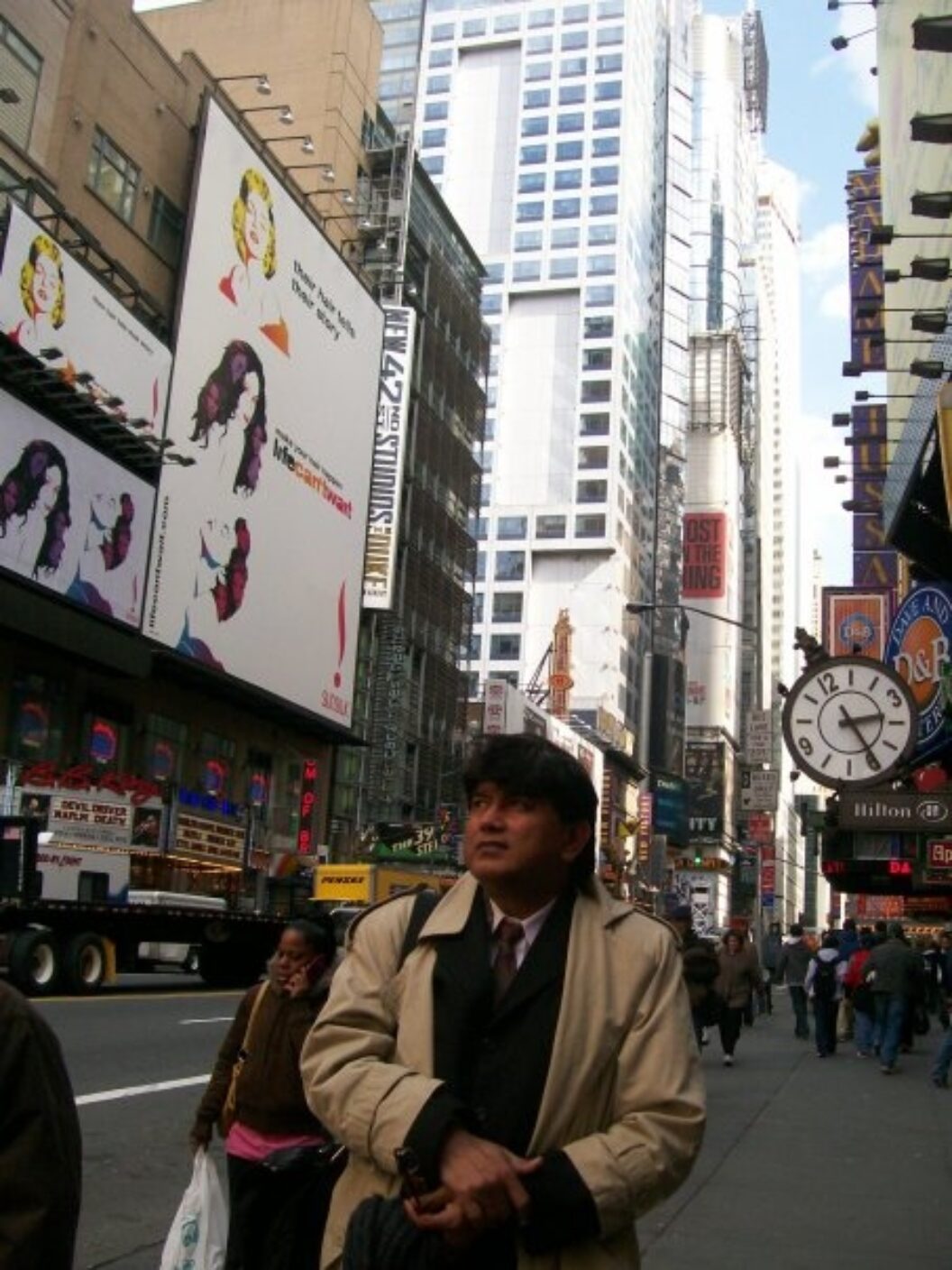 I became familiar with Yuyutsu RD Sharma's poetry on his recent long stay in New York to promote his latest collection Space Cake Amsterdam (Howling Dog Press 2009). Space Cake is a beautifully designed book with artwork by the artist Henry Avignon. In the Beat tradition, the Nepali poet chronicles his travels through Europe and America. Some of his experiences are comical—in the title poem "Space Cake Amsterdam" the poet accidentally eats hash cake in Amsterdam. Some are beautifully imagistic, like "Temple, London," where he describes seeing a homeless woman at the top of an escalator as if she is "a hillside shrine/ that our goddesses/ always prefer to live on."
Yuyutsu RD Sharma has published seven previous poetry collections including Annapurna Poems, (Nirala, New Delhi 2008), Everest Failures (White Lotus Book Shop, Kathmandu, 2008) Way To Everest: A Photographic and Poetic Journey to the Foot of Everest, (Epsilonmedia, Germany, 2006) with German photographer Andreas Stimm, and a translation of Irish poet Cathal O' Searcaigh poetry in Nepali in a bilingual collection entitled Kathmandu: Poems, Selected and New, 2006. He is a recipient of fellowships and grants from The Rockefeller Foundation, Ireland Literature Exchange, Trubar Foundation, amongst others. His works have appeared in Poetry Review, Chanrdrabhaga, Sodobnost, Amsterdam Weekly, and several other magazines. Currently, he edits Pratik, A Magazine of Contemporary Writing and contributes literary columns to Nepal's leading daily, The Himalayan Times and Newsfront Weekly. He recently published his first novel and a book of his prose writing on the ongoing political turbulence in Nepal entitled Annapurnas and Stains of Blood (Niral Publications 2009).
Susie DeFord What was your first introduction to poetry?
Yuyutsu RD Sharma My first introduction to poetry took place in holy places in India. My father was a devout follower of Naga ascetics and my grandfather's place, Nakodar, Punjab, where I grew up, had great religious flavor. Our family deity was a serpent spirit, Guga Sian, and my grandpa and I would go to the shrine during the annual festival. On one such visit, I became possessed by the serpent spirit and started crawling around the shrine like a serpent. After the incident, everyone in my family started respecting me as a demigod. But I was going to an English school and felt very upset about what my friends would think of me. They would think, I feared, that I am crazy.
I was also getting acquainted with the Western science and logic and over the years I carefully suppressed the ecstasy. Only later when I grew up, I learned how I had ignored a very spiritual awakening in my life and that the experience was a gift from the gods for me. Only sometimes now the gods visit me and I feel a rush of that frenzied forgotten wind when I write poetry.
SD American poet David Ray, who you met while attending the University of Rajasthan, encouraged you to write and publish your poems. Will you tell us about your relationship with him and how it's influenced your work?
YRDS Meeting David Ray was a watershed in my life. I was aspiring to be an actor before I met him. But meeting him and working on the special issue of New Letters with him as his assistant made me aware of contemporary Indian as well as American poetry.
David was very humble and kind and unlike other snooty and pedantic professors at the Department of English and taught me what would later become basics of a Western Creative Writing course. We would often meet in the evening and wander in the local streets and university gardens discussing poetry. He introduced me to William Carlos Willaims, e.e. cummings, Allen Ginsberg, Gary Synder, Robert Bly, John Ashbury and other American poets' works.
His wife poet Judy Ray would often feed me as I had very little money to survive and my friendship with David made me very special on the campus, to the extent of annoying many prudent Indian professors who thought it below their high pedestal to befriend a research scholar in a casual intimate way.
SD Your poems in Space Cake Amsterdam seem very Western-thinking in nature and somewhat reminiscent of the Beats. What are some of the similarities and differences you see in European/ American poetry and Eastern/ Nepali poetry?
YRDS Well, if you go to India not many poets know much about American poetry. But almost every poet is familiar with Whitman and Ginsberg. I recently wrote a column in the Kathmandu Post called "Chasing Ginsberg." Ginsberg traveled a lot and made friends all over the subcontinent and his use of Mantra as one breath unit format for his poetry is so remarkable. Howl is very well known in the subcontinent and Beats employed Indian devotional traditions to see deliverance from grinding sterility of a Western world obsessed with work and material success.
SD You write a lot of travel poetry. How did you become so interested in travel? What was the big trip you took?
YRDS Many people think I am a big traveler. But it's not true. I started traveling only a decade ago. I loved my mother so much that I didn't want to leave her. I always feared something would happen to her the moment I leave the subcontinent and I won't be able to come in time to help her in case of emergency.
But luck had terrible design in store for me and my mother.
My mother had a stroke and I stayed by her bed for couple of weeks. The doctors said it would take some time, maybe few months for her to recuperate. She had lost her speech and had difficulties in eating. My brother Shakti and I brought her home and started taking care of her. After a while, I decided to go to New Delhi for couple of days and take care of some urgent pending business. Two days after I took a night train and found her on the floor…
The very thing I feared happened. Since then I have been traveling without any fears because you get exactly what you fear the most in life.
SD At your book party at Bowery Poetry recently you talked about having to do a "cleansing ritual" every time you return from your travels to Kathmandu. Will you tell us a bit more about this?
YRDS That was just a joke, I meant my mother would have done it, as she never let me eat any meat and even onions and garlic never entered her kitchen. If you cross an ocean in the Hindu worldview, you lose your caste, that's why the Hindu kings never ever made any expedition to conquer any world, inviting colonial monsters to ravage innocent populations for centuries.
SD Your book, The Way to Everest is a gorgeous poetry and photography collaboration between you and Andreas Stimm about trekking in Everest. How did you two meet and decide to collaborate on this project?
YRDS Well, Andreas and I met at Frankfurt Book Fair. He came with his girlfriend to my stall and asked me to sign The Lake Fewa & a Horse and sought permission to use some of the poems for his photo exhibition in Stuttgart. Later he asked if he could use the poems in his book on Annapurnas. I had no idea what the book will be like.
Later when I was in Heidelberg doing a workshop at South Asian Institute that Andreas came to my friend Professor Christopher Emmrich's residence and he showed me the book.
I was overwhelmed by his stunningly superb gift. This was so special and I have never seen a book of poetry like this. Andreas is an amazing photographer and truly cultured European and works in black and white panoramic format only. Now we are doing a trilogy on the Himalayas, bringing together Everest, Annapurnas and Helambu in one big 700 page book that will be first of its kind: a poetry/picture book on the Himalayas..
SD You edit Pratik magazine and translate poems from several languages and are very active in the Nepali literary scene. Who are some Nepali writers you'd like to see get more attention internationally for their work and why?
YRDS Pratik is a very historic literary journal. It was published in Nepali by very significant poets for many decades and later in 1990, I revamped it and started editing it in English. We have done several special issues and introduced almost all the significant writers of the Indian subcontinent with a focus on Nepal. We also recently published special British and Dutch issues with British poet Pascale Petit and Dutch poet Harry Zevenbergen.
I know you won't believe it but it's true that everyone in Nepal is a poet. Nepal has vibrant literary scenario and poetry and politics have always remained inseparable in Nepal. Poets have protested against despotic rulers and helped in ushering democracy in Nepal. One great Nepali poet I have translated is Gopal Prasad Rima. He was very much instrumental in bringing down the downfall of oligarchic Rana regime and later when the democracy came, he was ignored until his death. I am working on a full length book of his poems.
SD Your bio says you have "completed his first novel and a book of his prose writing on the ongoing political turbulence in Nepal entitled, Annapurnas and Stains of Blood is due 2010. Will you tell us more about these projects?
YRDS Yes, Annapurnas and Stains of Blood came out just this year. I got a copy in New York. The book deals with my readings of the political turmoil as an average citizen or as a poet. I have been contributing columns to The Himalayan Times and The Kathmandu Post for a decade now and the books also uses some of my best known columns.
I have also been working on this novel and am looking for a literary agent to publish it in the West. The novel deals with life of an individual in a failed nation, and how he comes in terms with his own failures in a nation that's constantly reeling under endless cycle of political turbulence. I hope you will see it soon.
You can find out more about Space Cake Amsterdam at Howling Dog Press.