Studio Visit: Sydney Shen by Danni Shen
An artist's index of the strange.


Discover MFA Programs in Art and Writing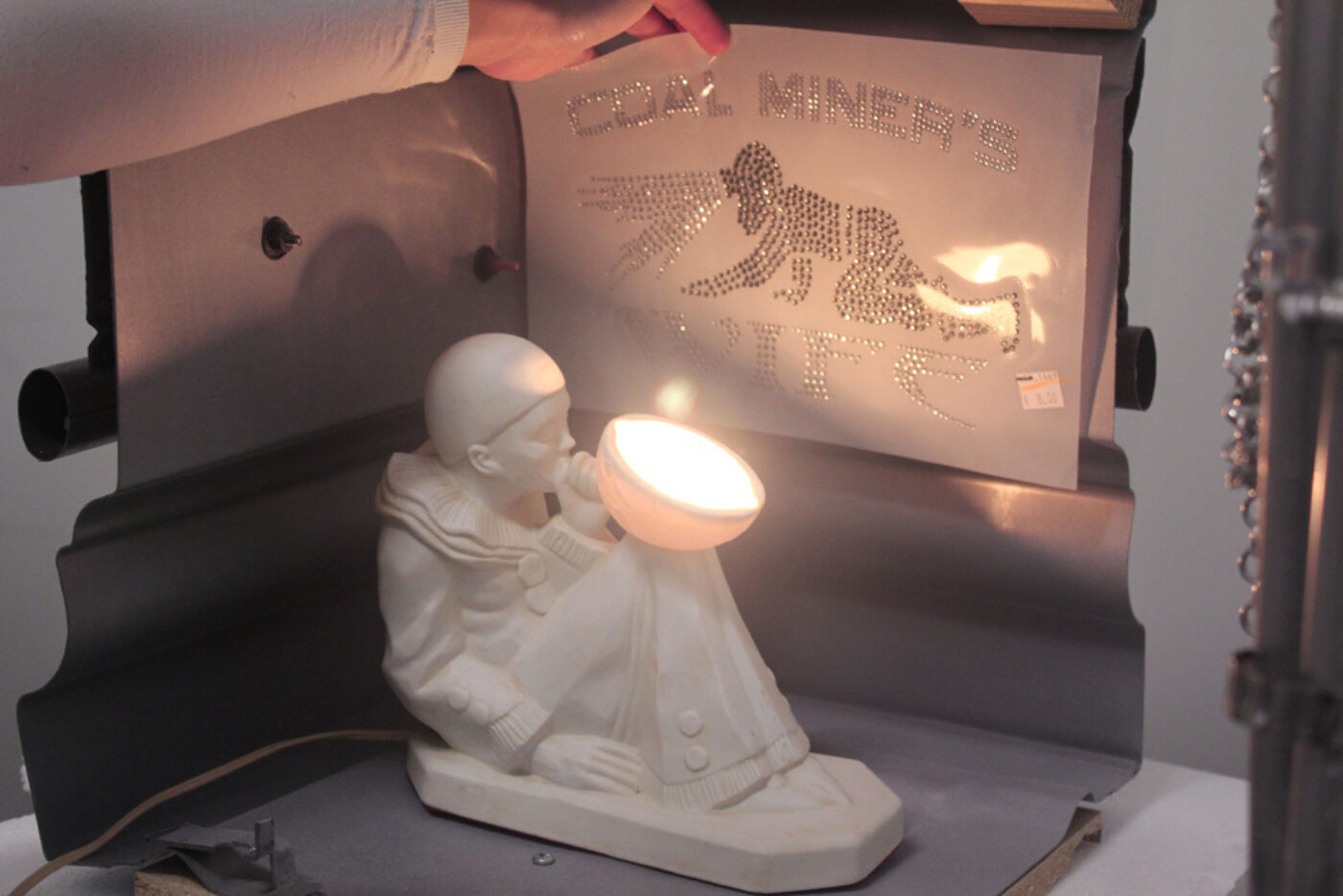 It's a cold, clear day when I arrive outside Sydney Shen's studio building in Ridgewood, Queens. Her donning of all white might cause one to envision an angelic figure arriving under the blinding sky. Sporting a denim jacket—on which the rhinestone silhouette of a jumbo shrimp is applied onto the surface of a Dystopia backpatch—over an airbrushed Slenderman tee made at a county fair, and personalized Crocs, Shen's spirit can be described as rather drolly apocalyptic. The artist's studio is equally white, adorned with sculptural singularities.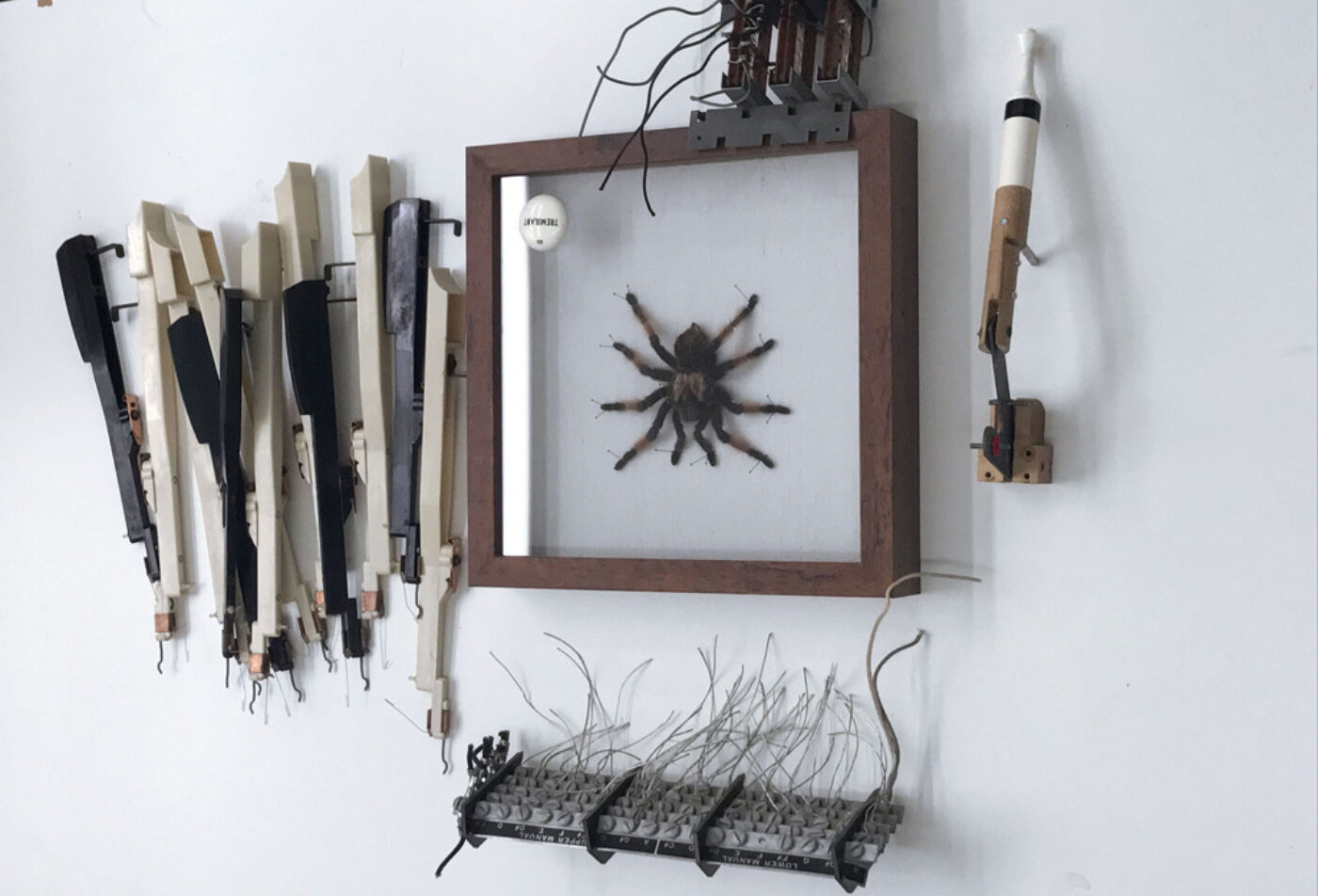 A porcelain Pierrot lamp that doubles as a heat-activated scent diffuser, lit under a metal-casket corner resting on the floor, immediately draws my attention. I also note a burgeoning collection of funerary-home memorabilia and a set of dental instruments. Others items include a chrome soap dispenser, equestrian spurs, a dental drill, and a muzzle hanging from a metal IV fluid stand. Perched on a desk is a miniature black dumpster for the group exhibition The Private Collection of Water McBeer at Deitch Projects. In preparation, Shen has been writing short narratives on Puritan Salvage, her fictional demolition and waste-management company.
While contemplating these objects, we arrive on the topic of the artist's passion for horror, H. P. Lovecraft, and conceiving of "the beyond" in her work. "Horror is an attempt to know the unknowable. As a genre, it exposes the shortcomings of reason and other Enlightenment virtues by speculating on a world indifferent to humanity and unrestrained from our rules. Horror encapsulates the contradictions between wonderment, repulsion, the profane, and the pure," Shen emphasizes.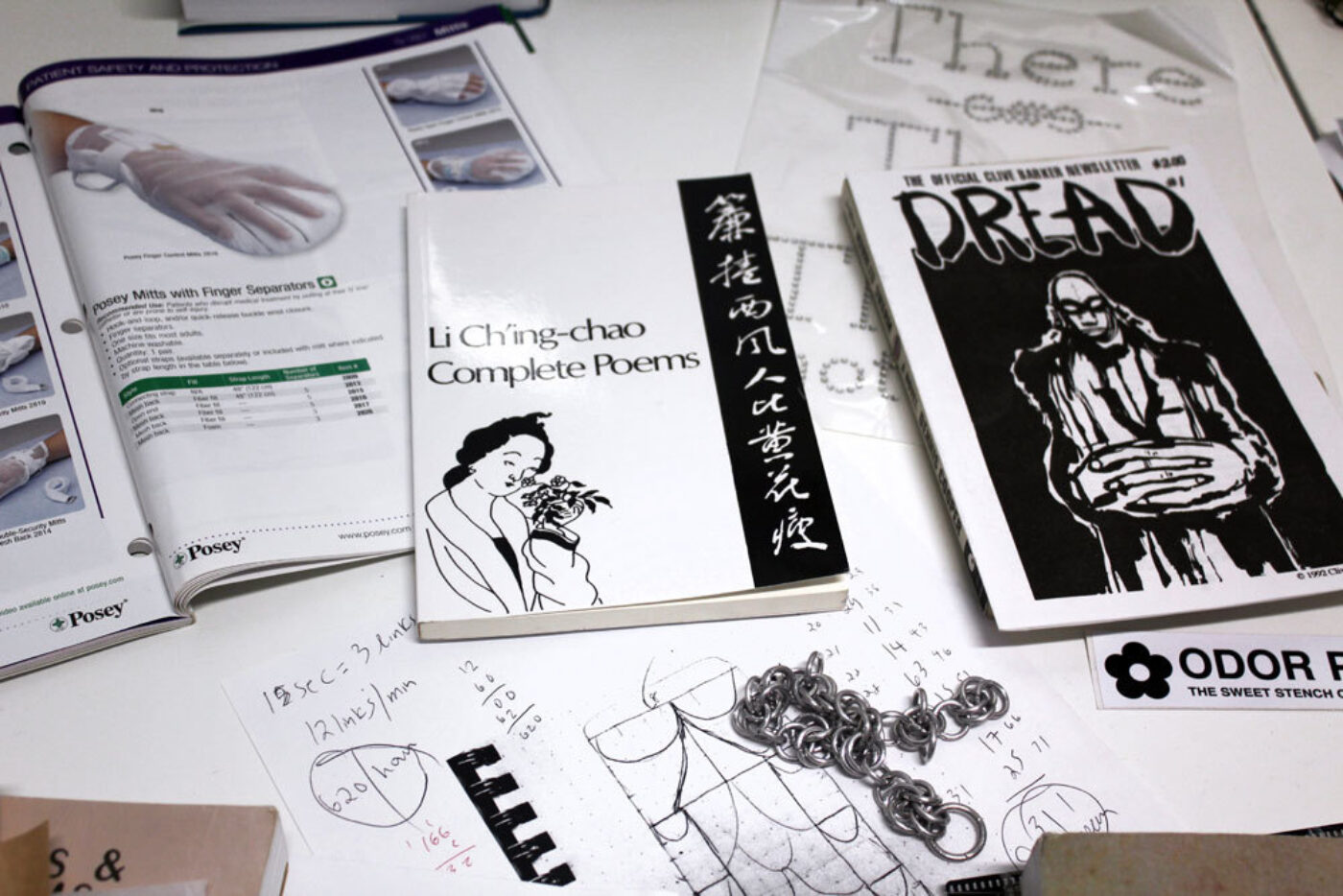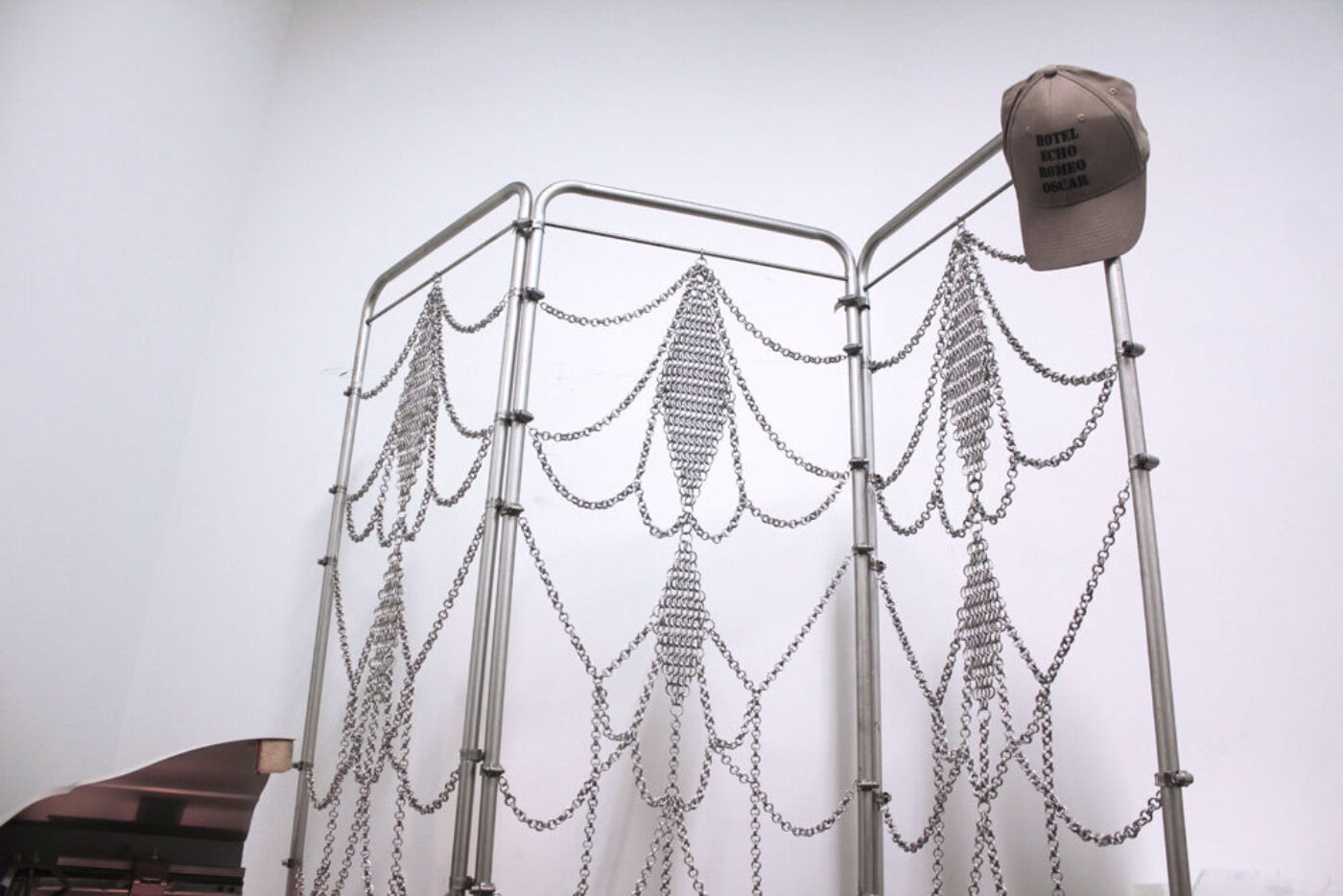 Flipping through piles of literature, medieval imagery, and medical catalogues, we stop to go through a few books on Christian mystics and martyrdom. Beneath Clive Barker's official fanzine Dread is a copy of Strange Stories from a Chinese Studio by Pu Songling, the Qing Dynasty writer, for future research on dynastic Chinese scholarly obsession with obsession. Shen seems to have many irons in the fire.
As a material departure from bone and other organic remains, Shen has since challenged herself to address ideas of deterioration and annihilation through more durable elements. I watch as she unwraps a chainmaille sculpture, which recently arrived back from an exhibition at Hotel Art Pavilion. Like an ornate folding screen meets a stretcher frame, the metal extends like a skin or the wings of an insect. The most organic studio occupant is now a Goliath named Goat, who inhabits a Plexiglas box of soil and plants. Upon reaching a full size of seven-inches, Goat will move to a much larger box.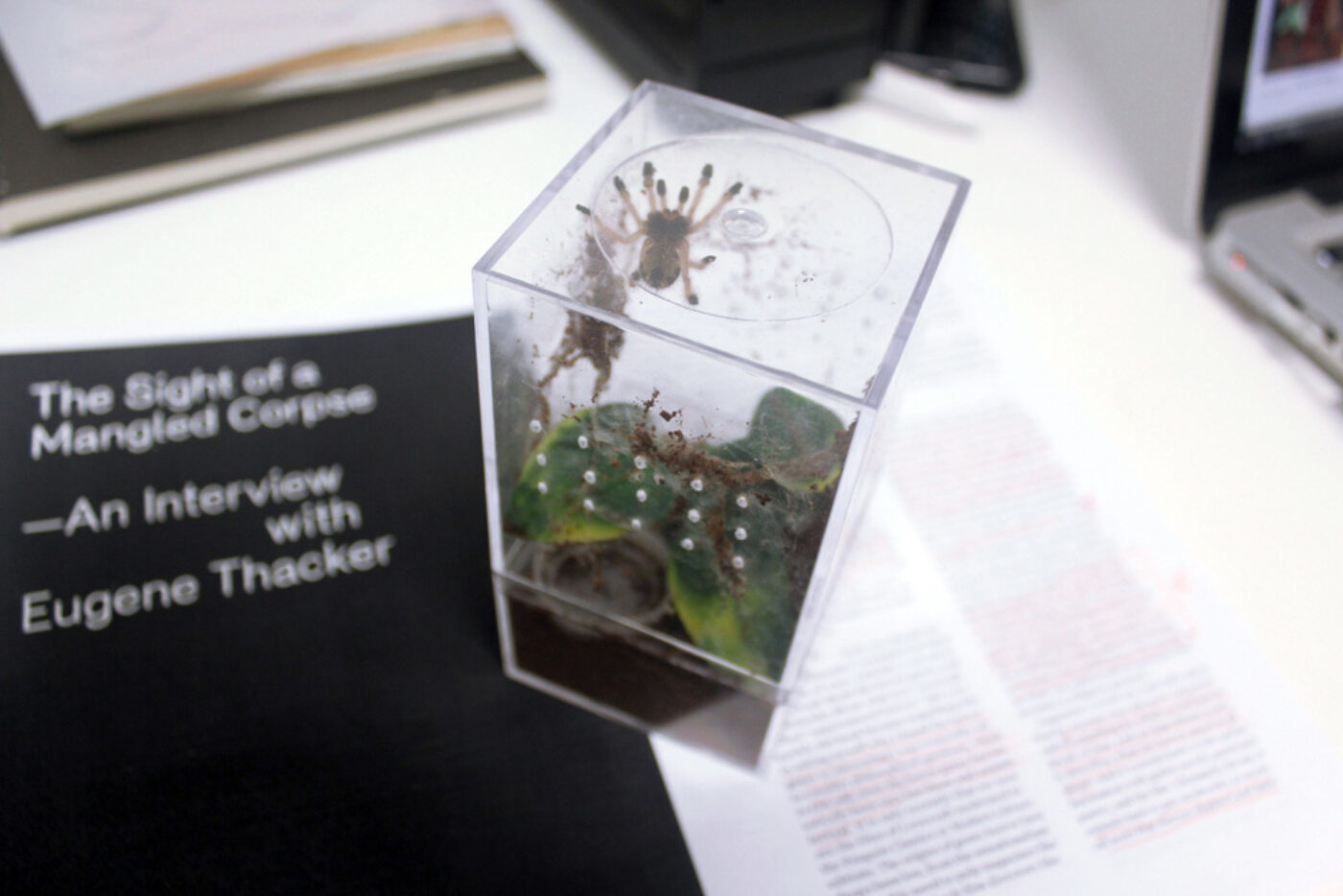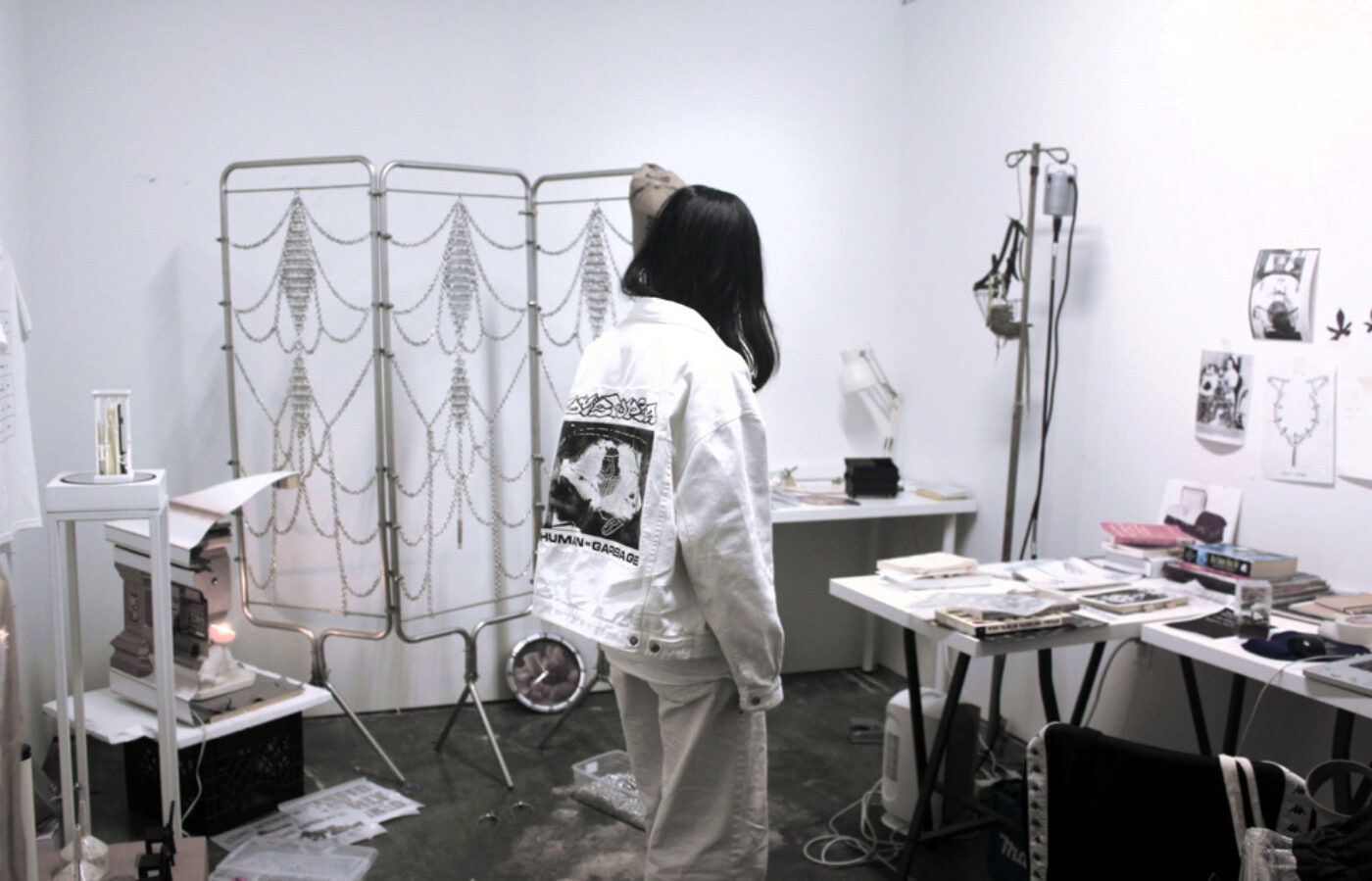 The artist shows me the last and favorite object, a dollar-store toilet-plunger pole. Like all Trisonic-brand products, it includes a Buddhist proverb printed in small font that reads: "It is the Buddhist's view that one's own pleasure and pain are achieved by oneself and not generated from the outside." Equally at home within the artist's index of the strange, this seems a most appropriate departure note from the beyond of Shen's studio.
Sydney Shen's work can be seen in The Private Collection of Water McBeer at Deitch Projects until December 22.
Danni Shen is the Curatorial Associate at Empty Gallery, a black-cube space dedicated to time-based, non-object-oriented, interdisciplinary practices physically located in Hong Kong. She is chiefly based in New York, where she was previously the Curatorial Fellow at Wave Hill and Curator in Residence at Residency Unlimited. She is a contributor to publications including Hyperallergic, Rhizome, Two Coats of Paint, SCREEN界面, and guest curates for OUTPUT, a digital-art platform based in Shanghai.