The human element of architecture.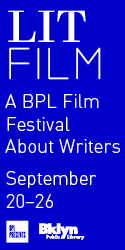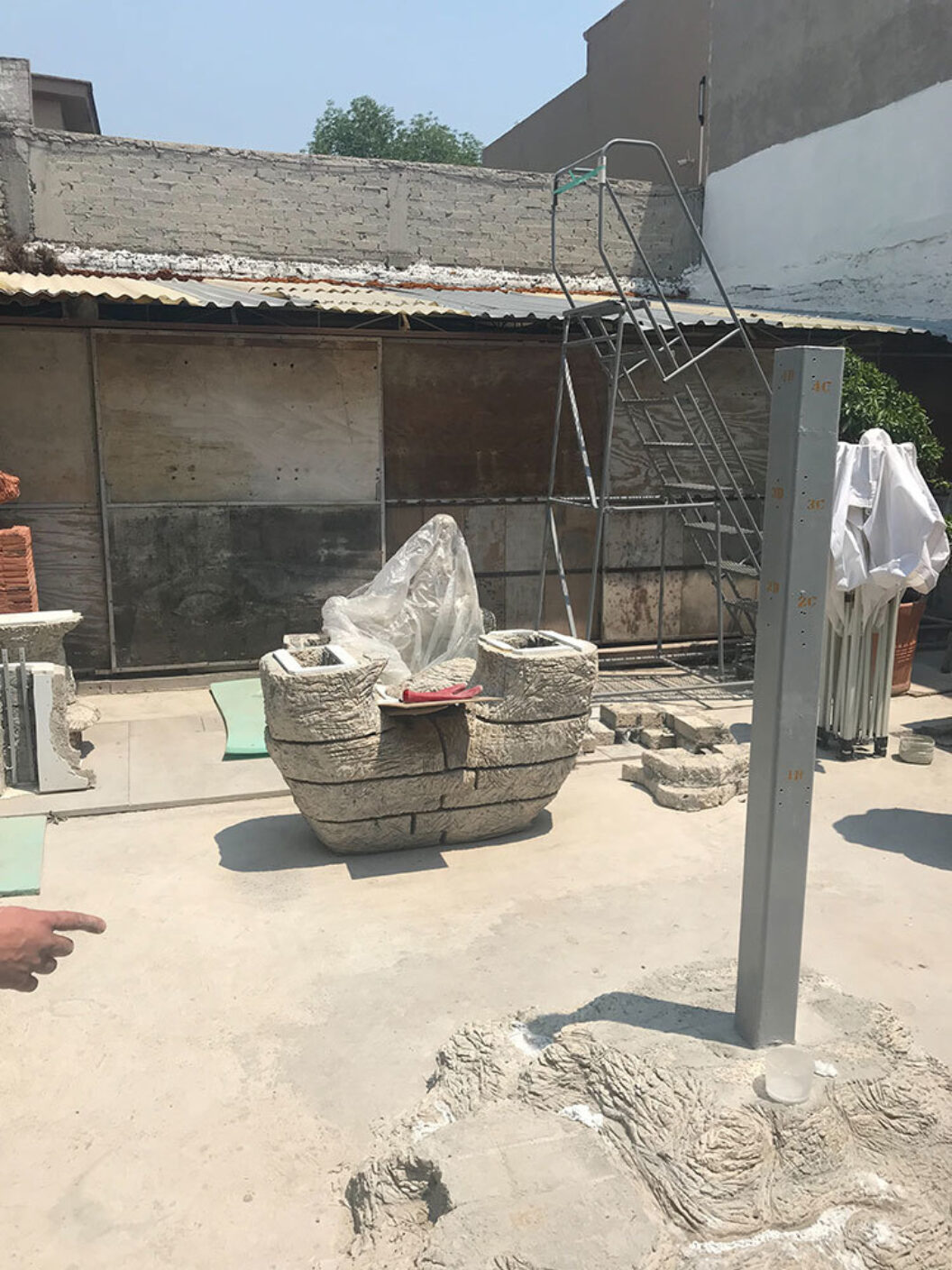 Damián Ortega's studio is located in Tlalpan, which is forty-minutes south of central Mexico City, far from the city's energy-bursting chaos, yet similar in its dazzling color palette. When I visited him prior to his Gladstone Gallery exhibition, Porous Structures, Ortega's two studios, separated by a ten-minute walk through the town's winding streets, were occupied by finished sculptures ready for transportation trucks, along with a few maquettes.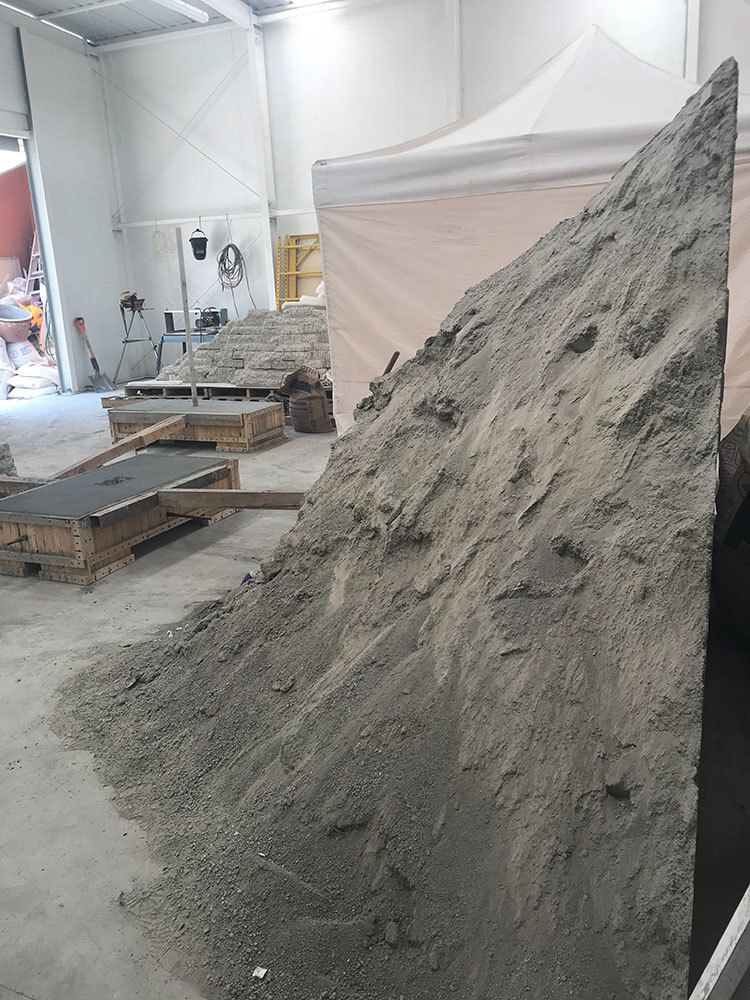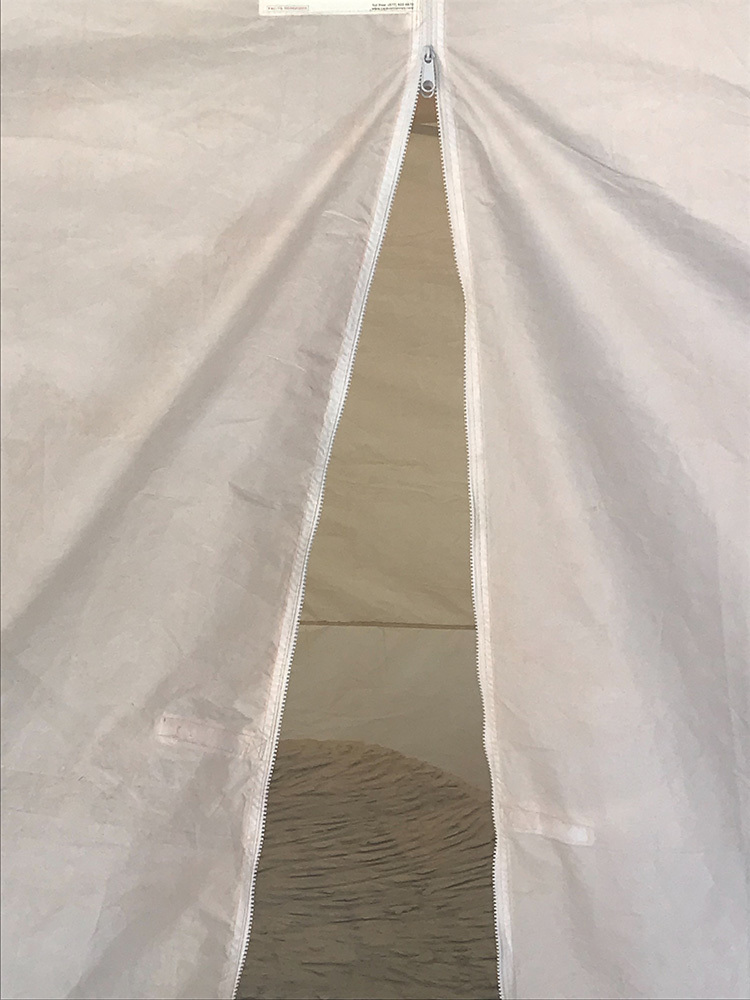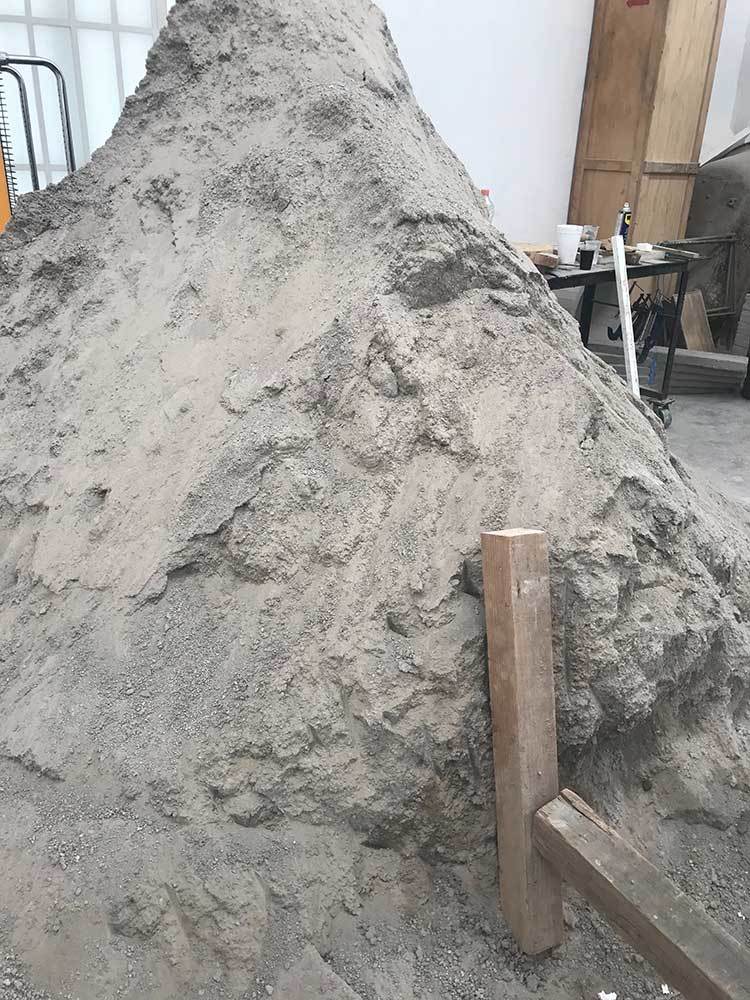 Ortega and I strolled down to his second, and larger, studio after a car dropped me off in front of his two-story workplace where the top floor overlooks Tlalpan's condensed architecture with its colorful pockets of buildings constituting a wash of textures and hues as far as the eye can see. "What happens when we construct a building in terms of its consequences?" asked Ortega at the studio as we stood next to two giant piles of sand precisely placed to mirror one another. In fact, such seas of architectural formations, especially in cities of his native Mexico, are the basis of Ortega's sculptural practice. Why and how buildings rise and impact our physical and mental states are questions the artist is particularly concerned about in his new show. "Making a house means creating a positive and a negative space, and I like to show the missing, negative part," he added about Irregular Emplacements (2019), the title for the matching sand piles that he re-created at the gallery during installation. "We rarely think of the gallery as an empty space, and that's why I wanted to be in that space to create the piece on site. Its corridor balances negative and positive spaces."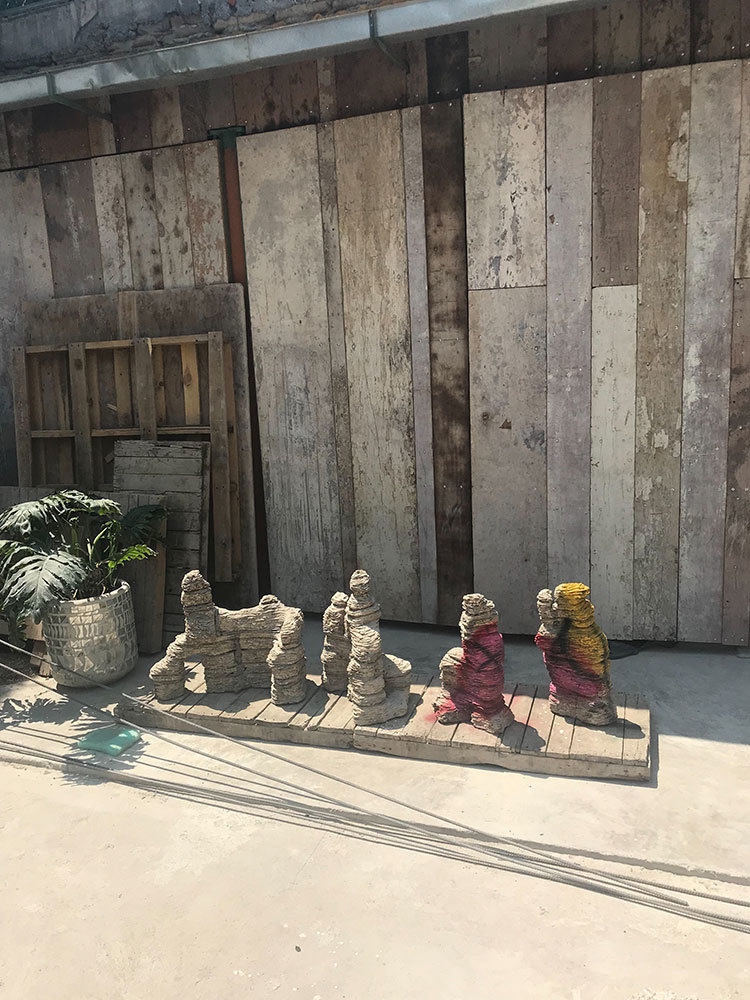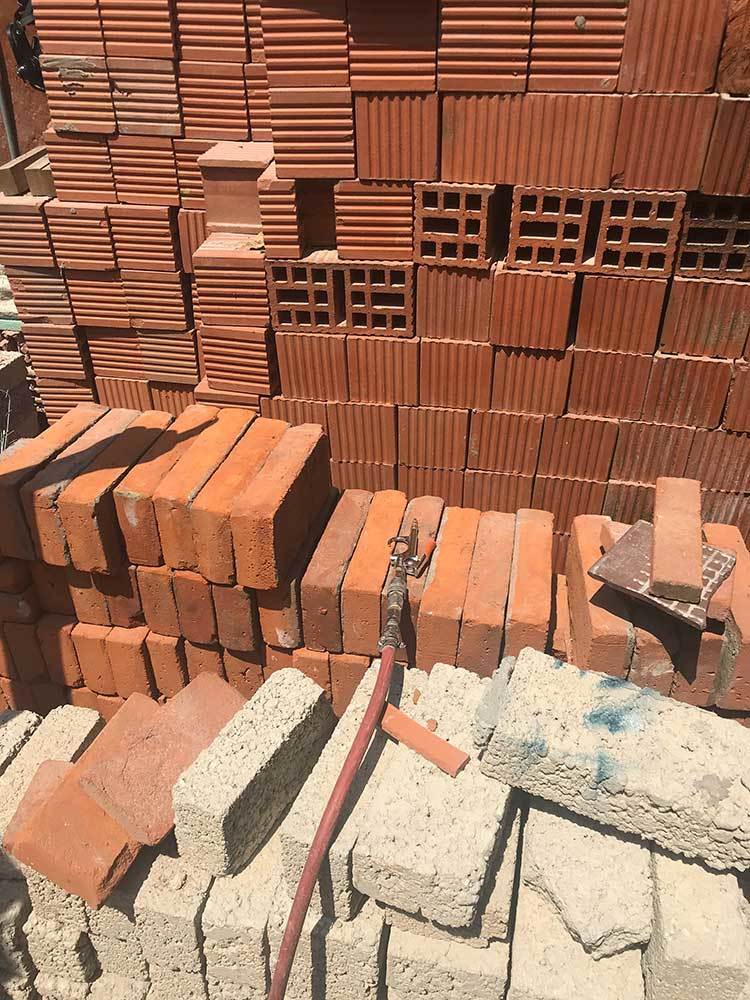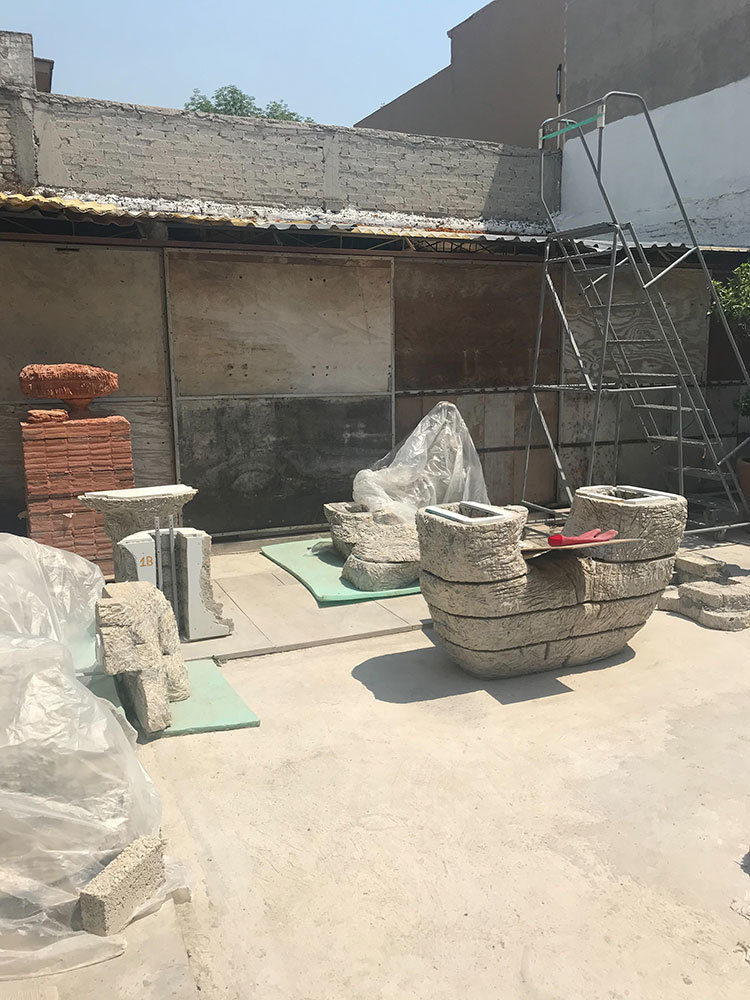 Ortega accentuates his geometrically and texturally precise works with details of habitation, such as embedding minuscule shell-shaped metals and crystals to remind us of the breath inside the concrete. The human element of architecture—of labor and inhabitation—echoes in each piece, whether in the form of paint sprayed onto a brick surface in Monster (2019) or an invitation to walk between two mounds of sand. "I enjoy the idea of academic sculpture with new information and concerns," he expressed, while adding: "I remember hearing about the closure of the paint store Pearl in Chinatown. How was it possible to close the monastery of art? I believe it's related to the fact that art changes so fast that there is less demand for paint or other traditional materials."
Damián Ortega: Porous Structures is on view at Gladstone Gallery in New York City through June 8.
Osman Can Yerebakan is a curator and art writer based in New York. His writing has appeared in T: The New York Times Style Magazine, Paris Review, Artforum, Brooklyn Rail, BOMB, Vulture and The Cut (both New York Magazine), Wallpaper*, Elephant, Village Voice, Harper's Bazaar Arabia, L'Officiel, Flaunt, Galerie Magazine, Cultured, and elsewhere.