Studio Visit: Belén Rodríguez by Lauren Moya Ford
An artist who treats painting like sculpture.

Discover MFA Programs in Art and Writing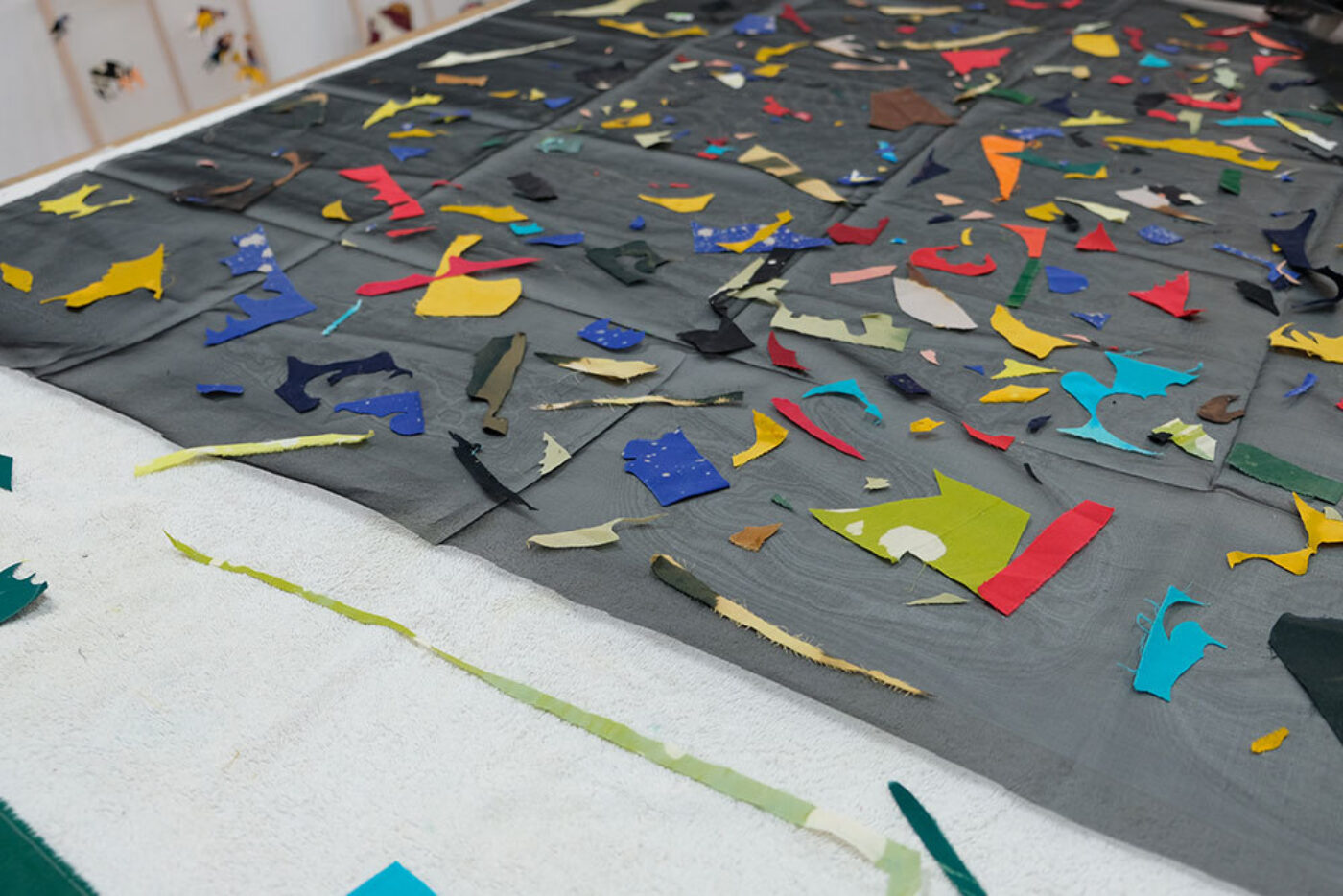 I discovered Belén Rodríguez's work by chance during my first few weeks in Madrid in 2016. Since then, I've seen her jewel-toned, bleach-freckled textiles—which resemble watermelon-skin zigzags, geological formations, and sprays of stars—standing on supports, pulled across folding screens, and draped between passages across the city. Rodríguez's work is a visual delight and a more inventive answer to painting than the monochrome austerity I've begrudgingly grown used to in other Spanish contemporary artists. Her process is "a way to work with painting sculpturally," she affirmed on my visit to her studio in southwest Madrid. "Cloth is a flat surface, like paper, that becomes three dimensional through a fold or a seam. I can manipulate the volume, and it magically passes from two to three dimensions."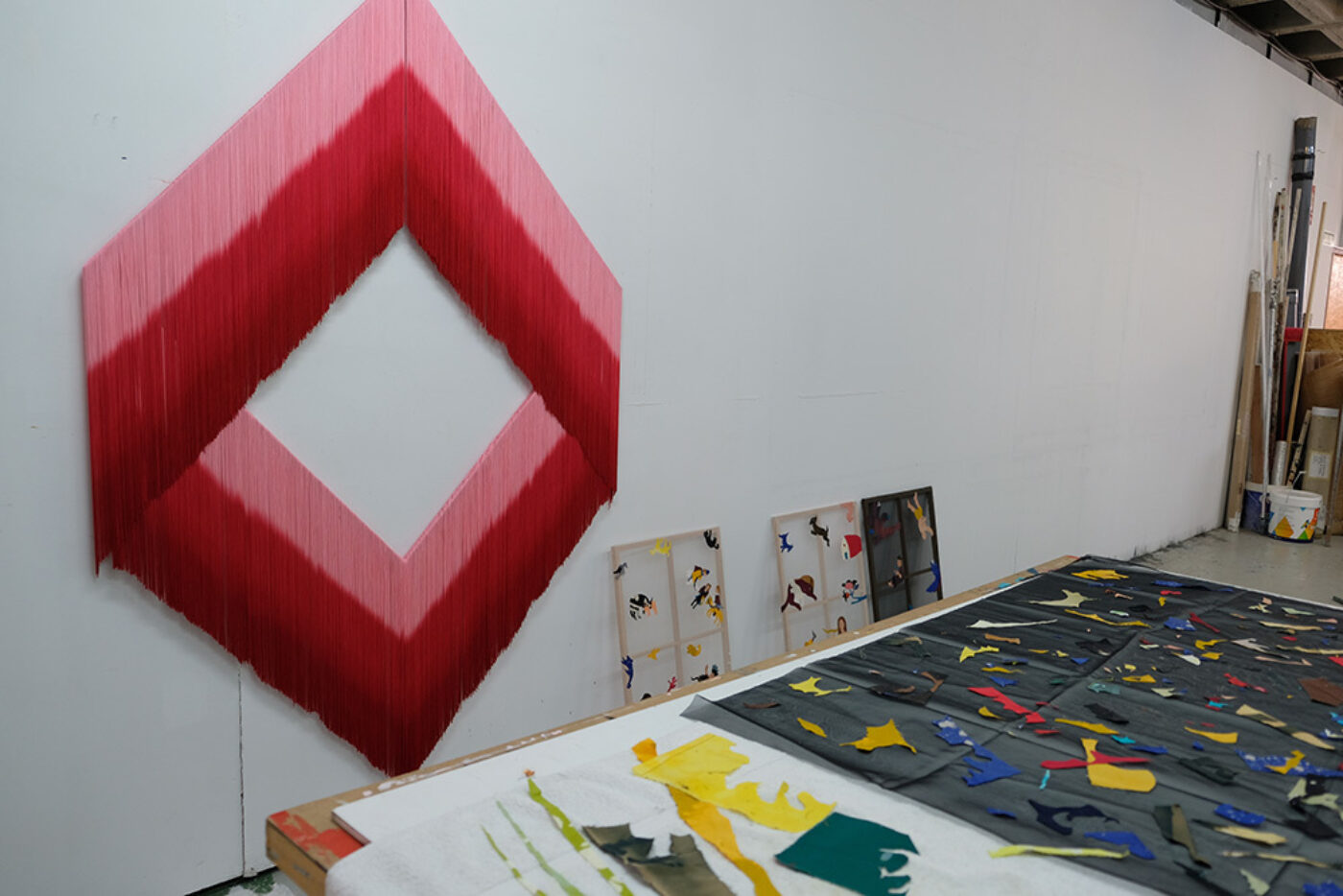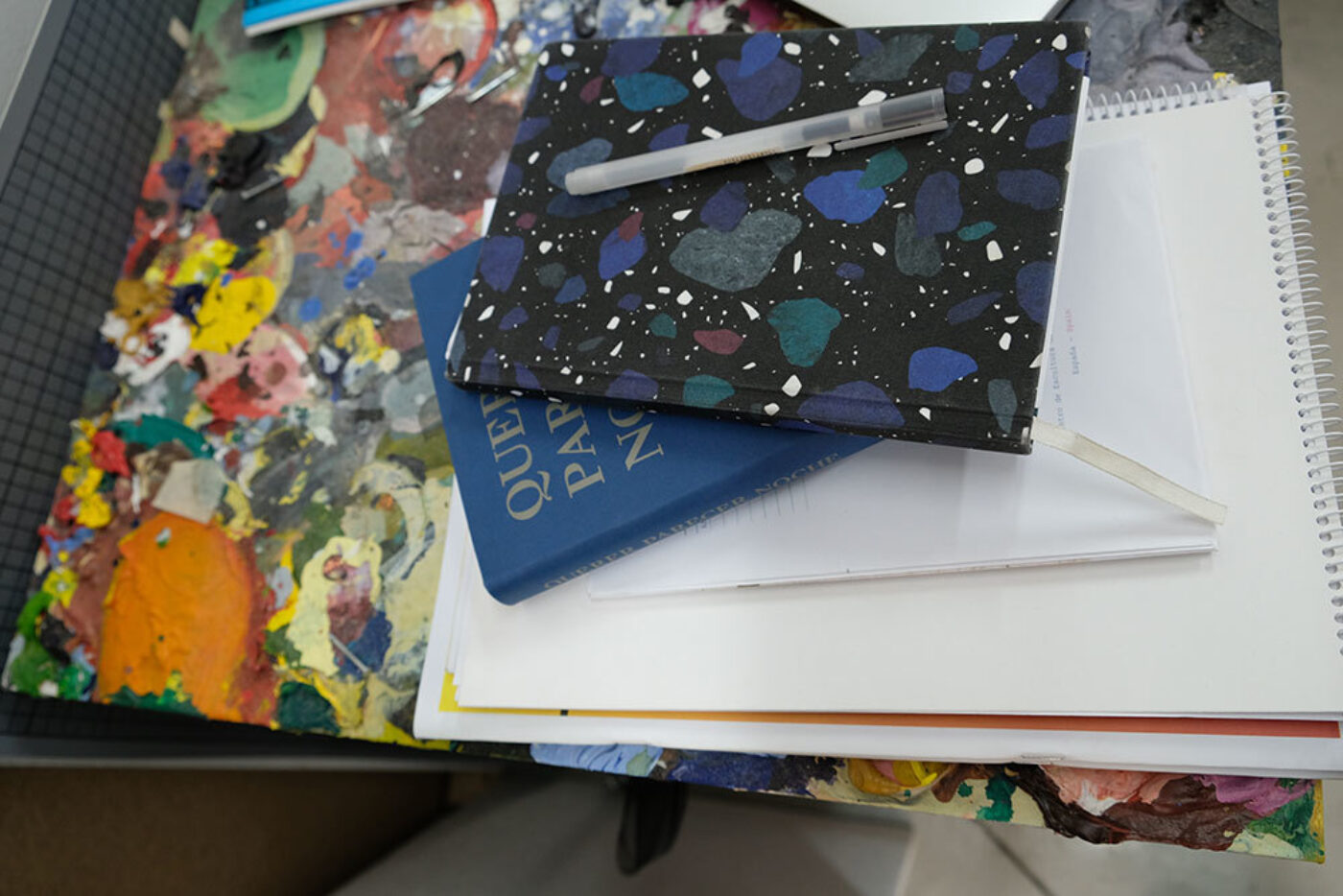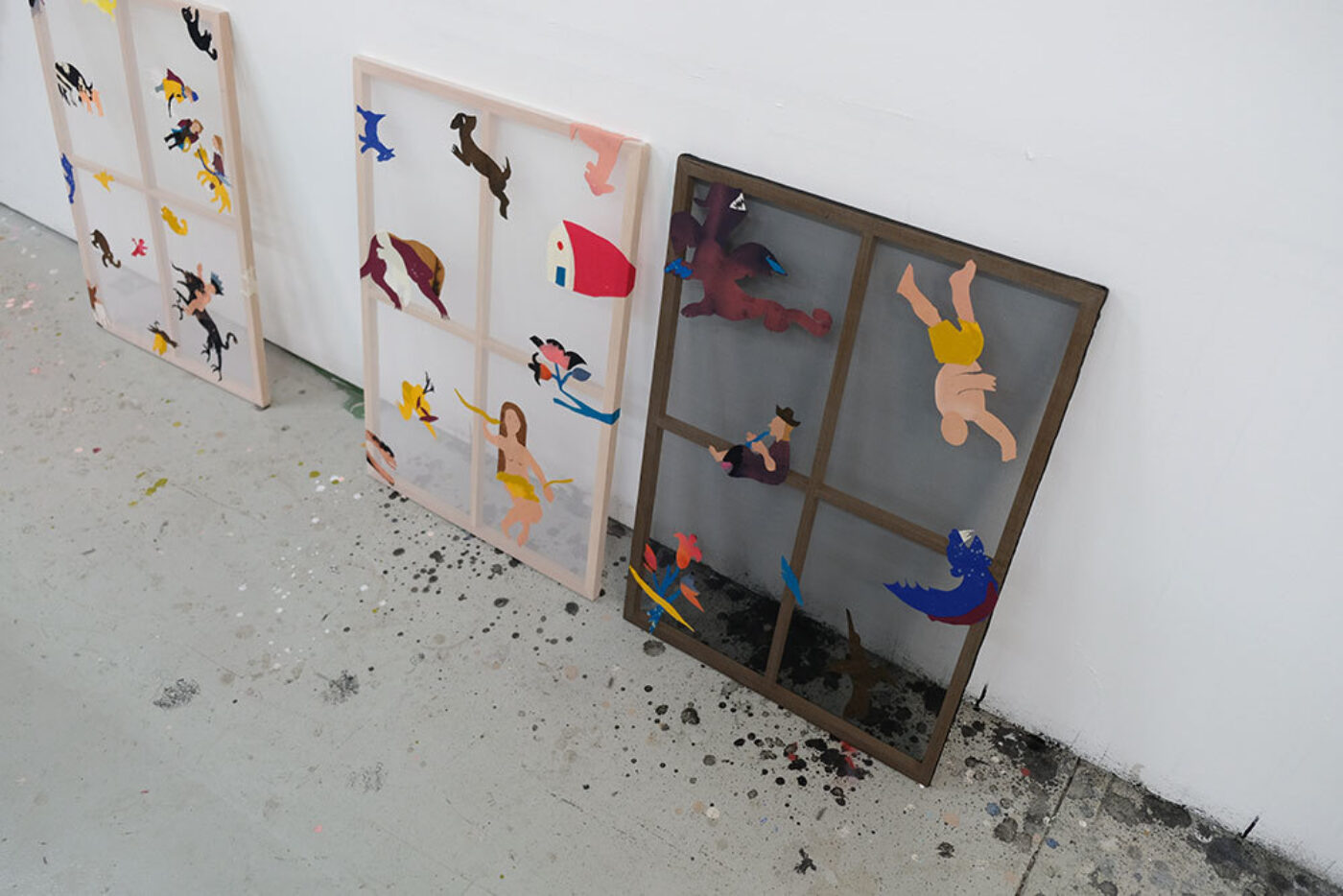 A sense of magic—or at least something of its tenuous balance of control, chance, and chaos—is palpable in Rodríguez's work. Although her tools are chemical, the results appear organic: Rodríguez's bleaches and dyes produce a seemingly infinite gamut of speckled, splotched snippets that evoke patches of skin and strips of sunset sky. Also uncommon: Rodríguez constructs by stripping away. Bleach's corrosive effects can take minutes, hours, or even days to stabilize, meaning that the materials' makeup is in flux for varying periods of time. "Working with chemicals and dyes is a way to play with the molecules of the cloth," Rodríguez told me. She compares her often unpredictable type of alchemy to painting blind and carving stone.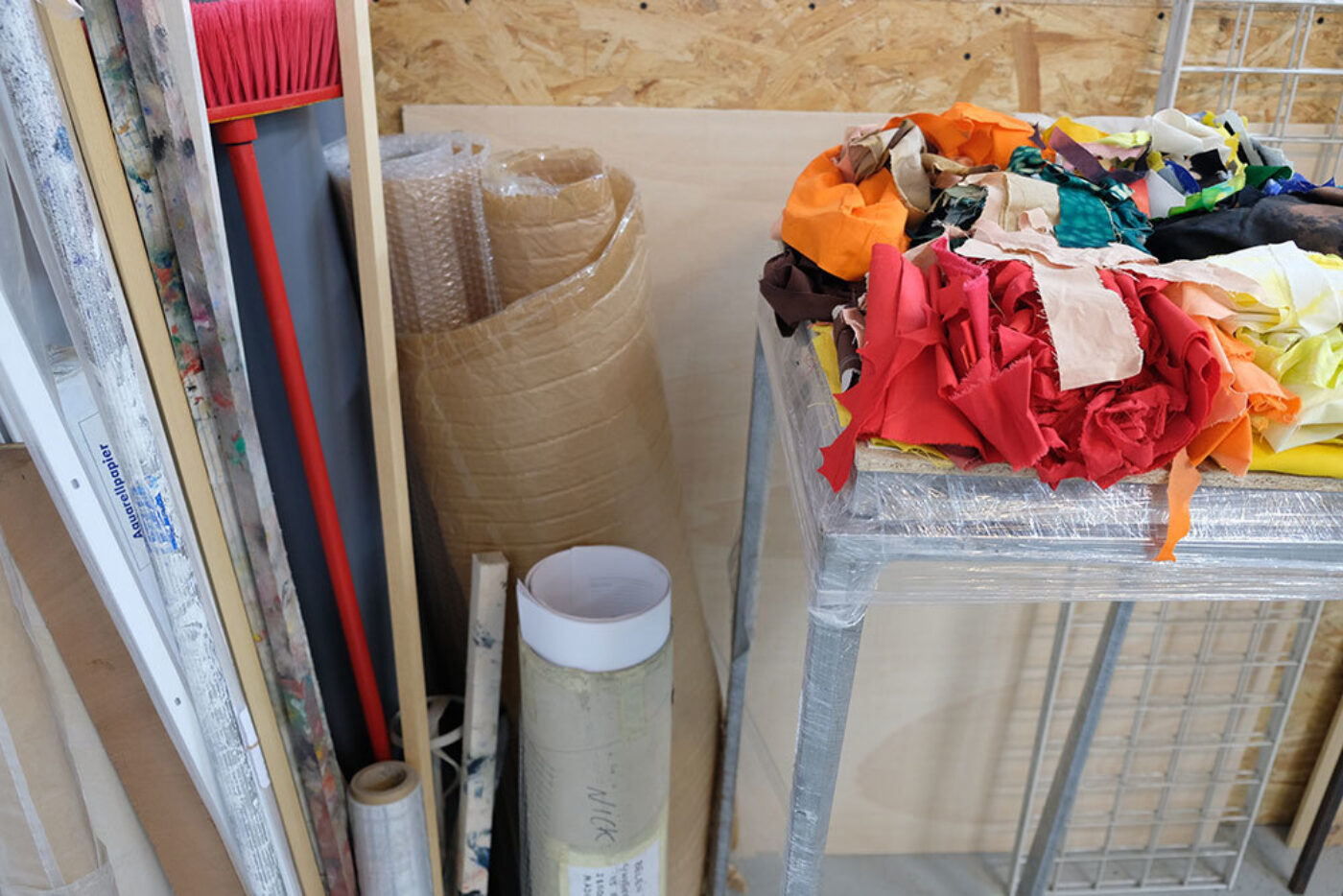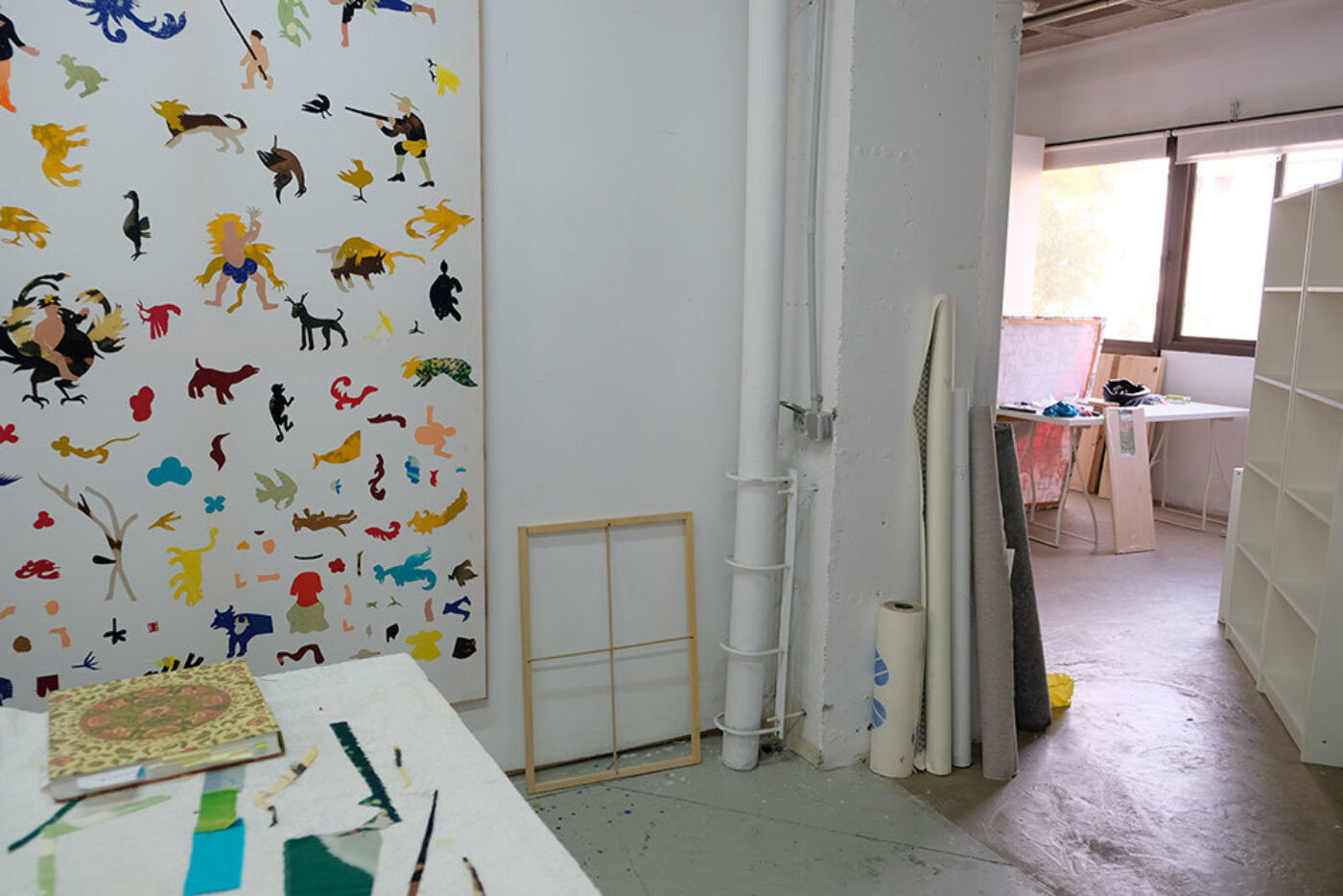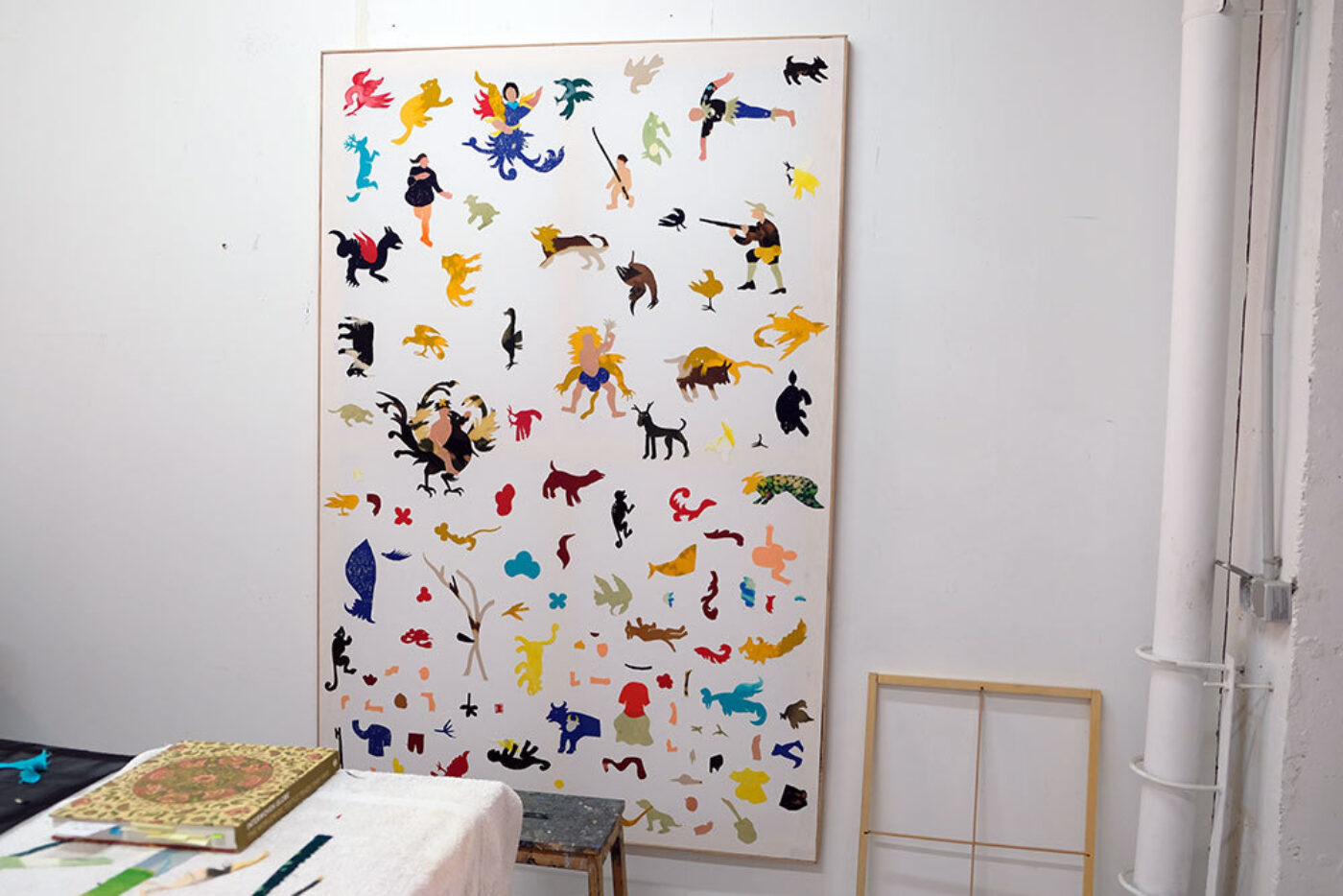 These days, tiny strips and bits of brightly colored cloth are Rodríguez's main material. Some have frayed, hairy edges where the fabric has been pulled apart; others are delicately outlined with what look like feet, beaks, and horns. The snippets are leftovers from previous projects. Like all of Rodríguez's textiles, they carry clues about their making and use without giving away too much. "Do the minimum to find the maximum" has been the artist's rule since she began this work in 2015, but it's curious to see scraps when I've known Rodríguez as someone who uses pieces the size of pools, flags, and theater curtains. In Schönbrunn (2017), for example, she wrapped a colonnade in an old tobacco factory with a beautiful bleach-painted fabric inspired by the orderly jungle scenes of nineteenth-century Austrian painter Johann Wenzel Bergl. The piece was perfectly tailored to the architecture, as if the building itself were a body. Indeed, bodies are pulled toward Rodríguez's tactile, swaying, snipped-up work. We want to touch or move through her brilliant color spaces, whatever their size.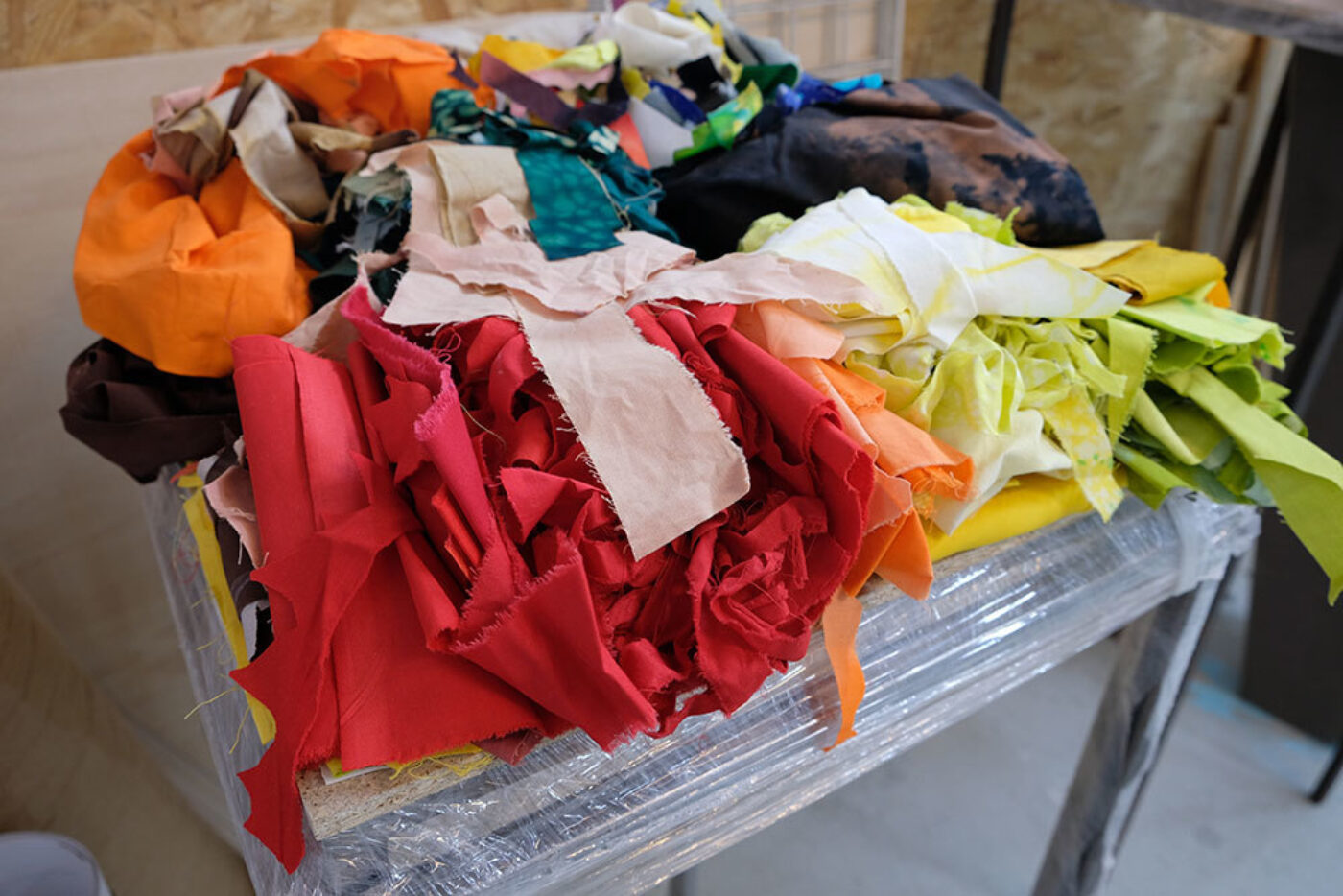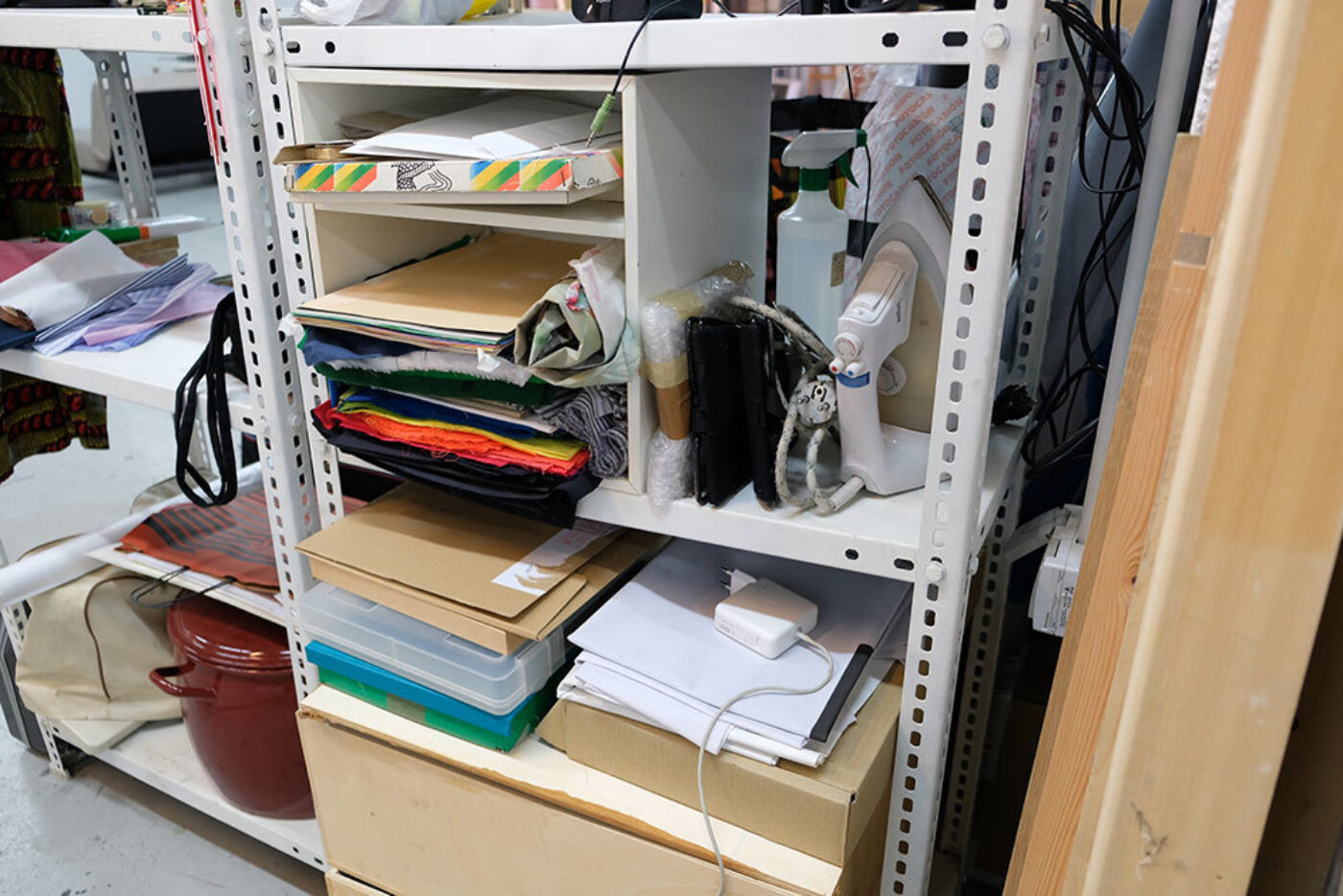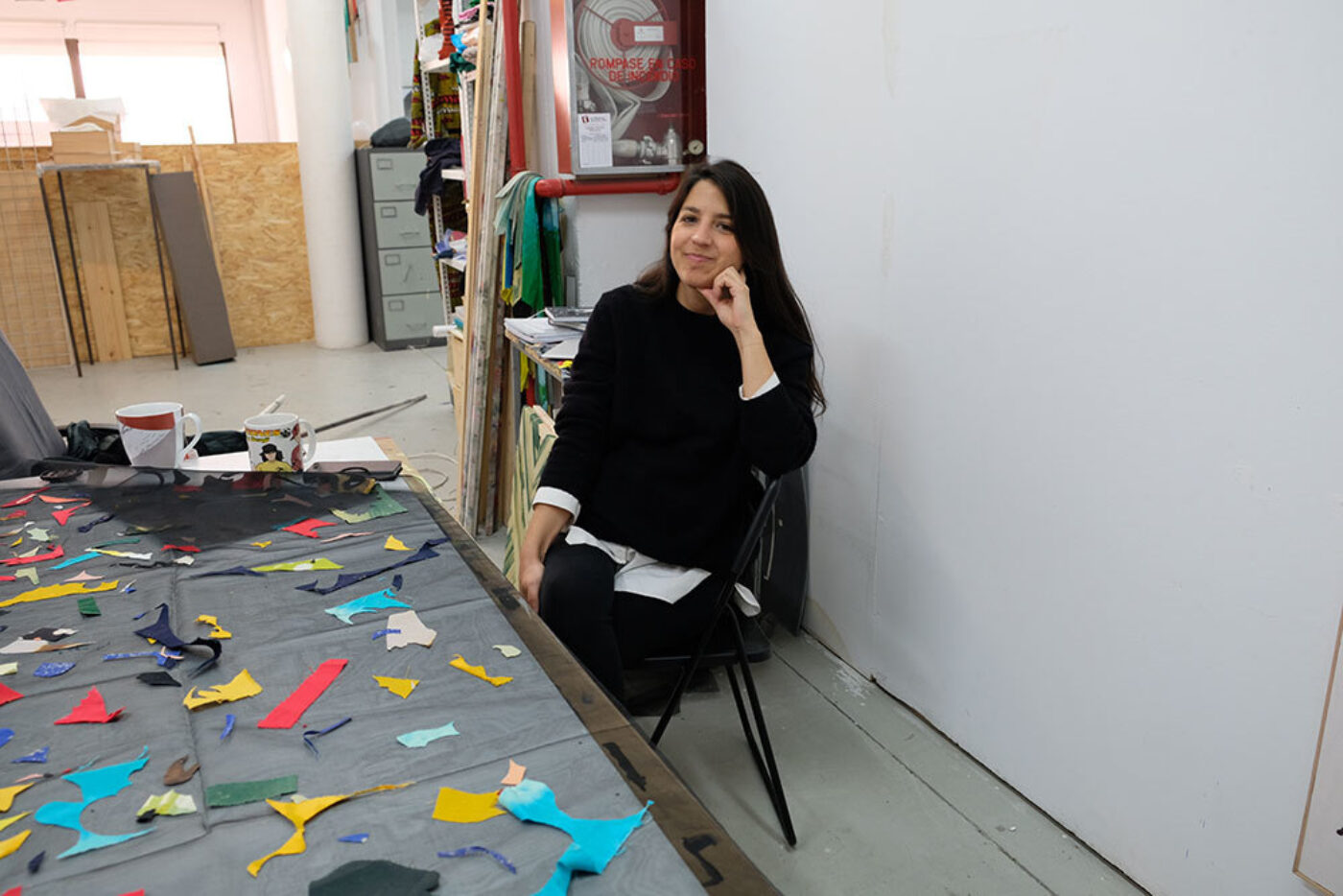 Belén Rodríguez's work can be seen in the group exhibition La cuestión es ir tirando at Centro Cultural de España en México in Mexico City until May 24. (The Centro Cultural de España en México is temporarily closed due to the coronavirus.)
Lauren Moya Ford is a writer and artist based in Madrid.