Discover MFA Programs in Art and Writing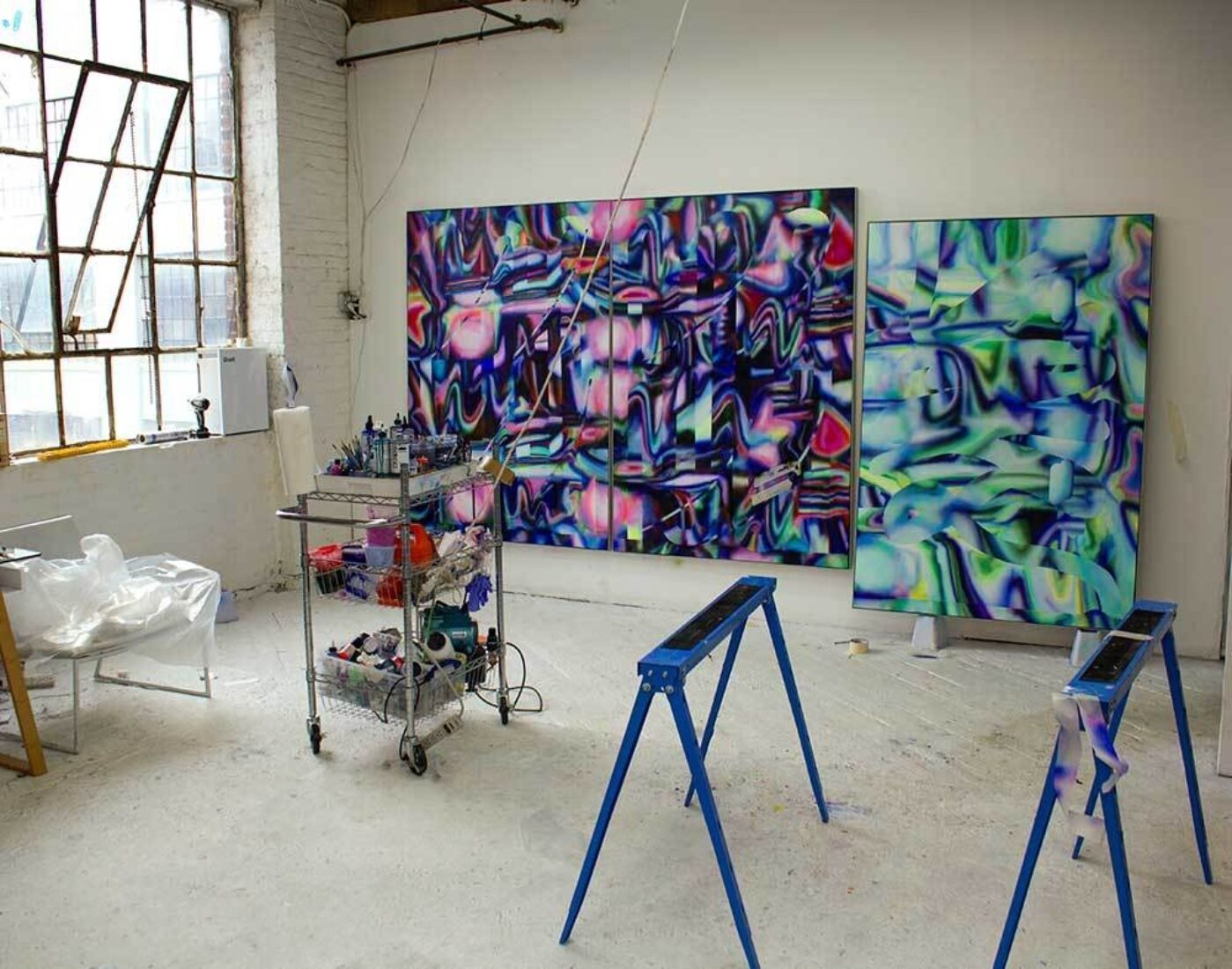 Anne Vieux's studio—located in an old industrial building on the northside of Long Island City, Queens—is a glowing white cube: painted floor to ceiling in pristine marble white with hanging overhead fluorescent lights, the loft serves as the perfect backdrop for Vieux's digitally inspired and scintillating paintings.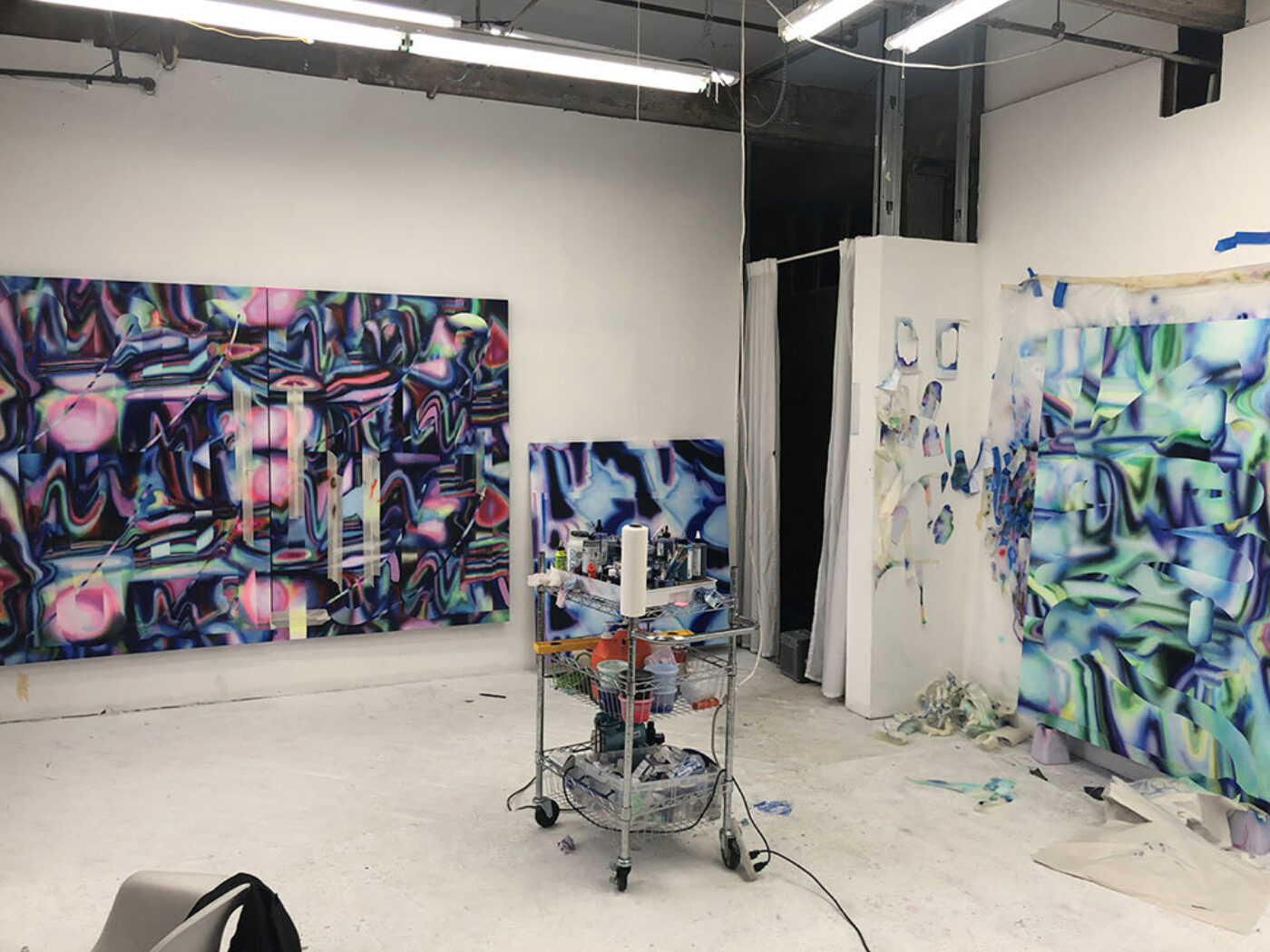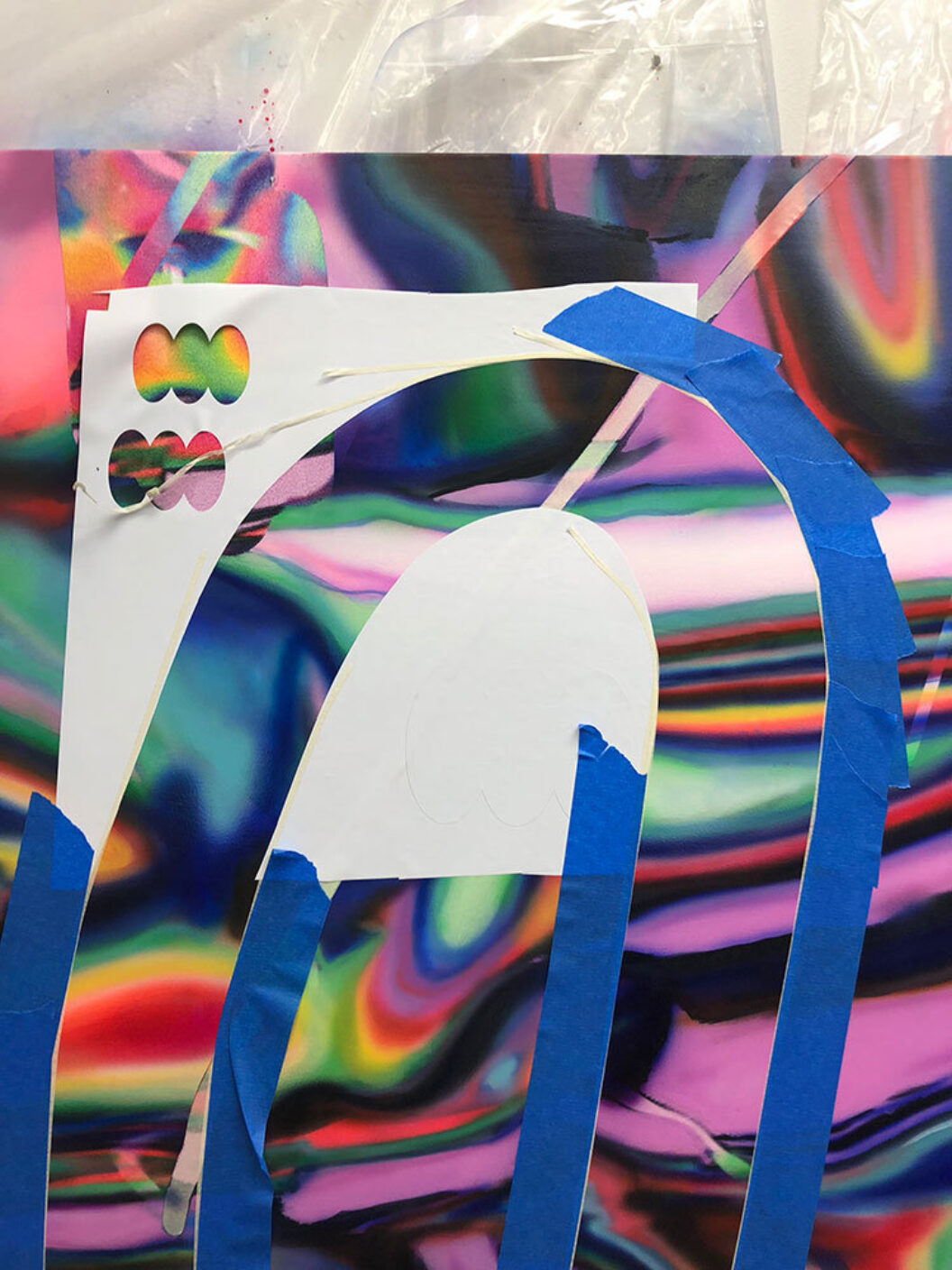 The room is neat and elegant—undoubtedly so in preparation for my visit—with a white pleather coach for guests to sit on and occasional piles of used and discarded pieces of masking tape resting idly in disparate corners of the space or still hanging against a painting or wall. These sticking ribbons, so lightly covered in paint, serve to create clean and glowing shapes of color, airbrushed onto the surface and overlaid against each other to form an incandescent maze of abstraction.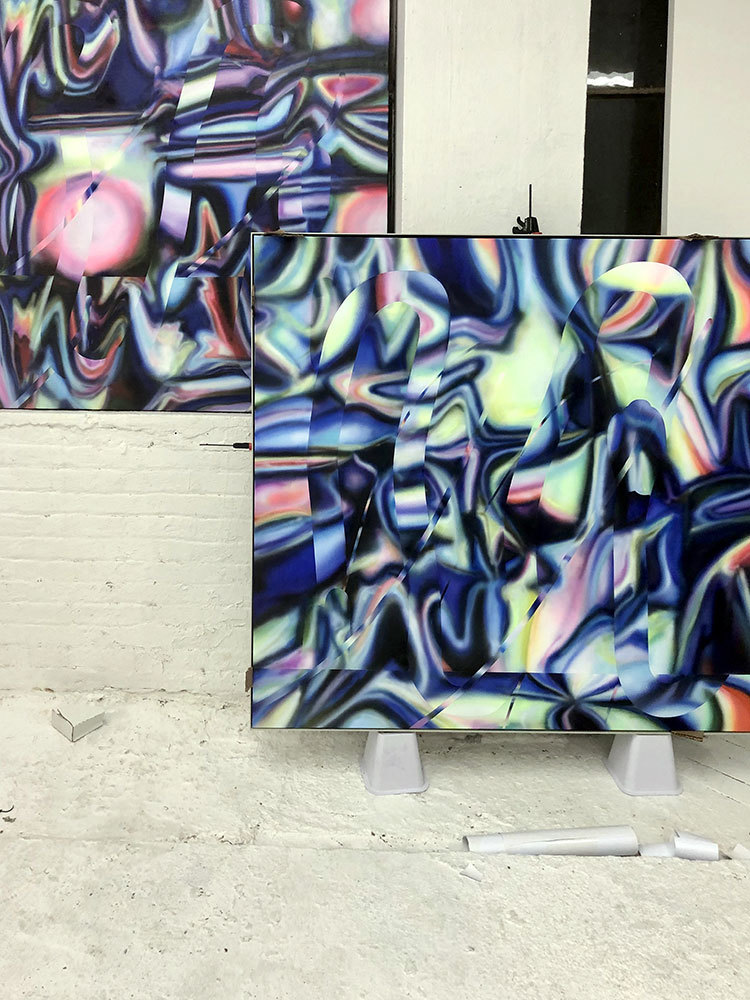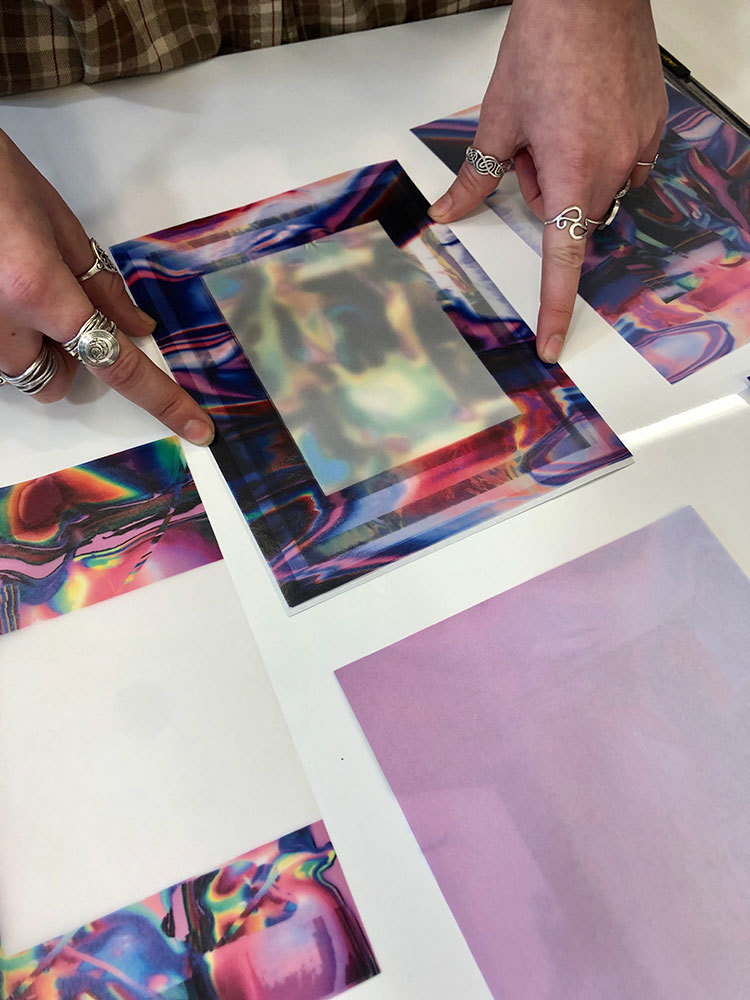 The paintings themselves, either carefully hung for display or leaning against the wall while sitting on small plinths that lift them above a floor covered in a clear, plastic drop cloth, are beautifully complex and hard to figure out. The trippy tableaux have a beguiling genesis story.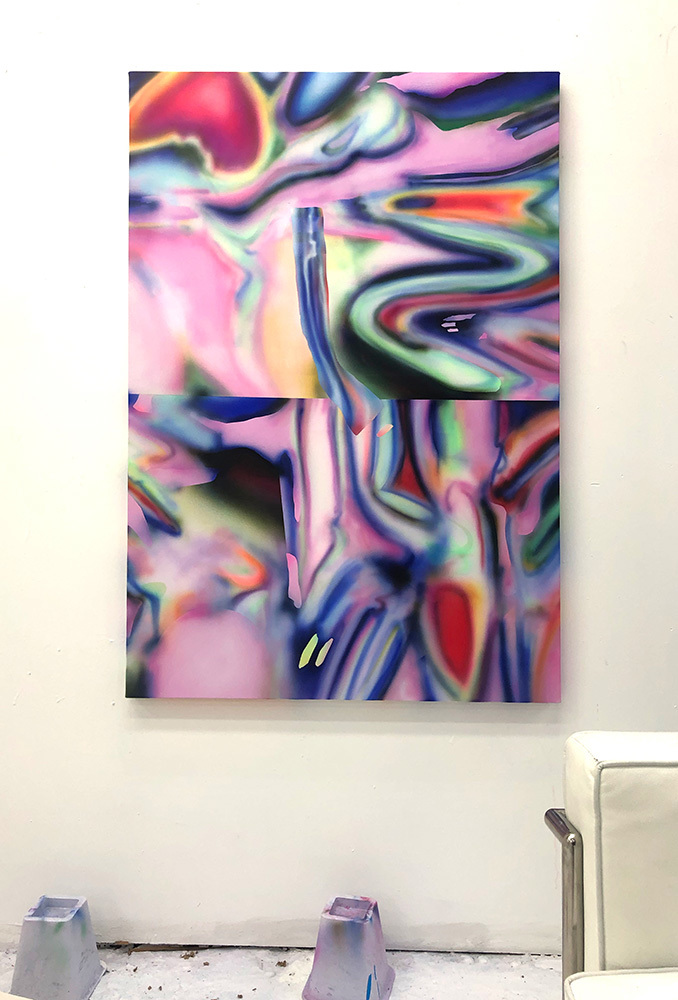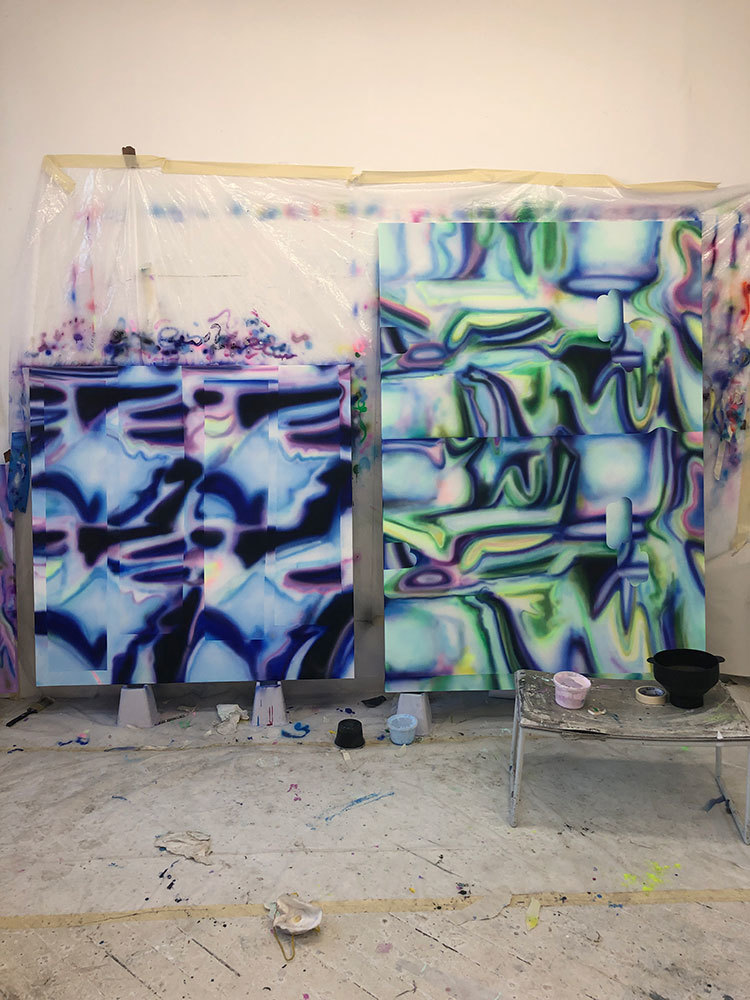 Quirkily enough, the Michigan-born artist's most trusted muse for many years has been holographic or reflective paper: a giftwrap-like sheet of shiny aluminum embossed with a holographic design. Vieux manipulates the thin metallic leaf of paper, oftentimes crumpling it for texture, and then scans the material on a flatbed scanner. The light from the scanner refracts against the paper and creates a digital output of psychedelic shapes and patterns of blue, red, purple, green, yellow, and so on. The resulting images are digitally printed on microfiber or canvas. Vieux paints on top of these images, mimicking each pattern of color or slightly diverting from them to create new ones, generating syncopated swatches of dark hues, undulating in all directions, begetting a cosmic and painterly sense of the digital world.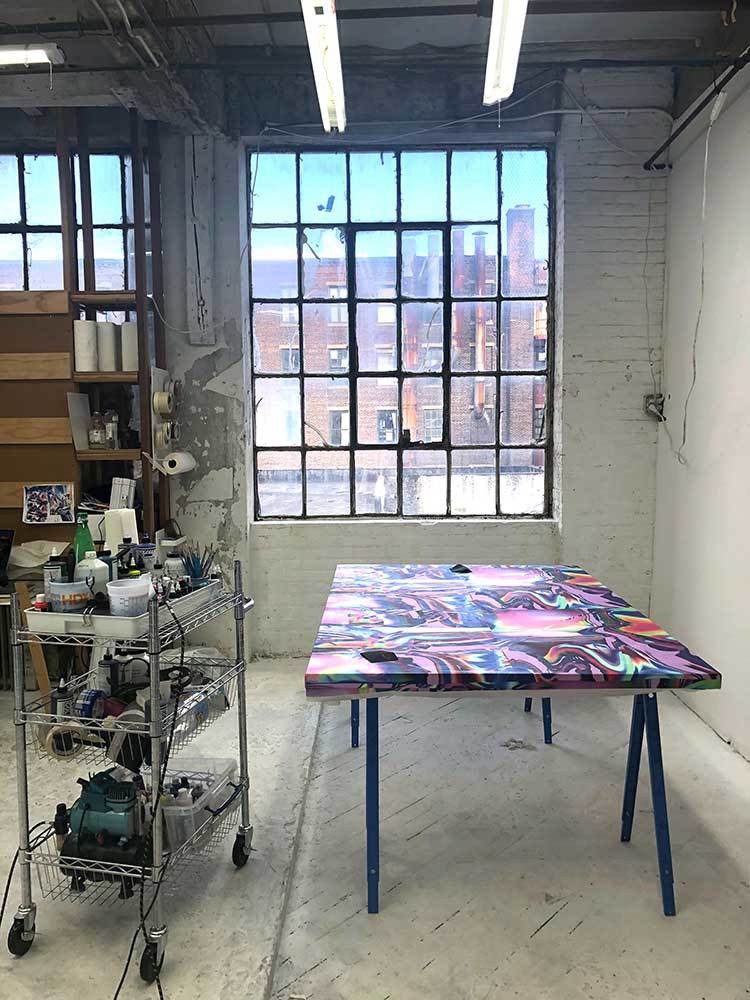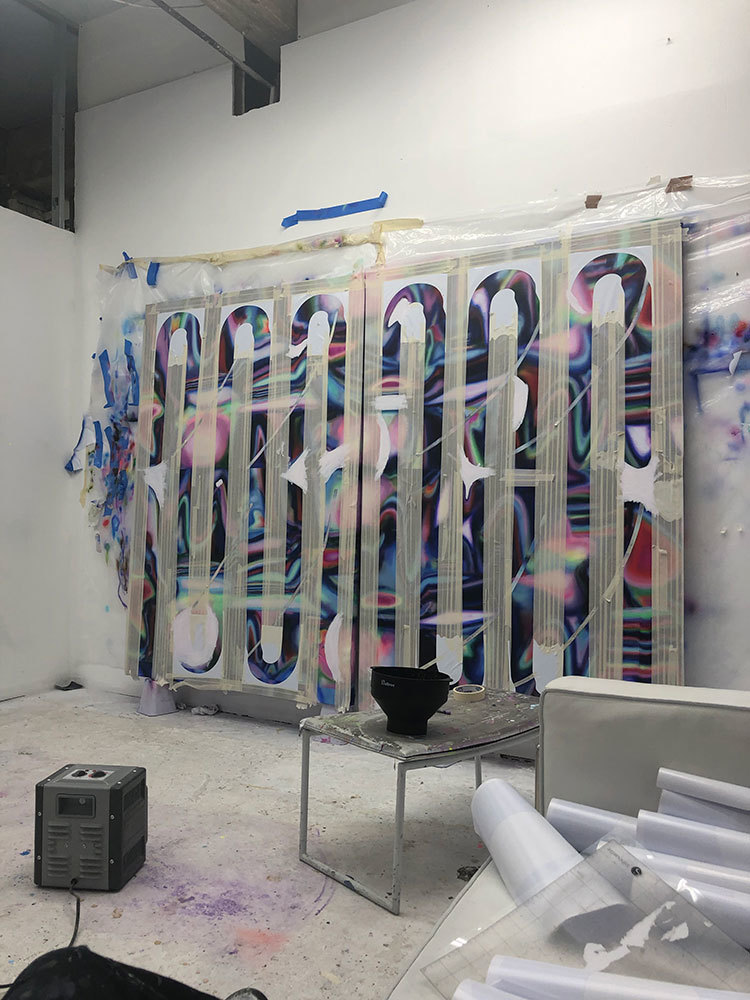 Vieux's approach to painting fits a current trend that seeks to marry (and blur) analog and digital forms of image making, viewing computer-based manipulations as synonymous with the brush. However, in this artist's case, the work is regularly dark and introspective, always creating a relationship between the two spheres of image production that is at once fraught and sympathetic at the same time.
Anne Vieux's work can be seen in the group exhibition Post Analog Studio at The Hole in New York City until May 19.
Terence Trouillot is a writer and editor living in Brooklyn and is a contributing editor for BOMB.