Studio Visit: Amy Bay by Amelia Rina
Luscious paintings of flowers and foliage.

Discover MFA Programs in Art and Writing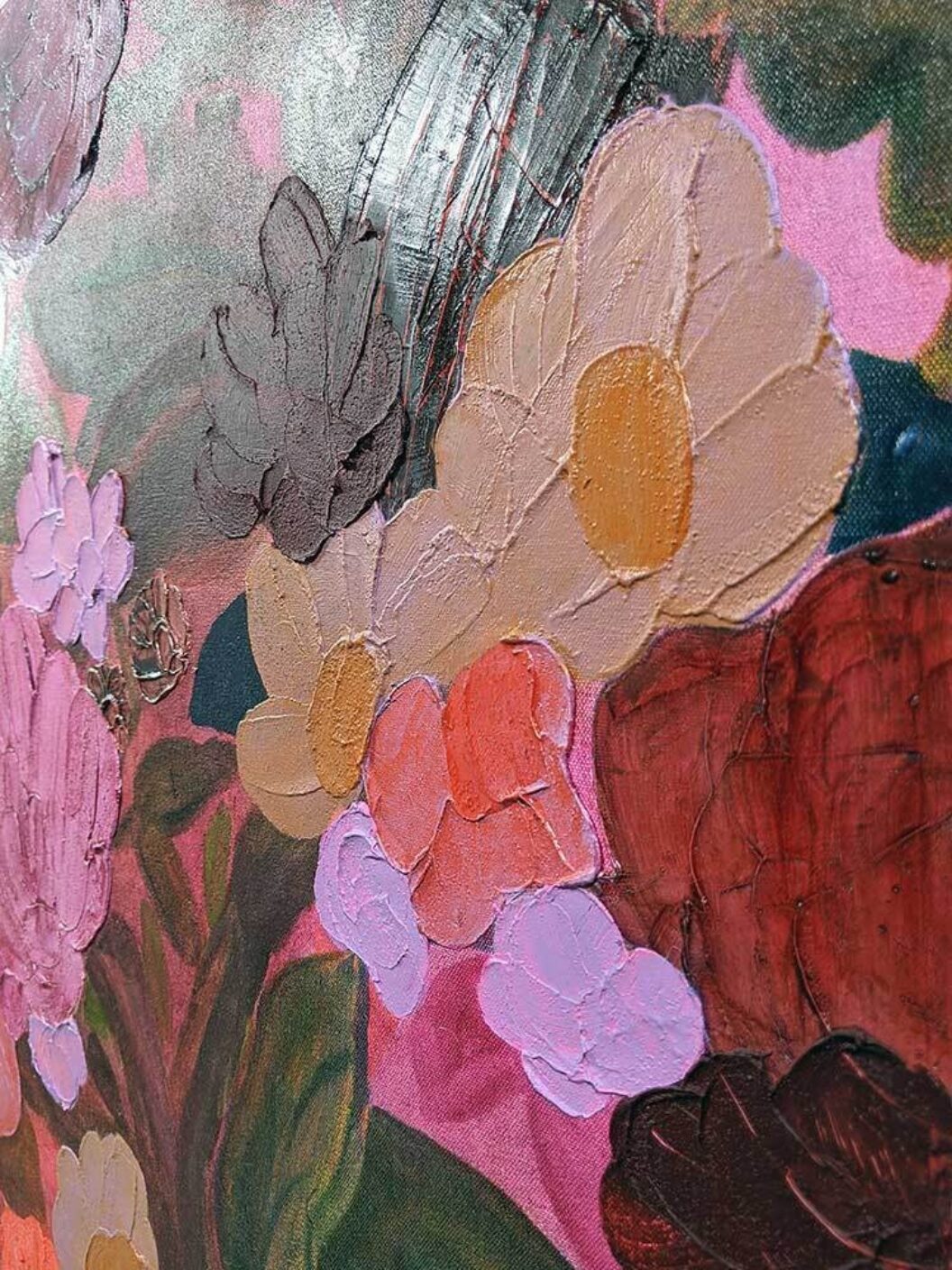 I had to reschedule my visit to Amy Bay's studio in northeast Portland, Oregon, because a bitter winter storm brought snow, ice, and power outages to much of the city. Though I try not to anthropomorphize nature and the weather, it was hard not to feel like it was mad at us. When the roads finally cleared enough for me to cross the city, I entered Bay's basement studio to find nature in full, exuberant bloom. Canvases ranging from cocktail-napkin size to a substantial forty-eight by forty-six inches populated the walls and floor, each one bursting with densely packed flowers and foliage.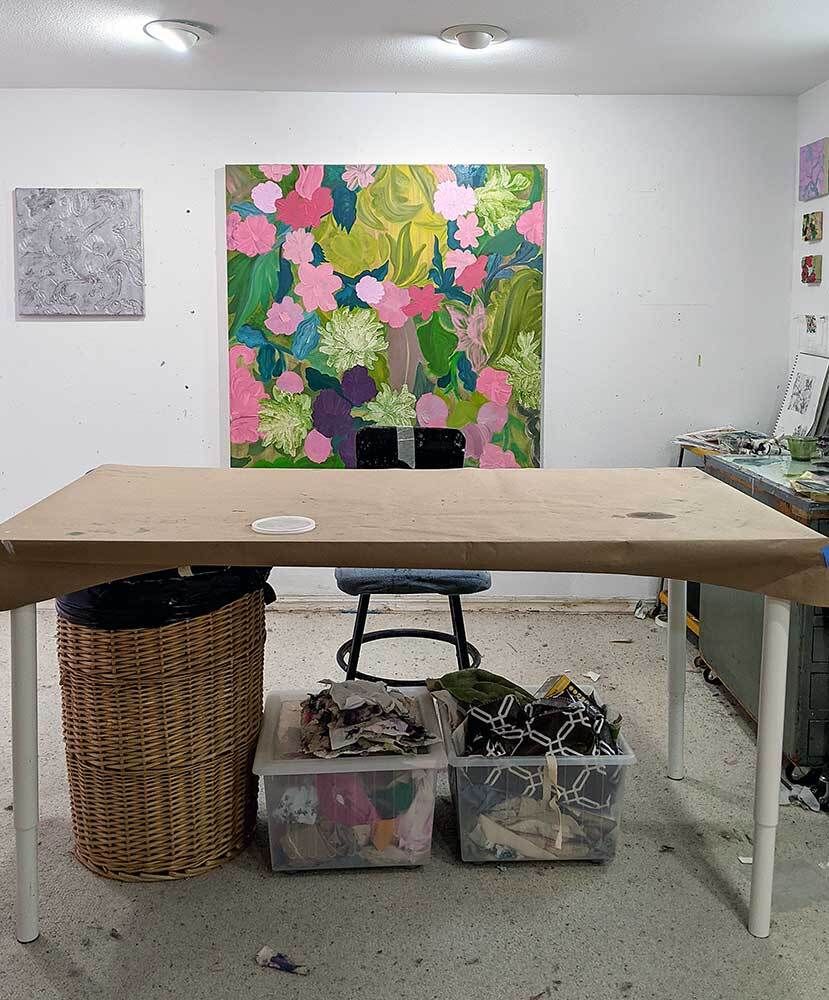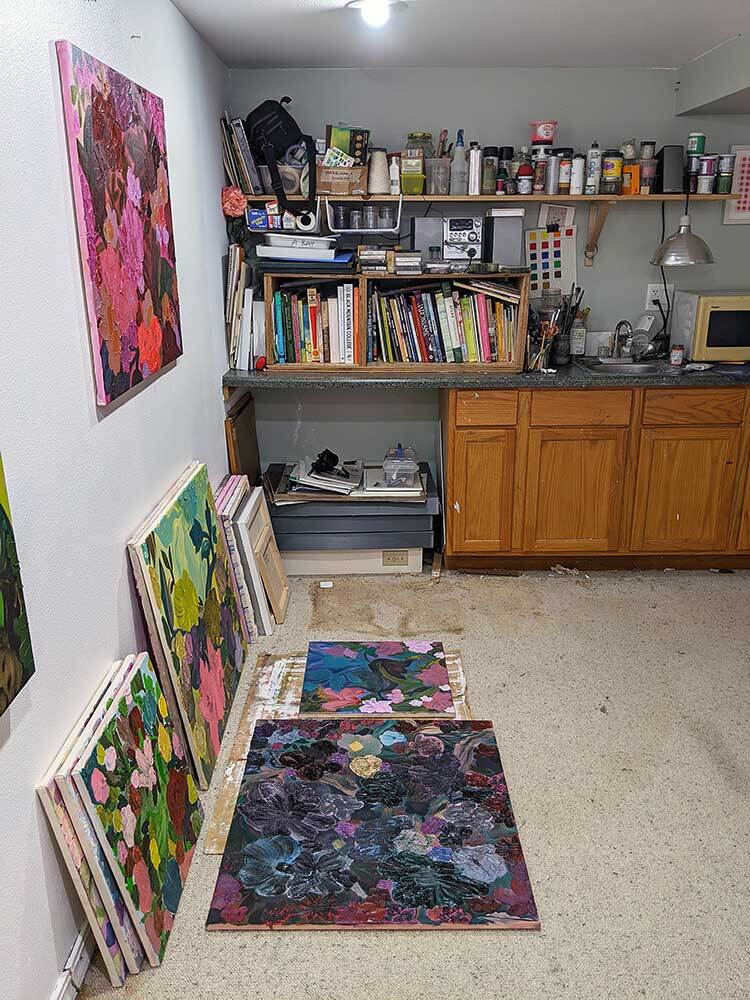 "There's nothing about my paintings that's minimal or quiet. I like that they're cacophonous," Bay told me. This baroque quality counterbalances her influences, which range from classical still lifes to commercial design such as floral wallpaper. In her hands, flowers, so often portrayed as fragile, pretty, yonic, or feminine, oscillate between decorative and grotesque. By allowing them to be unruly and imperfect, Bay grants each conference of blooms an uncommon sense of agency. Daisy-ish characters seem to force their way to the surface of the canvases, demanding to be equal with roses and chrysanthemum-looking fluffy clusters.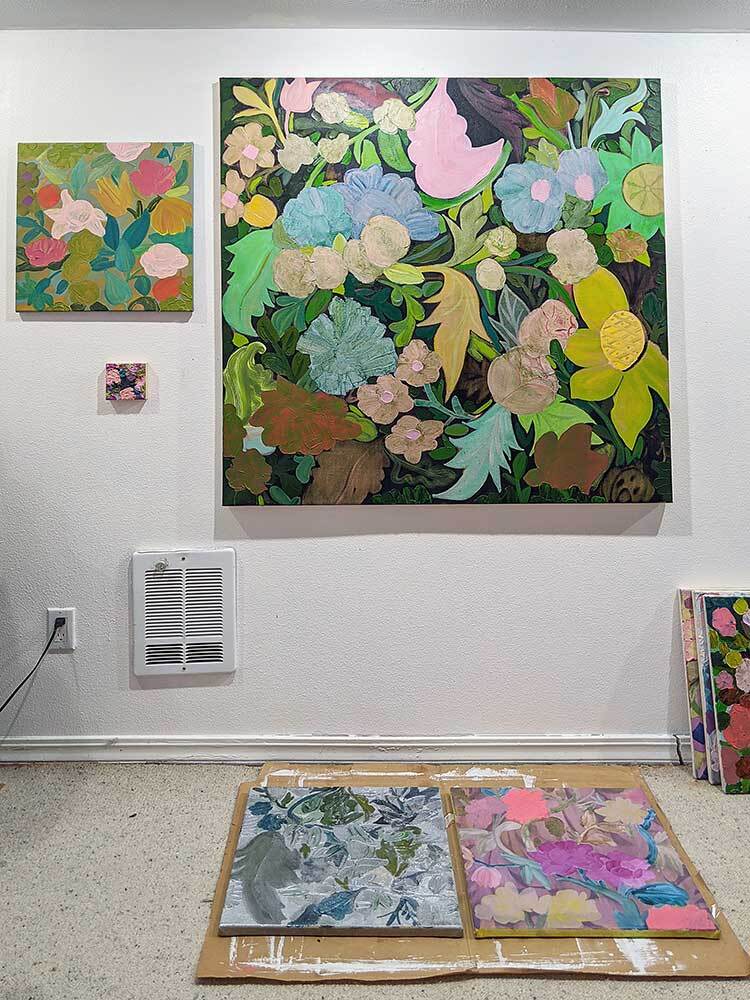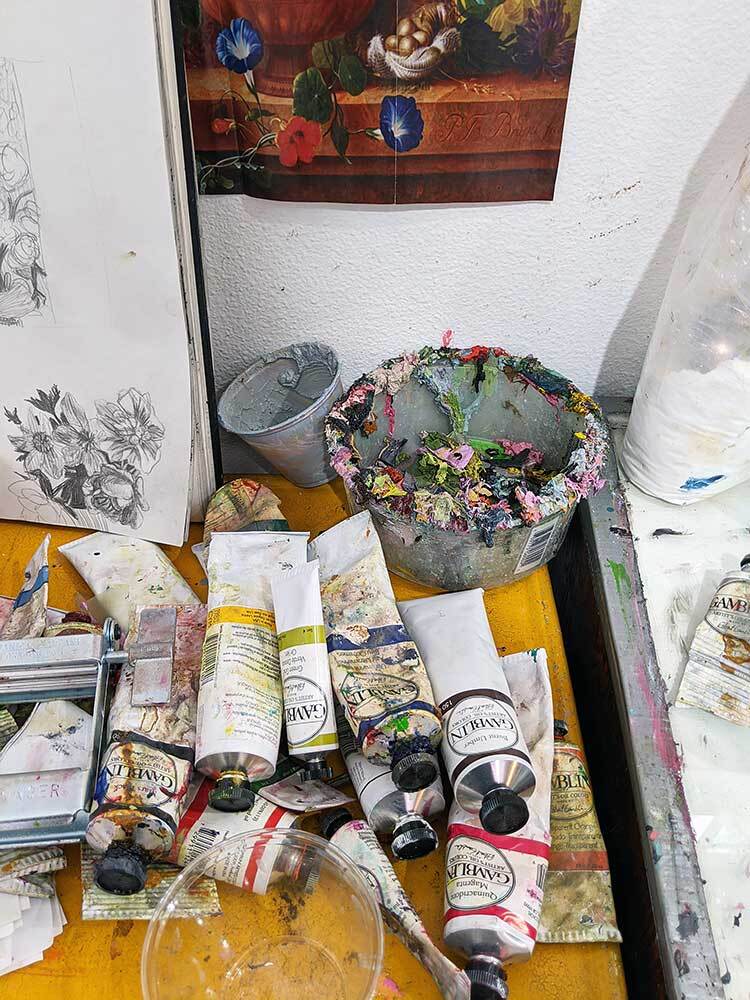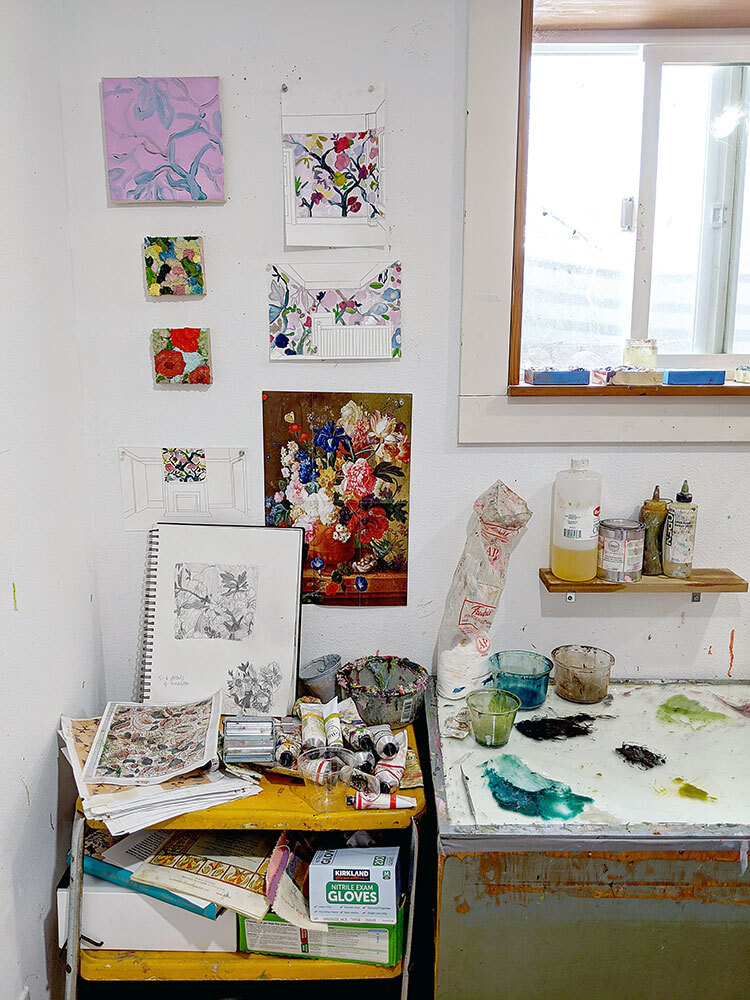 Though Bay's paintings have looked gorgeous when I've seen them hung on gallery walls, there's something distinctly pleasurable about seeing them in her studio. Below street level, with a small egress window above her pallet and tools station as the only natural light, the botanicals feel particularly defiant of expectations—like finding a wildflower meadow in a cave. Bay doesn't concern herself with realism, and never paints from life. Instead, each composition emerges as many-layered appropriations of a particular reference, like a swatch of wallpaper. Some paintings elicit a synesthetic response from Bay. The particular pinky-beige of flowers in Forever Ago (all works 2021) makes her mouth taste like cake frosting. People often tell her that they want to eat or lick her paintings, which she loves. The gustatory effect is heightened by the physicality of her media: thick paint adds a three-dimensional quality to some flowers. Others, constructed through many layers of paint thinned to translucence, provide a contrasting depth.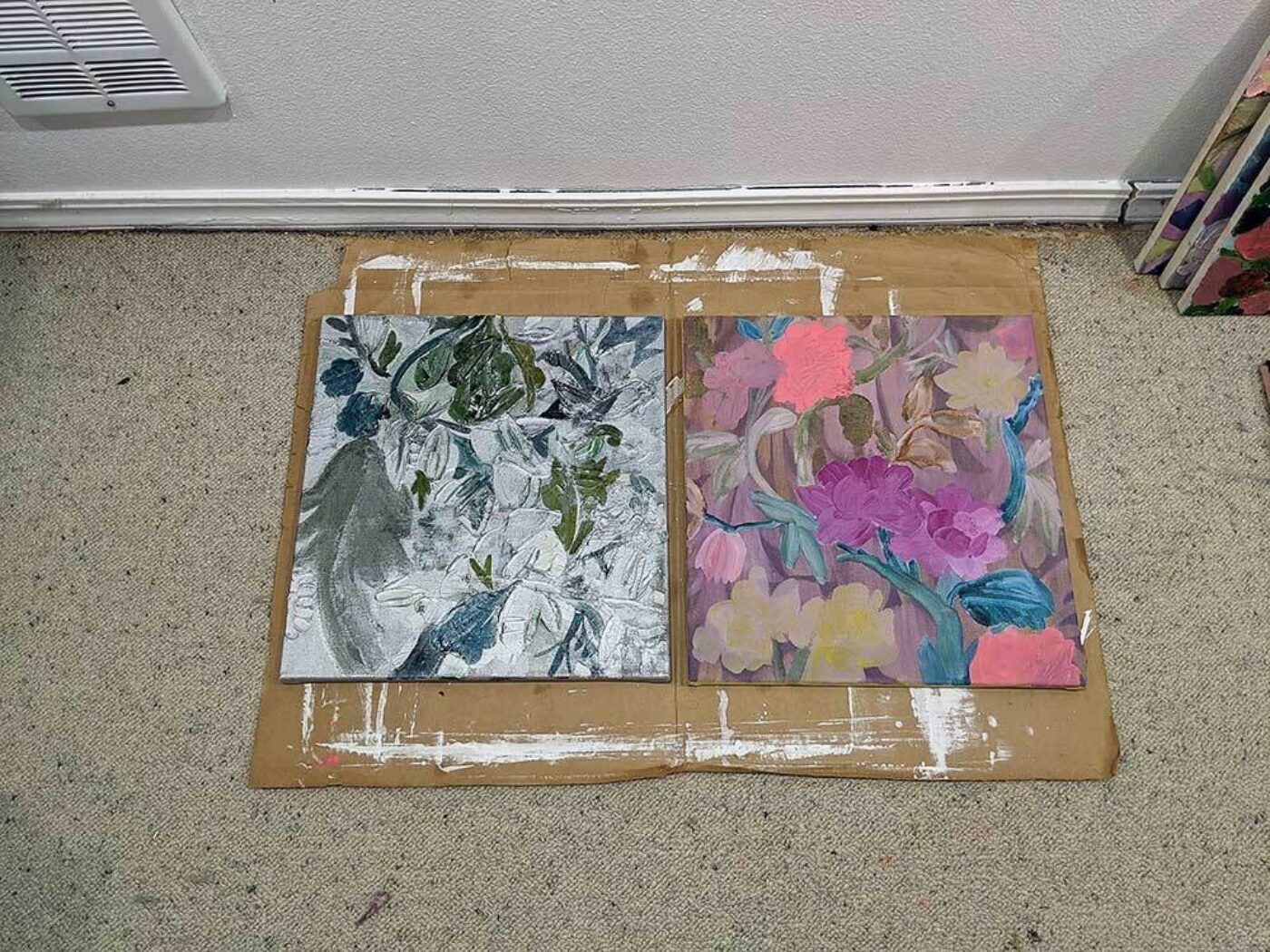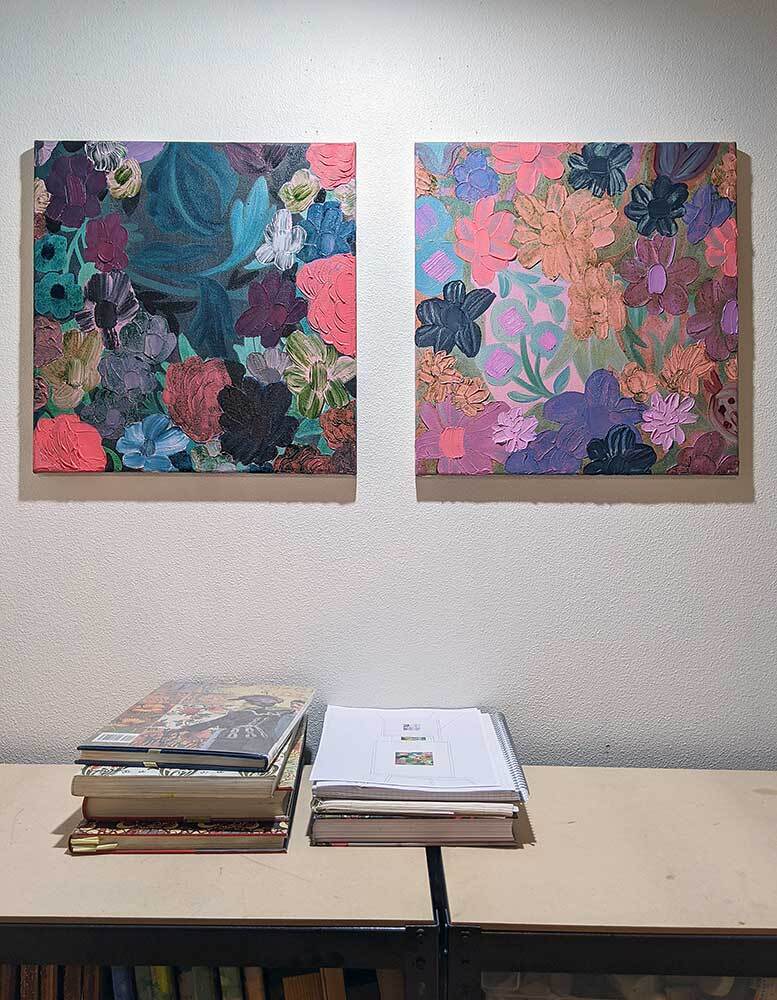 The paintings' least visible element is also their most personal: the titles. This is How I Would Want to Go; There, There; and Regard, My Dear all imbue the works with an intimate, nurturing narrative kept secret from the viewer. Though Bay considers the weight of art history and all the loaded connotations of flowers, her paintings are free from any didactic experience. Instead, they're pure, joyous sensory overload.
Amy Bay: Blush is on view at Melanie Flood Projects in Portland, OR, until April 10.
Amelia Rina is a writer and editor based in Portland, Oregon, on the unceded territories of the Clackamas and Cowlitz nations. She is the founder of Variable West.