Stom Sogo and Andrew Lampert
Filmmakers Andrew Lampert and Stom Sogo, who tragically passed away last year, trade impressions in an unpublished conversation from 2000.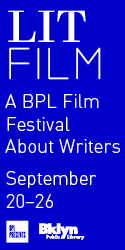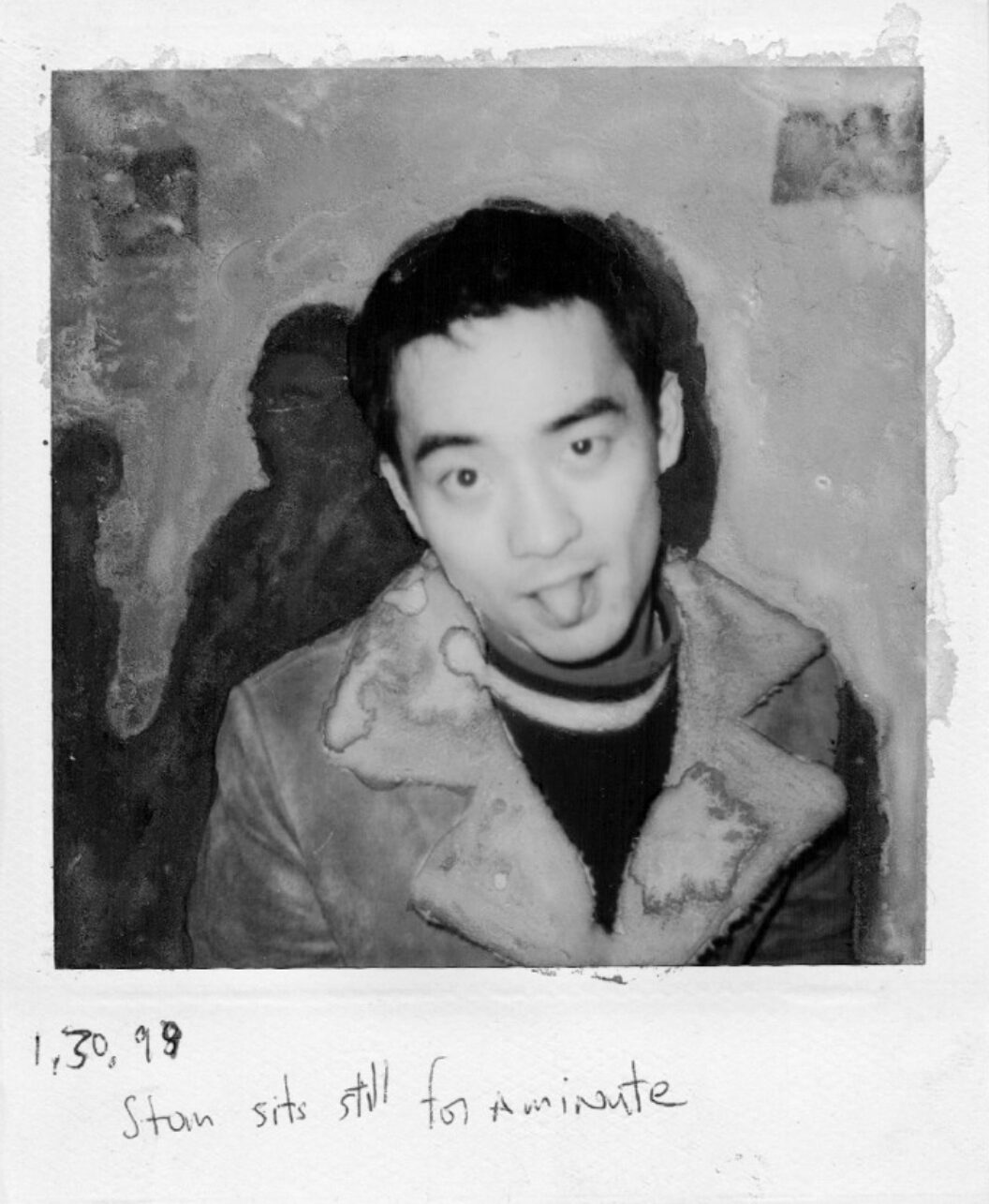 In the movie no one is going to make about my late teens and early twenties I will be a side player to Stom Sogo. You could not stand next to him without feeling his heat. Looking closely, you might have seen steam rising off his head. As a married father re-reading this piece today, our crazed conversation feels like it was recorded a loooong time ago. I'm guessing that we spoke/wrote the following text in 2000 before he left NYC to attend grad school at the San Francisco Art Institute. He had originally moved to the US in the late 1980s to attend high school, migrated to NYC in 1993 for college at SVA, and landed a job at Anthology Film Archives. In those days, he was a central presence in the experimental film community, constantly in spiring all of us with his flickering forays into deeply spaced out territory. During those freewheeling days and mostly late nights he created an epic amount of densely packed, highly lyrical films and videos that turned heads and created incidents in various festivals, exhibitions and contexts.
Stom only enrolled at the Art Institute to get a student visa, otherwise it meant returning to Osaka, which he eventually was forced to do anyway in 2004. In Japan, Stom worked for his family and remained productive. He periodically issued DVD and CD care packages of new works to friends, however his screenings and communications became more sporadic. Stom Sogo, who in his lifetime had already grown into something of a myth to his friends and admirers, passed away in July, 2012 at age 37.
All of Stom's work, including hundred of reels of film and mini-dv tapes, numerous hard drives, boxes of audio cassettes, now resides at Anthology it is currently being cataloged and digitized. A six program retrospective screens in the Maya Deren Theater (where Stom was regularly the projectionist) the weekend of April 5–7, 2013, and more of his videos will be posted on Anthology's forthcoming collections site later this year.
—Andrew Lampert
 
An Interview with Stom Sogo by Andrew Lampert Or An Interview on Andy Lampert by Stom Sogo
Filmmaker Stom Sogo was born in Osaka, Japan and moved to the United States nearly ten years ago. Based in New York since 1993, Stom has come to realize that the city is dead and boring, totally over and no longer the place for him. So, come August, all maps, road signs and legislative documents will now refer to San Francisco "Stom Sogo Central". In addition to just mellowing out and avoiding the winter, Stom will be attending the San Francisco Art Institute to further extend his mayhem.
At the age of 25, Stom's body of work is already so fully developed, prodigious and on the edge that he makes the rest of the NY avant-film-cultists with whom some would associate him look lazy.
His heavily layered, kaleidoscopic movies are produced via mysterious methods of re-photographing Super 8 and video. For the most part, his soundtracks consist of manipulated found music or manic homemade sound collages (although, some use recordings by friends and others are to be viewed silent). Beyond that, your guess as to his M.O. is as good as mine. From lyrical 16mm diaries to psyche-seismic-psycho autobiographical reports, Stom's unsettling, euphoric and enthralling small-gauge epics possess a sensibility all their own. You don't need to get fucked up to watch his films; you'll be plenty fucked afterwards.
Stom's Super 8/video piece, Guided By Voices, split the award for best experimental film at the 2000 New York Underground Film Festival, and last May an earlier work, Space Cat, was screened as part of the big-deal "New Super 8 New York" program at Lincoln Center's Walter Reade Theater. Furthermore, he was included in MOMA's "Big As Life" 8mm retrospective and has been shown at pretty much every funky micro-cinema-joint and night club in New York City. Don't worry if you've never seen one of his films cause,you will. Well then, if you're lucky enough to actually encounter Stom, please take him out for Korean BBQ. He'll be your friend for life.
A note about the following: This interview was written as a collaboration. Our initial conversation was recorded on two cassettes. I took one home and Stom kept the other. We each wrote our own draft of the interview based on the half of the conversation which we had at our disposal. In the end, Stom gave me two different drafts of his part, which I then combined with mine. Next, I re-edited portions and added footnotes to either help things make more or less sense. That's the easiest way to explain it.
—Andrew Lampert
 
In the late spring of the year 2000, my very close friend; also one of the genius thinker of hidden soul, Andrew Lampert had interviewed me. On the hot Saturday afternoon, we met at a tiny Chinese restaurant on Elizabeth Street, just a half block south from Canal and in front of a police station, where you can get the best Moo Shu Duck in the town. Luckily his tape recorder needed an extra microphone; we made this as a perfect excuse to skip doing Q&A and used our big mouths for a good purpose. Point is; we went to a jazz concert at Lincoln Center afterward and I stole Han Bennik's CD in front of their smiling faces.We went to see Steve Lacy & Mal Waldron and Misha Mengelberg & Han Bennik perform at Lincoln Center. It was a ritzy to-do, free wine and all. The crowd was classy, cultivated and well-dressed, except for us.This is how I learned about Bennik; in the way none of the textbooks could guide me to … I think of Andy as an industrial seed; it grows in your soil if you let it wet and nutritious; however, it doesn't need much sunlight; it needs a mysterious inner light. Like a corny fairy tale, we both might have bonded by enjoying the act of opening the window or door in a pitch dark room, so that outer light would sneak into the movie screen and disturb audiences. I sometimes wonder that if Andy hadn't shown up to the projection booth where I worked during the Underground Film Festival '98 and hadn't done the "KEYing" with me, this door might not have opened. But it did. In the next week, we got out of a Chelsea Girls screening every once in awhile to go out, just like many of the screaming bitches in the movie, we said fuck off to the audiences right next us holding their piss deep inside of their mind.At three and a half hours, Warhol's Chelsea Girls is unbearable without a break every now and then. I appreciate this subliminal give and take between us. When Andy got unconsciously noticed a book of the French extreme primitive, Raymond Roussel, I found myself being amazed by th e artificial wasteland of Jon Moritsugu's masterpiece, Terminal USA. All what I'm saying here is that people are good at making other people as their drug.
[Stom used to project at Anthology Film Archives. The first time I went there was to see Brakhage's "Dog Star Man". I couldn't find anyone to sell me a ticket. After waiting for quite awhile, I knocked on the office door. A man emerged, I explained that I came to see the film and he called out to someone. Stom appeared, told me it would be a few minutes and that I should go into the theater. I never bought a ticket; the film was screened for an audience of one. Actually, Max, Anthology's cat, was also present, and she paid more attention to the screen than I did. —Andy]
Anyway, the interview finally started at night of the Saturday. We were so wired and wasted by all the all the, all, the—(Within my present memory of creation of past,) Andy asks, "Do I consider the filmmakers who present their work out the form of 'film-screening' as just another kind of filmmaker or do they differ from the category?"
"They must still be a filmmaker who sucks shit and shoots it out."
In some reality, movie is way cooler than art. Just the problem here is that a movie director shouldn't be acting like a rock star, worse a filmmaker shouldn't be acting like a pseudo intellectual composer on a stage of a place like Lincoln Center. That's bad. They should at least sit down and let you know that they are responsible of the shit you sat through. If they are smart, they shouldn't exist. They should fucking hide from this reality. Like the media, its maker of the product is the God.
Then we talked about a meat fashion conductor, Luther Price.Luther Price, a Boston-based filmmaker noted for his Super 8 works. He had a mini-film retrospective and show of photos (most of which were stills from his films) at Thread Waxing Space gallery in NYC in 1999. Stom and I both agreed that his films merit attention. Price's raw meat fashion show, held as an event during the 2000NYUFF, left us wondering if the attention had changed him at all. He was super nice and sweet and I must say before anything. We were still talking about the form presenting film and here focusing on his installation at Thread Waxing Place last year. Then I guess to try putting film into a different form of art is so off the point. This is not Price nor Thread's fault, but my expectations in gallery which sees its system like one in Toyota new model show. Toyota is actually good because it's a car show. But Art show is annoying. Most of those art people who annoy me the most are the ones who talk about the artists more than their products; like fashion we should all call it Toyota. That's why I like a filmmaker or a painter more than an artist. But that doesn't really matter.
The Incredible Lite Kits was my installation exhibited at Artist Space in SOHO during the summer of 1997 as a part of the group show. Andy had seen this piece even before we first met. Three Super 8 mm projectors projecting various size loops in different directions on floor in the middle of the huge gallery. This piece was set between the two columns standing in the center of the space. Each projected images hits various objects; color and half mirrors were dividing, changing and mixing the film image and its color, and color gels on moving toys, a tiny disco ball and reflecting glasses were breaking down the image into many parts of moving light. In the end, every single image from the three projectors got multiplied and multi exposed onto white paper (all of those standing objects were supported by thick steel wires.) or onto the bottom of the white columns. Then, in front of one column, I put a small pot with soil, then I projected the image of a bud; in fact, I put a marijuana seed in it and asked the gallery people to water it everyday. Then on the second column, I put a flower on a glass, and projected the image of the flower being chopped. And its final image is recorded through a crime prevention video camera and appeared on a TV monitor so that we could see what was going on in the real time. Point is I just wanted to show a flower that might be growing or dying with the projection light.Stom's description of his installation and my memory of it are very different. As I recall, the loops of film were spilling out onto the floor, gathering dirt, twisting up and slithering abo ut like a snake. Super 8 is an extremely fragile medium—it'll snap just like that. Yet, somehow, the film continued to feed into the projector, no problem whatsoever. It was nerve-racking and I became anxious. What if that were my film, I thought. Stom and I didn't know each other at the time, and it was more than a year later when we realized this connection.
My first installation was at the Asian American Book Seller on St. Marks street at second avenue in 1995. This was how I met Anna who asked me to collaborate. This was 50 ft Super 8 loop making rollercoaster-esque shape on the wall and its ceiling with balloon hanging with it. Its image was one shot three minute of my left hand picking a flower from a deli outside of the gallery then bringing it down to the gallery wall and pinning it. Its very tiny image was projected on the bottom corner of the wall. Point is everything gets old in different levels. Flower got decayed, and film got fucking scratched. So fucking what? This was my answer to Jonas, who told me not to project an original through projector."Jonas" refers to Jonas Mekas, founder and Artistic Director of Anthology Film Archives, where Stom used to work.
Truly it doesn't really matter where to show what. Since what I've been showing is not within the things being presented, but it's about something outside of the things anyway. I just love stupid tricks. I made Space Cat just to make my friends be tripped out; by projecting "the image of projected image on door" on the same door, it looked ultra science fiction-like. Since my room was super small and narrow, there was just a bed on the floor where my friend lied down and got stoned, it didn't seem strange to project on the door. Plus it's good to get out of movie; as bad and nasty the movie's reality is, our world will seem a better place. Anyway, this was only one isolated street tree on fourth street and second avenue that was recorded on space cat, then it grew like a forest in Ed's mind.Ed Halter, in reference to his review of the film in a piece on the Super 8 show at Lincoln Center. I'm just talking about projecting my inner perception tripped out. I heard Genesis P-Orridge saying something like fucking our mind more than real sense of our physicality; like Lumière fucked our sense of reality more than Méliès did by directing his casts of getting off a train realistically.
I'm talking like on of those old cheese & wine French intellectuals because I just saw Raul Ruiz's Time Regained. Being Proust's social friend, Roussel might have just said, "Look, this is what the usage of words is about." Though I don't like words so much, messing up our bullshit perspective as such French Surrealists did was beautiful. However, beauty is death for people like Germans or Japanese who had once dead and reborn as a machine, I'm also not like the utilitarian of utopian, Jonas Mekas; this strong individual of the Fluxus beat poet shows me cool misinterpret of Zen. The attitude of "I can fuck read anything in however the way I want" is a good attitude for a foreigner, but I want to say things like, "Hey, I show you something so cool that changes our dead life." So, movie's reality should be as nasty and fucked up as possible, so we want to get fuck out of the theater and hope for something better in life.
Then, Andy asks, "Does installation work differentiate the work made for theatrical environments?" If I said, "It was like scratching my ass during Andy Warhol's movie," you know Andy's movie means boring, even if it's not to you or even if you haven't seen them. I showed my movie at parties a lot back then. I loved the image of a small group of people love doing drug, they secretly hope our love induced by drug, then meet other junkies from other planet, slowly feeling united. Like experimental movies, it's just another kind of twenty century acid trip. You are in or you are out. Once you are out, you see this world as a joke with a very dry, ironical sight view. But then you will know you can make this joke funnier.
I got a message from this French dude named Eric who wanted to show Guided By Voices in his festival.Guided By Voices was first shown at the NXNW Film Festival, which was part of the 1st annual Liverpool Biennial in September of 1999. Stom literally finished it two days before the screening. It was the most well-received piece in the program. So I called him back to beg him for at least its shipping fee. It was two in the morning at his time, and he screamed, "I'm sleeping." "So don't pick up the phone then," I said. If I were him, I wouldn't give my home phone number to people found at New York Underground Film Festival catalog. It's a bad idea. His festival is called New Japanese Filmmakers or something that's not much different than the theme like Super 8 mm films festival. It's better having a show like Feet Fetish Film Festival selecting Pierre Molinier's "Mes Jambes" and by Buñuel, Martha (Colburn) or even a documentary on old time Chinese women's shoes.
I talked about Dennis Cooper afterwards.Author of Frisk, Closer, Try and many other fine books. I made a movie called Closer in 1995 which is about stripping with a camera on my hand mixing up with Flower and a little boy. Plus the actual flower pieces were stuck on the film. Frisk is what survived from my Super 8 loop of the previous exhibition. I loved the book Frisk because one kid on the book listens to Eno's "Here Come The Warm Jets" (pg. 71, by the way …).Frisk is available from Grove Press, as are many of Cooper's writings. I like what I call "Pop Noir" image, so this is an image of flower, while in the same room a teenage boy is chopped and examined. And the focus of attraction, or our attraction what's been capture d is this emotionless fucking flower which doesn't give any shit to this horrifying murder, and its camera carelessly and machinery records. For next version it will have many flash frames of dead naked kids put in the way Brad Pitt does in Fight Club.
Then I made Tri in 1998. It's a movie about a meatless kiss. It's blue and age very low, and it's so close to Period, the last piece I made for Cooper. This one is my favorite now. Super 8 and 22.3 minutes. Then I showed the different version of this at ICA London and Splice Toronto. Which is on video partly shares image from Period which is what I'm making now. Period, or "Junky Whore affected" is the fifth of Cooper's novel cycle. This was the first thing I shot after not shooting anything for two years … sort of, because I usually fuck up images that I shot already. Guided By Voices was its fourth one. None of those movies almost has nothing to say. Even on 16mm, one party visual, one video, one private which is about psychological mindfucking of real friends.
I try not to have a message or even word in my movie. But I usually have some sick stories behind each of the movies. Those are just mental eye candy that it taste sweet first, seizure second.
Andy forgets the recorded tape of this interview we did together at one night in my living room. Then Raha came and took whole attention of this interview thing."Raha" is Stom's fun-loving roommate. Obviously Raha wins the freaks contest that researched by Andy Lampol, distributed to citizen by Adolf Halter and their subliminal desire was reported by really stoned.
Andrew Lampert is a filmmaker and curator at Anthology Film Archives. A retrospective of Sogo's work will be at Anthology Film Archives from April 5–7.