Power and Vitality: Steve McQueen's Small Axe by Ken Foster
Celebrating little-known stories of Black pride and resilience in London's West Indian community.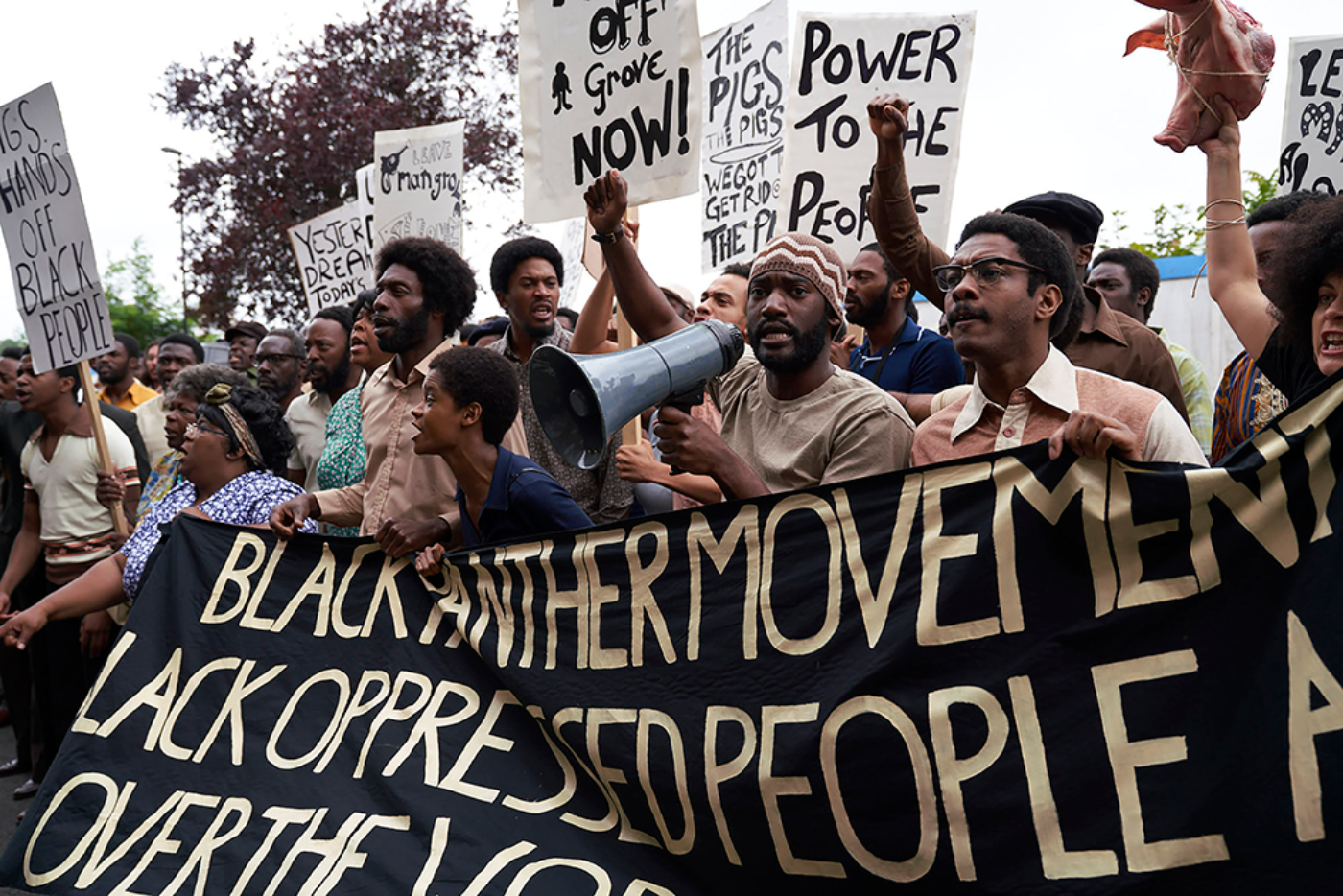 Earlier this fall, the New York Film Festival opened its 58th year with virtual and drive-in screenings of Steve McQueen's Lovers Rock. It seemed at first to be an odd choice: presenting episode two of the then-unfinished television anthology Small Axe, clocking in at just over an hour. One wondered how this would set the tone for a full-fledged film festival arriving mid-pandemic; however, the decision turned out to be brilliant. Dropping viewers into a vibrant house party in 1980s London, it allowed the specificity of time and place to permeate the evening in ways that felt immediate and genuine, especially when the majority of its audience would be watching from a great, safe distance.
McQueen has always seemed to be an extremely deliberate filmmaker in ways that made some of his work (Shame, Widows) more admirable for their intention than fully felt. One of the many jolts of Small Axe is that it feels both meticulously assembled and pulsing with authentic emotional power. Although the narratives of each episode are independent of one another, collectively they present an extraordinary range—modulating tone, pace, and scale like movements in a symphony, each weaving in the missing strands of history from London's West Indian community.
Mangrove, the rousing legal drama that opens the anthology, is set in the titular restaurant cafe in Notting Hill, where Frank Crichlow (Shaun Parkes) offers a rare gathering place that welcomes the Caribbean community, serving them food and providing a place to meet, talk, and plan community actions. The police are not fans. As the force increasingly targets Crichlow and his patrons with code enforcement accusations and charges, the role of the Mangrove as a center of political action becomes more charged and an even greater threat to those in power. It is 1968, and even the spicy aroma of the food served arouses suspicion.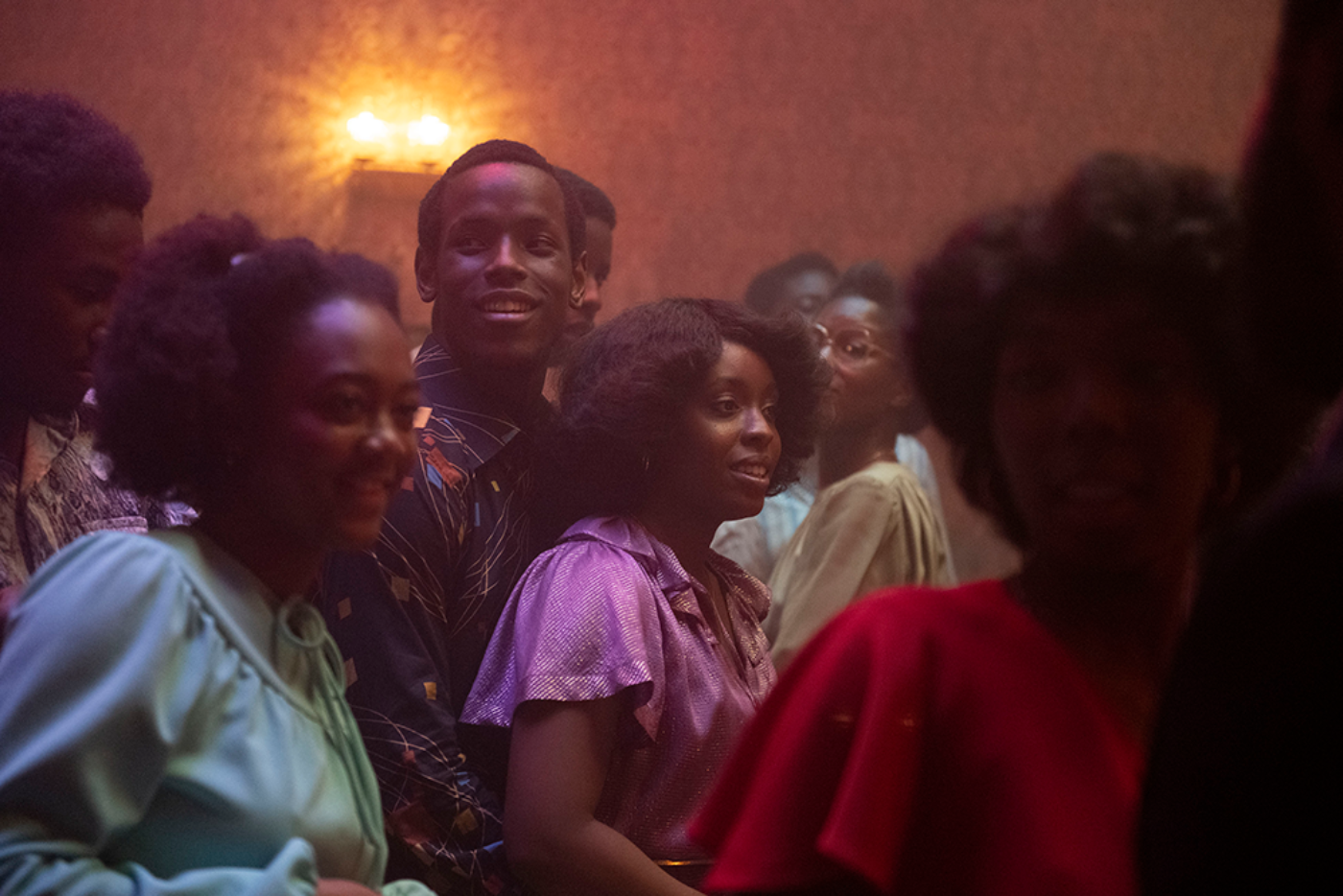 At the start of Mangrove, Darcus Howe (Malachi Kirby) speaks during a television interview about "Leaders who are rooted deeply alongside those they lead." Although he doesn't yet recognize it in himself, Frank is such a person. After a series of violent raids by the police against the Mangrove and its patrons, the community marches in a protest that culminates in trumped-up charges of rioting. Teaming with a community organizer from the Black Panthers named Altheia Jones (Letitia Wright), they do the unthinkable: they challenge the police in court, offering a detailed account of London's history of police corruption. The film eventually escalates to a riveting courtroom drama, but never loses sight of the community itself and the life that springs up within it: in spontaneous block parties, communal celebrations, and individual squabbles. The cast of actors dig in to offer an extraordinary range of characters, including Rochenda Sandall as Barbara Beese, whose anger is both earned and intoxicating.
While a note at the end of Mangrove reminds viewers that the struggle and conflict continued long after the final scene, the threat and danger in Lovers Rock remains just on the edges of the screen. Nothing bad happens over the course of this house party, which seems to unfold in real time. At the start, we follow Martha (Amarah-Jae St. Aubyn) as she climbs out of her bedroom to take the train to a West London party where a DJ unloads his equipment and the women prepare food in the kitchen while signing "Silly Games," the Janet Kay song that becomes the recurring theme of the episode. As the party grows, we watch like wallflowers as they dance, sing, and eat. Nothing monumental happens, or so it might seem. But like the gathering at the center of James Joyce's novella The Dead, in which the minutely observed details build to an unmistakable portrait of time and place, the party of Lovers Rock is a microcosm in which we can view all of humanity. Many things almost happen: a woman is almost assaulted, a man is almost kicked out of the party, and in the distance from the street come threatening stares of young white men who feel their territory is being encroached. More important: Martha meets Franklyn (Michael Ward), and the world, at least for now, seems magic again.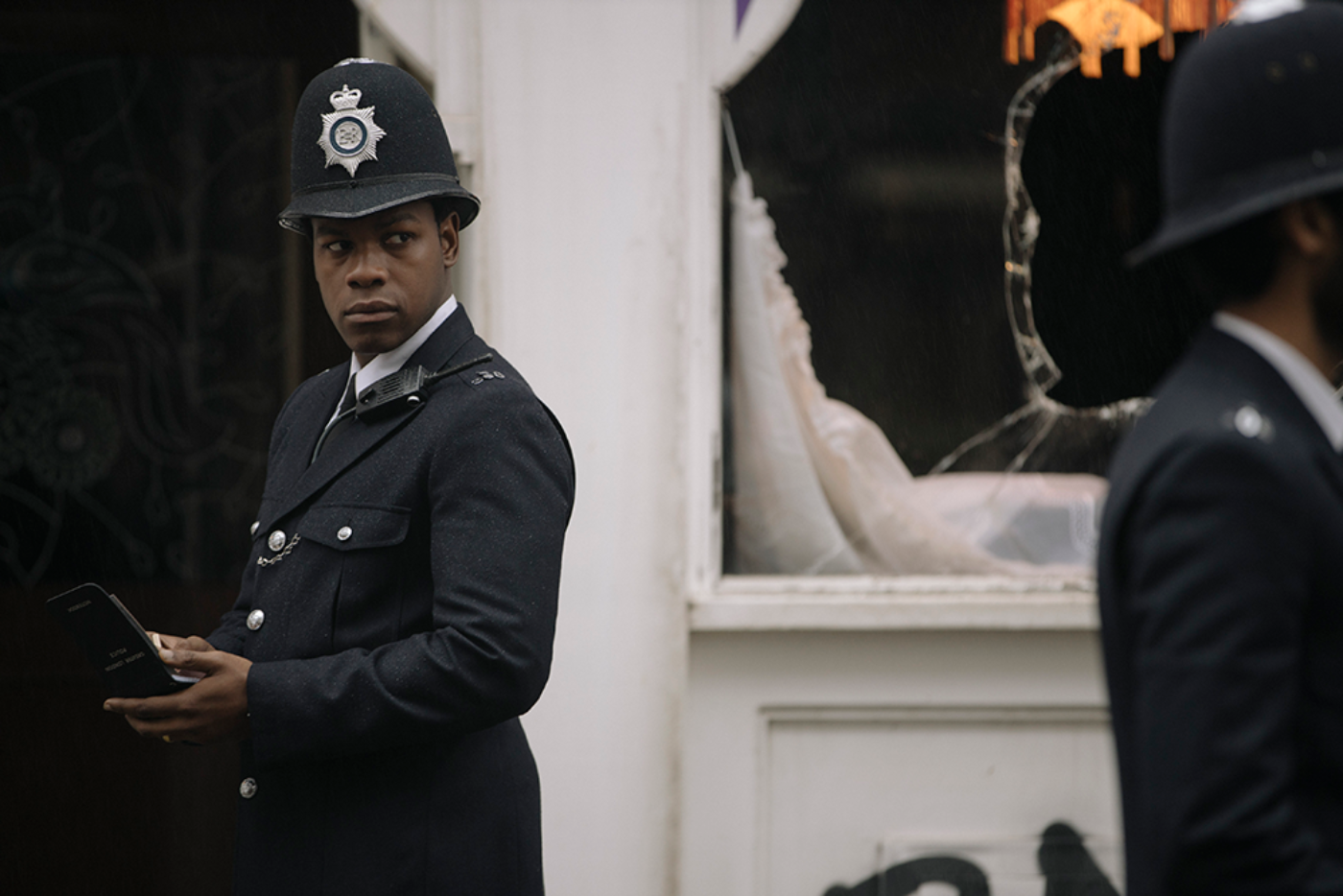 There's less joy to be found in Red, White, and Blue, but that is by design. A sobering look at idealism and compromise, John Boyega stars as Leroy Logan, a young forensic scientist who takes a job with the London police, even after his father is beaten by them for arguing a minor parking violation. For him, the job offers an opportunity not only to advance his place and engage in the world but also to be a voice for the community. The police say they want change, and Leroy offers it. Things don't go smoothly. At home, his father is outraged. And among his new colleagues, he discovers that racism and corruption are more pervasive and unapologetic than he ever imagined. As Leroy struggles against the system from within, his girlfriend keeps him in check, and his father struggles to find compromise in his own legal situation. Though the real Leroy Logan went on to a long career on the force, this episode stops short, with both father and son sharing a glass of rum and resignation from across the table. The senior Logan declares, "Big change: that is a slow-turning wheel."
Although the Small Axe project has been gestating for years, it is hard to avoid viewing it through the primary lens we currently have: from isolation at our homes, having witnessed a year of struggle, protest, and brutality that for many of us may have been beyond any expectation. The films of Small Axe show that these conflicts are nothing new, and they reaffirm the power and vitality of family, community, protest, and culture. They remind us, in case we have forgotten, what it feels like to be alive.
Small Axe is available for streaming on Amazon Prime Video as of November 20. Beginning with Mangrove, the films in the anthology will be released weekly through December 6.
Ken Foster has written about film, music, and literature for BOMB, Salon, The Village Voice, and other publications. His most recent book is City of Dogs, a collaboration with photographer Traer Scott. His work can be found online at www.kenfosterbooks.com.