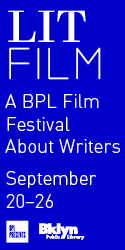 I first became aware of Steve Buscemi's work as the young man living with AIDS in the late Bill Sherwood's Parting Glances. The memory of this too-cool-for-school New York underground rodent, sitting on his lover's lap, silently saying, "I love you," as his hand comes up snatching the unsaid word out of the air, has stayed in my heart to this day. However, as much as I enjoyed his work, I didn't expect to ever see him again. Actors in these underground movies aren't often heard of again. I wasn't even sure Steve Buscemi was an actor. His acting was so real. But in the real world, Buscemi was a former fireman, and is a current husband, father, and most definitely, an actor. As a matter of fact, not only did he find work after Parting Glances, the guy works all the time! Most recently he surfaced in my friend Alex Rockwell's In the Soup, and my own Reservoir Dogs, where, as the motormouth Mr. Pink, (a part I wrote for myself), he gives a performance that my executive producer, Monte Hellman, calls "flawless."
Quentin Tarantino I've always joked about you being in the top two percent of the Screen Actors Guild. However, this is the first time you have starred in two movies that a lot of people are waiting to see: In the Soup and Reservoir Dogs. Do you feel your career changing?
Steve Buscemi When I did a movie, I used to wait for it to come out as if it were Christmas. But then, some of them have gone straight to cable or video, or they come out and it's no big deal; review are lukewarm and no one sees them. So, I am really excited—these are the best films I've done in a while, but I'm just a little cautious about getting too hyped up. But I like these films and that's enough for me.
QT Yeah, but Steve, it's like a one-two punch.
SB What does that mean? I'm not going to move out to Hollywood and try to play the lead in a commercial film. I'm not saying I wouldn't do that. I'd play any part that's interesting and if it is a lead that's great. But I have had most of my luck in supporting parts and character roles. Both these films are not your typical leading man roles. If more people are aware of my work from these two films, and interesting filmmakers, such as yourself and Alex, or filmmakers I haven't met yet, who are about to make their first feature or their third or fourth, have a good script, well then, that's what I want to be involved in.
QT You've worked in low-budget independent films and big budget commercial films. In the Soup, cost $800,000 to make, but when you were actually shooting the budget was $300,000. And you had just come from doing Billy Bathgate, which was this $50 million production. What was the difference between the two?
SB In Billy Bathgate, Dustin liked to rehearse on camera, so we'd end up doing a lot of takes. Before we'd even do the take, we might discuss the scene for a long time. The crew would be waiting around outside and we wouldn't even be rehearsing the scene, just talking about it. Not like I had a lot to contribute to these discussions: I was a fly on the wall. Dustin Hoffman, Robert Benton, Néstor Almendros, it was fascinating to be there. They really took their time. Of course, the sets were elaborate, the food was excellent, the dressing rooms were nice. But, I don't know if all that stuff makes a better film. It makes it all more comfortable, it's nice to have the time to do it. In In the Soup, we tried to get things done in two or three takes. We did all our rehearsals on our own before we got there. We had to work long hours, there was no going back. When you are shooting a film like In the Soup, it gives you this incredible energy, this excitement that comes from knowing that we have to get this now. Sometimes the pressure of that bothers me. But other times it inspires me, you can't stop and think, you are just forced to do the scene and do it right. You are forced to go on instinct more. To me, it's a valid way to work.
QT You have worked with a whole slew of directors, let me throw out some of their names and you give me little takes on them. Let's start with the guy who more or less discovered you on film, the director of Parting Glances, Bill Sherwood.
SB Bill was a funny guy. He would give me very specific directions, almost line by line. And then say, "Steve, can't you have a little spontaneity?" (laughter) Then we'd do another take and I'd be seething. It worked for that character. I don't know if he was manipulating me intentionally, but it really did work.
QT Okay, Abel Ferrara's King of New York.
SB I was the last guy cast for that. I remember calling the costumer to go over what I was going to wear. I said, "What do you have in mind for me?" and she said "Well, we had in mind that you were black." I was like the token white. I would try on all these hats and Abel would come in and say, "Try on another hat, that's not working." We finally came up with something, but I don't believe that he was ever really satisfied. As a consequence, I think he would position me in the back of the room.
QT Wasn't there one shot in King Of New York that you didn't know you were being filmed for?
SB Yeah, Christopher Walken's character was just out of jail. I thought Abel had placed me on the side of the room so that I was out of the frame. I don't even remember being in character. And then I saw the film and I was like, "Oh my God, I was seen that whole time?" (laughter)
QT How did he direct you and Larry Fishburne and choreograph the action?
SB He lets you feel it out for yourself. He says, "What're you gonna do here? What're you gonna do?" "Well, I thought I'd do this." And he'd say, "Yeah, yeah, all right. Good, good. Do that, do that," or, "Don't do that. Do that other thing you were doing." He's always moving, he's like a kid on the set. He gets excited. He says, "All right! This is gonna be great!" I mean when he first called me about doing the movie, I was on my way to LA to see what was happening out there. I had my ticket; I was leaving like the next day. He called me the night before and I hadn't read the script. He described to me that first scene and that's what made me want to do the movie. (laughter) It's just the way he is. He's just fun to be around, you know?
QT You've worked two movies with the Coen Brothers: Miller's Crossing and Barton Fink.
SB I auditioned for Miller's Crossing twice. The second time they said, "Well, you still say it the fastest." And I was hired. (laughter) They're really fun to work with. Joel always gave the first direction. But Ethan is right there and adds to it.
QT Does Ethan talk to you or does Ethan go through Joel?
SB He tells it to me with Joel there. The two of them are always together. I didn't feel like I was getting conflicting information. They really complement each other. They get such a kick out of actors. In Barton Fink, I was doing this scene where I was picking up the shoes to put on the cart, you know, and then like I hear a noise and kind of stop, and then continue. They had me do that six or seven times because they enjoyed that scene: (laughter) "Well, we got it but let's do it again." And after that, "Let's just do it one more time."
QT Martin Scorcese.
SB I felt like I had already worked for him because on Last Temptation he brought me back four times. He had already cast that movie but there was a question of whether all the apostles were available. Each time he had me reading a different apostle. Then I did New York Stories. He gave me a lot of room. When people see New York Stories, they assume my character, a performance artist, is an asshole because of what Nick Nolte's character says about him. But I didn't play it that way at all, and neither did Scorcese. That whole monologue I did was something I wrote. I wouldn't do my own material in a film if I thought it was going to be made fun of. It was funny, I never quite knew where Scorcese was on the set. I would hear him yell, "Action!" but I could never find him. He'd come over after each take and maybe say something and then disappear. Next thing I knew, "Action!"
QT Okay now, Jim Jarmusch.
SB He used to come see my partner Mark Boone Junior and I perform at these small performance spaces and clubs.
QT So you were already friendly with him?
SB Well, we weren't really friends at that point. But he would come to the shows and we would hang out. Working with him on Mystery Train, I got to know him a lot better. He would make up scenes that weren't in the movie for us to rehearse, to explore our characters. Stuff would happen in those improvisations that he would incorporate into the film. He trusts actors and casts people because he wants them to give more. He wants that input. Even on the set, we would do the takes as written and then sometimes have a take where he'd say, "All right. If there's a line you want to change or something you want to add, do it."
QT Let's talk about Alex Rockwell. What was he like to work with on an actor/director basis?
SB In the Soup was the first film that I had really worked with a director that closely because my character was so important to the film. Alex gave me a lot of responsibility for that character. Not that he didn't have his ideas about this guy—which I tried to fulfill—but we were constantly discussing ideas. He's very much an actor's director, and a brilliant filmmaker.
QT We did a workshop together of Reservoir Dogs at the Sundance Institute before real filming began. How was I to work with there, and was I different when we were actually making the film?
SB At Sundance you were bursting with energy, so much so, that it freaked out the crew. You wanted to do a whole bunch of shots, tracking shots and other stuff, and they had something more simple in mind. When we were really shooting the movie you still had all that energy, but you were much more focused.
QT Now, explain to the people how you came into acting. You were a fireman. When did you know you could quit firefighting and start acting full time?
SB It wasn't until after Parting Glances came out and I was able to get an agent and then start to make a living.
QT You took a leave of absence and then decided not to go back? You put all your eggs in the same basket?
SB Yeah, my time was up and I had to go back, and the movie hadn't been released yet, but I thought I just can't go back. I really felt like Parting Glances was an important film. The character I played in that was probably the best character I will get to play. I just couldn't imagine that this film wouldn't get attention.
QT That happens in a lot of these independent films, especially if you have never heard of the people who are in them, they make the directors known, but the actors don't get anything. No one's ever seen those guys who were in She's Gotta Have It again. No one's ever seen anyone else in Parting Glances again.
SB That's not true. Just because you haven't seen them doesn't mean they're not getting work.
QT It was a spring board for you, but that is not the norm.
SB It lead to other work in independent films and some TV stuff, Miami Vice.
QT When I saw you in Parting Glances, you made a total impression on me. But I didn't think anyone in that movie was an actor, I just thought everyone was…
SB …friends of Bill.
QT Yeah, and then I saw you as a fight promoter in a movie with Brad Davis called Heart. My first impression was here is this gay guy running around as a fight promoter, because I thought of you as the guy in Parting Glances. I thought of you as part of this underground group of personalities, but that wasn't the case. You guys were all actors. It was a testament to you guys. You were very realistic. The same thing happened to Harvey (Keitel), in Mean Streets. Everyone assumed that Harvey was this street kid that Scorcese had found and put in the movie. They didn't understand that he was acting. He didn't get any offers after Mean Streets until Scorcese put him in Alice Doesn't Live Here Anymore, in a completely different part. And he had to fight to get him in it. Harvey almost had to go back to being a court reporter. You worked on big scenes opposite Harvey Keitel as well as the whole ensemble in Reservoir Dogs. People ask me all the time, was this a hard group to control? A lot of wild guys, a lot of violent actors. I have always been saying, "Well all the actors left their egos at the door." But there were a bunch of big egos with big cowboy boots clomping around.
SB If you had been an asshole director, or somebody we didn't respect; if it was a good script but, "Oh no this director is really fucking it up," you would have had the guys there out of control. Because then people don't care as much and it's like, "Fuck it, I am going to do what I want and I am going to have fun doing it!" But everybody there was so committed to the work and trusted you so much that they were on good behavior. There were maybe one or two exceptions, but for the most part everyone wanted to give it their all.
QT The picture comes first. What our characters would or wouldn't do under these circumstances—was second. Then as actors, as far as dealing with our moods—that was third, "Take care of me but take care of those two things first." That's rare. Harvey said along with being with the apostles (in The Last Temptation) it was the closest group he had ever worked with.
Steve, do you have any parting shots as far as the past year and a half?
SB This is an exciting time. My wife and I had a son. That's the biggest thing for us. I don't think of myself as having a career. I think of having jobs. When I work, I want to have good jobs. I want to do interesting films. I also want to make a living. You don't always work on the things that you can put your heart into, so it's good to work on things that you can get into one hundred percent.
QT You just finished directing your first film, a short called, What Happened To Pete.
SB It played at the Locarno Film Festival in Switzerland. I only had a few days to shoot that. In a way, that was good because I didn't have time to worry about my insecurities about directing, I just had to do it. It was really a crash course in directing because I learned what else goes into it. My assistant director would come up to me and say things like, "The grip truck is leaving at 10:00, we're running out of film, you have to start condensing shots." You find yourself fighting for all these things and spending a lot of energy on all this other stuff that you had no idea you were going to have to do. But I'm ready to do it again.
Quentin Tarantino made his directorial debut with Reservoir Dogs. He has written the screenplays for Natural Born Killers, Past Midnight, and Dusk Till Dawn. His next film is Pulp Fiction.
Originally published in
Featuring interviews with Richard Serra, Steve Buscemi, Neil Jordan, Tom Zé by David Byrne & Arto Lindsay, Sue Williams, Sarah Schulman, Ralph Lee, Coco Fusco & Guillermo Gómez, Don Scardino, Jeff Perrone, and Walter Hill.