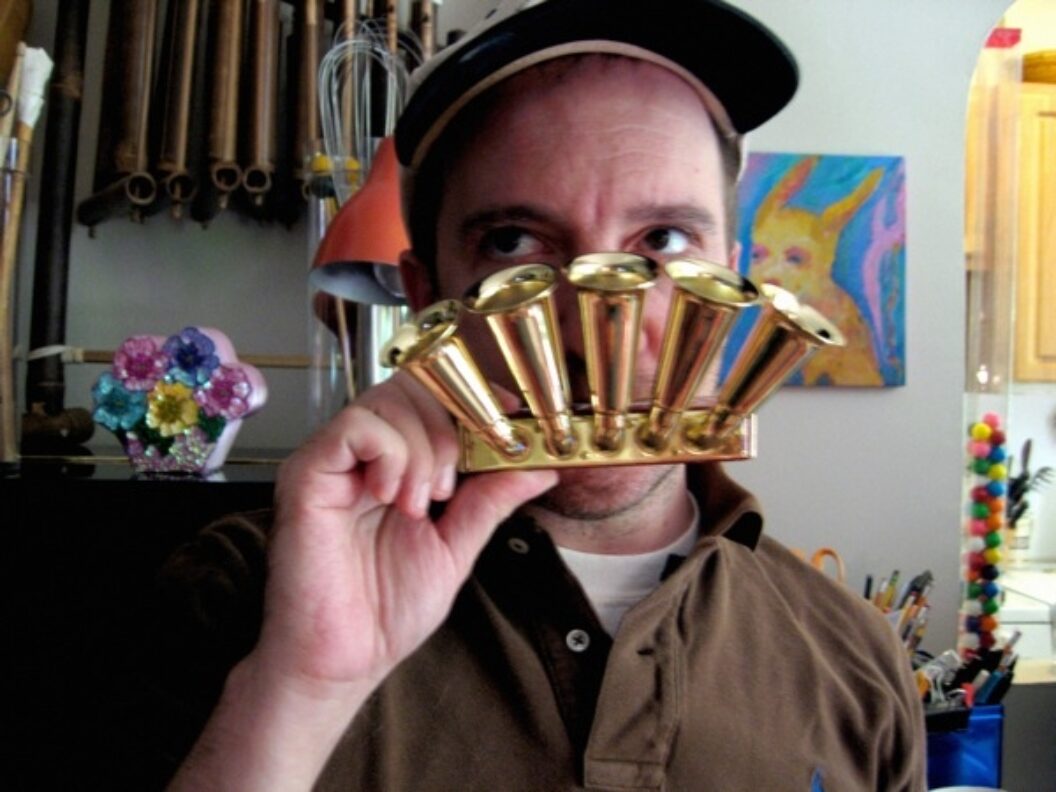 Stephin Merritt and the Magnetic Fields are the subjects of Kerthy Fix and Gail O'Hara's upcoming documentary, Strange Powers. He speaks here on hyperacusis, self-imposed constraints, licensing, pastiche and other clichés.
As someone who professes to have no "particular horror of clichés," Stephin Merritt may permit me the following opening statement: Stephin Merritt is an artist whose work abounds in contradictions. He's released lo-fi synth-pop and choral folk-rock. Though he will often impose strict thematic constraints in his work, he also seems to embrace something of a kitchen sink musical ethos, borrowing from nearly every known genre and employing an inordinate number of obscure or invented instruments. And although he's cited Steven Sondheim as a musical influence, the vast majority of his output suggests a hopeless pop music addict wallowing in the depths of post-war American junk culture.
Merritt and his primary band, the Magnetic Fields, are the subjects of Kerthy Fix and Gail O'Hara's upcoming documentary, Strange Powers, which will be released in New York on October 27th and will receive a nationwide release later this year. I had the opportunity to speak with Merritt on a variety of subjects, including his involvement in the film—or, rather, noninvolvement, as he claims to have not known it was being made until it entered post-production—and his creative process.
Zachary Block Why is it so important for you to work with constraints?
Stephin Merritt Well, there are a number of things I can do and, at times, I don't know what to do from that pool of things I can do, without some direction to go in.
ZB You suffer from hyperacusis (an over-sensitivity to certain frequency ranges of sound): how has this condition informed your recording process, live set-up and general appreciation of music?
SM It has no effect on the recording process, but it has a lot of effect on how I play live. I can't have too much volume on stage. For example, we have no drummer in my monitor. How it affects my music appreciation is I can't go to concerts. But, I was never that into going to concerts.
ZB How did you first come into contact with directors Kerthy Fix and Gail O'Hara? Were you reluctant to have a documentary made about you and your band?
SM I've known Gail since the early '90s. I worked with her on magazines. She had a video camera and she was making videos of us and everyone else and gradually it turned out that she was making a movie. I didn't experience any particular point when somebody asked me if it was okay. It was just: "Yes, the movie we're making about you is coming along really well." (laughter)
ZB Since your songs have featured in films, television and commercials, and given that the recording industry is in decline, I'm assuming that, like many artists, a lot of your revenue comes from licensing. What are your thoughts on losing partial possession of a song, having a song become its own cultural entity entirely divorced from you?
SM I think that once you release something to the public you're not really in control of it. So I don't know how people are listening to…
ZB Well, a few years ago I heard some of "I Think I Need a New Heart" in a commercial for dog food.
SM Uh… oh! Is it Cesar dog food?
ZB Right. And that appeared on a major network, during primetime. So obviously more people have seen that commercial than own 69 Love Songs.
SM I've actually never seen it. It probably helps that I don't watch television: I never actually see these commercials. Maybe I'd be horrified. I think commercials are roughly around for a month or two and people forget about them. The fact that even I forget about them… probably everybody else forgets about them too.
ZB Some would argue that they do linger in people's consciousness for a bit longer than that and that they're designed with this purpose in mind.
SM Well, that may be, but they don't linger in my consciousness, so it doesn't bother me.
ZB You've said that you write most or all of your lyrics in gay bars…
SM Not just the lyrics, lyrics and melody too. I always write them together. It's an important part of the process; lyrics and music need to be written in the same gesture.
ZB Do you write in bars so you can eavesdrop?
SM I do occasionally. It's more important that there's music playing.
ZB In Strange Powers, it's revealed that in preparation for the album Distortion you had band members listen to the album Psychocandy by the Jesus and Mary Chain. Can you talk a little bit about the function of pastiche in your music, why it appeals to you?
SM Pastiche is only one of the many things that appeal to me. But, I think of it more as usage of existing tropes whether as parody or pastiche or just building on clichés. I think of clichés as Lego blocks that can be easily built with. I don't have any particular horror of clichés. I'm not that attached to originality.
ZB What drew you to the Jesus and Mary Chain's production aesthetic?
SM The point of doing Jesus and Mary Chain was that there's been so little evolution in production style since Psychocandy came out, and I wanted to make a record with a sound that was unfamiliar. I think by building on the Psychocandy production style we did things that haven't been done before, like feedback piano and feedback accordion. We certainly invented them, as far as I know.
ZB You've been alternately praised and criticized for your singing and I'm wondering…
SM Usually criticized. I hardly ever see anyone say anything nice about my voice.
ZB I've read a few nice things…
SM I certainly never say anything about my voice. Except that it's really easy to imitate Lee Hazlewood.
ZB So I'm assuming you're aware of your limitations.
SM Certainly.
ZB Do you think about them when you're writing, recording and performing? In other words, do you make a conscious effort to work within those limitations?
SM At least half of the time I'm not the singer anyway. Fortunately I've been able to farm out the lead vocals to other people, be it Shirley [Simms] or Claudia [Gonson] or the celebrity collaborators in The 6ths.
Zachary Block is a writer based in New York.