Discover MFA Programs in Art and Writing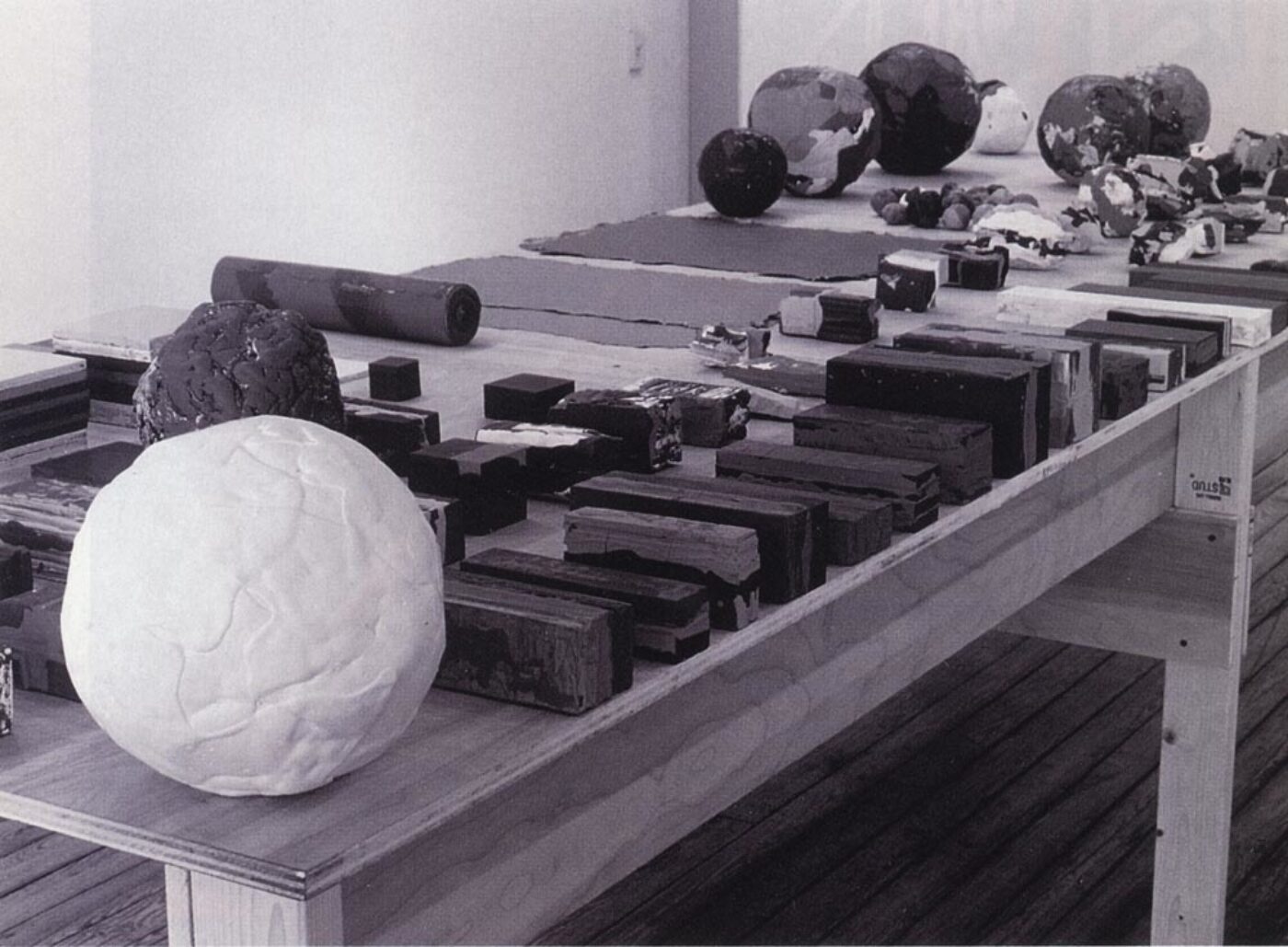 Small paintings hung on the wall, affixed by their own paint. By far, the greater range of painterly means explored by Stefan Gritsch can be said to have taken place in the center of a room in the Margarete Roeder Gallery, spread out on a table built for the occasion of display yet very much like the improvised sites found in studios. Laid flat on a high work table, they are the results of tactics in tectonic layering: acrylic paint laminated onto itself in flat sheets, acrylic paint layered in bands over board, acrylic paint gathered into a ball, layer by layer.
To keep these tactics intelligible, each element in the layering process has a vivid hue. In other words, color is the eye-catching stuff the viewer initially sees. Anyone who recalls the conceptual practice that put paint at the service of structure, from modernity in the 19th century to modernism a century later, would have no trouble reading the layered color and material work of Stefan Gritsch as a continuation of the modern project in which the essence of painting is transferred to concern for the methods of painting. The late 1960s may have generated its share of memorable painted actions, dance actions, and music actions, but as far as Gritsch is concerned, this was, and remains, an emancipatory project.
The news: in this artist's hands, such work is still fresh. In contrast to the tasteful refinement of chroma, surface or pigment one sees perpetuating the memory of Barnett Newman for the consumer class, Stefan Gritsch manages to find the vitality of principle that drives the project forward. His project is not a sample of anaesthetized modernity because the structural syntax of each work is privileged to be part of an ongoing egalitarian inventiveness that is also rigorous.
—Marjorie Welish
Originally published in
Featuring interviews with James Hyde, Mary Heilmann, Alan Warner, Scott Spencer, Catherine Gund-Saalfield, Cassandra Wilson, Revenge Effect, Elevator Repair Service, Zoe Wanamaker, and A Day in Brasilia.