Discover MFA Programs in Art and Writing
New York is a funny place: each season brings forth a different climate. There are the big trends we all know about, and at the same time, mini-series that contradict or reaffirm aspects of the most important tendencies.
If last season's talk of the town was Jeff Koon's sculptures at Sonnabend, the success of Cady Noland's installations, at American Fine Arts, Co., and the works of a number of other artists seem to be symptomatic of a new artistic climate. My reading of the situation and of the works of the artists I want to talk about might be totally erroneous, or blurred by my own preoccupations, nevertheless.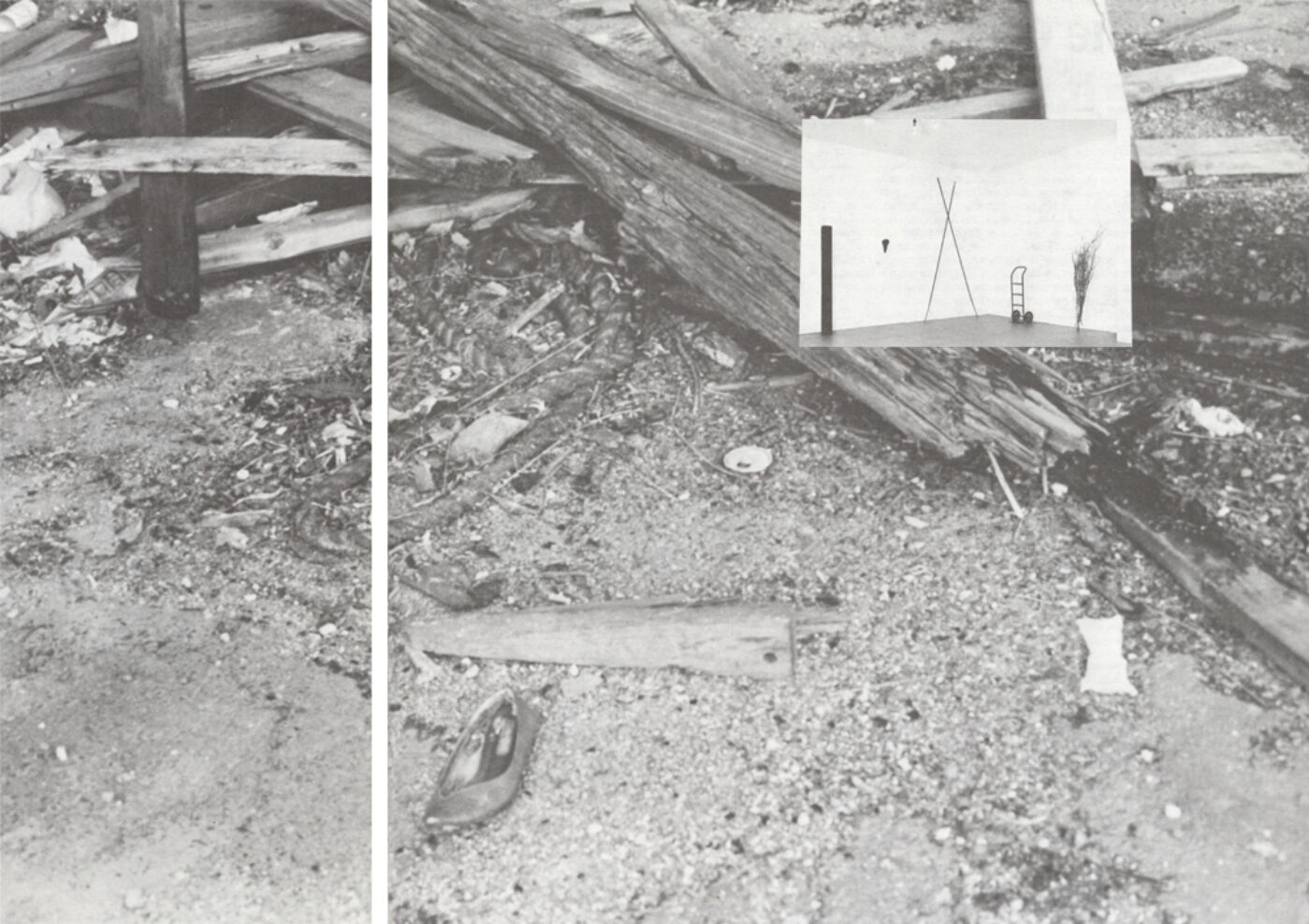 Cady Noland's arrangements of objects have apparent casualness that forcefully call into question the status of the art object and it's artistic position. Her arrangement of hubcaps, bumpers, empty beer cans, walkers, license plates, chrome bars, and metal baskets (sometimes enhanced by silkscreens on aluminum sheets) are, on one hand, loaded with meaning: relation to the institution, to containment and mobility, and to the American way of life. On the other hand, these meanings are so different and multiple that they are overwhelming. To protect ourselves we have to withdraw into analyzing the aesthetic solution of the installation. Even then the formal tension of her scattered pieces questions their own being and ours.
This kind of process, unlike the commodity oriented works or those that deal with consumption, does not try to affect society, on the contrary, it uses the contradictions of the system to give the piece weight and tension in it's spacial situation. Consumer trash and the garbage dump are what is left after the orgy (or the barbecue).
The prison in Cady Noland's work is a gate that actually puts the dealer behind bars, (or the visitor, depending upon which side you are on), but the security gate becomes, in the last analysis, a good moveable sculpture.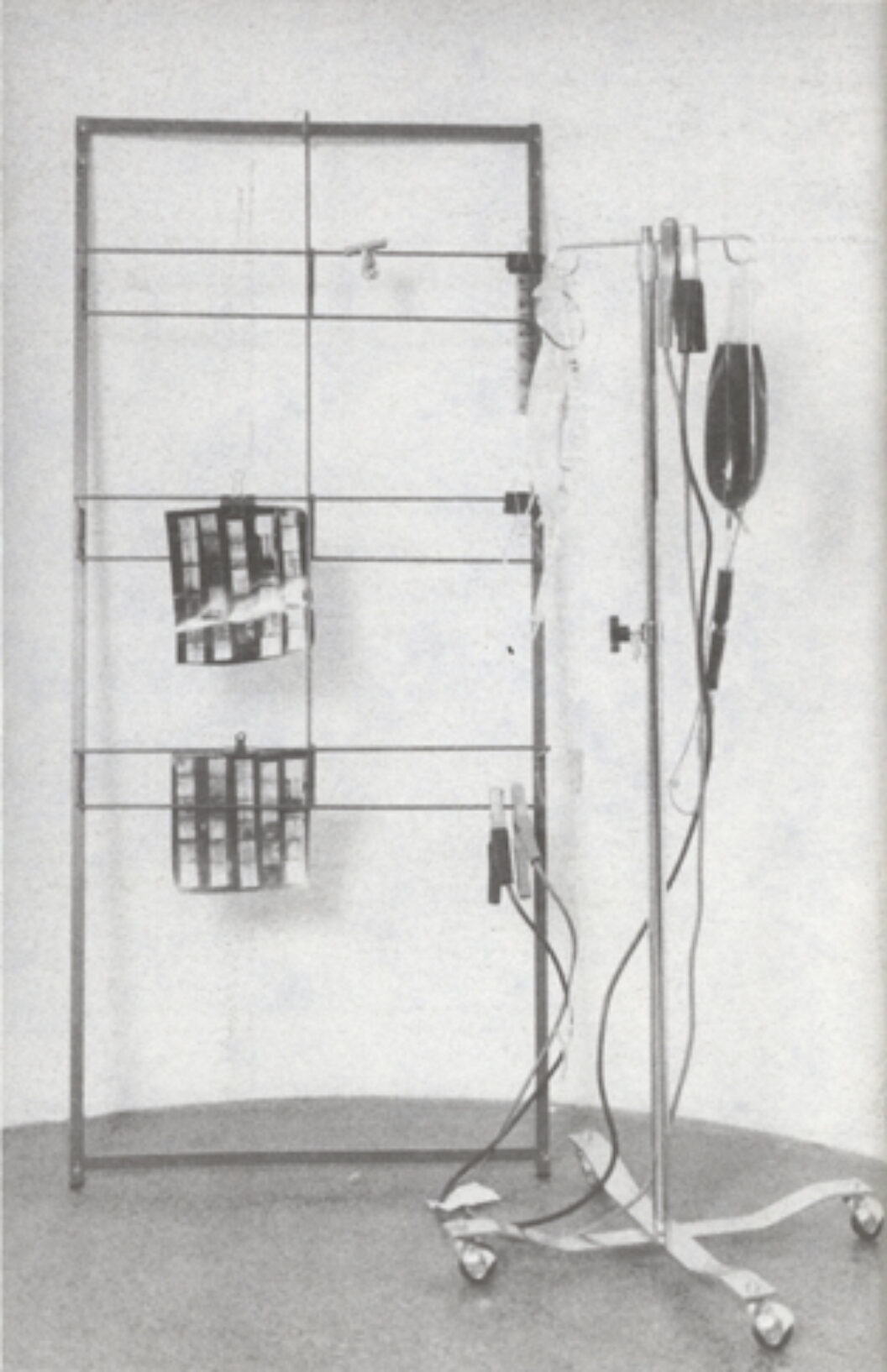 Another body of work that questions the legitimacy of the art object or even art itself with an irremediable though detached logic, is Laurie Parsons's series of found objects, shown recently at the Lorence Monk Gallery. Her planks, branches, rocks, bicycle saddle, coat hanger, old shoe, broken chair, and most recently more site-specific situations re-define the market and the art discourse in a Wittgensteinian mode. Laurie Parsons's objects or situations are difficult to talk about because they are what they are. They are art due to the decision of the artist or because they are shown in a gallery. They oblige us to look at them with all we know about art. It's a funny feeling because we have seen this before, from Duchamp to Conceptual Art through European New Realism, Arte Povera, and Post-Minimalism. Laurie Parsons's work, as well as Cady Noland's, is strong enough to bring the question up again, with a freedom and an openness never seen before. Their apparent casualness is also part of their strength. Living in New York City, you tend to see Laurie Parsons's and bits of Cady Noland's all over town; yet these are just discarded junk, something with really little value, even if an empty beer can is now five cents. Somehow, all these objects we see in the world give importance to those selected and elected to the art paradise in the gallery. At the same time, these art objects have kept their street identity which in turn questions their presence and our presence in the gallery. I have the feeling that if we can get over their meanings and the fact that they have just come from somewhere else, we actually may get involved in their formal aspect. In the end this is what their multiple contradictions bring us to. Coat Hanger, by Laurie Parsons, the sort you get at the cleaners, is, of course, just a coat hanger, like any other you have in your home, useful if you have a shirt or a jacket to hang up. The Laurie Parsons Coat Hanger, because of its special situation, also accumulates meanings: economic, it's mass produced, there are millions of them get it … ; political, it conjures up the dangers of repealing abortion rights; and artistic, from its use by Jasper Johns, to Beuys, and Armleder. The sum of these meanings obliges us to look at its concreteness. Its material, metal. Its color, brass. Its shape, bent a certain way with one end twisted just before the curve, allows it to be hung up (actually Parsons hangs it with a nail at the top of the triangle formed by the hanger). All the formal elements allow us to look at the object as a sculpture or more precisely, a hung sculpture, something like a relief like a Richard Tuttle or a very simple Frank Stella. I don't know if it's a very good sculpture. Time will tell. But right now I am sure it's certainly an interesting work of art.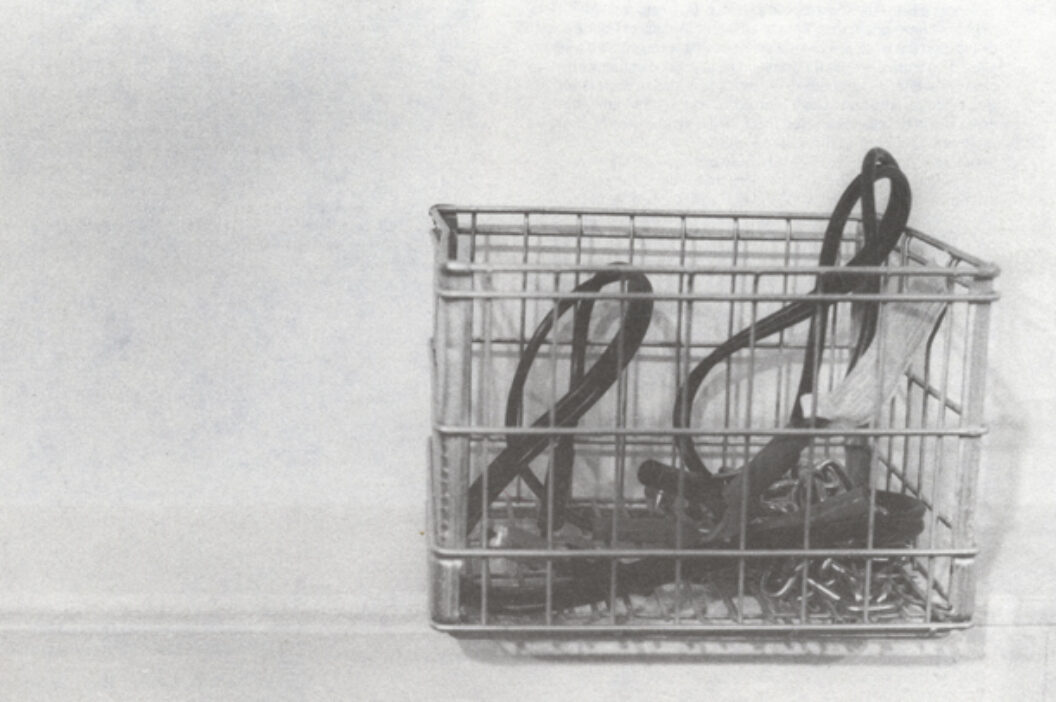 Another Laurie Parsons's work is a mirror, roughly 24″ × 12″ (she has others in other sizes). Cady Noland had a piece called the Mirror Device, a mirror (I believe approximately the same size) with four empty electrical sockets on each side and a pair of handcuffs and an orange flare gun attached to a chrome bar in front. Both these objects, the ready-made mirror and the staged one, like Duchamp ready-mades and assisted ready-mades have a cool self confidence (after all we are now in a Post-Appropriation season). In today's context they mark a switch to a more real kind of simulation. These works do not have the recent art qualities of being new and beautiful, but the presence of those who have lived and learned; the reality of what has been discarded.
Koons's mirrors are baroque and rococo, Parsons's minimal. The well-balanced basketballs of Jeff Koons have become in Cady Noland's Model with Entropy (actually done before the Equilibrium Tanks) a deflated (official) Spalding ball hung on a baseball bat. The slick art objects that wanted to bring forth sociological messages about the dominant ideology are replaced now by not so slick used objects charged with the meanings given them by the life they had, finally bringing them to their positions as formal works of art with implications that go beyond the too obvious discourses about simulation and commodities.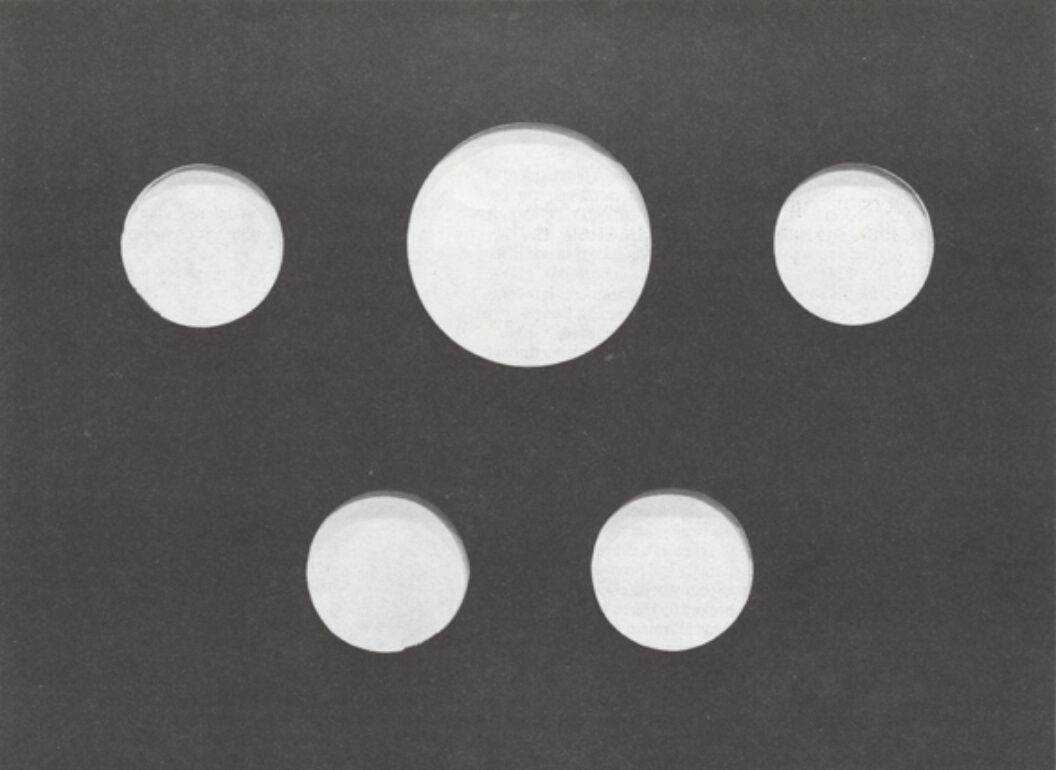 Some painters too, have given Neo-Geo a new direction by continuing or redefining its positions. In Steven Parrino's work, cells become cut-outs; and conduits, wrinkles. In Steve Di Benedetto's optical canvases the appropriative quality is lost to a psychedelic maze. Mike Scott's thin, stripped, honeycomb aluminum panels straighten the blurred and wavering bands of recent Post-Modernism failed Op to make a positively optical product that is in the end good painting. Mike Scott does not relate his work to Op Art. He believes "Op Art failed in that the work became about design issues, rather than art issues." That his work is not about optics is evident. It is basically about painting and a new kind of abstraction coming out of the recent new geometry (which was not really about abstraction in the first place). Peter Halley stated, "The formalist project is discredited. It is no longer possible to explore these ideas." This new abstraction is a kind of simulation: a simulation about itself.
The subject matter of Mike Scott's painting is always the same, alternating black and white lines. The work can vary according to the width of the bands. Some works focus on the variations between the works, some on the similarities. Like Cady Noland's and Laurie Parsons's "sculptures," Mike Scott's paintings tend to resist interpretation.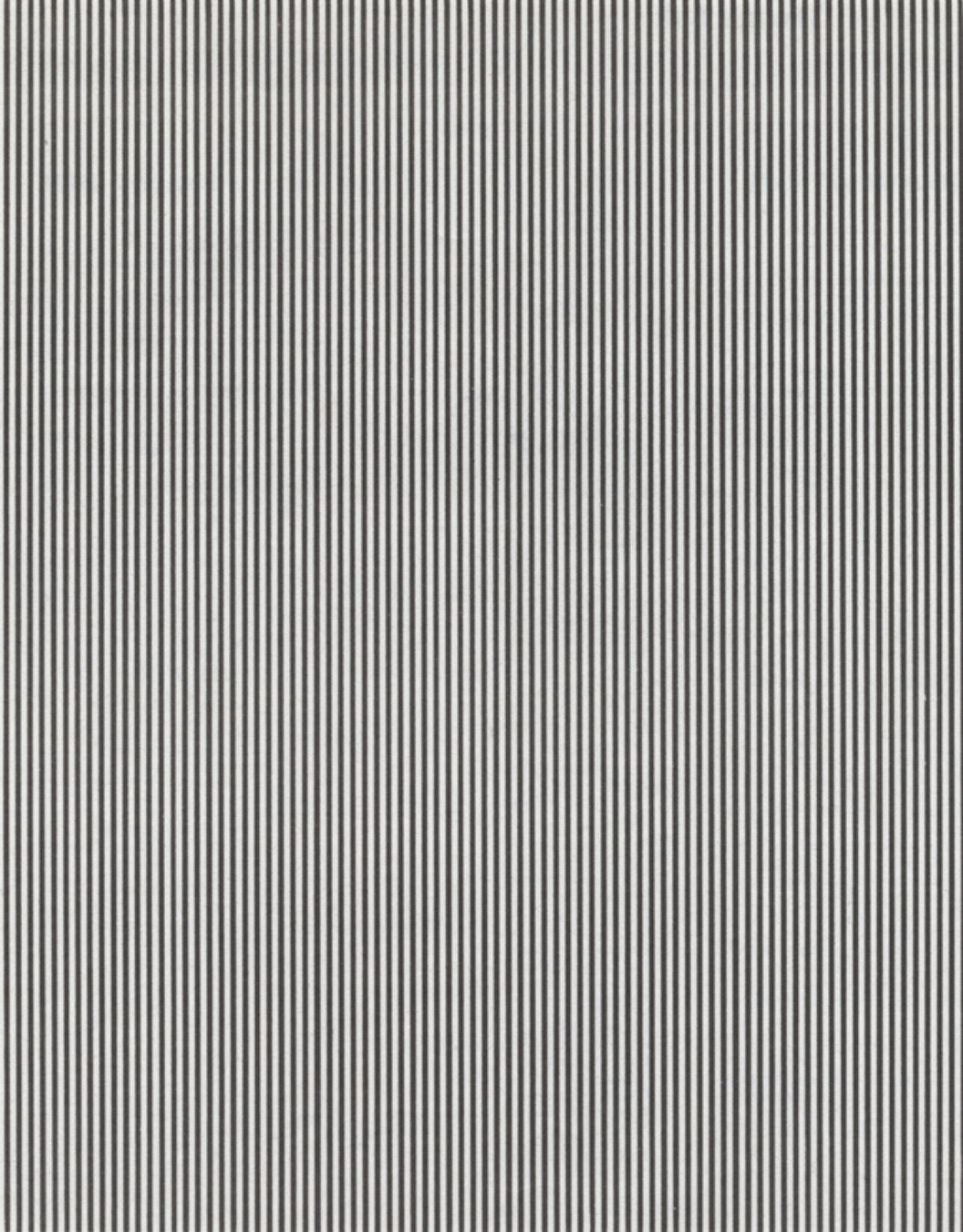 The diagrammatic sense of representation in Neo-Geo works is subverted in DiBenedetto's painting by his thin taping and the incidents it produces. The geometry here is manipulated and antagonized by the painting process. His interest in films, micro-chips, diagrams, and the digital becomes, on his canvases, blurred by the processes and the way he uses bright and difficult colors. If anybody today takes risks in doing his paintings it is Steve DiBenedetto. For a split second I even saw Elvis appear in one of his canvases. In a way his compositions are anti-compositions, going, as he does, for the wrong or the unexpected placement. If recent painting has dealt with the history of painting, then DiBenedetto is the one who has liberated his practice from his knowledge. His visual illusionism experiences the literalness of the canvas through a radical opticality that merges into the psychedelic. If painting today seems often to be "stillborn," it is through attitudes a la DiBenedetto that it may have a chance to be kept alive as concrete pictorial facts liberated from transcendental presence or phenomenological relativity.

M. J. Hoey (is this a set-up?) from Brooklyn writes to the Sunday Times (July 30), "Mr. Kramer certainly performed a marvelous public service. We are so used to being tyrannized by the avant-garde artists, sculptors, etc., not to mention the scandalous rock-and-roll composers and artists, it comes as a delightful shock to read such a spirited defense of morality and propriety. Please compliment the heroic gentleman on my behalf." Of course those who deal with art issues were shocked by Hilton Kramer's defense of the obscenities of Mr. Helms and Mr. D'Amato. But, though some of us would prefer to see our tax money used to allow someone to keep his urine for a while (and not to be tested) rather than to get into the pockets of Mr. D'Amato's friend associated with the Department of Housing and Urban Development, maybe I should not get involved in this and leave Mr. Kramer, Mr. Helms, and Mr. D'Amato to buy their Kostabis or whatever they like and forget us. M. J. Hoey will help me to make a point here, I guess if he or she reads the Sunday Times he or she might have read Roberta Smith's Art View from June 4th or Catherine Liu in the Village Voice on August 1st. I don't know if it is the kind of issues M. J. Hoey call the tyranny of the avant-garde, are the issues that shape at least a season.
Parrino says, "If a violence is done to these canvases, it is the violence of Bozo the Clown." Mr. Helms, Mr. D'Amato, and M. J. Hoey might not have heard that "Due to an intent in ideas of fracture and dislocation the work discloses a violence that is tinged with a sexual age." The work disrupts the tradition of abstract painting with a physical action. This meddling creates a new kind of abstraction free from the tradition of high formalism. At the same time, the artist David Robbins has noted that Parrino synthesizes high Art and low-end culture, criticizing and yet offering "a democratic acceptance of both." Through relatively gentle means, Parrino's work actually destabilizes, much more than others, the order of the system. His wrinkles disrupt the geometricized flatness of the picture-support and so doing, determine its position of power as the traditional painting-format. Paintings, of course, are not the pillars of society and cannot just be knocked down by the fall of a sculpture. On the other hand, the way corporate America supports the arts is also another (small) means to support its own power, and any subtle and innocent scratch in this space (the final frontier) is a good thing. This space is scratched over and over by new generations of artist and it doesn't make a big difference. The system is strong enough to neutralize, recuperate, and utilize whatever get in its way—This generation is the next in line and their sharpshooters: Parrino, DiBenedetto, Mike Scott, Laurie Parsons, and Cady Noland do what they have to do in their field. They do the job. What interests me here, is that in the geometry we have recently seen deployed on the New York market, there is a crisis.
—Olivier Mosset is an artist living in New York.
Originally published in
Featuring interviews with Kevin Spacey, Robert Gober, Deborah Eisenberg, Christopher Guest, Isaac Mizrahi, Kazuo Ishiguro, Marvin Heiferman, Bharati Mukherjee, John Heys, Maureen Conner, Hillary Johnson, and Ketan Mehta.