Discover MFA Programs in Art and Writing
The Oral History Project is dedicated to collecting, developing, and preserving the stories of distinguished visual artists of the African Diaspora. The Oral History Project has organized interviews including: Wangechi Mutu by Deborah Willis, Kara Walker & Larry Walker, Edward Clark by Jack Whitten, Adger Cowans by Carrie Mae Weems, Jeanne Moutoussamy-Ashe by Kalia Brooks, Melvin Edwards by Michael Brenson, Terry Adkins by Calvin Reid, Stanley Whitney by Alteronce Gumby, Gerald Jackson by Stanley Whitney, Eldzier Cortor by Terry Carbone, Peter Bradley by Steve Cannon, Quincy Troupe & Cannon Hersey, James Little by LeRonn P. Brooks, William T. Williams by Mona Hadler, Maren Hassinger by Lowery Stokes Sims, Linda Goode Bryant by Rujeko Hockley, Janet Olivia Henry & Sana Musasama, Willie Cole by Nancy Princenthal, Dindga McCannon by Phillip Glahn, and Odili Donald Odita by Ugochukwu C. Smooth Nzewi. Donate now to support our future oral histories.
It gives me great honor to present BOMB Magazine's Oral History of Stanley Whitney. Stanley is a New York based artist born and raised in Bryn Mawr, Pennsylvania. He studied art at various institutions, including Columbus College of Art and Design, Kansas City Art Institute, and Yale University. He is represented by TEAM Gallery in New York City, Nordenhake Galerie in Berlin, Christine König Galerie in Vienna, and Albert Baronian in Brussels. Stanley spends his time between New York City and Parma, Italy with his wife, the painter Marina Adams.
During the final year of my BFA at Hunter College, I was looking for Afro-American abstract painters. It was my subject of interest at the time. I wanted to know how contemporary Afro-American artists used abstraction and for what functions. Were they talking about identity, race, stereotypes, or politics in their work? After five years of studying art intensively, I arrived at the podium with a handful of names. Stanley Whitney was one of them.
I first met Stanley at an exhibition opening. I, being an overly curious student, had so many questions about his work. I remember being really nervous and asking him five questions at once. "Stanley, what does the grid mean to you, do you consider yourself a modernist, what's your favorite color?" I remember standing there waiting for his response to, hopefully, at least one of those questions—some words of wisdom from a great artist. Stanley shook his head slightly, glanced up at me and said, "Look, I'm doing this talk next week at SVA on my work. You can ask me all the questions you want then."
The information a fine art student gets from an art history class and the knowledge one gains from talking with an actual artist about their work are two separate things. I believe both forms of information are needed for an enriched understanding of their ideas and direction toward making art. Stanley told me once, "There are many art histories … and many art worlds." The more I talked to him about his work and influences, the more I found that statement to be true. Every artist creates their own history, their lineage through other artists and practices that lead them to this "thing" called art, and it takes place in their studios, their world. It takes more than just a BFA or MFA degree to arrive at a place in one's practice where subject, material, and image project a new idea and perspective of the world around us. The amalgamation of life experiences is present in every painting, every gesture, and every decisive mark Stanley makes in his work.
I remember walking into TEAM Gallery for Stanley's solo show, Other Colors I Forget, and being completely blown away. Stanley's world and the world around us were right in front of me in those paintings. The colors, structure, space, rhythm, soul, human interaction. I heard the music, I felt the beat, the energy and intellect of the painting; it mirrored the life of the artist. "It's all a part of it," Stanley said.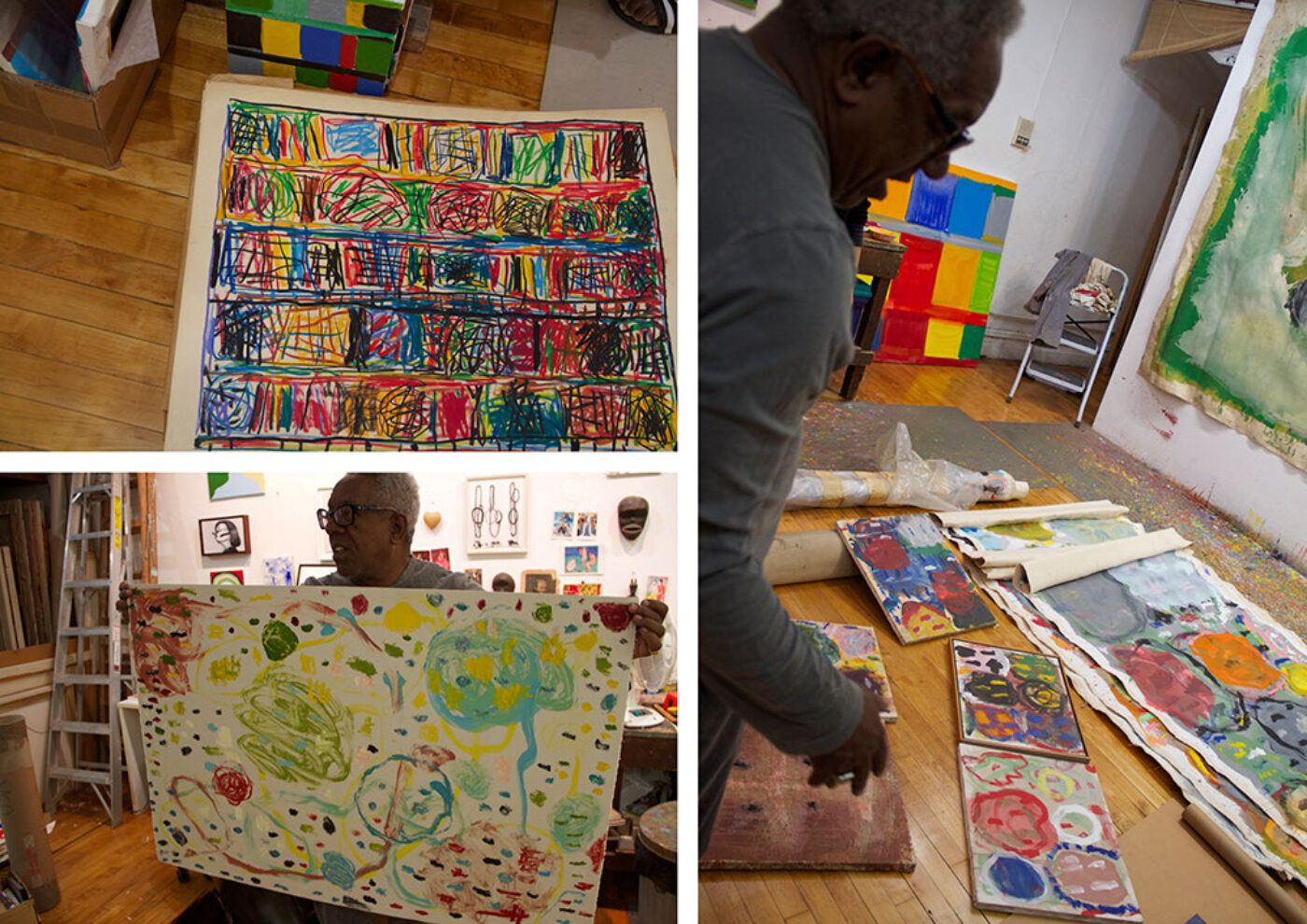 Alteronce Gumby Today is April 12, 2014. It's a beautiful Saturday afternoon, and the work in Stanley's studio is just as vibrant as the streets of New York are right now. Stanley, let's start from the beginning. Can you tell us where you're from, where you grew up?
Stanley Whitney Yes, I grew up outside of Philadelphia, in the Main Line, in Bryn Mawr, Pennsylvania, which is a wealthy, old area associated with the Pennsylvania Academy. Where Grace Kelly comes from. I grew up in a very small Afro-American community. Basically we were two streets of Afro-Americans, two or three streets of Irish. It wasn't really segregated; but even though you saw the Irish community, you didn't really deal with them, and they didn't deal with you, though we went to school together.
AG What did most people do there? What was the main trade?
SW Well, most of the black community was help for the rich people. Actually, the rich people had two choices. They had black help or Irish help. The second generation of the Irish became small businesspeople—grocery stores, fish stores, beverage stores, you know, corner stores. The black community didn't get into this kind of trade. They did things like landscaping. And they mostly worked for the rich people.
AG What kind of work did your parents do?
SW My father attended Howard University where he had Ralph Bunche as a professor. My father was a real estate and insurance man, and an accountant. He did a lot of things. He had a shoe shop, he had a cleaning business, but in the end he did insurance and real estate. In those days, he wasn't allowed to be on the board of realtors because they were segregated. So, basically, he sold houses in the black community. When he sold a house in the white community and put up his "Sold" sign, they'd take it down—because he was a black realtor. But all in all I had a fun childhood. We played in the street—handball and football. I remember the community very fondly. I had great friends all through my childhood.
AG What about your mother?
SW My mother went to Temple University. She worked for my father a while, then she got a job working for the education board in Philadelphia. She's still alive. She's ninety-eight. My mother was a really great athlete. Even in her nineties she could bend over and put her whole palms on the floor. I have an older sister and two brothers—I was the third child—and we'd help out at my father's small store. Everyone was poor, but we didn't really think about it because all the black people were poor. The Irish were kind of poor too, and then you had the super-rich people who had estates with mile-long driveways.
AG Were there any other artists in your immediate family?
SW No, I was the only one. I drew since forever. I always drew on everything. I drew all over the wall. I drew on paper. I was always drawing. There was another guy, Harry Pollitt—we called him Flubby. He was very talented. And there was Jimmy Phillips, who became part of AfriCOBRA. So, there were three of us black students. It was a very small black community, in every grade maybe two or three black people.
AG What was your first art experience?
SW Well, my first art experience was going to a Saturday art program in Bryn Mawr when I was ten. I knew I liked art, but in the community no one ever thought about it. I never thought much about it either. I didn't know what it meant to be an artist. I thought I could make money being a commercial artist. So I went to this program.
I remember it clearly. We painted this model, in oil paint, and I used every color on the palette. The art teacher loved it, but all the other kids' paintings were either sepia, black and white, or trying to be real realistic. And mine was full of color. I had no idea why I had done that, and I took it home, and my parents said, "What's this?" So I put it in the back of the closet and never went back to the program.
It was hard, because I wasn't used to being around white people—while it wasn't segregated, you really didn't socialize with them. You went to school with white people, you had white teachers and white classmates, but outside of that, you never talked to anybody white. You socialized with black people. In this art class I was the only black student, and then I was such an oddball—I'd painted this odd painting. So, I just couldn't handle it. I never went back. My brother, who was a year older, was already in the Boy Scouts. I was a Cub Scout. So, I went to the Boy Scouts, where I would do camping and stuff like that. I didn't go back to the art program. That was my first real art experience.
AG When did you first recognize what art was?
SW Well, that's a hard one. All through grade school to junior high, my friend Flubby and I did all the decorations for prom, and we did the drawings for the school newspaper—illustrations, stuff like that. But I didn't know about the Philadelphia Museum, or the Barnes Foundation, or the Pennsylvania Academy. I just knew I could draw, and people said to me, "If you can draw those illustrations, like in a newspaper, you can make a lot of money." The big thing was, like I said, we were really, really poor. My siblings and I grew up above my father's store, basically a two-bedroom apartment with six people in it. It was tight. I knew I wanted to make art. I knew even in high school. I wasn't academic. I wasn't going to go to college. I didn't participate well in high school because I just didn't like it. My older brother did pretty well. He got a soccer scholarship to Lycoming College, and my sister went to Howard University. My brother ended up transferring to Howard. But I was really anti-establishment. I just didn't participate. So, I knew I'd go to art school.
AG Did you take any art classes in high school?
SW I majored in art in high school, but the teacher was a guy who did these pretty watercolors. I couldn't really make pretty watercolors like he could, and, actually, in my last year in high school, I got a hold of oil paint again, and I made a couple of oil paintings with a lot of color. In fact, my mother still has those two oil paintings.
AG Were they abstract or figurative?
SW They were figurative, but the images were made up. It's funny because I used, again, every color you can imagine. (laughter) People liked them a lot, and so a friend's parents tried to get me a scholarship to Pennsylvania Academy. I spent high school hanging out with a lot of what, in those days, you would call bohemians, in Philadelphia, and trying to go to clubs. I knew about the jazz scene. But I didn't want to stay in Philadelphia. The city was tough in those days, in the late '50s, early '60s. If you were Afro American, you'd take one step, and the police were on you. The bohemians were more mixed, of course, and everybody was into jazz. But I wanted to get out of Philadelphia, so I didn't take the deal to go to the Pennsylvania Academy. Not that I knew what the deal was, or what the Academy was anyway. However, in the back of a magazine I saw that the Columbus College of Art and Design was offering every class in the world. So, I went off to Columbus, Ohio.
AG When was that?
SW '64.
AG And what kind of work were you doing there?
SW Well, it was an art school. It didn't even offer a BFA yet, but it was a four-year program. It was affiliated with the Columbus Museum of Art. We had a Bauhaus kind of program—we had painting, two-dimensional and three-dimensional design, anatomy. It was a really basic, European idea of how to have an art education. We even had anatomical drafting. So, you had to learn all the muscles to draw the figure. It was almost like an old trade school, you went to school during the day, then school shut down and everyone was on their own. Most people were from Detroit, many from Tuskegee, Alabama, and there were some from West Virginia. It was a poor man's school. I think it cost like three hundred and something dollars a semester to go. But it was right by the art museum, and I got to see paintings there. And when I saw the Cézanne painting, everything kind of clicked.
AG Which Cézanne painting?
SW Oh, yeah. I have a reproduction here. It wasn't very big. In fact, I saw the original again a couple years ago in Paris, at a Cézanne show.
AG I'm looking at Cézanne's Portrait of Victor Chocquet, 1877. This is great! You saw this at the museum in Columbus?
SW Yeah. When I saw it for the first time I was already deeply involved in painting. I didn't want to do anything else but paint. And that Cézanne painting set me off.
AG Where there any instructors that guided you during your time in Columbus?
SW No, not at that point. Most of the instructors there were not that interesting. I was there from '64 to '66. In '66 I transferred to the Kansas City Art Institute.
AG What sparked that decision?
SW Well, a lot of things. Kansas City had just built a whole campus, with dorms, school buildings, everything like that. And they were actually going about recruiting for it. They came once to Columbus and we met them at a hotel, and they were recruiting students. Many of my friends from Columbus went down there. It just seemed like a better program—it was an accredited school and they gave you a BFA. A good friend, Wilbur Bruce, another Afro-American artist who I met in Columbus, went down to Kansas City. Bruce and I were both deep into jazz at the time. I knew more about jazz than I knew about art. I used to come to New York on the weekends and go to the jazz clubs. I didn't know about the Museum of Modern Art or the Met, but I knew about jazz.
AG What kind of jazz were you listening to back then?
SW When I was in high school, all through the '60s and '70s, there was a lot of great music. I listened to John Coltrane, of course, Miles Davis, Thelonious Monk, Charlie Mingus, and Sonny Rollins. And if you came to New York, you could go to the Five Spot, to the Village Gate, to Slug's, Lee Morgan … you could see all these people. I remember going to the Village Gate on Bleecker Street and hearing Charlie Mingus. Then, during break time, Mingus went across the street to a café, and I went across the street with him and sat right beside him at the café. I didn't say a word, but I sat right beside him. (laughter) Just listened to him talk. I mean those people were very special. The music was very special. I was lucky. There was a lot going on. You had the Beatles, the Rolling Stones; you had Bob Dylan. In those days the audiences of these different kinds of music didn't intermingle. Either you were a folk person, or a jazz person, or a rock and roll person. You didn't go from one thing to the other. But I did. I liked all of it. I liked Eric Dolphy, but I also liked the Beatles, which kind of confused me.
AG (laughter) It's kind of hard not to like the Beatles.
SW Yeah, but most people were deep into the music they liked.
When I got to art school I thought, This is it. I had been a total outsider in high school, so when I got to art school I realized that I was finally doing what I love to do. I was a really good student. The teachers said do something, and I did it. I took lettering, drafting, I did everything I could. My father had sent me saying, "Look, I'll pay for one year. After that, you're on your own." So I was working to get that scholarship, and, believe me, by sophomore year, I was like, I got it.
AG You got it.
SW Yeah, I wasn't going back home.
AG What kind of work were you doing in Kansas?
SW You know, it took me forever to find my subject matter. I was looking at works by Cézanne and Edvard Munch, who I really loved. People were really into de Kooning at the time because most of the art professors came from Abstract Expressionism. I was doing a lot of experimenting—self-portraits, painting my table with food on it, painting everything I could. I didn't paint landscapes. We had an assignment, going outside to paint the landscape, and painting outside was just a disaster for me. I think it was the fall. I got leaves all over everything, and I said, "I'll never paint outside again."
AG The late '60s was the heyday of Abstract Expressionism. Were you aware of that while you were traveling back and forth to New York City, listening to jazz?
SW No, I really wasn't aware of it. When I was in high school I didn't know there was such a thing as another black painter. I had no clue that black people even made art. I didn't know or meet anybody, and nobody told me about anybody. Not at all.
AG How did that make you feel? Making art, in this time when social tensions were very high in the United States, and here you are making paintings and not seeing anyone in the mainstream scene who's an African American artist?
SW Well, it was definitely a hard time, no matter what you did. It was really a difficult and interesting time. The country was in turmoil. I was in Kansas City in art school during the riots. I was there in art school when King got shot. I was there when Malcolm got shot. I knew Black Panthers, and I had a hard time explaining why I wanted to paint. When the Panthers asked me, "Stanley, what are you doing for the race?" I didn't know how to defend myself or say what art is about. I called them the black police. Amiri Baraka also haunted me in terms of what that meant in relation to race. I was always in my basement painting. I didn't participate. My white friends, they would go to San Francisco where the whole hippie thing was going on. The music thing, the Doors; we went to that. And there was a lot of good rock and roll in those days. The white folks were even cool in those days.
AG With all this going on, did you ever feel the need to talk about identity or politics within your work?
SW No. At this point in my work, when I was a sophomore and a junior in Kansas City, I was still figuring it out. What do I paint? I'd paint my girlfriend. I'd paint people. I'd take a figure from a Courbet painting, and then a background from a Rothko, or I would steal a figure from Piero della Francesca, then take something from a Jasper Johns. Or I took a figure from a Piero della Francesca fresco and an image of a background from a Francis Bacon painting. I was trying all kinds of things. I would paint, then go across the street to the museum and look at Velasquez or Goya.
A lot of people at Kansas City were into Diebenkorn, that kind of painting that was going on in '67 or '68. Some students were very much involved with whatever was hot in Artforum magazine then. So we had one class where we were taught to paint like Cézanne, and I thought, God, I'm not doing that. Another class was painting out of Artforum magazine. I went to a class with Richard Lethem where people were all over the place, making things up. I just tried everything—looking, experimenting, trying to figure out what I liked. I liked a little bit of everything. That's how I painted.
But I knew I wasn't a storyteller. I felt that art should be something that encompassed more. At that time I was reading a lot of poetry. I didn't know any poets, but I knew that I wanted my work to be more than one single story.
AG Is that why you leaned toward abstraction?
SW I didn't lean. I didn't know about it. I hadn't seen any abstraction that I liked. Then, Dick Lethem, who was my professor there, showed me a Morris Louis painting and something clicked. When I saw that painting, his Veils, and other ones where the color seeps in the center and opens up—that really turned me around. That was my introduction to modern painting. Before that, my work was just like art history; it was all Velázquez, Goya, Cézanne, and Soutine. But when I saw Morris Louis I saw a way into the present. So, I stopped painting these dark, figurative, Goya and Velázquez kind of paintings. And then, as a junior, I got a scholarship to go to a summer program. Perfect timing. It was at Skidmore in Saratoga Springs and was called Summer Six. It was where I met key people in my life.
AG Who were some of those people?
SW I met Robert Reed, who later became a professor at Yale. And I also met Philip Guston, who got me to New York and a scholarship to the Studio School.
AG So what kind of work were you doing up there in Saratoga Springs?
SW The painting had kind of died. I didn't know what to paint. So, I was drawing a lot. I drew landscapes, a lot of trees. I'd bring a twig back to my studio and just draw and draw.
AG So it was pretty open? It wasn't as structured of a program?
SW It was. You had a drawing class and a painting class, and they gave you a studio. Bob Reed taught a drawing class, so maybe there were assignments. Guston liked my work a lot. I remember his enthusiasm for painting. I was going from figurative to abstract work, and he was going from abstract work to figurative work. So that's kind of how we met. He'd try to get me to go paint or draw downtown, there, in Saratoga Springs. But I wanted to go the other way and thought, Why is he telling me to go downtown and draw some life when I'm trying to move to abstraction!
AG (laughter) Yeah.
SW I had no idea what he was doing at the time. No one knew he was making those changes in his work. I got along with Guston really well. He had his favorite students, and I was one of them. I remember one time walking the street with him, and he got so excited over this beautiful red car—it must have been a Cadillac, with red leather seats. And here I was, I must have been twenty. He was in his fifties maybe. He seemed like an old man to me. And he was so excited by this red Cadillac. And I was like, Man, this guy's older than me, and he's more excited about life than I am.
Anyway, after the summer program, Guston said, "Look, you should go to the Studio School in New York." I said, "Well, I'm finishing up at Kansas City. I have one more year." "Go there through them. I'll get you a scholarship. You come and finish your last year in New York." I thought, Well, that's a great idea. Once school was out, while I was in Columbus or Kansas City, I came to see friends in New York who were living on the Lower East Side. I'd go to the clubs, then I'd spend some time at the museums.
AG What year was this that you came to New York after the Saratoga Springs residency?
SW Probably the winter of '67 and the spring of '68. I used to get in a lot of trouble in Kansas City because of the race thing. The police always harassed us, the black students. But I was so used to it—my whole life, being harassed by the police—that I never told anybody. With a friend of mine, who was also a painter, we got a place outside of the art community. We had this loft in downtown Kansas City. It used to be a big dance studio, the Arthur Murray dance studio. We threw a big party, and I invited people from the black community, the Panthers, along with everybody from school. It was a huge loft party, and there was a lot of marijuana in the arts community. The police raided us and threw everyone in jail, even the professors. The padded wagons came. They put everyone in the holding cell, but me they put in a lone cell by myself.
AG Why was that?
SW Because they found a lot of marijuana there.
AG And you took the rap for it?
SW I was going to take the rap for it, that's what they told me. They said ten to twenty! They let everyone out of jail, but kept me in. Anyway, the next day, they let me out. It turned out that Clarence Kelley, who later became the head of the FBI, at that point was head of the Kansas City Police Department. His brother, another Kelley, was head of the design department at Kansas City Art Institute. And so, because of the brother, they got everyone out of jail. And somehow the newspapers never got a hold of it, so they dropped all the charges on me. The only reason they busted the party is because they said there were blacks and whites mingling together. They actually wrote that in the report. So I got out on a technicality.
So, the dean of the school told me, "Look, Stanley. You want to go to New York? Go ahead. We'll let you go to New York to the Studio School program. Work there, and then bring the work back here, we'll look at it, and we'll give you a degree." They kind of kicked me out of town, which I was happy about. I was like, Great, I'm out of here.
AG I'm sure.
SW I had been in Kansas City two years. I did my tour of duty out there in the Midwest, and I wanted to come back east anyway. I knew New York was the place to be.
AG So you came back to New York what year?
SW I think it was '68. I started at the Studio School in New York, but that was too romantic for me, and I dropped out of that.
AG Was it just one semester you did there?
SW I was going to do one semester there. It ended up being more like two weeks. At the Studio School, which wasn't accredited and couldn't give a BFA, they were very excited about the exchange program with Kansas City. So, here I was a test case for having an accredited school working with a non-accredited school. When I came to the Studio School, there were Morton Feldman, Leland Bell, Elaine de Kooning, and Mercedes Matter. Everyone was talking about, you know, the old days. I felt like I was done with that. In Kansas City, in the Midwest, you actually have all the time in the world to be romantic about everything. I wanted to be in New York and hang out with contemporary painters. I knew this guy Dan Christensen, who was a Color Field painter. His brother, Don, was a friend of mine in Kansas City. Dan had a loft on Great Jones Street and hung out at Max's Kansas City. There was a lot going on in my life. I was breaking up with my girlfriend, and the draft board was after me. I had to go for my physical. I really wanted to be done with school.
AG What were your ideas about art then? Here you are, finishing school, you just moved to New York City, it's '68, there's a huge art scene. What was your work like?
SW Well, I had done that summer program at Saratoga, with Guston. I was getting into more abstraction and doing big oil paintings. They were about seven by four feet. I was working with staining, color, and line. And just looking at a lot of art.
AG Who were you looking at?
SW Well, in those days in New York there were a lot of gallery shows, at Marlborough, Emmerich, Bykert. Brice Marden was showing a lot. Barnett Newman was sort of King of the Hill. I don't really remember Judd at that point. A lot of young Color Field painters, and Pollock.
AG Did you get a chance to see any of those Morris Louis paintings in person?
SW Yeah, I got to see all of those. All the galleries were uptown, so on Saturdays, a group of us would meet on 57th Street, mostly people I knew from Kansas City, like Al Taylor. Al and I moved to New York from Kansas City around the same time. We would go look at art together. We would just cover every gallery on 57th Street.
AG As a young artist coming to the scene and being African American, did you feel it was easy for you to tap into those social circles?
SW Well, when I was in Kansas City I hung out with this guy, Wilbur Bruce, and we were the only Afro-Americans out there. It was complicated because on some levels you dealt with people because you were a painter, and on some levels, you couldn't. You had your own music, and if people can't get to your music, you can't hang out with them. When I went to look at art, I hung out with people mostly because of their art, not because of their race. When I got to New York I didn't know many Afro-American painters. I knew this one guy, James Philips, who was in AfriCOBRA, but he had moved to the West Coast because New York was too rough. In terms of art, race wasn't really an issue for me at all. My best friend was Al Taylor, who was from Wichita, Kansas. We met at Kansas City in '66 and were best friends until the day he died. We went everywhere together. We had a great dialogue and understood the seriousness of our endeavor as artists. Al was painting abstract paintings that were very loosely painted connecting lines, each line being a different color. I think they were in acrylic. The art, for me, always has been everything.
AG In '69, here in New York City specifically, the major art institutions were showcasing a lot of African American artists. There was the exhibition at the Metropolitan Museum, Harlem on My Mind, the Whitney's series of abstract African American artists, starting with Al Loving, then Jack Whitten and Alma Thomas. Were you seeing these shows? What was your reaction to them?
SW Yeah, a lot was going on. It was such a complicated time. What was happening was that all the institutions were scrambling, trying to convince people they weren't racist.
AG (laughter)
SW So they were trying to have a few token Afro-American shows: everyone who came out of Yale before me, like William T. Williams, or Al Loving, who came from Detroit. Danny Johnson was an Afro-American artist. He got a whole building in SoHo. Some deal! I came to town almost like a country bumpkin and didn't really know what was at stake. I was young. But what I got out of all that turmoil was that I got to go to Yale. People went to jail; I went to Yale.
AG When was that?
SW Well, I was there '68, '69, and '70. I had stayed at the Studio School for not even one semester, dropped out of that. Morton Feldman and Mercedes Matter tried to sit me down, but I walked out the door, left my paintbrushes and paint, and thought, I'm not coming back. Kansas City let me graduate anyway and gave me my degree. I was living with Richard Lethem in Brooklyn for a few months. Richard is Jonathan Lethem's father, in fact. Jonathan was about ten at the time. Then my girlfriend and I got a place on our own nearby, on Dean Street in Boerum Hill. About a year later, I took Al Taylor's subleased loft on Canal Street, above the Three Roses Bar, and he moved into a loft at 94 Bowery. I had stayed on Bowery off and on the previous few years and that loft became our main hangout. Al got the loft through Peter Young and Larry Strafford, whom Dan Christensen knew. That was great because Young had left New York, and all his paintings were there. So, I lived there with Peter Young's paintings.
AG Did that influence the work you were making at the time, having those paintings around?
SW It did, and it was the dot paintings, almost like candy dot paintings. They were real interesting. I remember the loft exactly and seeing the paintings laying out. At that point, everyone was figuring out radical ways of painting—you know, besides painting with a brush, which I experimented with too.
I was searching. Going to museums, to galleries. I was looking at everything. You didn't see much figurative work at that time, and I wasn't interested in it anyway, although I liked Alex Katz's work. Abstract work was really big in those days. I saw a lot of great Pollock paintings, like ones with black enamel on dark linen. I don't know where those paintings are today.
AG This was also the time of Pop art, and Minimalism was starting to come around about that time.
SW Yeah, you could say Barnett Newman was a Minimalist. But, back to the race thing, like I said, I benefitted from that. Bob Reed, who I'd met at Saratoga, got a job at Yale, probably because they needed a black professor. I would assume, but I don't know that for a fact. When I wrote to Bob he got back to me asking if I would be interested in going to Yale for graduate school. I said no, because I was just out of school and getting settled in New York. All of a sudden there were these new galleries in SoHo—Ivan Karp, OK Harris. All this stuff was happening in SoHo, and I was living in this loft on Canal Street above the Three Roses. I worked at Pearl Paint, and I wasn't interested in going back to school. But then Dan Christensen, who I used to work for sometimes, stretching canvases, said, "No, Stanley, look. Yale's a really good program. A lot of good people have come out of there—Brice Marden and Chuck Close went to Yale." So, Bob came down to my studio, looked at my paintings, and rolled them up and took them to Yale.
AG What kind of paintings were those?
SW I was working in acrylic, and I was working on the floor because I couldn't afford stretchers. I was copying tantric art. I had seen this book of tantric art with these big half moons. And the shapes were stacked.
AG Were you playing around with color then?
SW Yeah, I made these constellations of round circles about three to five inches in diameter, and I put them on a colored field. They were stacked either vertical or horizontal. And I was staining—a lot of young artists were staining in those days. Acrylic was really big. So, I was making flat color, then I'd make this constellation; it wouldn't be like the Big Dipper, but I would just make these shapes.
AG How big were these paintings?
SW They were maybe five by seven feet, horizontal. I never showed them. The only person who has one is Al's widow, Debbie Taylor. I traded one with Al, and he kept everything. I don't know what happened to those others to tell you the truth.
AG So Bob Reed came to the studio, and he saw these paintings.
SW Rolled them up and took them to Yale. I didn't go up. I was young and arrogant in those days. I didn't really care that much. But he did. Like I said, everyone was looking for black students, black professors. You have to understand, I'm sixty-seven, but people in their seventies now, they didn't know anybody black. They didn't socialize with black people. Even if you went, like myself, to a high school that wasn't segregated, you went to class together, but that was it. You didn't socialize. You didn't date. We knew we were the Other, and they knew we were the Other, and they didn't deal with us. There are always a few exceptions, but that was my experience.
AG Jeez.
SW I mean, they talked to you, like we're talking. But that was it. After school, you didn't. There were a few people who wanted to hang out with the black kids because they knew we had great music and great parties. But these people were rare. And they were strange. Because we were always being harassed, we were always told we were nothing. In high school, there was never anyone black who did anything good. Maybe George Washington Carver, but that was it. You never heard of anything black that was good.
AG Were you still experiencing this kind of racial tension when you went up to grad school in New Haven, within the student body there?
SW No, never with other artists. The art community was like a tribe. So with artists, it wasn't the case, but with dealers and collectors, it was. I talked with Ed Clark, who's in his eighties, almost ninety, about his time in Paris—he didn't just hang out with other black artists. People often pretend they all hung out together, but they didn't. Not every black artist likes every piece of art that black people do. We're just like everyone else. Some people we like, and some people we don't like. So, I was hanging out with anyone whose work I liked. I didn't care if they were female or male, black, Chinese. I didn't care about race. All of that stuff that is put on you—you're this, you're that. I personally think it's the state making this up to control you. I don't really believe in it at all. So, I was hanging out with anyone who I thought was making interesting art. In fact, my best friend from the time was Al Taylor, and we met in Kansas City in '66.
AG Yeah, it's great, there's no segregation amongst artists.
SW Not that way, no. When it came to the galleries, and making money, and showing, then there was.
AG Yeah, and most artists would agree.
SW I did really well at Yale, and when I got out no gallery or collector would touch me with a ten-foot pole.
AG Let's talk about Yale a bit. What kind of work were you doing there?
SW I was still experimenting. I continued doing those circle paintings, then I started doing more linear things, with line. And, I have to say, Al Held was a big influence. Up until that time, before Yale, I was mostly influenced by Clement Greenberg and the Color Field painters, because with them there was a black presence. I worked my way through that. Peter Bradley was one of the African American artists in that scene, who I became friends with. At those parties there'd be a lot of jazz musicians.
AG You went to a lot of the Greenberg parties in New York?
SW Yeah. That was a scene where you felt like black culture was part of it. They thought black people were really hip, and they are, and so their parties were kind of like that. They were very fun, big loft parties, lots of dance music. And that was a combination of both the jazz things I knew really well and also the art things. So, I hung out in that scene, and I was trying to make these acrylic Color Field paintings. But I had a lot of questions and a lot of doubts about that work. I thought it was very thin; they were interesting paintings, but they didn't go far enough. But the color was there. Like in the works by Kenneth Noland and Larry Poons. I liked Brice Marden's work. By this time Judd was really big, and I knew that work, the structure of that.
At Yale, Al Held was my professor. I had already met Al at Pearl Paint, the last job I had in New York. Before that I worked at the Strand Bookstore. Dick Lethem got me a job there. And then I quit that job and worked as a carpenter on the construction site of Electric Ladyland recording studio for Jimi Hendrix, on 8th Street. But I was a terrible carpenter. I just faked it until they realized I was faking it. And then I got a job working at Pearl Paint. That was where all the New York artists would come in—Barnett Newman, Al Held. Most people painted in acrylic. It dried faster, it was cheap, and you could buy big jars of it. Pearl paint was the brand new art supply place, and it was small in those days. Only three people worked there in the art department.
So, that's how I met Al Held, and he was teaching at Yale. When I got into Yale Al offered me a ride up to New Haven because I had this big trunk full of acrylic paint. When we rode up in his station wagon he asked me who my favorite painter was, and I mentioned some Color Field painter, and he said, "Oh, they're lousy! They're terrible painters, those Color Field people." And I was like, "Uh, okay." And he laid into me. I almost wanted to jump out the window. He went on about it all the way from New York to New Haven. "How can you like that work?" And I couldn't really defend it. I was a young artist, and I didn't know. I was just figuring things out.
Al was a big influence. I'd say he was a big influence on a lot of people. Al would always challenge me. He came up to the studio about once a week, and it was like a boxing match. It was toe to toe.
AG Is there anything Al said to you that still resonates with you now?
SW No, there's nothing in particular. It's just that he was really tough, and he'd question everything. He'd make you defend your work. Al got me thinking about structure and drawing and space. At this point, I was still working on the floor. I would draw something with a piece of cardboard instead of a brush, using acrylic on cotton duck. If I didn't like the image, I'd cover it with a random color of thin acrylic and draw again, and get an image, and draw again. You know, building layers. I never knew, preparing the painting, what the painting would even be or look like.
I think Al said one time, "You should just take a mop. Why use a brush? Just mop the whole thing." So I'm painting with this mop, but I can't do a lot of color because everything gets muddy. I tried all that for a while. I liked the freedom of it all, using non-traditional processes and materials. A lot of people were just experimenting, trying different ways of applying paint and reinventing painting. Because painting at the time was really being challenged. It was said that painting is bourgeois. The most interesting work, people thought, was sculpture. You know, Dan Flavin, Donald Judd, and Robert Smithson. People thought Robert Morris was a genius. Painting wasn't considered that important, though painting's always important.
AG Were there any other instructors that you interacted with at Yale that stuck out to you?
SW Well, there was William Bailey. He had just gotten the job at Yale and moved there from Indiana University. He used to come to Kansas City a lot as a visiting artist when I was in school there. So, I knew Bill, and there was Lester Johnson. They had a lot of visiting artists too. We had one a week coming to the studio. And critics. People like Lucas Samaras, Larry Poons, Larry Rivers, Ken Noland, and Clement Greenberg. I always did very well. There was never a time that people didn't say, "Hey, this guy's really good."
AG Were you looking a lot at Al Held's work at that time?
SW Yeah. I was looking at Al Held's work even before I went up to Yale. Emmerich Gallery was a big place that showed a lot of Color Field painting. The art scene was small until SoHo opened up. You could do all the galleries on 57th Street on a Saturday.
AG So you were taking trips from New Haven to New York every weekend, checking out shows?
SW No, once I got to New Haven, I didn't because I wanted to just paint, paint, paint. When I was in New York I had a job during the day at the Strand bookstore and painted at night. It was a real luxury to be able to paint in the day. Even now, I only paint during the day. In New Haven, I also got caught up with the other students, and the faculty, and the visiting artists, so I just stayed there and painted for two years.
AG So what happened after Yale? Did you come back to the city?
SW When I was at Yale, I was highly visible, and I was offered a teaching job at the University of Rhode Island. I hadn't looked to go to Yale, and I didn't look for a teaching job either. I didn't have to.
AG They were searching for you.
SW They needed us, you know? While I was still a student at Yale I was offered a job at the University of Rhode Island. I knew this black artist, Marvin Brown, who was living in New York, and they had offered him the job. But he was teaching at Hunter so he recommended me. I met with Richard Frankel, and he offered me this job at University of Rhode Island. At Yale, I was living in my studio illegally. I was totally broke, and I went from that to having a teaching job, a salary, and a car.
AG How was that first teaching experience?
SW It was good for me because Richard Frankel, who hired me, was a very nice man, and we got along really well. It was young faculty up there; the students were almost the same age as me. It was fine. But after I had been there for a year, I realized that living in Rhode Island wasn't good for my work. I wanted to go back to New York. Living in Rhode Island—I'll say, I sailed a lot, I drank a lot, and I partied a lot. But I thought to myself, You've got to do what's best for the work. I never had any money growing up, so I wasn't worried about money. I told Richard I was going to leave and go back to New York.
AG Was that the moment you decided that you wanted to become a career artist, or you wanted to make art your lifestyle?
SW No, I knew I was a career artist. I knew that early on, even in high school. Although, back then, I didn't know what that meant. In Rhode Island I knew I could have a nice suburban life, but I really couldn't paint there. The work wouldn't survive there. When you're young the work needs certain things. I needed a community and to see a lot of other art. Rhode Island wasn't giving me that. All my serious artist friends had moved to New York. I already had a community there. It wasn't like I was going there on my own, like I did in '68.
AG You were coming back to a stronger artists' community.
SW Yeah, everyone I had hung out with before was still in New York, like Al Taylor. I also had met Margo Margolis at the summer program at Skidmore, and, back in New York, I ran into her at the Spring Street Bar, which was on the corner of Spring and West Broadway. It was a really nice bar and restaurant where everybody used to go. Really good food, and cheap. I hadn't realized she had gone to graduate school in Indiana and come back, and they'd hired her at Tyler to teach. She had a loft on Crosby Street, but was teaching in Philadelphia. Tyler had offered me a job while I was at Yale, but I had already taken the job in Rhode Island, out of loyalty to Frankel, and I liked it there. Anyway, Margolis said, "They still want you. There's a job search going on right now." I said, "I'm not interested. I want to be in New York." She said, "Well, I live in New York, and do this. You can say you live in Philadelphia." So, I said, "Okay, I'll apply." And I was surprised when I got the job. I think even Al Loving applied for that job.
AG What year was this?
SW That was '73, the same year I got the loft I still live and work in, actually. But I told them I would never live in Philadelphia.
AG (laughter) So, you were coached to say that you lived in Philadelphia, but you told them, "I am never going to live here."
SW I realized that I wasn't going to keep a fake place there, and I couldn't afford to pay two rents anyway. I said, "If the job means living in Philadelphia, then I'm out." And they said, "No, you can live wherever you want." Looking back on it now, I think if I had said, "I want to live in Elkins Park," where they lived, they would have had a hard time. There were no black people living in Elkins Park then.
AG (laughter)
SW So, I think that kind of opened the door for everyone to commute. I didn't realize that at the time. I think if I had said, "I'll buy a house next to you," it would have been a problem. In those days, real estate was pretty much segregated. It isn't anymore.
AG Yeah, for sure. So what kind of work were you doing in New York? How was the work developing, coming from Yale, teaching at Rhode Island, and now back in the city with this art community behind you?
SW I was still painting on the floor, in acrylic, still making big messes, but not using a mop. I was back to using brushes, painting something, and looking at things, thinking: Who did that? What's that look like? Or, where'd that come from? I was still doing all kinds of process painting combinations and just trying to figure out what the hell I was doing. I was still just wide open. There was no solid bundle of work that I was making. The work was more interesting in terms of paint. But I wasn't getting what I wanted in terms of space, drawing, or structure. I wanted something as open as Pollock but as structured as Mondrian. That was a big distance I was trying to work in, that space between those two artists. Which covers a lot of ground, a lot of possibilities. You know what I mean? I was going to the Met, going to the Modern, going to the galleries, going to artists' studios and just trying to steal ideas, as much as I could.
I would say really from '68 to '78, I was just doing all kinds of experiments with process, and just trying to come up with images I thought were interesting. I had no idea of what was finished, in terms of weight, or an object, or how tactile things were.
AG Were you still drawing a lot?
SW Well, I didn't see anyone drawing in graduate school. And, actually, I didn't see anyabstract artists drawings. In undergraduate school I drew the figure really well, and I'd go to figure drawing class. By the time I got to New York, I wasn't doing that because I wasn't making figurative paintings, so why would I draw the figure? I wasn't really a landscape painter either, so I wasn't really drawing at all. I didn't know what drawing meant in terms of contemporary painting. I didn't see many drawings that I liked. I didn't know anybody who was really drawing. I was just painting. I thought painting and drawing, at that point, were the same thing.
AG So back to the start of your time teaching at Tyler. Were there any influences there—through your teaching process, maybe conversing with the students, or other faculty members?
SW You know, people always said I was a teacher [at heart], and they would always ask me about their work, and I'd tell them what I thought. Al Taylor, when he was in Kansas City, he used to go, "Whitney, come downstairs and see what I'm doing." People liked to use me as a sounding board. They wanted me to look at their work because they liked my comments, which I never thought much about. It was just what I did. When I got the teaching job at Rhode Island, they were mostly people who had to take an art class; they weren't majors.
AG So undergraduates.
SW Yeah. When I got to Tyler it was really an art school. It was just like Kansas City. That was good because I had to really talk. I had freshman drawing and sophomore painting, and how are we going to run that? It really made me figure things out—what was important and what was not. You're talking all the time. And for me, doing it my way, I could teach, talk, think, come home, and it never got in the way of my own artwork. I was able to talk to students with all kinds of different [approaches] and it was fun. If someone was a figurative painter, or a storyteller, I got involved with that. And it clarified a lot for me.
AG What things did it clarify for you?
SW Well, all of a sudden, you're a teacher, so you teach drawing. And what's important to drawing? Why do you draw? I had to figure that out. There's sophomore painting. What's important to know? How do you begin a painting? How do you put things together? How do you look at things? How do you set up a palette? How do you stretch a canvas? How do you set up a studio? I had to teach all of those things. And how do you deal with twenty-five kids in the room? So that was all really good, and I could do that very well. It forced me to have a voice.
I taught for thirty years, and I had a lot of good students. And it paid the bills—and for the paint and the canvas. With teaching, in those early years, there wasn't a lot of corporate intervention. There wasn't a lot of writing; there weren't a lot of rules. In the '70s, you could smoke and paint in the classroom. I remember everyone would be smoking and painting and talking. (laughter) It was like the Wild West.
AG What about your contemporaries? What was happening in New York during the time you were teaching at Tyler?
SW I was both teaching at Tyler and working part-time delivering art with Al Taylor. That's when Al met his future wife, Debbie Taylor, who was Robert Rauschenberg's studio manager at Bob's house on Lafayette Street. It must have been around '74. That led to about eight or nine years of being involved with Rauschenberg and his entourage, which was a very exciting time. I got to meet everyone involved with the Castelli gallery and all of the artists who showed there. A lot of celebrities would stop by, and Brice Marden, who was formerly Bob's assistant, was always there too. Joseph Beuys used to send Bob a drawing almost every week in the mail. It was a great time and full of great artist conversation. Rauschenberg really influenced my work. One thing he said to me was, "When a dealer comes to the studio never give them a choice." And I was giving them lots of choices (laughter)
But it was great being at Rauschenberg's house because you got to see all the work before the shows, and he had a great collection of other artists' works and his early works. Bob was one of the brightest people I ever met. He was very generous. I got to attend his retrospective in Washington DC. He flew us all down and paid for our hotel room. We had a great weekend in DC. My girlfriend at the time also worked for Rauschenberg, running his program—Change. It was more of a Pop-artist community, which I didn't think I would be interested in, but I got a lot out of it. Bob really taught me a lot.
When I got to Tyler they had brand-new buildings, and they had just hired Margo Margolis, Frank Bramblett, and myself. They called us the Mod Squad.
AG (laughter) The Mod Squad!
SW We were the brand-new faculty. Before my generation got involved with teaching most artists, if they were serious about their work, didn't teach. You know what I mean? They kind of didn't need to. Lofts were still pretty cheap. I had this loft for two-fifty. For teaching, they would offer fifteen-thousand dollars, and I was like, "Oh, I'll take it!" (laughter) In those days that was a lot of money for a young person. So, suddenly, a lot of people came into art teaching. Yale always had that great program, and now other programs were being modeled after that.
AG Was it helping to push the development of your art in any way?
SW My art career? Yes and no. Being around all those people and seeing their careers and their work, which was a very different scene from the Color Field artists, really allowed my work to open up and go in different directions. But in terms of my career, I wasn't showing the work at all. When I got out of grad school, I had a rude awakening. In school, you're good. You can be black, Chinese, or Mexican, whatever. No one cares where you come from. No one cares about your color. School makes everything equal. But when you get out of school, you are back in the real world. People were having shows all around me, but no one would touch me. I couldn't get a show. Not that the work was really great. It wasn't, don't get me wrong.
AG I remember seeing those pen and ink drawings. I believe they were on Mylar? When were those happening? Was that during your time at Tyler?
SW Yeah. Like I said, I was experimenting a lot with the painting. And the paintings were going nowhere. They were getting more and more like [Jules] Olitski's work, and I didn't want to go there. They looked like rock or something, and people would say, "Well, how's this painted?" So I realized the paintings weren't happening. I was spending a lot of money on acrylic paint and painting on the floor, but I wasn't happy with the work. So, I decided to go back to drawing.
I used to look at that small Van Gogh drawing in sepia ink in the Guggenheim; I always loved how rich and colorful it was, even though it was black and white, sepia. You know, it was a different mark-marking technique. My paintings then were so indirect that I wanted something that would be real direct. I didn't like the conversation the paintings were creating: "How'd you make this?" Or, "How many layers of paint is this?" I think these were the worst paintings I've made, ever.
AG (laughter)
SW And so I decided to go back and draw, get rid of the color and just do something black and white.
AG What year was this?
SW This must have been '77 or '78. After Yale, I'd thought my career would take off, but it didn't take off at all. I never thought it was because of race. It never occurred to me, though I don't know why.
AG So, what did you discover through that process of just working in black and white, going back to drawing?
SW I worked on opening things up. Because before, when I was doing a drawing, I'd always end up covering it up. I'd paint on the floor, lay down a color of acrylic, then take either a squeegee or a brush and make something over it. If I didn't like it, I'd cover it up with another layer of color, and the drawing would sort of come through. I'd keep doing that, and things kept shutting down. The idea with the new drawings was to open things up. I chose pen and ink, not charcoal, because I wanted to put a mark down and deal with it. I couldn't erase it.
I bought a book on the complete works of Vincent Van Gogh with all of his drawings in it. I would lay it out here and make these drawings that were kind of like landscapes, much more open, like Morris Louis's. I always liked, in Morris Louis, how open that middle was. So my drawings were based on some idea of Morris Louis and some idea of Vincent Van Gogh.
AG That's very interesting. Because you first saw Morris Louis's work back in Kansas City, and years later, here you are thinking of Morris Louis again. For me, Louis's paintings have this emphasis on gravity. The line is always vertical. Your pen and ink drawings from that time have this fluidity and transparency. And the line is not only vertical but also horizontal. Almost like intersections.
SW Right.
AG Can you talk about that a little bit?
SW There are a couple things. It's true that I liked how Morris Louis used gravity. Whether they're the Veil Paintings, or whether they're the ones where the color is coming in from the side and then falling down, very naturally, just falling in. The fact that they were very natural, very organic, was an important element for me. I liked how open they were. Mondrian's Broadway Boogie Woogie at the Modern was very important too, and also his drawings, of course. They were really key.
AG The early drawings?
SW The early drawings. When Mondrian comes to New York and starts dancing, when he does Broadway Boogie Woogie, that's when I'm interested in his paintings. But before that, it's the drawings—the tree drawings, all those things. I saw a Mondrian show at the Guggenheim, and it was great. You could see every step. And I thought, That's the way I want to move—step by step by step. My work changes very slowly. Taking every step—that's something I stole from Mondrian. That, and the Vincent Van Gogh drawings—they're so lively, they're so musical, they're so playful, they're so open. They're just out there.
So that really was my big goal. I wanted to open the work up—not relying on the color, but on structure. I thought that Color Field artists were weak with their structure. And the color in those days was weak too. They used flat color right out of the jar or the tube, like Stella. But I didn't want to give up color and touch—colors like Veronese's or Courbet's, or de Kooning's sensuousness with oil paint. I was interested in how color and touch go hand in hand. The color changes with the touch—it's a different color if you change the weight, or the amount of paint, or its viscosity. It's much more nuanced. I was looking for a way that I could have all these things in one painting. Do you know what I'm saying?
AG Yeah, for sure.
SW I wanted all those things.
AG Color and structure. Mondrian is key for artists to look at when thinking about structure and composition. When did structure start coming into play for you?
SW After graduate school, that's when I really got down to it. I wasn't thinking so much about structure; I was really thinking about space and keeping things very organic. Space and gravity—not that I would have used the word gravity at that point. I had a lot of ideas, but what was I going to hang my hat on?
Now I've been painting since '64—'65, if you count school. I have a fifty-year history of painting, many different kinds of painting. Drawing was a way to really work my way through things—to look, to open up, and to not avoid anything. Drawing is very important. When I looked at Rothko's last paintings, before he killed himself, I thought, He had no back door. He had no way out. He had no way to reinvent himself. You see, Guston did draw, and drawing was the thing that helped him reinvent himself.
When I think of Brice Marden—and I always liked Brice's work—even when he was doing those really dense panel paintings, he was drawing a lot. And I think that really saved him. For me, as I said, I always had color. I was born with the color. But to put the color in the right space and give it a real intellect, you need to do drawing. I had a feeling that I wasn't going to go anywhere if I just kept painting the way I was painting. So I went back to drawing, and I was enjoying it.
AG Do you still draw now?
SW A lot. I draw all the time. I can show you some drawings. They're all line. They don't look like the paintings, but they feel like the paintings.
AG What does line mean to you? Looking at the paintings now, there's this running line going across each painting. There's four lines in the composition. The line kind of organizes the painting, but also has this looseness to it. It's like a freestyle line. It's not a rigid, linear line.
SW My painting was never rigid. Nothing is ever really straight, it turns out. The line opens things up. You have this gravity, you think there's a kind of stack, and the colors have good weight to them. The line is this breath of fresh air—it just spreads things out. This structure happened out of need. I didn't make the structure and then add the color. The color made the structure. And it's a structure that gives me lots of freedom to do many different things.
AG We're talking about line and structure, and I'm looking at these paintings here in your studio. Going back to Mondrian for a minute, the Broadway Boogie Woogie painting that stuck out in your head is laid out like a grid, referencing the city landscape. Do you feel like you've reinvented the grid for yourself?
SW No, I never think about the structure as a grid—though it is a grid, really. I'm a real New York City painter, if you know what I mean. My paintings are just the way New York is. I want that kind of simplicity, which is also the madness of New York, because of the color. So you have this contradiction, in a sense. There's the grid, which should be very orderly, and then you put the color, and it throws the whole thing off. Maybe that's what people find attractive. Maybe that's what people don't find attractive. In a sense, there's nothing really to focus on. With my paintings, the eye kind of moves around, it can't stay still.
So there is order, but also no order. It's like New York. Everything's laid out very orderly, and then it's just total madness. You cross the street, but which way do you look? A bicycle could be coming this way, a cabbie coming that way. I have European friends who come here and go, "You ride a bike in New York? It's madness!"
AG Definitely.
Looking at Sixteen Songs, the painting you had in the Reinventing Abstraction show at Cheim & Read last year, we can see how the balls that you were making in the '80s, have turned into these squares or blocks. Can you talk about how that happened? I think that painting was also in acrylic?
SW That's in oil. It's one of my first oils. I got invited to a print shop in Philadelphia in the late '70s. Brandywine Workshop. I did some screenprints there. I worked on Mylar with black ink, then they photographed them and made silkscreens out of them. I worked on this type of Mylar that was not totally transparent. I used pen and ink on that, with a brush. So that was a shift—going from pen and ink to a brush and ink. I made these kind of roving lines, and then, again, big blocks or balls.
That led to a whole series of pen and ink on Mylar drawings. I'd buy a roll of Mylar and cut it. I liked it because the Mylar was sort of transparent, and so it didn't look like an image on a field; it was just these black images sitting up. Then on the paintings I made these areas of color in acrylic, and I would take a brush and make these small marks, so I had large marks with small marks. And the big areas of color could be different areas. It could be a red area, or a blue area, or a green area.
I made those on the floor here, then stretched them later. Those were a big breakthrough. And people were like, "Oh, that's really good, Stanley!" You know, with my friends, we'd always exchange visits. So, that breakthrough led to a whole group of paintings. And then I started covering things again because I wanted to keep moving, moving, moving. I would draw and cover it, draw and paint over or cover it again. And then I realized that the acrylic paint got deader and deader.
But then I went to a print shop with Bob Blackburn, where my future wife and girlfriend at the time, Marina Adams, was working. She was also going to Columbia University for her MFA in painting. It was through her that I got invited to do these monoprints. And when I did those, my hand really showed up. There was more gesture and mark making, and the color layered differently. The monoprints felt more alive and had more immediacy than those acrylic paintings I was doing. I thought, You know what? I'm getting rid of the acrylic and going back to oil paint. That must have been in the early '80s.
AG So how did the floating balls turn into squares?
SW Oh, very, very slowly. When I was working in acrylic, I was working with paper buckets on the floor. I had a lot of them.
AG Paper buckets?
SW Buckets made of paper. I bought them to mix paint in, but when I switched to oil paint I got a glass palette. I hadn't used one since I was an undergraduate. So, I was mixing on the palette, and I'd mix my paint in a circular motion and form. And I thought, I want to do the same thing on the painting, put the paint on very naturally, and have the painting be as organic as possible. I'd make these areas of color on the canvas, copying the drawings and would also incorporate line.
Sixteen Songs is from 1984. I think I made two or three big oil paintings like that. The field would be a light color, grey or blue, and I'd put large areas of color down, then the line. I couldn't let the line be anything but white. I don't know why. And the color was very pastel. I couldn't quite get to the color because I was too focusing on the drawing. Not until I figured out the space could I get to the color.
At that time, the colors I used were mostly pink, brown, or blue. And black, of course. Other colors only slowly came in and step-by-step. As I got to know the paintings, got to know the space, and got to know who I am, I arrived at the color.
It's funny, because as much as I'm involved with being a New York painter in terms of the grid, I really thought about painting being more organic. I wanted a way of putting any color down, whenever I felt like it, and not having to wait or have to layer it. I wanted a system where, if I wanted to put a blue down, I could put a blue down, and if I wanted to put a green down, I could put a green down, without having to wait for something. I really wanted the color to dominate.
I taught out at Berkeley in '86, and at Stanford for the summer in '87 or '88. I traveled across country a lot then. I kept thinking about space in terms of landscape. That Sixteen Songs painting, I really think about it in terms of landscape. We drove across the country then. When I came back from California I showed at Fiction/Non-Fiction, Jose Freire's gallery. First on the lower east side, and then he moved to Mercer Street. I did shows at both galleries. Not much came out of that at that time, around the late '80s.
Then, I had the opportunity through Tyler to go teach in Rome in '92. So, Marina and I decided to move to Italy. We had been married for a few years and decided to get out of New York for a bit. It was in Italy that I started thinking about space in terms of architecture. That's when things changed.
AG Did you meet a lot of other artists during your time in Rome? What was the community like there?
SW We didn't meet many Italian artists, only a few, but Marina and I became very good friends at that time with David Hammons. I knew David in NY, but we became very close in Italy. He had been there before at the American Academy in Rome and had been invited back to do a show with Jannis Kounellis. We really started hanging out all the time there. He had an Italian girlfriend then, so he was always in Rome. David and I did a couple of shows together. One was in Naples soon after my son was born. Marina, David, my son William, and I went to Naples when he was about five months old and had a great time. We did a very fun show together. That painting over there on the wall with the wire and cigar coming off of it was a collaborative piece from 1994 and was exhibited in the Naples show.
Once we came back to the States, David and I worked on another project together—a show called Quiet As It's Kept, at Christine König Galerie in Vienna. It was three generations of black abstract painters. We made a beautiful catalogue with a very well written essay by Geoffrey Jacques. David and I are still very good friends to this day. We always have great conversations, whether it's about art, politics, or life. You know, it can be very hard to get a good friend later in life. When my best friend Al died, that's when I really got close with David. We used to travel a lot together and had a great time.
AG How did your time in Italy change your paintings?
SW Looking at Sixteen Songs again last year, I realized that the paintings from these years, the mid-eighties, are very influenced by landscape and me traveling across the country. But when I went to Italy, architecture became the big thing. I think about Rome as a great combination of architecture and landscape—the beautiful architecture, and all the ancient buildings, the Pantheon, the Colosseum, and then these umbrella trees. Living in Rome, walking past the Pantheon all the time, passing the façade of the Vatican, the light on the buildings, the color—that was a big influence on me. So, I started getting more involved with architecture, more so than with landscape.
AG Was it the way one's body interacts with space, with architecture?
SW No, it was more of a visual thing than a physical thing. It really was just these beautiful buildings. Rome is a beautiful city. And the incredible light, it is just like Caravaggio—it's black and dark, and then light. The temperature changes like that, from dark to light.
The first year I was there we did a lot of visiting with art historians who take you to all these sites and talk about them. Tyler School of Art Rome had these classes, and since I was part of the faculty, I could go on lecture trips. Faculty would take us all around Pompeii. Once I went to Volterra, and we went to, I think, the Etruscan Museum, and they had all their little urns stacked up in rooms. I thought, That's interesting, everything's just stacked up. At that point my painting was still very loose and gestural, very baroque. And I thought to myself, You know what, Stanley? I'm just going to stack the color.
I stacked the color and painted like that for a long time. And then I took a trip to Egypt. Living in Rome, we traveled all around the Mediterranean. The Egypt trip was in December of '93. I remember the date well because my son was born in Rome the following May. I felt a strong desire, even pull, to go to Egypt—to the pyramids and the temples and see the scale. I knew I had to go. And I was right, when I went to Egypt it just came to me. I looked at the pyramids and found the last missing piece of my puzzle—it was density. I mean, at the Pantheon, you have pillars that are twelve tons. In Egypt, you have even greater ones. And I thought, You know what, Stanley? I bet I can just stick these colors right next to each other instead of having them on a field. I didn't know at that point that the space was in the color. I kept thinking the space was around, and the color was all in the space. But when I put the colors directly next to each other, I realized that I don't lose the air.
AG What's interesting to see in your paintings is that each square has its own idea of space, but they're also working with each other within the whole composition of the canvas. It seems like you're playing around with space, opacity, and density from square to square.
SW Yeah, I can have lots of paintings within one painting. And as I said, I always had the color. The color was never an issue. The issue was, how was I going to make the color subject matter. And I didn't really know that this was my big question all those years, but that's what I was asking. I was always working on how to put the color in the right space. So, Egypt was the last piece of the puzzle. Density. I realized that I could just pack the color together. I always thought, if I did that, I would suck the air out of the painting.
AG So, with that said, would you say you're making painting about painting? Or paintings about paint?
SW You know, I don't see figure, and I don't see landscape. I see paint, on canvas. Painting is a really strange thing, I think. Painting in itself, in the Western world—or better, poetry and painting in the Western world—are really strange things. I think people have a hard time dealing with both, but they're very important because they bring a lot of humanity to people. The Western world is so into engineering, and feats like that. I've just been reading a great book about Osip Mandelstam, one of Russia's great poets. Stalin killed poets and artists because he thought they were a real threat. Painting and poetry, I think, bring so much understanding, trying to figure out what it is, really, to be human. That's what I'm trying to do in the paintings. Color is such an unknown thing. Color brings so much emotion and depth to people, and people get a lot of joy out of it. It opens up a lot of hope and possibilities.
AG Do you ever feel like you run out of colors?
SW No, never. The color is just endless, and it's something that changes. Depending on if it's thin or thick, opaque or transparent, it feels totally different. It's really about how it feels. The world is so tactile, and I want the paintings to be that tactile. So sometimes, the painting is real hard, then it's soft or really delicate. There are all these different feelings you can get through color. Even with this painting here, which is at an early stage, there are some things I like already and that I'm sorry I have to give up because it hasn't arrived in the space or at the clarity I want. I want the painting to be like a beautiful, clear, clean day. But I'm not sure yet what that means in terms of gesture, or mark, or touch. Some of what's there might stay, some of it might change. I don't really know yet.
AG What about the interaction between scale and color?
SW Oh, I want the scale to be big. You know, we're Americans. (laughter) But it's not just big in terms of size. I want it to be a lot of color. Overwhelming. This size, to me—seventy-two by seventy-two—is small. I love painting ninety-six by ninety-six. But if I put these out there together, people will be overwhelmed by color. It becomes like an insulation. You know what I mean?
AG That's something I noticed about your show at TEAM Gallery. There were all these new, really big paintings. I mean, one gets overwhelmed with the color and the feeling you're getting from them. But then, we're here in your studio, and I'm seeing these twelve by twelve inch paintings. Are these studies for the bigger paintings?
SW No, they're their own thing. While I paint the large paintings, I paint with little sort of salad bowls as palettes. Each color has its own bowl. I make the small paintings because I have paint left over in the bowls. I've done tons of these little paintings. I'm trying not to do as many as I used to, because I already have stacks of them. They keep me in shape too, because when I'm working on the big paintings I have a lot of drying time. At the moment, I'm drawing instead. I do a lot of reading too.
AG When you're working on a piece do you listen to music? Or is it silent?
SW Music's a big part of my life. I don't know about you, but in the black community I came from music was always there—the radio was on, dance parties, music, music, music. I think that's how people got through slavery—with music. It's sort of a lifeline.
So, in my studio I always have music on. When you're painting you kind of go into a trance, and you come out of a trance. I hear the music when I'm beginning to paint, and then again when I'm done. Maybe if I'm having a hard time painting, I hear the music more. For me, painting's about color, but it's also about getting the right rhythm, getting the right combination. Painting, for me, is like music. It really is like call and response. A color calls another color. The idea is that all the color is equal and that one color doesn't get in the way of another color, and that you have good transitions, so you can move through the painting pretty easily.
I grew up listening to Bud Powell and Thelonious Monk, and I actually found this great Bud Powell CD where he's playing this piano that's out of tune. I love to hear Bud Powell playing the same song over and over, and every time it's different. It's hard to talk about jazz in this country because it's treated so lightly. People don't think much of the music, or people don't really understand how much Louis Armstrong changed the world. They kind of know it, but they go, "Eh, that's not a big deal." What African Americans did, people are like, "It's not a big deal." It's like, "Oh, that's just natural." They don't realize how hard Billie Holiday worked to get that kind of rhythm, or that kind of beat, or to lay way back and still have it be on time. People don't realize the intellect that's there.
AG Yeah, for sure.
SW And so the color sort of comes out of that. Somebody asked me the other day if I have a color theory. No. I don't have any color theory. The color is magic, and I want the work to be magic. I lay a color down and that color calls another color, and then it's a balancing act. You don't want to have something dominate something else, and you want to have good transitions.
AG What's your favorite color to use? Do you have a go-to color?
SW I don't have a favorite color. I use a lot of red, but I would never say that red was my favorite color. Although you come into the studio and say, "There's a lot of red here!"
AG Yeah. What about the brand of paint or pigment you're using?
SW Well, I use Williamsburg paint. I can buy big tubes of paint. I like big tubes of paint. Williamsburg paint seems to work okay for me. Bill Jensen says it's terrible paint, but it's okay for me.
So, I'm not making my own paint. I'm not a chemist. I want to get to things pretty quickly. You know what's hard for me to get? If I see a beautiful dark-skinned black person who's wearing pink or red, I think, Gee, I can't quite get that dark to have that richness it has with that pink. I haven't been able to paint a real brown or black that's that kind of skin color. Like you get people from Sudan who are black as night, and you put color on those people, like whoom!The color just jumps.
New York is great because it's a real people-watching place. Everyone's trying to be an individual. Everyone has to work hard to stick out. People really dress here. It's great. Fashion's big, and you see all kinds of combinations. When I was in West Africa, in Dakar, I loved how the women just mixed up all these fabrics, with all kinds of color combinations. It's just like, wow! So color is endless to me.
AG When you paint, do you think of these textiles and color combinations that you saw on your travels?
SW I think there's color everywhere. Most of the color in the world comes out of the southern hemisphere, though. You know, Africa, India, South America. Women are definitely much more involved with color than men. Most of the time, it's the women who like my paintings more. The men sometimes have a hard time with them. Because they want to be in control so much, and you can't control the color. That's what I think, anyway.
But textiles, rugs, quilts, fashion, lipstick, you name it—I kind of want all that stuff in my paintings. I don't see an end to it, if I really follow all these things. I haven't been to Mumbai yet and seen a thousand shades of orange. I don't know where the structure will go or whether I will keep painting these, like you say, squares of color. But I don't worry about that. I've been following my paintings my whole life. I'm just trying to be courageous. If the painting goes under the door, I go under the door. If the painting goes around the corner, I go around the corner. If the painting goes out the window, I go out the window. Wherever the paintings go, I go. The paintings really lead me. I don't lead the paintings.
AG I read an interview that you did about your lineage where you said, "Newman, Judd, then me." I was wondering if you—
SW Oh, I did say that? How interesting.
AG (laughter) Could you talk about those two, and then you?
SW What I meant was that when I came to town and saw Barnett Newman, I couldn't do anything like him, as a painter. But I think Donald Judd, as a sculptor, could. I think Judd kind of took Newman and reinvented him in terms of sculpture. For me, as a painter, there was nothing I could do with Newman. But I could then look, as a painter, at Judd's three-dimensional work and reinvent painting from his sculpture.
AG I really like that. How do you title your work? Newman was great at titling his paintings.
SW Who's Afraid of Red, Yellow, and Blue?
AG Yeah, right, or other titles were themed and referenced the Bible. How do approach titling a painting?
SW Well, I've read a lot, and I still read all the time. If I'm not painting, I read. So, I always write things down. If someone wanted to read my life, my titles are a clue to where I am, what's going on, and what I'm thinking. I had a title, My Tina Turner, and, actually, John Yau thought it referred to Susan Howe's book My Emily Dickinson—because I read a lot of poetry. But it wasn't that. I have another title, I think it's James Brown: Sacrifice to Apollo, or something like that. I did that because I thought, people will say, "He means James Brown at the Apollo." But I wanted to talk about James Brown being a god. So, the titles are another way for people to get involved with the work, another way in. Sometimes I use musical titles. I used a great Fela title once, Suffering and Smiling. I wish I could use it again. Suffering and smiling,is really what I think black folks do.
I want to have titles that connect to what's happening at the time, in the world, or my connection to music, or my connection to reading, or my connection to communities. Different things.
AG Has the reading influenced the work any?
SW The reading kind of keeps me in shape, mentally. I want to stay sharp, so when I come into the studio I'm right there. And I'm right on top of it; I never fuss around. Painting is a real love act, and you're putting a lot of love into the world. The world needs a lot of love, I think, and so that reading keeps me in touch with ideas.
AG Let's talk about your family life. You mentioned that you're married to Marina Adams, also an artist. Has she influenced the development of your work? Are there breakfast conversations?
SW Great conversations, I have to say. I'm married to Marina Adams, who's a fantastic painter. And because of that, we love looking at art together and love traveling together. I mean, we've been together, God, thirty years, and it's been great. Marina has a beautiful studio in Greenpoint, Brooklyn, and I paint in our loft.
We've really grown together in so many ways, personally and professionally. Privately, when you're married to a painter, it's really good. Publicly, it can be really hard because people think there's only room for one painter, but it's not true. Marina has greatly influenced the development of my work. We've had and have great conversations. With our work, we have color in common, but our idea of drawing and structure is very different. In our conversations we don't necessarily agree on everything. In fact, in terms of color, what I think of as Yellow, Marina insists is Orange. (laughter)
She's the one and only person I really trust in the studio. She has a great eye, and I've always valued her feedback over anyone else's. She knows me and my work better than anyone, and I totally rely on her.
We have a son, William, who will be twenty in May. He's at Colby College. He's not really involved with the arts. He is studying political science. But he's very much into rap. He's a rapper. And he writes a lot.
AG So he's into music.
SW Always, in the black community music is key. Every generation reinvents it. They take the same music, the same idea, and they reinvent it. And what they do with it is astonishing. In my building here is a place called Scratch.
AG Which is a DJ school.
SW Yeah. They've invented this whole industry from nothing. They didn't have money to go learn to play piano, or to go learn to play anything. But yet, they've reinvented this music. Because we need music to survive. So, my son's really involved with this music. And that's his generation. I have maybe three hundred records of all this jazz stuff. He's not interested in it. He's so involved with his music, just like I had my music, while my father listened to Cab Calloway and Duke Ellington and all that, and I was like, "Yeah, yeah, yeah. Fine. Whatever." My son might get interested in jazz one day.
AG You talked about travelling a lot, and currently you have a studio here in New York as well as in Parma, Italy. Could you talk a little bit about the difference between working here and in Italy?
SW It's not much different for me, actually. It's really wonderful to have these two spaces. The reason we have the place in Italy is because of Marina. She really wanted a summer studio, so we got this house up near Parma. It was Marina's idea to do this, and it was a great idea. We took this old fienile, a stone barn, and turned it into a studio and living space. We both paint there in the summer time. I don't send paintings from Europe back to the States, though I do send paintings from the States to Europe. Two years ago, I did a show in Berlin, at the Nordenhake Gallery, and it was the first time I showed works from New York and from Italy together. I wondered if one could tell the difference between them. Is the color different? It's the same paint, but I use a different type of canvas. The ones from Parma didn't look any different than the ones from New York.
AG Between here, in New York or the US, and over in Europe, do you feel like there's different responses in the audience?
SW Yeah, definitely. Well, in Europe, they have a whole history of art and a clear idea of where the artist fits into the culture. Here, it's the Wild West. It's still cowboys and Indians, with a few slaves thrown in.
AG (laughter)
SW Like even in the little town, Solignano, outside of Parma, where Marina and I moved, the people there think we're magical. They think, Wow! Two artists from America came to live in our town. How lucky we are! And they treat us like we are very special. Whereas, upstate New York, or on Long Island, people think, Oh, these artists. They don't think artists are special.
AG (laughter)
SW So it's a different relationship. There they have a great respect for art. And, of course, Europeans just love music, and they like jazz. So, if my work comes with the music, they love that idea too. It's definitely different in terms of how people see you. But at the same time, in America there's a lot more freedom to do or be whatever you want to be. You don't have that kind of freedom in Europe.
AG Definitely. And where do you feel like you fit into the art world now, being a New York artist? Do you feel like you're carrying on your part of the New York abstract school?
SW Yeah, I definitely do. The New York abstract school, I embrace that. I wanted that. I worked for that, and I think it's a really great school. A lot of things happened in New York. You have these moments in history, whether it's Paris or New York, when things can happen. It's not for me to decide what young people will do, or what the art world's going to be. It's like what music is, what music was. What painting is, what painting will be.
I'm sixty-seven now, and I don't feel like I'm making my mature paintings. I keep waiting to make crazier paintings as I get older. The color allows me endless possibilities. The paintings might look the same, but they feel totally different. I don't really know what the color does. It's like the world. I don't know about the world. I don't know what's going on. We don't really know much. We say it's two o'clock, but we just made it up.
AG (laughter) It's true, yeah.
SW I'm not scared of working with something I don't know. But I know that when a color allows another color to be there too, they all can get along. They can be very democratic. And that's what I want.
BOMB's Oral History Advisory Panel includes Sanford Biggers, Thelma Golden, Kellie Jones, Odili Donald Odita, Lowery Stokes Sims, Mickalene Thomas, Carrie Mae Weems, Stanley Whitney, and Jack Whitten (in memoriam).
Support:
The Oral History Project is supported by the Seth Sprague Educational and Charitable Foundation, the Dedalus Foundation, Humanities New York with support from the National Endowment for the Humanities, and with public funds from the New York City Department of Cultural Affairs in partnership with the City Council.
Any views, findings, conclusions or recommendations expressed in this digital publication do not necessarily represent those of the National Endowment for the Humanities.
The Oral History Project Fellowship is made possible by the Stavros Niarchos Foundation, Cary Brown and Steven Epstein, Beatrice Caracciolo, John Coumantaros, Sally Ann Page, and Toni Ross.

Any views, findings, conclusions, or recommendations expressed in this digital publication do not necessarily represent those of the National Endowment for the Humanities.