Discover MFA Programs in Art and Writing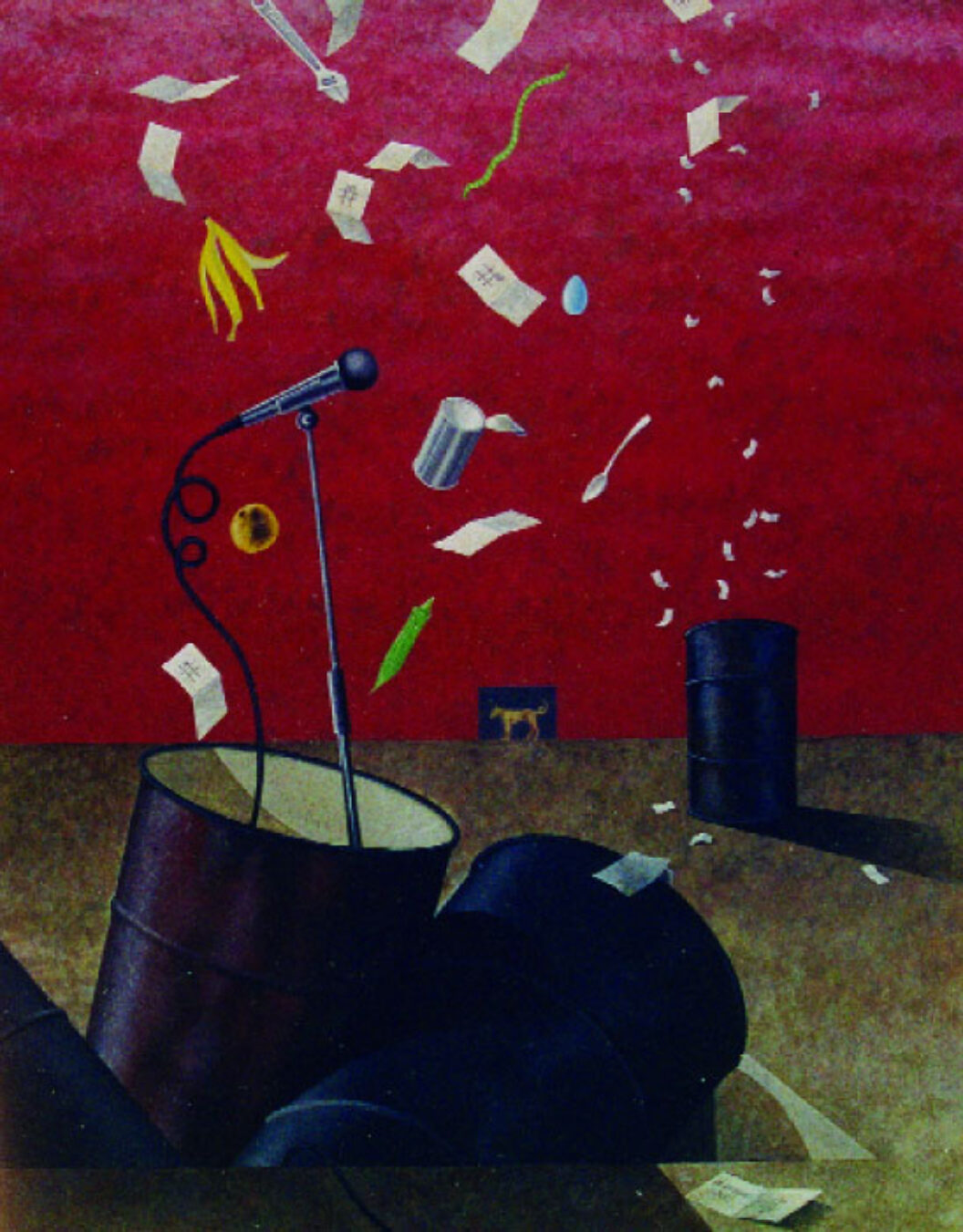 Recognition as a visual artist—or, as he prefers, "a maker of things"—came late to Stanley Greaves. Until 1994 he was little known outside Guyana, where he was born in 1934, and Barbados, where he moved to live in 1987. But over the past 10 years his distinctive vision of Caribbean realities, especially in painting, has brought him increasing prominence within and beyond the region.
Greaves began making paintings as a teenager in Guyana, then British Guiana, while attending the legendary Working People's Art Class alongside Donald Locke. He later trained in Britain and the United States, in sculpture, ceramics, and printmaking. But his own visual practice once he returned home was always alongside art teaching: at secondary schools, teacher training and adult education classes and, for 12 years, at the University of Guyana, where he was head of the Creative Arts Division. Opportunities to show work in Guyana were limited, to sell work even more so. Carifesta, the Caribbean Festival of Arts, provided more exposure of his work and welcome encounters with art and artists of the wider Caribbean: in Guyana (1972), Jamaica (1976), Cuba (1979) and Barbados (1981).
It was at the Santo Domingo Biennales of Painting that Greaves's work first won major acclaim, with significant consequences. In 1994 his triptych of paintings titled There Is a Meeting Here Tonight won an individual Gold Medal. In 1996 three other paintings with the same title, included in the Barbados entry, won the top award for a national submission. This led to Greaves's work being shown alongside that of Brother Everald Brown of Jamaica in a landmark exhibition, The Elders , in London in 1999, curated by Godfried Donkor. There Is a Meeting Here Tonight, now a complete series of 14 paintings, was shown in three Eastern Caribbean centers in 2001 and 2002 and in London early this year. In addition, 2002 has seen publication of Horizons, a volume of Greaves's selected poems, a Guyana Literature prizewinner, with a monograph also promised by Peepal Tree Press, titled Primacy of the Eye: the Art of Stanley Greaves by Rupert Roopnaraine. This year Greaves was appointed Distinguished Honorary Fellow of the University of the West Indies.
Stanley Greaves and I met in 1993, though we had long known each other's work. He gave me the illustrated catalogue for his then recent show, Caribbean Metaphysic: Another Reality, his first such publication. It was to herald a marvelously productive decade, aptly rewarded. And it was to start a nonstop dialogue between us, by letter, email, odd meetings and now, this welcome chance of a published interview.
Anne Walmsley Stanley, the microphone resting between us reminds me of that very potent image in your recent series of paintings in which sometimes a man, sometimes a dog or dogs, is about to speak into a microphone. In the painting reproduced on the cover of Veerle Poupeye's book Caribbean Art [Thames and Hudson, 1998], a microphone is held by man in gold-rimmed dark glasses with a baseball cap turned sideways, standing in a garbage can. What were your concerns in making this painting and the series that followed There Is a Meeting Here Tonight?
Stanley Greaves I didn't set out to do a series, or even to speak about the ills of politics. I did three individual paintings and they began to resonate. So I said, "Hello, there is something to be investigated here." I went into my sketchbooks and found other images that could be manipulated to carry the theme of politics. That's my usual thing: having seen or conceived of an image I make it do the job I want it to do, so that the prosaic takes on functions of a more determined or symbolic nature. Soon more images began to appear from my environment. For me, microphones represent politicians. I remember a particular gentleman who used to walk the streets of Georgetown in Guyana. They say he was mad. He used to make imaginary political speeches, holding his hand as if he were gripping a microphone. He harangued whomever was around, or nobody in particular.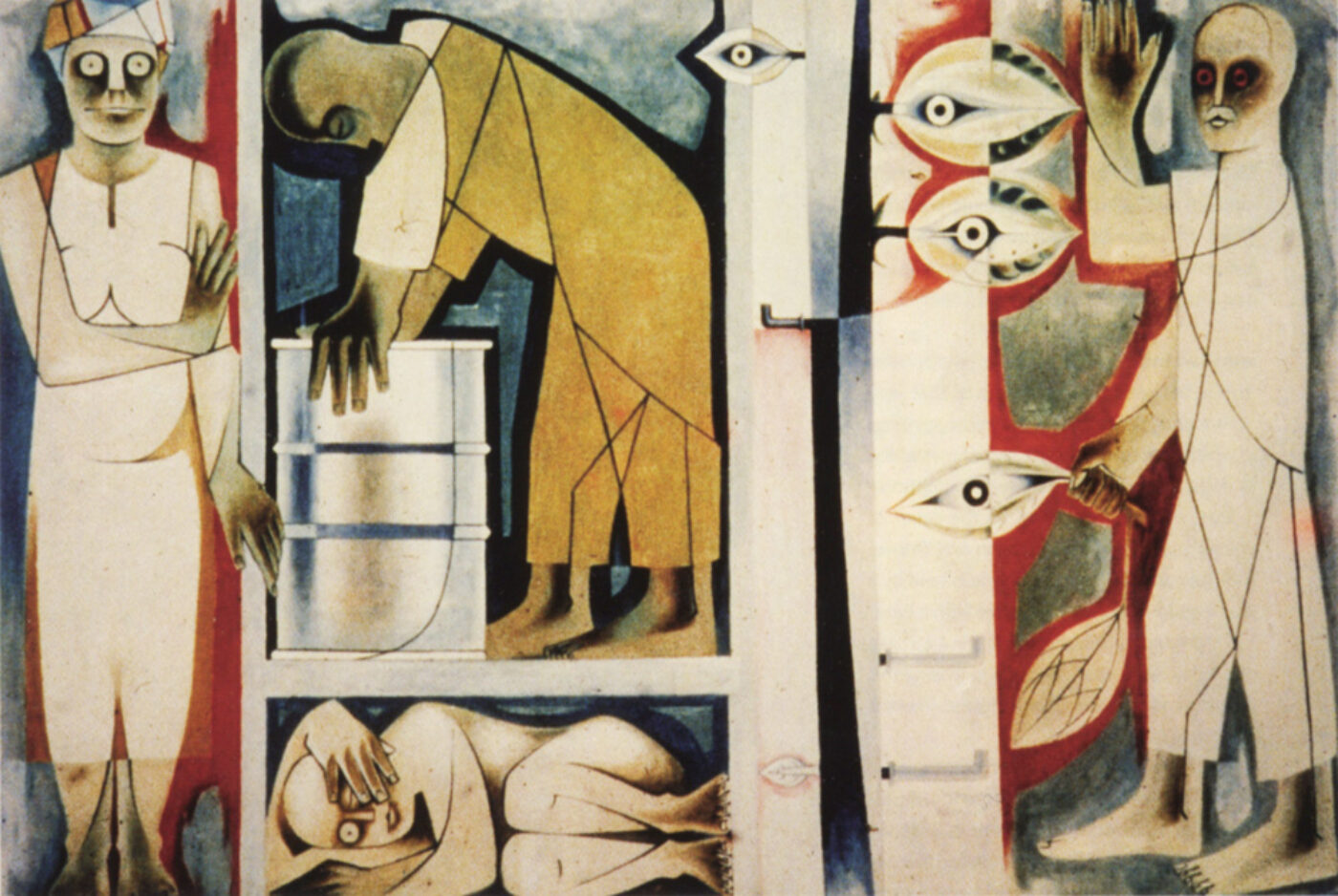 AW Looking back at your early paintings, of the 1950s, I find many now-familiar features of your work already in place. The paintings titled The People in the Pavement are not overtly political, but seem to reflect and comment on the lives of working people of Guyana, then British Guiana. Take People of the Garden City, an ironic comment on the name by which Georgetown was then known outside the country, as if it were all flowering trees on beautiful avenues alongside fine colonial buildings. But you show a city whose people live in cramped, wretched conditions, scavenging food from that same garbage can in the Meeting painting. Already there are touches of the surreal, the metaphysical: plants sprouting in unlikely places, leaves with eyes. How did those early paintings come into being, and how do you see their relation to the work you've done more recently?
SG I have always been interested in people and the things they do—which, perhaps, is an extension of myself. My paternal grandfather was a cabinet maker; my father was very good at making things, and so was my brother, Ivan. Rupert Roopnaraine has pointed out that in my paintings people always have objects in their hands; they are always about to do something, or have just done something. I think my interest in society and what people do in society has been, as you rightly point out, focused on the working class.
AW Was that your own background?
SG Well, to quote Martin Carter, "I come from the nigger-yard." The term has come to have a pejorative ring, but to my mind the yard was a vibrant community. It had its own dramas among the families that lived there. My father, late in life, did all kinds of odd jobs. He worked on the waterfront, did sign painting, led a string band and occasionally trimmed trees. He even made the furniture in our home. My grandfather was originally from Barbados. He had two shops in Georgetown. In a trades registry of the 1880s, he was listed as an upholsterer and cabinet maker.
AW Coming from that skilled artisan family background, how did you first begin to make art?
SG I still don't talk about myself as making art! Other people do that. I am a maker of things. In the early days, I found empty matchboxes, cigarette boxes, bits of string, wire, empty boot-polish tins, whatever, and made things. Drawing was just another activity, and it still is. My favorite medium is still wood, of course. My hitherto secret preoccupation with writing poems, which has now come to light, is another form of making. Recently at the University of Birmingham, where I did a reading, I was asked if the paintings influenced the poetry, and I said, "No, they come from the same source."
AW Why is it, do you think, that so many Caribbean people of your generation, born in the late years of colonialism, have explored and excelled in more than one creative direction?
SG It's part of growing up under the British flag. I know I'll be condemned for saying this, but the education that I had certainly encouraged me to do all kinds of stuff.
AW Colonial education, as I've understood it from C. L. R. James and others, very much emphasized the literary arts, which I think reflects long-held priorities in Britain. The appreciation and criticism of literature figured very high, whereas little was taught about the visual arts.
SG The situation remains the same. In the Anglophone Caribbean you find that it is the writers who receive the accolades and opportunities, a distinction you do not find in the Spanish-speaking Caribbean, where writers, artists, musicians, and composers all occupy the same platform. I've often said that seeing came before writing, and so we need to pay attention to what is produced by those who prefer to use that modality to explore the circumstances of their lives and those of others around them.
AW How did you first become aware of art forms such as drawing and painting, sculpture and ceramics?
SG I think it was growing up in a house where my father did signboards, like J. Smith: Carpenter, or Tinsmith or Tailor, for friends of his. I used to help him: he drew the outlines and I would fill them in. He also did headstones for graves. That's where I learned the distinction between roman and italic lettering, and Germanic capitals. I think I got riveted through seeing images. My father used to retouch and repair the certificates of societies like the Freemasons and the Scottish Lodge. He also repaired the aprons that Freemasons wore, with images of the square and compass and the eye looking out of a pyramid. I found the symbols extremely mysterious, and my mind was compelled to find out what all these things meant. I was already in that modality; these things just rang a bell, stimulated me. Later on in our reading books at primary school, the pictures and illustrations fascinated me, and I would try to copy them.
AW But these would have been very English-oriented illustrations, not in any way reflecting your own environment.
SG Nelson's West Indian Readers were different. They had Anancy and Brer Rabbit stories from the Caribbean, and stories from the history of the Caribbean, of course with a British slant. Henry Morgan was the governor of Jamaica, but his buccaneering exploits were put on the back burner. You learned about Drake and Hawkins. It was not until much later on that I discovered Hawkins was a slave trader; his trademark was an African bound with ropes. And then there were these reproductions of paintings, terrible reproductions—
AW The Picture Lessons.
SG The paintings reproduced were taken from the national galleries of England and Scotland. Pictures by the pre-Raphaelites and others: Chardin, Velázquez, Rembrandt. Also, of course, by the Dutch landscape painters and their English counterparts. The later Picture Lessons not only described these paintings but had diagrams showing how they were composed. And that was right up my alley: What are the fundamentals behind producing a painting?
But then a very singular thing happened at my school, Sacred Heart Main Street. The fellows who were senior to me used to collect Time Magazine covers with lithographs of the heads of generals. These were the war years. You had the equivalent of cowboys and Indians: McCarthy, Mussolini, Hitler, Hirohito, Eisenhower. These students used their 6B and 4B pencils and tried faithfully to copy such faces. And so a little club was formed. To enter you had to show your copies; if they were very good, then you exchanged books to see who was doing what. Later on, we did our own comics, based on action books about the war. The Americans had established two military bases in Guyana, and comic books and chewing gum flooded the country. That activity disappeared from the school when the boys left.
AW When did you first hear about Edward Rupert Burrowes and his Working People's Art Class?
SG That would have been when I was about 14. I met one of the boys, Lloyd Bouyea, from the drawing group at school. He became my good friend; he used to protect me from bullies. He said, "Have you heard about this class where people are learning how to draw and paint? If you go to this place on Thursday evening, you can meet the man, find out more about it." And I went.
AW That class was a remarkable phenomenon. I know of no parallel in the English-speaking Caribbean. Burrowes had had no formal art training when he set it up.
SG No, he picked up stuff from books, like we did. He also mixed with people who painted, and using his own native intelligence, which was quite formidable, he learned how to paint. And he decided that this was something that everybody should learn to do, not just middle-class people. So he formed a group called the Working People's Free Art Class. You didn't pay for lessons. When I first went, this man Burrowes, who had a very powerful bass baritone voice, looked at me through quite sharp eyes and said, "I don't really have classes for little boys here. This is a class for adults, as you can see." He must have seen my crestfallen look, for he pointed out two or three boys bigger than myself. "You go and join them and do something over there." And that is how it all started.
AW How did you respond to the medium of paint, to its range of color, its tactile qualities and so on?
SG I did know a bit about handling paint because of helping my father. What I had to learn was the art of mixing colors. Burrowes did this by having us do still-life paintings. Lessons learned were then transferred to our individual areas of interest. For me this was imaginary composition, my lifelong preoccupation.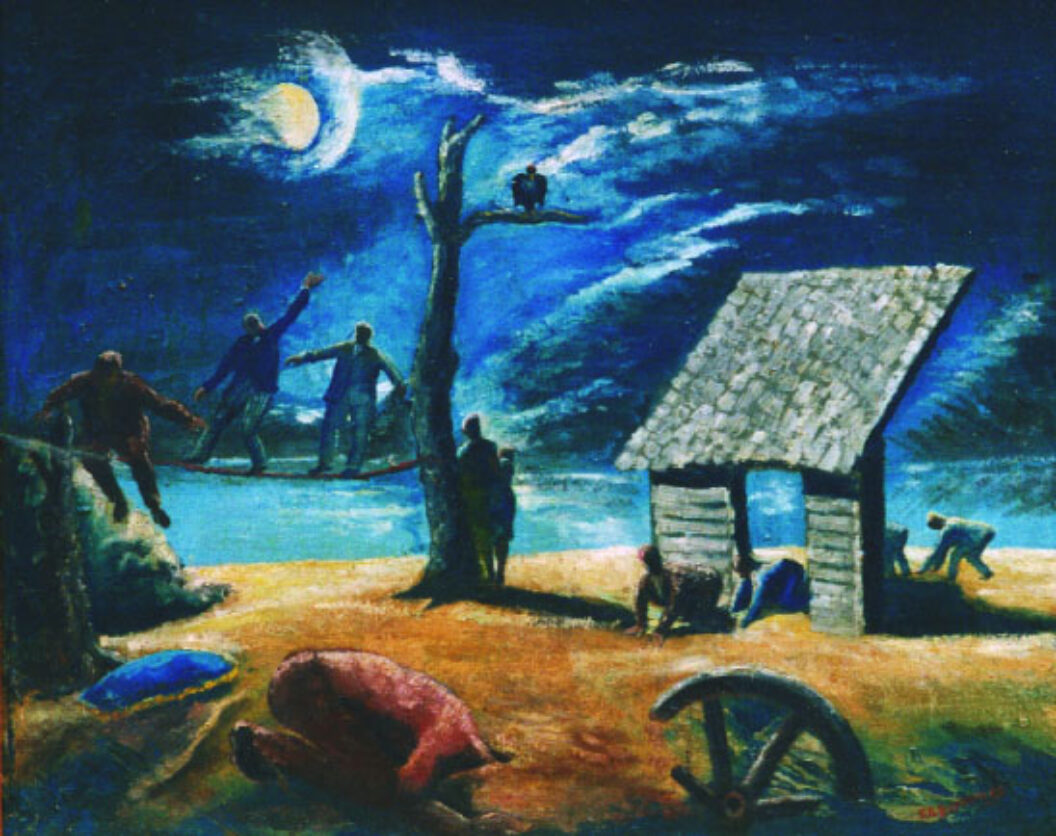 AW Burrowes was a very able, interesting painter. His painting Land of the Dolorous Guard, exhibited in 1951 alongside one of yours as a 17-year-old, made a great impression on you.
SG An inspirational painting that I carried around in my mind for a long time. Some years ago when it went missing from the National Collection, I kept haranguing people. "Find this painting. Where is it? It must be somewhere!" Eventually, I got a call from the curator, Elfrieda Bissember, to say. "We have found the painting." I said, "Elfrieda, do not let this painting out of your sight!" So it's there; it has been cleaned, restored. It is a masterpiece.
AW That was also the year that Martin Carter's poetry was first published, wasn't it? The Hill of Fire Glows Red.
SG Yes, and then Poems of Resistance came out in 1954, after Martin was thrown into prison. Martin always had great respect and regard for A.J. Seymour for publishing those poems at a time when relations between the natives of Guyana and the British government were not too hot.
AW Martin Carter must have been a tremendous influence throughout your life.
SG Martin's influence has been less in art than in an attitude: to what you see around you; to the constructions of your own imagination and thoughts; and also, very much to the point, to the use of language. I became acutely aware of the way in which one uses words, of the necessity of avoiding ambiguities as much as possible. Martin would talk to me about poetry, I would talk to him about art. He was friend and mentor and drinking companion and everything else.
AW Wilson Harris was also a friend of Martin Carter's; they were both older than you. Other eminent contemporaries, born in the 1920s, were Denis Williams and Aubrey Williams—and Philip Moore, who, like Harris, is now over 80 and still producing fine work. A remarkable generation of Guyanese artists and writers, who seem to share certain characteristics.
SG I think Wilson, and Martin also, to some extent, pay a lot of attention to the way in which we have been molded by the landscape of the country. Wilson gives the landscape almost psychic dimensions. My own experience is certainly not as profound as his.
AW Wilson spent long periods of time working as a surveyor in the interior. Your visits were surely much shorter and less frequent. Did you take those sketchbooks of yours along with you?
SG I did take a small sketchbook and aquarelle crayons on my first trips in the interior. What I read into what I saw could not really be done on the spot: textures, colors and shapes were later transposed into work that had no visible connection. I could be painting a leaf and give it the texture and color of a river rock. I call it the principle of transference in action. My occasional visits did leave an imprint on my mind. I have this theory that the conditions of the land affect the conditions of our own internal landscape. Many years ago I started—then discontinued—a series of paintings called The Heartland, based on my reading of Wilson Harris's early novels. In that series I was exploring conditions of feeling about the hinterland more than visual experiences of it. In recent years, the paintings that I called Hearts and Diamonds, which were based on ideas about symmetry, took me back again to that exploration: the landscape of the mind. I found that I had to move into abstract painting for the series. I could not find a suitable idiom in figurative painting.
AW The earlier Mazaruni paintings were surely also influenced by your experience of the interior.
SG And from experiences that go back to childhood days. The little house we lived in had wooden louvers on the windows looking into the backyard, and that kind of chopped up the view. I found a similar experience in looking at the landscape through the fronds or leaves of palm trees. So I began those paintings, which have been likened to essays in Cubism. They do look like that, I must say, but certainly I did not arrive at the formulation through Cubism.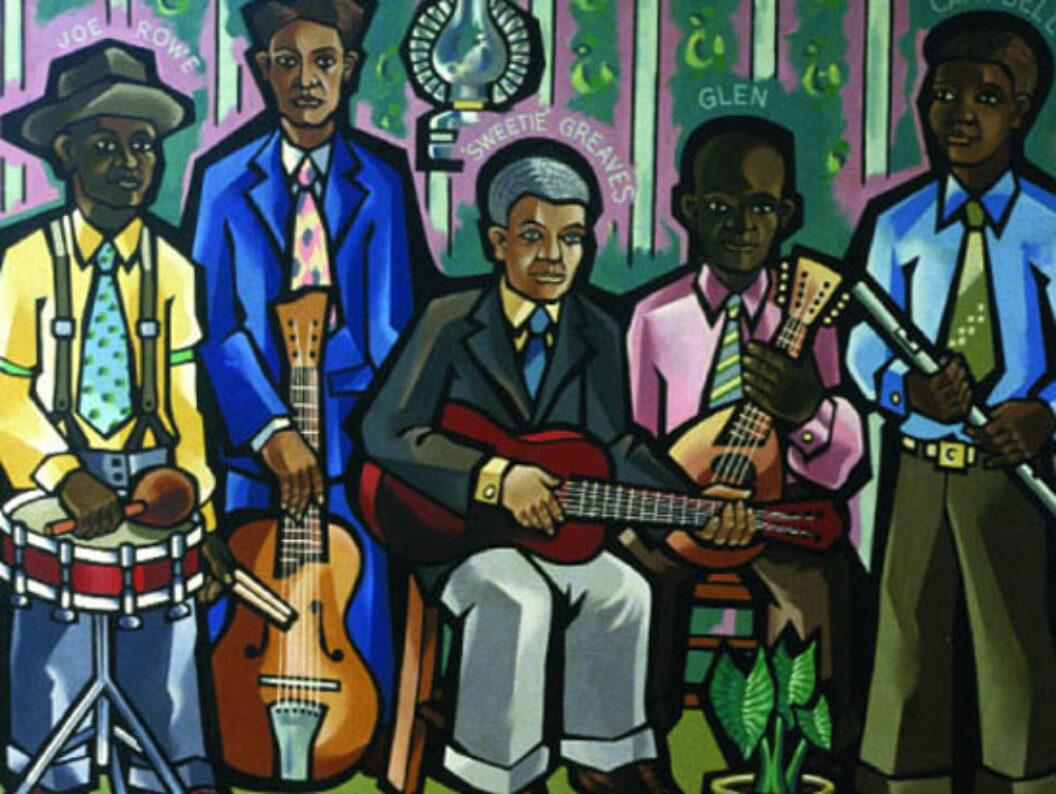 AW The title Mazaruni comes from the Mazaruni River, and something to do with jasper rocks?
SG A number of years had passed since I had returned to Guyana from studying in Britain. My painting didn't seem to be getting anywhere. But then I went with my good friend Bobby Fernandes on a trip into the bush—he was hunting waterfalls to photograph. We were very much off the beaten track, exploring places. Out of that came the series, the first painting of which is actually called Mazaruni. From that seminal work I derived both an iconography and also the particular style for images that I was then carrying around in my mind. Another painting was the result of an experience I had while on the bank of the river. We were in a little lean-to, with a very rude, rough wooden floor, and a glint, a tiny spark, caught my eye. When I looked down, it was an ant carrying a grain of quartz sand. It was just a brilliant little flash. It disappeared between the floorboards. And I was left pondering, "Could that ant have been carrying a diamond? If so, what was he going to do with it, what would ants do with diamonds?" That led to the painting Black Ants and Diamonds.
AW Then you began to make those very compact, teasing mini-paintings, exhibited under the title Caribbean Metaphysic.
SG I call them mini-paintings because they're not miniatures. The format is 9 × 10 inches. These paintings contain objects and abstract passages of color and shapes, combined very oddly. There are no figures in those paintings, though blackbirds do appear, and hands, a lot of hands holding objects such as biscuits, or pointing. I called this series Caribbean Metaphysic because something that has always been uppermost in my mind over the years has been the absence of a delineated, defined Caribbean metaphysic. We have lots of talk about it, but so far nobody has really sat down to consider explorations of the metaphysic in paintings, in fiction, poetry, sculpture, pottery, whatever, to try to extract something that could be proposed as a Caribbean aesthetic.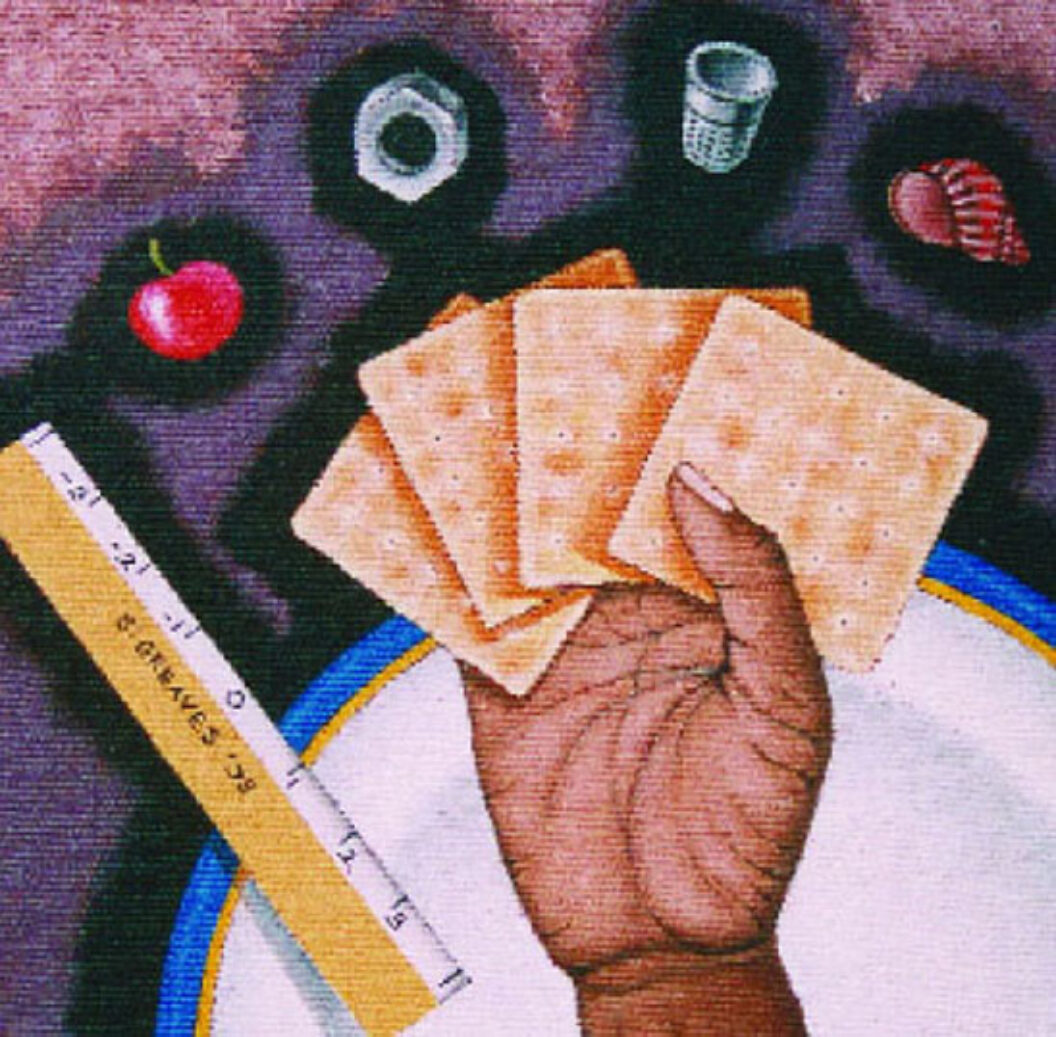 AW Just as people said that your Mazaruni paintings must be influenced by European Cubism, so about your Metaphysic paintings they've said, "Oh, now he's doing the Surrealist thing." How do you regard apparent appropriations from other cultures?
SG The question of appropriation is a big one. Coming from our background of pirates and buccaneers and what-have-you, you appropriate whatever you need and get on with it. I have nothing against appropriation. If I find that somebody from another culture has been making explorations into certain areas that I am curious about, I want to know about them. But I like to find out what was existing in that person's community that allowed them to come to those conclusions. Then I look within my own context to see if parallel conditions exist. If they exist, then I'm prepared to exploit them, and I feel that's a legitimate form of appropriation. What I'm very dismissive of is the mere appropriation of a style. That is utter foolishness.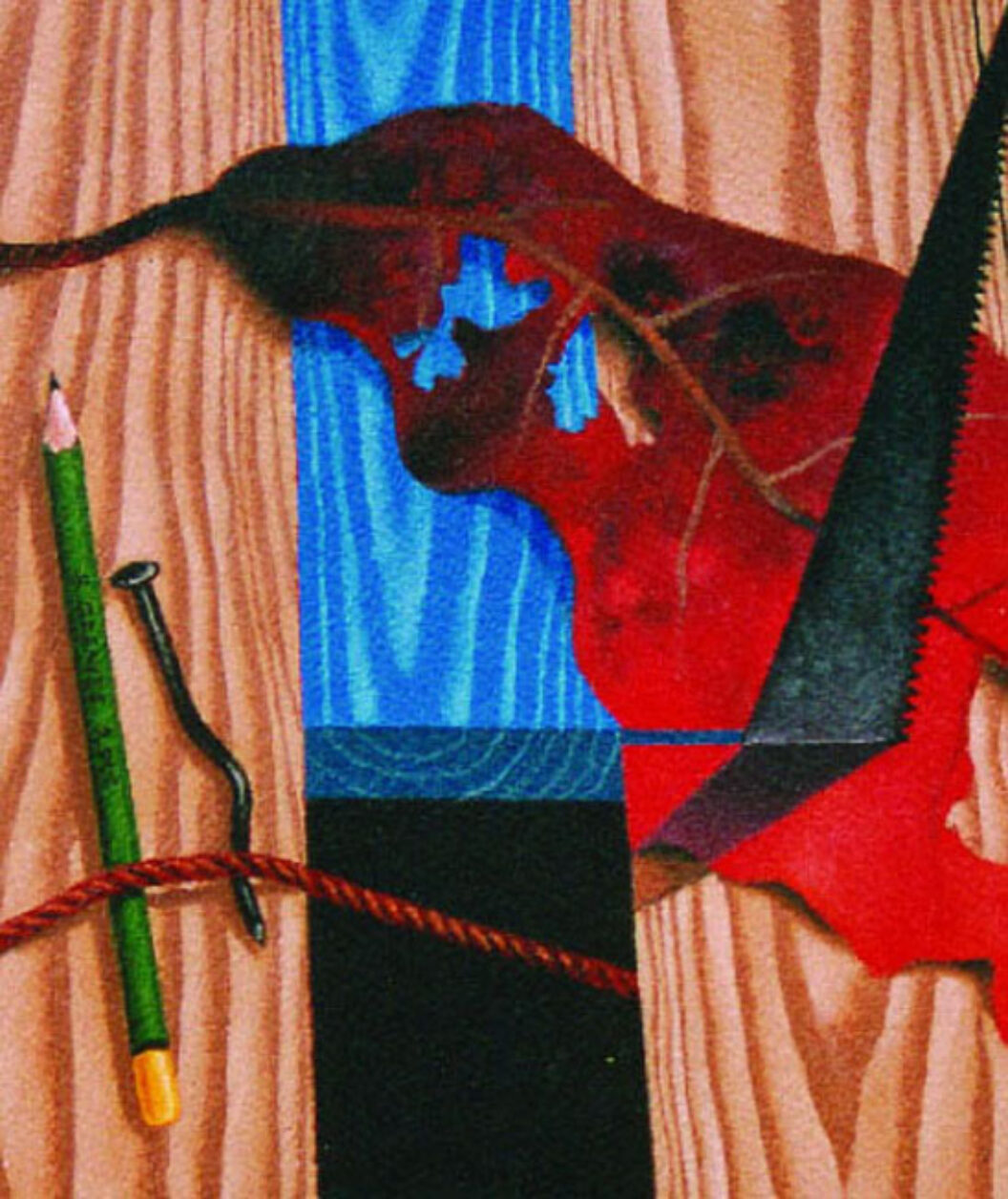 The reason that the Surrealist tag has been placed on my work is, for me, very simple. As a child I was always fascinated by constructs of the imagination, our folklore stories and fairy stories. Later on I explored mythologies; I still do. Any kind of work that shows that kind of exploration, where the imaginative construct has its own rules, its own configurations, is a universe in its own right, and is self-referential—I like that. That has always been the foundation of my work.
AW In a sense, everything was open to someone like yourself: brought up in a colony, educated about colonial achievements and the assumed superiority of European culture. I remember Denis Williams saying that artists of Guyana, starting out so late, had to race through the various movements of the 20th century in double-quick time and just adopt the approach of whichever ones they wanted.
SG I agree. I have a theory of teaching art history in the Caribbean: that you do not start in the accepted sequence of Egypt, Mesopotamia, Greece, the Renaissance and so on, but begin your teaching in the 20th century and work your way backward, making reference to movements in the past that are relevant to the things you are discussing. And that, for me, is a far more useful way of going about it—but then I don't teach art history.
AW No, but you have taught art all your life—we'll come back to that. Most importantly, you have made art all your life. You've talked about your start in drawing and painting; how about sculpture and ceramics?
SG I made things first in wood. I would appropriate my father's tools when he was at work and then put them back very carefully. And I saved my money. One Christmas I bought myself a pocketknife with two blades and made things with it. The knife got confiscated because little boys were not supposed to have knives. So I went around the yard collecting the men's worn-out razor blades, the old-fashioned double-edged sort. I made a little carving of a rifle with the razor blades. My father saw it and asked. "What did you use to make this thing?" I said, "Well, I used razor blades." He looked at my hands and saw that my fingers were cut. I don't know how I didn't get tetanus. He didn't say another word but got my knife and gave it back to me.
I got into ceramics when I was 10 or 11. I noticed that the potter wasp, or marabunta as we call it in Guyana, makes a tiny pot out of clay, about half the size of a finger joint, to lay an egg in. The pot is spherical, and its mouth has a perfectly formed lip. I would see these creatures and think, "I can make a pot." So I got my clay and I made this little pot. Then I took the analogy of my mother baking bread: wet dough put in the oven comes out hard. So I put my pot into my mother's coal-pot while she was cooking, and of course the darn thing exploded, because I did not know that you have to dry the clay before you put it in the fire. That would have been around 1944, and that was the end of my experiments in clay until I started working in clay again at Howard University and never looked back. So the marabunta is what got me into ceramics. The things we need to get us moving, as Martin used to tell me, "It's right under your foot. Just lift up your feet and they're right there."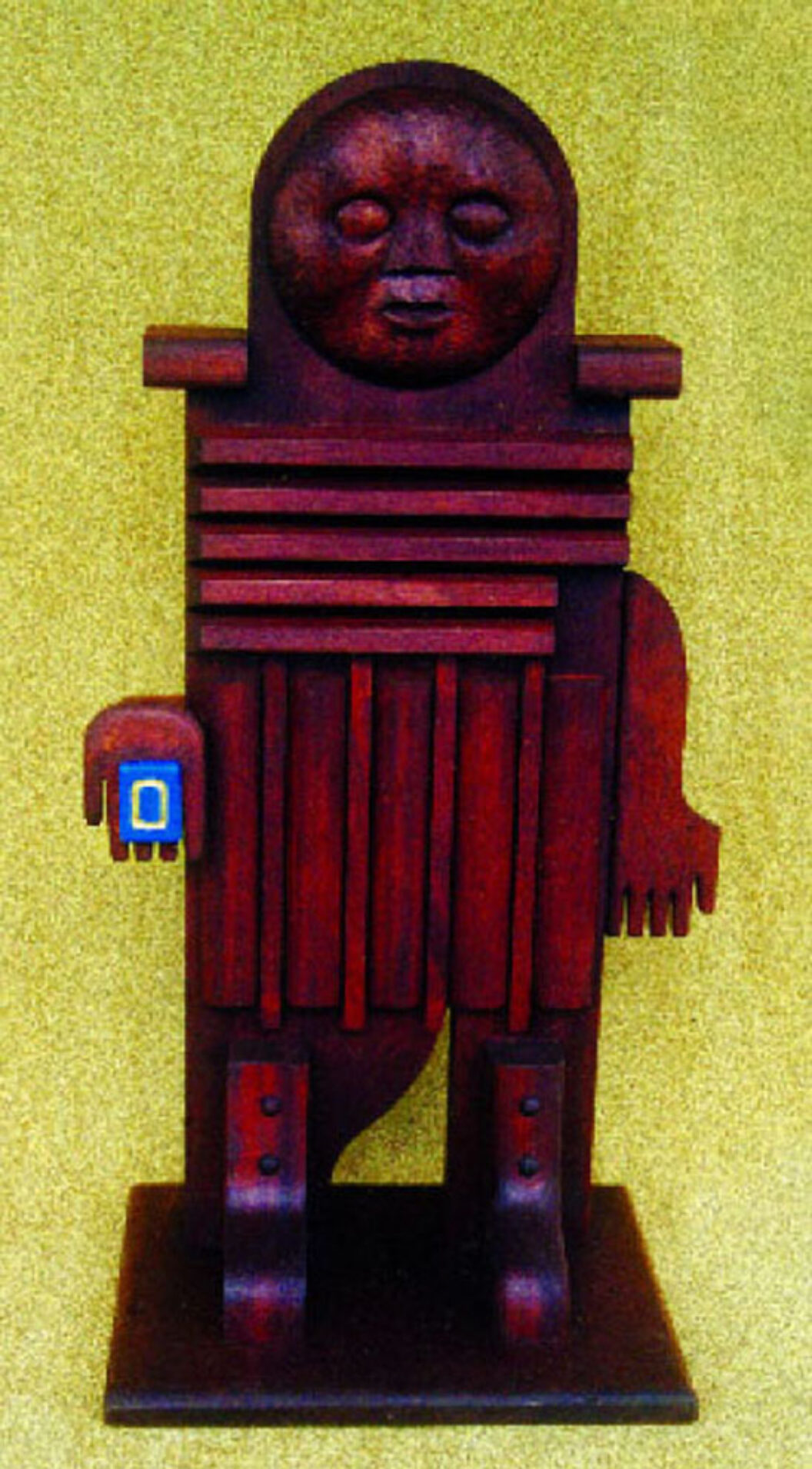 AW You studied sculpture at Newcastle-upon-Tyne, in Britain, from 1962 to '68, and again at Howard in the States, on a Fulbright, from 1979 to '80, alongside printmaking and ceramics. Why not painting?
SG I originally came to Britain to do painting, but I soon realized that the current scene of Pop and Op meant nothing to me. I went up to the University of Newcastle with great trepidation. I found that Richard Hamilton, the doyen of Pop art in the country, was teaching there. What I wanted to do in painting certainly could not be entertained in that place. Fortunately I had other skills, and I went off and did sculpture.
AW In what materials?
SG I used wood, bits of Formica, bits of metal, combinations of wood and metal and plastics, and had great fun. My regret was that at the time I arrived, Eduardo Paolozzi had just left. I still admire his work a lot.
AW And you did your thesis on Brancusi?
SG As far as I'm concerned, for over 300 years or more, nothing of any great significance had been done in sculpture until Brancusi arrived on the scene. I also looked at the Italian Marino Marini and the Japanese American Isamu Noguchi. I would have liked to work with these three people.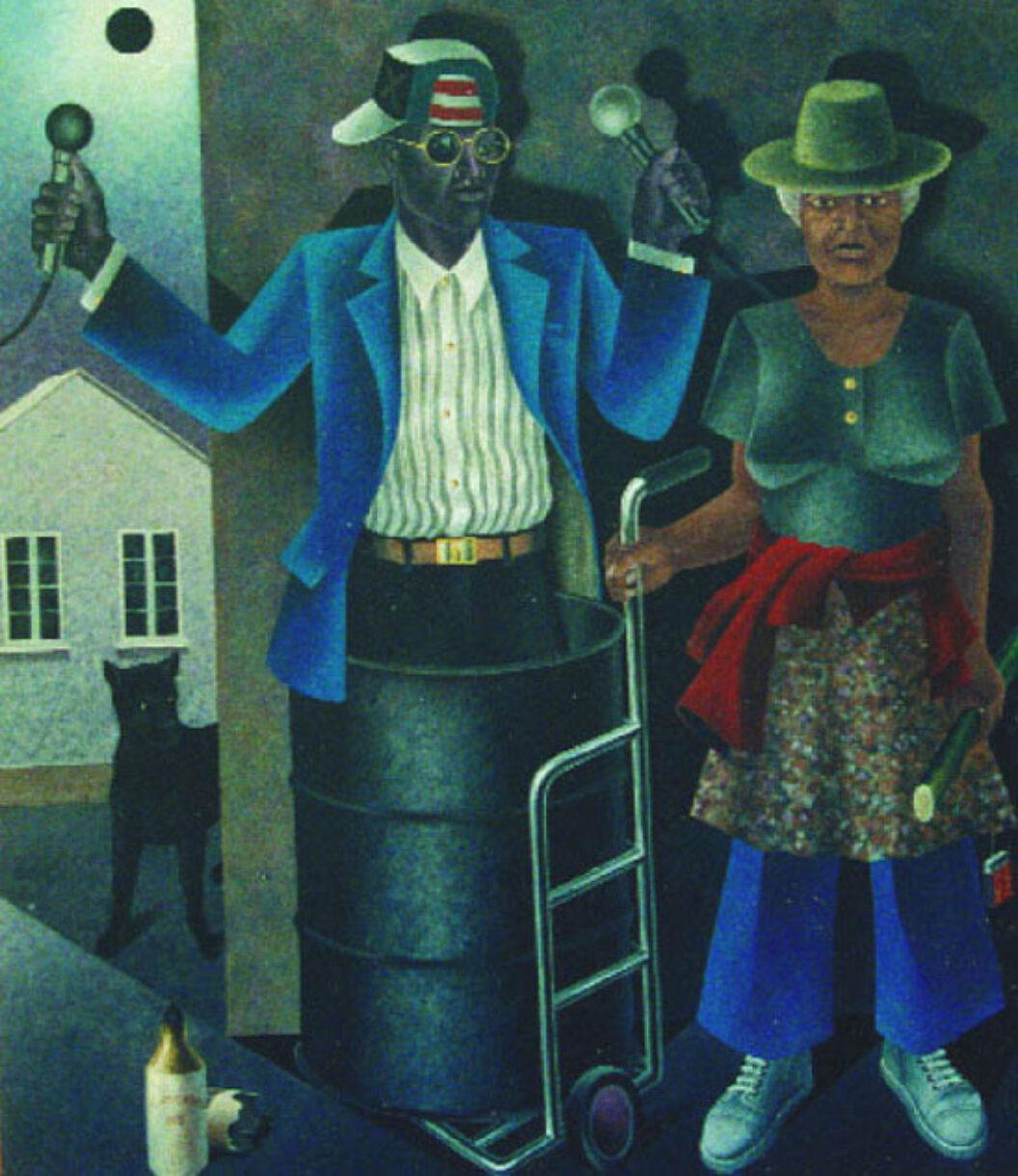 AW Were the forms you were making abstract or figurative?
SG They were abstract forms, but with a recognizable footing in the real world. One piece, Slave Stock, which actually won a prize, was based on a whip I had seen in the museum in Georgetown. Another piece, Amatuk, was based on the water-carved rocks I had seen in the rivers. Another resembled the old-fashioned telephone operator system, where they have a bank of holes in the wall and they plug cables in; I used colored ribbons and cords. Then I did Dream of Eldorado, a box with hinged, mirrored doors and a carved shape reminiscent of a hook or anchor inside the box. By playing with the mirrors you could get different views of it. Things like that.
AW Did the sculpture you made at Howard for your MFA build on what you had done at Newcastle or take a new direction?
SG I was welding metal, a departure for me because it was sculpture in an additive mode, where you put things together, as opposed to the reductive system used in carving. So I was able to reverse the way in which I normally worked. I found it actually quite breathtaking to work in that fashion. I didn't continue when I returned to Guyana because of the issue of setting up a metal workshop.
AW Let's come back to teaching art, which you continue to do.
SG Teaching visual art for me is carrying on the legacy of Burrowes, in that you share what you know. I do not hide information from people who come and ask the right questions. I don't regard it as teaching so much as getting into a dialogue. I like to listen to what my students say about what they would like to do. I don't act like Moses come down from the mountain. I always engage in dialogue. "What is it you're trying to do? Where are you pointing yourself? Are you using the right medium and materials? Do you need to change your theme?" Having made their decisions, they proceed to work. I look at what they're doing and make my comments. It's a sharing, a taking part in the events and considerations that revolve around a basic humanity.
AW Your current teaching in Barbados enables you to continue making your own art. Do you have ideas about what you will move on to next?
SG Well, you know, I don't want to get any more ideas. My notebooks over the years are so filled with stuff, all of it will not be made. So I have to go and look into these books now and decide, Okay, I'm gonna make this, but not that. If I don't get another idea, I have enough material in those books for another lifetime.
AW When you look back over the last 60 years, which aspect of "making" are you happiest about? Alongside art and poetry, you have, I know, started to write short stories. You have played the guitar for many years, and you composed a few pieces for it.
SG I am happiest about being able to do all of these things. Really.
AW Ah, the many-sided man. No regrets?
SG No. Because each one of these aspects satisfies a certain part of me. I studied classical guitar with a Cuban professor for a year, and he kept telling me, "Stanley, why don't you stop painting these funny paintings of yours and give more time to the instrument?" I said, "Okay, in my next incarnation I'll be a guitarist first!"
Originally published in
Featuring interviews with Brooke Alfarmo, Stanley Greaves, Santiago Sierra, Erna Brober, Jorge Volpi and Martin Solares, and Jesus Tenreiro-Degwitz and Carlos Brillembourg.